A must-see for those traveling to Kansai in winter! Summary of recommended illumination events in Osaka, Kyoto, and Kobe from December to February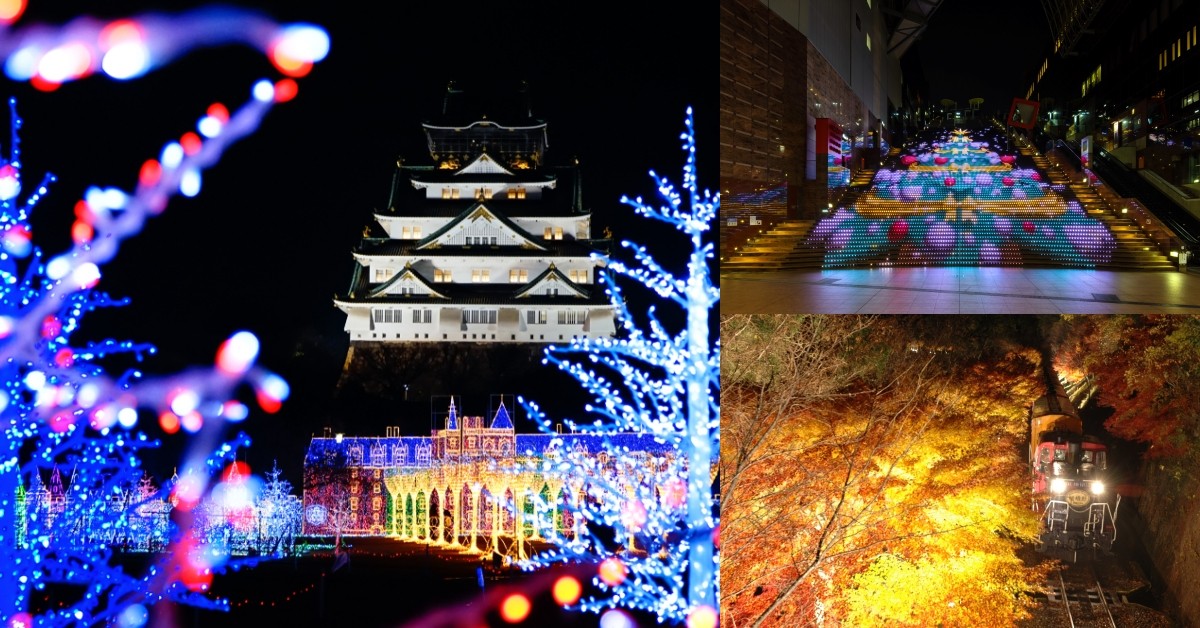 One thing you can't miss when visiting Japan in winter is the dazzling illuminations and light-up events. Following our Tokyo edition, this time we have carefully selected events held from November to around February in the Kansai area, focusing on the three major cities of Osaka, Kyoto, and Kobe. This is a must-see for anyone touring Kansai in winter!
※This article is based on information as of August 2023, or information from recent years. Please check the official website or similar sources for the latest event information.
What is the average temperature in the Kansai area from December to February? What kind of clothes are recommended for winter?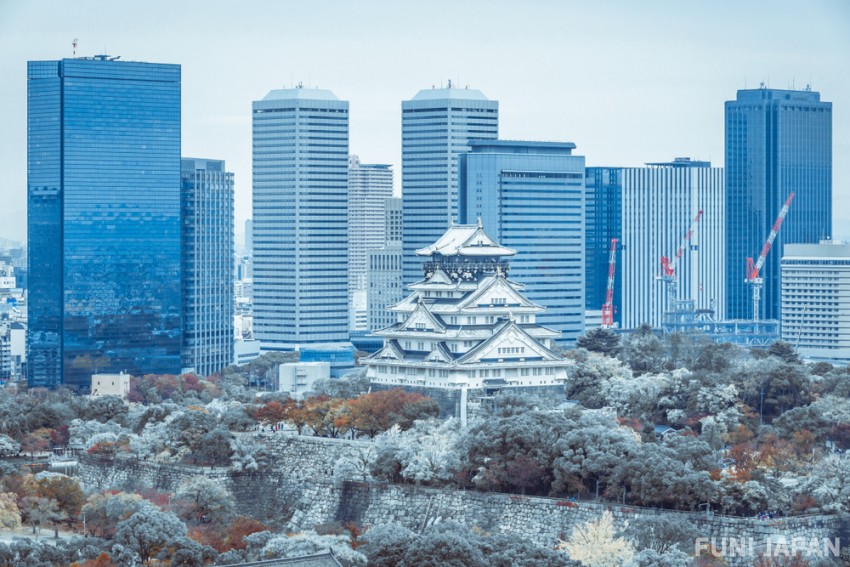 Winter in Japan is generally considered to be the three months from December to February of the following year. Osaka Prefecture, Kyoto Prefecture, and Hyogo Prefecture are adjacent, and the average temperature from December to February in each metropolitan area is 7.2 degrees in Osaka, 7.2 degrees in Kobe, and 5.8 degrees in Kyoto (*), with no significant difference.
However, even between prefectures, the characteristics of the climate can differ due to geographical features, so if you are planning to tour across prefectures, be sure to check the weather forecast for each region in advance.


Characteristics of Winter Climate

Recommended Clothing

Osaka


Generally, there are many sunny days and it rarely snows.
Snow hardly accumulates in urban areas.

As heating is provided in commercial facilities, it is recommended to wear clothes that are easy to put on and take off.
Combine a thick outer layer with a thin inner layer.

Kyoto


Due to its "basin topography" surrounded by mountains, the wind is weak in winter and the temperature difference is drastic.
The cold is so pronounced that it is referred to as "Kyoto's bottom cold".

Even in Kyoto city, there are days with snowfall and accumulation in areas close to the mountains (*). To prevent your body from getting cold, wearing multiple layers is key.
It is recommended to adjust to the temperature difference between indoors and outdoors by wearing warm innerwear and thick knits and coats.

Kobe (Hyogo)


Compared to Kyoto and Osaka, it is warmer and closer to the coast, making it relatively easy to withstand the cold. Especially in winter, less rain and more sunshine are characteristic of Kobe.
Like Osaka, snow hardly accumulates in urban areas.

Don't forget to prepare for the wind, as there are days with strong sea breezes typical of a port town.
If you plan to enjoy illuminations and night views outdoors until late at night, it would be more reassuring to bring a scarf and gloves.
※Source: Japan Meteorological Agency website "Osaka (Osaka Prefecture) Average Values (Every 3 Months)","Kyoto (Kyoto Prefecture) Average Values (Every 3 Months)","Kobe (Hyogo Prefecture) Average Values (Every 3 Months)"
3 illumination & light up events to enjoy in Osaka from December to February
【Umeda・Namba Area & Nakanoshima Area】Festival of the Lights in Osaka (Midosuji Illumination・Osaka Hikari-Renaissance)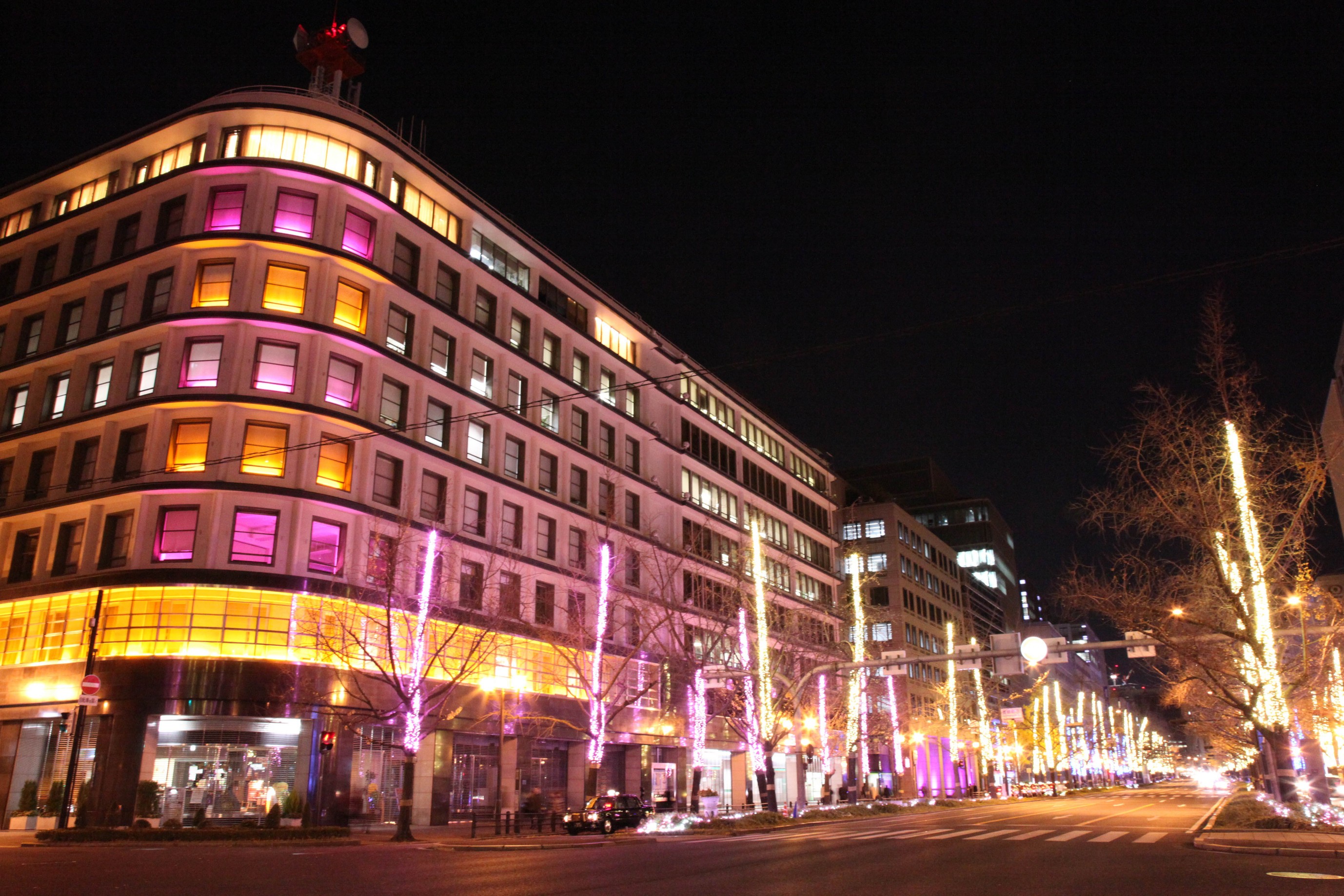 The "Festival of the Lights in Osaka", which hosts illuminations in various locations including the Midosuji-Nakanoshima area, starts in early November every year, fantastically coloring the nights throughout Osaka.

One of its core programs is the "Midosuji Illumination", held on Midosuji, the main street that stretches 4km from Umeda to Namba. This large-scale illumination event, which was recognized by the Guinness World Records in 2015, dyes the commercial facilities along the route in colors such as gold, purple, and blue.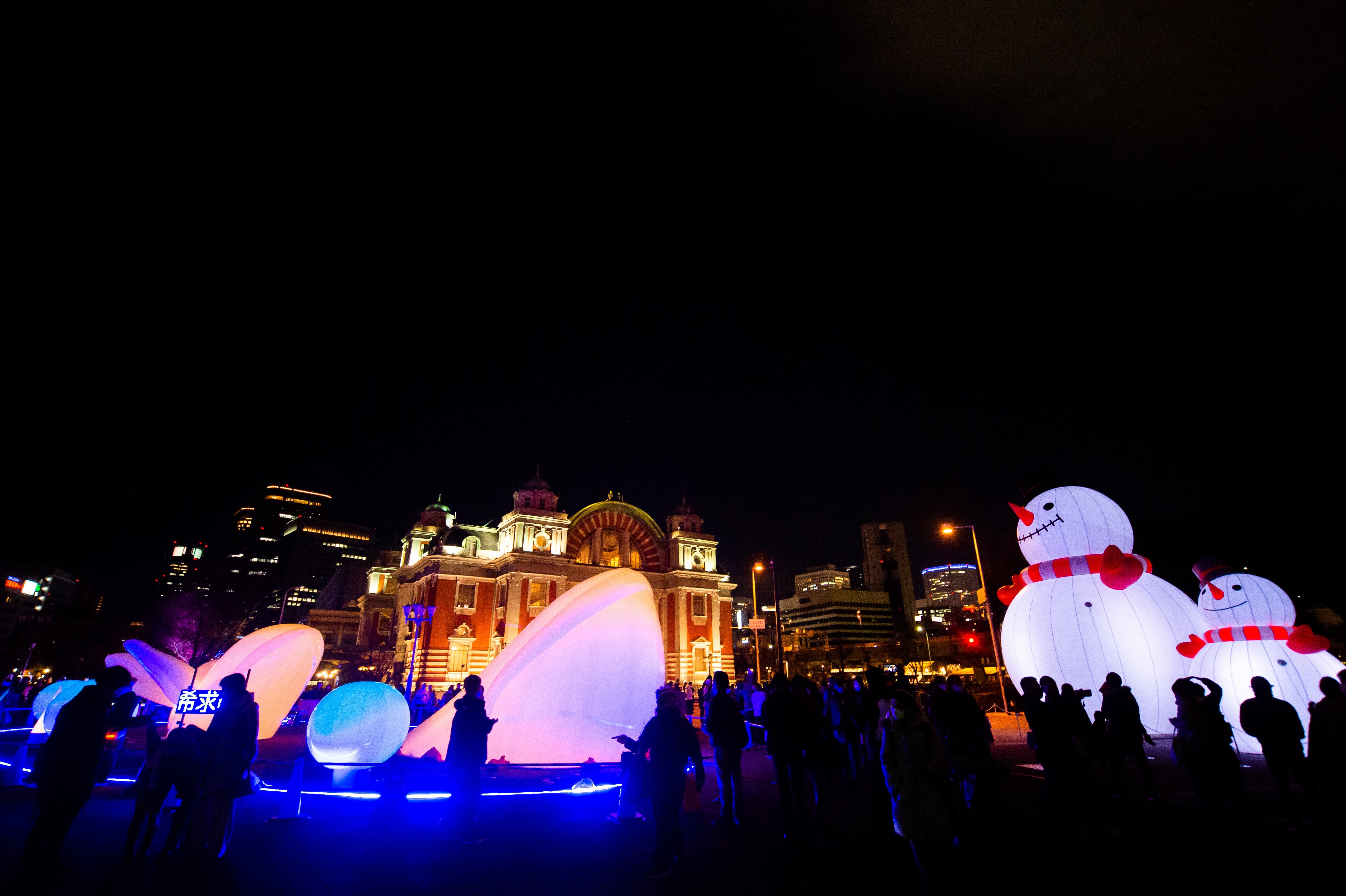 Another core program is the "Osaka Hikari-Renaissance", held in Nakanoshima. While viewing the light program that takes advantage of the waterside scenery, you can enjoy delicious food and light performances at once in the stall area, from authentic cuisine to light meals.
Midosuji Illumination

Osaka Hikari-Renaissance

Location

Midosuji (from Hanshin-mae intersection to Namba Nishiguchi intersection)

From Osaka City Hall to Nakanoshima Park

Event Period

Usually from early November to December 31
※ "Midosuji Illumination 2023" is from November 3, 2023 to December 31, 2023

Usually from mid-December to December 25
* "OSAKA Light Renaissance 2023" from December 14, 2023 to December 25, 2023

Lighting time


17:00~23:00
* Only until 25:00 on December 31

17:00~22:00
* Some contents until 23:00

Nearest station

Each station between Osaka Metro "Umeda Station" and "Namba Station"

Osaka Metro "Yodoyabashi Station", "Kitahama Station", Keihan Train "Naniwabashi Station" etc.

【Osaka Bay Area】Kaiyukan Illumination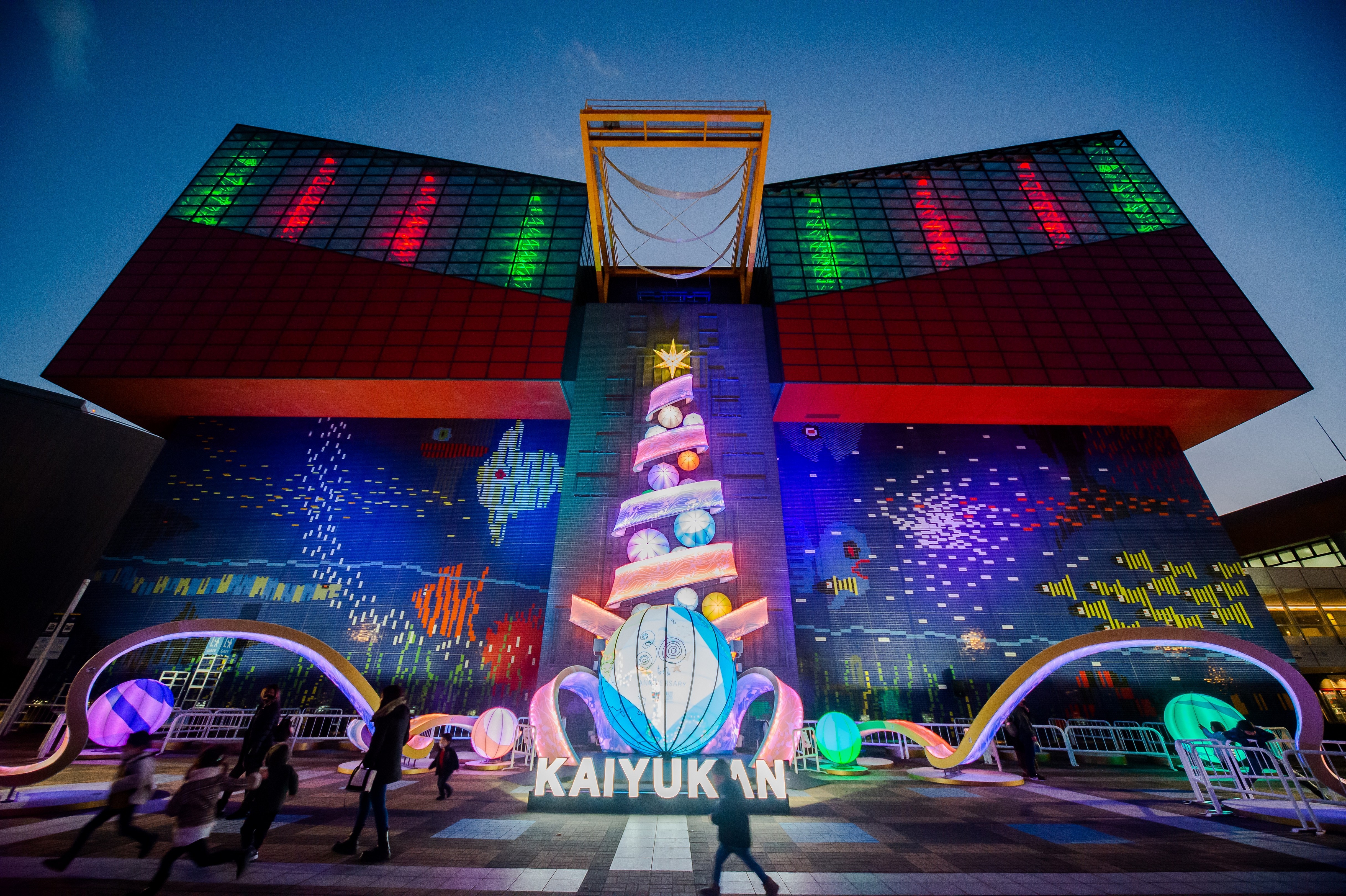 The aquarium, Kaiyukan, boasts the scale of one of the world's largest indoor aquariums. An annual event that changes its theme every winter is the "Kaiyukan Illumination". In the event plaza, there are various monuments such as a 20m high Christmas tree shining in various colors, and penguins and dolphins, which color the surroundings with regular light performances.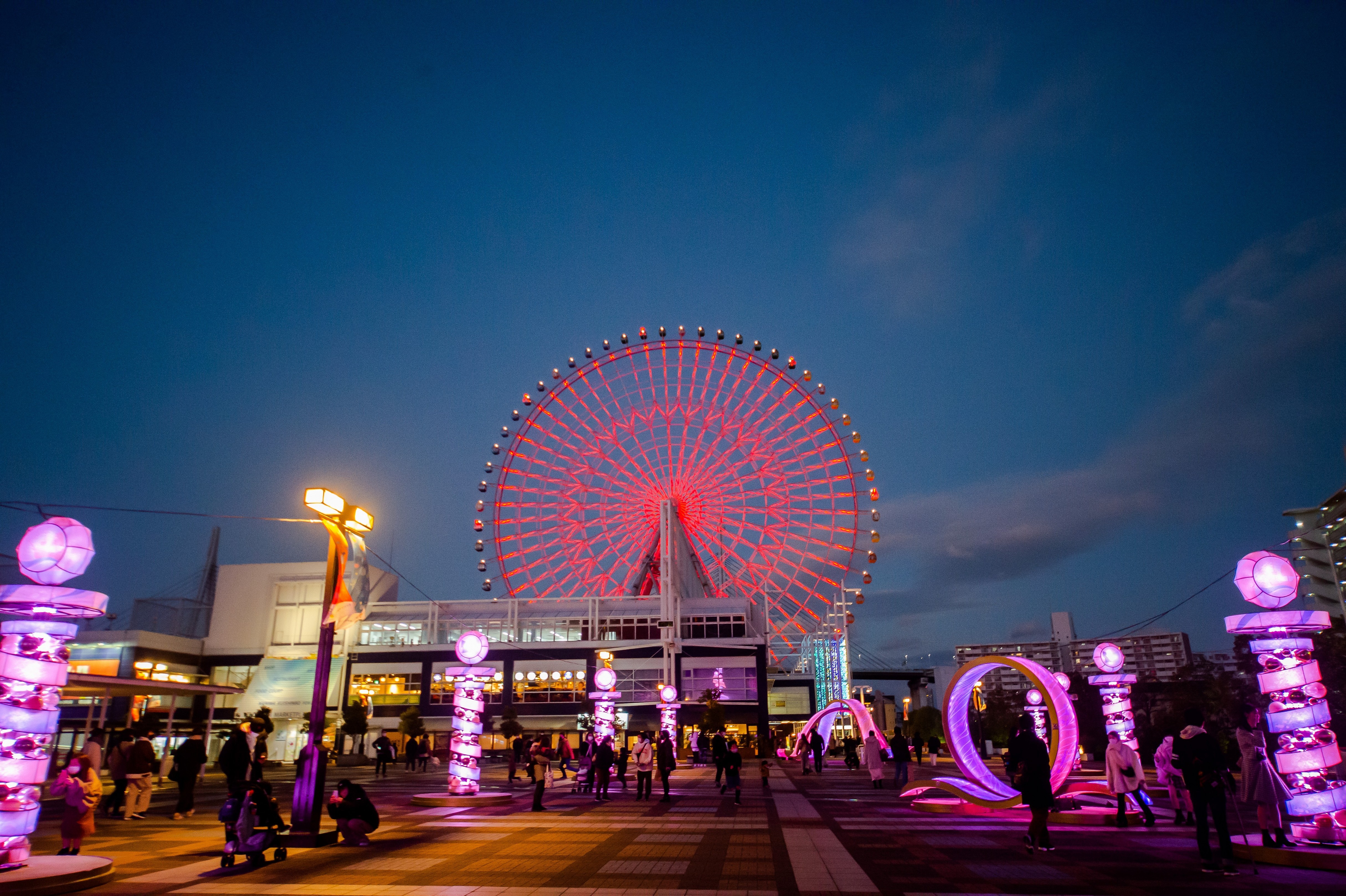 In addition, the adjacent "Tempozan Giant Ferris Wheel", which has been recognized as a Japanese Night View Heritage, is also a recommended photo spot. The 100m diameter ferris wheel has a see-through gondola, allowing you to experience the sensation of floating in the air.
【Osaka Castle Park Area】Osaka Castle Illuminage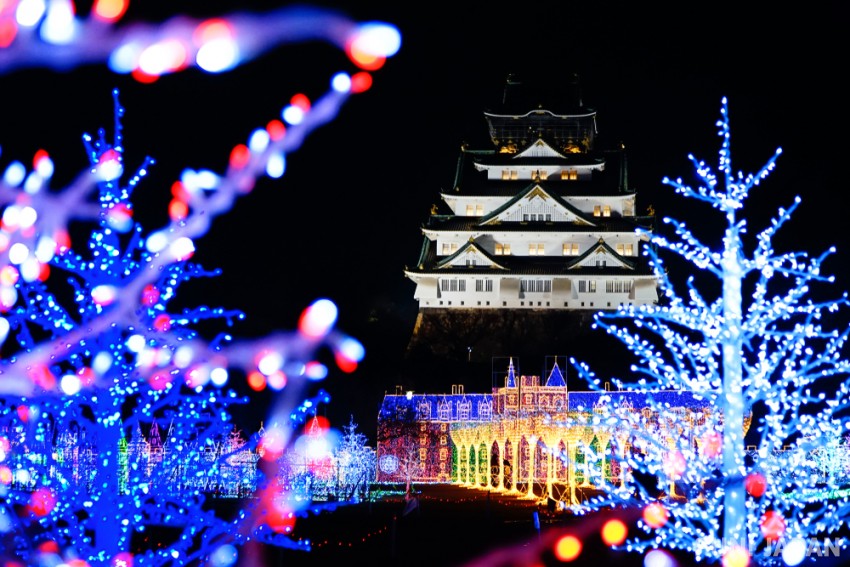 The 'Osaka Castle Illuminage', which is usually held in the Nishinomaru Garden of Osaka Castle, uses the castle tower as a backdrop.
Until now, under the theme of 'Journey of Osaka History Exploration', the illumination has been developed featuring the Toyotomi and Tokugawa families, expressing Osaka from the Warring States (Sengoku) period to the present with about 3.5 million light bulbs. After learning history in the Illumi area, you can also enjoy participatory experiences in the Active Illumi area, making it a recommended event for family trips.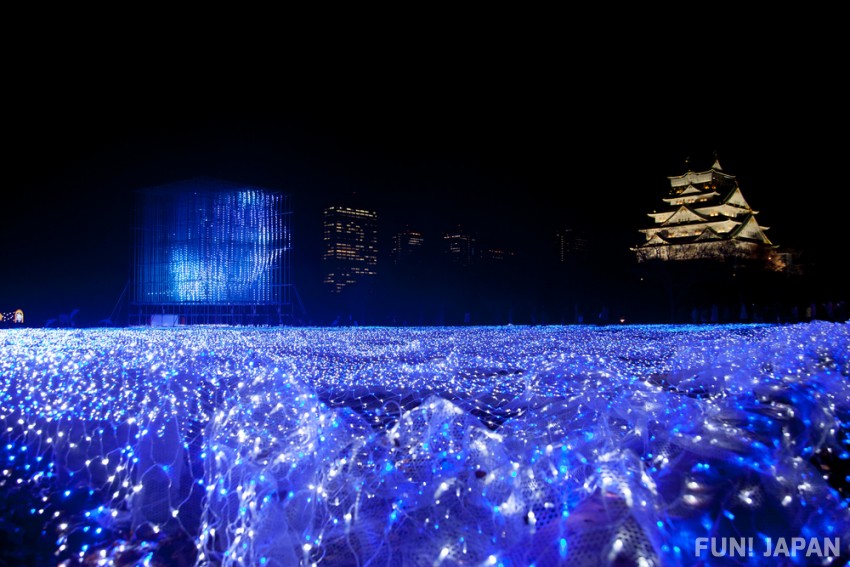 This illumination features a retro taste of Japanese and Western styles, which is rare even in Japan, allows you to experience an extraordinary feeling as if you have time-slipped into the Sengoku and Bakumatsu periods.
Two illumination and light-up events to enjoy in Kyoto from December to February
【Kyoto Station Area】Kyoto Station Building Hikari no Fantasy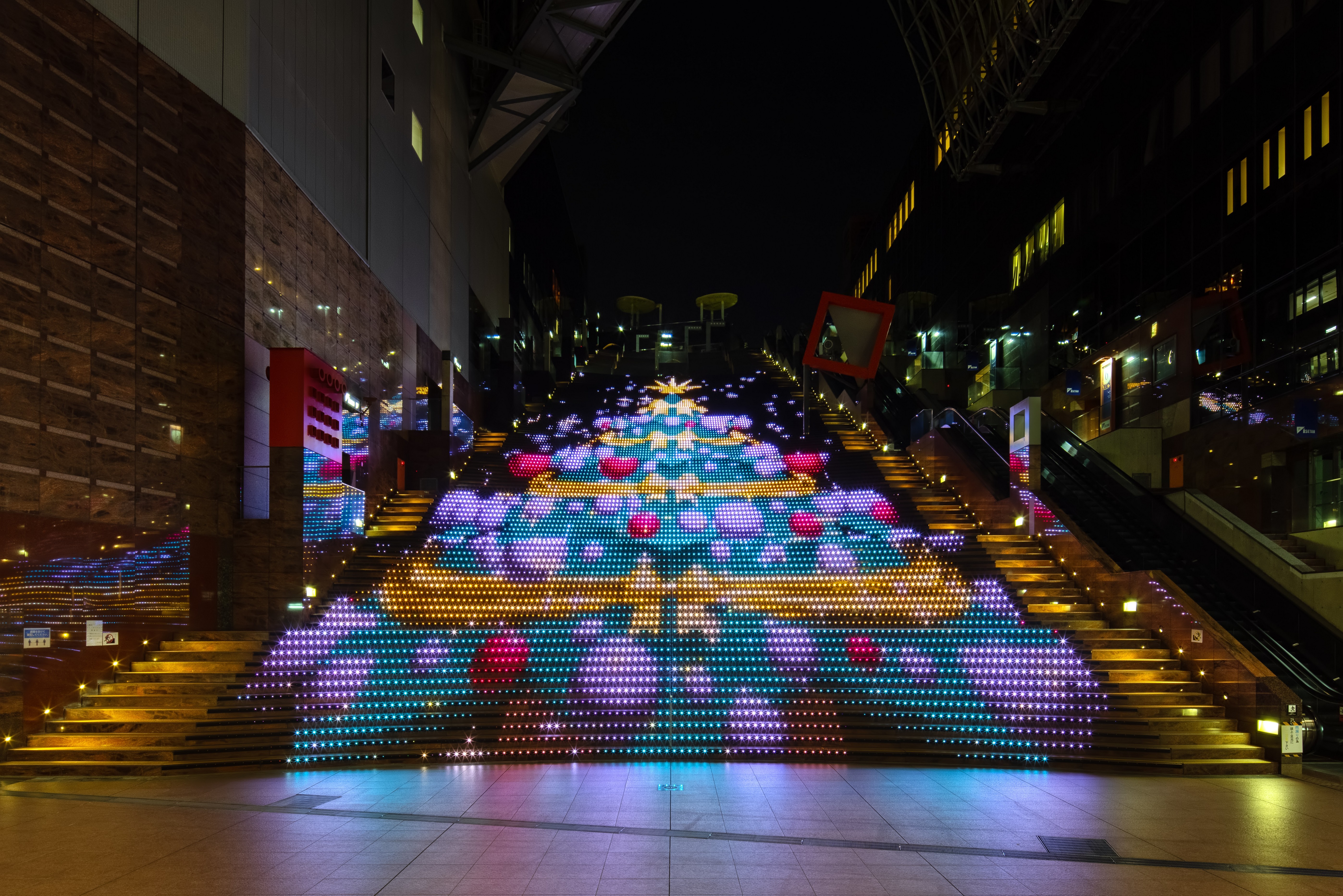 The 'Kyoto Station Building Hikari no Fantasy' is held at JR Kyoto Station, a terminal station frequently used by tourists visiting Japan.
At the 4th floor staircase, you can enjoy the 'Graphical Illumination Plus' throughout the year, which changes with the seasons. During the Christmas period, a Christmas tree is projected in sync with Christmas songs, using approximately 15,000 LEDs.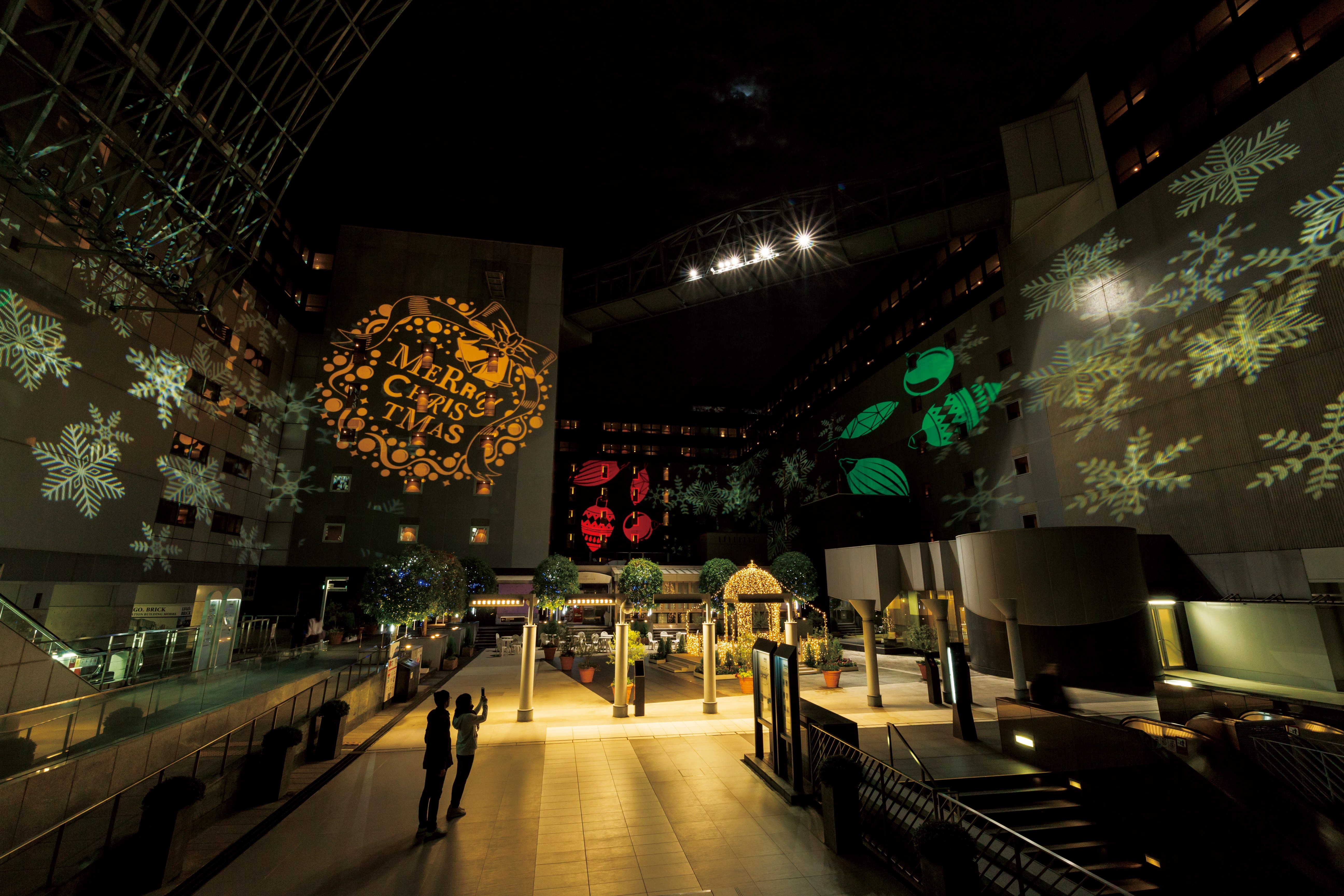 On the other hand, at the East Plaza on the 7th floor, in addition to the light objects, the wall is decorated with illuminations based on the concept of a light botanical garden in a Christmas version. In addition, don't miss the 10th floor aerial walkway that is enveloped in colorful light every 30 minutes. You can take pictures as if you're in a scene from a sci-fi movie.
【Arashiyama Area】Sagano Scenic Railway - Hikari no Genso Ressha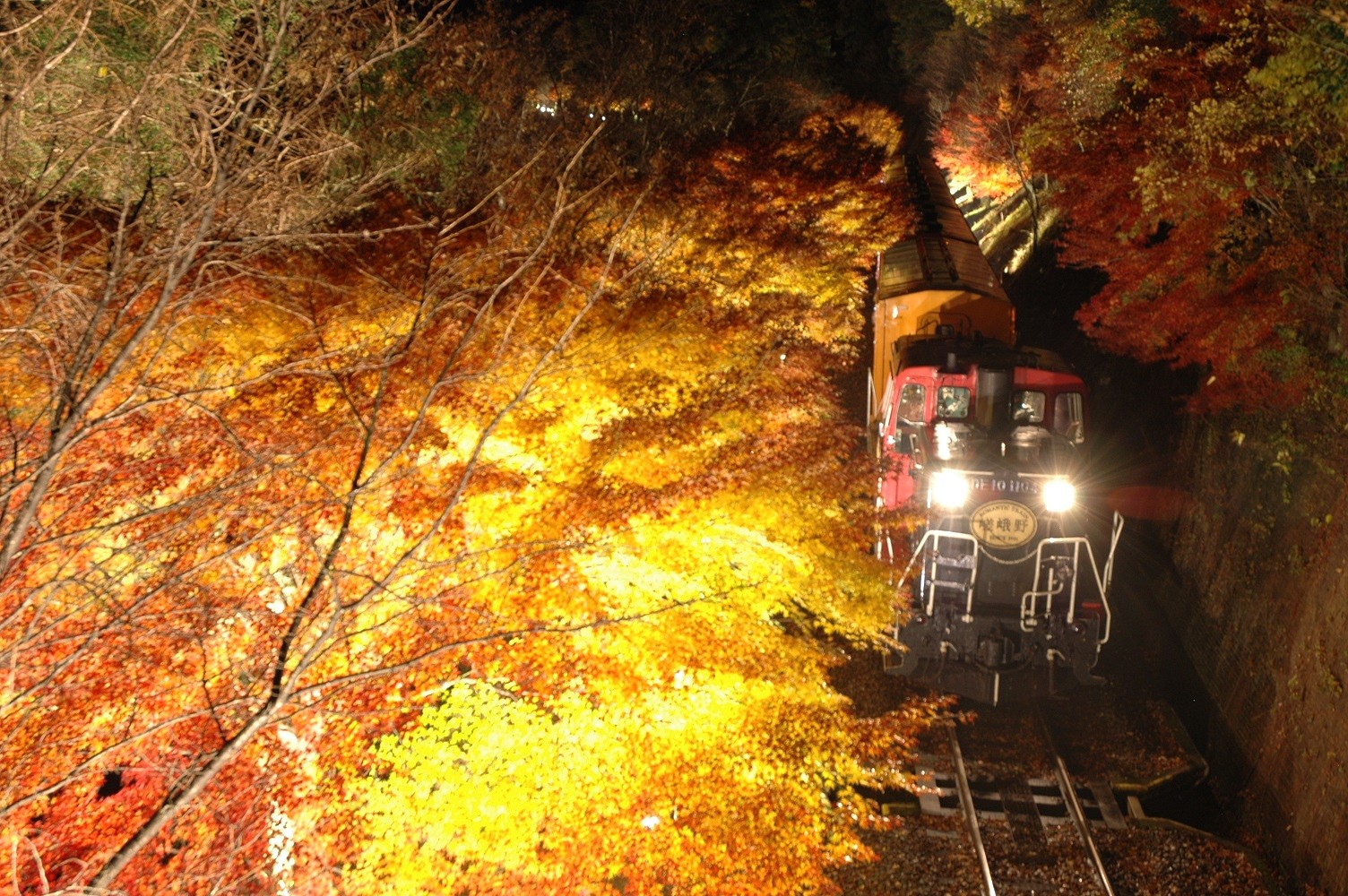 The retro "Sagano Scenic Railway" allows you to enjoy the scenic beauty of Kyoto's Hozu Gorge on a 25-minute one-way train journey. The regular operation is until around 5 pm, but every year from autumn to winter, a part of the line is lit up at night under the title "Fantasy Train of Light".
The best time to see the autumn leaves on the Sagano Scenic Railway is usually from mid-November to early December, which is a bit late compared to the rest of the country. Therefore, in autumn you can see the mountains covered in autumn leaves, and in winter you can see the gorge covered in snow, offering a panoramic view of the mystical Hozu River. When the train stops at a point illuminated by lights, it's the best time to take pictures! This tourist train is popular every year, so be sure to purchase your tickets in advance through JR West's online reservation service or at the "Midori no Madoguchi" counter at JR West stations.
Two recommended illumination/light-up events held in Hyogo/Kobe from December to February
[Motomachi/Kobe Former Foreign Settlement Area] Kobe Luminarie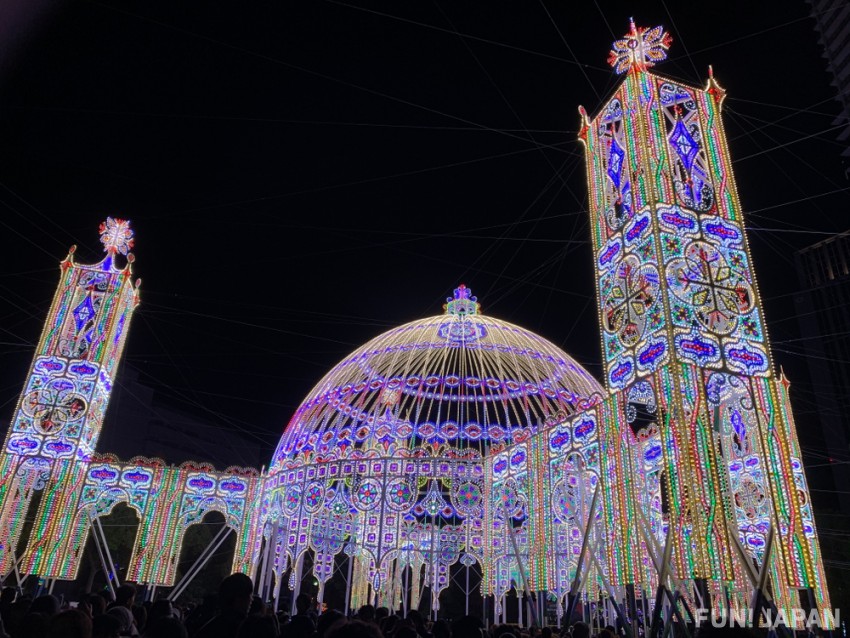 The "Kobe Luminarie", which has been held as a festival of lights representing the winter of Kobe, passes on the memory of the Great Hanshin-Awaji Earthquake that occurred on January 17, 1995. The venue incorporates elements of Baroque-era architecture, creating a majestic atmosphere. The elaborate carvings, reminiscent of historic European buildings, are also a sight to see.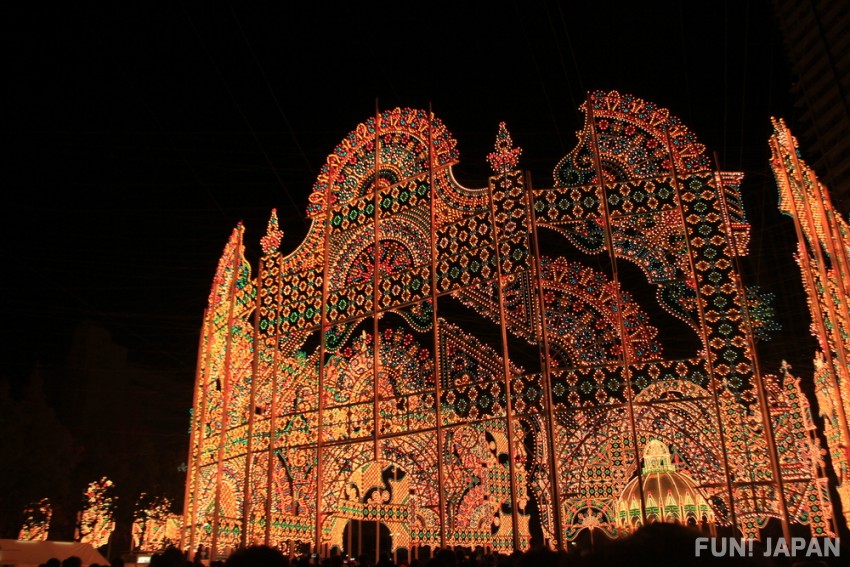 Hundreds of thousands of LED lights are lit up, and the entrance artwork "Frontone" welcomes you. In addition to the "Cassa Armonica" light cathedral and the "Spalliera" light wall hanging in "Higashi Yuenchi", there is also a corridor-type artwork as part of the exhibit in "Meriken Park". Since the viewing route is predetermined, please proceed according to the guidance from the nearest station at the entrance.
※The works may vary depending on the year of the event
【Kobe Former Foreign Settlement Area】Daimaru Kobe Store Former Settlement Illumination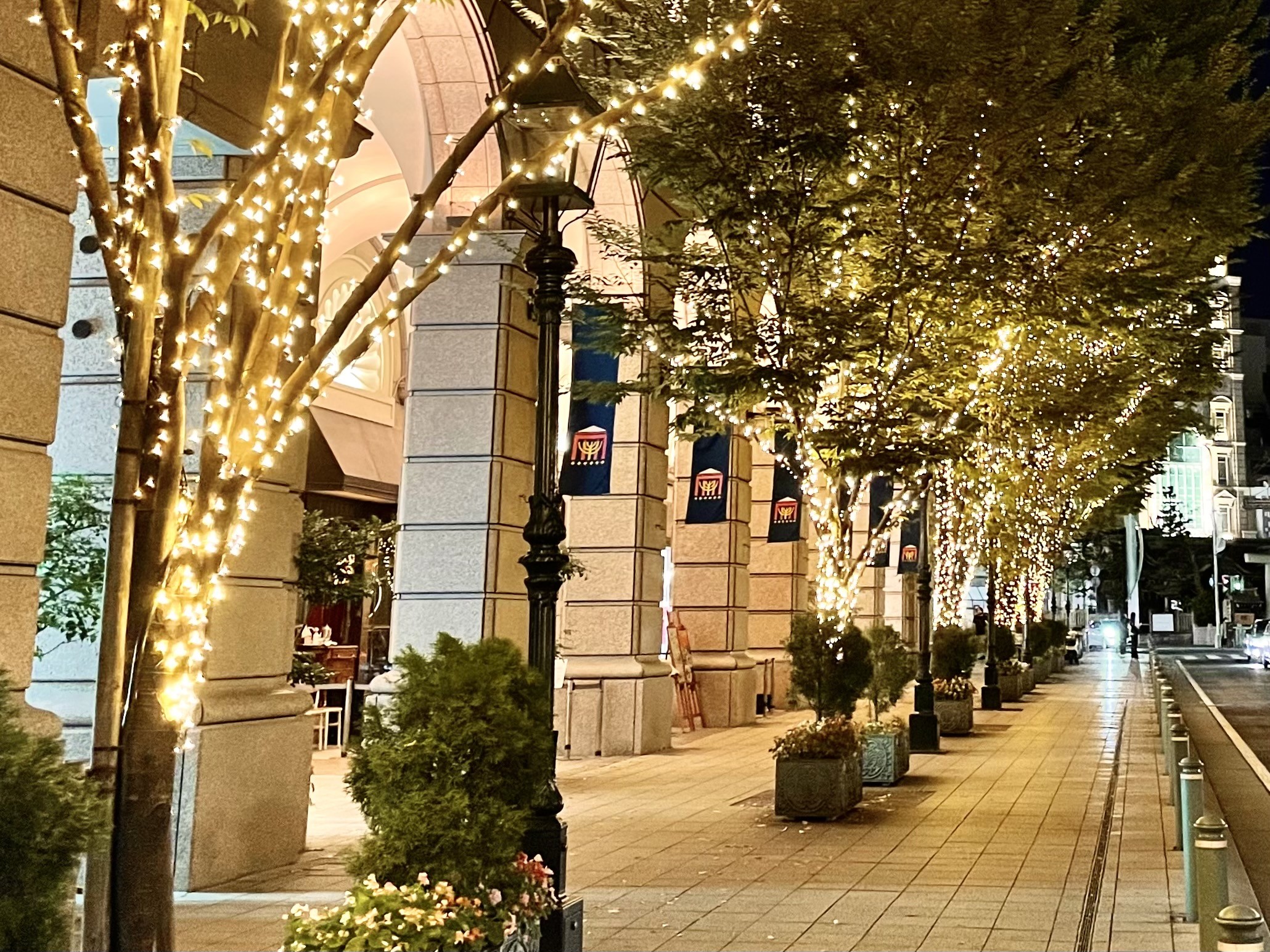 The Kobe Former Foreign Settlement, which exudes a modern European atmosphere, was developed as a foreign settlement at the time of the opening of Kobe Port in 1868. The "Former Foreign Settlement Illumination" is held mainly around the "Daimaru Kobe Store" located in one corner of this area.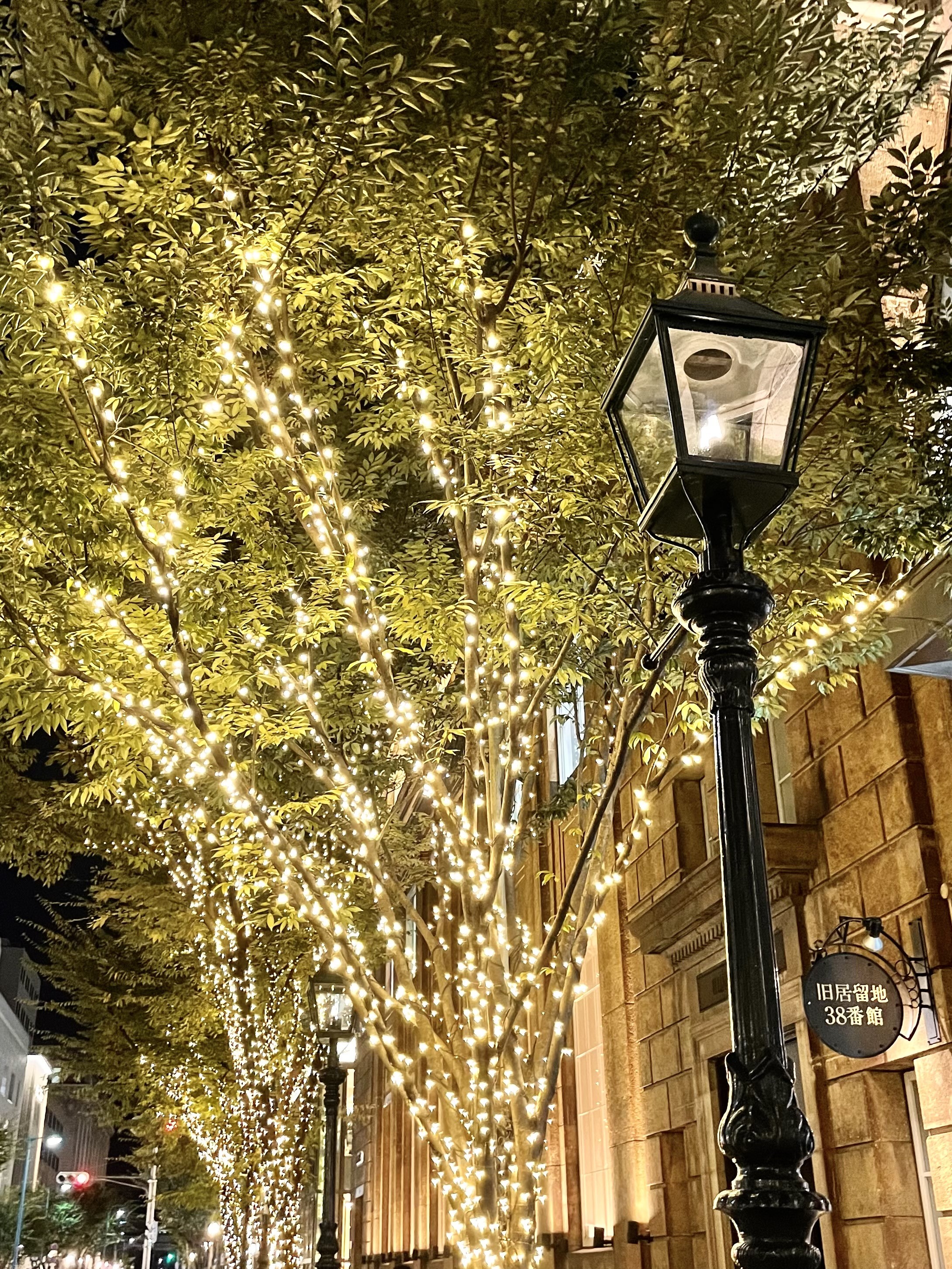 About 40,000 lights decorate the street trees of Akashi-cho, and the retro stone-built townscapes create a glamorous atmosphere♪ The terrace seats of the Italian bar "Café La" in Daimaru Kobe store offer a special view. Enjoy the illumination in a graceful mood while savoring warm drinks and sweets.
Full of unique charms of Kansai! Spend precious time with your loved ones
The illuminations in the popular areas of Osaka, Kyoto, and Hyogo in Kansai are full of unique charms for each region! These events are perfect for spending irreplaceable time with family, lovers, and friends. Please consider them when visiting Kansai.
[Survey] Traveling to Japan
Recommend