The Marvelous Entertainment Spots of Osaka's Namba area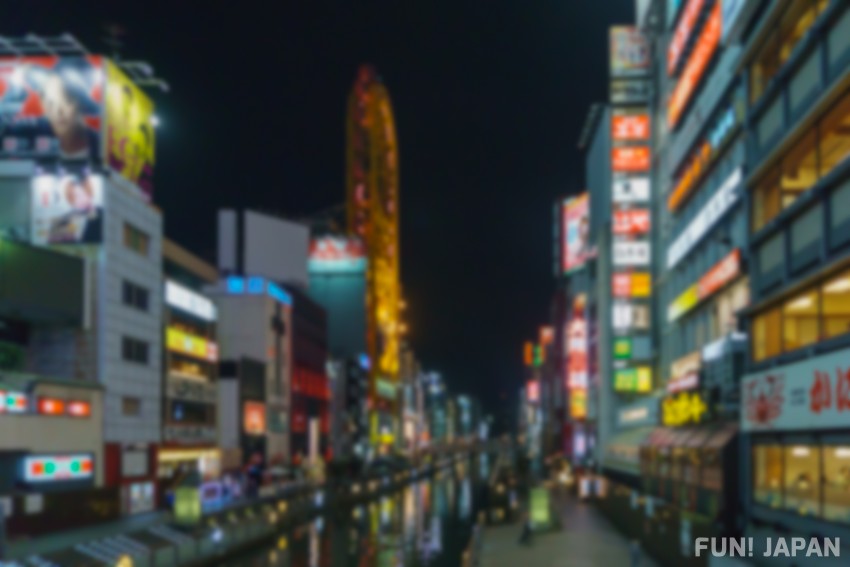 Namba is the center of Minami Ward, and the home of entertainment in Osaka. Located in the southern part of Osaka city, Namba has many popular tourist attractions to marvel at. To navigate through the area with ease, first let us get to know Namba better!
About Namba
Everything goes in Namba
Namba is one of the two busiest districts of Osaka, where everything Japan has to offer goes, from ancient temples and shrines, electric towns, all-night bars, traditional theatre, multistory shopping complexes, to the tastiest street foods and tourist attractions; all in one district! Thus, it is a perfect place for tourists to visit to experience everything within short distances between each, even the locals gather to relax after working.
Where are the luggage storage service in Namba
There are many luggage storage facilities in Namba area such as the followings:
Namba Hand-Free Center
RakuRaku Baggage Storage
Shin-Travel Luggage Storage Namba
E-TIME Hands Free "Teburan"
ecbo cloak supported shops and facilities
There are also coin lockers among four "Namba" stations; Nankai's "Namba" station. Osaka Metro's "Namba" station, "JR Namba" station, and "Osaka Namba" station. You can choose the convenient locations for your needs.
Things to do in Namba
There are many things you can do in Namba, the area with so many things gather. Here are some of the examples you can enjoy in Namba.
You can shop at shopping streets and facilities
You can enjoy traditional performing arts at the local theatres.
You can feast on local cuisines such as the famous street foods.
You can visit ancient temples and shrines.
You can ride a boat along the river with Tombori River Cruise.
Shopping Spots in Namba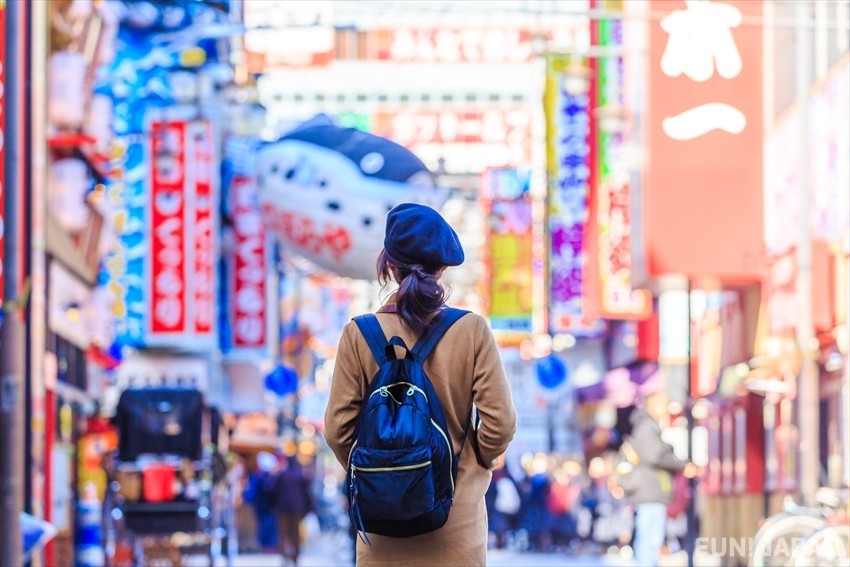 Namba has a variety of shopping spots, whether you want a electric town like Tokyo's Akihabara, shopping streets or arcades, underground shopping malls, or multistory shopping complex; just name one and you can find one in Namba!
Den Den Town
Den Den Town is exactly where you want to go if you want to purchase items like household appliances or software games. Comparable to Akihabara of Tokyo, Den Den Town is the area where subculture or geek culture flourishes, so you can expect something more than just electrical products here!
Ebisubashi-suji
The Ebisubashi-suji shopping street starts from Nankai Namba station and ends at Ebisu-bridge on Dotonbori river. Although named as shopping street, the shops there are divided into many categories such as goods, fashion, beauty, department store, gourmet and even amusement!
Doguyasuji
Named as "Kitchenware Street", Doguyasuji is famous for kitchenware, foods, and even crafting experience! Kitchenware is not limited to just household items, but also includes food samples for putting on the front of the shops and shop's curtains as well!
Namba Walk
A large underground shopping avenue located between Nippombashi station and JR Namba station, with Osaka Metro Namba station in the middle. The sprawling underground complex is 715 meters long and is filled with boutique clothing stores, restaurants, and daily supply stores. There are two aisles and even five major spaces to relax!
Related articles: Easy Access! Enjoy Shopping at Namba Walk Shopping Street 

Namba Parks
A large-scale shopping complex with nine floors full of shops for foods and goods, and many facilities and services available. Namba Parks complex was built on the old site of the Osaka Baseball Park in 2003, with some of the newest shops in Japan. Namba Parks also boasts a rooftop garden with an event space surrounded by beautiful flowers and trees and a movie theater.
Related articles: Enjoy Shopping Surrounded by Greenery at Namba Parks! 

Tourist Spots in Namba
Tourist spots in Namba are mostly concentrated in Dotonbori waterfront area, but there are also spots not so far from there as well!
Dotonbori
The waterfront area of Dotonbori is a bright neon cityscape, lined with shops with fancy signs such as the Glico Man and the giant Octopus. The best time to see the area is at night where the neon signs are lighted up, but you can visit during the daytime for clearer view and a snapshot of yourself doing the Glico Man pose!
Nakaza Kuidaore Building
A building with many restaurant and shops inside. It used to be a store named "Kuidaore", which means "eat 'til you drop", but after closed down in 2008, it has been reopened as Nakaza Kuidaore Building with the original store's mascot, Kuidaore Taro, still greeting visitors at the front.
Tombori River Cruise
A 20 minutes boat trip cruising along the Dotonbori river that let you enjoy Dotonbori from a rare angle. The boats are departing at 0 and 30 minutes on the clock from 13;00 on weekdays or 11;00 on weekends until last ride at 21;00.
Namba Yasaka Shrine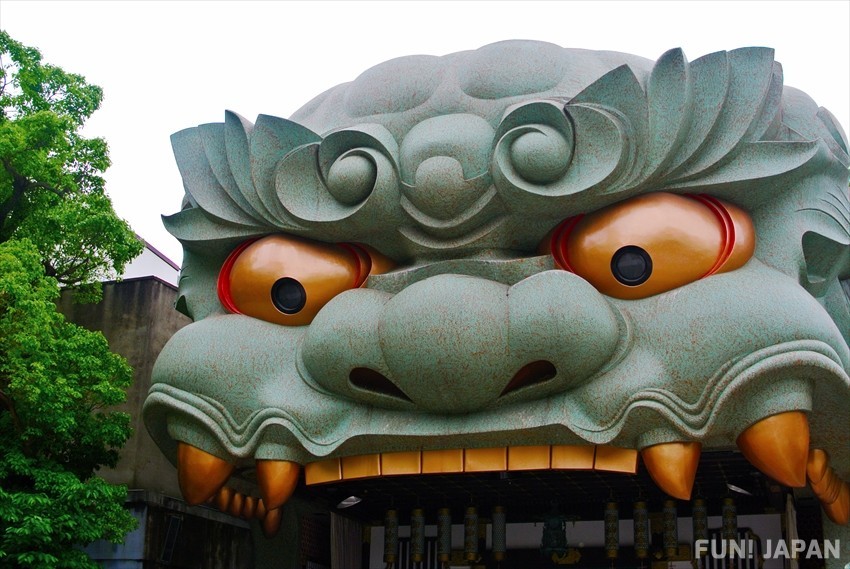 Famous for the lion's head stage which extends 12 meters tall and 7 meters deep, this shrine is known to bring business related luck to those who visit, and thus is most popular during the start and end of financial quarters. Visitors to the shrine will love the mix of the traditional Japanese shrine and the retro look of the lion's head.

Hozenji Temple and the Hozenji Yokocho Alley
Famous for the moss-covered Fudo Myo-O statue, often called as "Splashing Water Fudo" by the locals due to the custom of throwing water at the statue when making a wish, hence the mossy feature. There is also Hozenji Yokocho Alley; the nostalgic alley lined with shops and restaurants.
Related articles: Hozenji: Visit the Mysterious "Mizukake Fudo" and the Nostalgic Hozenji Yokocho

Tourist Spots in areas near Namba
Namba is one of the busiest districts and can get crowded at almost any time of day. But it is conveniently located in the place where you can drop by to other tourist spots in other area as well.
Shinsaibashi
Shinsaibashi refers to the shopping district associated with Shinsaibashi-suji, a roofed arcade of 580m long single alley lined with fashion retailers and chic brand goods of total of around 180 stores. The northern end of Shinsaibashi-suji also runs from Dotonbori, so it is not so far from Namba.
Amerikamura (American Village)
Located just west of Shinsaibashi area, Amerikamura is the center of youth culture. The area has a total of over 2,000 stores, with fashion goods, cafés, restaurants, bars and clubs in the small packed area.
Kuromon Market
Kuromon Market is in Nippombashi in Chuo Ward, with 3 minutes train ride from Osaka Namba station. It is famous for being a fish market, but beside fresh fishes, you can also enjoy exotic foods from restaurants and many rare food ingredients there! Many shops offer street food that you can eat on the go, too!
Tennoji
Tennoji is right in Minami Ward, and is home to one of the oldest temples, as well as the tallest building, in Japan.
Nightclubs and Bars in Namba
While Namba is filled with many things, Nightclub is not as flourished as bars in here. For nightclubs, it is best to head for Amerikamura or Shinsaibashi.
On the other hand, bars are everywhere in Namba, especially in Dotonbori where night life are shone with neon signs. You can find some bars in Namba area such as Little Long Beach and ChicaIchi, and even more at Shinsaibashi and Amerikamura.
Foods and Restaurants in Namba
Osaka has three famous iconic food, and one of them is Takoyaki in Dotonbori area. Being one of the street foods, you can enjoy them on the go, with specialty shops selling Takoyaki in to-go packages. There are also many other foods offered in Namba.
Wanaka, Takoyaki shop
Wanaka is authentic Osaka's Takoyaki shop just 6-minute walk from Namba station, offering light meal for Tabe-aruki (enjoying food while walking).
Fukutaro, Okonomiyaki restaurant
Yet another iconic food of Osaka, the okonomiyaki (a kind of hot plate Japanese pizza). Fukutaro offers variety of okonomiyaki, includes the Negiyaki (spring onions okonomiyaki). With bar counter seats right in front of hot plate, you can enjoy watching the okonomiyaki being prepared by the staff up close.
Ganko Ramen
Ramen is the iconic Japanese food that differs by the regions, as each place has its local flavor. Ganko Ramen in Namba offers shio ramen (salt-based soup ramen) as its specialty; it is a simple yet tasty flavor that you may want to come back for more!
Daikichi, Tempura restaurant
Tempura Daikichi offers tempura dishes at your choice, just 3-minute walk from Namba station. The ingredients inside of tempura are seasonal or classical, and the crisp tempura batter is unique to the restaurant's perfection.
Enya, Yakitori restaurant
Like most yakitori restaurants, Enya also offers drinks such as beers or Japanese sake for you to enjoy with the skewered chicken. It is a nice alternative if you want to drink with delicious grilled chicken skewers instead of drinking at the bars!
Hotels in Namba
Namba stations are crowded almost all the time for being a hub with many tourist spots and local entertainments. For the same reason, there are many hotels near Namba stations with variety of choices, from luxurious hotels to economic hotels. Here, we choose to introduce a few hotels close to Namba stations for your convenience.
Residential Hotel HARE Kuromon
Located just 10-minute walk from Nankai Namba station, Residential Hotel HARE Kuromon boasts large family rooms and providing terrace for guests. With free Wi-Fi and necessity equipment such as kettle, hairdryer, air conditioner and microwave, you would not believe that the average budget for this hotel starts at around 5,500~ yen per night!
Spot Information
Spot name: Residential Hotel HARE Kuromon
Address: 2-14-32 Nipponbashi, Chuo-ku, Osaka, Osaka 542-0073
Access: 10-minute walk from Nankai Namba station
Hiyori Hotel Osaka Namba Station
Just 200m from Nankai Namba station, Hiyori Hotel Osaka Namba Station is ideal location if you want to get to the hotel right after landing at Kansai International Airport and riding train to Namba. Provide the guests with private bath, wardrobe, free Wi-Fi, and buffet breakfast for the average budget starting at around 5,200~ yen per night, you can get all the luxurious features and convenience of accessing major tourist destinations around Namba area!
Spot Information
Spot name: Hiyori Hotel Osaka Namba Station
Address: 3-1-2 Nambanaka, Naniwa-ku, Osaka, Osaka 556-0011
Access: 2-minute walk from Nankai Namba station
nine hours Namba station
If you want to save your budget, the capsule hotel nine hours Namba station is ideal for you, starting at around 2,300~ yen per night! Equipped with free Wi-Fi throughout the property and 24-hour front desk with luggage storage space, this accommodation will help your wallet as well as your convenience of travel all-in-one!
Spot Information
Spot name: nine hours Namba station
Address: 3F Park Tower, 2-10-70 Nambanaka, Naniwa-ku, Osaka, Osaka 556-0011
Access: 2-minute walk from Osaka Metro Namba station
Kamon Hotel Namba
A little closer to Nippombashi than Namba area, but you can access Namba within 8 minutes. Kamon Hotel Namba offers both non-breakfast plans and ones with breakfast and is more suitable for 2 persons or more as the price is cheaper with more people, down to around 1,700~ yen per person per night! Free Wi-Fi, private bathroom and TV in the guest rooms, the hotel also sits in the middle of area full of restaurants.
Spot Information
Spot name: Kamon Hotel Namba
Address: 2-3-23 Sennichimae, Chuo-ku, Osaka, Osaka 542-0074
Access:

7-minute walk from Osaka Metro Namba station
2-minute walk from Osaka Metro Nippombashi station
Hotel Royal Classic Osaka
If you have enough budget to spare and look for luxury hotel, then Hotel Royal Classic Osaka is the place for you. Starting from around 18,000~ yen per night, you can expect many in-hotel facilities such as parking lot, bar, restaurants, and even currency exchange service! The accommodation come with buffet breakfast and city view from high floor and located close to all Namba stations for convenience of traveling.
Spot Information
Spot name: Hotel Royal Classic Osaka
Address: 4-3-3 Namba, Chuo-ku, Osaka, Osaka 542-0076
Access:

Directly connected to Osaka Metro Namba station No. 12 Exit
4-minute walk from Nankai Namba station
3-minute walk from Osaka Namba station
10-minute walk from JR Namba station via the underground Namba Walk
How to get to Namba
About Namba Stations
There are four stations named "Namba", each owned by separate company.
The first one is Nankai's "Namba" station, owned by Nankai Electric Railway, and is the only station above the ground.
The second is Osaka Metro's "Namba" station, owned by Osaka Metro, and serviced by the following subways: the Midosuji line, the Yotsubashi line, and the Sennichimae line.
The third one is called "Osaka Namba" station, shared by Kintetsu Railway, Hanshin Electric Railway, and serviced by the Kintetsu line and the Hanshin line.
And the last station is JR Namba station owned by the West Japan Railway (JR West) and serviced by Yamatoji line, which connects Osaka to Oji Station and Nara Station in Nara prefecture.
Each station is not so far from one another, but you may have to choose the stations based on which line is available from your departure point and which exits you would like to go upon arrival.
Access to Major Stations
| | | |
| --- | --- | --- |
| Major Station Name | Transportation  | Time Required |
| Amerikamura | Namba (Subway) →Yotsubashi Line→Amerikamura  | About 1 minute |
| Nipponbashi | Namba (Subway) →Sennichimae Line→ Nipponbashi  | About 1 minute |
| Shinsekai | Namba (Subway) →Midosuji Line→Shinsekai  | About 5 minutes |
| Umeda | Namba (Subway) →Midosuji Line →Umeda  | About 10 minutes |
| Shin Osaka | Namba (Subway) →Midosuji Line→Shin Osaka  | About 15 minutes |
| Universal Studios Japan | Osaka Namba →Hanshin Line →Nishi-Kujo →Yumeski Line →Universal City  | About 25 minutes |
| Kobe | Osaka Namba →Hanshin Line (rapid train)→ Kobe-Sannomiya  | About 45 minutes |
| Nara | Osaka Namba →Kintetsu Line→ Nara OR JR Namba →Yamatoji Line (rapid train) →Nara  | About 45 minutes |
| Kyoto | Namba (Subway) →Midosuji Line →Umeda →Walk →Osaka →JR Tokaido Line / San'in Line →JR Kyoto  | About 50 minutes |
| Itami Airport | Namba Bus Terminal →Limousine Bus →Itami Airport  | About 28 minutes |
| Kansai Airport | Namba (Nankai) → Nankai KIX Line→ Kansai Airport  | About 45 minutes |
[Survey] Traveling to Japan
Recommend