Osaka's 3 hot spring facilities + hot spring areas to visit. From hot spring inns with private baths to theme park facilities.
Although the hot springs in Osaka might not be so well known, there are actually hot spring facilities scattered not only in the suburbs but also in the city center as well. According to the Ministry of the Environment's "2020 Hot Spring Usage Status," the amount of spring water gushing out in Osaka is 33,091 liters per minute, which is more than Kyoto and Kanagawa. Moreover, there are various hot spring areas surrounded by nature and even hot spring theme park facilities. After you are planning a hot spring trip to Japan, you will surely make the most of it with the below facilities!
Before heading out to the hot springs in Osaka, let's learn about the main hot spring areas
There are many hot springs with excellent spring quality in Osaka. Some hot springs, such as Inunakiyama Onsen (犬鳴山温泉) and Minoh Onsen (箕面温泉), have been recognized as "Medicinal Springs (or Healing Springs)'' that contain a certain amount of specific ingredients, according to the guidelines of the Ministry of the Environment. Access from the city center to each hot spring resort is convenient, not to mention each has its own distinguished charm.

Ushitaki Onsen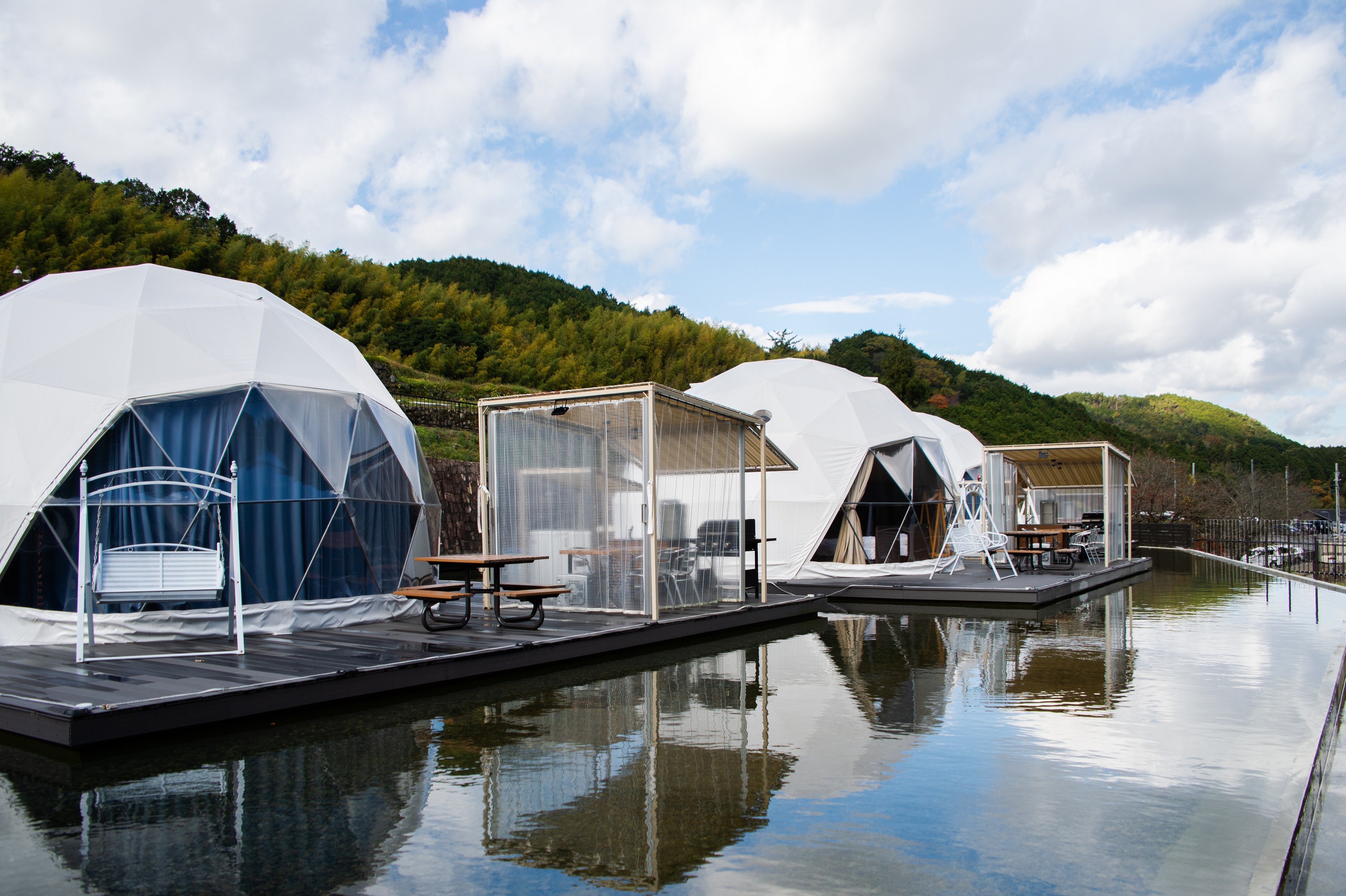 "Ushitaki Onsen" (牛滝温泉) is surrounded by rich nature in the southern part of Kishiwada City. The source gushes out from the Cretaceous strata where fossils such as ammonites are excavated. The hot water is a chloride spring that has a slightly slimy feel and has a skin-beautifying effective. It is a hot spring area where you can enjoy hot springs with the nature of the four seasons.

Access from Umeda
About 50 minutes by subway and private railway from Umeda Station, about 50 minutes by bus from Kishiwada Station
Inunakiyama Onsen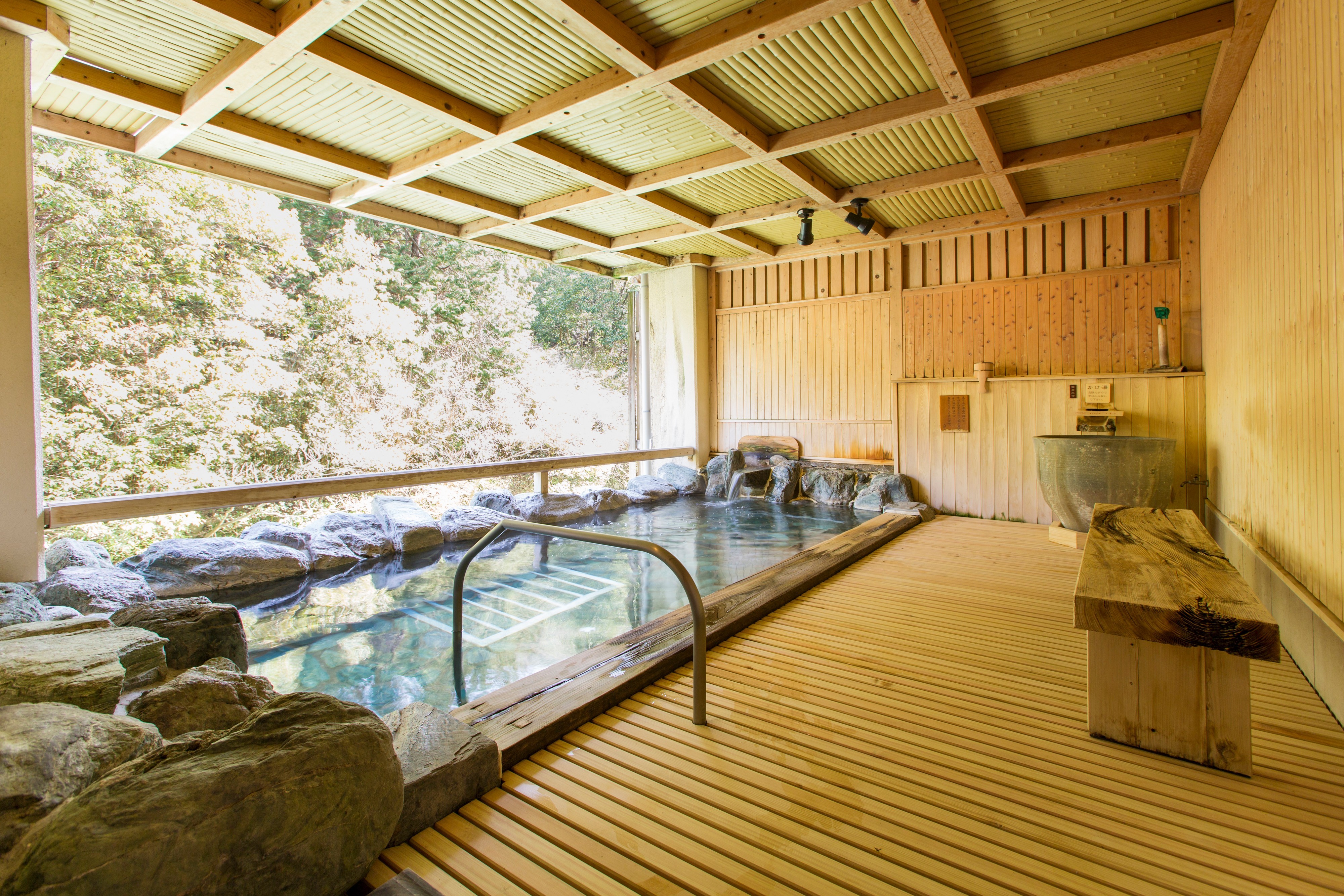 Since the opening of Kansai International Airport, "Inunakiyama Onsen" (犬鳴山温泉) is said to be "the hot spring closest to the world" because of its good access of just about 30 minutes from the airport. It is the only hot spring village in Osaka, and surrounded by the beauty of a valley rich in nature. The hot spring is a simple sulfur spring that is effective for neuralgia, muscle pain, and skin-smoothing. The excellent spring quality and nature will soothe both your body and mind!

Access from Umeda
About 1 hour and 15 minutes by subway and JR from Umeda Station, about 20 minutes by bus from JR Hineno Station
Amami Onsen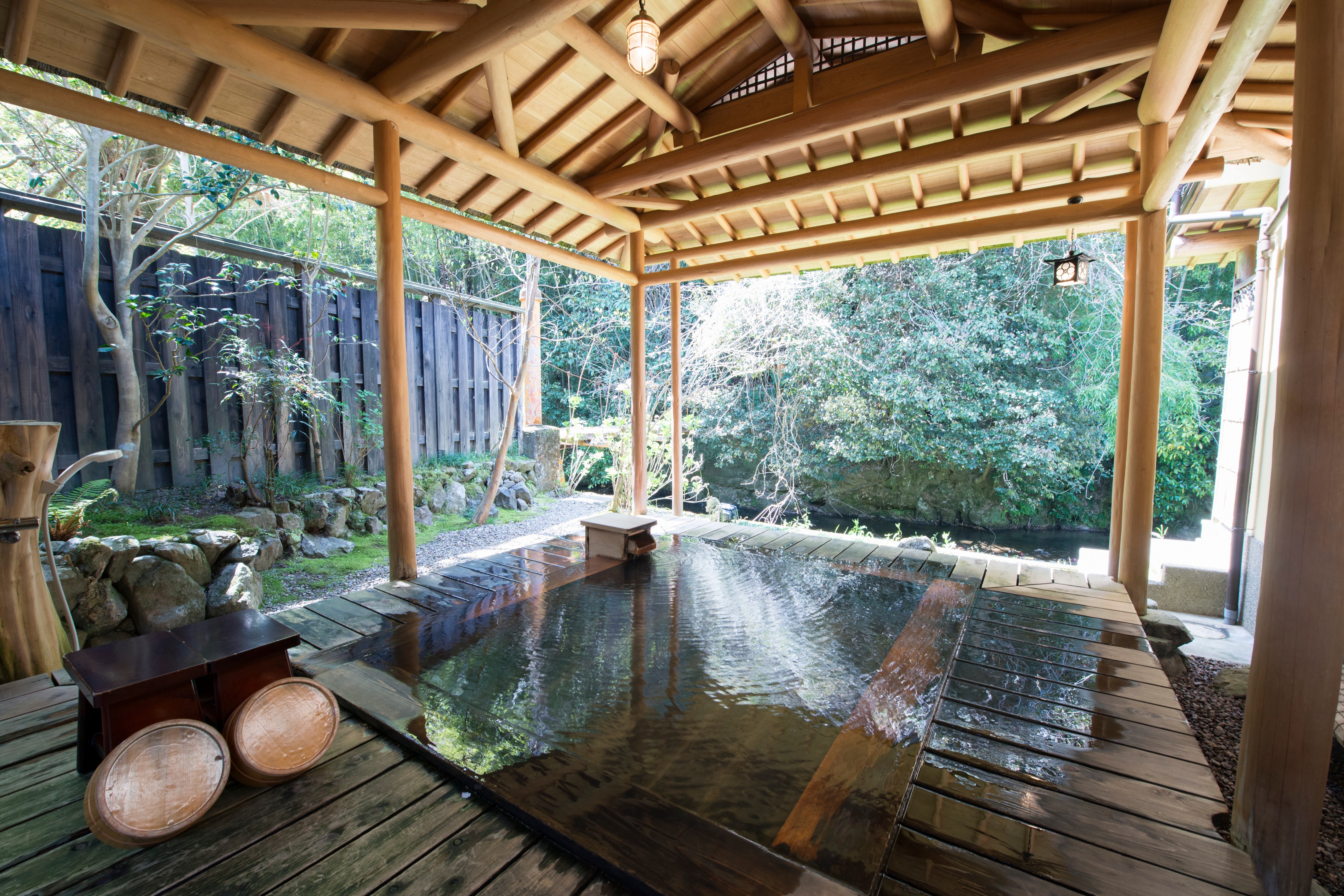 The historic "Amami Onsen" (天見温泉) opened in the 14th century is located on the banks of the Amami River, which is surrounded by greenery in Osaka. The hot water is a simple radioactive spring that is effective for chronic cholecystitis and cholelithiasis. You can use it at the Japanese inn "Amami Onsen Nanten-en" (あまみ温泉 南天苑) which is filled with rich nature. The inn is a mere 1-minute walk from the nearest train station. Be sure to admiriethe scenery outside the window while soaking in the bath.
Access from Umeda
About 1 hour by subway and JR from Umeda Station
The best 3 hot spring facilities in Osaka selected by the editorial department according to purpose
Want to know how to enjoy hot springs and baths without leaving the city? We will guide you through 3 facilities where you can enjoy hot springs, from inns rich in nature that you wouldn't expect to find in the suburbs of the city, to large hot spring facilities where you can spend the whole day there.

Inunakiyama Onsen Fudouguchikan: soothe your body and mind in open-air baths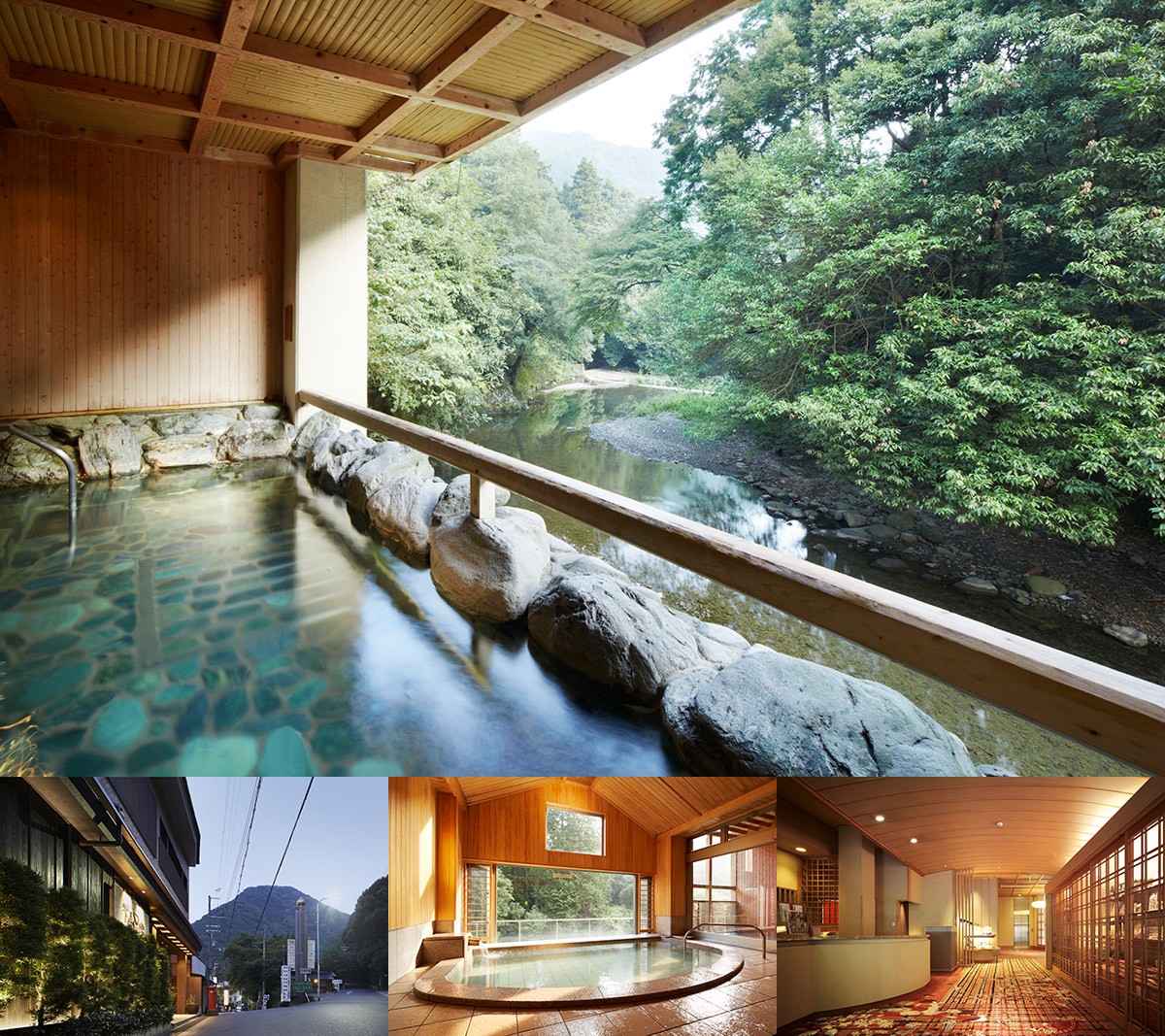 Surrounded by rich nature and valley beauty, "Fudouguchikan" (不動口館) is a hot spring inn that welcomes you with natural hot springs and warm smiles. While listening to the murmuring of the mountain stream, soak in the open-air baths, large public baths, and/or even the private open-air baths that can be used as an option for overnight stays and day trip lunch plans. The extraordinary atmosphere here is wonderfully authentic.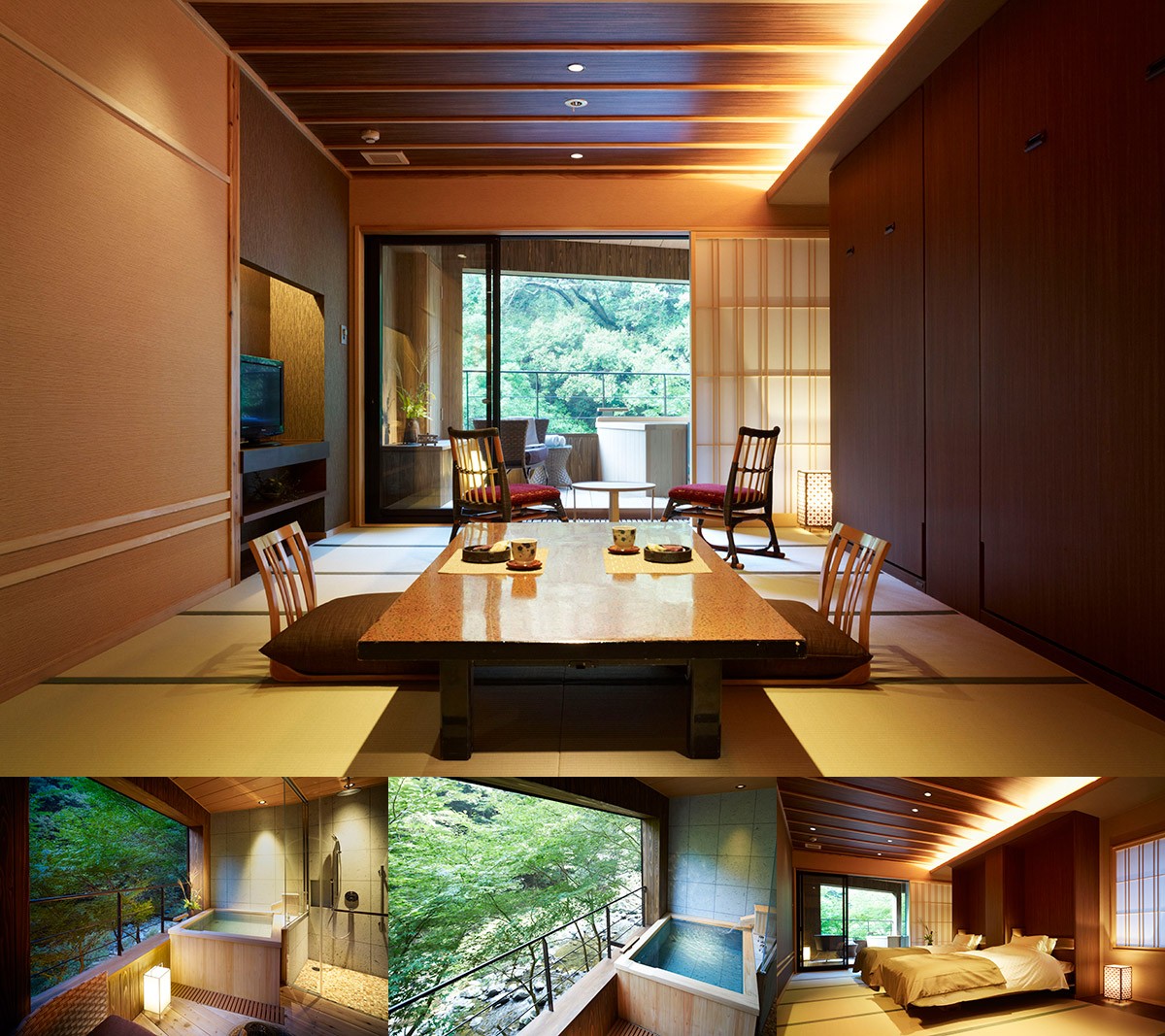 The recommended rooms are the ones with open-air baths and the Japanese-style twin types with open-air baths. You can soak in the hot springs at any time and enjoy the great outdoors and comfortable space all to yourself.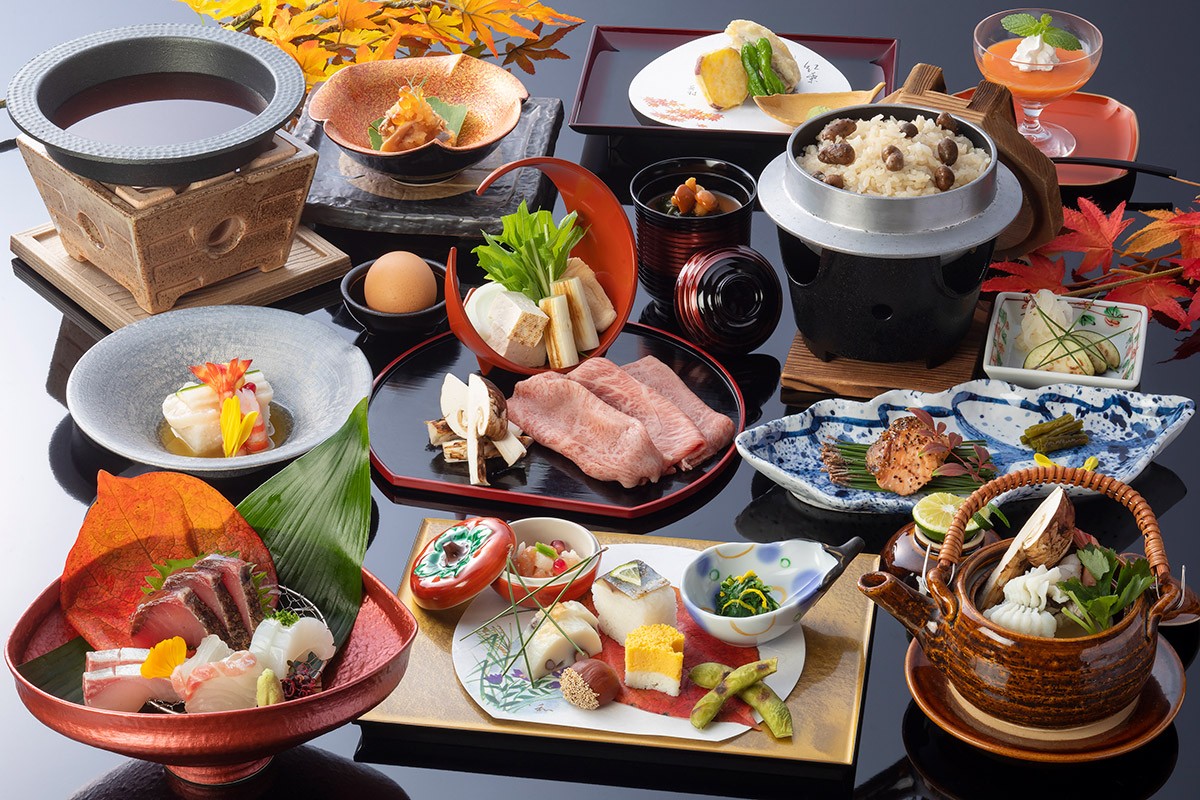 In addition to a satisfying and relaxing guest experience, this inn promises exquisite dishes made with local seasonal ingredients that truly show craftsmanship.

Spot Information
Address: 7 Ooki, Izumisano City, Osaka
Day trip hot spring bathing hours: 11:00-21:00 (reception until 20:00)
Day trip bathing fee: 900 yen for adults, 450 yen for children
Average accommodation cost: 1 night with 2 meals 17,000 yen (tax included)
Solaniwa Onsen: one of Kansai's largest hot spring theme parks where you can spend a whole day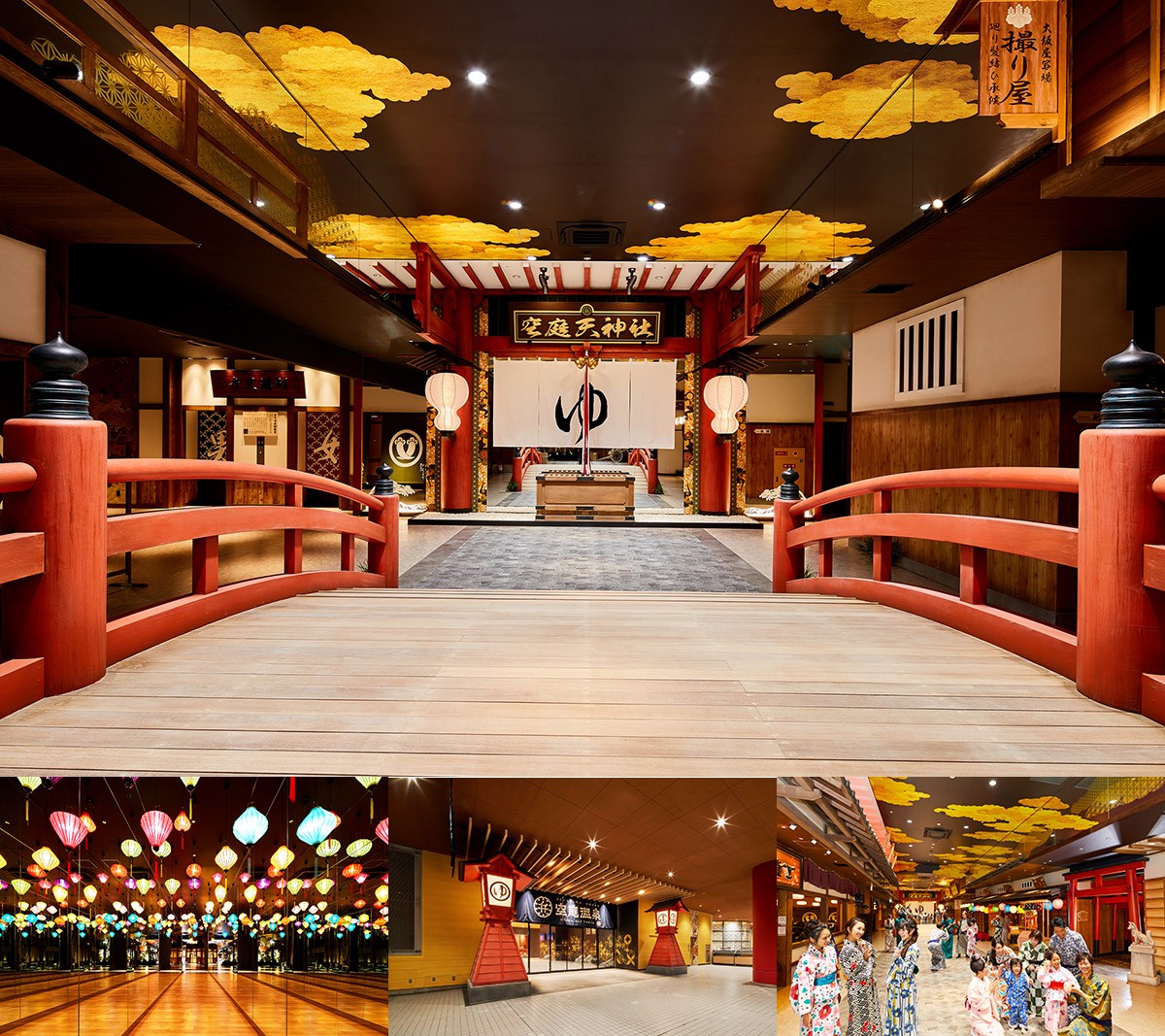 "Solaniwa Onsen" (空庭温泉) is Kansai's largest hot spring theme park where you can enjoy natural hot springs. You can have an exciting experience in a space that fuses traditional Japan and modernity.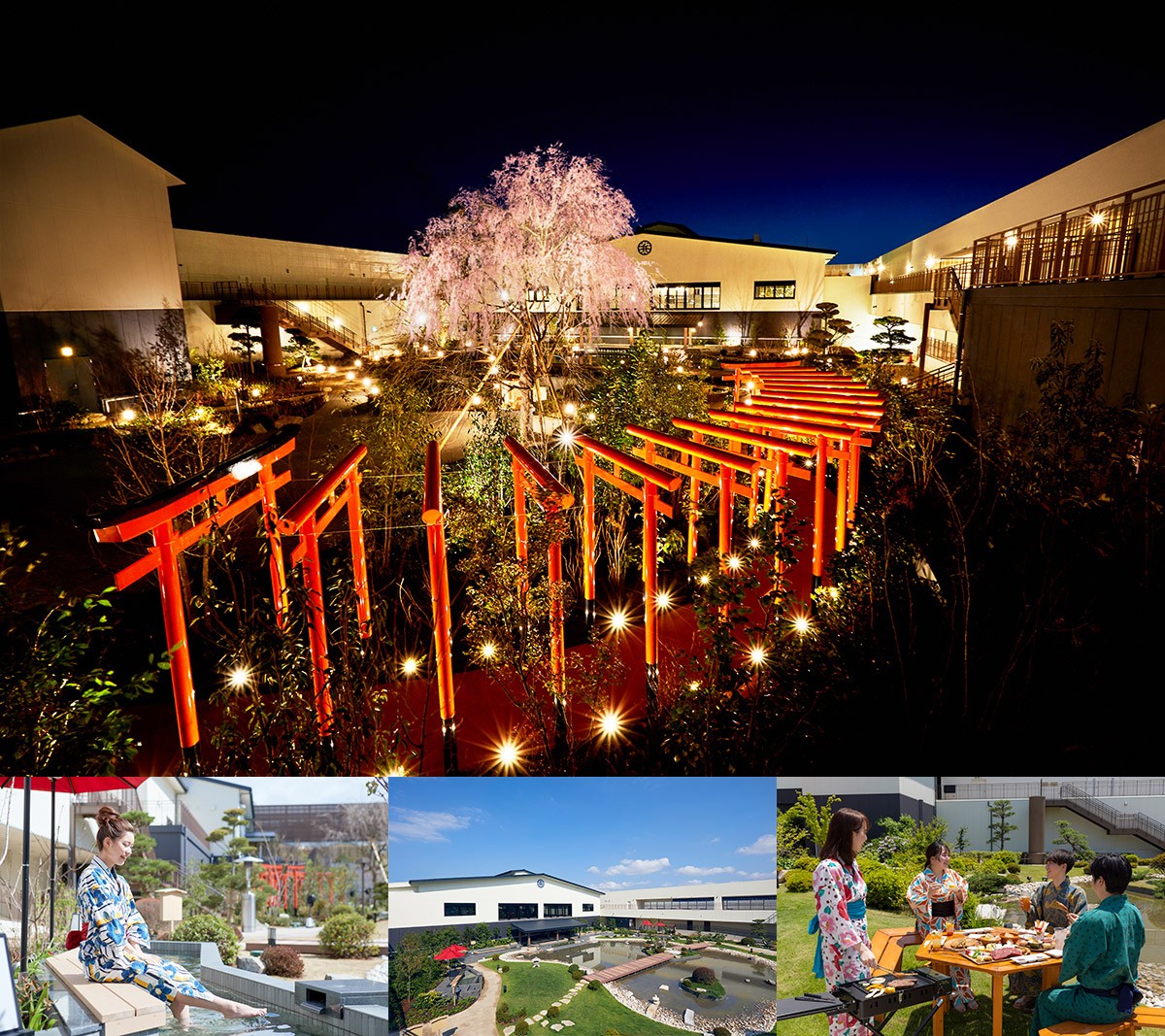 One of the highlights is the huge Japanese garden on the rooftop. You can enjoy walking and footbath in an environment full of Japanese atmosphere. The red Thousand Torii Arches makes for a perfect Instagrammable photo spot.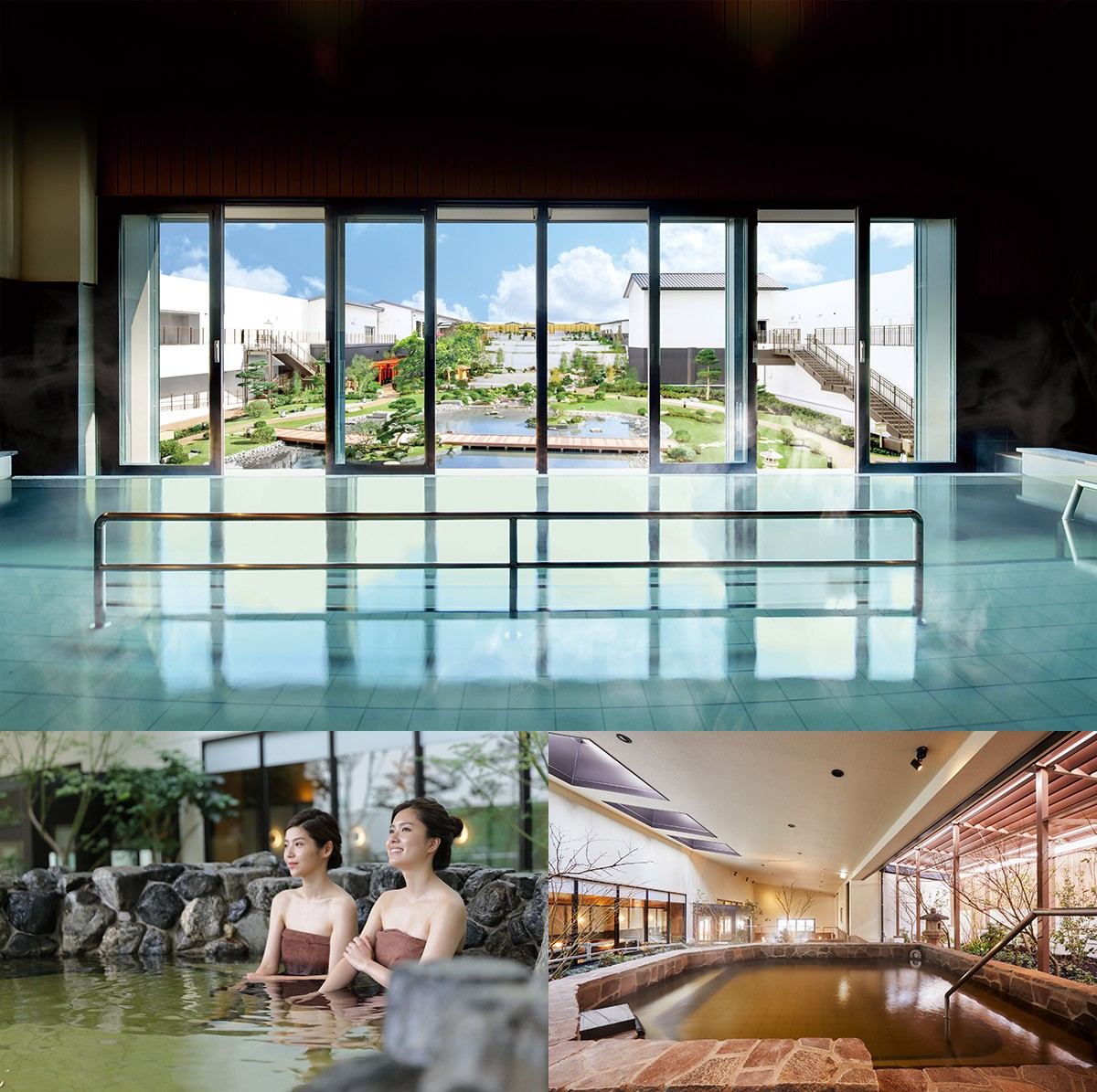 Enjoy the hot springs in 9 types of baths, including a bath with a panoramic view of the garden and a bath with free-flowing hot spring water right from the source. The place is fully equipped with a stone sauna and private open-air baths with an inner garden where you can relax in a completely private space. It is way too easy to spend a whole day here!

Spot Information
Address: 1-2-3 Benten, Minato Ward, Osaka City, Osaka Prefecture
Opening hours: 11:00-23:00 (Last admission 22:00)
Price: Weekdays: Adults 2,640 yen, Children 1,320 yen (Weekends and public holidays: Adults 2,860 yen, Children 1,430 yen, etc.)
*Osaka city bathing tax not included
Ooedo Onsen Monogatari Minoh Kanko Hotel: a non-standard open-air bath that surprises everyone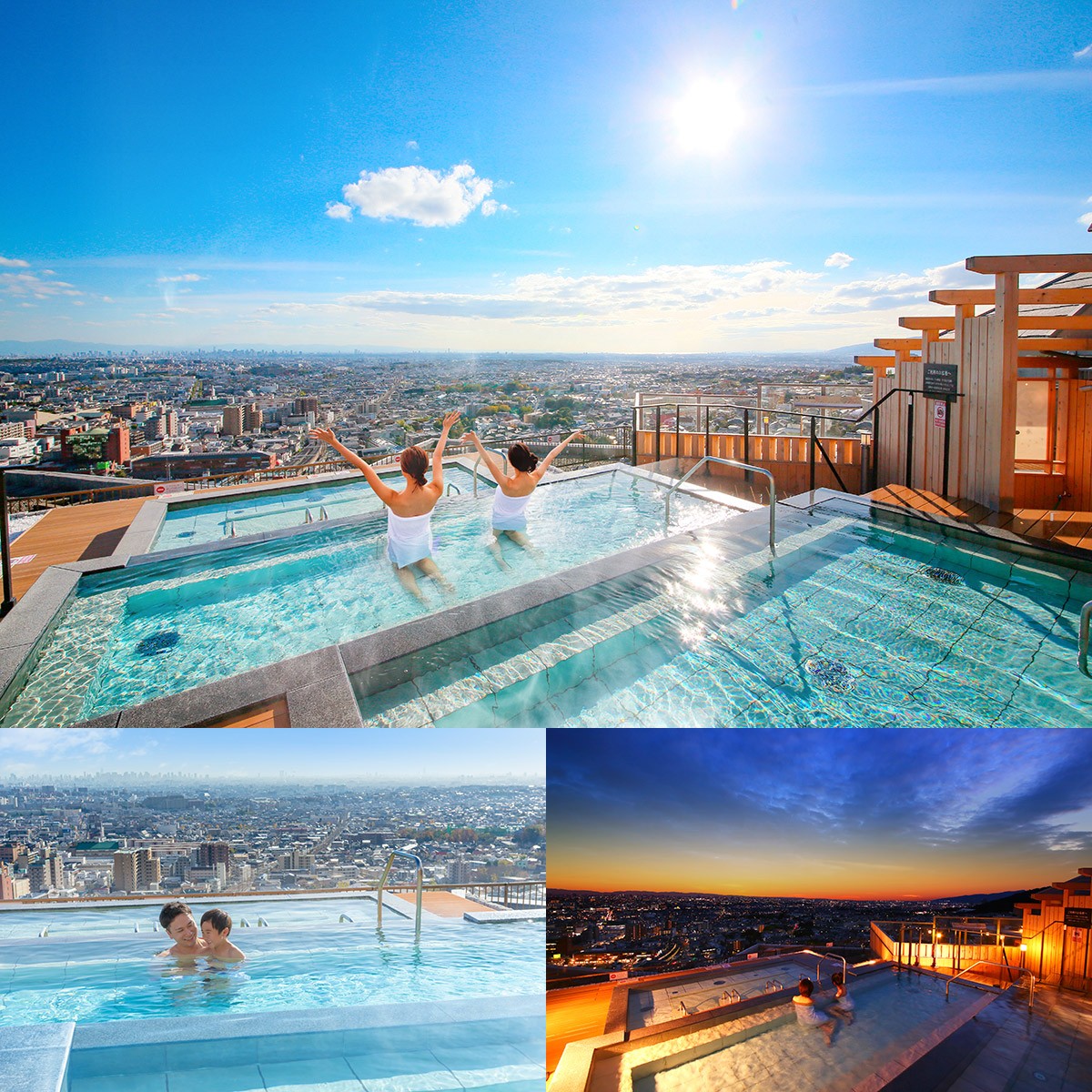 The view of the large public bath on the top floor of Ooedo Onsen Monogatari Minoh Kanko Hotel will surprise everyone for sure. You can enjoy the superb views including blue skies, sunsets, and even the night views of Osaka's cityscape from the open-air baths, which are lined up just like terraced rice fields.
In the indoor bath, you can enjoy Minoh Onsen which boasts the best spring quality in the Kansai region, and is recognized as a Medicinal Spring.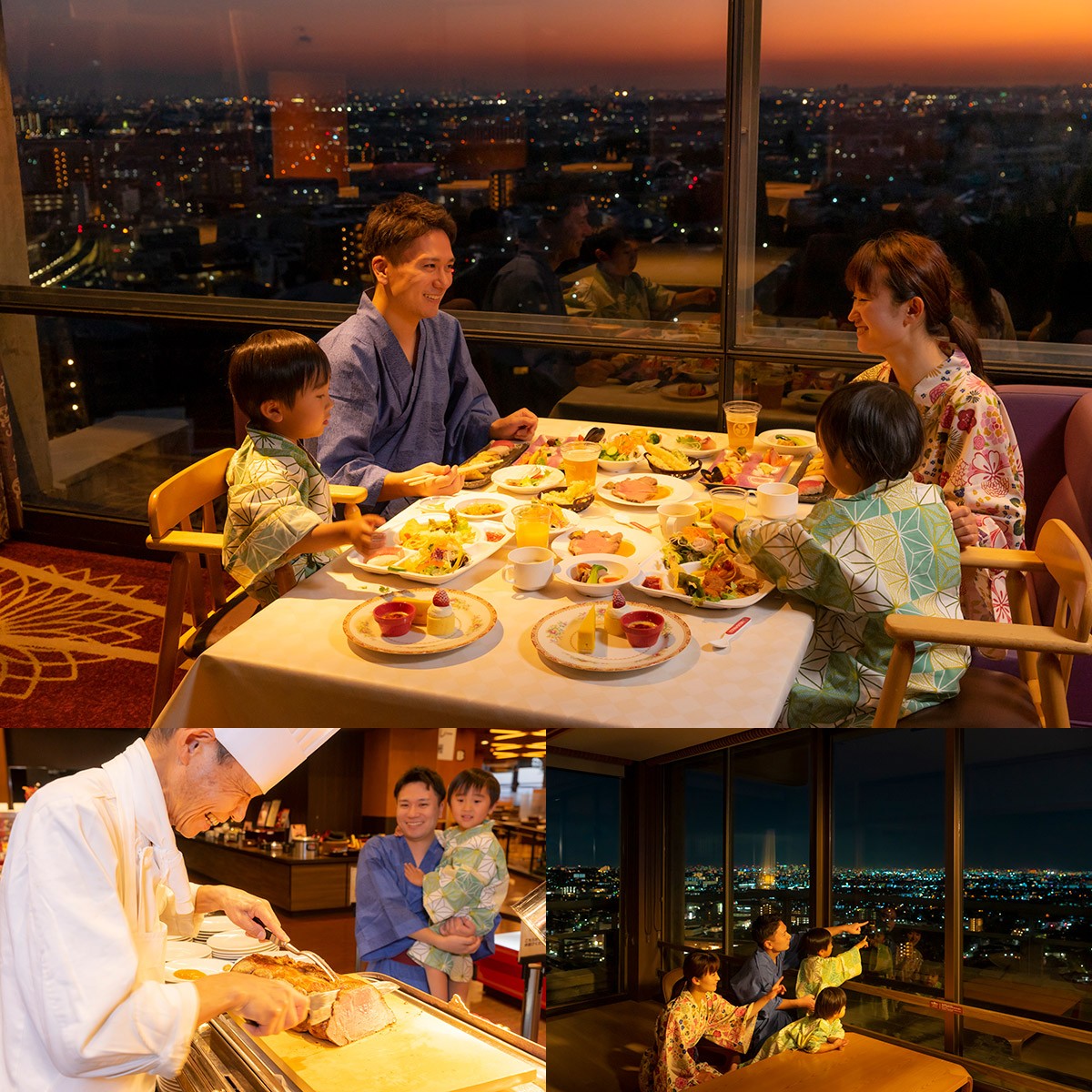 Meals are buffet style, so you can eat a variety of dishes as much as you want. The excitement of the live kitchen is also not to be missed. This is an accommodation where you can feel excited all day long without bore.

Spot Information
Address: 1-1 Onsen-cho, Minoh City, Osaka Prefecture
Average accommodation cost: 1 room for 2 adults (1 night with 2 meals) 11,528 yen to 28,578 yen
Hot springs that can be reached in about an hour from Osaka!
Kansai is attractive because of its good access from Osaka to neighboring prefectures. Why not take advantage of the good access and extend your trip to neighboring prefectures?

Arima Onsen (Hyogo Prefecture)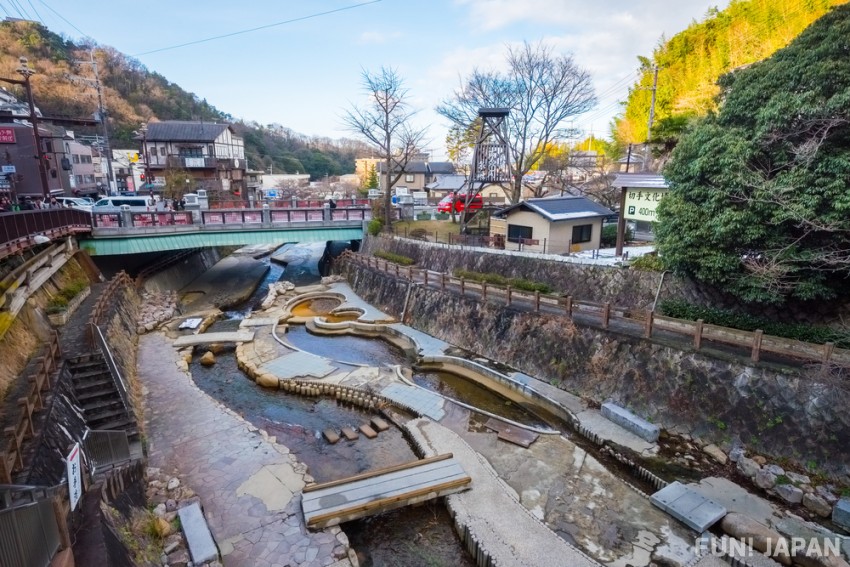 It is a rare hot spring in the world that contains 7 of the 9 main mineral components of Medicinal Springs designated by the country. There are reddish-brown Kinsen (golden hot spring) and colorless and transparent Ginsen (silver hot spring), each has different components, for travelers to enjoy their benefits.

Access from Osaka
About 1 hour from Osaka Station via Sannomiya Station, Tanigami Station, and Arimaguchi Station by subway and private railway



Arashiyama Onsen (Kyoto Prefecture)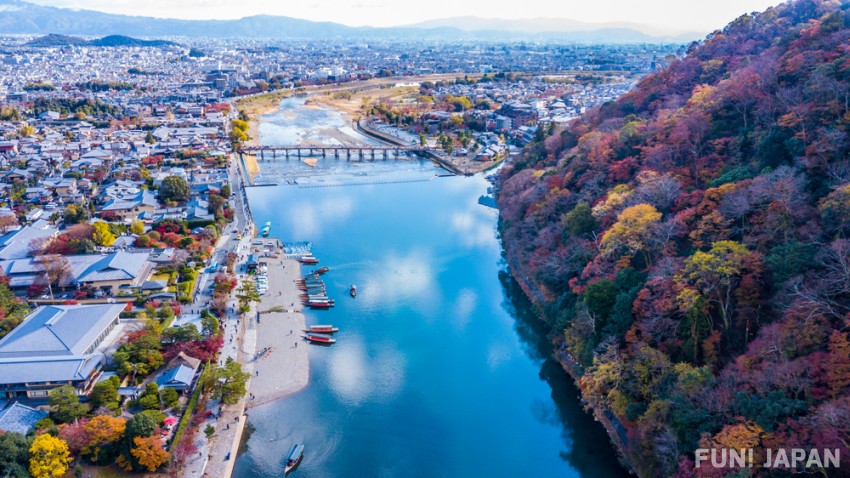 "Arashiyama Onsen" (嵐山温泉) is located on the bank of the Hozu River in Arashiyama, a popular tourist destination in Kyoto. It is a hot spring area that combines the scenery of nature with the atmosphere of the ancient capital. The area is dotted with sightseeing spots, and you can enjoy seasonal events such as the young sweetfish festival (若鮎祭 / wakaayu matsuri) and cormorant fishing (鵜飼い / ukai).

Access from Osaka
About 1 hour by private railway from Hankyu Osaka Umeda Station to Arashiyama Station via Katsura Station



Shirahama Onsen (Wakayama Prefecture)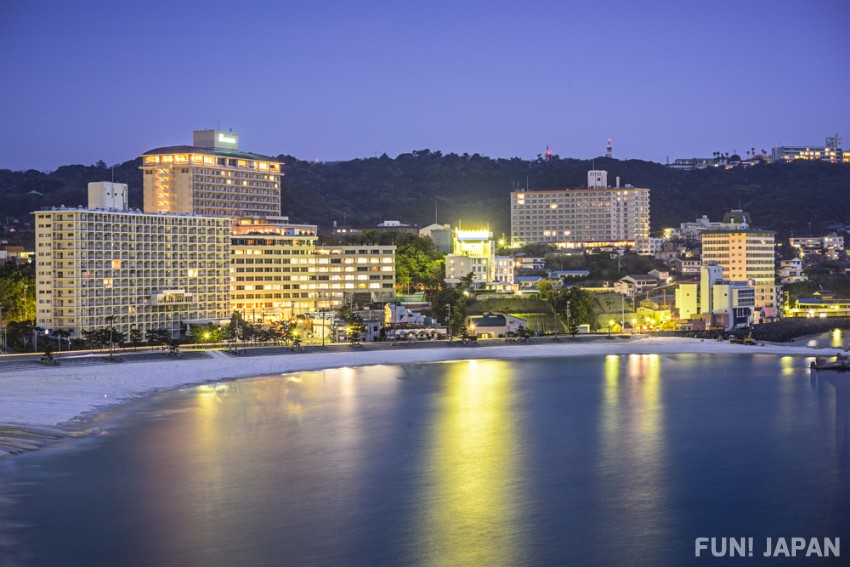 "Shirahama Onsen" (白浜温泉), one of Japan's three oldest hot springs boasting a history of over 1350 years, is located in the southwestern part of the Kii Peninsula. There are several sources with different spring quality, and various effects can be expected. You can also enjoy events that take advantage of the scenic landscape, such as fireworks and illuminations.
Access from Osaka
About 2 hours 30 minutes by limited express from JR Shin-Osaka Station, then about 15 minutes by bus to Shirahama Yuzaki Onsen



[Survey] Traveling to Japan
Recommend