Discover Osaka - The Capital of West Japan
Osaka is the main city of the Kansai region in Western Japan. As the biggest city in the Osaka-Kyoto-Kobe tri-city area and the capital of the Osaka prefecture, the city is a popular tourist destination with many places to see and many things to do.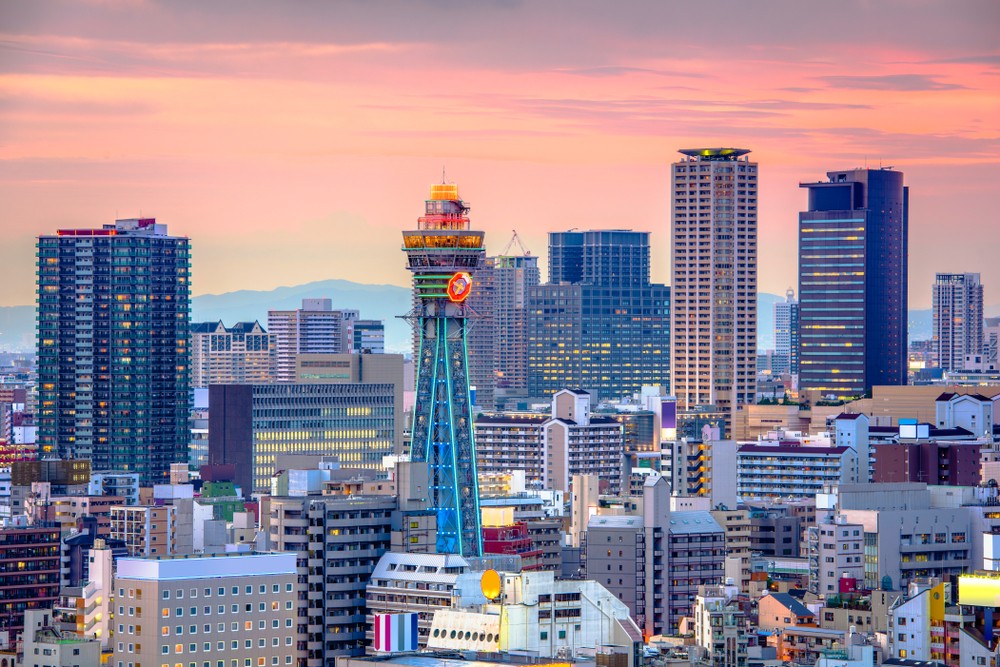 Learn About the Wonderful City of Osaka
When you learn about Osaka, you'll be able to understand the reasons on how the city came to be. Throughout the city's life, from ruins found in the 5th – 6th centuries B.C. to the Meiji Restoration, Osaka has always been a port city for western Japan and the industrial capital of Japan pre-WWII.
Historically, Osaka was known as Naniwa, and for a short few years was the capital of Japan during the Nara period. On January 1st, 1868, Osaka was one of two cities opened up for foreign trade, the other being Kobe's predecessor city, Hyogo. This caused an influx of foreign investment which greatly increased the economy of the township.
Modern Osaka was born in 1889 when it finally became its own municipality area. Starting out at only 15 square kilometers for the entire city, the metropolitan area has since expanded to encompass 223 square kilometers.
Things to Do In Osaka
With such a rich and long history, there are many things to do in Osaka to make your trip to Japan as interesting as possible. From historic Japanese castles to one of the greatest theme parks in Japan, Osaka is abundant with activities.
The Historic Osaka Castle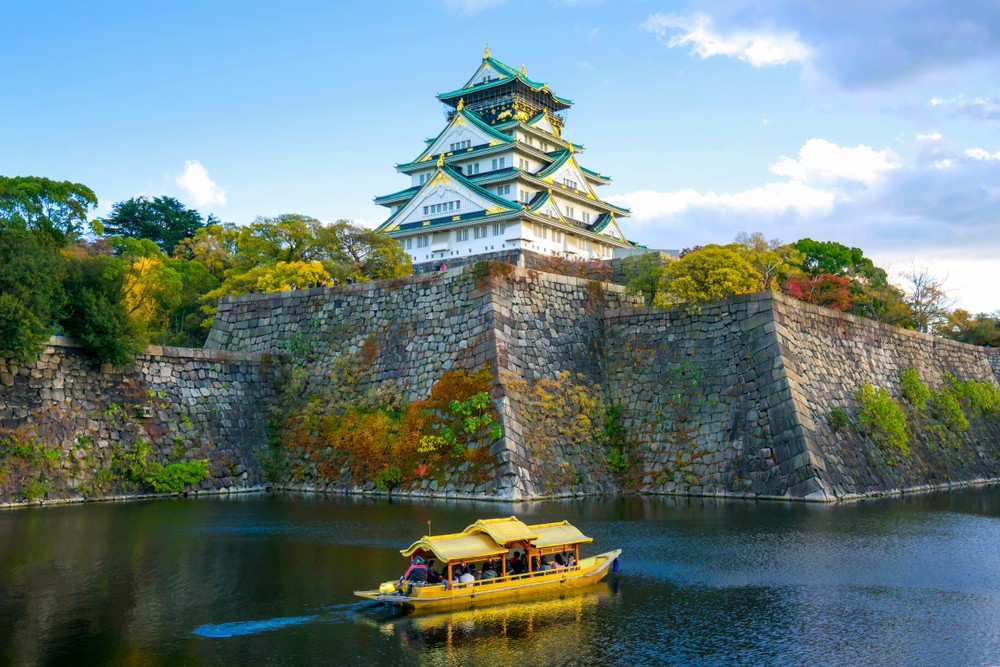 Restored in 1997, Osaka Castle and Osaka Castle Parks showcases two square kilometers of beautiful historic Japan in the heart of Osaka. The fortification was first built in 1583 to unify Japan under Hideyoshi, when that didn't work due to an attack by the Tokugawa clan, the castle was used as a symbol of Japan's long history.
Spot information
Spot name: Osaka Castle Grounds
Street address: 1-1 Osakajo, Chuo, Osaka 540-0002
Access: A 1-minute walk from Osakajokoen Station on the Osaka Monorail
Swim with the fishes at Osaka Aquarium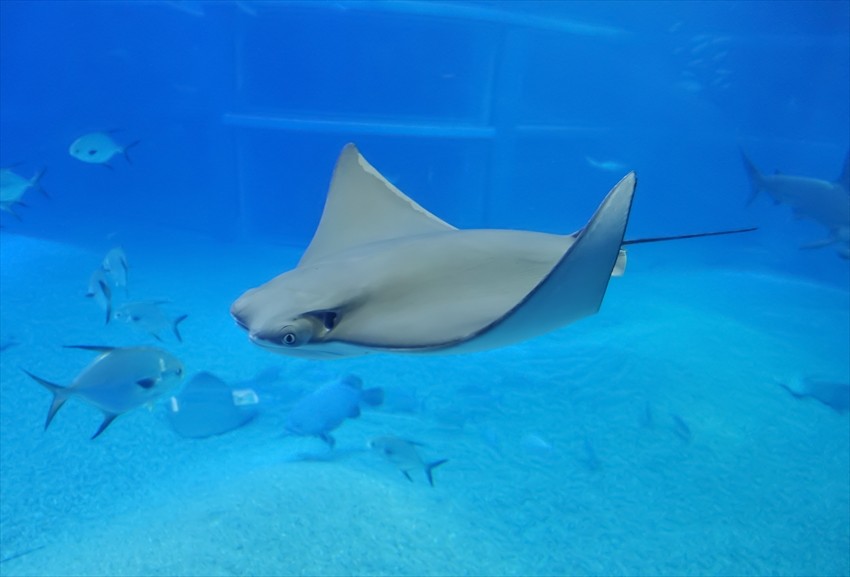 Osaka Aquarium is one of the largest aquariums in the world. On display inside the facility is 27 tanks, holding 620 different species. A bulk of the creatures showcased are from the Pacific Ocean's Ring of Fire, with exhibits replicating the environments that these sea creatures would naturally live in.
Spot information
Spot name: Osaka Aquarium Kaiyukan
Street address: 1-1-10 Kaigandori, Minato-ku, Osaka 552-0022
Access: A 5-minute walk from Osakako Station on the Chuo Subway Line
Get Schooled at Osaka University
You'll need to apply to go into any of the Osaka University academic areas. But the Toyonaka Campus has some free places to see if you're interested in the history of Japan and the University.
The Osaka University museum is free to enter and has a rotation of exhibits based on Japanese history, with traditional items on display to see. To learn more, the main library is also free to use on the campus with thousands upon thousands of books.
Spot information
Spot name: Osaka University Toyonaka Campus
Street address: 1-32 Machikaneyamacho, Toyonaka, Osaka 560-0043
Access: A 1-minute walk from Shibahara Station on the Osaka Monorail
More Things to Do in Osaka
Discover more things to do in Osaka and have fun looking at all the attractions Kansai's capital has to offer.
The Osaka Castle Park
Inside the Osaka Castle grounds, you'll find a range of things to do and see. A stroll around the park during the springtime gives you a dazzling view of the sakura blooming, and if you go in the autumn, you'll be able to experience the colored leaves. Inside the Castle is the Osaka Castle Museum which has an observation deck on the 8th floor overlooking Osaka.
Pacific Ocean Showcase at Osaka Aquarium
The Pacific Ocean showcase at the Osaka Aquarium is the biggest exhibit on display. On show inside the tank is some of the deadliest creatures that grace the Earth, including multiple species of shark. With 30,000 animals on display, this is a place not to be missed in Osaka.
The Thrills of Osaka Universal Studios
Osaka Universal Studios is home to some of the best rides and theme park zones in the world. As the Japanese version of the Orlando theme park, many of the same attractions are re-created for Japan.
The most popular zone is The Wizarding World of Harry Potter, a huge area that recreates the town of Hogsmeade from the popular "Harry Potter" films. The park also has attractions themed around Japanese properties like Hello Kitty, Attack on Titan and Evangelion.
Spot information
Spot name: Universal Studios Japan Osaka
Street address: 2-1-33 Sakurajima, Konohana-ku, Osaka 554-0031
Access: A minute walk from Universal City Station
Get Your Grub on at an Osaka Restaurant
Kansai's largest city is known as Japan's Kitchen and many Osaka Restaurant deliciously reflect that.
Taste Osaka Sushi
Tasting Osaka sushi is a must do when in the city. Thanks to the abundance of fresh fish, you'll be hard pressed to find bad sushi when looking for a place to eat. For those wanting to try the best of the best, Kurosugi is a Michelin starred sushi restaurant in the Kita area that offers a set menu course of delicious sushi.
Spot information
Spot name: Kurosugi
Street address: 1-2-1 Shin-dai Bldg. 2F Dojimahama, Kita, Osaka 530-0004
Access: A 5-minute walk from Yodoyabashi Station
Also, in the Kita, a more affordable sushi spot also offers fresh Osaka Sushi. Uoshin Honten lets you choose which sushi plate you'd like, and you'll only have to pay for what you wanted, without any set menu. This lets you get away with eating only what you feel like without feeling the need to finish your full set menu.
Spot information
Spot name: Uoshin Honten
Street address: 5-4 Doyamacho, Kita, Osaka, 530-0027
Access: A 7-minute walk from Higashi-Umeda Station
Explore the Osaka Menu
There is so much more on an Osaka menu than just sushi. As the birthplace to many world-renowned Japanese food, you'll only get the best of the best in this town.
Food born in Osaka include Okonomiyaki, Yakiniku, Takoyaki and Kushikatsu, or skewered meats that have been crumbed and deep fried. If you walk around, you'll find many places within a stone's throw.
Chill in the Osaka Climate
The Osaka Climate is humid subtropical climate, and much warmer than its Tokyo counterpart. With minimal snow in the winter and hot humid summers, Osaka has all four seasons that Japan is well known for.
Osaka's Subtropical Weather
Osaka's weather is generally mild. In the winter, temperatures hover around 6.5 degrees celsius, with the average lows being around 3.5 degrees celsius and the average highs being around 10.5 degrees celsius. Snowfall isn't common in Osaka, with a yearly average of only 3 cms over the entire season.
Summertime in Osaka is the rainy season, giving the city a hot and humid feel. Temperatures in Summer hover around 26 degrees celsius, with an average low being around 23 degrees celsius and an average high being around 31.5 degrees celsius.
While Spring in Osaka is mild as the sakura bloom, Autumn is a season you have to watch out for when traveling to the region. September to October can be a second rainy season for the city thanks to typhoons coming up from Southeast Asia. 2018 was a bad year for this with one typhoon being so powerful it took out the bridge connecting Kansai International Airport to the mainland and flooding the island.
What Clothes to Wear in Osaka
Generally, wearing light clothes in Osaka makes for the best experience while traveling. During winter, while it's cold, you won't need to be as rugged up as you would be in northern Japan or country towns. In Summer though, you'll want to try wearing sweat absorbing clothing as even the act of existing can cause puddles of sweat to appear on your body.
Getting from Tokyo to Osaka and Osaka to Tokyo
Coming from Tokyo to Osaka or Osaka to Tokyo is fairly simple with multiple ways to get to the city, depending on your preferences. These various transportation options include using the highway from Tokyo to Osaka, flying out from one of the two major airports in Tokyo or taking the Shinkansen down the Tokaido Line.
If you're taking the highway, you have the option of taking the highway bus or driving. As the cheapest way to get between Tokyo and Osaka, the highway bus takes around 8 to 9 hours and can be done overnight, letting you sleep the trip away. The most popular companies are JR Bus and Willer Express, both with prices that vary between 4,000 yen and 10,000 yen.
Driving between the cities can seem interesting, but don't be fooled. Road Trips can be a fun experience around the world, but in Japan where the highways have high walls, dull truck stops and expensive tolls that can run higher if you want to get off and see Japan. Recommended if you want to go at your own pace.
If you do want to drive, it can take roughly 6 and half hours to go between the cities and cost between 11,000 yen and 15,000 yen depending on where you get on and off.
Taking the Train and Plane from Tokyo to Osaka
Flying from Tokyo to Osaka is one of the faster ways of traveling between the two cities. It only takes one and half hour, airport to airport at less than 9,000 yen for one-way tickets on Japan's low-cost airlines. Do be warned that getting to and from Osaka Airport and Narita Airport can be quite pricey, bringing up transportation costs to be in line with the Shinkansen.
The popular Shinkansen service between Tokyo and Osaka runs multiple times per day. Trips on the Shinkansen can vary depending on which train you catch but will always under four hours. For users of the JR Pass, using the Hikari and Kodama services are covered, but the Nozomi service isn't.
If you're not using the JR Pass, the Nozomi service is 14,450 yen for a one-way ticket and only takes two and half hours to travel between Osaka and Tokyo. Nozomi only stops at Nagoya and Kyoto once it leaves the Tokyo Metropolitan area and reaches speeds of 300 km/h.
[Survey] Traveling to Japan
Recommend