【Japanese Gourmet】Affordable Local Gourmet Foods Pilgrimage: "Osaka" Edition
Thanks to the thriving trade since Edo period (1603-1867), Osaka is blessed with a wide variety of ingredients thus various gourmet foods have been invented all these years. As the saying goes, "Osaka no Kuidaore" (大阪の食い倒れ - Osaka's eat-until-you-drop), it's easy to understand the passion of the Osaka people for food! Without further ado, let's take a look at Osaka's B-grade gourmet.
How Osaka Became a Gourmet Town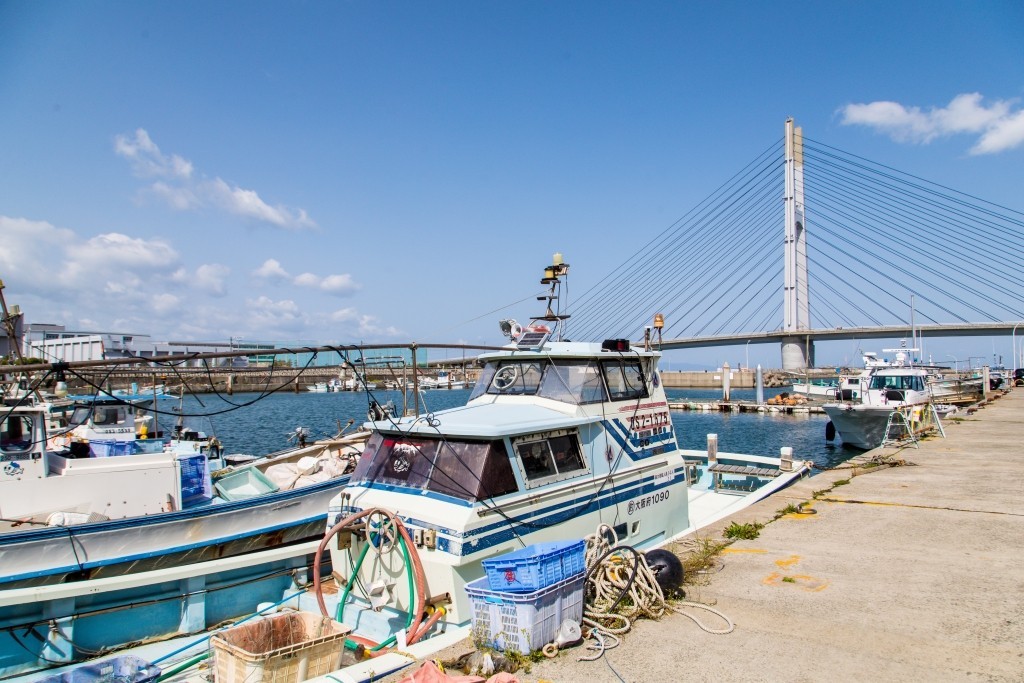 During the Edo period (1603-1867), Osaka was the center of maritime transportation and logistics. In addition to ingredients from all over Japan, an abundance of seafood could also be caught, thus earning the nickname "the Nation's Kitchen" (天下の台所 / Tenka no Daidokoro). Even ingredients such as kelp (昆布 / kombu) which were produced far from Osaka, were transported to Osaka by Kitamae-bune ships, nurturing Osaka's dashi culture. (Kitamae-bune: A general term for merchant ships that sailed between Osaka and Hokkaido through the Sea of Japan from the middle of the Edo period to 1897.)

Also called the "city of merchants", many luxurious high-class dishes for business negotiations were served in Osaka. In an environment where many people seek gourmet food, skillful chefs grew rapidly. On the other hand, there were also thrifty Osaka people who wanted reasonably priced dishes, so many cheap and delicious gourmet foods for locals have been invented.
Osaka B-grade Gourmets
Osaka's gastronomy is characterized not only by dashi soup culture, but also by "konamon gourmet" (粉もん / konamon: food made from flour). For example, the familiar takoyaki, Kansai-style okonomiyaki, deep-fried skewers 'kushiage', udon noodles, etc. are all made with flour batter mixed with various ingredients and cooked in various ways. Konamon was then blended with the dashi culture by mixing dashi into the batter. This time, we will introduce the perfect marriage of dashi culture and flour culture, and Osaka's B-grade gourmet.

Takoyaki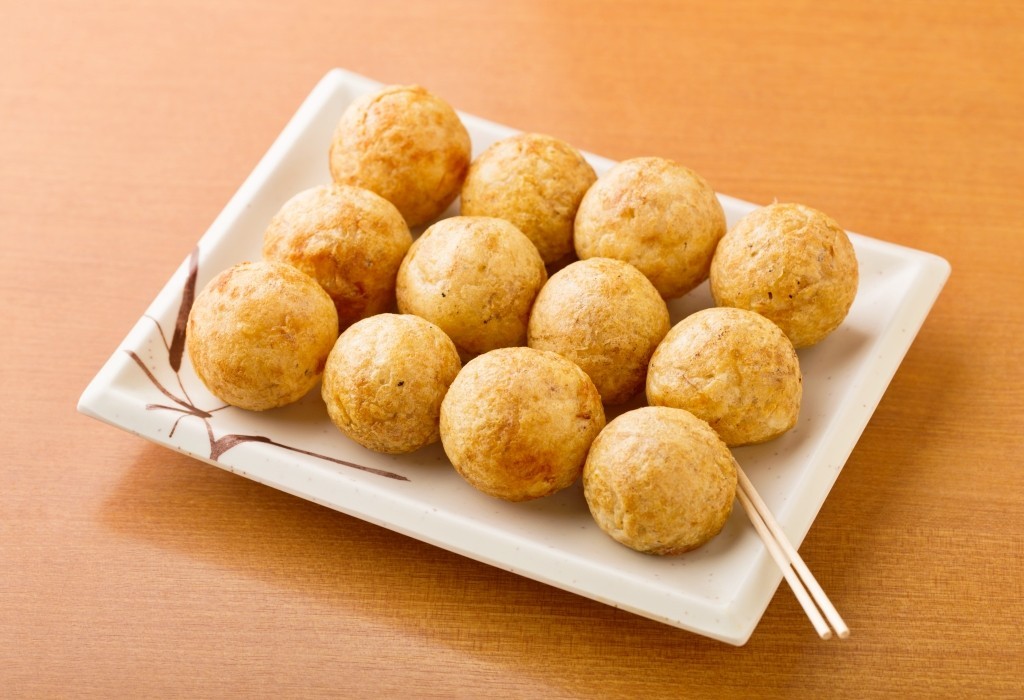 Takoyaki, a typical konamon gorumet food of Osaka, is a dish that everyone has known for a long time, and you can't miss it when you visit Osaka. Takoyaki is, after all, the soul food Osaka people with a wide variety of types and flavors. 
One shop that all takoyaki fans must not miss is Aidu-ya (会津屋), an original takoyaki restaurant having its main store in Tamade, Osaka which is said to be the birthplace of the octopus balls. When takoyaki was born, everything was very simple - there was no thick sauce, no mayonnaise, no pickled ginger or bonito flakes. Only soy sauce, dashi dough and chopped octopus were used for seasoning. Even without the sauce, the takoyaki had a very deep flavor! Compared to Osaka's takoyaki, that is cooking them on an iron plate until just the right amount are soft and juicy inside and out, takoyaki in Tokyo are crispy on the outside and soft and creamy on the inside.
Takosen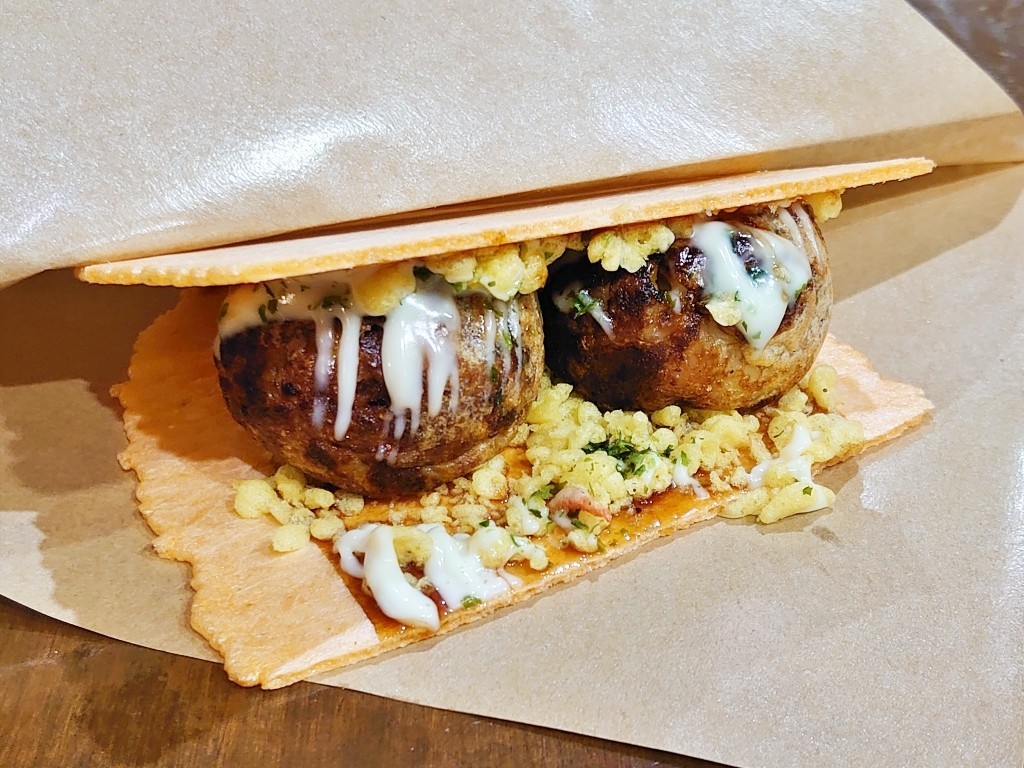 Another form of takoyaki, another soul food of Osaka is takosen - a traditional snack sandwiching takoyaki between crispy rice crackers 'senbei', along with tenkasu (fried tempura batter bits), sauce, mayonnaise, and other ingredients.

Takosen was born in the Showa 40s (around 1965 to 1974). In front of a cram school in Kishiwada, southern Osaka, there was a takoyaki shop. Business was very prosperous back then, however, at the same time, the takoyaki containers for taking out caused a large amount of garbage. The shop owner then came up with the idea of ​​using senbei as a container. As a result, not only did it reduce wastes, it also saved on container costs and gained much popularity - finally became the takosen as we know today.
In addition to takoyaki, there are also shops that serve voluminous tamago takosen, which includes tamagoyaki (roll omelette). When takoyaki sells out, the shop would sell as "tamagosen" which has only tamagoyaki sandwiched between senbei.
Ikayaki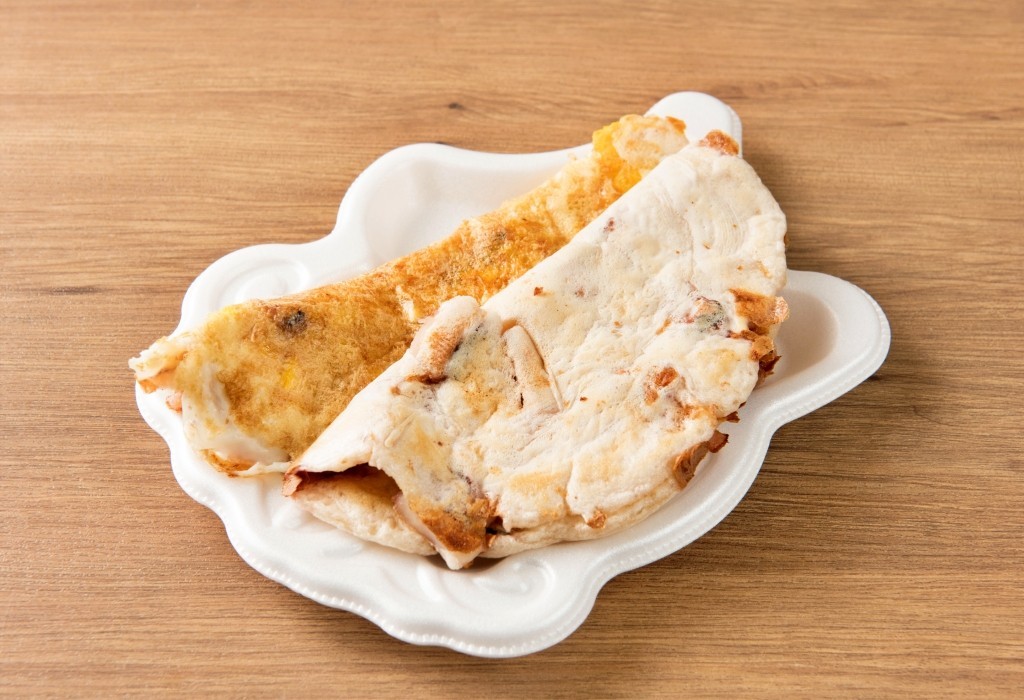 If you just look at the word "Ikayaki", you might think that it is just a grilled squid ("ika" in Japanese). But don't you underestimate Osaka, the kingdom of konamon gourmet! Socalled grilled squid 'ikayaki' in Osaka refers to chopped squid that is mixed with dashi-based batter, grilled flat on an iron plate, coated with sauce, folded in half, and shaped into a half-moon shape. The springy dough and the chewy texture of the squid are irresistible!
It is not certain when ikayaki has been around. According to one theory, it started as a street vendor stall at Sumiyoshi Taisha Shrine, and in 1957, when the stall opened at the Hanshin Department Store in Umeda, it suddenly gained popularity. It quickly became a specialty of Hanshin, and the deliciousness of squid grilled took the town by the storm.
Kitsune Udon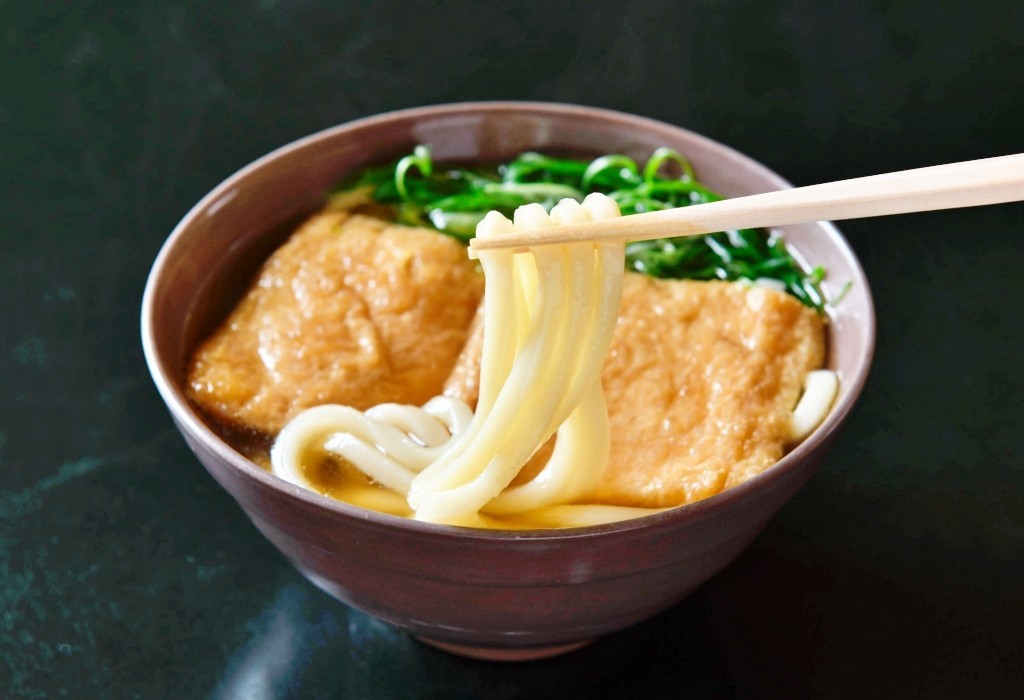 The word "kitsune" on menus of Japanese udon or soba restaurants means "deep-fried tofu" (お揚げ / o-age or 油揚げ / abura-age). Since deep-fried tofu is famous as foxes's favourite food, it was named "kitsune".

Why is the ubiquitous kitsune udon a B-grade gourmet dish in Osaka? That's because kitsune udon was actually born in Osaka! Kitsune Udon was first served at Matsubaya (now known as Usamitei Matsubaya), which was founded in 1893 in Semba, Osaka. Originally, they served a single item of deep-fried tofu, but it is said that they started serving kitsune udon when they noticed that many customers dipped deep-fried tofu in their udon noodles and ate them together.
Udon is also a dish of Osaka dashi culture that you should try at least once. The basic kitsune udon has no ingredients other than deep-fried tofu, and the key to its taste is the restaurant's dashi stock. Be sure to visit several other shops and try the kitsune udon that has the flavor of each shop!
Kasu Udon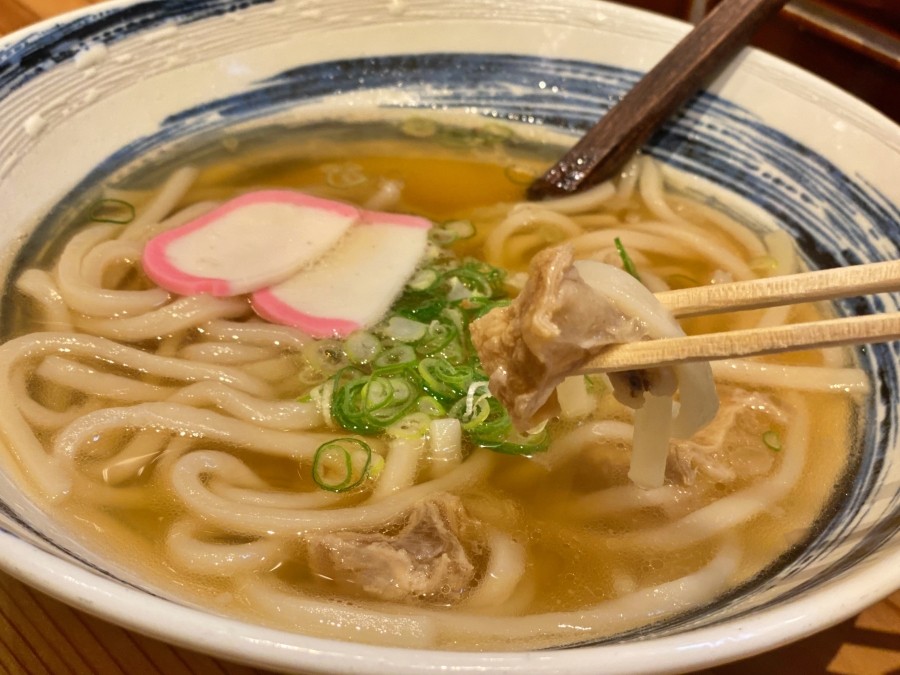 If kitsune udon is said to have a rustic delicacy, then "kasu udon" can be said to be a wild delicacy. "Kasu" in kasu udon is a local dish of Minamikawachi in the southeastern part of Osaka, and is made from offal such as degreased beef intestines deep-fried at a low temperature for a long time. This is called "aburakasu", and it is crunchy on the outside and plump on the inside.

A handful of aburakasu on top of the elegant taste of udon make a perfect match - simple and intense! It's no surprise that the dish has now become one of the orthodox udon in Osaka.
Nikusui (meat soup)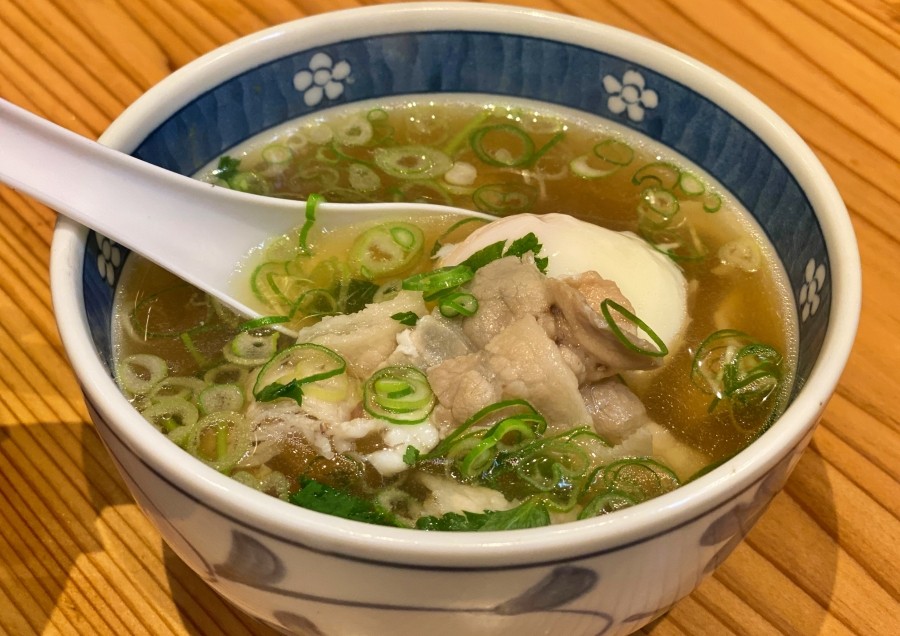 Simply put, Nikusui refers to niku udon (meat udon) without udon noodles in it - just soup and meat at all. In the late 1980s, Kyo Hanaki, a comedy actor from Yoshimoto Shinkigeki, went to an udon restaurant called "Chitose" (千とせ) in Sennichimae, Namba. Having hang-over that day, he did not have much apetite, so he ordered "niku udon, without udon", and the shopkeeper made it in response to the order. Nikusui then became a very popular menu, and has become a new national dish after the famous comedian Sanma Akashiya and others talked about it on TV.

However, since meat soup alone is not enough to fill the stomach, most people would also order tamagokake gohan (rice with raw egg) as well. Depending on the shop, ingredients such as tofu and eggs may be included in the nikusui.
[Survey] Traveling to Japan
Recommend