4 highlights of "Solaniwa Onsen", one of the largest hot spring theme parks in the Kansai region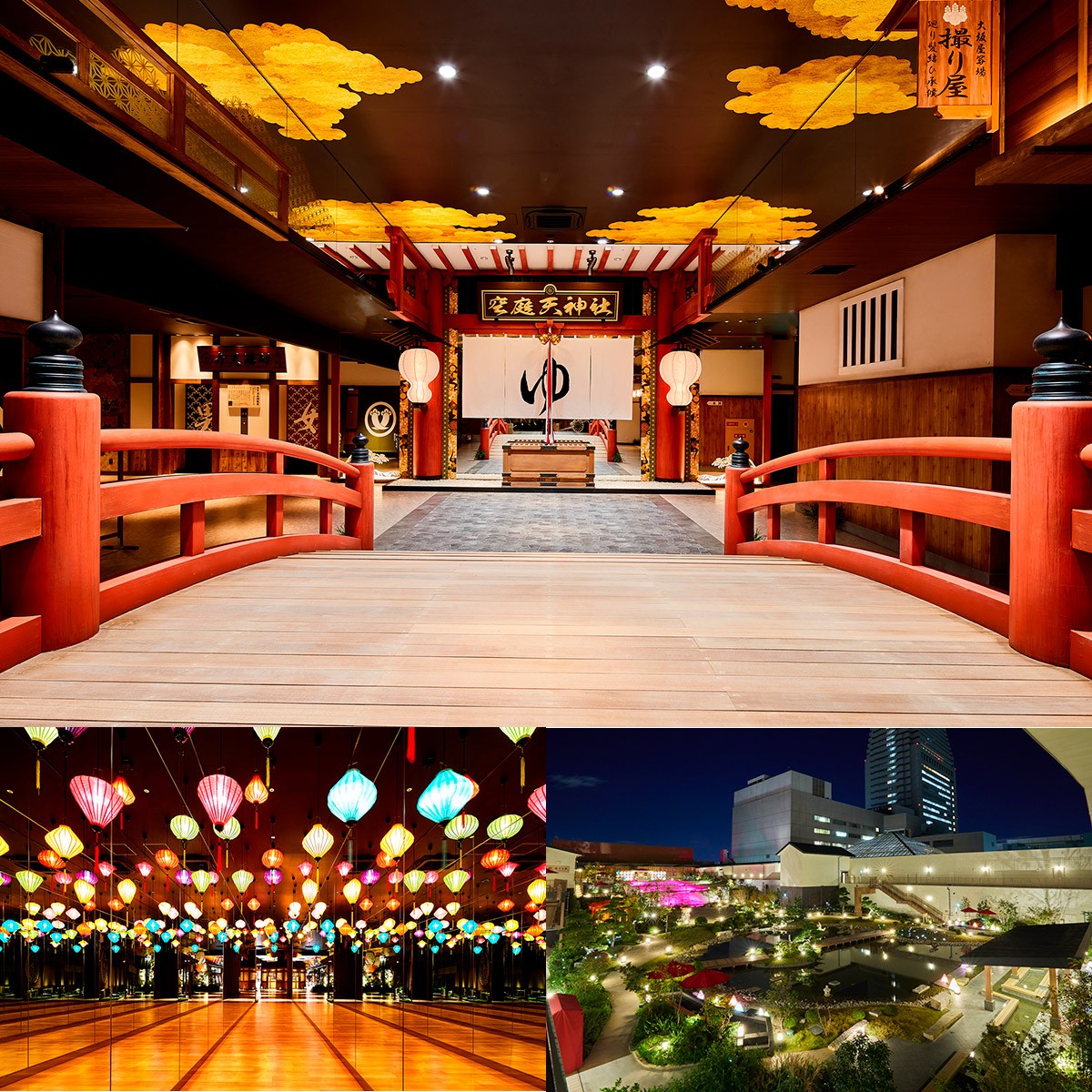 We previously introduced "Solaniwa Onsen" (空庭温泉), which imitates the Azuchi-Momoyama period (1573 - 1603) in the article on hot springs in Osaka. In this article, we will dig deeper into the appeal of this Kansai's largest hot spring theme park that opened in 2019 in the Osaka Bay Area. You will surely be fascinated by its charms!
Solaniwa Onsen's charms and highlights ①: 9 types of baths and hot springs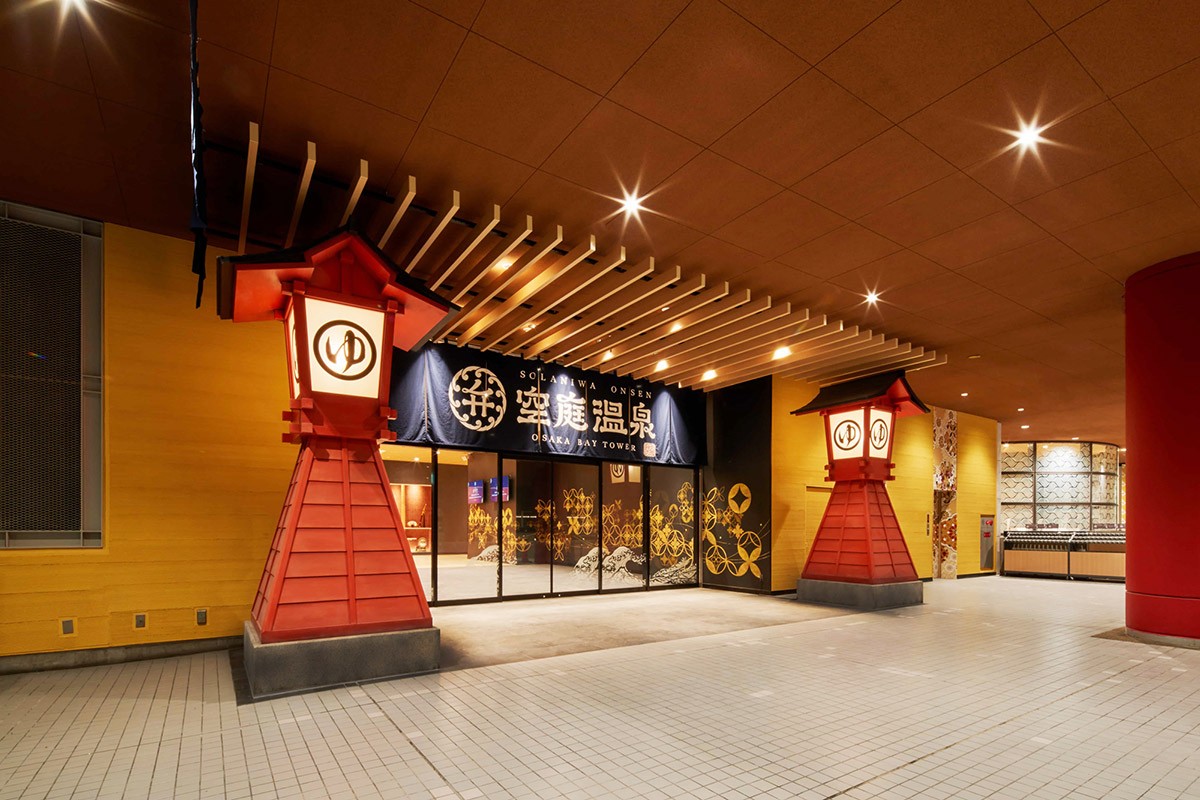 The biggest charm of Solaniwa Onsen is definitely the baths that are suitable for being one of the largest hot spring theme parks in the Kansai region. The hot spring is a weakly alkaline natural hot spring a.k.a. "beautiful skin hot spring" that wells up from 1,000m underground. You can enjoy a total of 9 types of baths, including 6 types of spring water, a sauna, and a cold bath.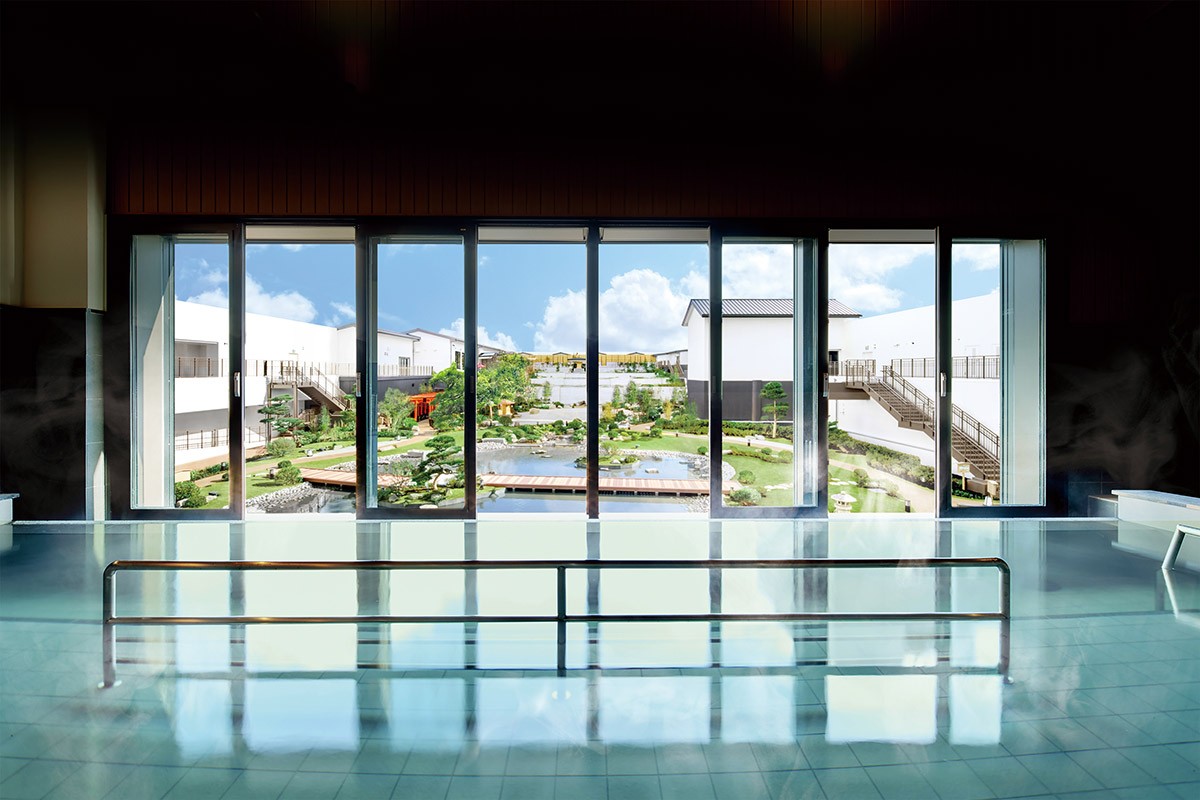 Among all the baths, the "Garden-viewing Bath" (庭見風呂) - an infinity bath that overlooks a vast Japanese garden of about 1,000 tsubo (over 3,000 sqm) is a must-try. It is Solaniwa Onsen's No. 1 specialty bath where you can relax in the hot spring while looking out at the Japanese garden through the large glass window. Moreover, the glass is a magic mirror, so you don't have to worry about being seen in the bath from the garden!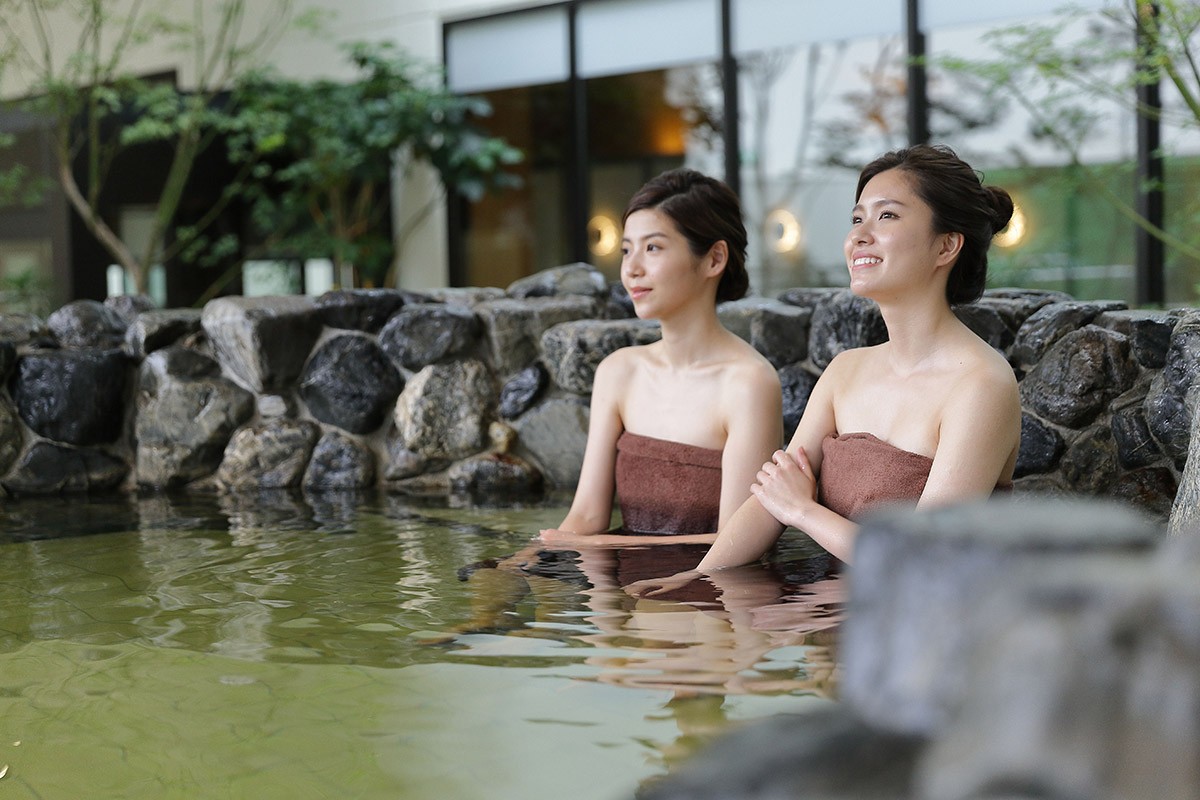 In addition, there is a variety of hot springs and baths that will make you feel great, such as the "Source Spring Bath" (源泉風呂) where you can bathe in free-flowing hot springs pumped from the source 1,000m underground. What's more, you can enjoy the feeling of a hot spring inn in the "Outdoor Baths" decorated with rocks, or slowly soak in a low-temperature natural hot spring while lying down in the "Lying-Down Baths" (寝湯).
*You must be naked when bathing. Please refrain from wearing swimsuits and towels.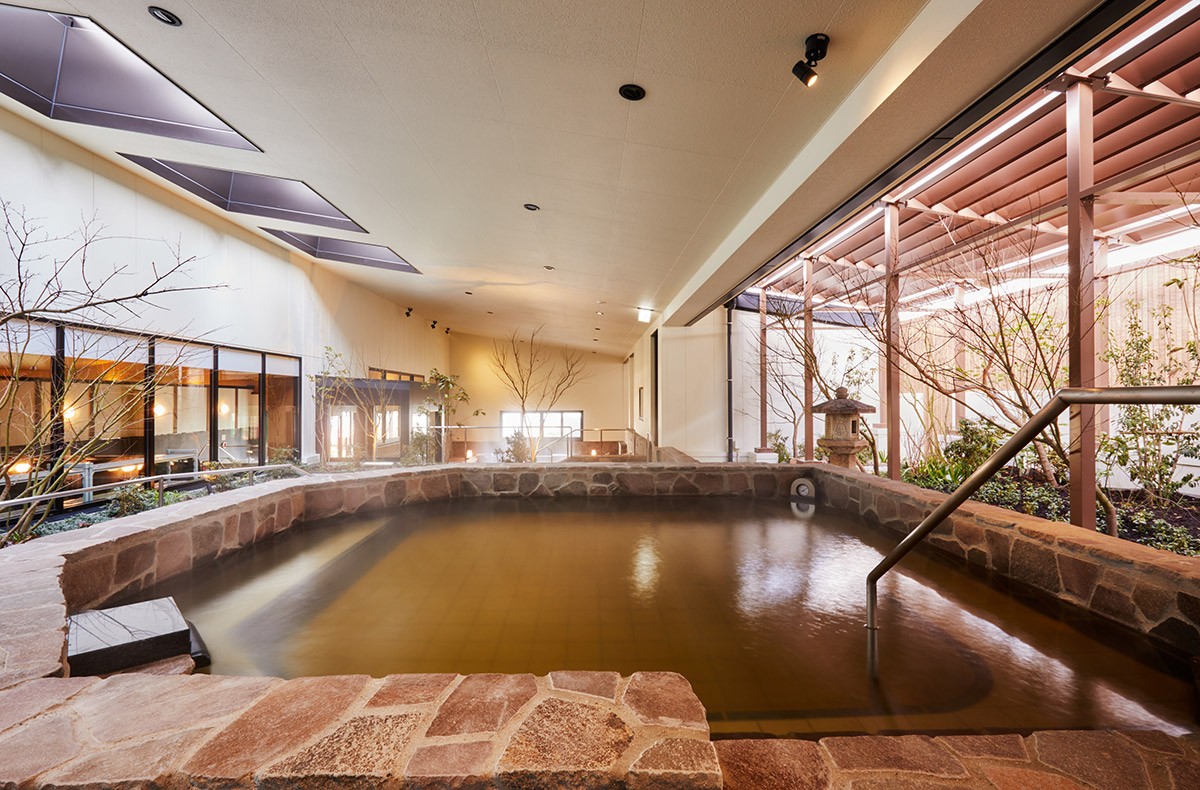 And then there is the "Silk Bath" (絹湯風呂), which has ultra-fine bubbles like silk, and the "Carbonated Bath" (炭酸風呂) that helps promoting blood circulation with high concentrations of carbonic acid. You can enjoy various seasonal scents such as "Matsu no Yu", Strawberry Bath, "Sakura no Yu", etc., and enjoy the aroma effect in the "Seasonal Baths" (替り風呂), among others.

Not to mention other facilities such as dry sauna, cold water bath, or women-only mist sauna - Solaniwa Onsen alone will make you feel like you have visited many hot springs at one time! In addition, there are plenty of day-use chartered open-air baths where you can use the hot springs in a private space. There are 10 completely private rooms with open-air baths with a garden and free-flowing hot springs right from the source, so you can relax like being in a hot spring inn.
Solaniwa Onsen's charms and highlights ②: Japanese Garden & Thousand Torii Arches & Footbaths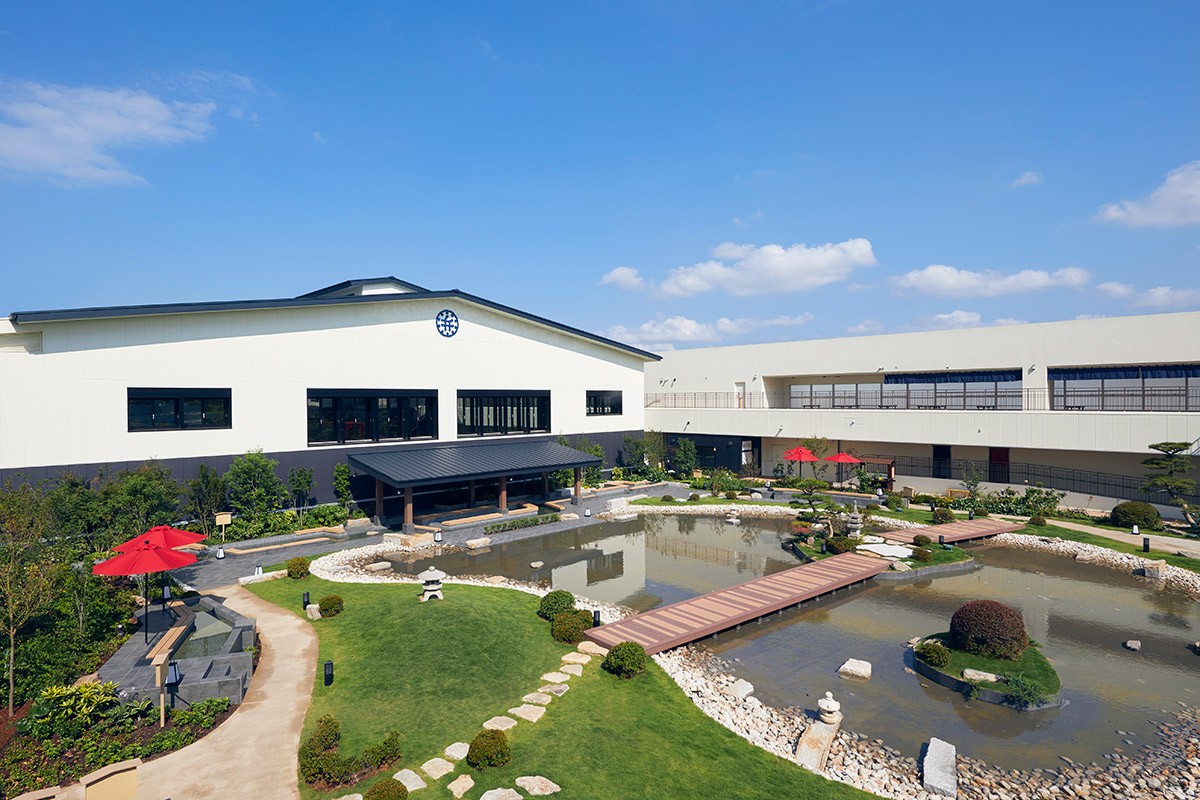 On the rooftop of Solaniwa Onsen is a huge Japanese garden of about 1,000 tsubo (over 3,000 sqm). You can walk around freely while wearing the yukata you chose when you entered the facility. What you definitely want to experience in such a Japanese garden are the footbaths that spread around the short side of the rectangular garden. In the daytime, you can enjoy the footbaths while gazing at the beautifully arranged garden trees and flowers. At night, a fantastic atmosphere illuminated by warm lighting can be viewed.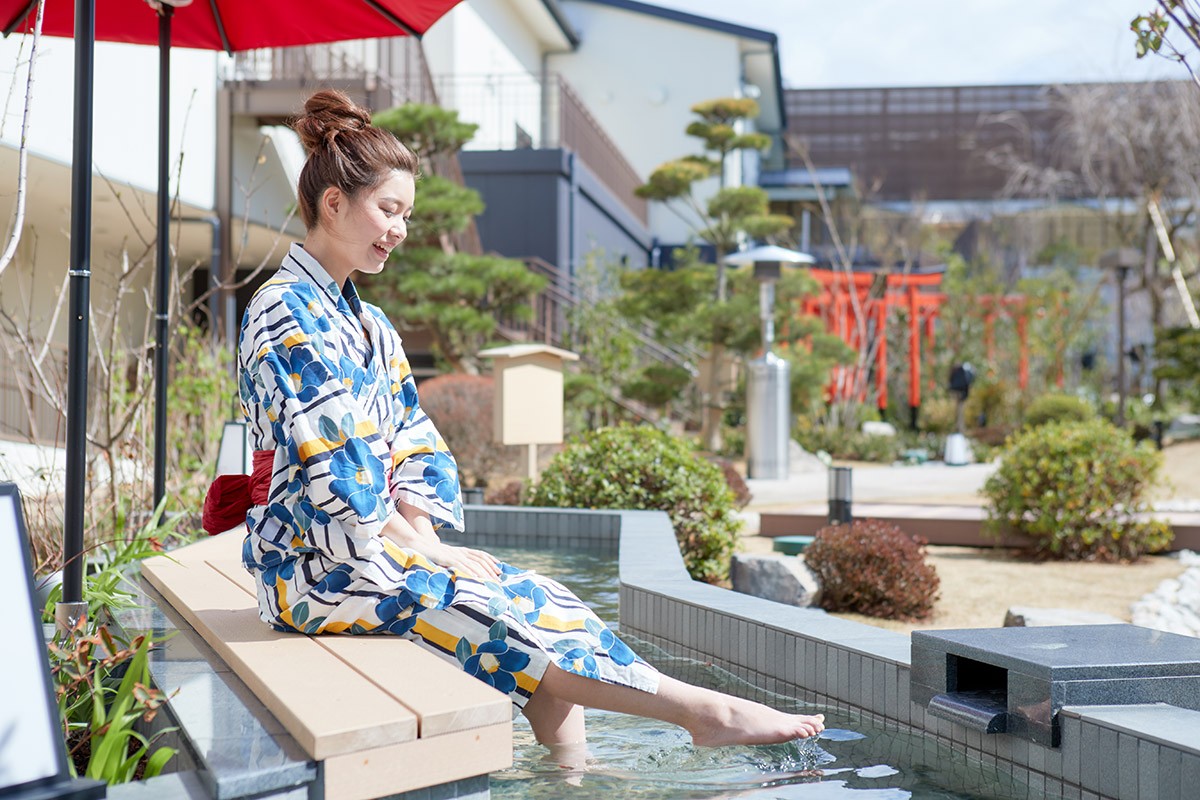 There is also a corner near the footbath where you can experience fish pedicure with small fish. When you soak your feet in the hot water, you can expect a therapeutic effect as well as skin care.

At the highest point on the roof is Mizuarai Benten Shrine that enshrines a full-fledged Mizuarai Benten statue carved by a Buddhist priest. You can overlook the garden from this shrine, and it is gaining popularity as an "instagrammable spot".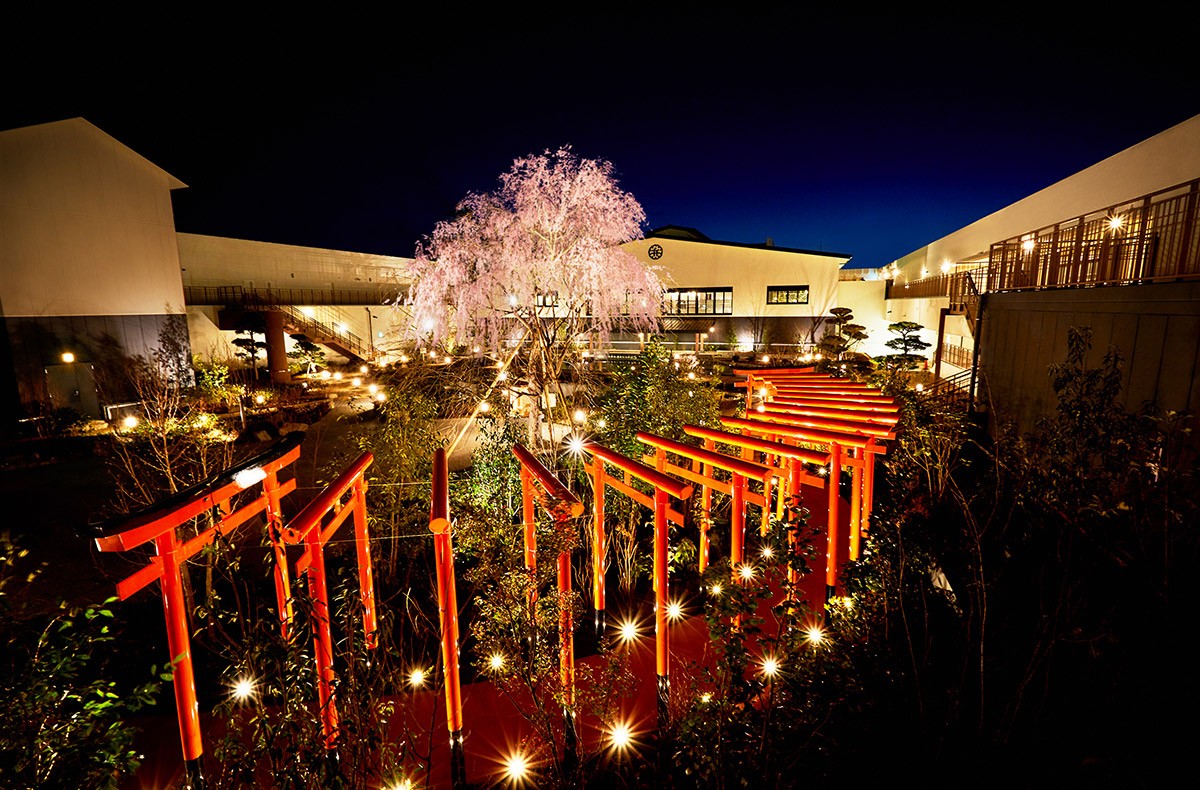 Another popular photo spot is the red Thousand Torii Arches on the approach to Mizuarai Benten Shrine. Many people are drawn to the mystical atmosphere of these torii arches, which function as a tunnel leading from this world to the spirit world. It might seem difficult to take a selfie at the best angle, but Solaniwa Onsen has got you covered. There is a free automatic camera that lets you to take photogenic pictures with these torii arches as a background. The photos you take can be downloaded immediately. It might as well be the best photo of the day too!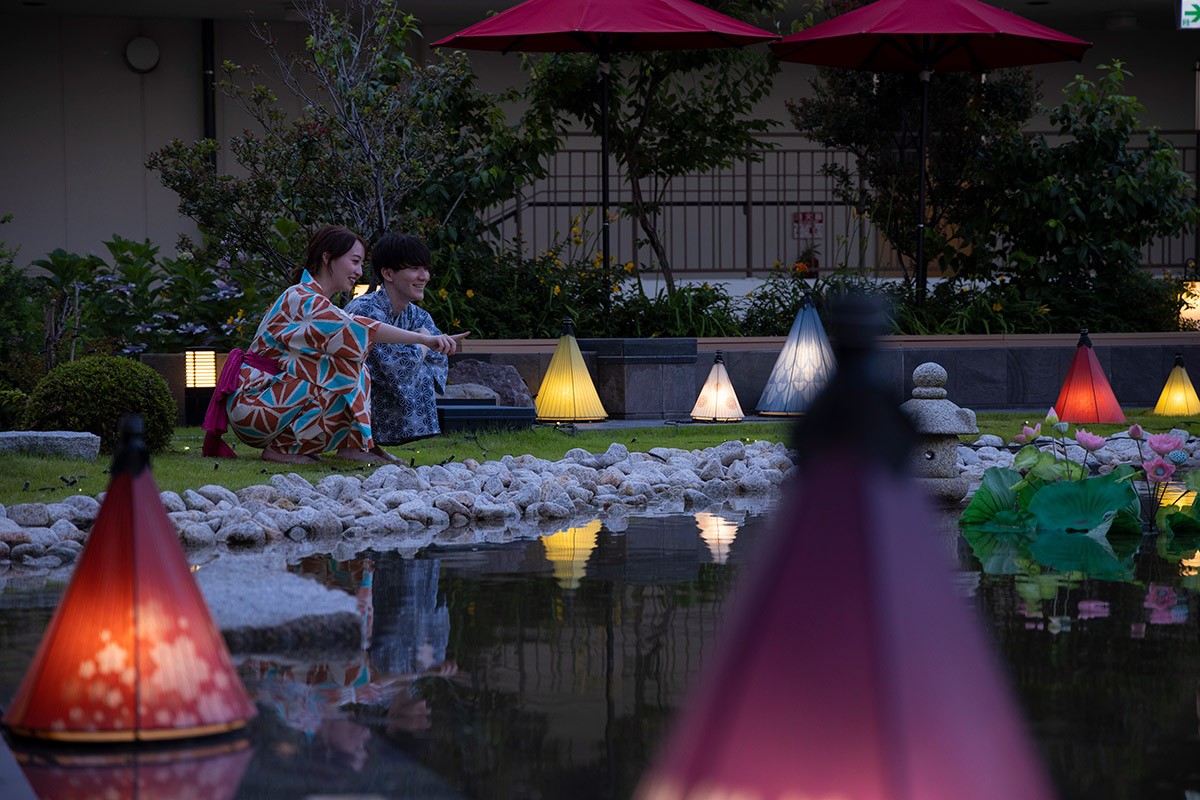 It would be wonderful if you could have a meal or drink tea while looking at such a beautiful garden, right? There is also a cafe that fulfills such a wish! The Japanese garden is a spot where you can enjoy yourself so much that you lose track of time.

Solaniwa Onsen's charms and highlights ③: Street stall game corner where you can experience traditional Japanese culture every day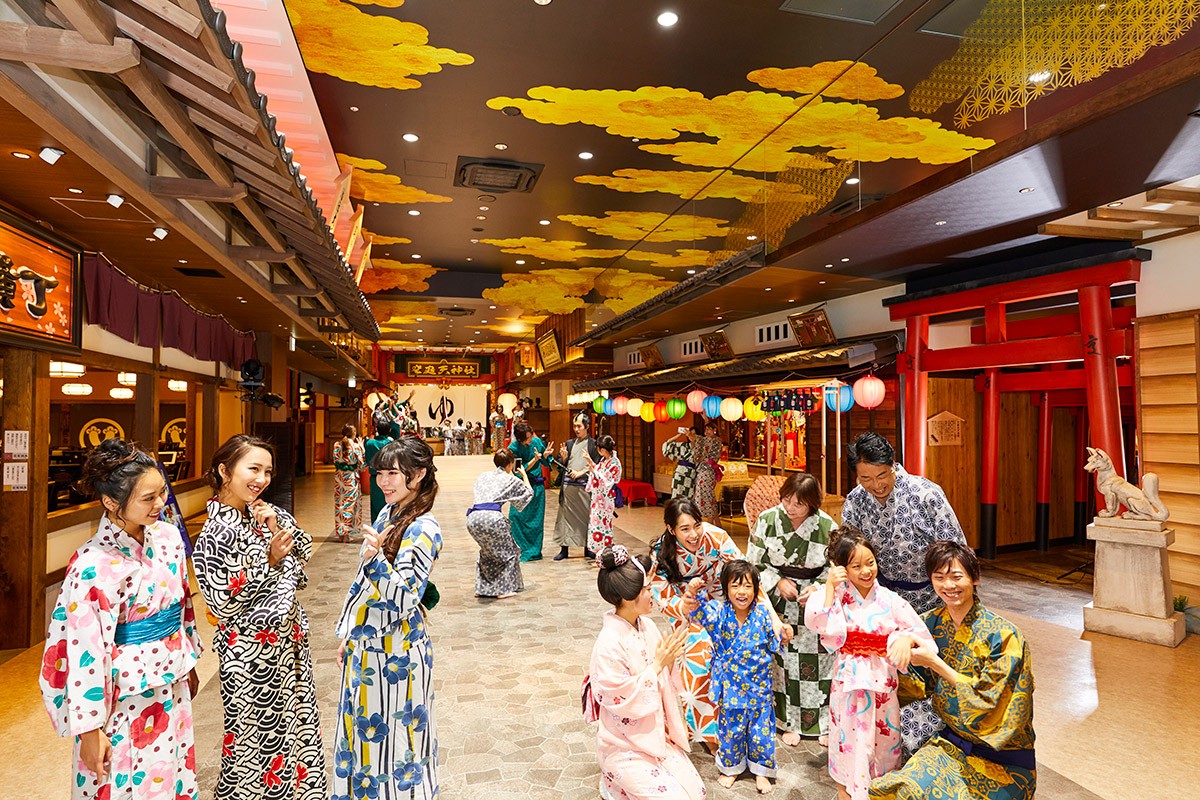 Solaniwa Onsen is based on the concept of Osaka during the Azuchi-Momoyama period, when it was the largest city in Japan. The interior of the building, which imitates the good old days and combines a modern atmosphere, is wrapped in an atmosphere that makes you feel otherworldly. In particular, the bustle of "Benten Street" (弁天通り), the main street lined with souvenir shops and restaurants, is always exciting.

One of them is the booth game corner, which is indispensable for festivals, a traditional Japanese culture. In this corner, you can experience traditional children's games such as target shooting, goldfish scooping, ring toss, and shuriken toss. In addition, Benten Street hosts various seasonal events such as magic shows, juggling, and picture-story shows, so you can enjoy the extraordinary feeling of being in another world.

Solaniwa Onsen's charms and highlights ④: From Osaka's local gourmet foods to photogenic food stalls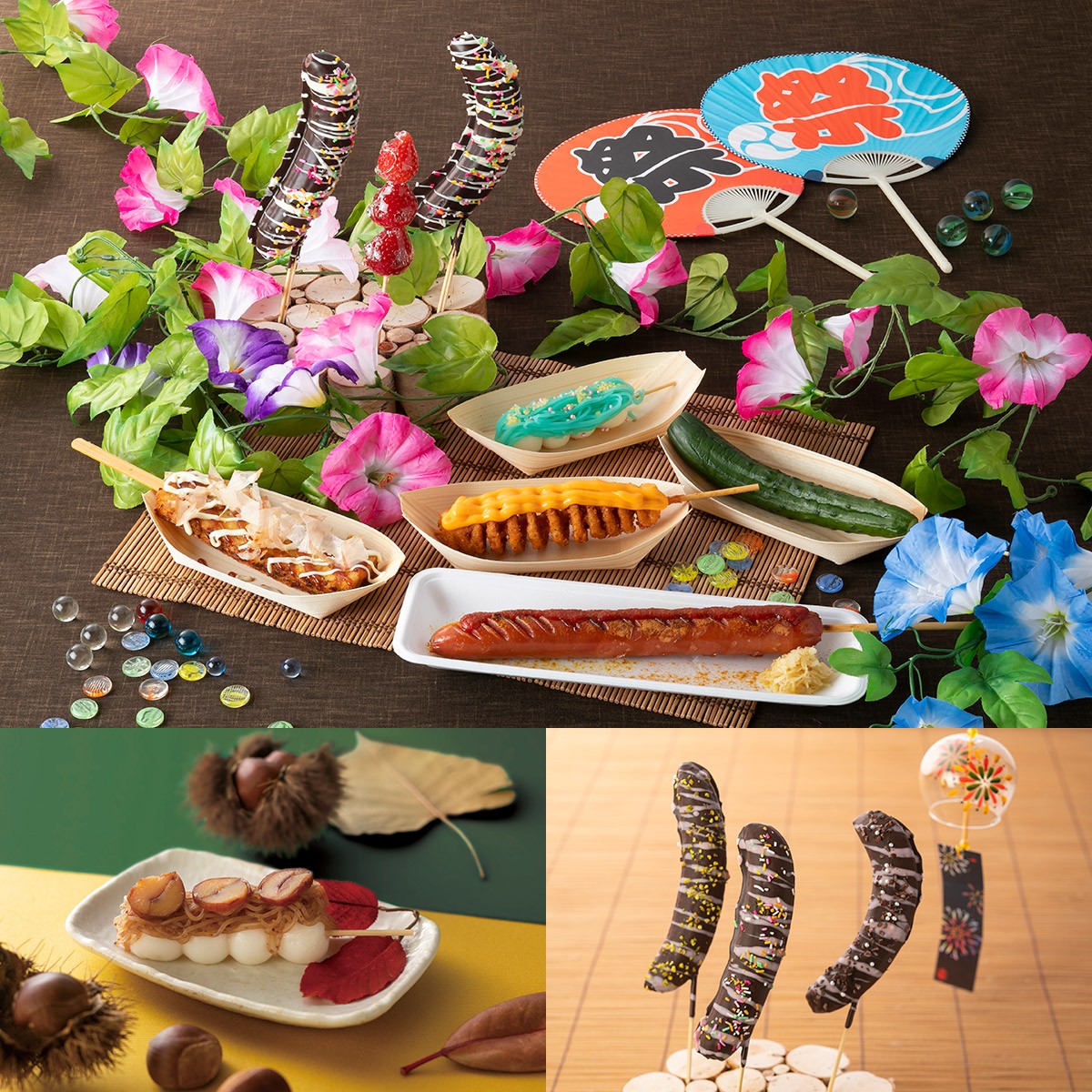 A conceptual restaurant area along Benten Street where chefs who have time-traveled along with the this whole town from the Azuchi-Momoyama period entertain you with food. Full-fledged Japanese cuisine, izakayas, and restaurants serving local Osaka cuisine are lined up along this street.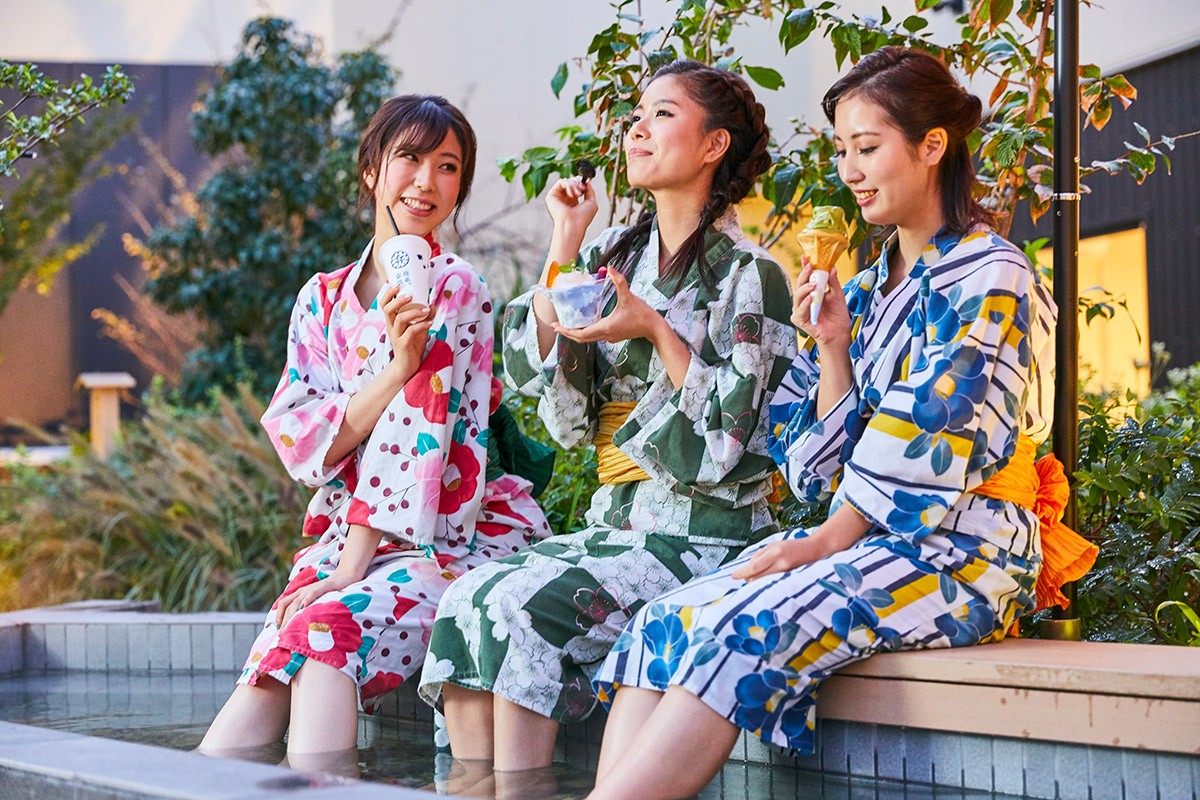 At "Solaniwa Stalls", you'll find everything from standard menu items ranging from candy-coated strawberry and chocolate-coated bananas, to a lot more photogenic food stalls that will make you feel like you're in a Japanese festival. After satisfying your hunger and relaxing in the rest area, head back to the hot springs again. Solaniwa Onsen is a hot spring theme park where you can spend the whole day there without getting bored.
Spot Information
Address: 1-2-3 Benten, Minato Ward, Osaka City, Osaka Prefecture
Business hours: 11:00-23:00 (Last admission 22:00)
Admission fee:
[Weekdays] Adults 2,640 yen, Children 1,320 yen
[Weekends and holidays] 2,860 yen for adults, 1,430 yen for children, etc.
*Osaka City bathing tax not included
[Survey] Traveling to Japan
Recommend