Enjoy Some Japanese Performing Arts at the Dotonbori Theater in Osaka!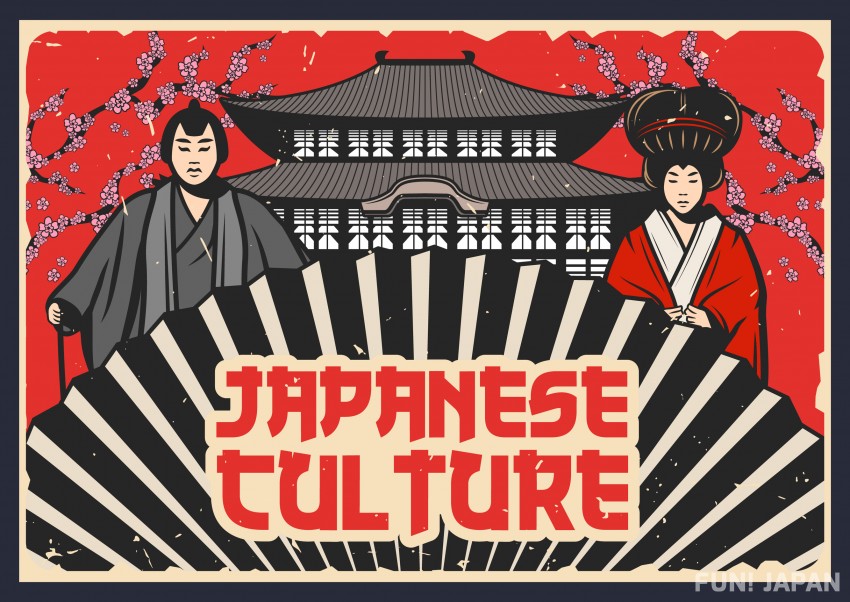 Since the Edo period, Dotonbori in Osaka has had a thriving theater culture, and even now there are many theaters and performing art venues in the area. Today we will introduce 3 theaters located in the Namba area of ​​Osaka City.

Namba Grand Kagez: The Comedy Hall of Fame of Yoshimoto Kogyo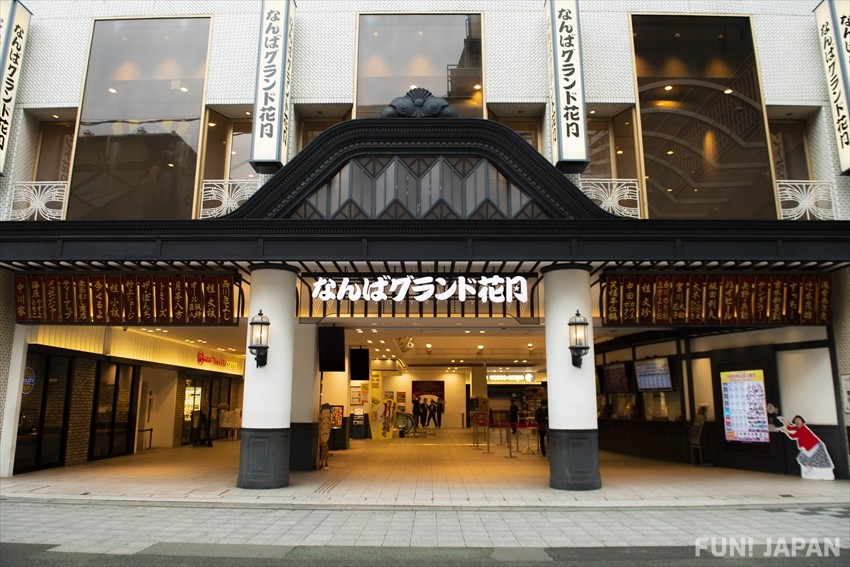 Osaka is known for its comedy and humor. Osaka's biggest representative theater for comedy is no doubt the Namba Grand Kagez (NGK). Japan's famous large corporation, Yoshimoto Kogyo are known for producing great comedians who not only show up on TV shows, but also perform on the theaters of Namba Grand Kagez. This theater should be especially enjoyable to those familiar with Japanese comedians and the Japanese world of entertainment.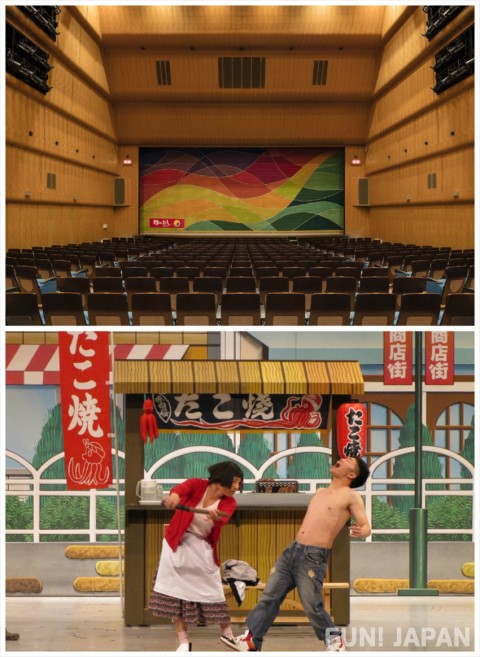 At this theater, you can enjoy not only Manzai (traditional Japanese stand up comedy) but also the Yoshimoto Shingeki, Rakugo (Japanese story teller comedy), and various other entertainment events. On top of that, you can enjoy a variety of comedy talent, from newcomers to veterans of the comedy world. However, one thing to note is that everything is performed only in Japanese. Visitors who don't understand Japanese may have a hard time grasping the humor of the performances, but there are many other things to also check out, such as the "AR Photoshoot with Yoshimoto Shingeki" where you can take a commemorative photo at a special spot (due to Covid-19 this is temporarily closed).

Spot Information
Name: Namba Grand Kagez (なんばグランド花月)



Address: 11-6 Nanbasennichimae, Chuo-ku, Osaka
Access: 7 minute walk From Namba Station or Osaka Metro Namba Station
Tickets: 4,800 yen (first floor), 4,300 yen (second floor)
Performance length: 120-135 minutes

Performance times: Please visit the home page for more details: https://www.yoshimoto.co.jp/ngk/
Osaka Shochikuza Theatre: The Creation and Continuation of Performing Arts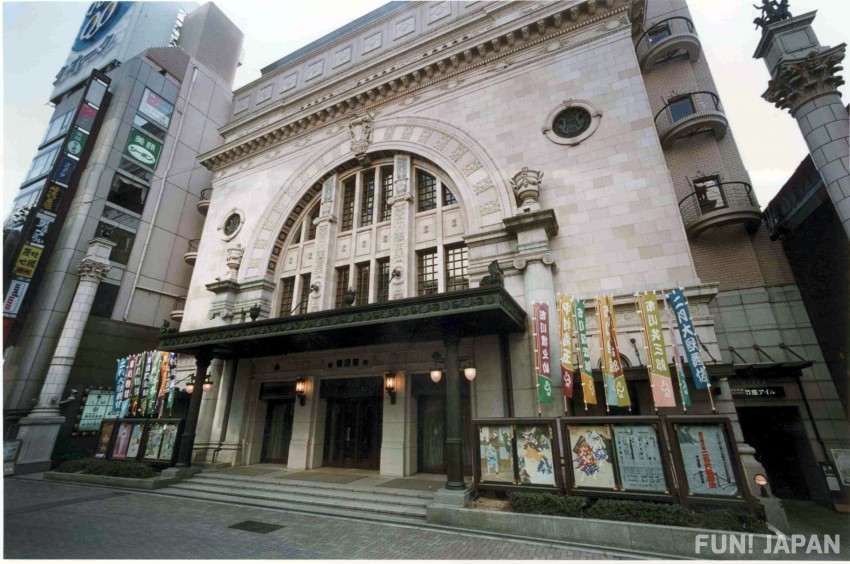 If you are interested in seeing traditional Japanese performances such as Kabuki, then head to Osaka Shochikuza Theater. Osaka Shochikuza in Osaka is a theater of Shochiku with a history of over 120 years in supporting the production and performance of Kabuki and dance, along with various performance arts such as concerts and musicals.  It is a great place to experience the Japanese world of culture and art.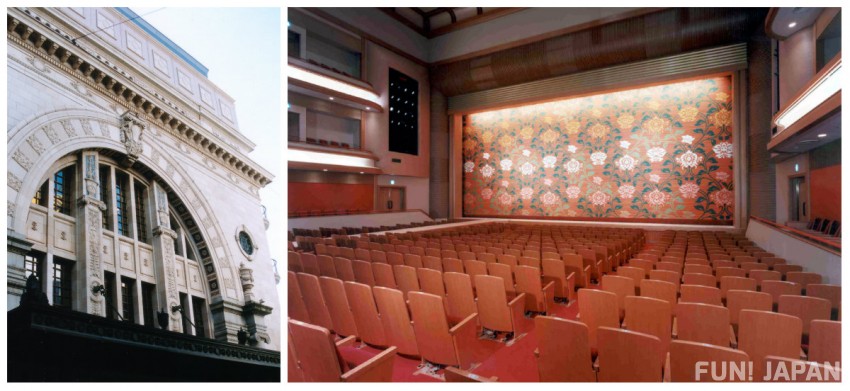 The retro feel Osaka Shochikuza has, with its history of nearly 100 years, makes this an absolute sightseeing point. From the Neo-Renaissance architecture which features a large arch in the front, with walls and floors made from Italian marble, to the Japanese paintings with seasonal themes which use Japanese traditional colors such as the color of persimmon, this spot is full of highlights to see inside.

Spot Information
Name: Osaka Shochikuza Theater (大阪松竹座)
Address: 1-9-19 Dotonbori, Chuo-ku, Osaka
Access: 1 minute walk from Osaka Metro Namba Station 
Ticket prices: Varies with performance
Hours: Varies with performance
Dotonbori Museum Namikiza: A Hands-on Museum Experience of Kabuki and Bunraku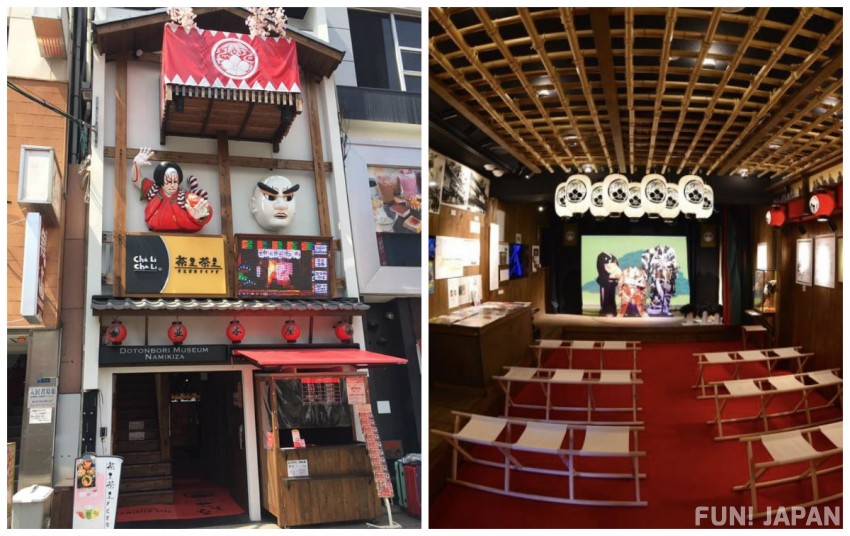 Dotonbori Museum Namikiza, which opened back in March 2019, is a new tourist spot that provides a hands on experience. Dotonbori's theater culture has stayed active throughout history and on to today, and Namikiza is here to share the 400-year history of this theater city which nurtured Kabuki and Bunraku.
Displayed in the museum are historical materials that introduce Kabuki and Bunraku. There are also other things to experience, such as seeing the dolls used for Bunraku, theater scripts, and a video that moves around the stage. An audio guide in five languages ​​is also available, so it's perfect for those who want to learn more about the exhibit. This museum is also used as a theater with a total of 35 seats (reduced to 18 seats for measures against Corona virus).
We recommend this place as a great photo spot too!  First off, the sign on the exterior is decorated with Bunraku dolls and characters that appear from Kabuki masterpieces, and is a sight that is as impressive as the streets of Dotonbori. The interior recreates a theater house from the Edo period, and it'll make you feel like you've leapt back in time to old Japan. In addition, around the stage there are Kabuki costume stand-in photo stands where you can wear a wig and take a commemorative photo looking and feeling like a Kabuki actor!
Spot Information
Name: Dotonbori Museum Namikiza (道頓堀ミュージアム並木座)



Address: 1-1-6 Dotonbori, Chuo-ku, Osaka
Access:

3 minute walk from Osaka Metro Nihonbashi Station 
7 minute walk from Namba Station

Entry Fee: Adults 600 yen, Children (elementary) 300 yen, Preschool and under - Free, Seniors (65 years and older) 500 yen
Hours: Museum 13:00 - 17:00
Holidays: Closed Mondays
Hours and Holidays: Due to COVID-19 hours may vary. Please check the official website.
[Survey] Traveling to Japan
Recommend