The Top 10 Things to do in Odaiba island, Tokyo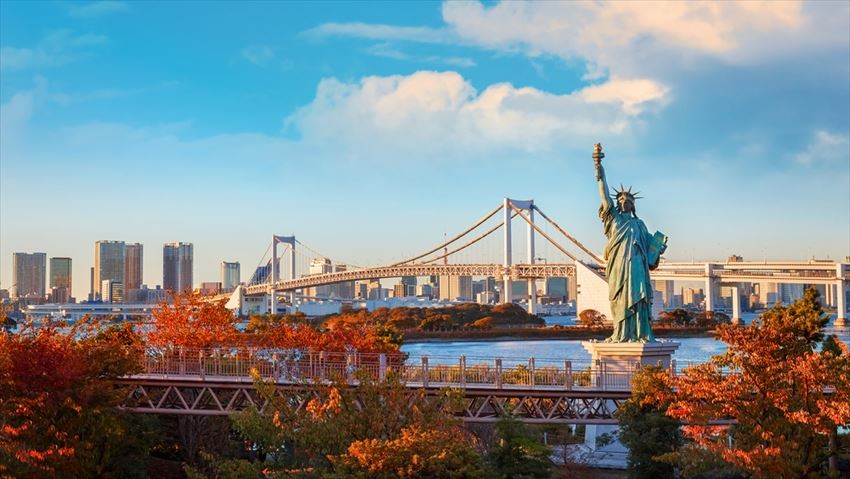 Odaiba, located at the Tokyo Bay area, is a popular spot with shopping malls, amusement parks and restaurants, as well as sea and parks where one can spend a day here. Furthermore, at the "Takoyaki Museum" and "Ramen Kokugikan" one can also enjoy to one's satisfaction the soul food of Japan. This time, we are going to introduce the charms of Odaiba.
Access to Odaiba is easy!
1. Yurikamome Monorail
Yurikamome monorail is an automated train which runs from Shimbashi Station to Toyosu Station. It is a popular ride where visitors can view the scenery from the front seat of the train. It costs 320 yen for a ride from Shimbashi to Odaiba-kaihinkoen Station.
2. Rinkai Line
The Rinkai Line, which runs through the same track as JR Saikyo Line from Ikebukuro, Shinjuku and Shibuya, is fast and convenient. Fare is 530 yen from JR Ikebukuro Station to Tokyo Teleport Station.
3. Odaiba Rainbow Bus
The "Odaiba Rainbow Bus" which connects Shinagawa Station, Tamachi Station and Odaiba, crosses the Rainbow Bridge and stops at Odaiba-kaihinkoen. This is the fastest and cheapest route if you are heading to Odaiba from these 2 stations. The fare is 210 yen.
4. Water Bus (Tokyo Cruise)
It operates from Odaiba-kaihinkoen to Hinode Pier, Asakusa and Toyosu. The sunset and night view is very beautiful and you can get a full view of Tokyo Bay area such as Rainbow Bridge and Tokyo Tower, etc. It costs 1130 yen for a ride from Asakusa to Odaiba-kaihinkoen. 
The Statue of Liberty and Ferris Wheel in Odaiba!
Speaking of the photo spot in Odaiba, it is the Statue of Liberty. A photo here is indispensable to the collection of photos that say "I am here in Odaiba". It has best position with Tokyo Tower and Rainbow Bridge as background.
By the way, the Statute of Liberty in Odaiba-kaihinkoen is a bronze replica made by a French foundry officially approved by the French government.
The Ferris wheel in Palette Town is a symbolic existence in Odaiba. The Ferris wheel is the biggest in Japan, 100m in diameter and the highest point from ground is 115m high. It takes about 16 minutes for a complete rotation. You can enjoy the great view either day or night. 4 out of the 64 capsules even have transparent glass wall and floor!   
There is a beach in Tokyo!?
The beach in Odaiba-kaihinkoen is an 800m long manmade beach with sand from Kouzushima, Izu Islands. Swimming is prohibited here. It is the best photo spot as from the beach one can see the Rainbow Bridge and the skyscrapers on the opposite bank.
Daiba Park is a historic park with powder magazine and fort. You can see the Rainbow Bridge, Odaiba and Tokyo Bay at a close distance.
The DECKS Tokyo Beach, a complex located in front of the Odaiba-kaihinkoen, is an entertainment spot with many experience-based facilities. You can test your courage by visiting the haunted house set in a school's ruins. It is so scary and you are likely to scream non-stop!! There is also a prayer room with simple washing area at the 5th floor of Seaside Mall.
Spot information
Spot name: DECKS Tokyo Beach

Address: Tokyo, Minato-ku, Daiba 1-6-1

Access: 

About 3-minute walk from Odaiba-kaihinkoen Station. 

About 5-minute walk from Tokyo Teleport Station
Shopping Spree in Odaiba
Aqua City Odaiba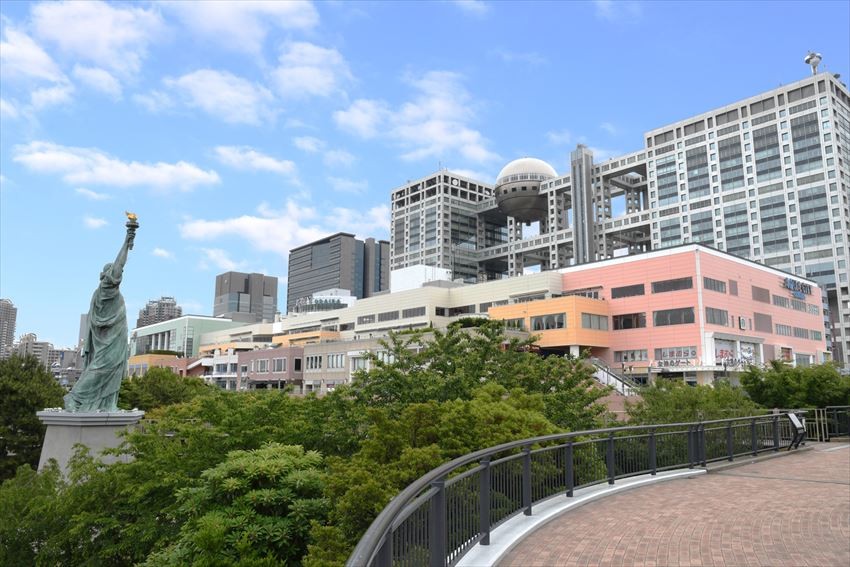 Aqua City Odaiba is a large shopping complex located in the prime location in the city center, next to Odaiba-kaihinkoen and across the Statue of Freedon and Rainbow Bridge. Here you can have a full night view of Tokyo. The complex has about 80 stores and provides a rich variety of gourmets.
Aqua City Odaiba
Address: Tokyo, Minato-ku, Daiba 1-7-1

Opening hour: 

Retail Stores: 11:00~21:00

Restaurants: 11:00~23:00

Access: 

1-minute walk from Daiba Station 

6-minute from Tokyo Teleport Station

Right next to Fuji TV bus stop.  
Daiba City Tokyo Plaza
Daiba City Tokyo Plaze, where a 18m full-scale Gundam is at, is a huge commercial complex featuring fashion, entertainment, food court, restaurants, cafés, live facilities, etc. with about 150 stores. There are about 13 Tokyo famous stores at the food court "Tokyo Gourment Stadium". For shopping, there are the latest apparel brands that are topic both domestically and overseas! You can experience the "present" Tokyo here.
Daiba City Tokyo Plaza
Address: Tokyo, Koto-ku, Oumi 1-1-10

Opening hour


Retail stores: 10:00~21:00
Food Court: 10:00~22:00 ※Last order 21:30
Restaurant: 11:00~23:00

Access


About 5-minute walk from Daiba Station
About 3-minute walk from Tokyo Teleport Station 
Odaiba also has museums with a twist!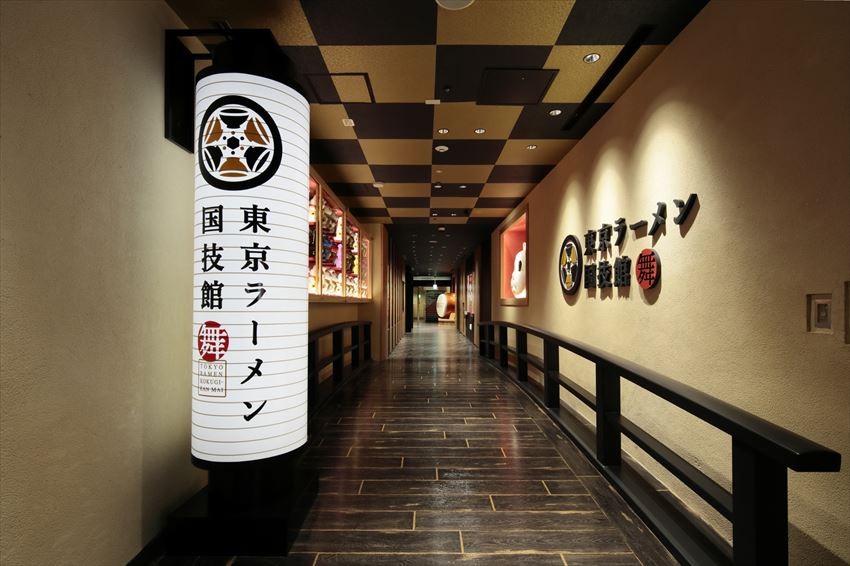 In DECKS Tokyo Beach, Osaka's takoyaki masters are competing with their skills in Takoyaki Museum, while The Ramen Kokigakan in Aqua City Odaiba, where the topical famous stores gather, is a must-go for ramen lovers. These museums are a must for you to happily enjoy the delicious gourmets.
Discover your longing hot spring in Odaiba!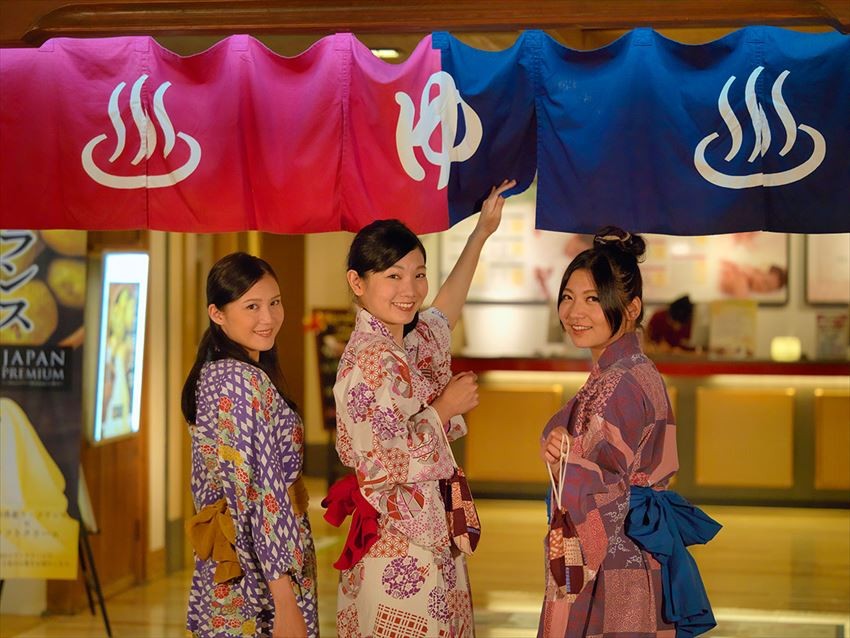 "Tokyo Odaiba Oedo Onsen Monogatari" is a hot spring theme park which recreates the streets of Edo, where visitors can enjoy a day trip of hot spring, eating, playing, relaxing, as well as an overnight. This type of theme park which worth experiencing is here in Odaiba! You can relax at the natural hot springs of which the water comes from 1400m underground. Spend a day here to enjoy the different types of hot springs such as open bath as well as the festive-like space!
Tokyo Odaiba Oedo Onsen Monogatari
Address: Tokyo, Eto-ku, Oumi 2-chome 6-3

Opening hours: 11:00~9:00 (next day). last entry is 7:00 (morning)
Access:


About 2-minute walk from Telecom Center Station
Free shuttle bus from Tokyo Station, Shinagawa Station, Shinjuku Station, Tokyo Teleport Station, Kinshicho Station and Eto area. 
Stay in Odaiba if you want to enjoy it to the fullest
Hilton Tokyo Odaiba
Hilton Tokyo Odaiba is popular with its great location on the Tokyo Bay. Each guest room has private balcony and from there, visitors can have views of Rainbow Bridge, Tokyo Sky Tree, Tokyo Tower, etc. There are 2 views available, Rainbow Bridge direction or Oi Terminal / Shinagawa Terminal direction, depending on the rooms. No matter how many times you are here, you can enjoy different views. The extremely photogenic sweet buffet is also a hit.
Hilton Tokyo Odaiba
Address: Tokyo, Minato-ku, Daiba 1-9-1

Access


Direct link from Daiba Station
About 10-minute walk from Tokyo Teleport Station
Take Odaiba Rainbow Bus and alight at Hilton Tokyo Odaiba stop
Grand Nikko Tokyo Daiba
Located in Tokyo's waterfront facing the gorgeous view of bay area, the hotel is also easily accessible from Haneda. There are different types of guest rooms facing each direction, and plans for specific views such as Rainbow Bridge or Haneda Airport are also available for reservation. Visitors can also enjoy their meals while overlooking the beautiful view of Tokyo. Let's enjoy the resort experience in the city center at "Grand Nikko", the finest brand of Nikko Hotels International.
Grand Nikko Tokyo Daiba
Address: Tokyo, Minato-ku, Daiba 2-6-1

Access:


Direct link from Daiba Station
About 10-minute walk from Tokyo Teleport Station
Take the Odaiba Rainbow Bus and alight at Grand Nikko Tokyo Daiba stop 
Recommend