Sightseeing spots in Odaiba: Enjoy shopping and sightseeing in Tokyo for a day! Full of spots that can be enjoyed even on rainy days!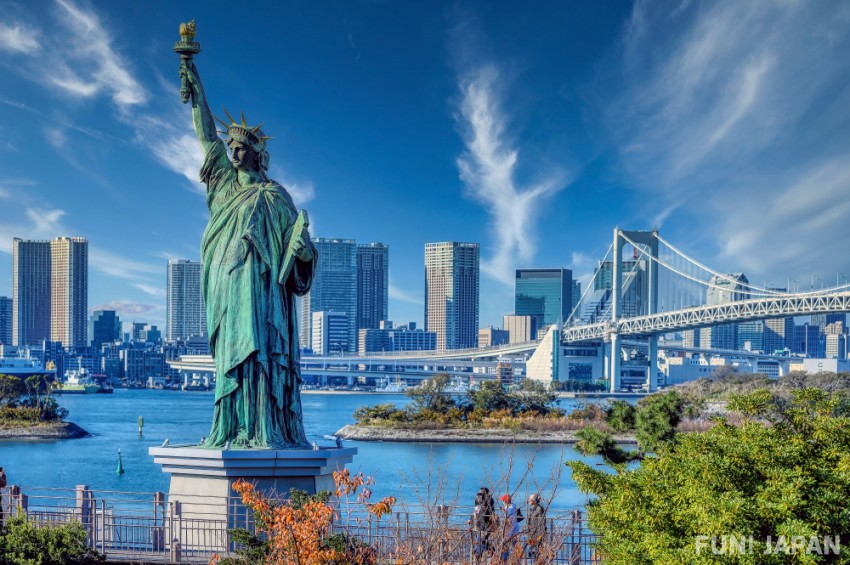 Odaiba has many large shopping malls with amusement facilities, so you can enjoy shopping and various activities even on rainy days. Moreover, there are plenty of tourist facilities other than shopping malls! In the Odaiba area, you can enjoy all day without worrying about the weather, so we recommend spending at least one day in this area during your trip to Tokyo.

Where are Odaiba, Ariake, and Toyosu?
Odaiba, Ariake, and Toyosu are located in the bay area along the Yurikamome Line, which departs from Shimbashi Station. The bay area refers to the reclaimed land along the coast of Tokyo Bay that spreads across Minato Ward, Chuo Ward, and the eastern part of Koto Ward.

Odaiba is between "Odaiba-kaihinkoen Station and Telecom Center Station", Ariake is between "Tokyo Big Sight Station and Ariake-Tennis-no-mori Station", and Toyosu is between "Shijo-mae Station and Toyosu Station", and each area is full of attractive spots. Therefore, this time, we will focus on Odaiba while also introduce the attractions of the adjacent Ariake and Toyosu areas.
DECKS Tokyo Beach: Lots of interesting facilities beside shopping!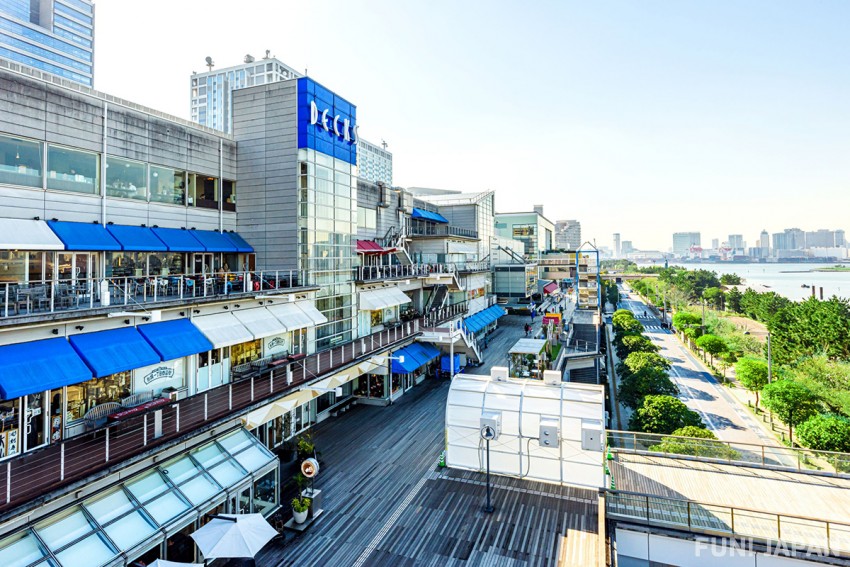 DECKS Tokyo Beach is a shopping center with a ship motif bordering Odaiba Marine Park. On the seaside terrace, you can relax while looking at the sea and the night view. There are about 80 specialty stores and restaurants in the hall, where you can enjoy shopping for clothes, miscellaneous goods, children's clothing, Odaiba souvenirs, and various Japanese, Western, and Chinese meals. Amusement facilities are also plentiful. It is a shopping mall that can be enjoyed all day from children to adults.

List of recommended facilities
SEASIDE MALL
(3F) TOKYO-JOYPOLIS: Japan's largest indoor amusement park where you can enjoy more than 20 kinds of attractions.
(4F) Daiba 1-chome Shoutengai: A space where you can experience the retro atmosphere of the 30s of the Showa period (around 1955 to 1965) with stores that sell cheap sweets and Japanese miscellaneous goods, and haunted houses.
(4F) TOKYO TRICK ART MUSEUM: A trick art museum that makes you feel like you've slipped back in time to the town of Edo.
(4F) Odaiba Takoyaki Museum: A place where five famous and popular takoyaki shops in Osaka gather.
ISLAND MALL
(3F) Madame Tussauds Tokyo: A facility with more than 60 life-size figures of Hollywood stars and celebrities.
(3F) LEGOLAND® DISCOVERY CENTER Tokyo: Experience-based facility where you can play with a variety of attractions in a space decorated with Lego® blocks.
DiverCity Tokyo Plaza: A shopping mall where you can enjoy a variety of entertainment
"DiverCity Tokyo Plaza" is home to a variety of shops and restaurants, including casual brand stores that are popular both in Japan and overseas. A shopping mall based on the concept of a "theater-style urban space" with a wide variety of entertainment facilities. The eye-catching feature of this facility is the Life-Sized Unicorn Gundam Statue, which has one or two horns and transforms from Unicorn Mode to Destroy Mode. In the nighttime section, you can also enjoy the light emitted from the Unicorn Gundam statue and the lighting up, as well as the "Wall-G" performance with video and music.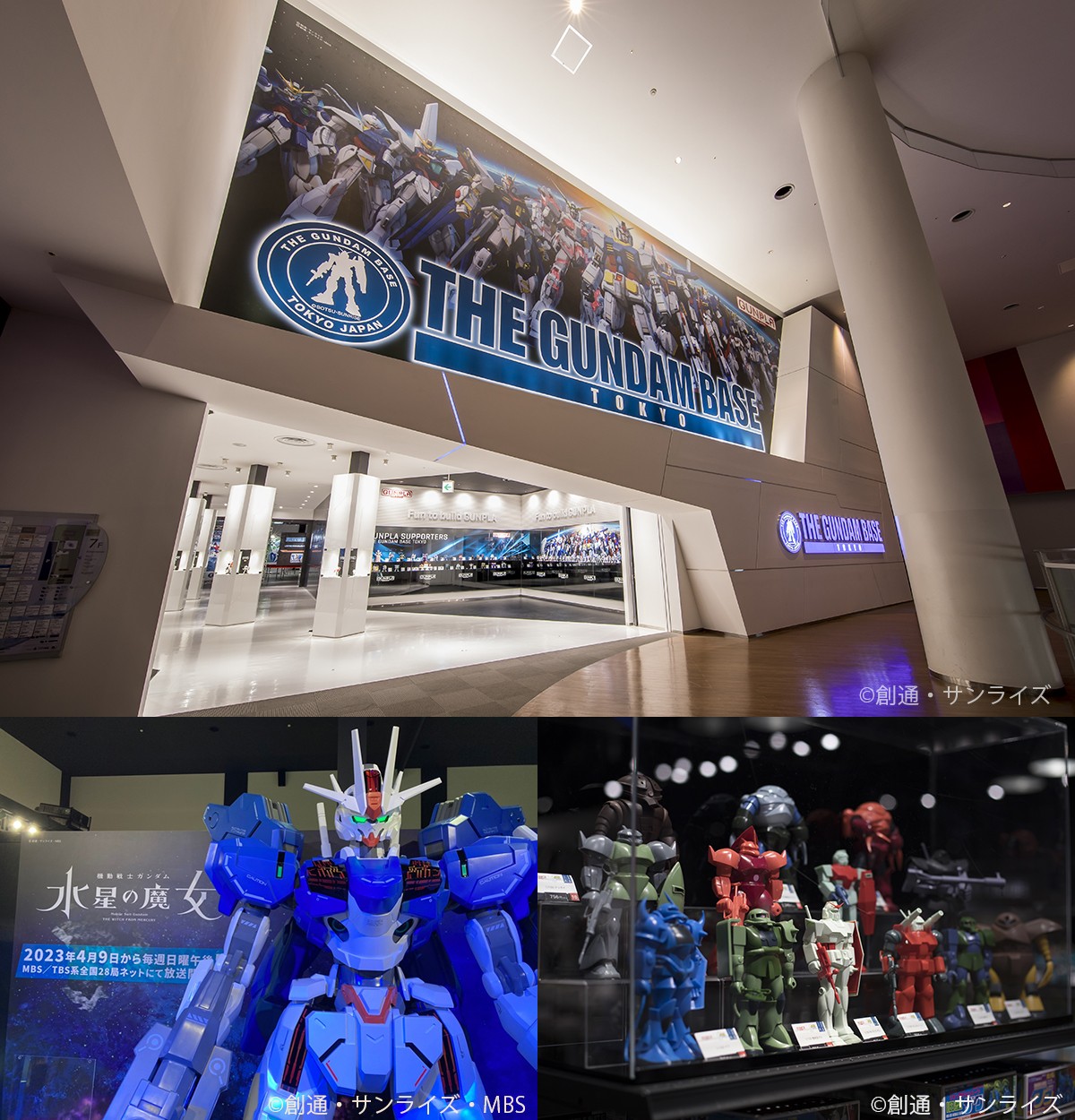 List of recommended facilities
(2F) UNKO MUSEUM TOKYO: A museum with the theme of "unko" that spreads out into a colorful world.
(5F) TYFFONIUM: An entertainment facility where you can immerse yourself in various virtual worlds with next-generation MR (Mixed Reality) attractions that surpass VR (Virtual Reality).
(5F) Little Planet: A theme park full of hands-on activities that train children's imagination and creativity.
(6F) ROUND1 STADIUM: A complex facility where you can enjoy various sports, karaoke, and arcade games.
(7F) THE GUNDAM BASE TOKYO: An official Gunpla (Gundam Plastic Models) facility for Gunpla fans around the world where you can enjoy the world of Gundam in four zones where you can enjoy buying, building, watching, and learning.
AQUA CiTY ODAIBA: A commercial facility where you can enjoy shopping and entertainment, and pray for good luck at a shrine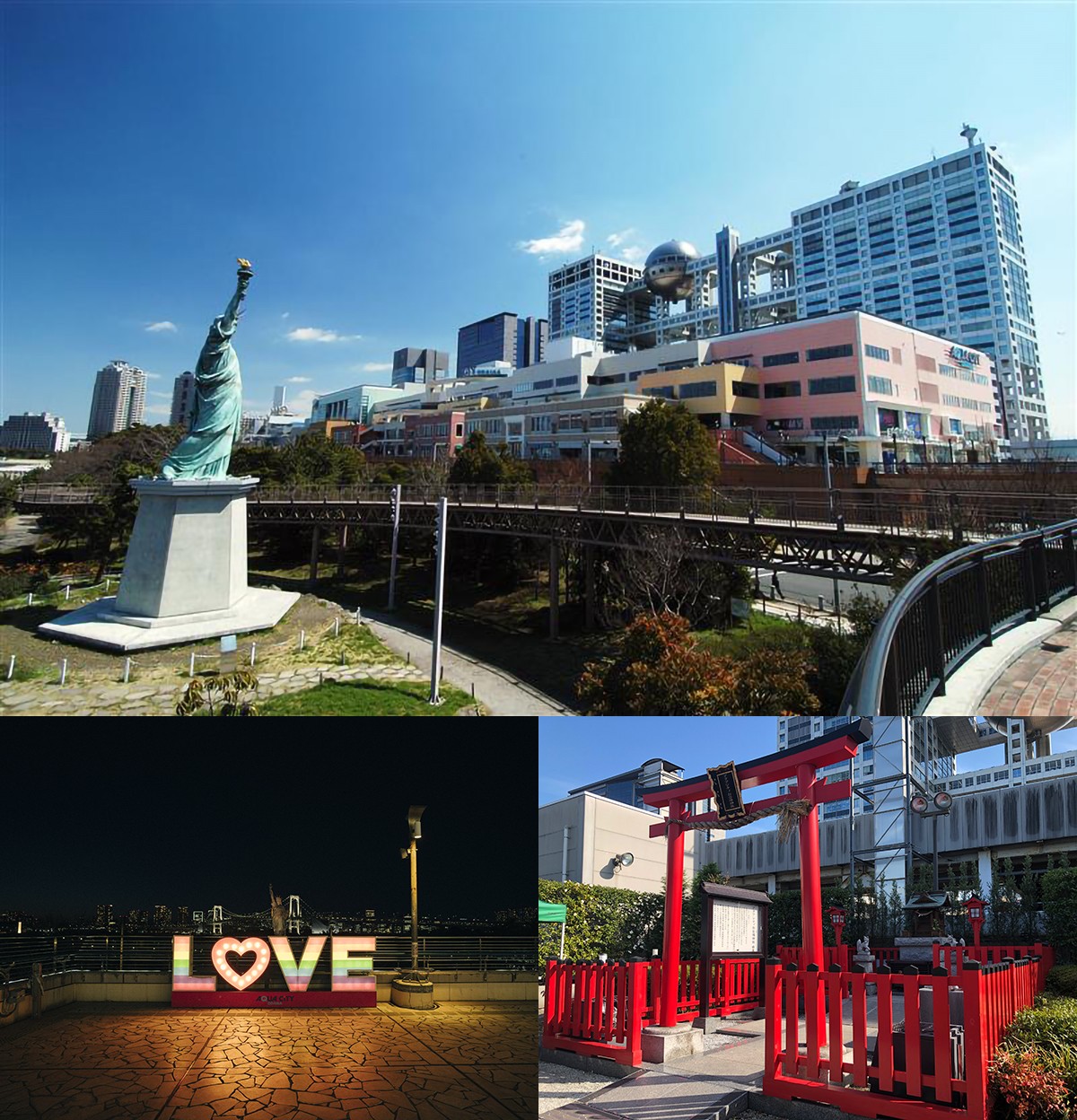 "AQUA CiTY ODAIBA" is a commercial facility with a view of the Statue of Liberty and the Rainbow Bridge. The shopping zone is lined with about 60 stores that sell casual fashion, miscellaneous goods, and toys, while the gourmet zone offers a wide variety of cuisines. There are plenty of entertainment facilities, too. At the cinema complex, you can enjoy movies with screening systems such as 3-screen multi-projection "ScreenX" and experience-type 4DX®, and acoustic experience premium seats "FLEXOUND™". The "LOVE" monument on the deck facing the sea is a recommended photo spot where you can take pictures with the Statue of Liberty and the Rainbow Bridge in the background.

List of recommended facilities
(4F) Tokyo Leisureland: An amusement facility where you can enjoy crane games and photo booths where you can aim for prizes such as popular anime and Disney character goods.
(5F) Tokyo Ramen Kokugikan Mai: A ramen theme park with six well-known ramen shops that are popular not only in Japan but also overseas.
(7F) Aqua City Odaiba Shrine: A historic shrine where the spirits of Shiba Daijingu, one of the ten major shrines in Tokyo, are enshrined.
Odaiba Marine Park: Beach, night view and commemorative photo! A park full of attractions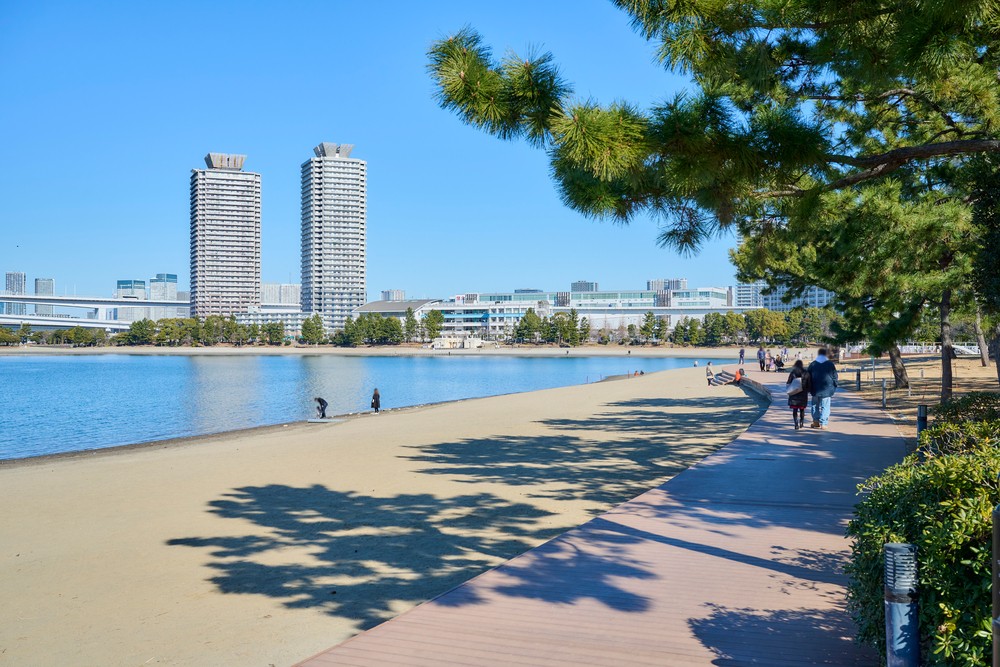 Odaiba Marine Park surrounds the cove of Tokyo Bay. The famous photo spot is the Skywalk (aerial corridor) and the Statue of Liberty on the way. The Skywalk is also connected to the water bus platform for transportation from Asakusa and Toyosu, making it convenient for sightseeing in Odaiba after a boat trip.

In the park, there is also an artificial sandy beach "Odaiba Beach" with a length of about 800m. This marine house bordering the beach becomes a spot where you can enjoy the night view at night. You can enjoy the night view of Rainbow Bridge.
Telecom Center Building Observatory: Romantic night view of Tokyo including Rainbow Bridge!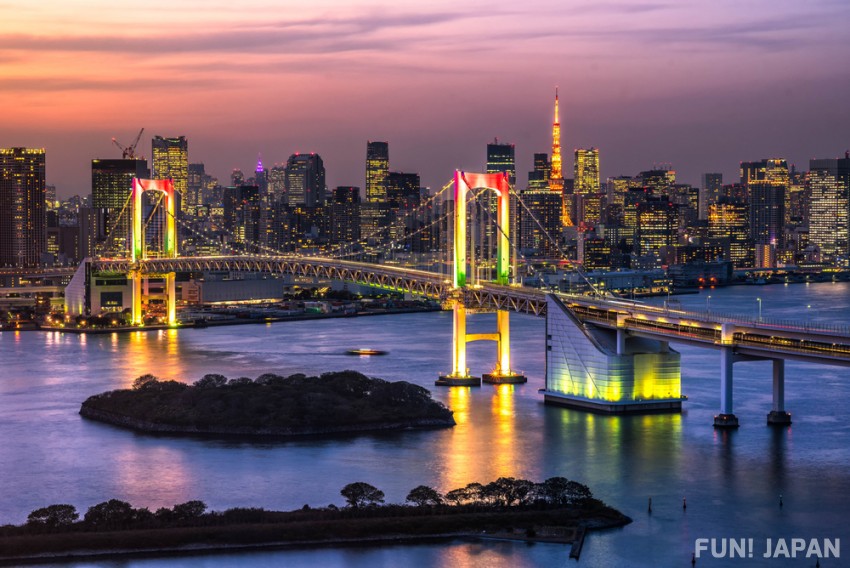 There is an observatory on the 21st floor of the Telecom Center Building, and you can overlook the city from a height of 99m. It's nice during the day, but we recommend going at night. From this place, which has been certified as a night view heritage of Japan, you can enjoy the romantic night view of Tokyo Tower, Tokyo Skytree®, Shinjuku Shintoshin, Shinagawa Wharf, and more. The Odaiba area is also famous for the fireworks display and the first sunrise of the year.

Oedo Onsen Monogatari, Palette Town, VenusFort, etc. are permanently closed... - Closed spots in the Odaiba area
Starting with the closing of Oedo Onsen Monogatari in 2021, various facilities have closed. The facility in the Palette Town area, which was a complex facility representing Odaiba, will also close in August 2022. It is scheduled to be reborn as "TOKYO A-ARENA" (provisional name), which is scheduled to open in the fall of 2025.

List of closed facilities
Tokyo Odaiba Oedo Onsen Monogatari: September 5, 2021
MEGA WEB: December 31, 2021
Zepp Tokyo: January 1, 2022
VenusFort: March 27, 2022
Palette Town Ferris Wheel: August 31, 2022
teamLab Borderless: August 31, 2022
Fireworks festivals held in the Odaiba area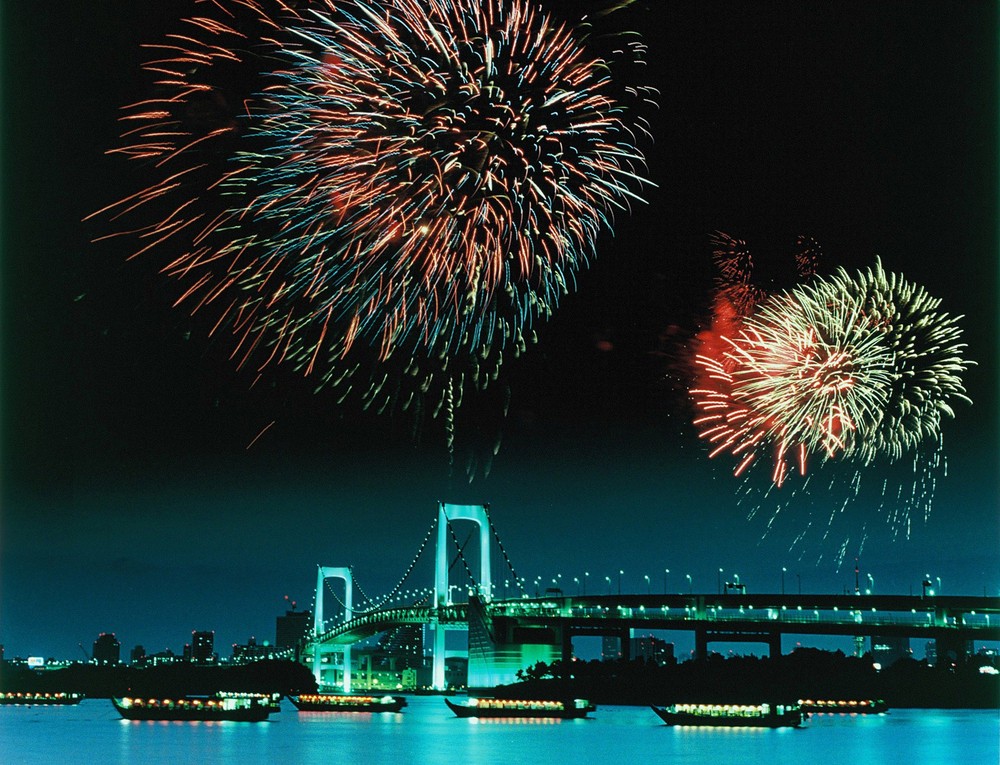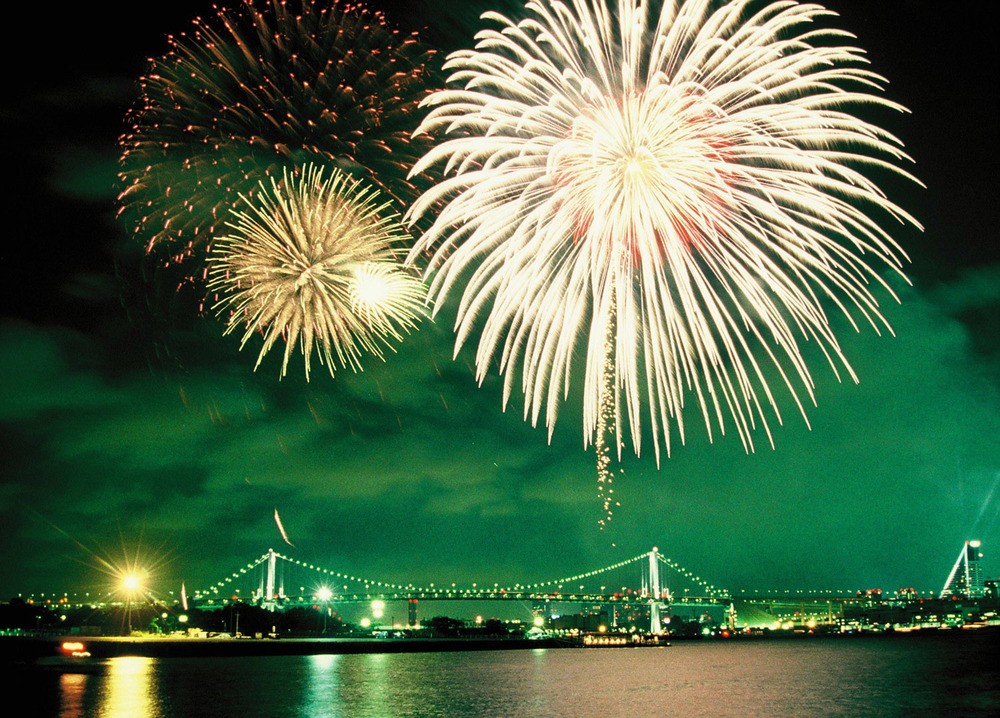 In the Odaiba area, the "Odaiba Rainbow Fireworks" (*held for the first time in 3 years in 2022) will be held for 5 minutes from 19:00 every Saturday in December. The competition between the fireworks that color the night and the light of the Rainbow Bridge is a must-see.

As for the large-scale fireworks festivals, the resumption of the summer fireworks festival "Tokyo Bay Fireworks Festival", which has been suspended since 2016, is also being considered.
Ariake Area: SMALL WORLDS Miniature Museum & New Spots such as Ariake Garden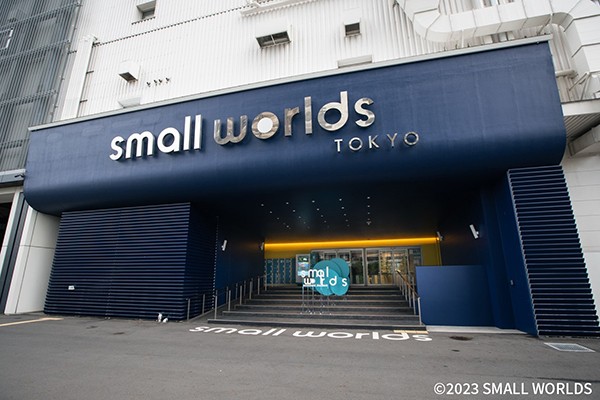 Just about 10 minutes on the Yurikamome Line from Odaiba-kaihinkoen Station. The Ariake area, which has developed around the Tokyo International Exhibition Center, has plenty of large-scale commercial facilities and theme parks. In this part, we will introduce a new spot in such Ariake.

Recommended sightseeing spots
Ariake Garden: A huge complex with about 200 large-scale commercial facilities, hotels, and restaurants. One of them is the natural hot spring "Izumi Tenku no Yu Ariake Garden". In the facility of about 3,000 square meters, you can enjoy a variety of 8 types of baths, bedrock baths, and gourmet food.
SMALL WORLDS Miniature Museum: Asia's largest moving miniature museum where you can enjoy different world views in eight areas. In the hangar area of Evangelion, three EVAs start moving by command. In the 3rd New Tokyo City area, the city went underground due to the apostle's attack. The anime's fantasy world is realistically reproduced. Other must-sees are the planes in the Kansai International Airport area and the shuttle launches at the Space Center. The launch of the plane and the space center shuttle is also a must-see.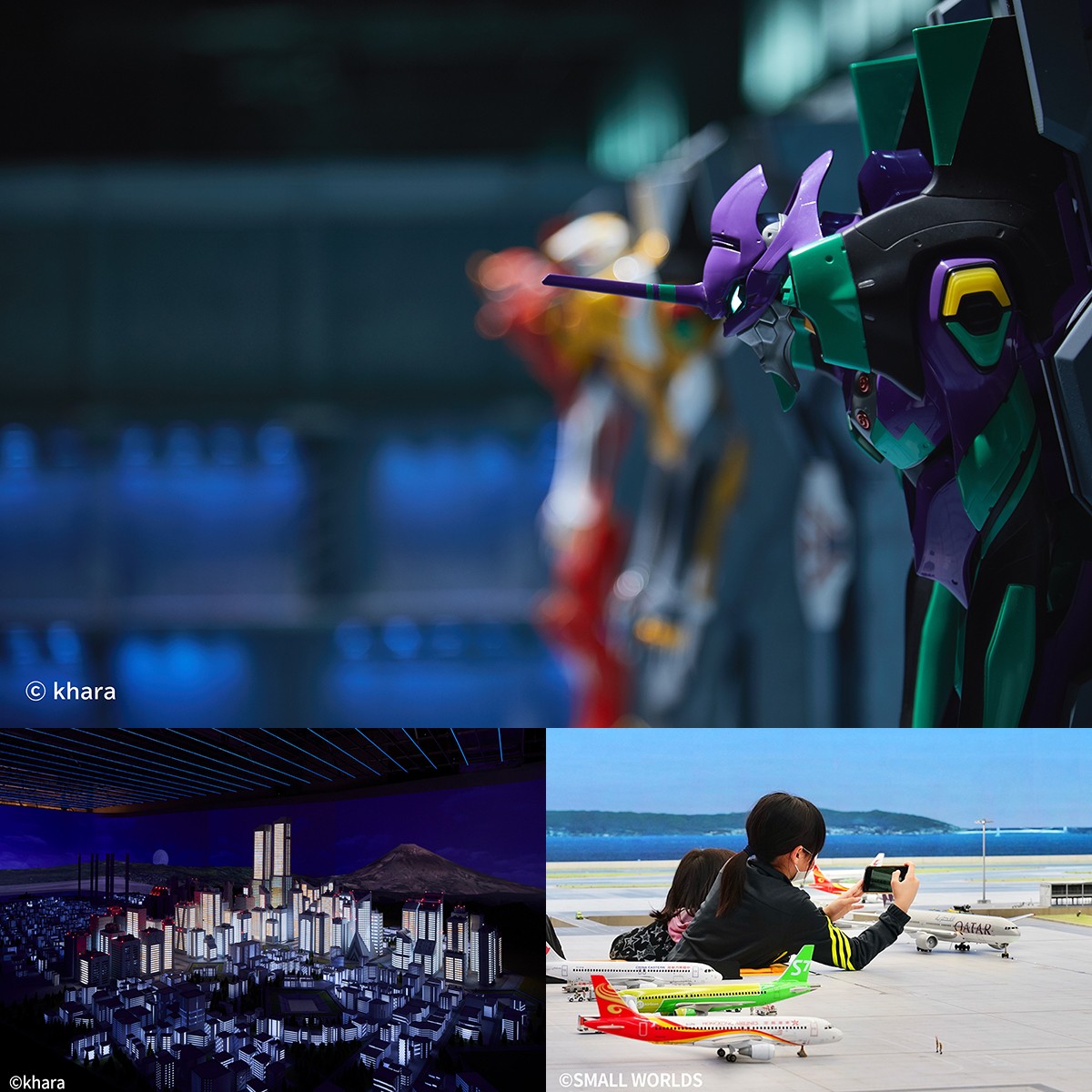 Toyosu Area: Not only Toyosu Market, but also teamLab Planets TOKYO DMM!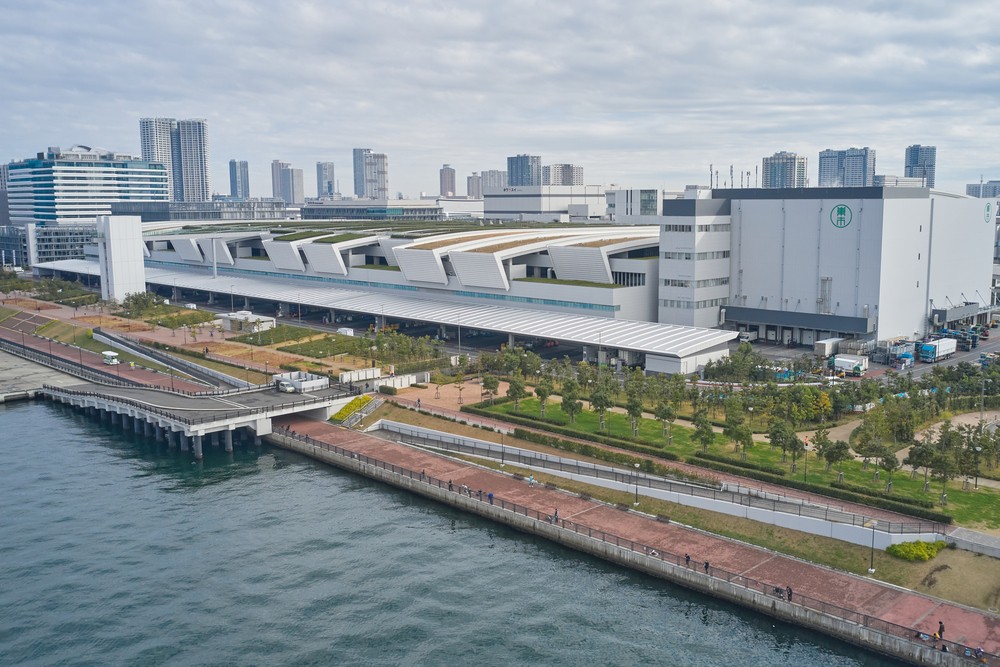 Just about 15 minutes on the Yurikamome Line from Odaiba-kaihinkoen Station. It is an area where large-scale development such as Toyosu Market and large commercial facilities is progressing. Here are some particularly recommended spots in the Toyosu area.

Recommended sightseeing spots
Toyosu Market: Japan's largest wholesale market for marine products, fruits and vegetables. There are 39 restaurants in the market that serve sushi, tempura, and more. You can enjoy the market gourmet as well as the market tour.
Urban Dock LaLaport Toyosu: A large-scale commercial facility with more than 210 casual and high-brand clothing, electronics, restaurants, and more. KidZania Tokyo, a theme park where children can experience work, is also popular.
teamLab Planets TOKYO DMM: An experiential museum that makes full use of digital technology handled by the art group teamLab. Go barefoot, walk in the water, play with the light. You can enjoy a sense of unity with the work. *Holding period until the end of 2023
Access to Odaiba and the nearest station to sightseeing spots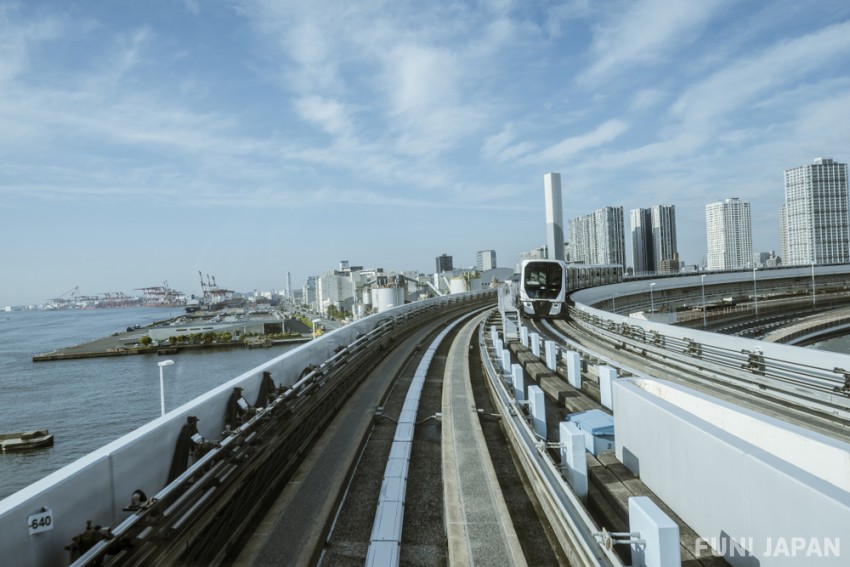 The trains that run through the Odaiba area are the Yurikamome Line and the Rinkai Line.

There is a "one-day ticket" that can be used as many times as you like on each line, and you can get on and off as you please, so you can visit spots at a great price.
New Transit Yurikamome (Tokyo Waterfront New Transit Waterfront Line)
Transfer stations from various parts of Tokyo: Shimbashi Station/Shiodome Station
One-day ticket (all Yurikamome lines): Adults 820 yen, children 410 yen
Main stops:
| | | |
| --- | --- | --- |
| Area | Stops | Nearby sightseeing spots (time required on foot from the station) |
| Odaiba | Odaiba-kaihinkoen Station | Decks Tokyo Beach (2 minutes), Odaiba Seaside Park (3 minutes) |
| Odaiba | Odaiba Station | DiverCity Tokyo Plaza (5 minutes), Aqua City Odaiba (1 minute) |
| Odaiba | Telecom Center Station | Telecom Center Building Observatory (immediate) |
| Ariake | Ariake-Tennis-no-mori Station | SMALL WORLDS Miniature Museum (3 minutes), Ariake Garden (3 minutes) |
| Toyosu | Shijo-mae Station | Toyosu Market (immediate) |
| Toyosu | Shin-Toyosu Station | teamLab Planets (1 minute) |
Rinkai Line (Tokyo Waterfront Area Rapid Transit)
Transfer stations from various parts of Tokyo: Osaki Station/Oimachi Station
One-day ticket (all Rinkai lines): Adults 730 yen, children 370 yen
Main stops:
| | | |
| --- | --- | --- |
| Area | Stops | Nearby sightseeing spots (time required on foot from the station) |
| Odaiba | Tokyo Teleport Station | DECKS Tokyo Beach (5 minutes), DiverCity Tokyo Plaza (3 minutes), Aqua City Odaiba (6 minutes) |
| Ariake | Kokusai-Tenjijō Station | Ariake Garden (6 minutes) |
[Survey] Traveling to Japan
Recommend