Recommended shopping spots in Kappabashi - KAPPABASHI STREET Part 2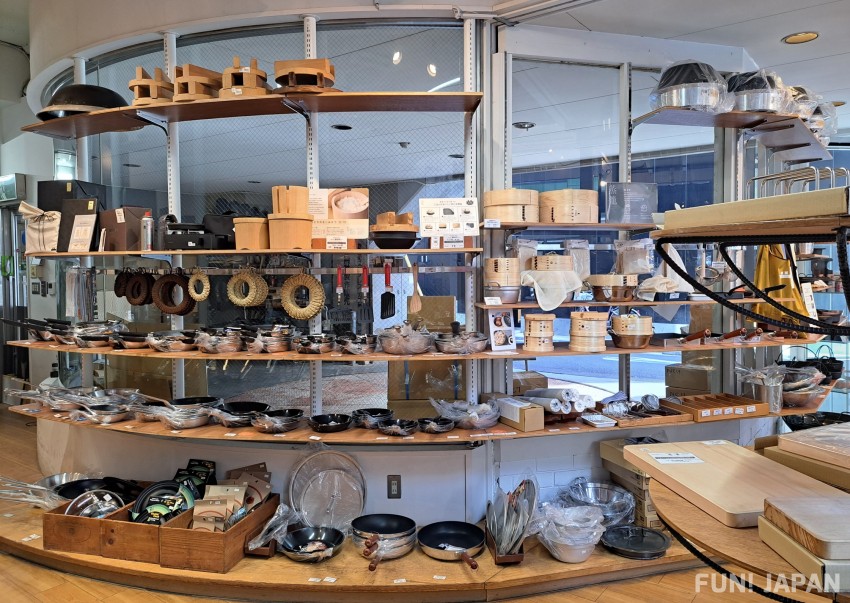 Continuing from "Recommended shopping spots in Kappabashi - KAPPABASHI STREET Part 1", here is our another favourite shop in Kappabashi!

This time, we will thoroughly report on the appeals of KAMA-ASA (釜浅商店 / Kama-asa Shoten) store, which has a lineup of 60 types and over 1,000 items for knives alone, as well as the brand's original frying pans.
KAMA-ASA – A stylish and sophisticated shop to find the knives and cooking utensils you are looking for
Kappabashi located in the Asakusa area attracts many people, ranging from the ordinaries to professionals.

One of the most famous stores in Kappabashi is KAMA-ASA, which was established in 1908 and sells kitchen utensils such as knives, pots, Nambu cast ironware, Yukihira pans, and frying pans.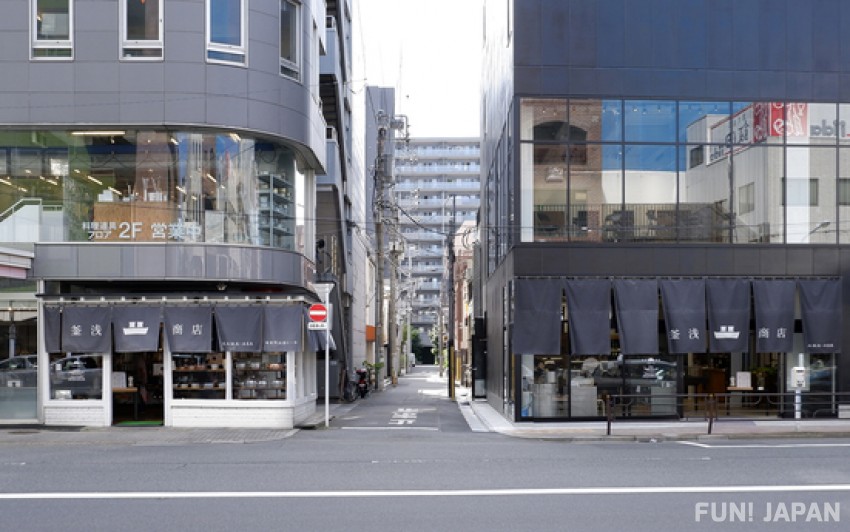 The shop, which has just finished rebuilding and renewing in 2020, is divided into two buildings, the Kitchen Knife Section and the Kitchen Tool Section. Now let us guide you through the charms of each section of this popular store that is so fashionable and makes you want to stay awhile longer.
KAMA-ASA Kitchen Knife Section – Perfect for buying your own knives with 1,000 items of 60 types!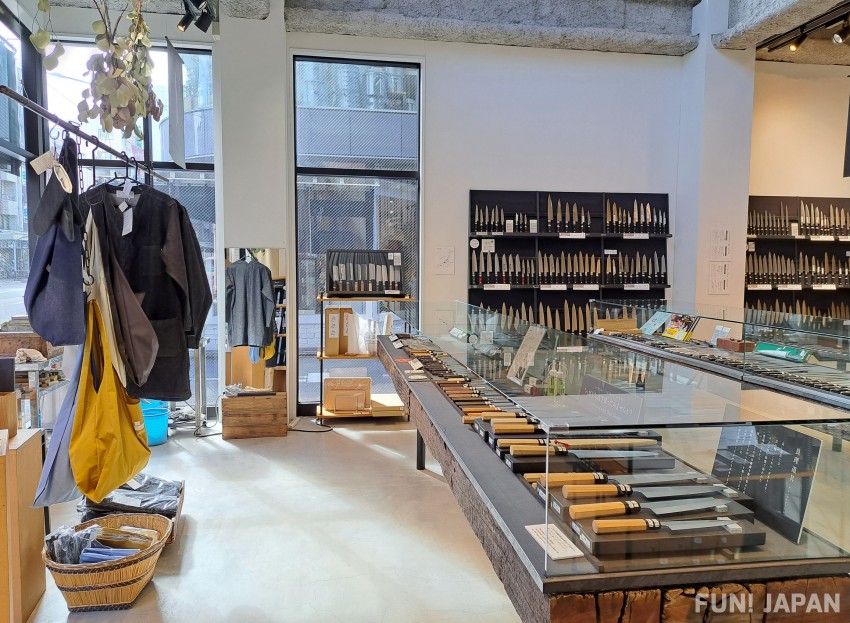 KAMA-ASA Kitchen Knife Section has two floors.
Western and Japanese knives are displayed on the 1st floor, as well as whetstones and various cooking-related goods, while other types such as Chinese knives, noodle knives, and Tuna knives are displayed on the 2nd floor.
There are two main types of knives: Western knives and Japanese knives.
Western style knives are double-edged knives that are good at cutting quickly. There are multipurpose knives that can be used for both meat and vegetables, such as Santoku knives and utility knives, and also specialized ones such as Sujihiki slicer knives to cut the sinew in the meat, Honesuki knives and Garasuki knives to separate the meat from the bone, and etc.

On the other hand, Japanese knives are single-edged.

One feature of Japanese knives is that the cross section can be finished neatly without damaging the fibers of the ingredients. In the case of Japanese cuisine, different types of knives are used according to the purpose, such as the Deba knife for cutting fish and the Yanagiba knife for cutting sashimi.
On the 1st floor of KAMA-ASA, knives are categorized in showcases by type, and you can pick the knife you are interested in by holding it in your hand and feeling its texture and weight.
Plus, Western knives and Japanese knives that are popular with both professionals and the general public are displayed on the wall, making it easy to compare the shapes and sizes of the blades.

The tables are used as cutting boards as well for you to try cutting with your favourite knife. During our on-site coverage, we spotted a foreign customer carefully checking the comfort of using one of the products.

Besides knives, there are plenty of equipment as well. Many people actually buy whetstones as a set or buy fruit knives as souvenirs!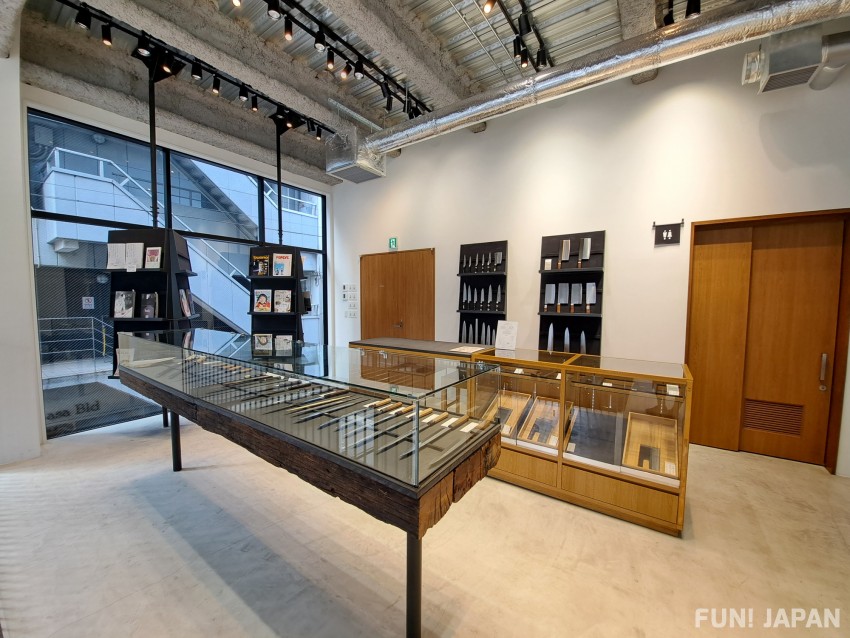 Also, on the 2nd floor, you can see Chinese knives and Tuna knives that can only be seen at fish markets.
There is a rest space overlooking the Kappabashi street, which seems convenient for shopping with families.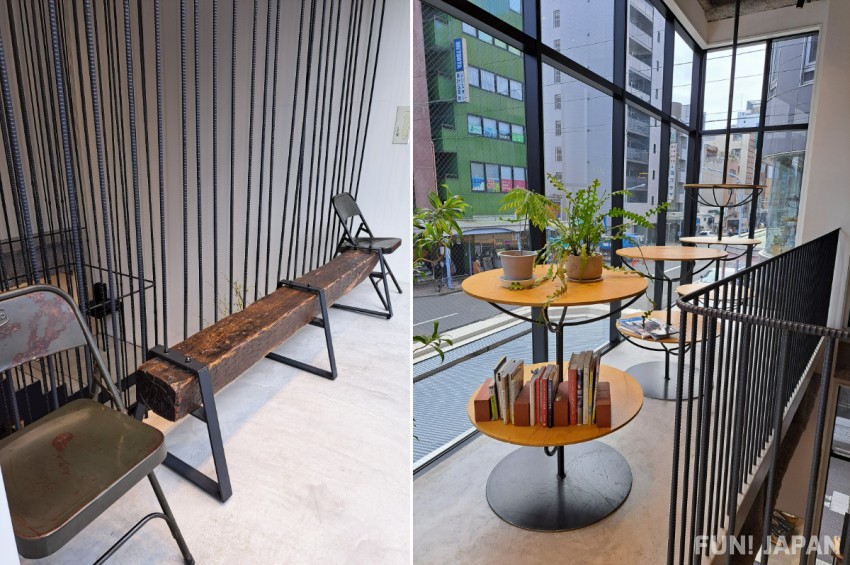 KAMA-ASA Kitchen Tool Section – Plenty of unique Japanese cooking utensils such as rolled omelet makers and Yukihira pans!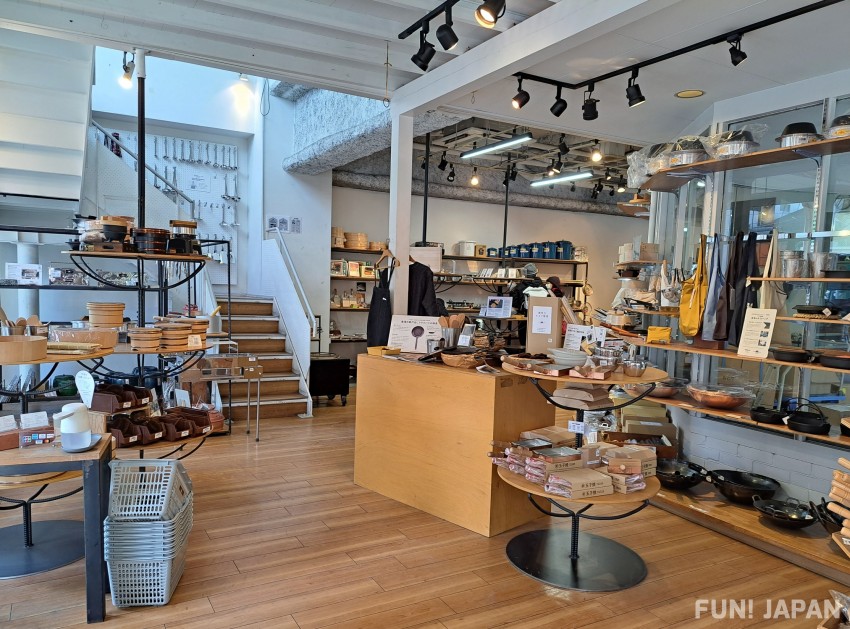 The building next to the Kitchen Knife Section is the Kitchen Tool Section. The bright interior with natural light and the stylish furnishing completely overturn the image of such long-established cooking utensils specialty store.

When you think of Kappabashi's specialty stores, you might have an image of stacks of various products and different sizes on display. But here, the layout is designed for an easy-to-see and easy-to-understand shopping environment, so you can easily locate the item you want and can compare each product at a glance.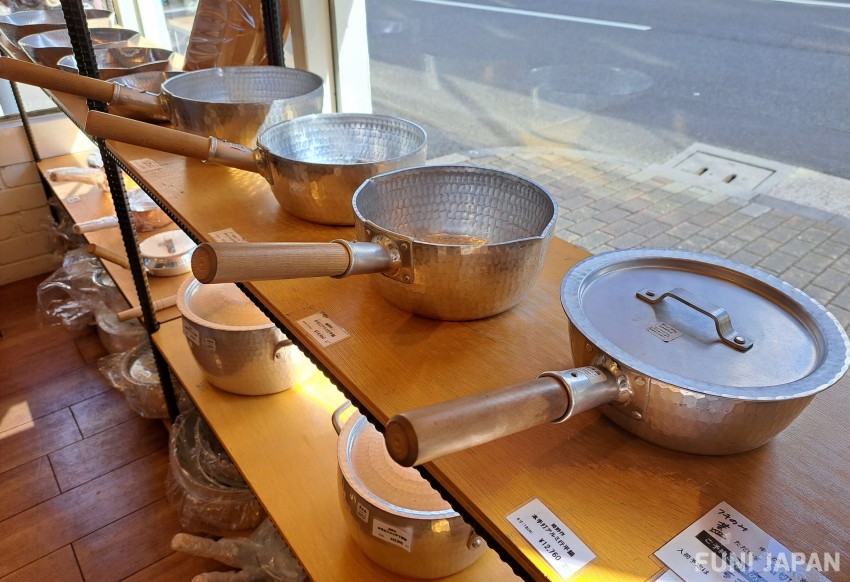 When you enter through the entrance, the first thing that catches your eye on the 1st floor are the pots and pans! 
We were told that the pots made by craftsmen, KAMA-ASA's original iron frying pans, and the uniquely Japanese rolled omelet makers are some best sellers.

Copper graters and cooking trays are also popular products. Cooking trays in particular come in a wide variety of sizes, no wonder why many people bulk-buy them in different sizes.

And on the stairs there are tongs all over the wall! These easy-to-use yakiniku tongs are in demand because they are unqiuely MADE IN JAPAN in the way that the tip does not touch the table even when you put them down.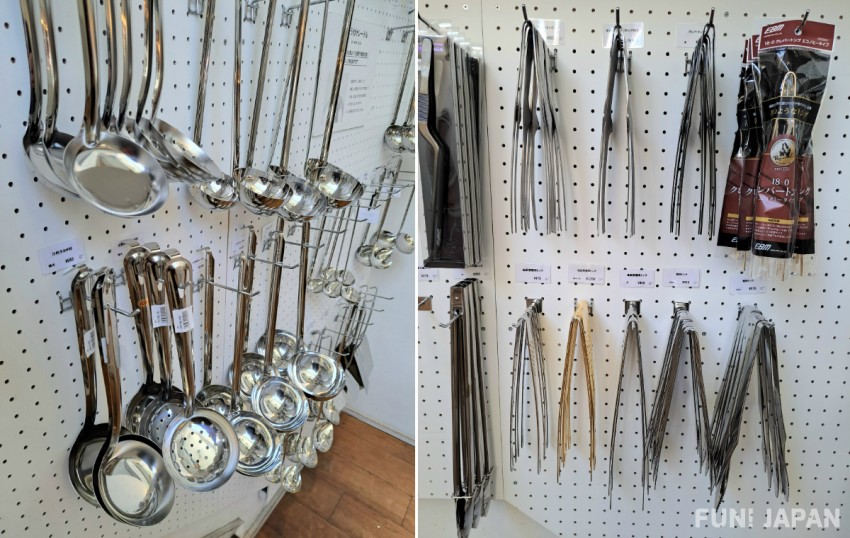 On the 2nd floor, more specialized equipment and commercial-sized products are displayed. Only in Kappabashi can you find such cooking equipment used in Japanese restaurants, which you usually don't get the chance to see.

At KAMA-ASA, if you meet certain conditions and hold a passport, you can apply for tax exemption at each section of the Kappabashi store. KAMA-ASA also provides support in foreign languages such as English and French. Check the official website for details!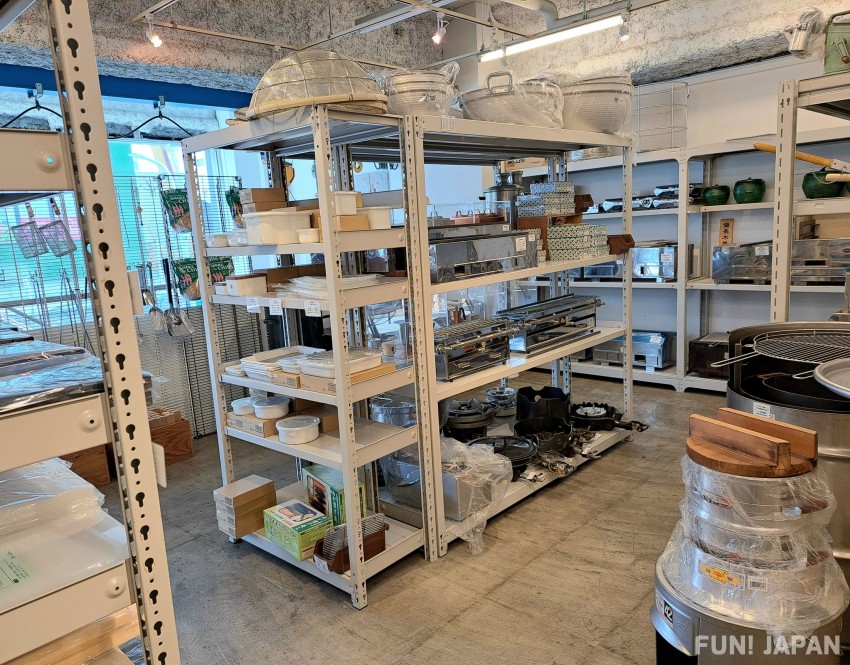 Shop information
KAMA-ASA (釜浅商店 / Kama-asa Shoten)
Address: 2-24-1 Matsugaya, Taito-ku, Tokyo
Business hours: 10:00-17:30
Closed: Open all year round (except year-end and New Year holidays)
Access: 8 minutes walk from Tokyo Metro Ginza Line "Tawaramachi" station, or 6 minutes walk from Tsukuba Express "Asakusa" station

*The shop closes at 16:30 on the last day of every month for internal training.
Articles related to Asakusa and Kappabashi
【2023 Edition! 】

Eating while walking in Asakusa, Tokyo & specialty gourmet



[Survey] Traveling to Japan
Recommend