Recommended shopping spots in Kappabashi - KAPPABASHI STREET Part 1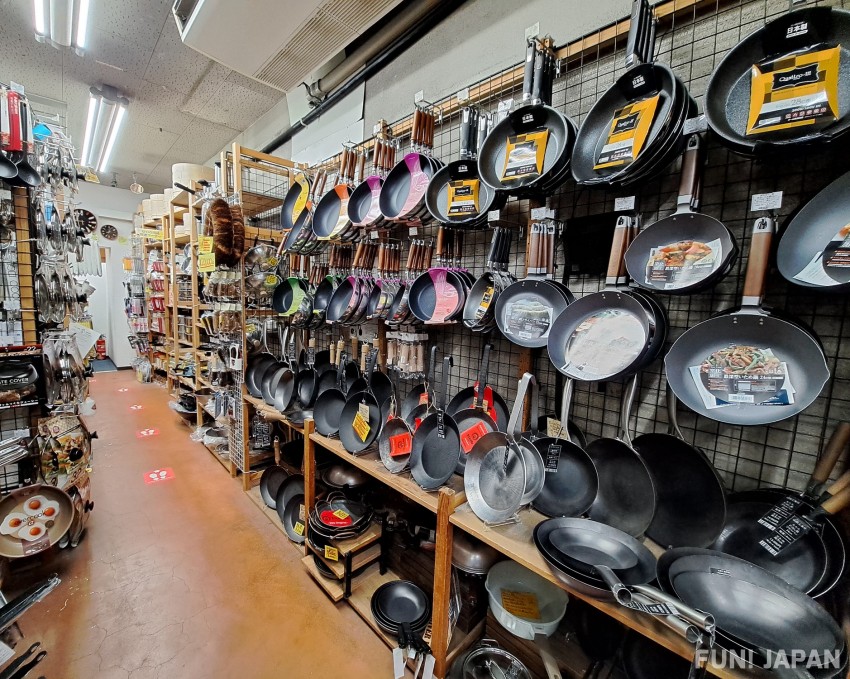 Kappabashi Dougu Street (かっぱ橋道具街 - also known as KAPPABASHI STREET) is a shopping street about 800 meters north-south located between Asakusa and Ueno. It can be accessed from Tawaramachi Station on the Tokyo Metro Ginza Line and Asakusa Station on the Tsukuba Express Line in about 5 minutes on foot. Those who stop by at this street are not only tourists who visit it along with Asakusa and Sensoji Temple, but also professional chefs from overseas during their visit to Japan - it is a shopping street that specializes in "food and related items". In this article, we will introduce 3 of the most popular shops that have been featured in international media in two parts.

The history of Kappabashi and the origin of its name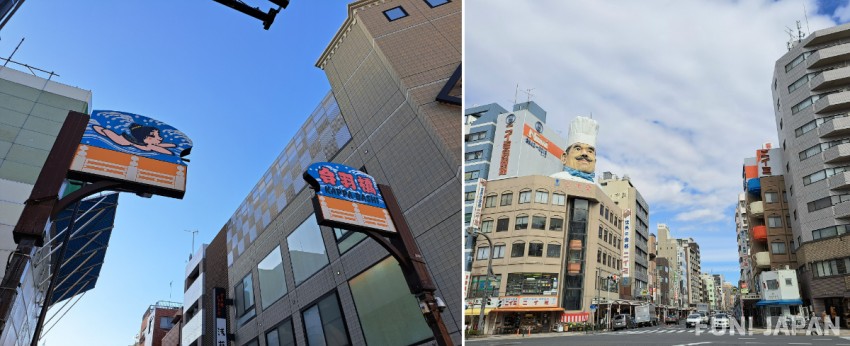 Currently, Kappabashi is lined with about 170 shops specializing in utensils and antiques. It has a long history of more than 100 years, and is said to have originated when secondhand merchants set up shops on both banks of the Shinbori River, which was built in the Edo period.

The products handled are unique for each store! There are shops that handle everything from kitchen utensils and knives to small items and tableware, while there are others that specialize in frying pans, pots, kitchen knives, tableware and cutlery. Furthermore, there are even specialists in noodle making machines for ramen, soba and udon, bakery and confectionery tools, café goods shops, signboards and food replica shops.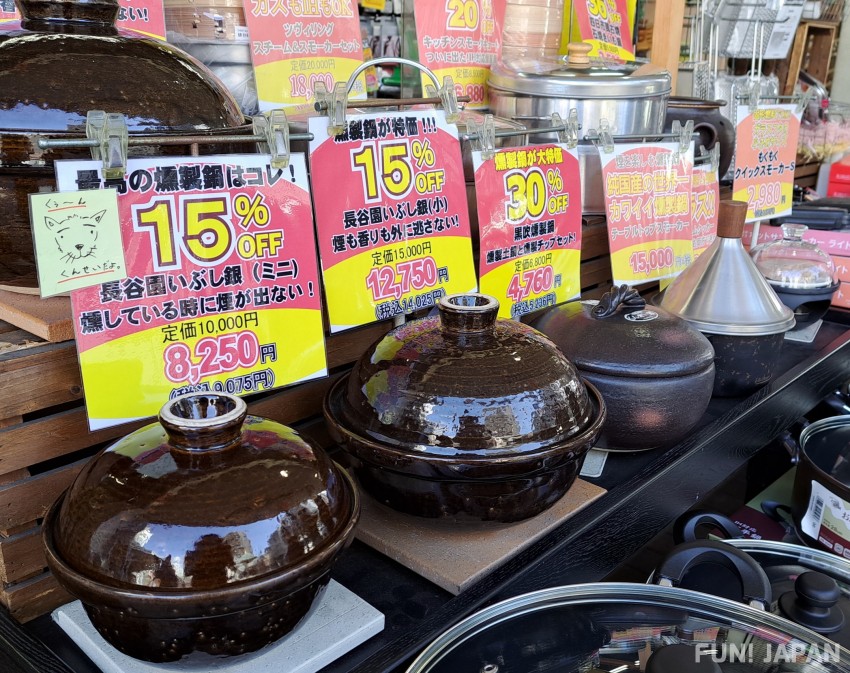 For pots or frying pans, you can get items that are rarely available, from manufacturer products that are used by professional chefs to custom-made items that are made by craftsmen over several months. It is said that chefs from all over Japan and around the world flock to Kappabashi to purchase various cooking utensils.

In addition, the "Kappabashi Dōgu Matsuri" (かっぱ橋道具祭 - Kappabashi Tool Festival) is held every October. If you visit Kappabashi Dōgu Street at that time, you might be able to get the products you want at a better deal.
Ultimate utensil specialty store 'Iida-ya' - A cooking utensil wonderland packed with more than 8000 items!?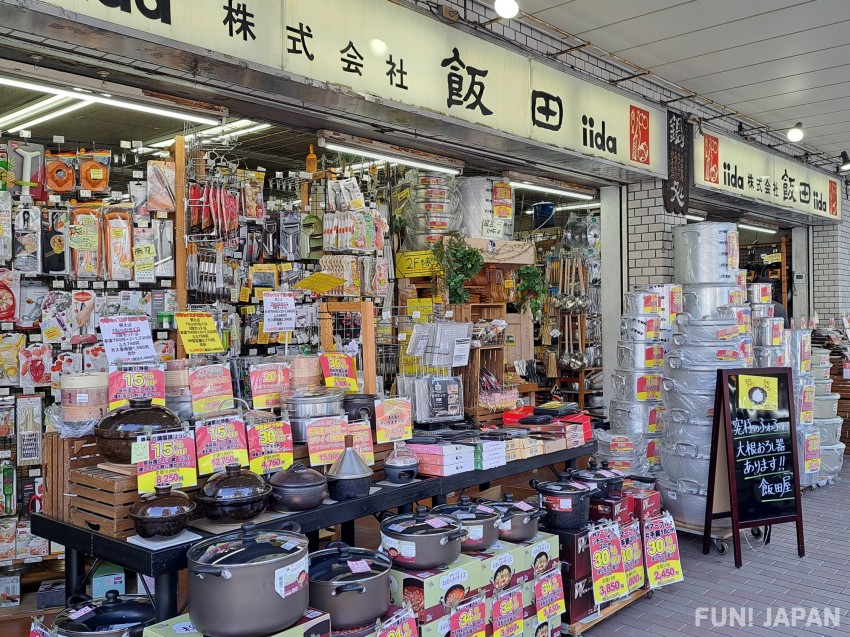 Iida-ya (飯田屋) is often featured in Kappabashi specials on TV and in magazines. The secret to its popularity is that about 8,500 types of kitchen utensils are gathered in this two-storey store. Here you can purchase your favorite utensils by comparing them by size, function, and even manufacturer. Thanks to the variety of products and the ease of use of the displayed products, there are many fans of this store ranging from famous restaurant chefs to general food enthusiasts.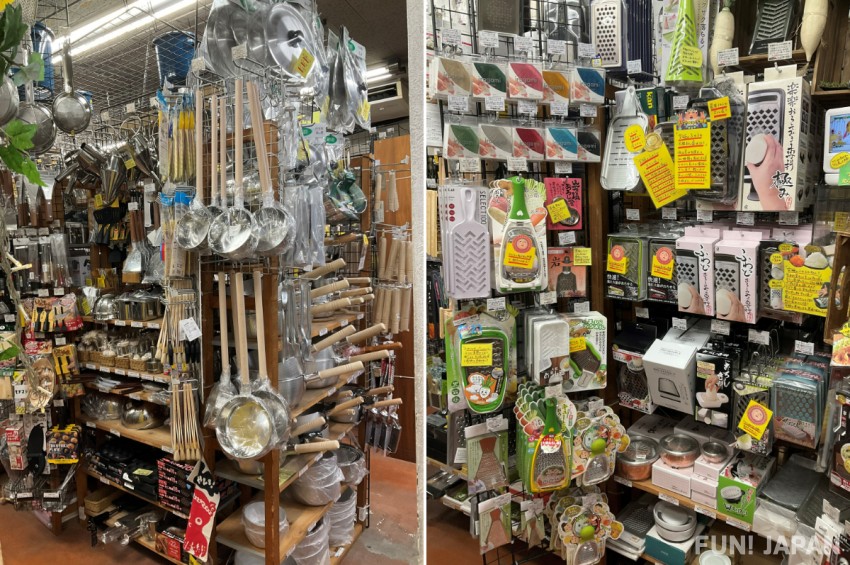 Inside the store, the shelves are divided into categories such as kitchen knives, cutting boards, frying pans, and pots, and the shelves are full of different sizes and related goods! This is because they want customers to see as many different types of tools as possible and choose the ones that are best suited for them individually, while enjoying an exciting and exhilarating shopping experience.

Graters and peelers are especially popular on the 1st floor. Particularly recommended are the grater that makes grated daikon radish soft and fluffy, and original products made by Iida-ya in collaboration with manufacturers.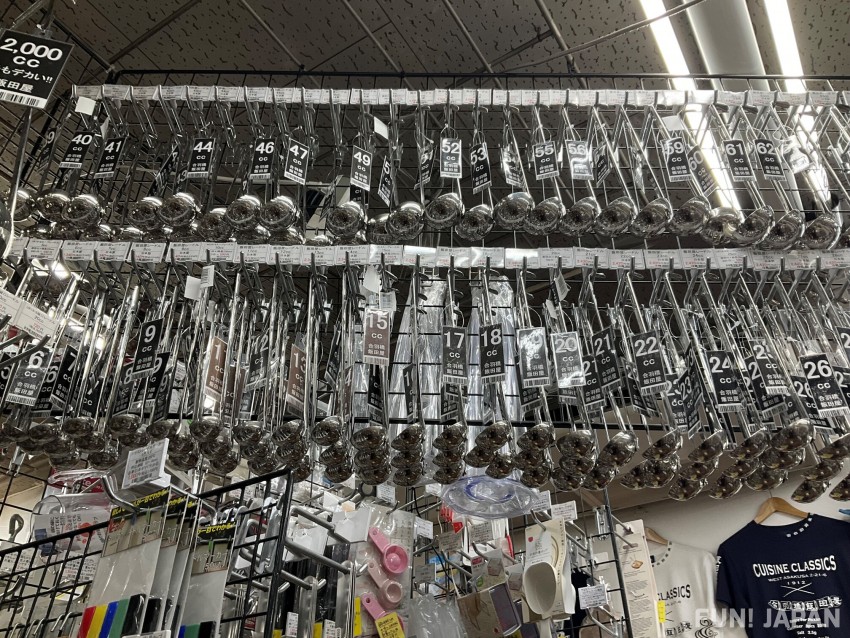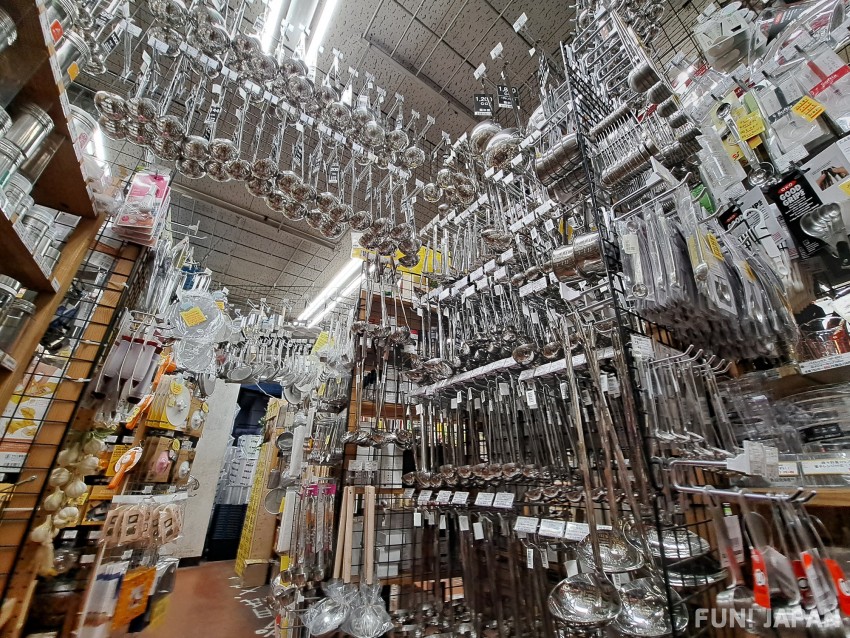 You can even search for ladles and spoons with differences in size of 1cc. This is said to have naturally evolved in response to customer requests for "an intermediate size" of the products originally stocked. And even now, the variety continues to grow! In addition, there is a wide range of products including frying pans, pots, bowls, and Nambu ironware.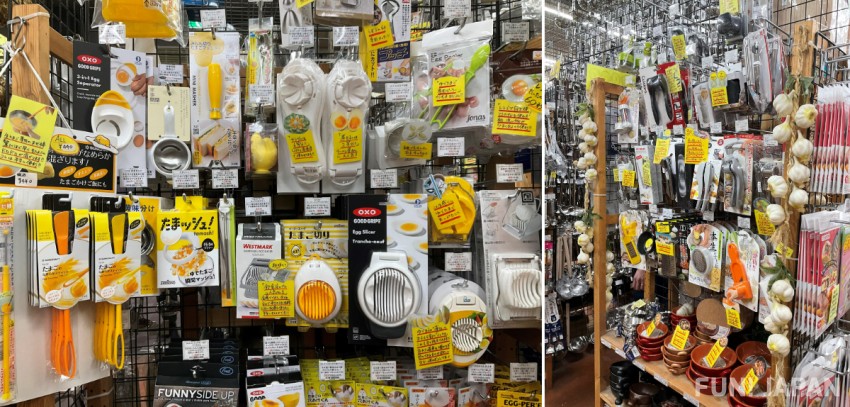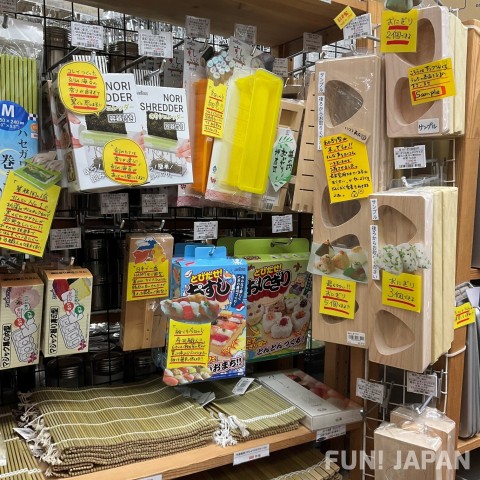 What makes this store second-to-none is that there are many special corners, such as the "egg corner" where you can find items related to egg cutters and fried eggs, the "garlic corner" where you can find garlic peelers and ajillo pots, and a corner where you can find goods for making rice balls and sushi.

On the 2nd floor, there is a left-handed corner that collects only items for left-handed people - it seems to receive a lot of inquiries as well.
With such wide selection of products and unique corner development, it is truly a wonderland of cooking utensils where you can find all kinds of cooking goods!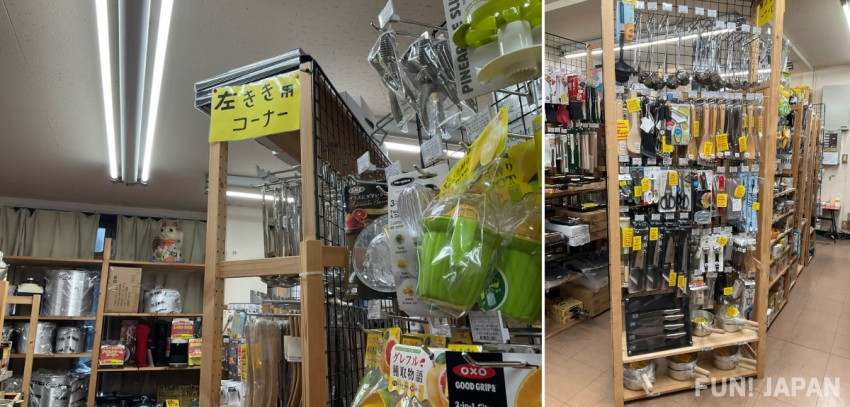 Shop information
Iida-ya (飯田屋)
Address: 2-21-6 Nishi-Asakusa, Taito-ku, Tokyo
Business hours: 10:00-18:00
Closed: Open all year round (except year-end and New Year holidays)
Majimaya Confectionery Tool & Gear Shop – More than 3000 kinds of cookie molds and canelé molds are super popular!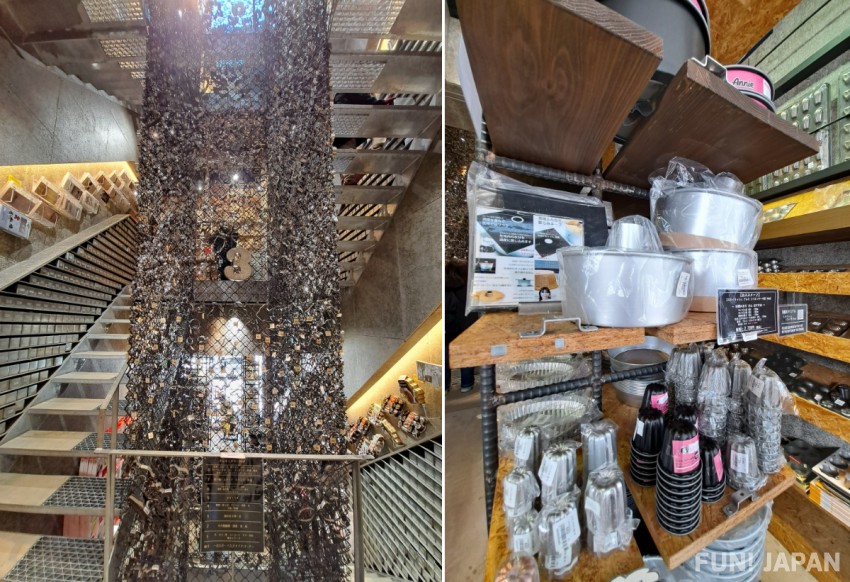 Majimaya Confectionery Tool & Gear Shop (馬嶋屋菓子道具店) is a shop that has a wide variety of sweets and bread molds, such as the the cookie tower which has 3,000 cookie molds decorated on the wire mesh of the atrium in the center of the store, and canelé molds.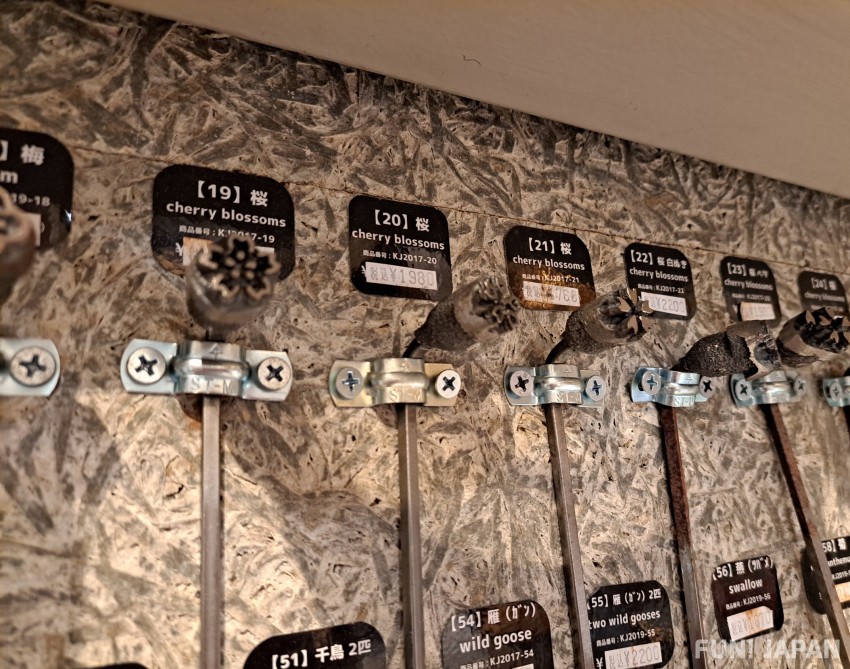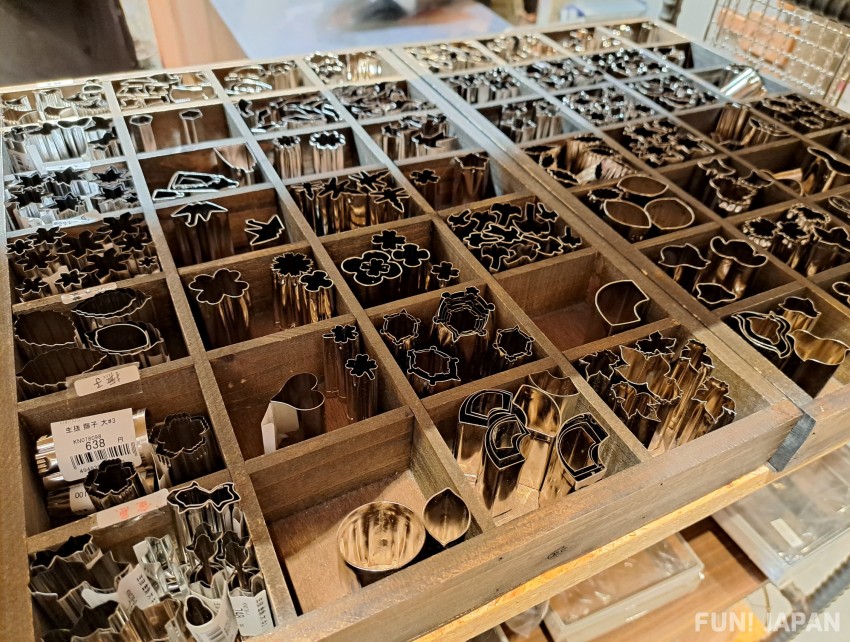 The products handled are divided on each floor. The undergound B1F where workshops are held, B0.5F where silicon rubber sweets molds that can be used for both baked and cold sweets are available, and the 1st floor that is lined with a variety of Western confectionery molds such as canelé molds and original chiffon cake molds near the entrance. While on the back are items related to Japanese sweets and bread making, there are also lots of cute Japanese confectionery molds and branding irons with Japanese patterns such as cherry blossoms.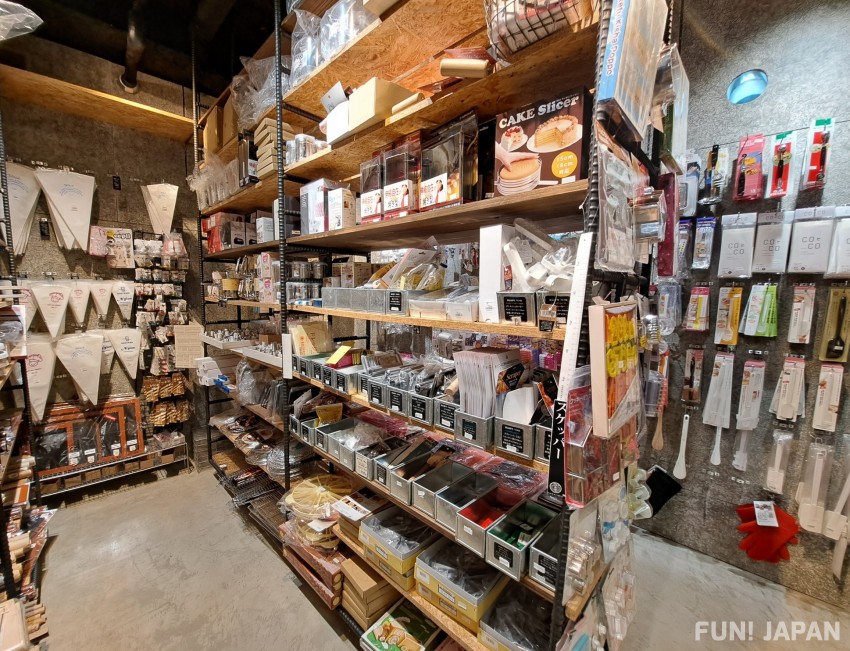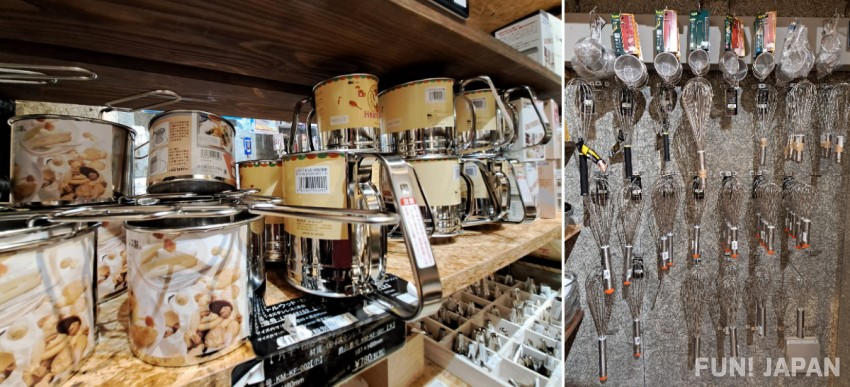 The 2nd and 2.5th floors are dedicated to Western confectionery and bread making tools. There are different sizes of pastry bags and spouts for cakes, and the 2.5F holds a wide variety of heat-resistant lightweight cups, bowls, and whisks. If you are a fan of cooking and confectionery, just looking at all of these should be enjoyable too!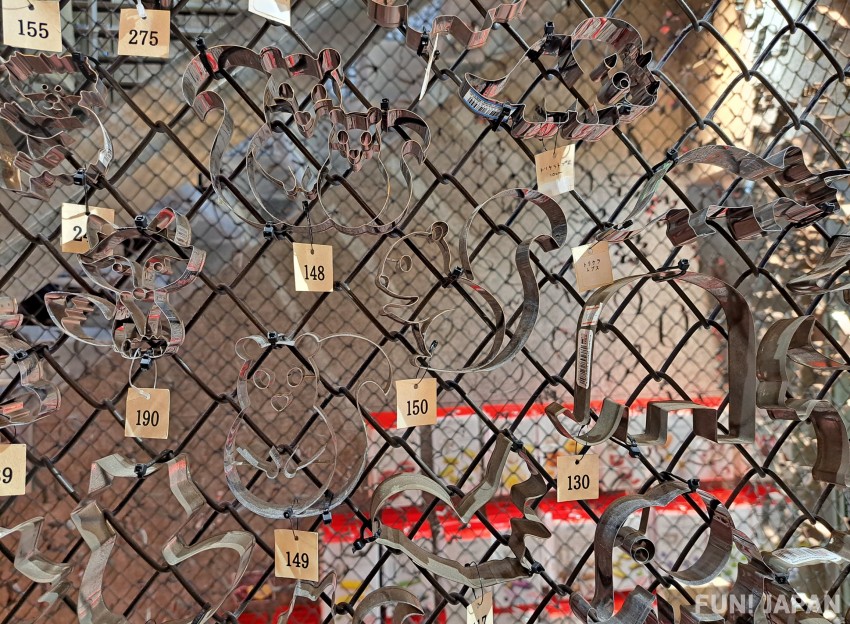 If you visit Kappabashi Dougu Street, the cookie cutters from Majimaya Confectionery Tool & Gear Shop are a must-buy. The buying process is simple - just look for your favorite mold from inside the cookie tower!

Motifs on the molds include cute animals, hearts, snowmen, sports, musical instruments, tourist attractions, alphabets, and more. When you find a cookie mold you like, check the number attached to the tag, then take out the stock with the same number from the dedicated box on the stairs and pay.

Shop information
Majimaya Confectionery Tool & Gear Shop (馬嶋屋菓子道具店)
Address: 2-5-4 Nishi-Asakusa, Taito-ku, Tokyo
Business hours:【Weekdays and Saturdays】9:30-17:30【Sundays and holidays】10:00-17:00
Closed: Year-end and New Year holidays, summer
If you shop at participating stores, you can apply for tax exemption all at once!
In Kappabashi, there is a "Smart Refund Kappabashi Tax-Free Counter" where foreign tourists who spend more than 5,000 yen at participating stores can apply for tax exemption all at once. As long as you have your passport, purchased items, and receipts, regardless of the number of participating stores you shopped at, the process can be done within 5 minutes, which is very convenient!

This counter also offers a "hands-free tourism service," which includes temporary storage of luggage and purchased items, shipping to accommodation facilities, airports, and even address overseas, as well as foreign currency exchange.
Please stop by when shopping at Kappabashi Dougu Street!
Kappabashi Dougu Street Official Website: https://www.kappabashi.or.jp/en/
Access to Kappabashi Dougu Street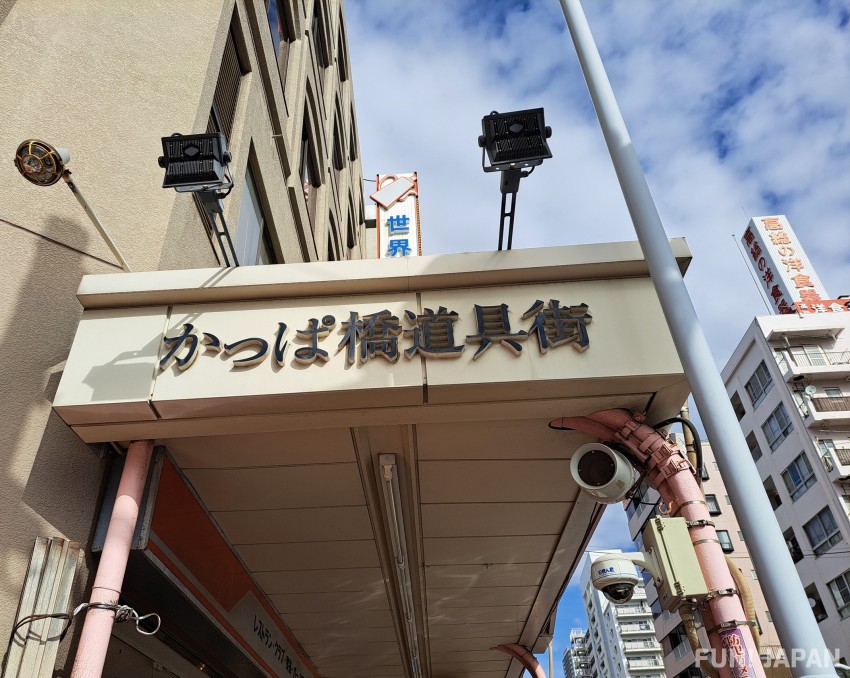 Kappabashi Dougu Street is located between Asakusa and Ueno, about an 8-minute walk from Senso-ji Temple. You can also visit Nakamise at Senso-ji Temple and visit Kaminarimon on the same day.

In case you want to visit Kappabashi directly, get off at JR "Ueno" or "Uguisudani" station on the Yamanote Line or Keihin Tohoku Line, then walk 15 minutes.
If you use the subway or other private railway, get off at Tokyo Metro Ginza Line "Tawaramachi" station and walk for 5 minutes, or get off at Hibiya line "Iriya" station and walk for 6 minutes. It is 5 minutes walk from Tsukuba Express "Asakusa" station, 13 minutes walk from Toei Asakusa Line "Asakusa" station.
Related articles on sightseeing around Tokyo and Asakusa
[Survey] Traveling to Japan
Recommend