6 Recommended Shops in "MIYASHITA PARK" in Shibuya, Tokyo - Everything from Souvenirs to Gourmet!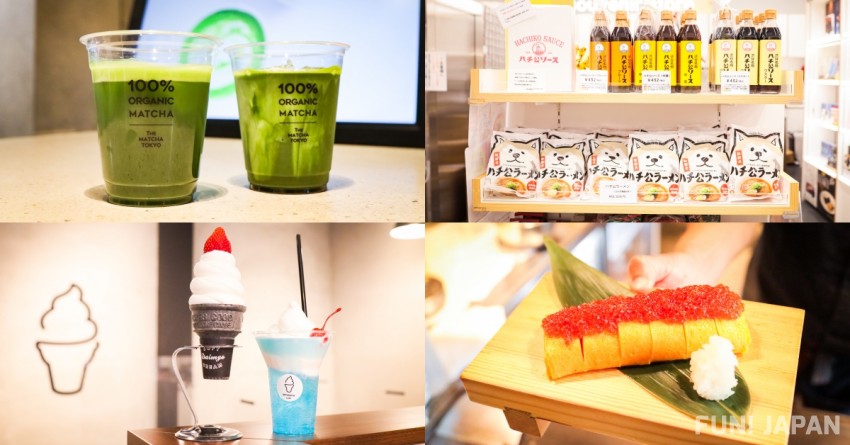 Shibuya, Tokyo, a city where new discoveries await no matter how many times you visit. Opened in summer 2020, the commercial complex "MIYASHITA PARK" is a landmark that represents such trendsetting area of Japan!

This time, we will focus on "RAYARD MIYASHITA PARK" (1F~3F) and a selection of 6 stores that are perfect for getting a glimpse at what's on Shibuya now!
*All prices (including tax) appearing in this article are as of April 2023. The contents may have changed, so please check the official website of each store for details.

What is "MIYASHITA PARK" in Shibuya, Tokyo? How to get there from Shibuya station?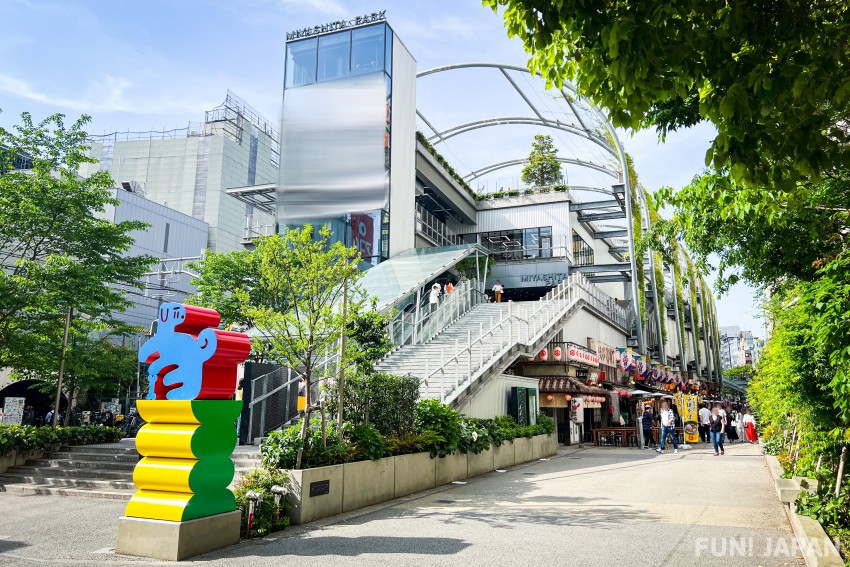 "MIYASHITA PARK", which is located in the middle ground between the Shibuya area and the Harajuku/Omotesando area, is a complex commercial facility that integrates a park, a parking lot, a commercial facility, and a hotel. Conveniently located within a 3-minute-walk from Shibuya Station or an 8-minute-walk from Tokyo Metro Meiji Jingumae Station makes it an ideal spot for visitors to embark on a shopping spree.

The "RAYARD MIYASHITA PARK" packed with about 90 stores is divided into South (south part) and North (north part). Lined with cafes, apparel shops, and restaurants, it caters to a variety of travelers' needs, such as shopping for gourmet food and souvenirs.

However, it is also true that it takes time to check out all the highlights. Rest assured - we have done the field work for you and put together a list of our favourite stores!
RAYARD MIYASHITA PARK Recommended store ①: THE SHIBUYA SOUVENIR STORE (South 2F)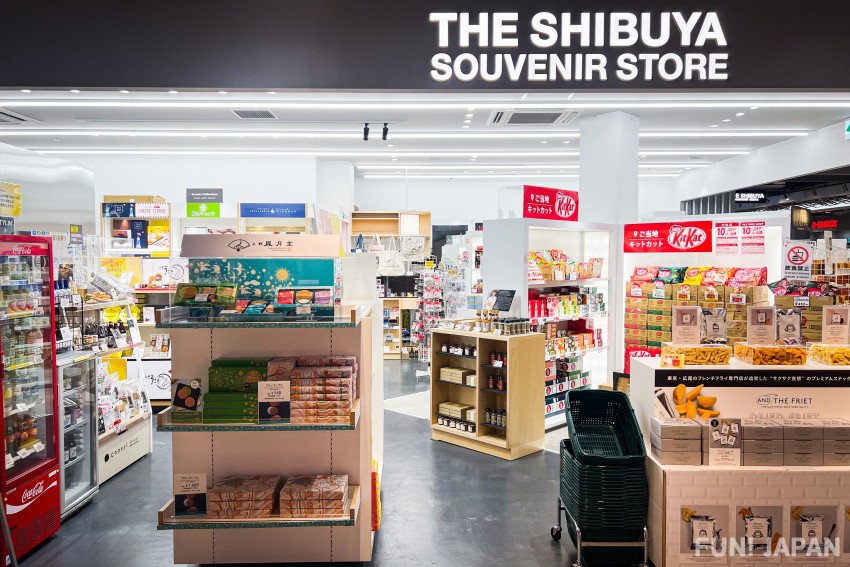 As the name suggests, the select shop "THE SHIBUYA SOUVENIR STORE" is lined with items that are perfect as souvenirs from Tokyo and Shibuya. From products featuring Hachiko, the icon of Shibuya, to limited collaboration products with Shibuya-related artists and creators, there are many souvenirs that you will want to get your hands on! Be sure to refer to the best-selling ranking in the store while sifting through.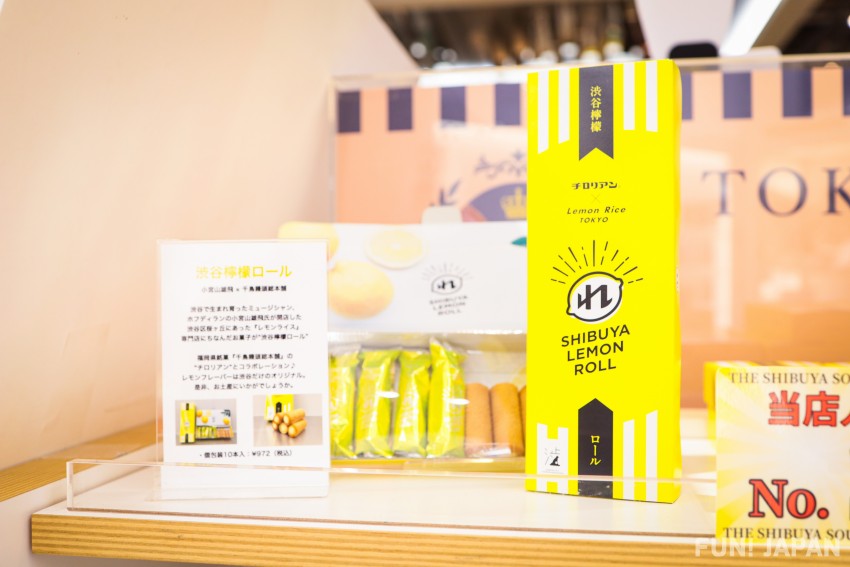 Shibuya Lemon Roll (10 rolls) / 972 yen
The collaboration product "Shibuya Lemon Roll" by lemon rice specialty store "Lemon Rice TOKYO" and Fukuoka confectionery "CHIDORIYA" established in 1630 is the unrivaled number one sales ranking. It is said that many are addicted to the best match between the crunchy roll-shaped cookie and the sweet and sour lemon cream.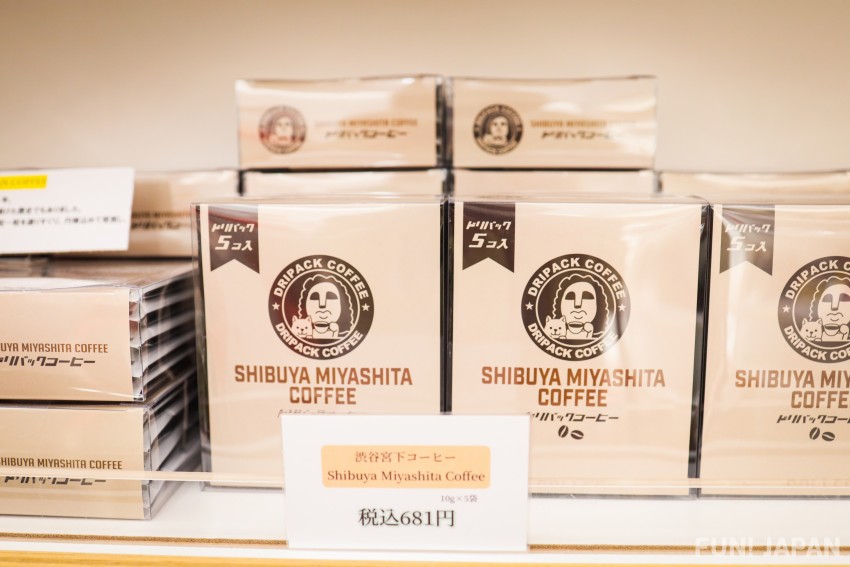 Shibuya Miyashita Coffee (10g x 5 bags) / 681 yen

There are also many fans of the drip coffee with the image of Moyai Statue and Hachiko on the package. Soothe your daily fatigue with this relaxing illustration.

RAYARD MIYASHITA PARK Recommended store ②: HIGHTIDE STORE (South 2F)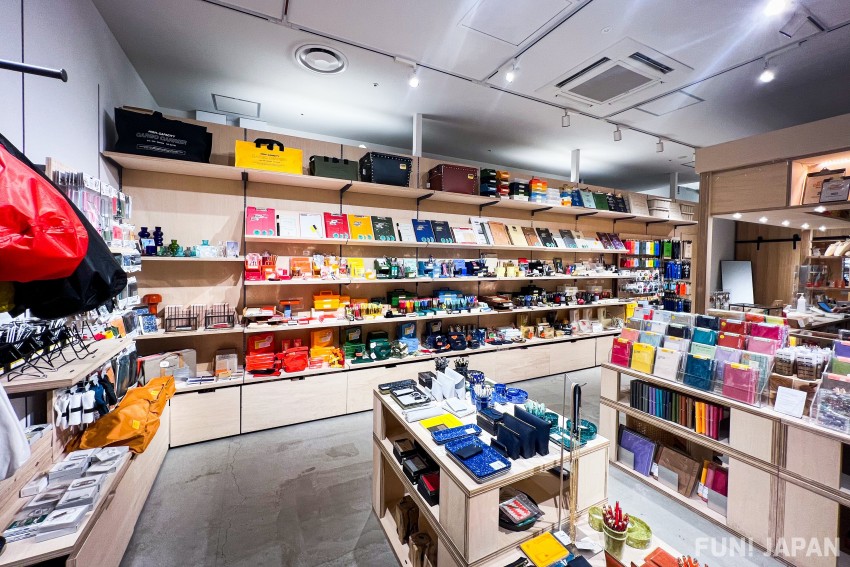 HIGHTIDE STORE is the only Tokyo outpost directly managed by HIGHTIDE, a stationery and miscellaneous goods manufacturer from Fukuoka in Kyushu. The store sells about 1,500 types of products, including ballpoint pens, notebooks, notepads, smartphone rings, clipboards, pouches, and hand towels. They are all items that are both visually appealing and practical, no wonder why many take them in as fashion items.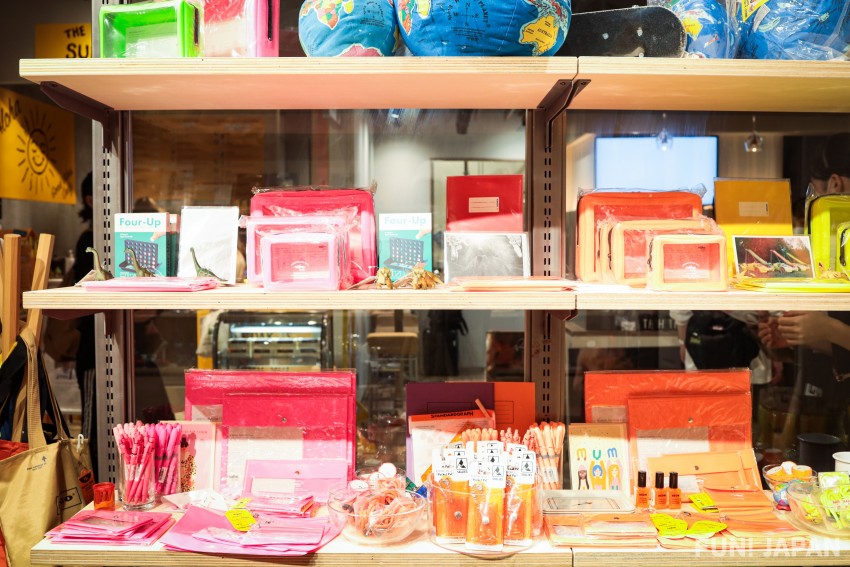 Storage items with a wide variety of colors will make you feel happy just by having them in your room. Of course they will help you keep things organized!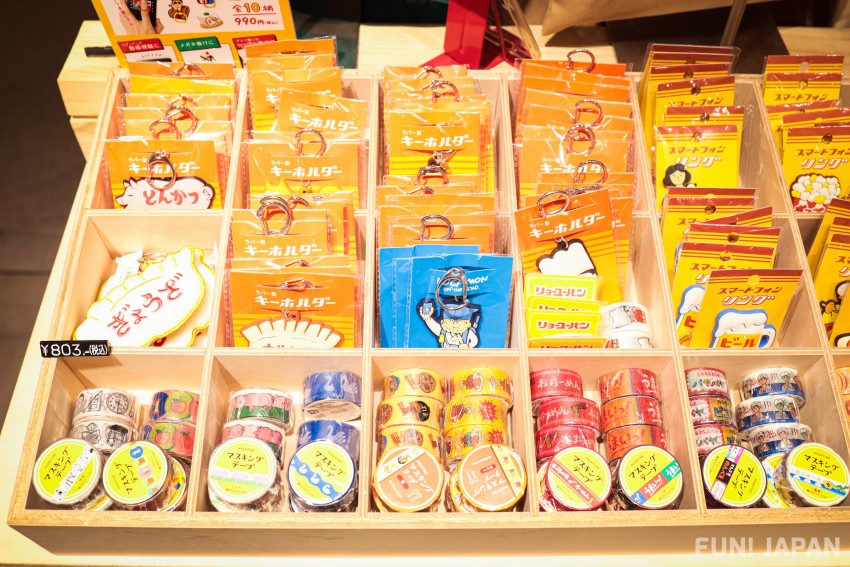 Key holders and masking tapes that provoke a Showa retro atmosphere. All of them are so cute - almost impossible to choose just one!
RAYARD MIYASHITA PARK Recommended store ③: and wander (South 2F)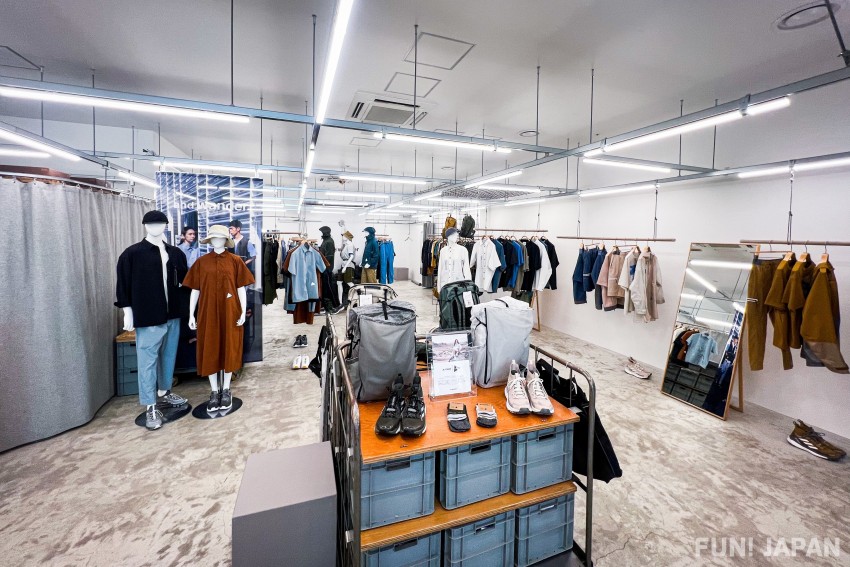 For readers living in hot and humid regions, isn't clothing selection important for staying comfortable in the heat? That' where "and wander" comes in sparing you the trouble.

This Japanese outdoor brand proposes highly functional clothing and gear that can be used in a variety of situations, from day-use and travel to even outdoor activities such as hiking. As it was started by the founder who has experience working for ISSEY MIYAKE, needless to say that it is also fashionable!

sil daypack / 16,500 yen
The durable and water-repellent "sil" series bags are a must-have companion for your travels. In addition to the packable specification that can be folded into a compact size, the lightness of only 165g is also impressive!


CORDURA typewriter LS over shirt / 26,400 yen
A typewriter shirt using CODURA material. A carbine hook (*1) is attached to the pocket's flap, perfect for everyday use, such as attaching keys or hanging small items!

*1: Metal ring with parts that can be opened and closed. It is an outdoor gear often used for camping etc.
RAYARD MIYASHITA PARK Recommended store ④: MIYASHITA CAFE (South 2F)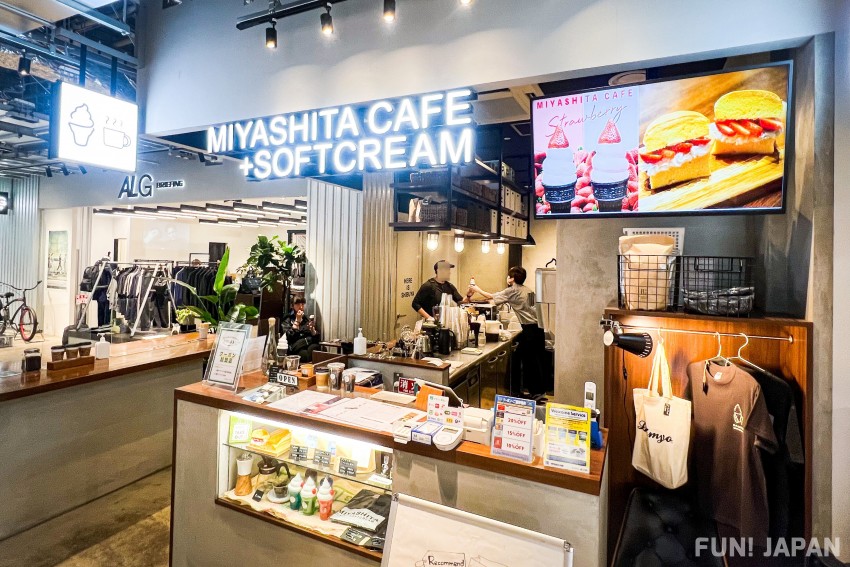 If you want to be filled with sweets, you should definitely visit the new business format of Fukuoka's soft serve ice cream specialty store 'Daimyo Softcream', the "MIYASHITA CAFE".

The "Daimyo softcream", which uses freshly squeezed milk from Kyushu and is made with the world's finest soft-serve ice cream machine, is characterized by its rich milky texture and the smoothness of fresh cream. People who usually don't like cold foods can eat cold foods without worrying about getting a brain freeze.

(Left 1) Strawberry short / 649 yen
(Left 2) Cream soda / 693 yen

"Strawberry Short", which is the store's signature menu, comes with a whole strawberry on top. The natural bamboo charcoal cone used for the ice cream here is rich in natural minerals, so it is also good for detoxification too!

RAYARD MIYASHITA PARK Recommended store ⑤: THE MATCHA TOKYO (South 2F)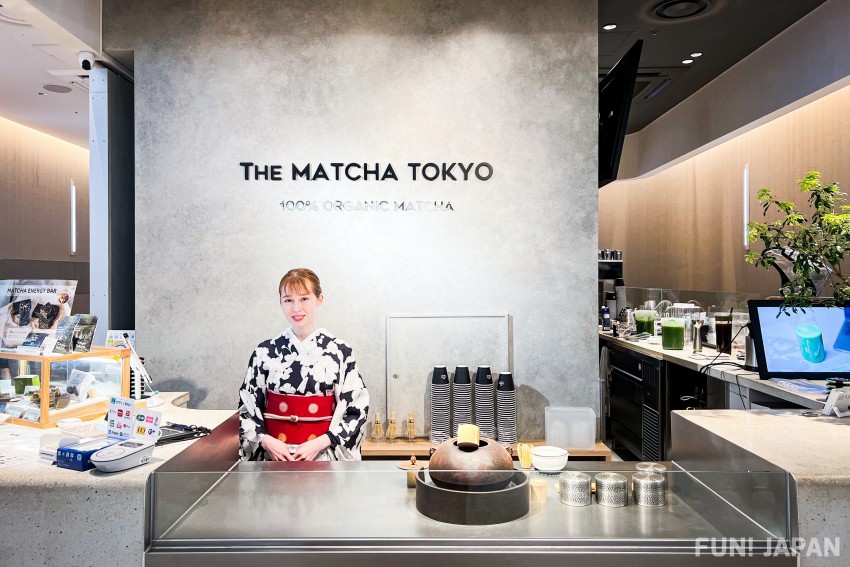 Right next to "MIYASHITA CAFE" is "THE MATCHA TOKYO", which offers matcha drinks and food featuring 100% organic matcha from Kagoshima, Kyoto and Uji. Let's compare the straight "Matcha" where you can enjoy the rich aroma of tea leaves as it is and the "Matcha Latte" where the matcha's astringency and milk go well together. Also don't forget to get your smartphone camera ready, as the staff will demonstrate the preparation of "Matcha" on the spot for you to take some good snapshots!


(Left 1) Japan Premium / 594 yen
(Left 2) Matcha Latte / 702 yen

The most popular menu is the "Japan Premium", which has a condensed umami taste while suppressing astringency. Enjoy yourself with a wonderful tea time full of matcha with dorayaki and croffle here.

RAYARD MIYASHITA PARK Recommended store ⑥: MIYASHITA-NARU (North 3F)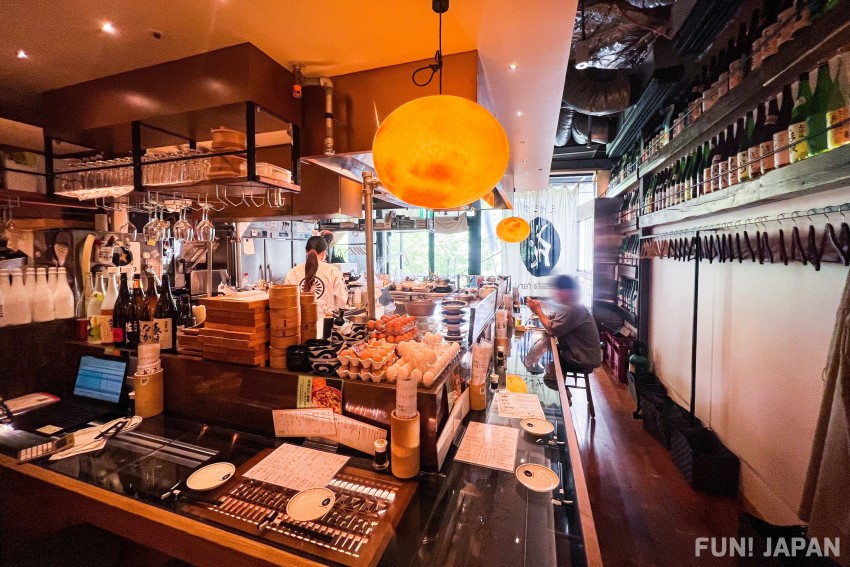 End the day at the izakaya "MIYASHITA-NARU" (ミヤシタ 成ル) to get a local experience.

The biggest feature of this izakaya is that the staff cooks right in front of you at the teppanyaki counter. You can watch the ingredients being grilled up-close in an outstanding live kitchen atmosphere! To start, choose from Masumi (真澄, from Nagano), Daishinshu (大信州, from Nagano), or Taka (貴, from Yamaguchi) that are vacuum-packed from sake breweries. Here's where you can get your sake fix that goes well with everything!

(Left) Selectable dashimaki tamago / 1,510 yen (special egg 730 yen + salmon roe 780 yen)
(Right) Grilled shumai (4 pieces) / 650 yen
Pick your favourite from 3 types of eggs, 2 types of bonito dashi stock, and 4 types of toppings to order your own dashimaki tamago. Up for something Instagrammable? You won' go wrong with salmon roe that falls like a waterfall!

MIYASHITA PARK
[Survey] Traveling to Japan
Recommend