Okutama: Tokyo's Nature-Packed Escape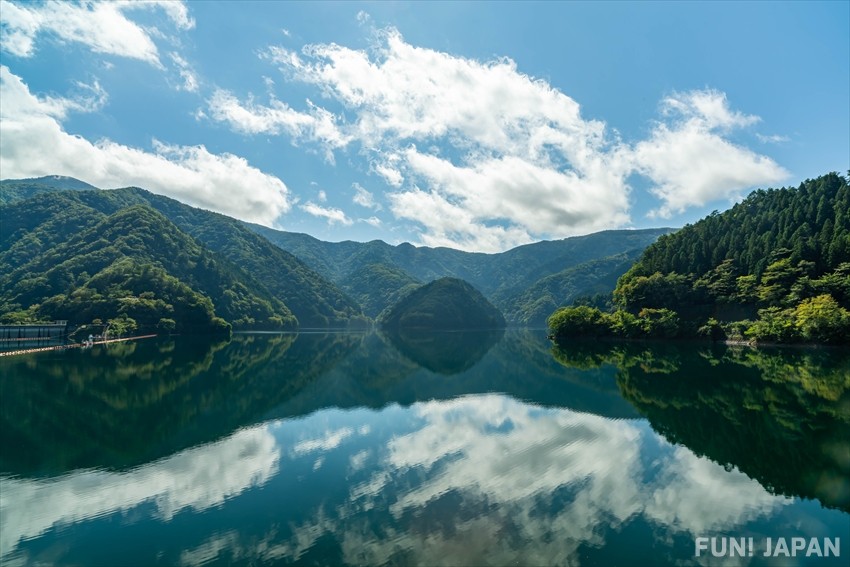 Within the borders of Tokyo but a world away from the busy streets of Shibuya, Okutama is the country escape you didn't know you needed. With mountains to climb, rivers to kayak and caves to explore, it has all the outdoor adventures you can think of.

Why Visit Okutama?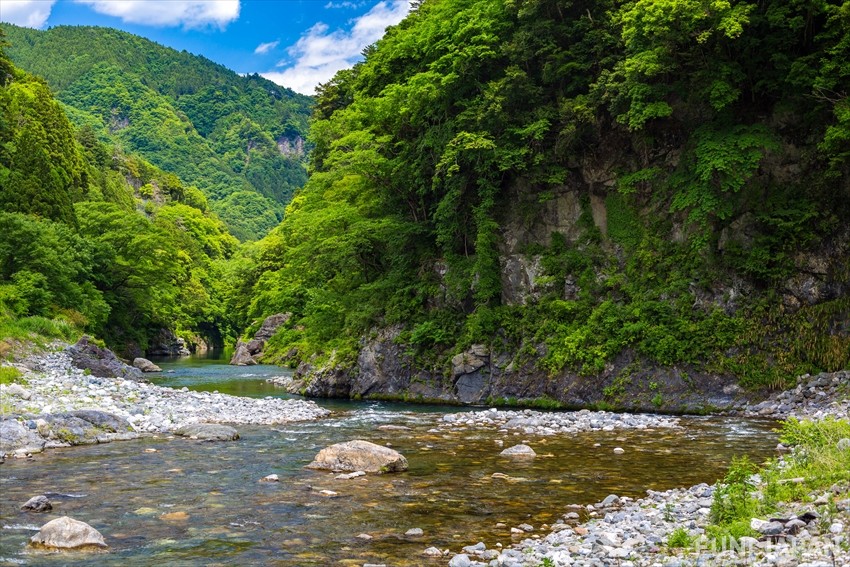 Part of the Chichibu Tama Kai National Park, Okutama is a stunning slice of nature within the borders of Tokyo and only two hours from the center. From walking on water to exploring underground, there are countless activities in Okutama to excite everyone from calm nature-lovers to high-energy thrill-seekers. For a seasonal twist, many people visit in Autumn to enjoy the spectacular Autumn leaves. Reflected in pristine lakes, running alongside fast-flowing rivers and adorning mountainsides, the reds, oranges and golden hues are a beautiful addition to an already lovely location.
When to Visit Okutama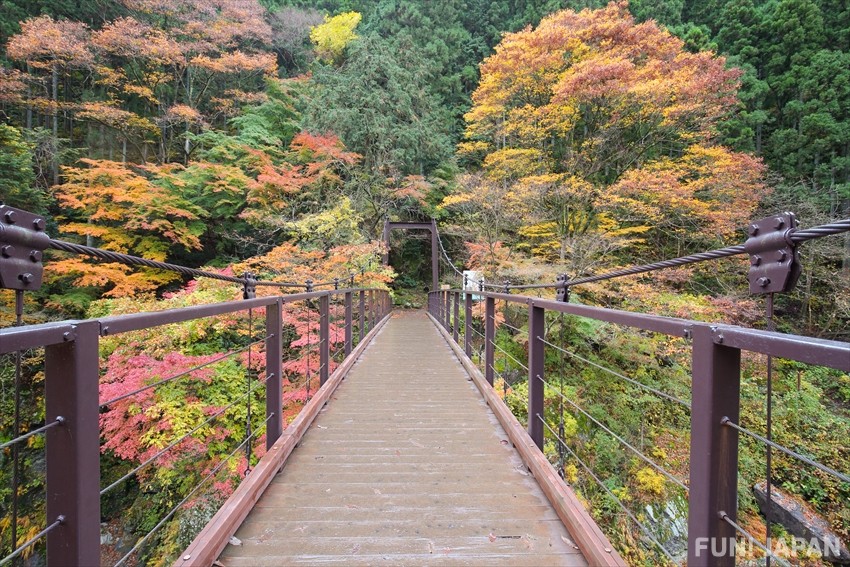 Okutama is a great escape throughout the year, with each season bringing its own highlights. In spring and summer, the fresh mountain air and great water sports make for an exciting trip with plenty of options for camping too. Hiking opportunities are accessible for the majority of the year, with some requiring more care or closing in winter. The area is is especially beautiful in autumn, however. Changing leaves transform entire mountainsides into golden vistas, with cooler temperatures perfect for outdoor activities.
The Best Autumn Leaf Spots in Okutama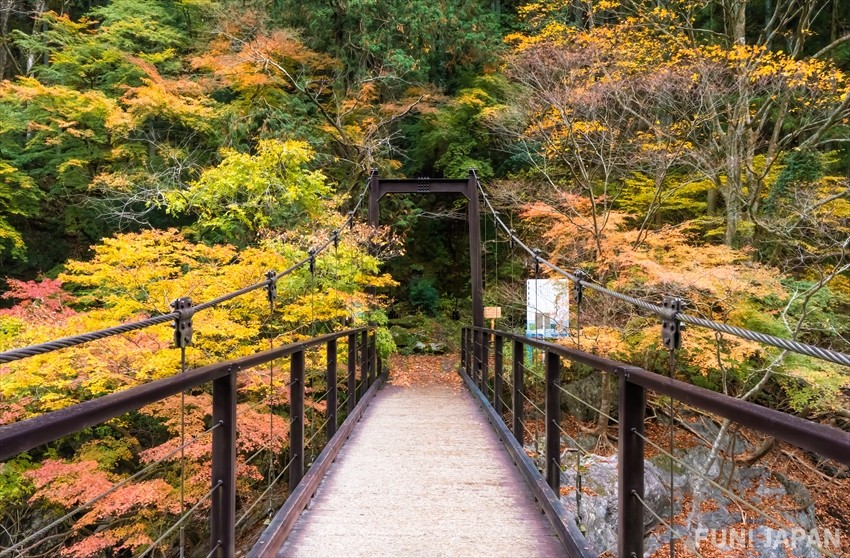 Some of the most popular Autumn spots in Okutama are places you would visit at any time of year, but are particularly incredible as the leaves change. Lake Okutama offers brilliant reflections contrasting against clear blue skies while Mitake Gorge holds winding river views bordered with fiery red and orange leaves. The 9km Otama walking trail beginning in Hatonosu is a popular option, with the small Sawanoi Sake Brewery making a great stop along the way.
Things to do In Okutama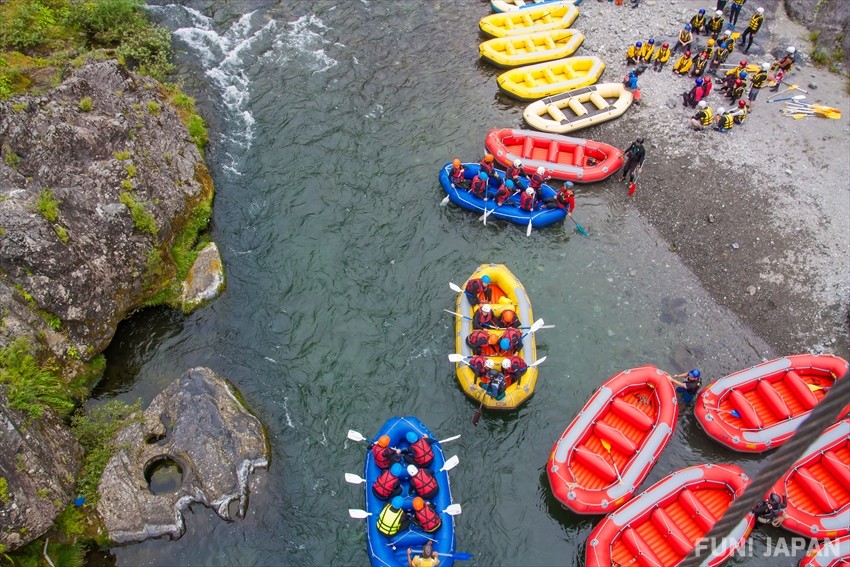 There are countless beautiful spots in Okutama, so much so that it can be difficult to know where to start. Whether you prefer to take it slow or experience nature at its full force, there are great options to choose from.
Lake Okutama (Aka The Ogouchi Resevoir)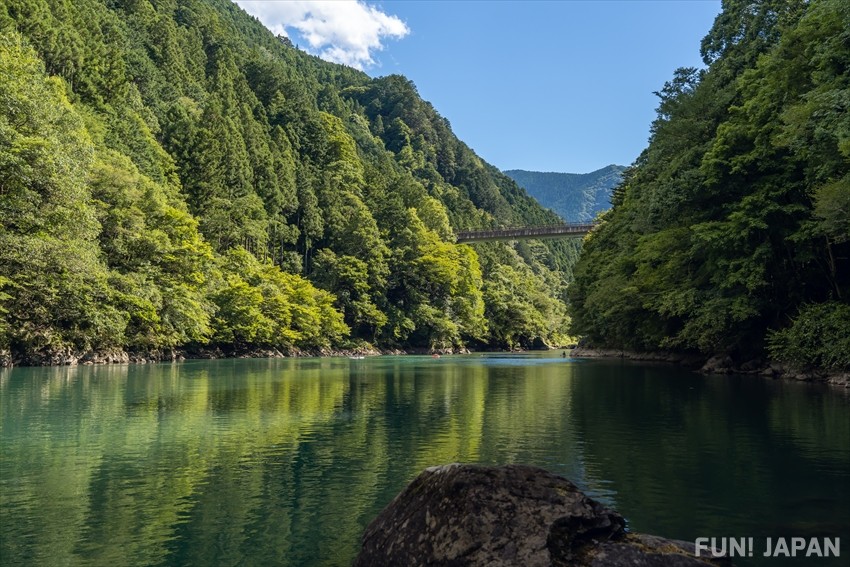 As well as being one of the largest drinking water reservoirs in Japan, the Ogouchi Reservoir is a popular sightseeing spot in Okutama. The man-made lake was created by building a dam on the Tama River and is also known as Okutama Lake. Holding just under 200 million tonnes of water to supply Tokyo, it has an observation tower as well as a trek through the Mt. Mitake Rock Garden trail with waterfalls and mountain streams.
One of the highlights for visitors is the unusual Mugiyama Floating Bridge, which winds across the water to the foot of Mt. Mito. Called Mugiyama-Ukihashi, it is one of two self-supporting bridges on the water and is close to Ogouchi Shrine. Using buoyance aides, the bridges float on the surface, offering the change to walk on water, so to speak. The bridge is entirely safe and feels surprisingly stable, with a unique experience compared to traditional bridges. It was previously known as 'drum-can bridge' as originally drum-cans were used to support it, but now it is held afloat by similarly-shaped aides made of plastic and metal. The second floating bridge is called Tozura and is further West but can be reached by bus in just nine minutes.
Spot Information
Name: Lake Okutama / Ogouchi Resevoir (小河内ダム)
Location: Lake Okutama, to the southwest of Okutama Station.
Address: 5 Hara, Okutama-machi, Tokyo
Spot Information
Name: Ogouchi Shrine (小河内神社)
Location: The shrine is located on a small outcrop on Lake Okutama, close to Furusato Mountain Village.
Address: 149 Kouchi, Okutama, Nishitama District, Tokyo
The Nippara Limestone Caves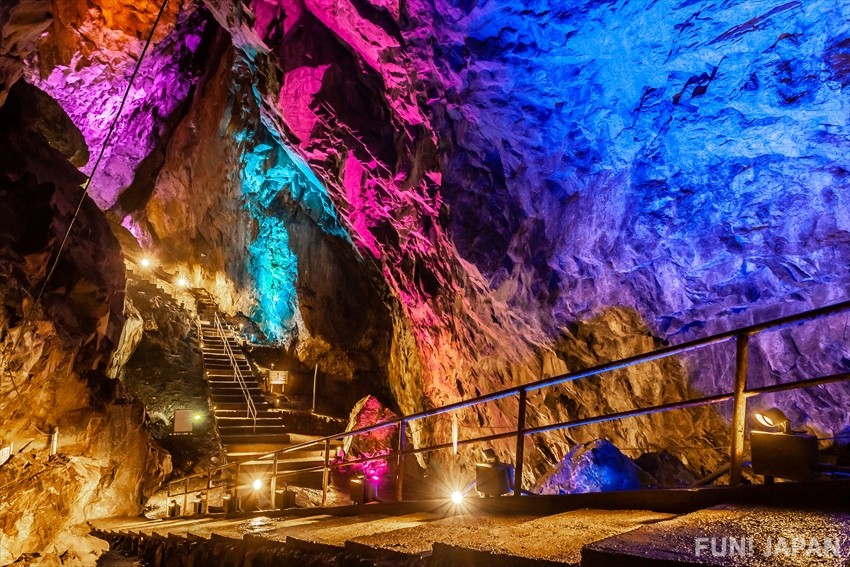 A cool retreat from the summer's heat, the Limestone Caves are an unusual look into what lies beneath the lush greenery of Okutama. Going 800m underground, you'll be refreshed by the 11c temperature and amazed by the unusual limestone formations that have developed over centuries. The caves are the largest in the Kanto Region and have an 800m cave walk with illuminations to enjoy.
Spot Information
Name: Nippara limestone Caves (日原鍾乳洞)
Location: The caves are located Northwest of Okutama
Hours: 8.30 - 16.30 or 8 am - 4 pm (Summer and Winter opening times)
Address: 1052 Nippara, Okutama, Nishitama District, Tokyo
Entry: 800 yen (general visitor)
Furusato Mountain Village
Officially know as "Furusato Mountain Village, Okutama Lakeside Park, Tokyo", but nicknamed "YamaFuru" by the visitors, the nature-recreation park is located inside the Chichibu Tama Kai National Park, aimed to appease the people's demand for recreation and to introduce the nature of Okutama to the public eyes. It was opened in October 1990 as get-in-touch-with-nature facility, with camping facilities like cabin loghouse and camping ground available for accomodation. In its facility complex, there are visitor center, craft center, and cafe-restaurant on the inside, as well as hiking trails to enjoy nature around the area.

Spot Information
Name: Furusato Mountain Village (山のふるさと村)
Location: Furusato is located to the West of Okutama, across the water from Ogouchi Shrine.
Address: 1740 Kawano, Okutama, Nishitama District, Tokyo
Hours: 9 am - 4.30 pm
Entry: Free
Hiking in Okutama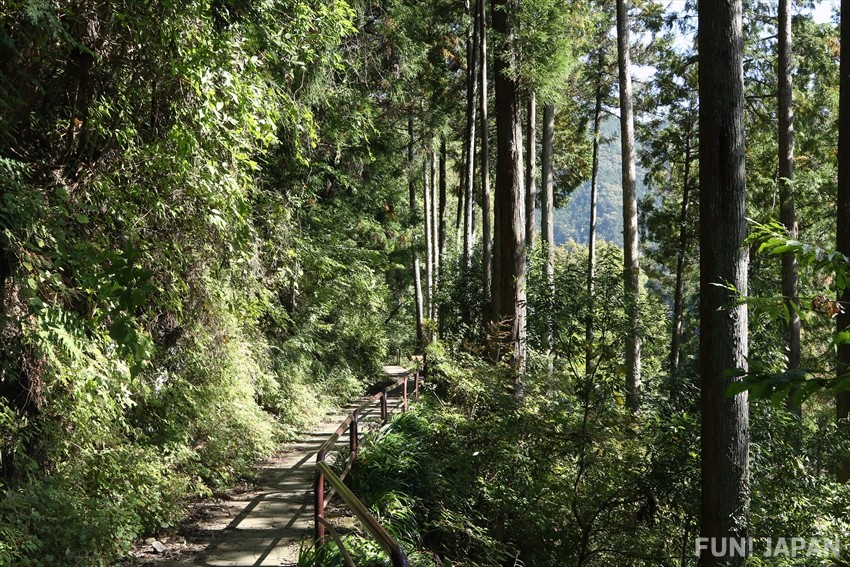 There are five mountains in Okutama, meaning there's plenty of hiking for those looking for a challenge. The highest is Mount Kumotori, which reaches just over 2000m and offers incredible views of Mt. Fuji and the Okuchichibu Mountains on a clear day. Mt. Mito is another popular hiking option thanks to its impressive towering Beech trees and beautiful autumnal colours. Mt. Odake and Kawanori offer stunning views while Mt. Gozen is known for its perfectly triangular shape.
A popular hiking route in Okutama is to follow the 10.5km trail along three peaks of Okutama, known as the Takamizu-Sanzan. It includes Mt. Takamizu, Mt. Iwatakeishi and Mt Sogaku. It takes around 3 - 4 hours to complete and is a fantastic one-day hike.
Outdoor Adventure Activities in Okutama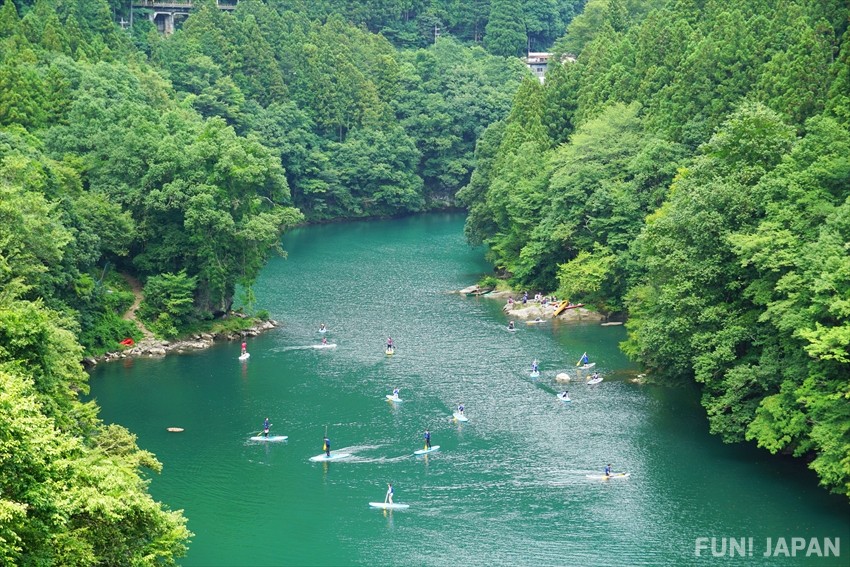 Thanks to the abundance of natural rivers, lakes, canyons and mountains, there are an impressive range of outdoor activities to enjoy in Okutama. Canoe school Gravity offer a range of classes for all experience levels with rental items available too. They also offer SUP (Stand Up Paddle Boarding), canyoning, rafting and riverboarding - all in groups or as private lessons.
Spot Information
Name: Gravity Canoe School
Address: 3-787-9 Ome, Tokyo
Location: The school is based between Sawai and Shiromaru Station on the Ome Line.
Rock climbing is another popular option in Okutama, with the Gozen-Iwa rock a popular option. The Okutama Climbing Center offers 3-hour outdoor climbing sessions for 8,000 yen, but is weather dependent.
Spot Information
Name: Okutama Climbing Center (奥多摩クライミングセンター)
Address: 67 Nippara, Okutama, Nishitama, Tokyo
Location: The climbing center is along the Nippara River north of the Okutama Visitor Center.
How to Get to Okutama from Tokyo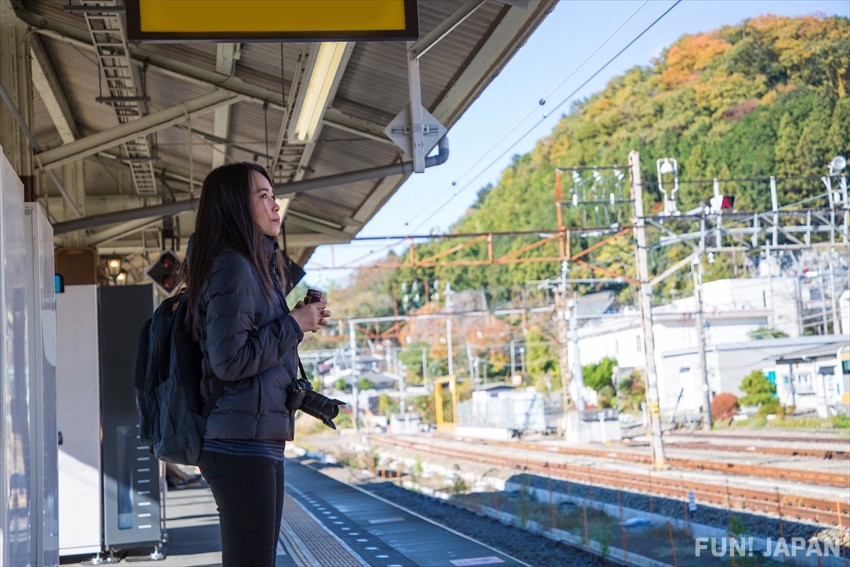 Okutama is an easy day trip from Tokyo, with enough to keep you busy for a whole weekend if you can make the time. Simply catch the JR Chuo Rapid service to Ome and change to the Ome Line, alighting at Oku-Tama. The journey takes 2 hours and costs 1,100 yen per person - it's also covered on the JR Railpass if you have one. Alternatively, those traveling on the weekend can take advantage of the Holiday Rapid Okutama, which runs three times a day and reduces the travel time to 90 minutes direct from Shinjuku. When returning back to Tokyo, the train continues on to Tokyo Station. 
[Survey] Traveling to Japan
Recommend