Unusual Vending Machines in Akihabara
Vending machines are a part of everyday life in Japan, and it's estimated there are around 5 million of the things across the country. Found on street corners, train station platforms and even on trains themselves, the machines usually only sell bottled drinks, with some hot options in winter like corn soup. There are some selling snacks, be it ice cream or bananas, granted, but there aren't many of the unusual ones which appear in the endless legends of 'weird Japan'. Unless you go to Akihabara that is.

Milk Stop: Calcium Heaven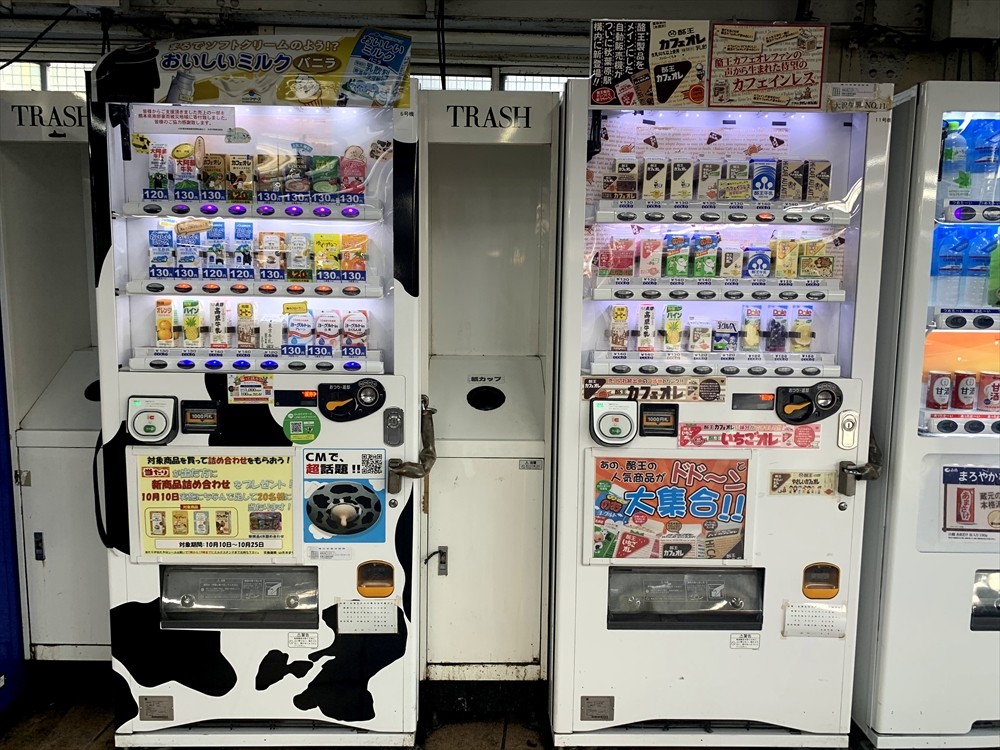 An unusual option for a quick drink, milk is the star of this vending machine line up on the Chuo Platform of Akihabara Station. Stocked from across Japan, the vending machines offer an impressive variety of flavors including coffee, vanilla and strawberry from places like Fukushima and Kyushu. If you want to travel around Japan via its dairy products, this is the most efficient way to do it.
Spot Information
Location: Found on platform five of Akihabara Station



Cost: 120 yen - 150 yen
King's Treasure Box: Mystery Prizes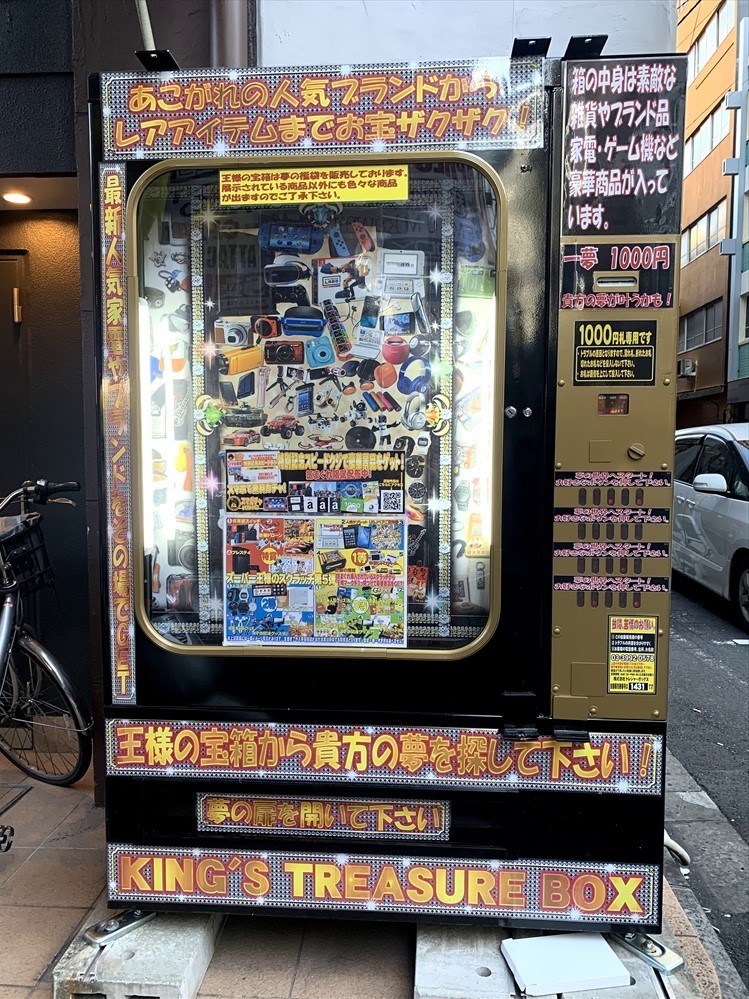 Found in random locations around Tokyo, these machines are a pot-luck approach to present-buying. Every item costs 1000 yen and there are dozens of possibilities (all pictured on the front) ranging from Instax cameras to drones, as well as smaller items. You have to take the risk, but could end up with something worth plenty more - it's all part of the fun. They have also become a popular souvenir idea - allowing your friends to unwrap their own surprise is a great way to add some excitement to the usual gift-giving and great if you don't know what to get people!
Spot Information
Address: 1-4-11 Sotokanda, Chiyoda-ku, Tokyo
Location: The machine is located close to Mansaibashi Crossing, head away from the station and it will appear on your right.
Cost: 1000 yen
Mansei Meat Sandwich: Fresh Food
The best of both worlds, this machine has high-quality food, none of the queues and all of the convenience. The associated butcher and restaurant complex - Niku no Mansei - has been open since 1949 and has a great reputation for good quality meat, but not everyone has time for a sit-down meal. The machine offers five options, including a double cutlet sandwich, a hamburger-steak sandwich and Mankatsu signature pork cutlet option. Prices range from 650 yen - 1080 yen and there's even a small table and sink to use if you're sticking around! Just across the street is the infamous vending machine corner so be sure to check that spot out too (more details below).
Spot Information
Address: 2-21 Kanda Sudacho, Chiyoda-ku, Tokyo (Niku no Mansei building)
Location: The vending machine is located across the street from Niku no Mansei building, the overpass, housed in an old-style booth.
Cost: 650 yen - 1080 yen
Akihabara's Weird Vending Machine Corner: Extra Variety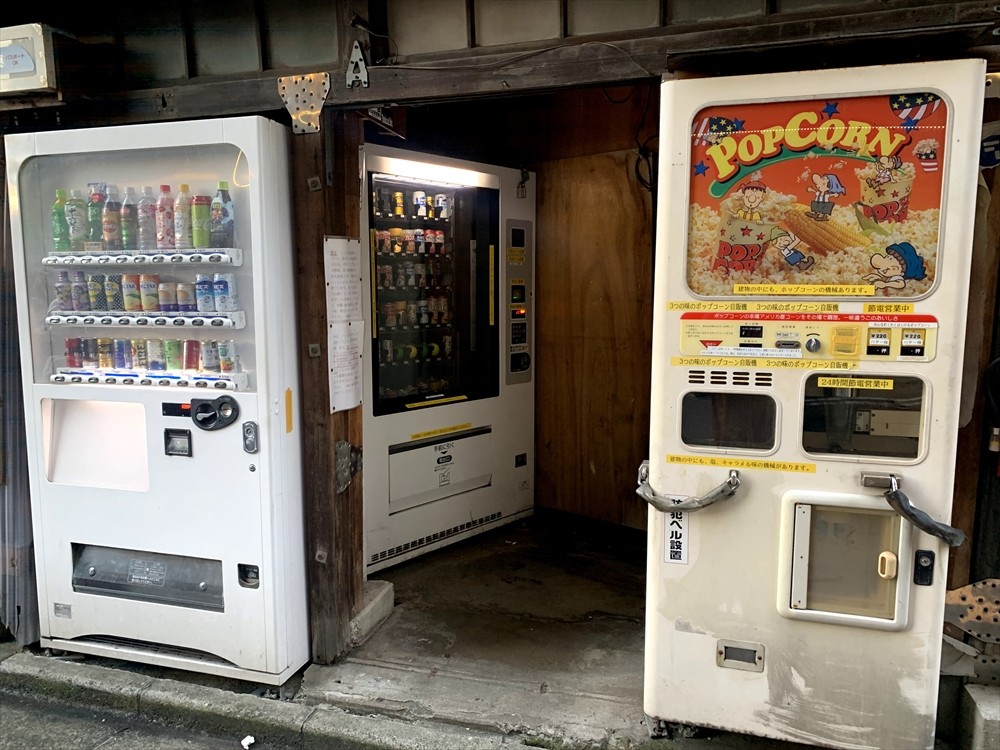 If you want to et the most machine for your time, head to the slightly-sketchy but ever-popular vending machine corner. The unnerving signs, writing and messages may be concerning, but the contents of the vending machines makes the adventure worth it (just don't go at night). There's a charmingly old-school popcorn machine (salt only) a few mystery box options (all wrapped in paper, all a mystery), some unusual tinned food (yakitori in a can, anyone?) and model trains, often all mixed in together. Explore, bring coins and see what you get!
Spot Information
Address: 2-19-42 Kanda Sudacho, Chiyoda-ku, Tokyo
Location: Found across the river from the station, the corner is close to Mansei Bridge on Yanagihara-dori, close to the Niku no Mansei Building.
Cost: Varies depending on machine
Action Figure: Souvenir Selections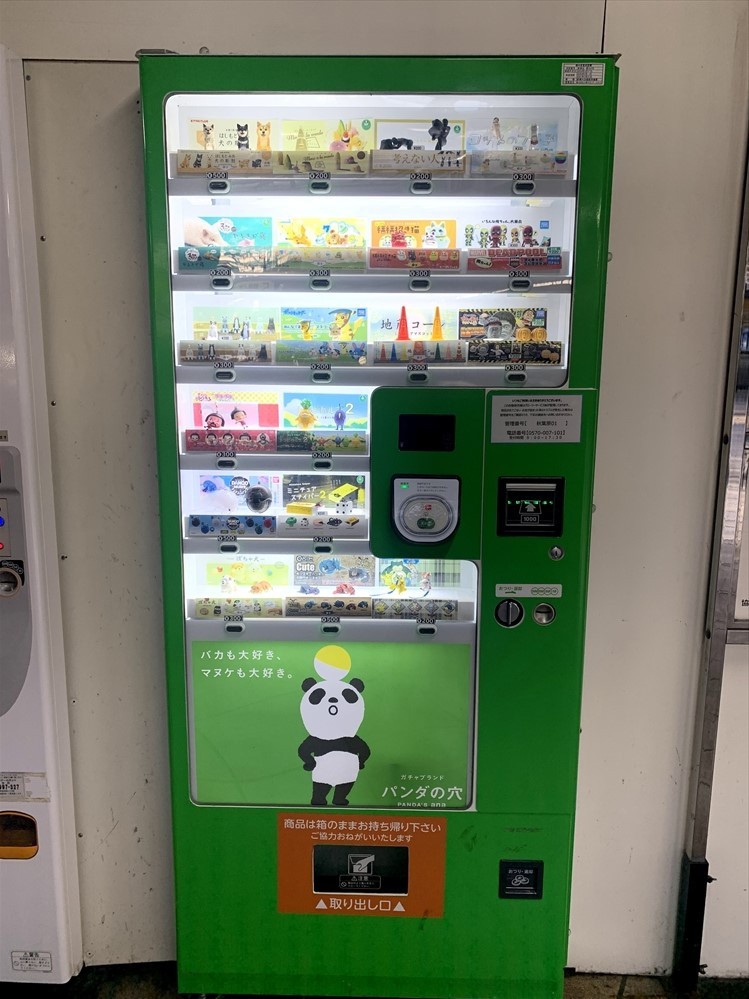 If you're looking for souvenirs and don't have time to shop, there are vending machines selling some of the most popular characters. Combining the efficiency of vending machines with familiar Pokemon characters is a great way to pick souvenirs for friends (or yourself) as you can snap a picture to show them where it came from - it doesn't get much more Japanese than a Vulpix from a vending machine. Simply head to Animate or have a look on platform 5 of Akihabara Station for these unusual machines!
Spot Information
Location: In the Animate Store, or on Platform 5 of Akihabara Station (chuo line)
Cost: 200 yen +
Bonus: The Gachapon Hall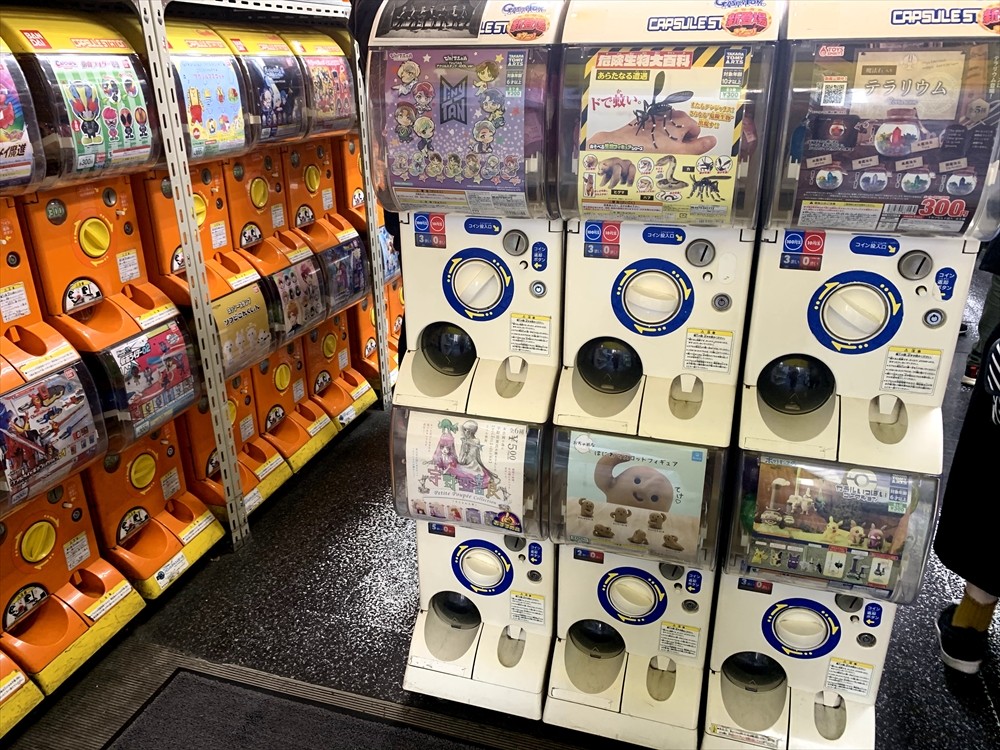 Like tiny vending machines for unusual toys, gachapon are a nostalgic hit for adults in Japan and a fun experience for visitors. In Akihabara there are dozens upon dozens, offering tiny figures, accessories, cards and more - all for around 300 yen a go. The risk of the gachapon is that it's down to luck which of the options you receive, so building a collection can be tricky if you don't have people to swap with. If you're after cute or unusual toys though, it's a great way to get rid of your coins! Just off the main shopping street, you'll find Gachapon Hall, with rows and rows, but they're also found outside many manga and anime stores too.
Spot Information
Address: 3-15-5 Sotokanda, Chiyoda-ku, Tokyo
Location: Akihabara Gachapon Hall is located just around the corner from the main street, in the same building as the Cure Maid Cafe.
Cost: 300 yen (usually)
Read more about Akihabara:
[Survey] Traveling to Japan
Recommend