4 Shopping Spots in Odaiba that You can Fully Enjoy Shopping with Extra Experiences!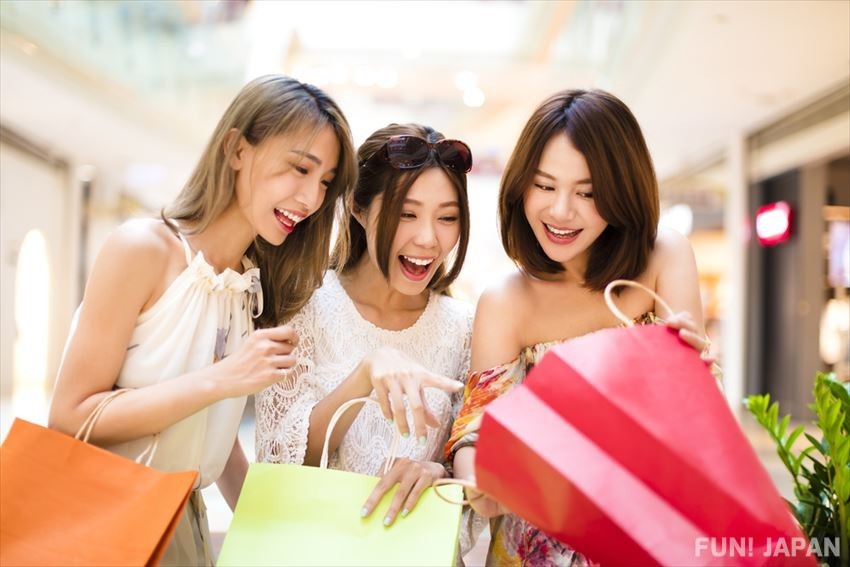 The man-made odaiba island has a lot to offer from a fort to a famous shopping district. Shopping in Odaiba isn't just your usual shopping experience, it's an experience that interleaves experiences in one go, from cinemas, games, skating park, roof top farm, concerts, conventions, anime, to mere photography and sightseeing, all in one package.And yes, the principal photo is in Odaiba, not in New York.
Odaiba's Shopping Guide and What to Expect
Originally constructed as a fort in 1853 to protect Edo from Commodore Perry's attack by the sea, the man-made island, Odaiba. The phrase "Daiba" implies "Fort" itself. But Odaiba is best known by many currently as a shopping and entertainment district.
Odaiba is a special shopping center not to be missed, especially for the first timers which comes down in Tokyo for their very first visit.Filled with a number of shopping complexes in the same place, although they may seem a teensy redundant to be places next to each other, each of them offers varying additional perspectives.
DiverCity, a shopping mall with a multitude of Odaiba experiences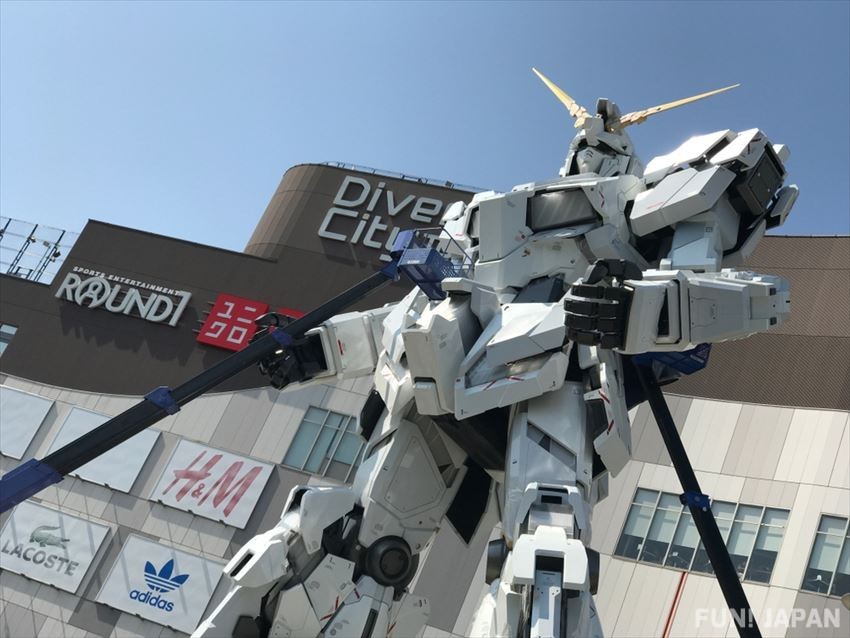 Gundam. Yes, that's the legendary landmark of the Odaiba to recognize that you are experiencing DiverCity. What else are you contemplating Gundam? Gundam is massive human-controlled robots from the same name anime series. Whether you're a Japanese mecha anime fan or not, seeing the 1-to-1 scaled robot with your own eyes where your eyes might not be greater than your ankle will definitely be impressive. Moreover, the THE GUNDAM BASE TOKYO which the official shop selling the plastic model of Gundam is located on the 7th floor. 

If you think Gundam is the only attraction that DiverCity offers, too bad, this mall offers much more than just that. The 7-storey complex has much to offer, from shopping, dining, to hobbies and entertainments, all can be found under this one same roof. Speaking of roof, there is also City-farm, a rooftop garden on the rooftop of this complex. And when mentioned about entertainments, it is not only just the usual mall entertainment such as karaoke and bowling alley, but they have skating park as well on the 7th floor.
Spot information
Spot name: DiverCity Tokyo Plaza

Street address: 1-1-10 Aomi, Koto-ku, Tokyo 

Access: 10 minutes-walk from Daiba Station

Opening Hours: 

Shops/Services: 

Mon-Fri: 11:00 - 20:00
Sat, Sun and holidays: 10:00 - 20:00

Food Court

Mon-Fri: 11:00 - 21:00
Sat, Sun and holidays: 10:00 - 21:00

Restaurants: 11:00 - 22:00
Shopping and Viewing the scenery in Aqua City Odaiba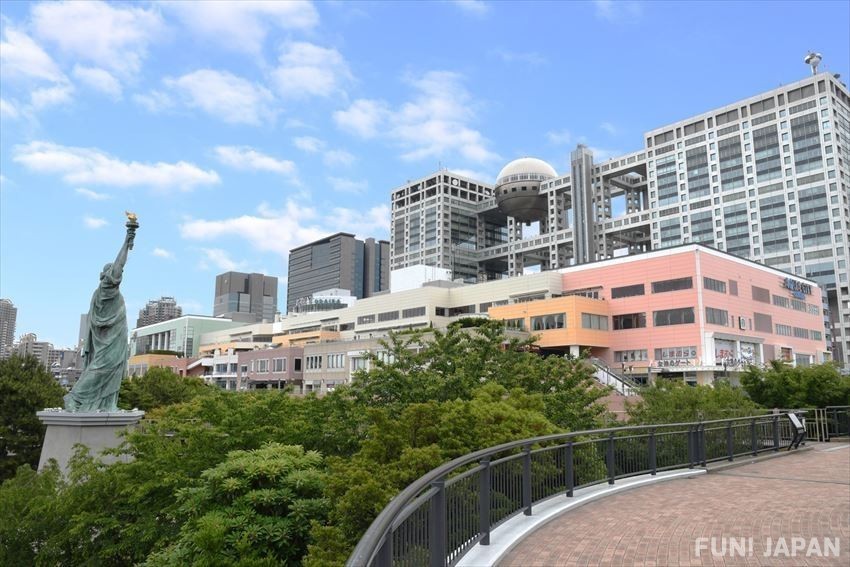 Compared to the other Odaiba shopping complex, Aqua City provides comparable stuff. It has a nice design and provides a nice category combination, making navigation simple. The United Cinema Aqua City Odaiba is also renowned for its huge cinema complex.
But what makes Aqua City stand out from the rest, is the scenic view one can get. One can have good view of the Rainbow Bridge and also the replica of the Statue of Liberty from the deck on the sea-facing side of Aqua City. Another better view is from the 7th floor rooftop. On top of it situated the Aqua City Shrine. The rooftop also provides a good view of the Tokyo Bay. After a tiring day of shopping, having some time to relax with the sea breeze sweeping your face could be very refreshing.
Spot information
Spot name: Aqua City Odaiba

Street address: 1-7-1 Daiba, Minato, Tokyo 135-0091, Japan

Access: 5 minutes-walk from Daiba Station

Opening Hours: 11AM-11PM

Odaiba's VenusFort, experiences beyond Normal Outlet Mall
VenusFort, a shopping complex that would usually be seen unlike any ordinary shopping complex. VenusFort's 3-story building, dubbed a "Hybrid Shopping Mall," is because it's not just a normal shopping mall, but it's a mixture of both outlet mall and shopping complex, with an interesting interior design.
Separated into 3 main categories, each on every floor, the first floor, "Venus FAMILY", have a variety of categories suited for the whole family to enjoy, from kids to adults, and even pets. While the second floor, "Venus GRAND", filled with retail stores of known brands and latest trends of popular items, cosmetics, boutiques and many more, and not to forget the many nice spot for some photography. Finally, the third floor, "Venus OUTLET", the floor filled with outlet shops of famous brands popular among youth in Tokyo, tagged with cheaper outlet prices.
From the outside, one might get think that this is just you normal old-fashioned shopping complex, but once you entered the second floor, "Venus Grand", you will feel like you have been transported outside of Japan, to a place that resembles medieval European town. But the magic doesn't stop there, their "Sky Feature Program" paints the ceiling with a visualization of an open sky above your head, and within an hour, you can witness the sky view changing from dawn, noon, sunset, night, and back to day, all within the time period of an hour.
Spot information
Spot name: VenusFort

Street address: 1-2-15 Aomi, Koto, Tokyo 135-0064, Japan

Access: 4 minutes-walk from Aomi Station

Opening Hours: 11AM-9PM

[Survey] Traveling to Japan
Recommend