Guide to Yamaguchi, Japan
Yamaguchi is a delightful city in the western part of Honshu with a long and illustrious history and is the capital of Yamaguchi Prefecture. Between the 12th and 14th centuries, the Ouchi clan led the development of Yamaguchi into one of the richest and most influential cities in Japan, deliberately modeled on the ancient capital Kyoto, so that is was known as the 'Kyoto of the West'.

7 Sights to Visit in Yamaguchi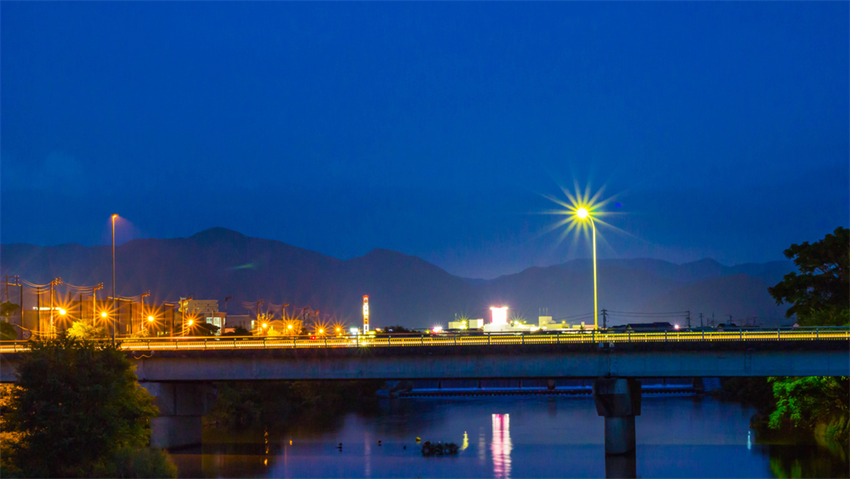 Yamaguchi is a hidden gem situated at the western tip of Honshu. It was once known as the Kyoto of the West due to the accumulated culture and spiritual pursuits of those who once resided in this truly picturesque land.
Here we introduce some of the many tourist attractions in Yamaguchi that you should not miss. 

1. Rurikoji Temple
Rurikoji Temple's five-storey pagoda is one of the most famous attractions in the city and is said to be one of the three most beautiful pagodas in Japan. It dates from 1442, making it the 10th oldest in the country. As well as the pagoda itself, visitors can also enjoy the wider temple grounds and the stunning Kozan Park which is dotted with other historical buildings such as storehouses, a bell tower, and a museum. The park includes the graves of several members of the Mori clan which took over from the Ouchi clan in power and influence in the Edo period, and also Chinryutei, which was a favored teahouse of renowned samurai Saigo Takamori.

Aside from this beautiful green space, the inner sanctum houses a number of exhibits dedicated to the construction of pagodas. No true adventurer can really say that they have reached a higher plain of spirituality without a stop of at this serene temple.
Information
Name: Rurikoji Temple
Address: 7-1, Kozancho, Yamaguchi 753-0081
Opening Times: Always open (9 AM ~ 5 PM)
Admission free
Access:
Take buses bound for Yamaguchi Daigaku or Nakaoguchi from Yamaguchi Station and get off at Kinchomae bus stop. This takes 6 minutes and costs 170 yen.


2. Joeiji Temple Sesshu Garden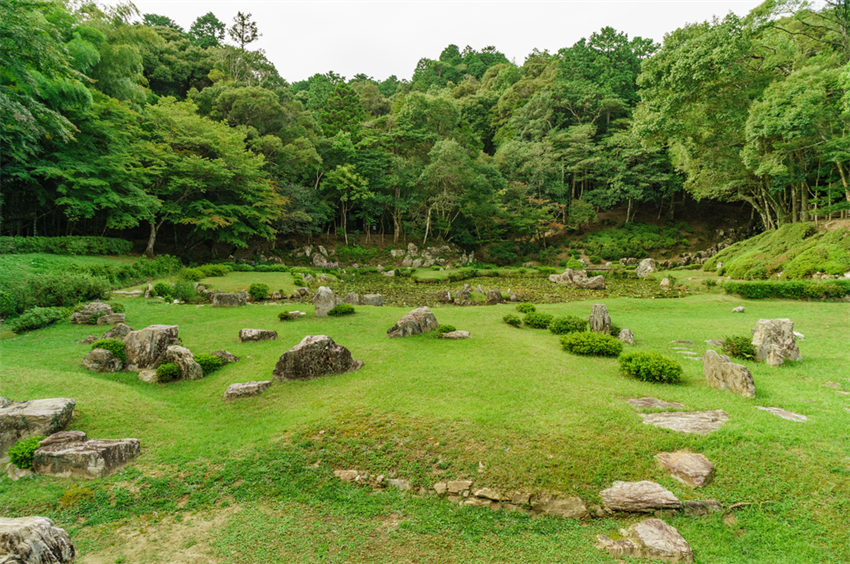 Joeiji Temple is a Zen temple that is known for its idyllic and serene atmosphere as well as its gorgeous surrounding gardens known as Sesshutei. The garden was built over 500 years ago and was the brainchild of a monk named Sesshu who was also an artist with a keen eye for aesthetics. The garden is known for its rock formations as well as the beautiful main temple, the interior of which is lined with tatami mats. One of the best ways to explore the temple and grounds is to walk around the path that leads through the gardens and passes traditional Zen areas of raked pebbles.

Information
Name: Joeiji Temple
Address: 2001 Miyanoshimo, Yamaguchi, 753-0011
Opening Times: 8:00 to 17:00 (until 16:30 from October to March) (last admission 30 minutes before closing time)
Admission fee: 300 yen
Access: About 10 minutes by car from JR Yamaguchi Station or from Chugoku Expressway Yamaguchi IC
3. Tsunoshima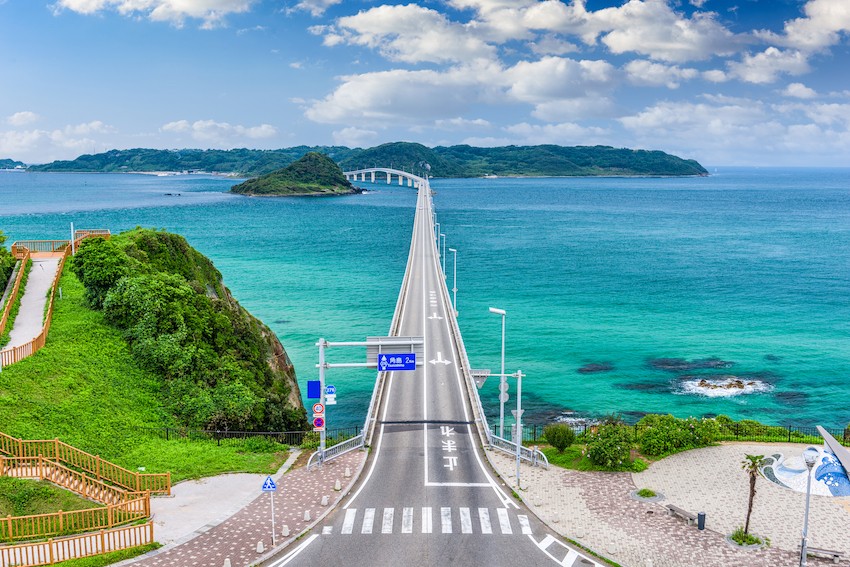 Japan often links its sense of spirituality to bridges, the "hashigakeri" often depicted in "Noh theater" is believed to link the human realm to the other world. This is the only feasible comparison in trying to express the absolute beauty that is Tsunoshima bridge. With a length of 1780 meters, it is the second-longest bridge in Japan. While driving across this almost heavenly platform you will be mesmerized by the blue of the ocean, though it's perhaps best enjoyed in sunrise or sunset.
Once you're grown tired of taking pictures, why not try one of the many seafood and vegetable delicacies on offer on the island connected by the bridge?

Information

Spot Name: Tsunoshima
Address: Hohokucho Oaza Tsunoshima, Shimonoseki, Yamaguchi 759-5332
Opening Times: Always open
Admission free
Access: Can be reached from Shimonoseki station. Take the Sanin Main Line and get off at Kottoi station. Then take the Blue Line shuttle bus to the entrance of Hotel Nishinagato Resort. The bridge is a five-minute walk from the hotel.
4. Akiyoshido Limestone Cave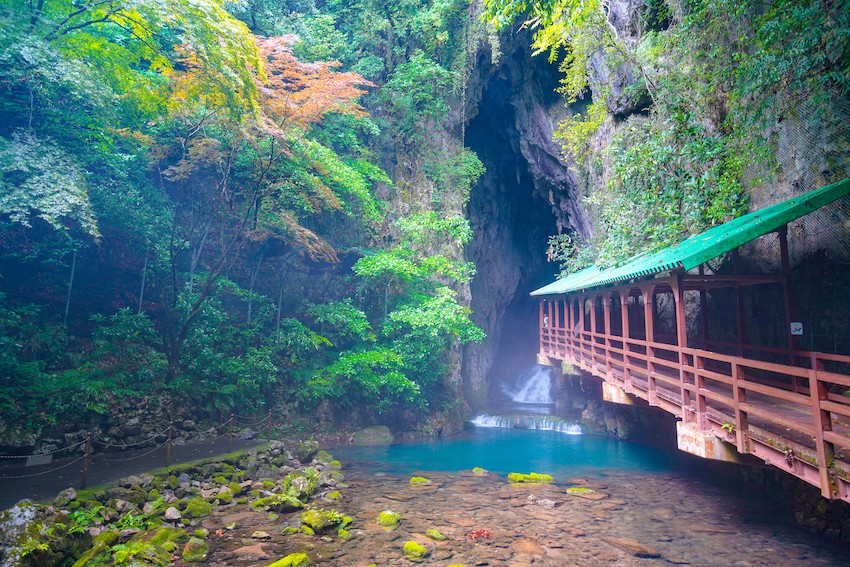 After all this blinding light, it's good to have a little a bit of darkness.
Situated in the so-called "mine cities" of Yamaguchi Prefecture, Akiyoshi Limestone Cave is a truly fascinating place. The various rock formations have taken over 3 million years to reach their current state.
In addition to the cave, there is the "Akiyoshidai" valley's trail, which is enjoyed by hikers from across the globe. Depending on the season, the trail offers different levels of beauty. From the sun-drenched gold of summer, to the fresh green of spring, it is truly a sight to marvel at.
Information
Name: Akiyoshido Limestone Cave
Address: 3506-2 Akiyoshi, Shuho Town, Mine City, Yamaguchi Prefecture
Opening Times: 8:30 am – 4:30 pm
Admission fee: 1,200 yen (high school and older); students 950 yen (junior high), 600 yen (elementary)
Access: Akiyoshido station can be reached via JR bus: From the Yamaguchi station bus terminal it takes 60 minutes (1,210 yen). Or about 45 min by bus from JR Shin-Yamaguchi Sta. to "Akiyoshido Cave"
5. Ganryujima - 巌流島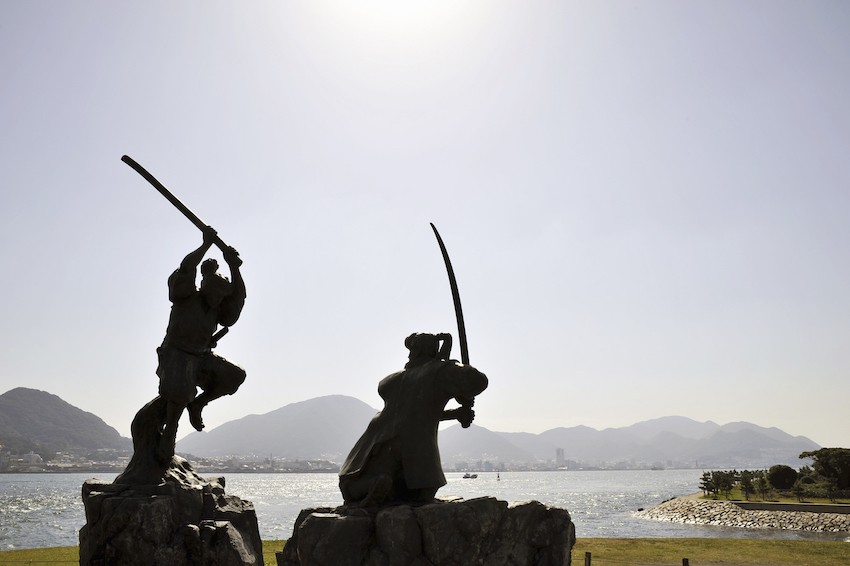 Arguably one of the most famous sites in Yamaguchi Prefecture is Ganryujima island. The fabled duel between the legendary Miyamoto Musashi, the most famous swordsman of the samurai era, and his rival, Sasaki Kojiro took place on the island's shore.

Ganryujima can be reached by ferry from Shimoseki Harbor. The 10-minute ride costs 400yen.
The story goes that Musashi intentionally arrived late for the duel as way of to unsettle his opponent. Kojiro attacked first but Musashi stuck him a single fatal blow with a wooden sword carved from the oar of the boat he took to the island. For afficionados of samurai lore, this an absolutely essential place to visit.
Information
Name: Ganryujima - 巌流島
Address: 648, Funajima, Hikoshishima, Shimonoseki City 750-0073
Opening Times: Always open
Admission free
Access: About 10 minutes by ferry from Ura Sambashi in Hikoshima or from Karato Sambashi
6. Ichinosaka-gawa River
This river bisects the city of Yamaguchi and is one of the prettiest places to enjoy the scenery. There is a path that takes you along the banks of the river which are covered in cherry blossom in the springtime. If you visit in the summer months around July and August, this area is famous for its fireflies that dance around in the warm evening air .
Information
Name: Ichinosaka-gawa River
Address: Ushirogawara, Yamaguchi
Access: 12 minutes' walk from JR Yamaguchi Station
7. St. Francis Xavier Memorial Church
The St. Francis Xavier Memorial Church in Yamaguchi was built in 1952 to commemorate 400th anniversary of the arrival in Japan of the Jesuit missionary, Francis Xavier. The church was destroyed by fire in 1991 and rebuilt in 1998. The new design is modernist and t also houses a wonderful museum that has galleries dedicated to Christian paintings as well as statues and other religious artifacts including ancient maps showing how Christianity first came to Japan.
Information
Name: St. Francis Xavier Memorial Church
Address: 4-1B, Kameyama-cho, Yamaguchi 753-0089
Opening Times: 09:00 ~ 17:00
Admission to the church is free but donations are encouraged, 300 yen for entry to the museum
Access: About 1.3 kilometers northwest of Yamaguchi Station. It can be reached on foot (15-20 minutes) or by rental bicycles, which are available outside the station (300 yen for two hours or 700 yen for the whole day).
2 Major Shopping Areas in Yamaguchi
1. Youme Town Yamaguchi:
Youme Town Yamaguchi is a shopping mall which sells a huge range of products including clothes, accessories, and electronics. One of the best things in the mall is the store called HARD OFF which sells secondhand items. Nothing is over five years old which means that you can get some fantastic bargains.
Information
Name: Youme Town Yamaguchi
Address: 6-9-1, Ouchisenbo, Yamaguchi 753-0251
Opening Times: 9:30 〜 21:30
2. AEON Town Ogori
AEON Town Ogori is part of the AEON chain that you will find all over Japan and sells a range of products over a number of floors. You will find the latest Japanese fashions here for men, women, and children, and there are also eateries and cafes here if you want to take a break from your shopping for a bite to eat. 
Information
Name: AEON Town Ogori
Address: 2-24, Ogorimae Damachi, Yamaguchi 754-0023
Opening Times: 10:00 ~ 21:00
Recommended times to visit
Yamaguchi has hot summers and cold winters and the summer months are also the rainiest. So the best times to visit are spring, when you can catch the cherry blossom in bloom from April to May, as well as autumn. October and November see drier and cooler weather and you can also see the pretty autumn leaves that burst into a riot of color across the city.
Getting to Yamaguchi
By plane:
Both JAL and ANA fly to Yamaguchi Ube Airport from Tokyo's Haneda Airport and the journey takes around an hour and a half. To get from Yamaguchi Ube Airport to the center of town, you can take a bus to the Shin-Yamaguchi Station which takes 35 minutes and costs around ¥890.
By train:
One of the easiest ways to get to Yamaguchi is to take the JR Sanyo shinkansen to Shin-Yamaguchi Station. Trains run from Osaka and take around two hours, with tickets costing ¥12,000. Shinkansen trains from Fukuoka take 35 minutes at a cost of ¥5,000. Finally, you can also travel to Yamaguchi from Tokyo on the Nozomi shinkansen, which takes 4.5 hours and costs ¥20,000. 
[Survey] Traveling to Japan
Recommend