Iwakuni Castle : The Tragic Castle that Took 7 years to Build and was Destroyed only 7 Years Later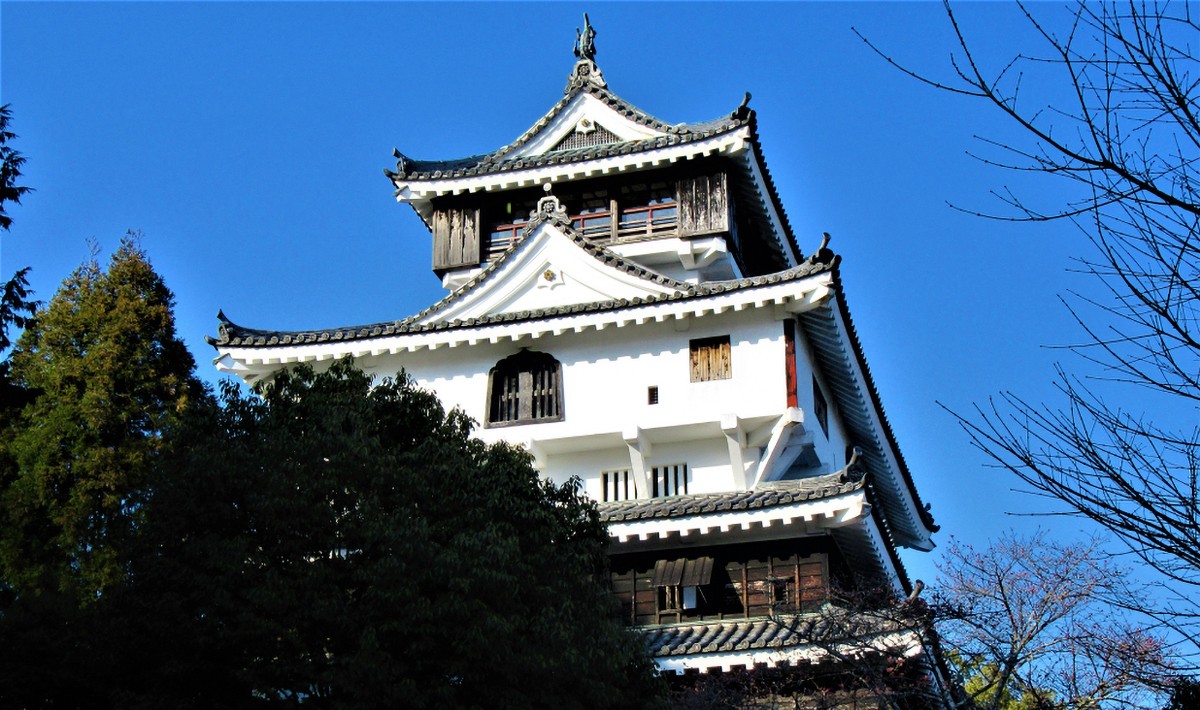 Although Iwakuni Castle took 7 years to build it was taken down only 7 years later. 300 years or so after the tragedy the castle was rebuilt in 1962 and has been standing for over 50 years, its beautiful appearance still moves the visitors who come to see it. Here we will introduce the photo spots and things to see at Iwakuni Castle.

What is the reason Iwakuni Castle is called the tragic castle?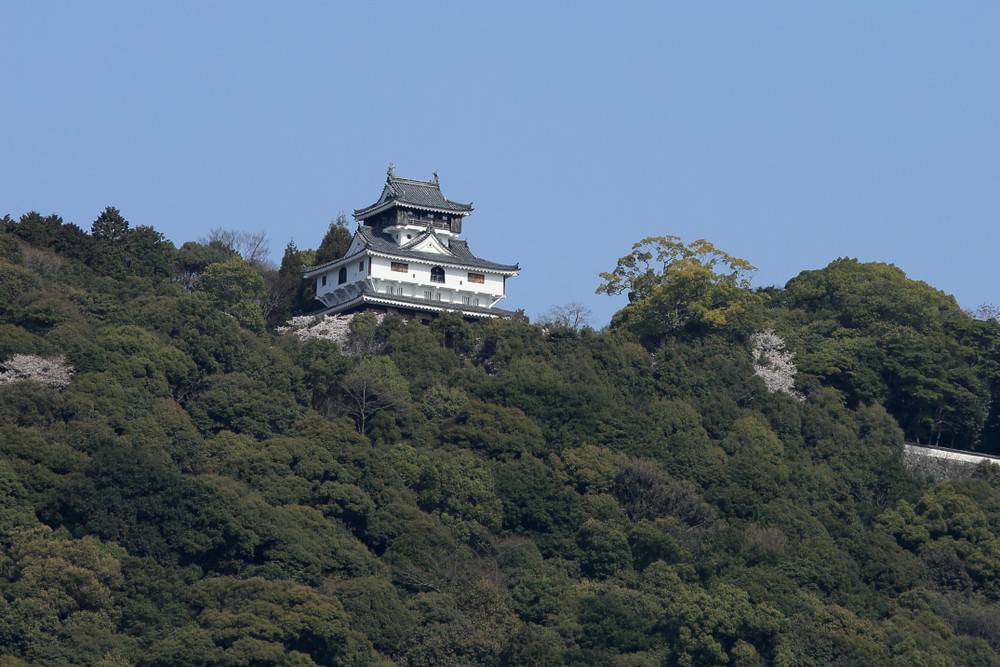 The reason Iwakuni Castle was taken down was not because of the one country, one castle and the others have to be dismantled policy order made by the Edo Shogunate, but it was related more to the circumstances between the ruler of Iwakuni, "Lord Kikkawa" and the Mori clan. The Edo Shogunate could not remove the castle because the one living in the castle at that time, Hiroie, assisted the Tokugawa side during the Sekigahara battle. However, the Mori clan thought Hiroie's actions betrayed them and ordered it to be dismantled under the one castle rule. Even though, the Mori clan's continuation was originally due to the fact that Hiroie had appealed for it

Things to see at Iwakuni Castle one of Japan's 100 Famous Castles
Iwakuni Castle Keep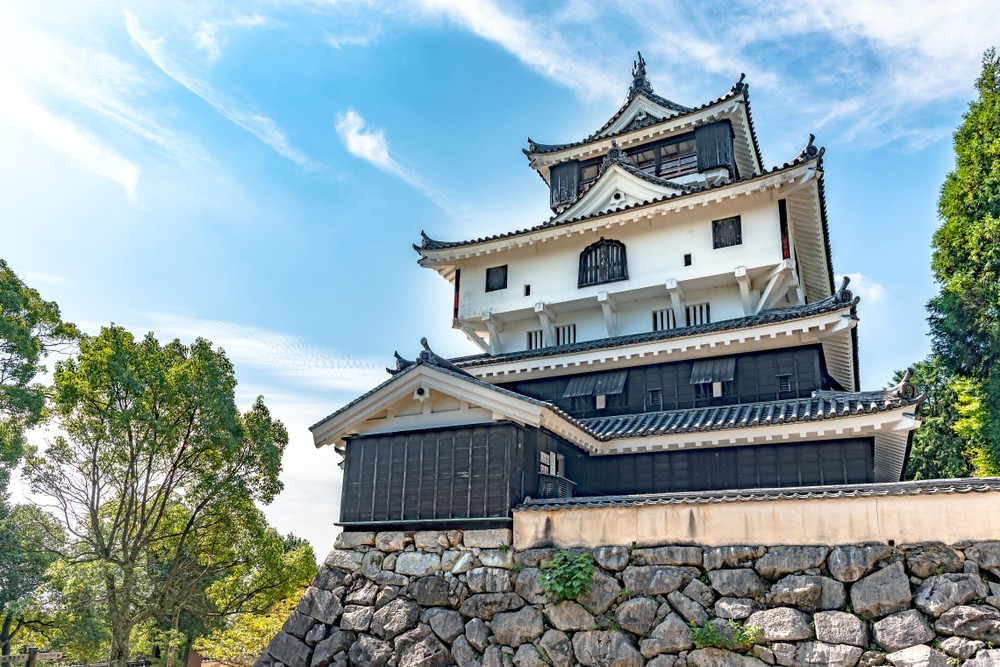 The exterior of Iwakuni Castle Keep was rebuilt using a left behind illustration. The original castle construction was 3 layers tall with 4 floors, but the reconstructed version has 4 layers and 6 floors. The construction style has the third layer from the bottom sticking out larger, which is called Momoyama period construction. With this style, the roof can be omitted, and within 4 layers 6 floors can be built. There's a theory which says that the reason for this formation was to avoid punishment by the Shogunate who limited the number of floors that castles could have at that time.

The View from the Castle Keep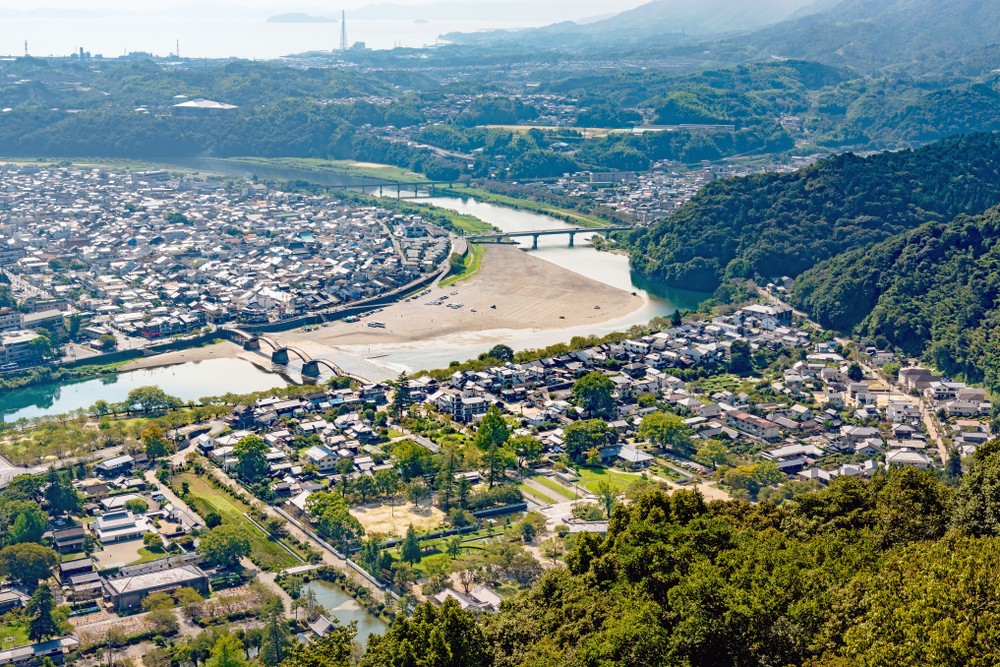 The reconstructed castle keep was built 50km East from where the old castle keep ruins are. For this reason, from the top floor of the castle keep, you can see the castle town, Iwakuni City, and the islands on Seto Inland Sea. When you imagine the castle owner's idea to use the Nishiki River as a natural outer moat to protect the area, the meaning of the scenery feels much deeper. Inside the castle keep, there is a detailed model of the wooden, arched bridge called Kintaikyo, swords, and armour, etc exhibited. 

The Skillful Technique Used to Restore Iwakuni Castle Keep Wall
During the excavation survey, they discovered 1/4 of the base of the castle keep wall where the previous castle keep was located. The castle keep wall was rebuilt using the stonework technique of that time, and it can be still be viewed even now. The castle wall which has been excellently built using variously shaped stones conveys the superior technique of that time period. 

Iwakuni Castle Photography Tips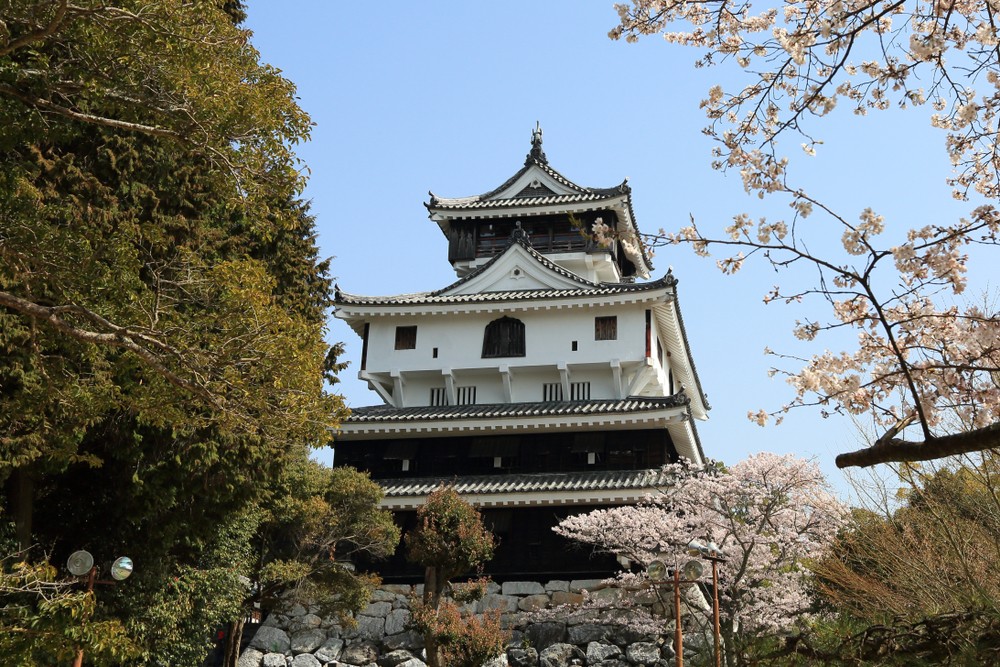 If you photograph Iwakuni Castle from the Northside, you will be able to capture a most impressive image. Those who wish to capture the castle keep wall should shoot from the Iwakuni Castle Ropeway Station. Also, you do not want to miss the illuminated Iwakuni Castle at night. Particularly around Kintaikyo Bridge, you can take a photo of the castle and bridge floating in the darkness like magic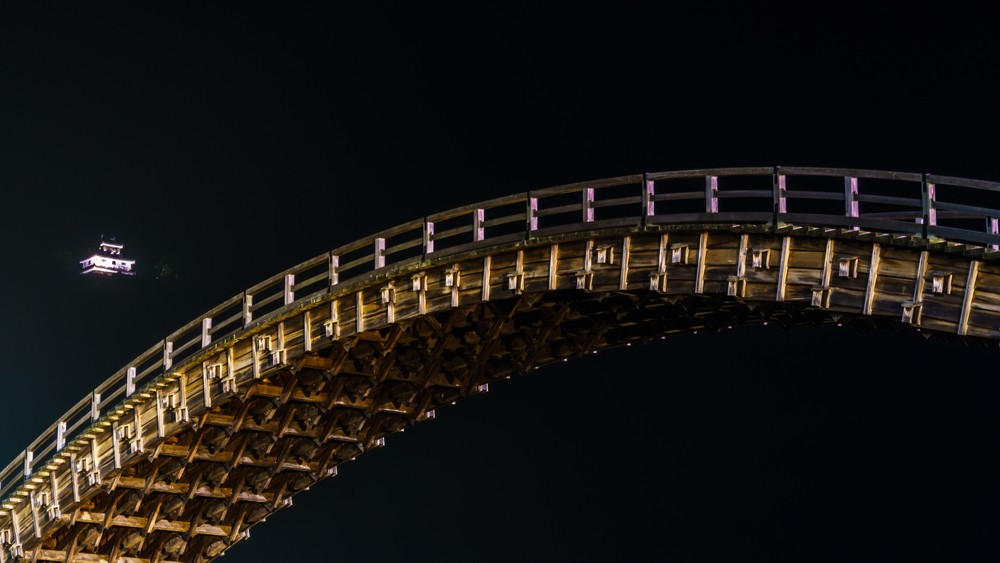 About Castle
Construction started 1601
Construction completed 1608
Deconstruction 1615
Reconstruction 1962
Spot Information
Spot name: Iwakuni Castle /岩国城

Street Address: 3-1, Yokoyama, Iwakuni City, Yamaguchi Prefecture 741-0081

Access: Tokyo Station → [Shinkansen] About 4 hours 40 minutes → Shin Iwakuni Station → [City Bus] about 10 minutes → Kintaikyo Bus Center → About 10 minutes on foot → Ropeway Sanroku Station → [Ropeway] about 3 minutes… About 3 minutes on foot. Haneda Airport → About 1 hour 45 minutes → Iwakuni Airport → [Iwakuni Kintaikyo Airport Line Bus] about 12 minutes → Iwakuni Station → [City Bus] about 10 minutes → Kintaikyo Bus Center → About 10 minutes on foot → Ropeway Sanroku Station → [Ropeway] About 3 minutes ... About 3 minutes on foot.

Opening Times: 9:00-16:45 (Last entry 16:30)

Admission fee:
*Until September 30, 2019:
Adult 260 yen (junior high school age and above),
Primary school students 120 yen (6-12 years old).
*From October 1, 2019:
Adults 270 yen (junior high school age and over),
Primary school students 120 yen (6-12 years old)
[Survey] Traveling to Japan
Recommend