【10%+5% OFF Coupon Included】A new Don Quijote store format, "Domise," has been launched in Shibuya, Tokyo! Don't miss the limited-edition products too!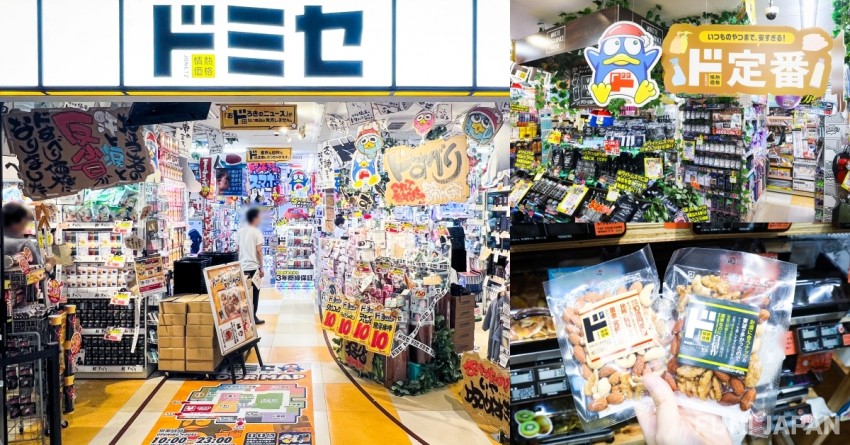 "Don Don Don, Donki Don Quijote~"

Japan's largest discount store, "Don Quijote" (sometimes referred to as "Donki"), is well-known for its theme song "MIRACLE SHOPPING". They have developed various types of stores, but the first store of the new format "Domise" that was born in Shibuya, Tokyo in August 2023 is attracting attention. Along with the unique sales floor and limited-edition products of Domise, we report on a shopping experience that is a bit different from the usual Donki.
Furthermore, we are distributing a 15% OFF coupon that can be used at Domise and Donki stores nationwide!
*The store interior, products handled, and selling prices are as of the time of coverage.
Just a 5-minute walk from Shibuya Station. There are plenty of unique corners only at "Domise"!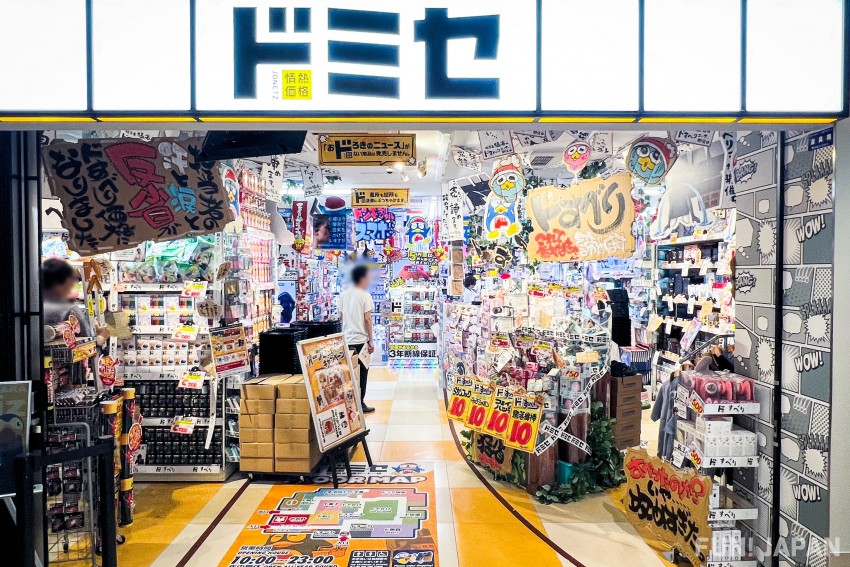 Located about a 5-minute walk from "Shibuya Station" on various lines such as JR and Tokyo Metro. The first store of "Domise", located in the large complex "Dogenzaka Street dogenzaka-dori" that opened in August 2023, is "Domise Shibuya Dogenzaka Street Dodo Store". It is a new Don Quijote store with the concept of a "surprise specialty store" that was born in front of the "MEGA Don Quijote Shibuya Honten store".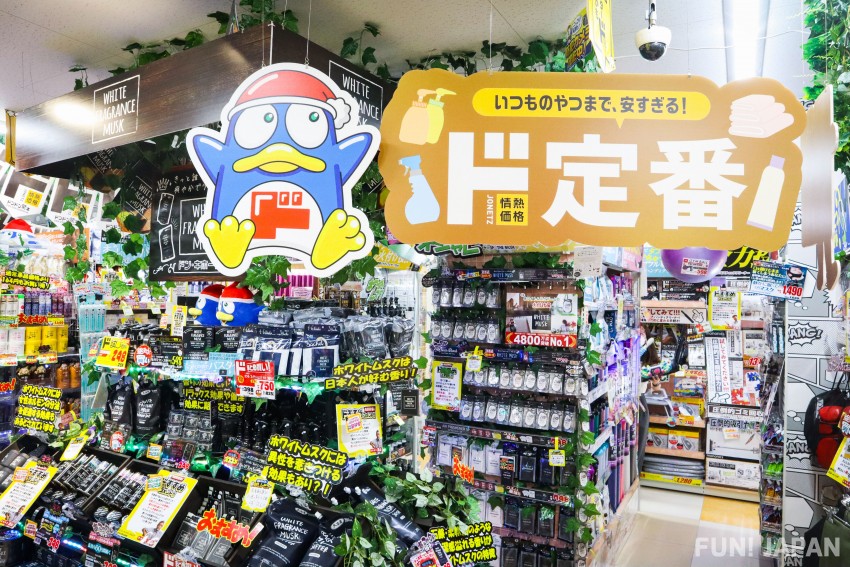 The biggest feature of Domise is that in addition to its cost-effective original brand "JONETZ", it also carries other sports, outdoor, and skincare brands from the same company. Approximately 3,200 items, including Domise exclusive products and new products for pre-sale, are lined up in the store. In addition, there is a corner where the behind-the-scenes stories of the products and the true feelings of the staff are introduced in store pop-ups.
Highlight of Domise ①: "Top 10" Corner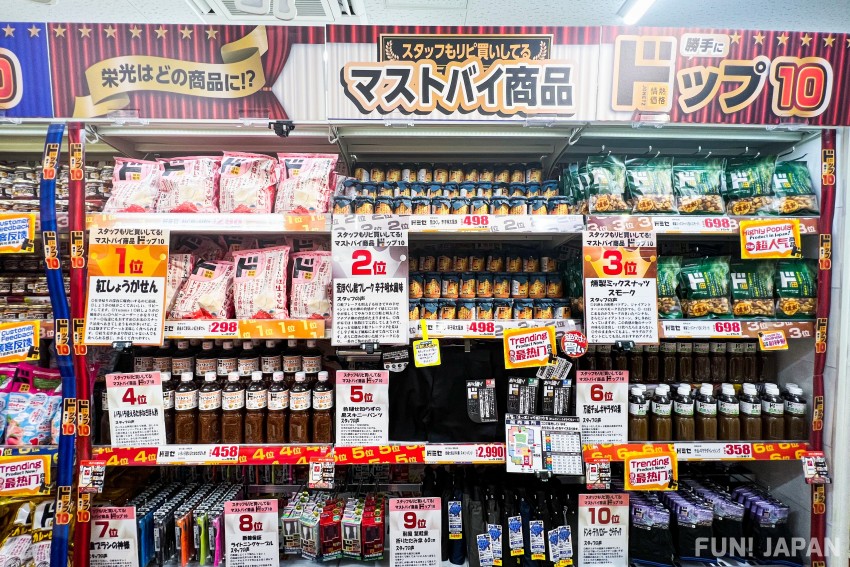 Immediately to the left as you enter the store, there is a "TOP 10" corner where rankings are announced in various categories each month. During our visit, they were featuring the "Sales TOP 10", which reveals the sales amount and number of sales for each product, and the "Must-Buy Product TOP 10", which are items that even the Don Quijote staff repeatedly purchase. It's fun just to check out what items are ranking.
Highlight of Domise ②: The "Improvement Report" Corner

Right across is the "Improvement Report" corner, where items with "JONETZ" that have been improved based on customer feedback are gathered. You can vote for the products with the "Good!" and "So-so" buttons, so if you find an item you think is "Good!", be sure to cast your vote for "Good!".
Highlight #3 of Domise: The "Unsuccessful" Corner

If you're looking for the best cost-performance, head to the "Unsuccessful" corner near the entrance. This is a sales area where products that were developed with confidence by the person in charge, saying "This will sell!", but didn't actually sell very well, are mainly discounted and sold. There's a high chance of finding a bargain!
Exclusive to Domise! A corner for selling nuts and coffee beans by weight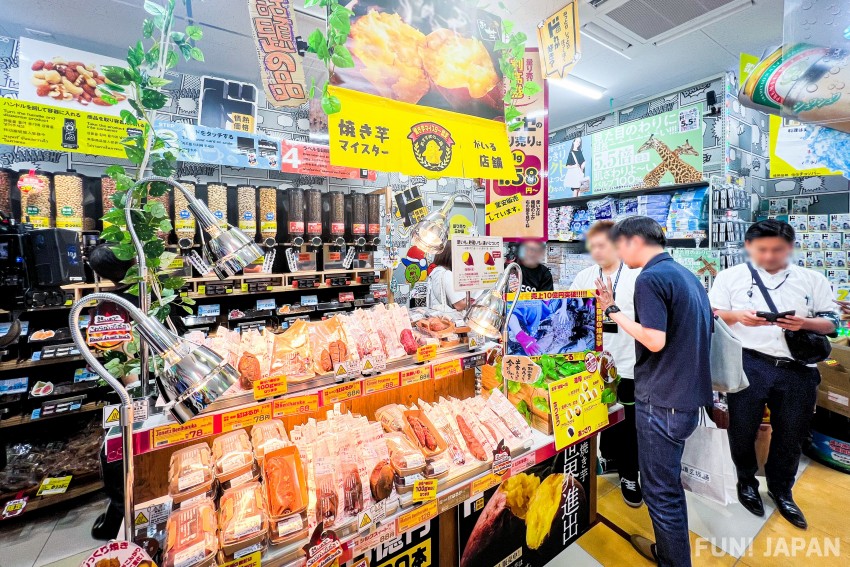 When you visit Domise, be sure to stop by the "Trial Product" corner, which is filled with Don Quijote's first attempts. The main feature here is the "Weigh and Buy" corner, where you can choose and buy your favorite products in the quantity and type you like.

Here, you can choose from 10 types of nuts, 12 types of dried fruits, and 9 types of coffee beans, and buy them in any combination and quantity (starting from 1g) you like. The lineup includes the "Roasted Mixed Nuts DX", which recorded the No.1 annual sales of "JONETZ" in 2022, as well as pecan nuts, hazelnuts, macadamia nuts that are not sold in regular Don Quijote stores, and the Domise-exclusive coffee beans "Dogenzaka Street Blend".
How to Buy at the Weigh and Buy Corner of Domise


It's perfect for those who want to try a little bit of everything, and the fact that it's so easy to buy is a plus! The instructions are written in both Japanese and English, so even tourists can easily give it a try.
(Top left) Pick up the special card with Donpen on it, and a paper bag (small for 10 yen, large for 15 yen)
(Top right) Place the paper bag under the product you want, turn the handle or use tongs to put in as much as you want
(Bottom left) Once you've filled the paper bag with each type, touch the card to the scale. Check the purchase quantity and price displayed on the screen to confirm
(Bottom right) Touch the card to the machine on the right side of the corner, print the label for payment, and go to the register
And just like that, your own original assortment is complete! If you're buying multiple items, you can use the same dedicated card to repeat steps ① to ③, and you can issue all the labels on one sheet.
Don Quijote's first! A roasted sweet potato corner where you can compare 8 types of roasted sweet potatoes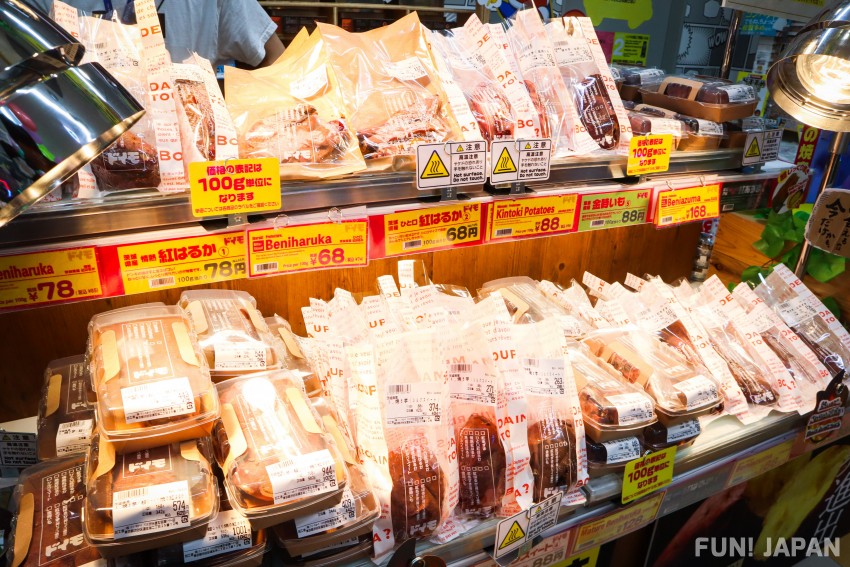 Among those who have visited Japan, surely there are many fans of Japanese roasted sweet potatoes, right? In fact, not only does Don Quijote have a wide variety of products, but the roasted sweet potatoes sold in some stores for 100 yen range are also very popular. The good news for such people is the first-ever roasted sweet potato corner at Don Quijote.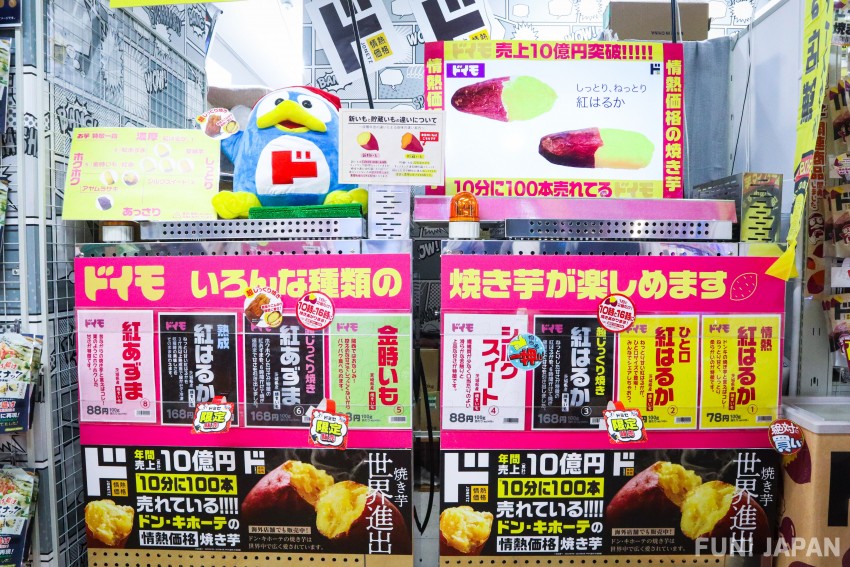 Located in front of the weighing sale corner, the baked sweet potato corner sells four standard types and three to four monthly types of roasted sweet potatoes selected by the chosen "Roasted Sweet Potato Maestro". From the fluffy "Red Azuma" to the popular sticky textured "Silk Sweet", sweet potatoes from all over Japan are prepared in the store. The roastking times are 10:00 and 16:00 every day. There is a limit to the number of pieces per time, so it's first come, first served!

The baked sweet potatoes are kept warm on a stand with a hot plate, so you can enjoy them hot no matter when you visit.
Revealing the limited-edition products of 'Domise', from roasted sweet potato sweets to mixed nuts!
With the opening of the new store, in addition to some of the 'JONETZ' products that will be available in small sizes, there will also be limited-edition products that can only be obtained at Domise! From the newly introduced roasted sweet potato sweets to the long-selling mixed nuts, try to find souvenirs for your trip to Japan.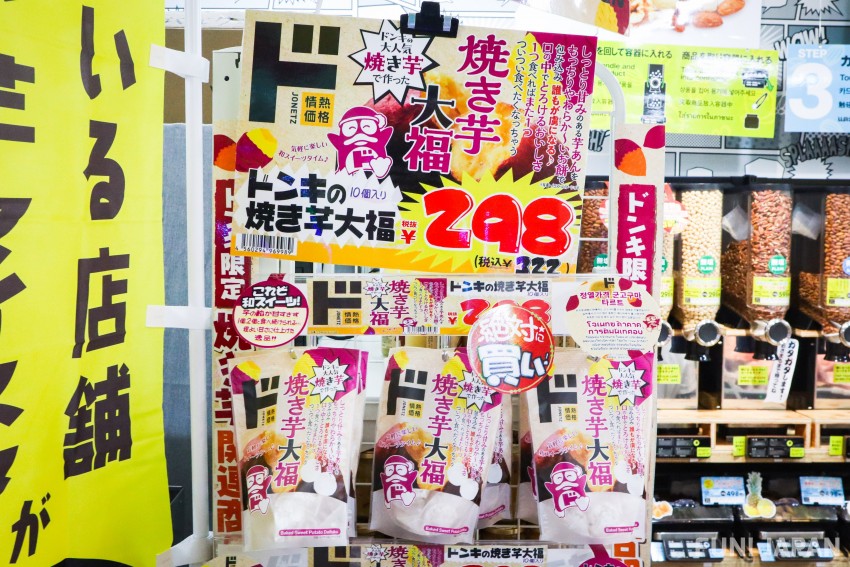 10 Roasted Sweet Potato Daifuku / 322 yen
A daifuku made by kneading roasted sweet potato into bean paste and wrapping it in a soft mochi. The sticky texture and flavor of the Beniharuka variety might make it hard to stop eating!?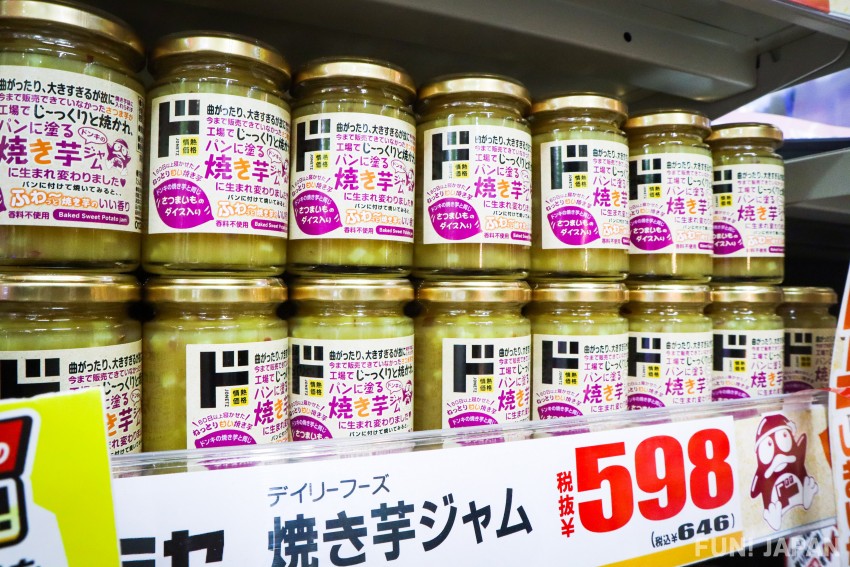 Roasted Sweet Potato Jam 150g / 646 yen
This is a jam made from Donki's roasted sweet potatoes, developed exclusively for Domise. The jam is made up of about 40% roasted sweet potato paste and diced roasted sweet potatoes, making it perfect for bread, pancakes, and ice cream.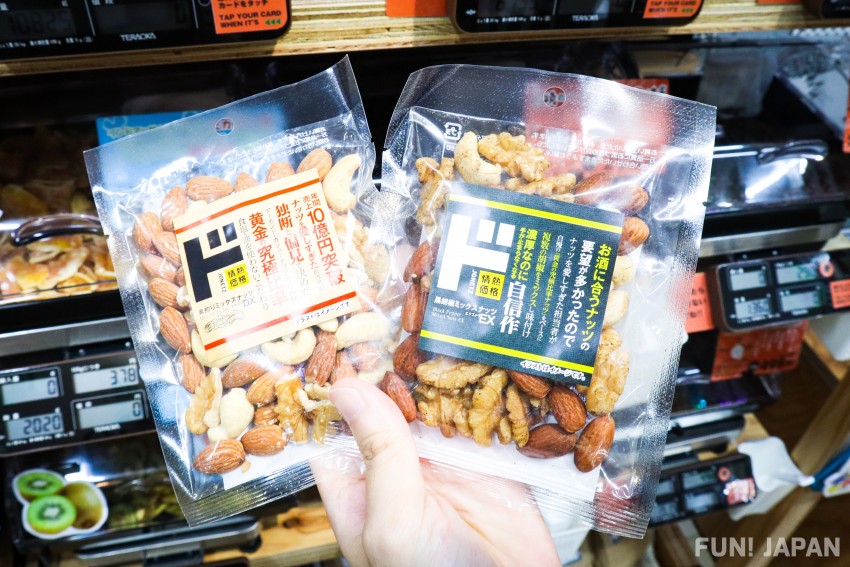 (Left) Mixed Nuts DX Mini / 322 yen
(Right) Smoked Mixed Nuts Mini / 430 yen
A mix of almonds, cashews, and walnuts, roasted without the use of any salt or oil, in a golden ratio. At Domise, it is available in a mini size that one person can finish, for a limited time only.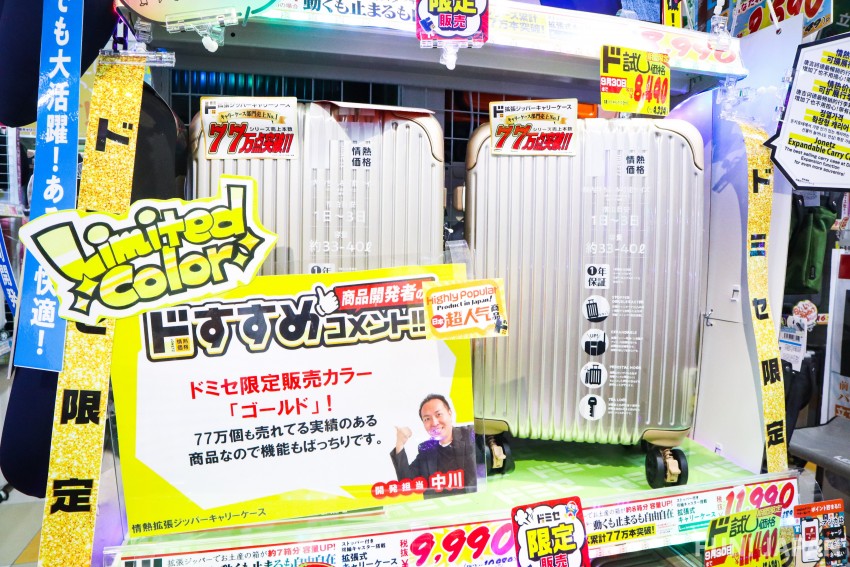 Limited Color (Gold) Expandable Zipper Carry / 9,889 yen
The luxury carry case, which is said to be the best-selling with 770,000 units, is packed with a sense of luxury. The 360° 8-wheel caster and expandable partition are likely to be very useful for moving during travel.
Keep an eye on Domise, the focus of your visits to Japan in the future!

Domise, which offers unique sales floors and carefully selected items. Following the "Domise Shibuya Dogenzaka Dodo Store", the "Domise Ario Yao Store" has also opened in Yao City, Osaka Prefecture in September 2023. As one of the key words for your future visits to Japan, be sure to remember it and enjoy shopping.
Details of FUN! JAPAN exclusive Domise & Donki coupon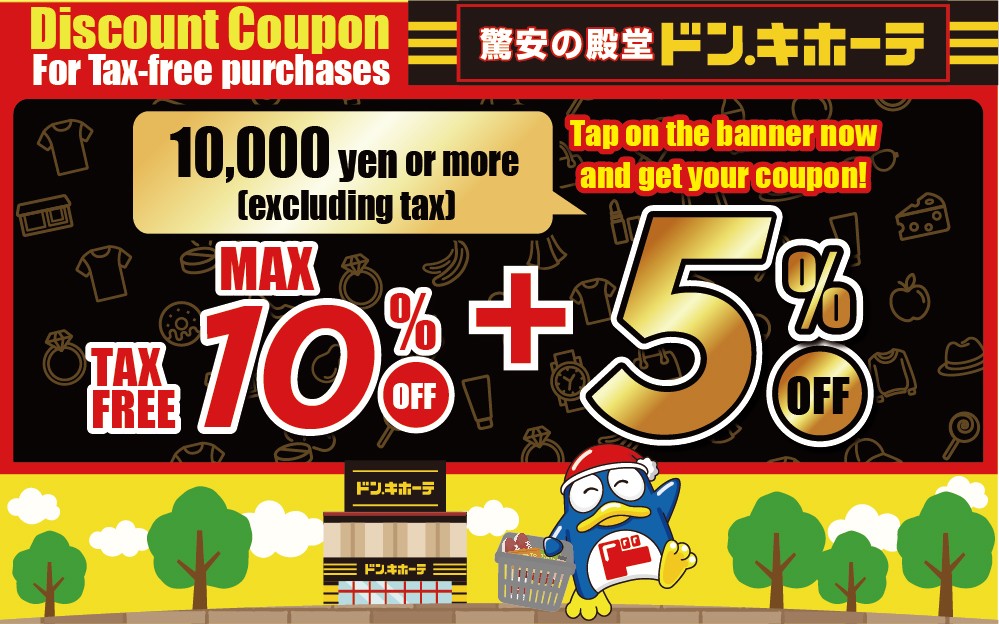 At FUN! JAPAN, we are distributing limited coupons that can be used at Don Quijote and Domise stores across Japan! Just show the coupon screen (barcode) to the cashier at the time of payment, and you will get a tax-free 10% + 5% off for purchases of 10,000 yen (excluding tax) or more.

Eligibility: Tourists visiting Japan from outside of Japan
*Not available for foreign residents in Japan
Content: 10% tax-free + 5% off for purchases of 10,000 yen (excluding tax) or more
*Valid for one time only
Applicable stores: "Don Quijote" and "Domise" in Japan
*Including general supermarkets "Apita" and "Piago" (excluding some stores)
*Local stores outside of Japan are not included
Expiration date: None
How to use: Please show the coupon screen (barcode) to the cashier at the time of payment.
*For other details and precautions, please check from the URL below.

Domise Shibuya Dogenzaka Dodo Store

Address: 2-25-12 Dogenzaka, Shibuya-ku, Tokyo
Business hours: 10:00~23:00
Access: 5 minutes walk from "Shibuya Station" on JR, Tokyo Metro and other lines
Official website: https://www.ppihgroup.com/domise/
Related Articles
[Survey] Traveling to Japan
Recommend