【The Changing Ginza ①】The brand "WORKMAN", which has not yet expanded overseas, is the latest shopping spree spot!
Ginza is a popular sightseeing spot in Tokyo. Many people may have the impression that Ginza is a place lined with luxury brand stores, but Ginza has changed a lot in the past year or two.

Ginza these days is, in a nutshell, a "holy land of shopping spree".
With that, FUN! JAPAN will introduce the latest spots in Ginza where you can have fun shopping spree at a bargain price in two installments.
The first installment is "WORKMAN", which has not yet expanded overseas and has stores only in Japan. If you love the outdoors and exercise, WORKMAN is then the holy land of shopping spree for you.
What is WORKMAN, a brand you can't buy unless you come to Japan?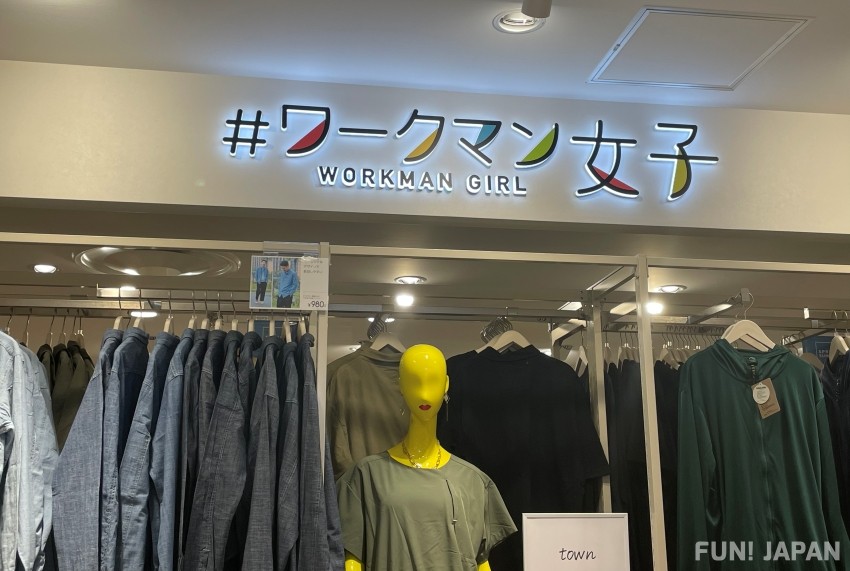 When talking about high-performance, low-priced Japanese brands, many people would think of Uniqlo and MUJI. In addition to these brands, I would like FUN! JAPAN readers who love Japan to know about WORKMAN.

WORKMAN was established in 1980 as a store that sells uniforms and shoes for workers at construction sites and factories. Since it was a store that sold products for workers, its strength was in items that emphasized functionality, such as ease of movement, lightness, and water absorbency.
Using the technology cultivated in product development, it then began to manufacture products for the general public, and in 2018, "WORKMAN Plus", a shop for general consumers, was born. WORKMAN Plus became a hot topic when it came to high-performance, low-cost, and well-designed products, and thus a WORKMAN boom took Japan by the storm. The term "WORKMAN GIRL" was coined to describe women who like to wear WORKMAN items. Currently, there are 952 stores in Japan (as of June 2022).
Opened a store in Ginza! Recommended products of "WORKMAN GIRL"
WORKMAN has open its first store titled "#WORKMAN GIRL EXITMELSA"  in the Ginza area in April 2022.
Although the store name includes the word "girl", about 30% of the products are for women and 30% for men, and the remaining 40% are unisex (for both men and women).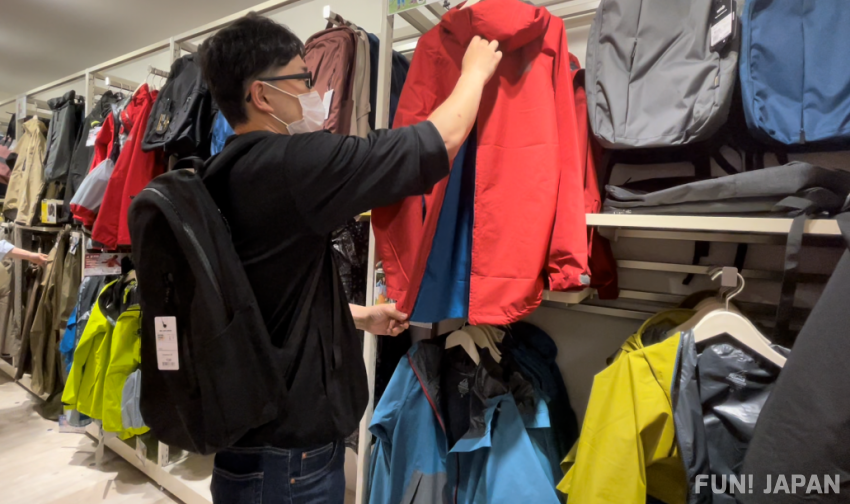 This time, we asked Ms. Suzuki, who is in charge of PR for WORKMAN, to recommend products for WORKMAN beginners to FUN! JAPAN readers!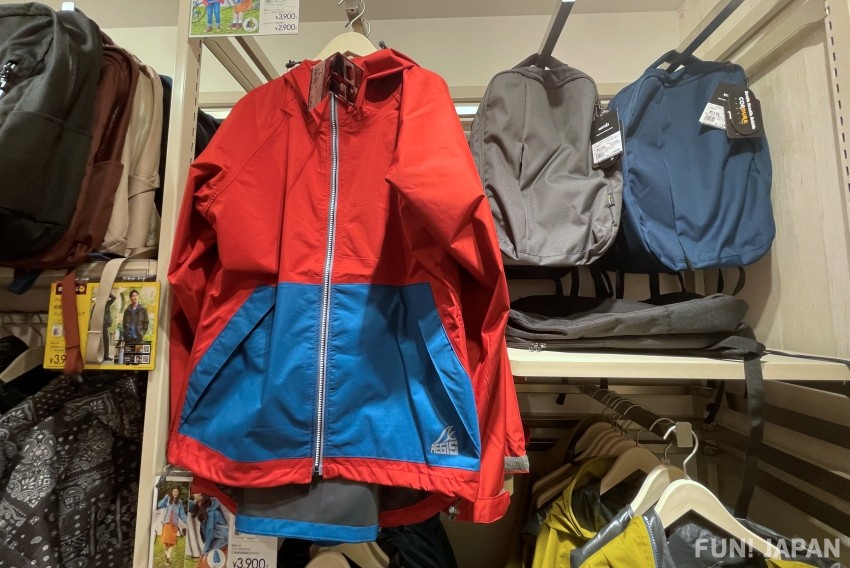 Firstly, Mr. Suzuki recommended red and blue rainwear. At first glance, it looks like ordinary rainwear, but...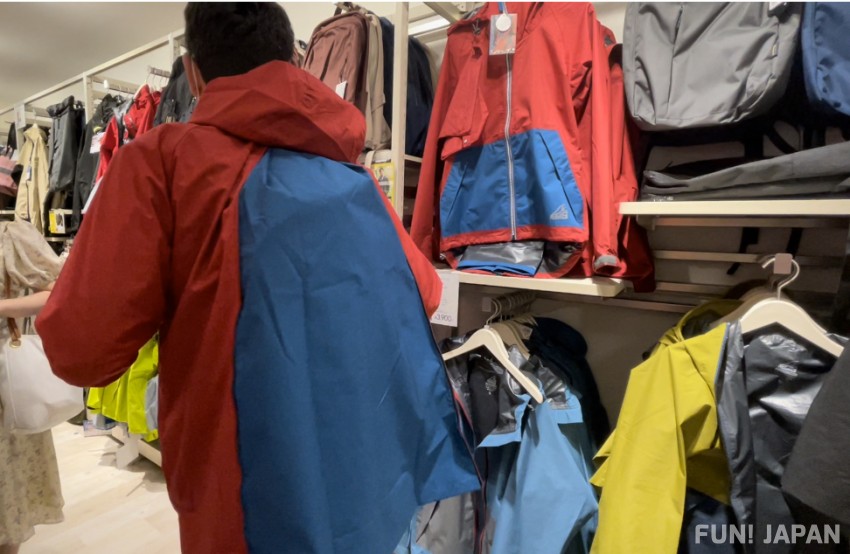 It is actually a rainwear that can be worn while carrying a backpack. Now you can travel with your favorite backpack on rainy days without getting it wet. This product is suitable for both men and women and is also available in children's sizes. The price is 3,900 yen (*) for adults and 2,900 yen for children.

*All prices include consumption tax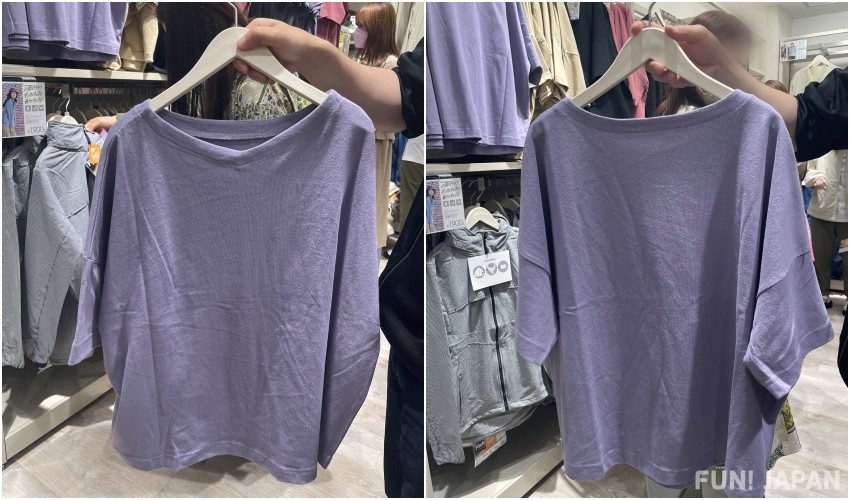 And recommended for women is this 100% cotton T-shirt. There is no tag attached to the collar, so you can wear it with either side as the front side. Are you team crew neck? Or team V-neck? The price is 980 yen (!). It comes in 5 colors, so at this price you can even buy 2 or 3 in different colors.

Thrilling shopping experience at the shoe corner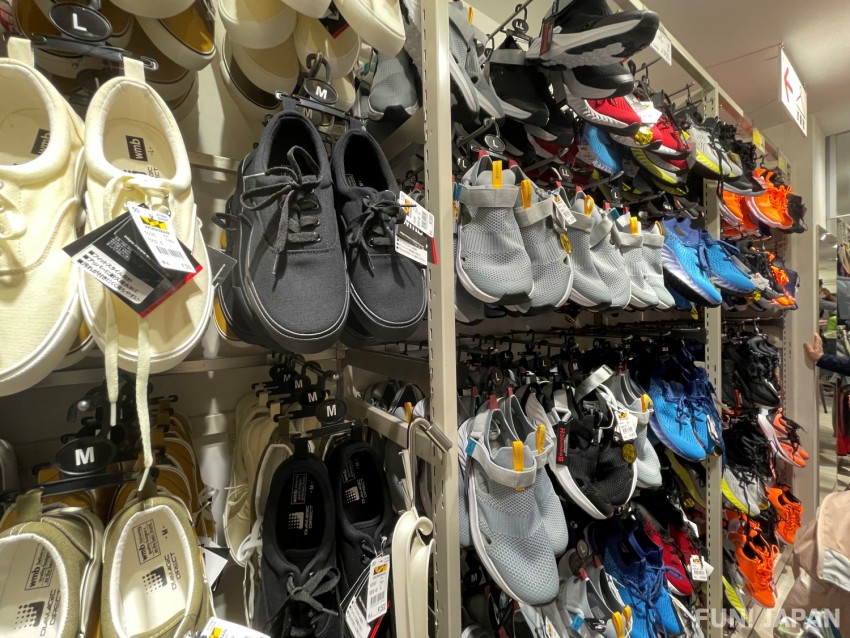 Sandals, sneakers, and even rain shoes are lined up in the shoe corner. There are many items that combine functionality and design.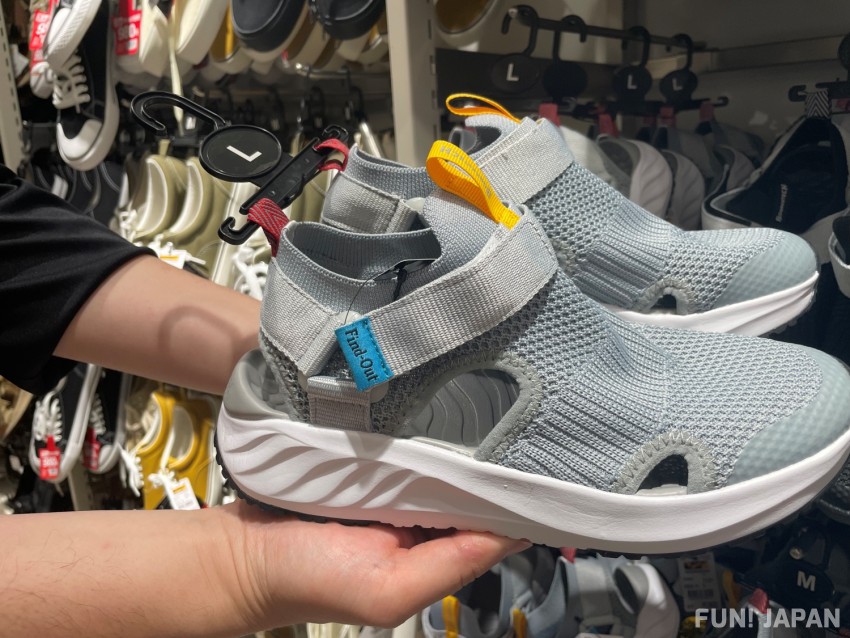 These sandals (1,900 yen) are likely to be useful in the hot season. Made of highly breathable material, so you can wear it without getting stuffy even in summer. In addition, the sole has a three-layer structure that provides excellent cushioning. Come with a design that wraps around your feet, so even though you're wearing sandals, you may be able to run at full speed...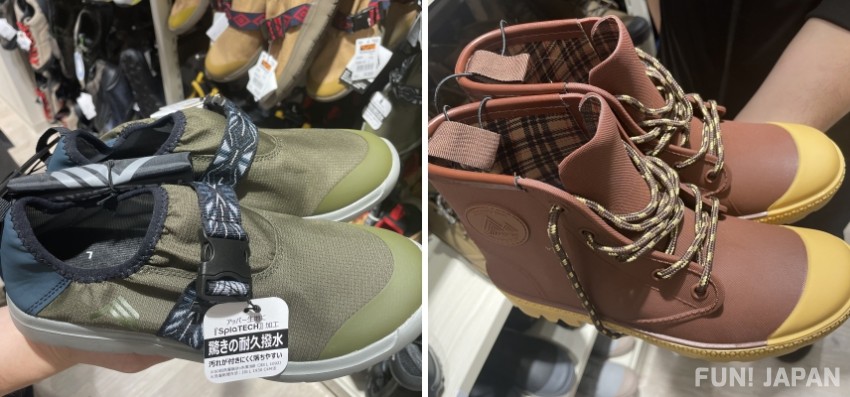 Left: Slip-ons that are super lightweight at 160 grams and have excellent water repellency. It can be used indoors as well.

Right: Fashionable rain shoes that you'll want to wear on even other days than just rainy days.
Both are priced at 1,500 yen. There aren't many shops in Japan where you can change your shoes for merely 1,500 yen!

There are even products with WOW ideas♪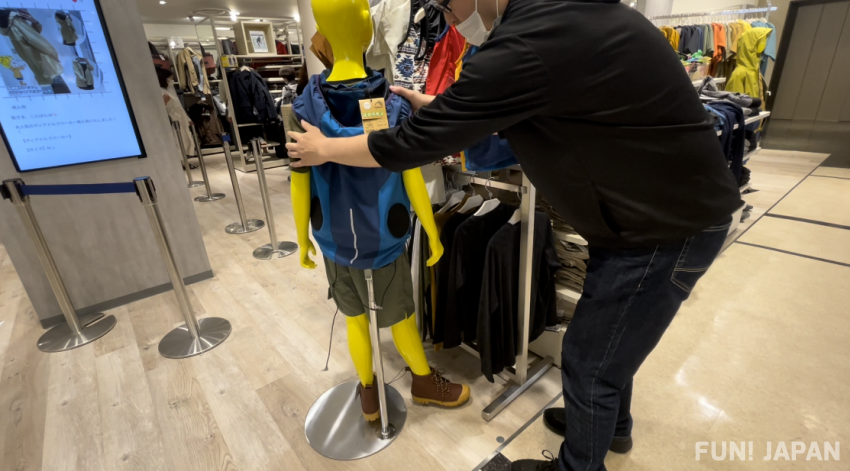 Next, Mr. Suzuki from WORKMAN Public Relations introduced this vest worn by the mannequin.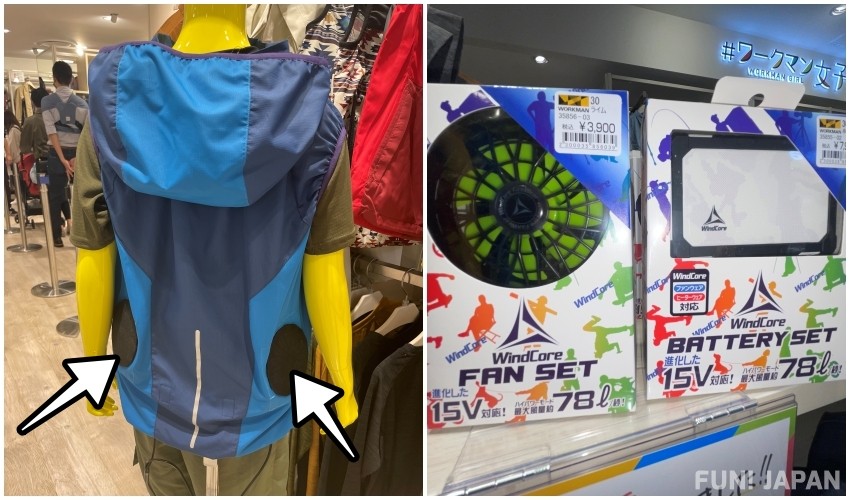 There are 2 black round things on the waist...Actually, these are fans. The wind generated by rotating the fan circulates inside the vest, making it a great item to keep you comfortable even on hot days.

This product was originally developed for construction workers who often work under the scorching sun. It is an item that makes use of technology and knowledge unique to WORKMAN.
Fan (3,900 yen) and battery (7,980 yen) must be purchased separately.
Must-buy items for sports and outdoor enthusiasts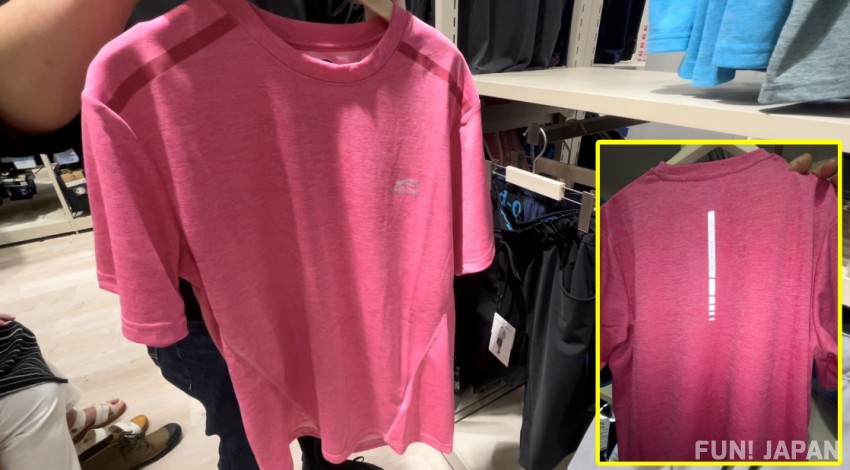 This T-shirt with UV protection is a must-buy for people who enjoy running and sports.

In addition to being sweat-absorbing and quick-drying, the fabric has a cooling sensation, so it feels cool when you wear it. There is a special tape on the chest and back that glows in the dark, so you can run safely even at night. With such high functionality, it costs only 580 yen... unbelievable!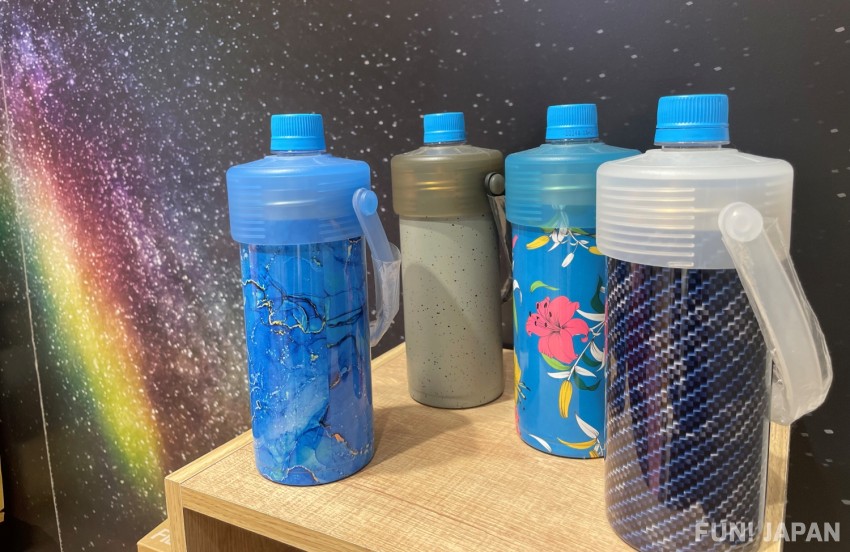 This store also has a wide range of outdoor goods such as tents and others. This Vacuum Insulated PET Bottle Holder (980 yen) is a product that I would definitely recommend to people who come to Japan for sightseeing.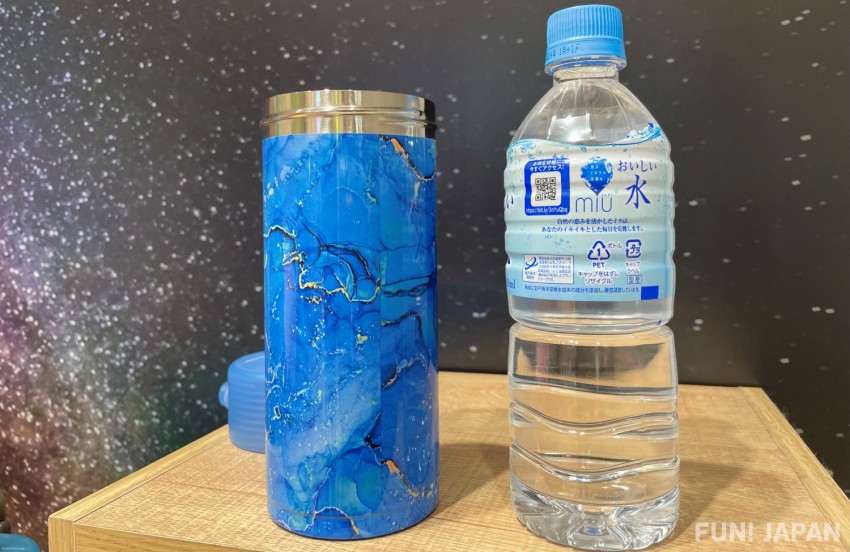 If you put a 500ml plastic bottle in it, you can keep it cool for a long time.

In summer of Japan, there are days when the maximum temperature reaches nearly 40 degrees. With such an item, you can always have a cold drink.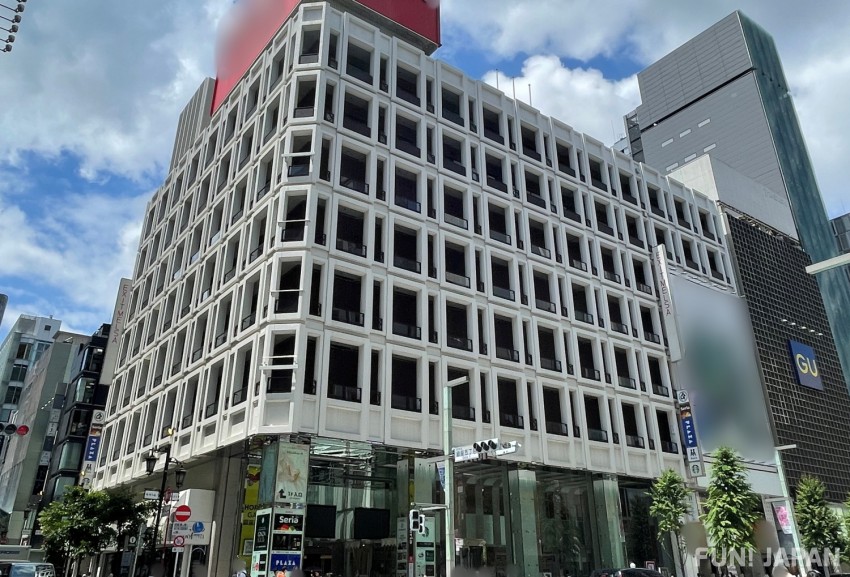 The #WORKMAN GIRL EXITMELSA store, where FUN! JAPAN went to an on-site interviewed this time, has many customers even during the day on weekdays, proving the popularity of WORKMAN products. From everyday wear to outdoor gear, high-performance and low-priced WORKMAN products are available, so be sure to check them out on your next trip to Japan!

The second installment of this project introducing new shopping spots in Ginza is about the global flagship store of DAISO, known for its 100-yen shops. It will be released on August 31st, so please look forward to it!
#WORKMAN GIRL EXITMELSA
Address: 5F of EXITMELSA, 5-7-10 Ginza, Chuo-ku, Tokyo



Access: 2 minutes walk from Tokyo Metro Ginza station A2 exit
Business hours: 11:00 am to 8:00 pm
[Survey] Traveling to Japan
Recommend