Asakusa Engei Hall: Watch Traditional Japanese Rakugo All-Year-Round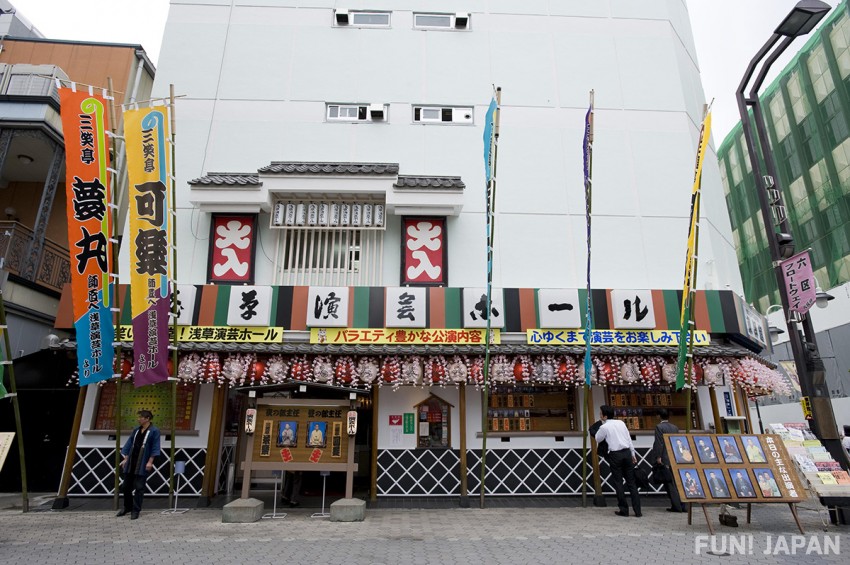 Asakusa Engei Hall is one of if not the best theaters in Tokyo to see rakugo. It hosts rakugo, manzai, magic, impressions, and skits 365 days a year. In this article, we're going to talk a little bit about Asakusa Engei Hall's history, as well as how you can go and watch one of Japan's most traditional forms of storytelling.

About Asakusa Engei Hall
Asakusa Engei Hall is one of Tokyo's "Rakugo Entertainment Halls". It has no holidays and hosts performances all year. They are more commonly known as "Yose" in Japanese. You can find more of these entertainment halls around Tokyo such as Suzumoto entertainment hall, Suehirotei, and Ikebukuro Engeijyo.
The seats within the hall are split into 2 floors. On the first floor, you'll find 239 seats, and 101 seats on the second totaling 340. If you're looking for an experience that feels closer then we recommend the first floor, but if you want to look down onto the hall from above, then, of course, take the 2nd-floor seats.
Related article: Let's Learn about Locations, Tickets, and Manners for Yose in Japan (Traditional Japanese Theaters)
Asakusa Engei Hall's History
Asakusa Engei Hall was originally built in 1964 on the 4th and 5th floors of Asakusa's "Tokoyan". During the time there were no entertainment halls in Asakusa, so it gained a lot of popularity.
Many famous names within the industry performed here, and some still do to this day.
In 1971, Tokoyan closed, and Asakusa Engei Hall was moved to the first floor of the building. It was also used in 1980 for certain television and media shows.
For example, it was the stage for the popular Japanese drama and television program "Tiger & Dragon" which has many comedians perform.
Enjoying Asakusa Engei Hall
At Asakusa Engei Hall, you can enjoy not only rakugo, but mandan (desultory conversation), kamikiri (papercutting), and much more. Furthermore, you're able to enter during the middle of performances, meaning you can drop in whenever it's convenient for you. 
However, there's more to enjoy here other than the performances, here are 2 things we highly recommend checking out.
The entrance that blends in with Asakusa's townscape
Outside of Asakusa Engei Hall, you'll find a sign with the faces and introductions of the last and next performer during both noon and evening. There is also one where you can see all of the performers and when they're going to be performing.
This sign which has the picture and name of the performers, made of wood is simple and calming, it fits right in with the atmosphere of its surroundings.
The store that sells towels, hand fans, and much more
After entering the hall, if you take a right you'll find a small store. Here you can buy some traditional Japanese items as well as original goods unique to the Asakusa Engei Hall and the popular Japanese variety show "Shōten".
You're also able to purchase sweets and bento boxes here, as well as drinks. You're able to eat and drink these within the hall, meaning you can enjoy a delicious meal and drink whilst listening to the traditional rakugo.

How to Get to Asakusa Engei Hall, Business Hours, and Entrance Fee
Address: 1-chōme-43-12 Asakusa, Taito Shi, Tokyo 111-0032 
Access: 10-minute walk from Asakusa Station using either the Tokyo Metro Ginza Line or Toei Asakusa Line
Business Hours: Noon 11:40~16:30/Evening 16:40~21:00
Entrance Fee: Adult 3,000 Yen、Student 2,500 Yen、Child(4 and over)1,500 Yen(※Prices may vary for special events etc.)
[Survey] Traveling to Japan
Recommend