Robot Cafes in Shibuya: Next Generation Technological Cafes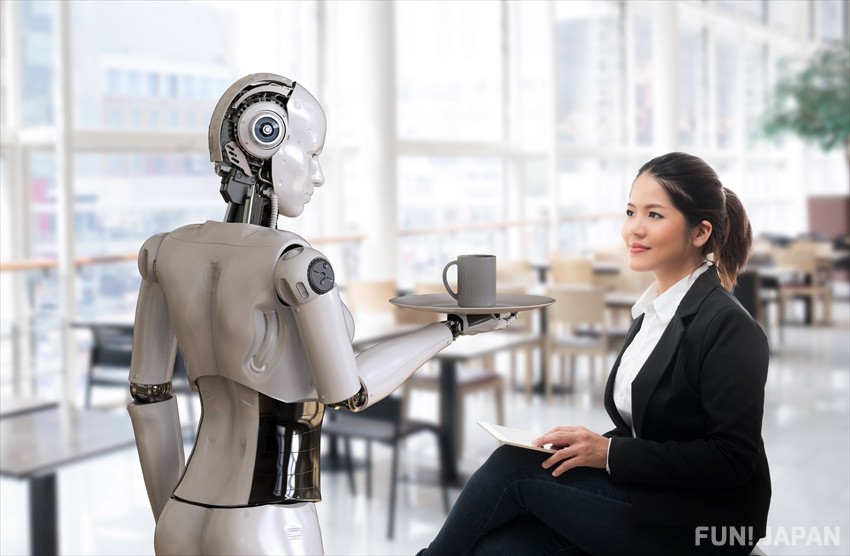 Artificial Intelligent (AI) technology and robots have been used in Japanese households for the past few years; from pet robots to cleaning robots. But in Shibuya, the most trendy and one of the busiest parts of Tokyo, you will also find robots being employed in cafes as well! Let us show you some of these so-called robot cafes around the Shibuya area!
Henn na Cafe, A Strange Café with Automated Robotic Appendages
Henn na Café (変なカフェ), which literally translates into "Strange Café", is a café situated in Shibuya that employs Tom the coffee making robot. It was opened on February 1st 2018 as a collaboration between "H.I.S." and "hapi-robo st". Claimed to be the world's first robot café without any human staff, Henn na Cafe offers light meals as well as coffee, tea, cocoa, and smoothies, but the highlight is of course, is the ability to order certain drinks directly from the automated vending machine and watch Tom making the drink!

How to Enjoy Henn na Café
Tom is the only robot in the café and he only serves two purposes; serving food and making drinks when you order through the vending machine. Light meals such as muffins and toast are available in this café, but if you want to watch Tom perform a more complex action, you should order a drink from the vending machine. The actions and time required to make drinks depend on the complexity of the drink you ordered. Authentic drip coffees may take up to 10 minutes, while simpler drink like lattes may take only 2 minutes to prepare.
Here are the steps to enjoy Henn na Café:
Place your orders at the touchscreen vending machine
Receive the QR code
Let Tom do his things
Receive your ordered items at the counter on the left
Recommended menus
For drinks, the most complicated and delicate one is probably the Authentic Drip Coffee (309 yen) which comes in two versions: iced or hot. You can see Tom doing everything, from grinding the beans, placing them on the dripping machine, and serving the items on the handing counter, with voices stating his current tasks.
For a light meal, try the store's original "Henn na Toast" (300 yen), which has an original taste that this cafe has created.
Spot Information
Spot name: Henn na Cafe
Address: B1F Shibuya MODI, 1-21-3 Jinnan, Shibuya-ku, Tokyo 150-0041
Access: Shibuya station Hachiko Exit…4 minutes-walk
Business hours:

Weekdays: 12:00 – 20:00
Weekends and Public Holidays: 11:00 – 20:00

Holidays: Closes according to the holidays of Shibuya MODI
Budget: Drink 290 – 530 yen. Light Meal 180 – 380 yen
Pepper PARLOR, Cafes Full of Humanoid Robots with Advanced AI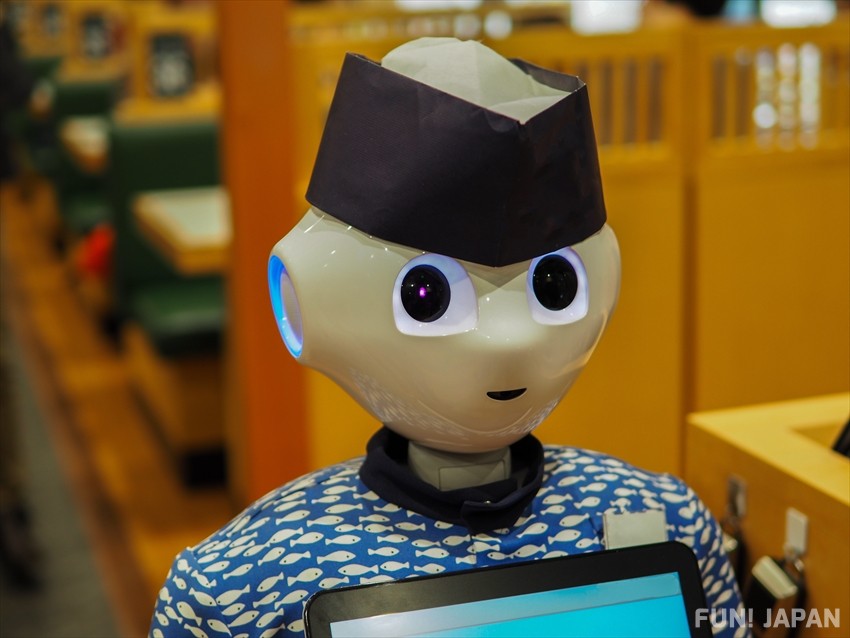 Pepper PARLOR is a café full of robots, with three different types of robots stationed in the store! The Pepper robots are known as the communication robots made by SoftBank Robotics so you may run into them in many stores and other places. Now, some Pepper robots have been programmed to serve you in the café! Pepper PARLOR opened on the 5th of December 2019 and has human staff working together with robots to make a premium café for you to enjoy!
Meet the Robots in Pepper PARLOR
With up to three types of robots stationed at the café, and still more planned to make a debut in the future, we want to introduce you to some of them and their functionalities here!
Pepper, the communication robots
Pepper robots are communication robots that can interact with visitors in many ways. From showing you the menus to making suggestions based on your facial expression and gender, talking, or joining conversation at the table, or even fortunetelling or other entertainment at the tables! Pepper can even take pictures for you too!
There are five Pepper robots stationed at the order counter, equipped with three languages, menus, and the ability to take orders and make suggestions.
There are also Pepper at the special seats where you sit and share table with Pepper, where he can entertain you and keep you company. Currently, these Pepper are only programmed with Japanese language, but there are plans to introduce Chinese and English languages in the future.
NAO, the dancing robots
NAO robots will perform delicate, precisely choreographed dances at designated times of the day. There are several showtimes in one day, but if you want to watch them dance, then you should sit at a table with a good view around the center of the store.
NAO can perform several kinds of dances, even ballet or disco! So even if you watch two showtimes, you probably will not see the same dances being repeated!
Whiz, the AI cleaning robot
Programmed with AI and self-driven technology, Whiz will perform the cleaning in the after hours, away from customers' eyes. Still, it is good to know that robots do the main work here even when no one is watching!
Recommended menus
The food offered at Pepper PARLOR exceed the definition of cafes, as you can find restaurant-level food-topping gourmet waffles following the concept of "Gourmet & Sweets Waffles Travelling the World". For example, there is a Japanese representative "Wagyu" roast beef, crispy onion waffle (2,200 yen) and Thai cuisine-taste "Green shrimp curry" waffle (1,780 yen). Yes, you read it right, they are gourmet waffles with food as toppings! But if you prefer sweet waffles, there are also choices like "Strawberry fondue, milk gelato" waffle (1,580 yen), "Banana caramelize w/ homemade peanut butter" waffle (1,480 yen) and more. You can even customize your waffle by choosing the dough and the topping yourself!
For drinks, there are many options such as juice & shakes, tea, and even premium coffee that you can expect from high-end coffee shop.
Spot Information
Spot name: Pepper PARLOR
Address: 5F Tokyu Plaza Shibuya, 1-2-3 Dogenzaka, Shibuya-ku, Tokyo 150-0043
Access:

Shibuya station South Ticket Gate of West Exit…1 minute-walk
Shibuya station Hachiko Exit…3 minutes-walk

Business hours: 10:00 – 21:00 (Last Order 20:30)
Holidays: Closes according to the holidays of Tokyu Plaza Shibuya
Budget: 1,000 – 1,999 yen
"Pepper PARLOR", the next-generation café where you can play and chat with robots in Shibuya, Tokyo

Avatar Robot café, Human-Controlled Robots Cafe Trials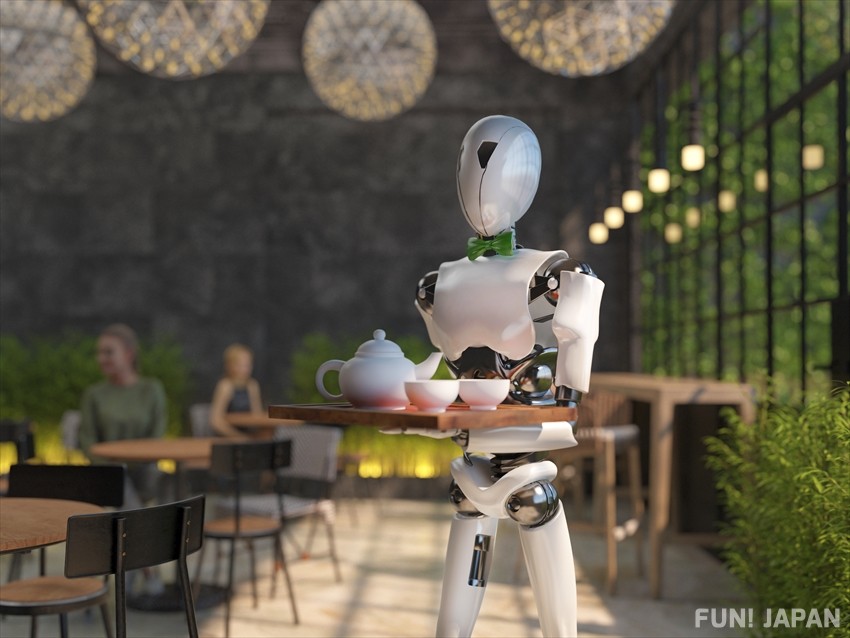 Avatar Robot café is a conceptual café that has been running trial-openings for quite some time. Its concept is to allow people with disability to work as a café's staff by operating avatar robots to take orders and serve items to the table. The café, powered by OryLab Inc. and its OriHime and OriHime-D robots, is called DAWN (Diverse Avatar Working Network) Café, and it has run a few trials.
The first trial was DAWN Café ver. β at the Nippon Foundation in November and December 2018 (two sessions, each ran for 5 days). The second trail was DAWN Café ver. β in WIRED SHIBUYA on the 9th to the 15th of December 2019, and another session between the 16th and 24th of January 2020 in WIRED TOKYO, also in Shibuya. If the concept is carried out with no hiccup, you can expect another trial or real opening in the future!
During the trail session, 120cm tall OriHime robots would walk on the designated lines on the floor to the table, take your order, and come back with the items. Since they were all controlled by real humans, the interaction such as greeting and taking orders were done just like with normal human staff.
If the concept is realized as a more permanent business style, this futuristic cafe will also let people with bed-ridden diseases such as people with ALS or people who have difficulty going outside be able to interact with others, tell or hear stories, work, and get some earnings.
※Due to coronavirus (COVID-19) and state of emergency, some of the facilities may be temporarily closed or have different hours from the hours stated here.

[Survey] Traveling to Japan
Recommend