"Pepper PARLOR", the next-generation café where you can play and chat with robots in Shibuya, Tokyo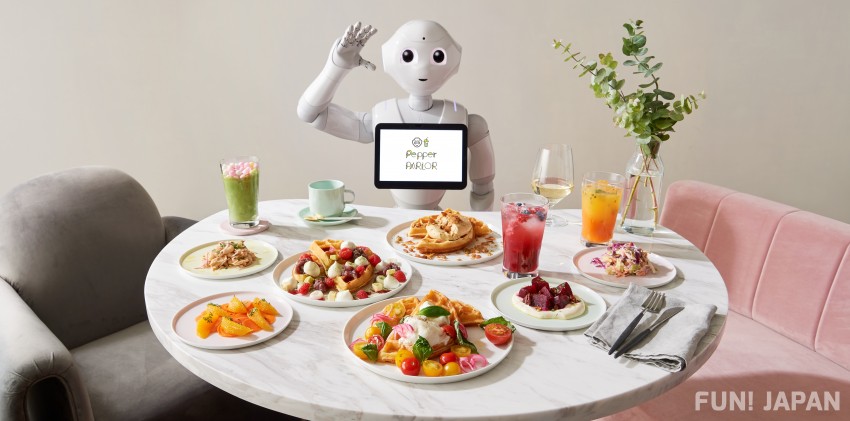 What would it feel like if the robots did all the work for the café from receiving orders to customer service and cleaning? At "Pepper PARLOR", located on the 5th floor of "Tokyu Plaza Shibuya" in Shibuya, Tokyo. The robot"Pepper" is interacting with customers and accepting orders. In addition, it is a technological café where Pepper sits and plays with you at the table. Now, what is so special about this cafe? Let's take a look with the FUN! JAPAN editorial team!

The Next-Generation Café "Pepper PARLOR"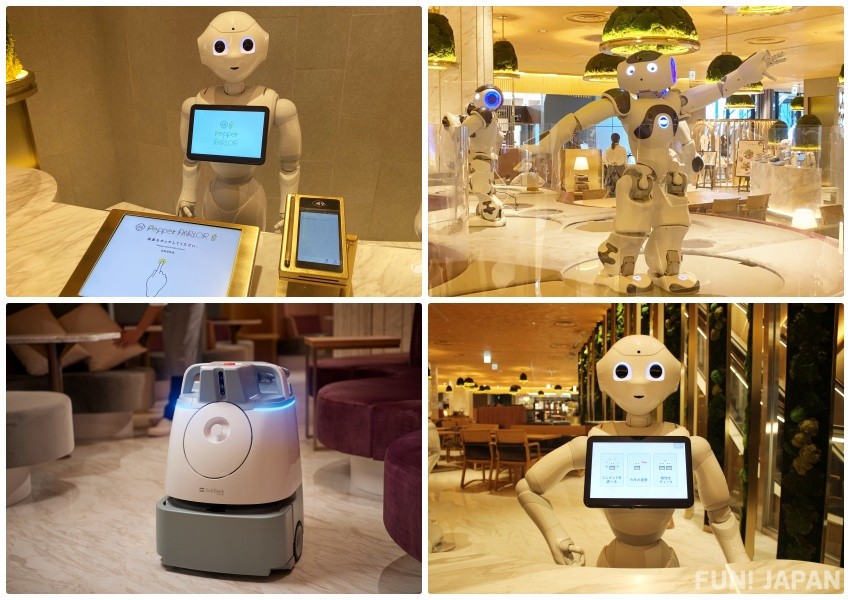 "Pepper" is a robot made by SoftBank Robotics; a friendly communication robot. At Pepper PARLOR, humans and robots work together to welcome and serve customers. In addition to "Pepper", there are the robots "NAO", humanoid robots performing dances, and "Whiz", a cleaning robot, that are also stationed in this café. However, "Whiz" only works before the opening hours, so it is difficult to see "Whiz" in action during the operation hours.
Five Peppers at the Oder Counter; Hospitality in Three Available Languages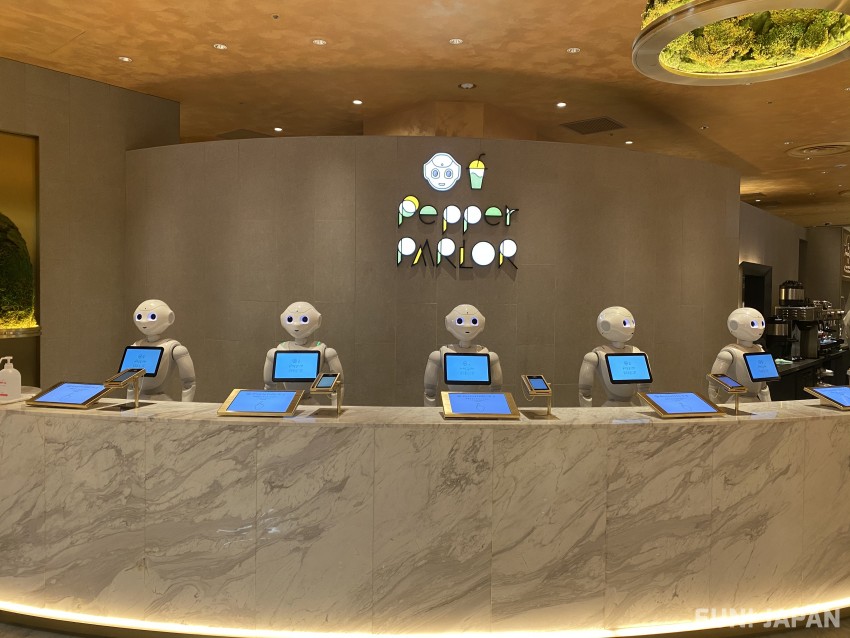 Five Peppers are lined up at the entrance to greet and accept orders. You simply place your order on the tablet, and then go to your seat. The five Peppers at the order counter speak English, Chinese and Japanese. Moreover, the menu for accepting order comes with photos of the dishes, so you don't have to worry about accidentally ordering wrong dishes. However, orders at Pepper robot can only be made by credit card, so if you want to pay in cash, please use the cash counter instead.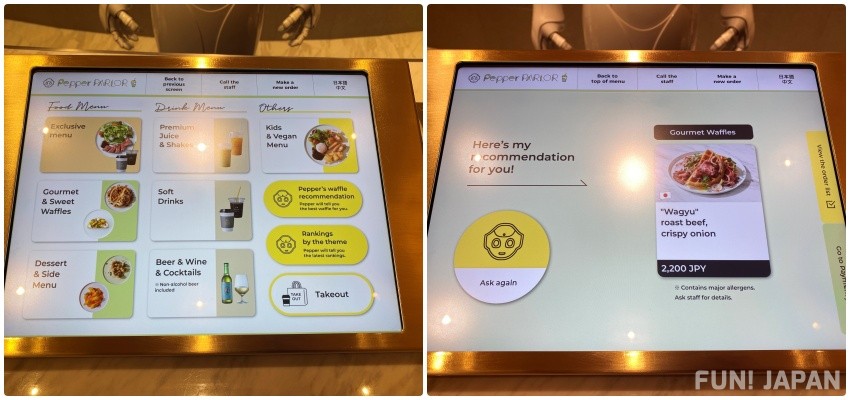 If you're unsure about what food to order, Pepper can also show you the in-store rankings, and even make recommendations. Recommendations of the perfect dish for you are made according to your gender and facial expression.

Peppers Share a Table, Chat, and Plays with You, While NAOs Dance Once an Hour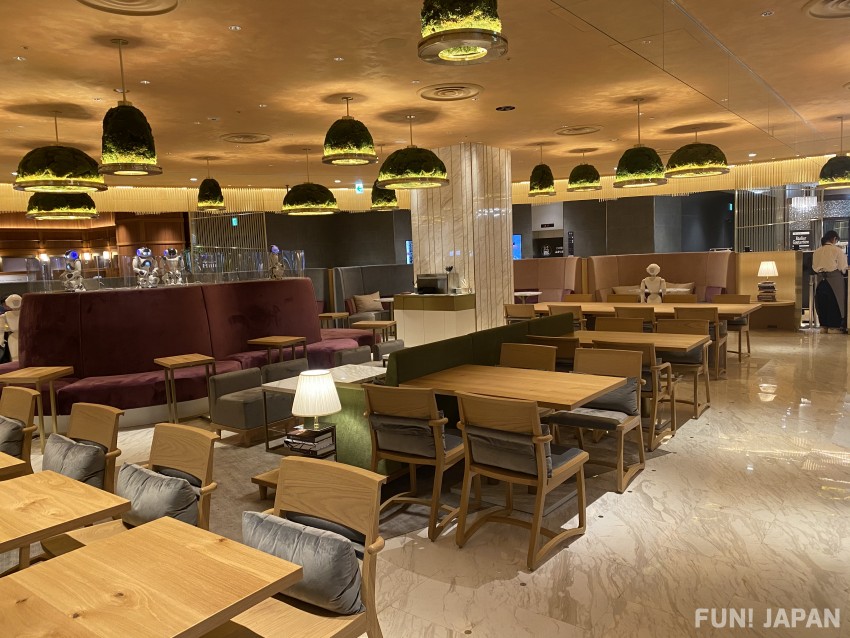 The interior of the store is designed as an open space, and the interior incorporates natural elements to create a relaxing dining space. There are various seats such as wooden table seats and sofa seats. We recommend a seat with Pepper where you can chat and play with Pepper.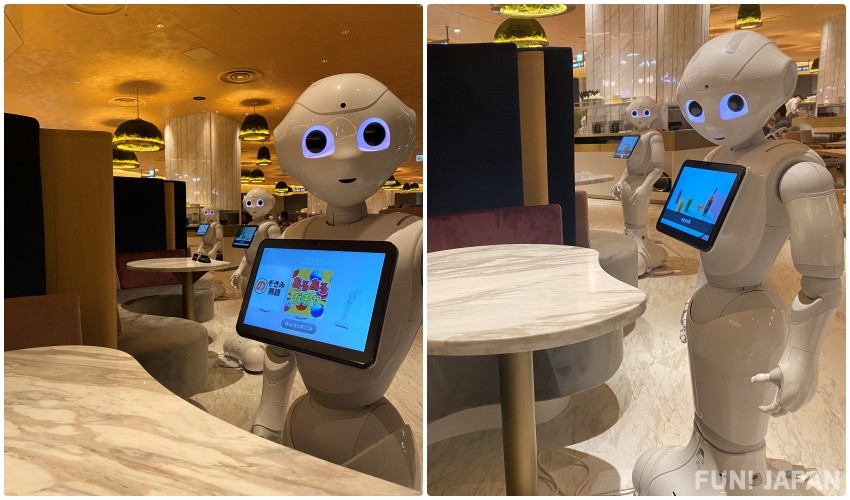 Aside from talking with customers, Seat-Sharing Pepper can also play games with customers as well. Moreover, they can also do a fortune-telling. You can have a good time with Pepper before your food arrives. Sometimes, even while you are enjoying conversation with friends, Pepper may join in and say a few words, too. Maybe he just wants to be a part in your conversation! Currently Pepper can only speak Japanese, but there is a plan to introduce Chinese and English features in the future.

Another noteworthy thing is the humanoid robots "NAO" performing dances in the middle of the store. As soon as the show time comes, NAO, who can do a variety of dances, will get on the stage and start dancing to the music. They can even do ballet and disco dances!

Not Just Topical, But High Standards for Food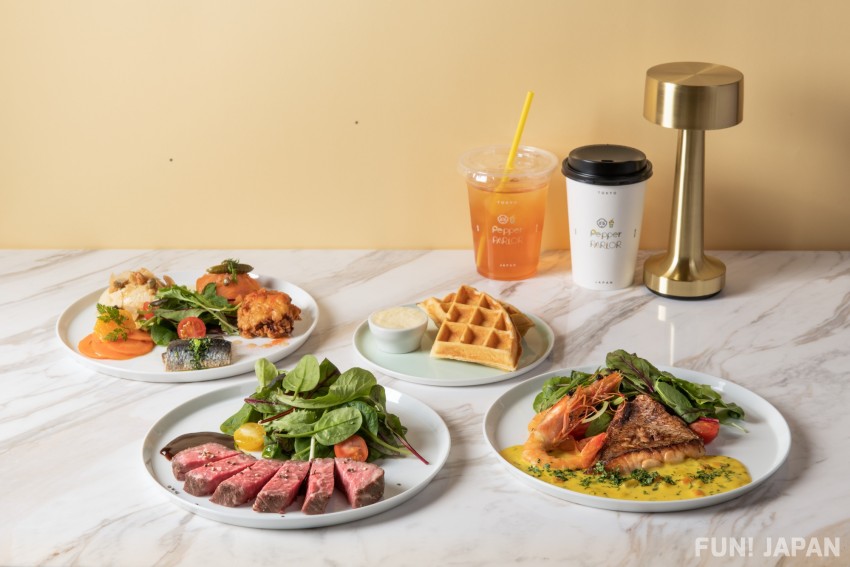 The cooking concept provided at Pepper PARLOR is "Gourmet & Sweets Waffles Traveling the World". By just eating their dishes, you feel like you're travelling around the world. In addition, there is also a lunch set and dinner set with drinks that can be selected from three types of plates: meat, fish and deli.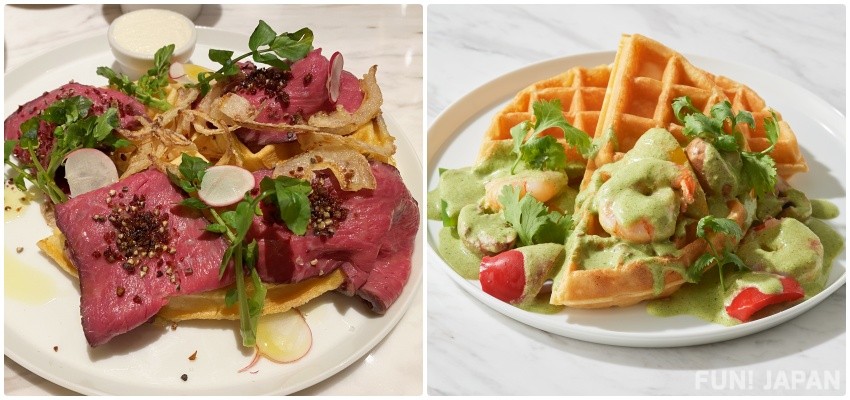 The waffles offered are handmade, all from dough to sauce, and you can choose from four different types of dough other than the classic taste. Vegan people can also taste it without worry. Of all the dishes, we especially recommend "Roasted Japanese Beef and Crispy Onion", and "Shrimp Green Curry", a representative food from Thailand. These will possibly change the impression of waffles you have had so far.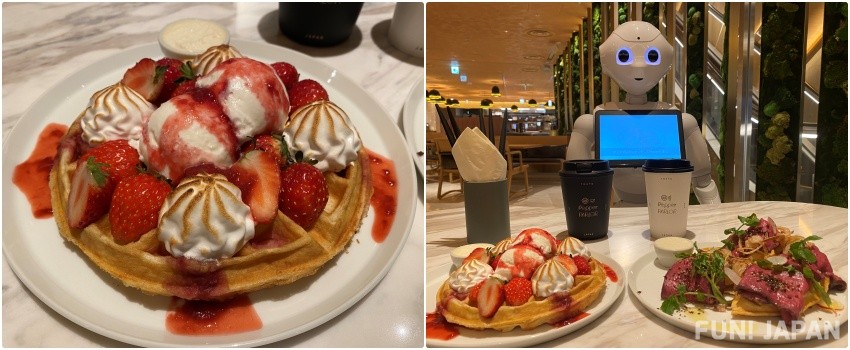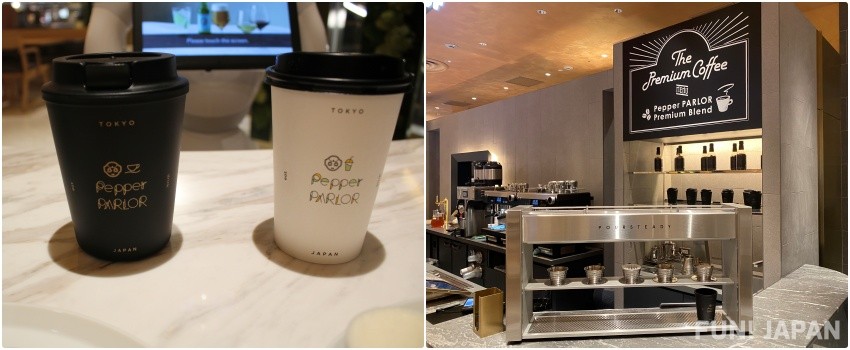 Of course, sweet waffles are also recommended. On top of "Milk Gelato and Strawberry Fondue", simply put some fresh strawberries from Japan on top and apply the store's original maple butter; the taste is so exquisite. And the coffee machine "Poursteady" here is a "coffee robot" developed by NASA robot engineers and robot experts. The original "Pepper PARLOR Premium Blend" is a selection of high-quality coffee beans by MI CAFETO, a company with high-standards for coffee beans whose mission is to "make all coffee delicious". What does the coffee brewed by coffee robot using high quality coffee beans taste like? Please visit "Pepper PARLOR" and give it a try!

Shop Information
Shop name: Pepper PARLOR
Address: Tokyu Plaza Shibuya 5F, 1-2-3 Dogenzaka, Shibuya, Tokyo
TEL: 03-5422-3988
Business hours: 10:00 - 21:00 (Last Order: 20:30)
Holidays: Closes according to the holidays of Tokyu Plaza Shibuya
Seating capacity: 162 seats
Access:

About a 1 minute walk from the South Ticket Gate on the West Exit of "Shibuya'' station on the JR Yamanote Line, the Saikyo Line, and the Shonan Shinjuku Line
About a 3 minute walk from "Shibuya" station on the Tokyu Toyoko Line, the Denentoshi Line, the Keio Inokashira Line, Tokyo Metro's Hanzomon Line, Ginza Line, and Fukutoshin Line
[Survey] Traveling to Japan