Shibuya's Koen-Dori, the Sprawling Side Street Full of Stores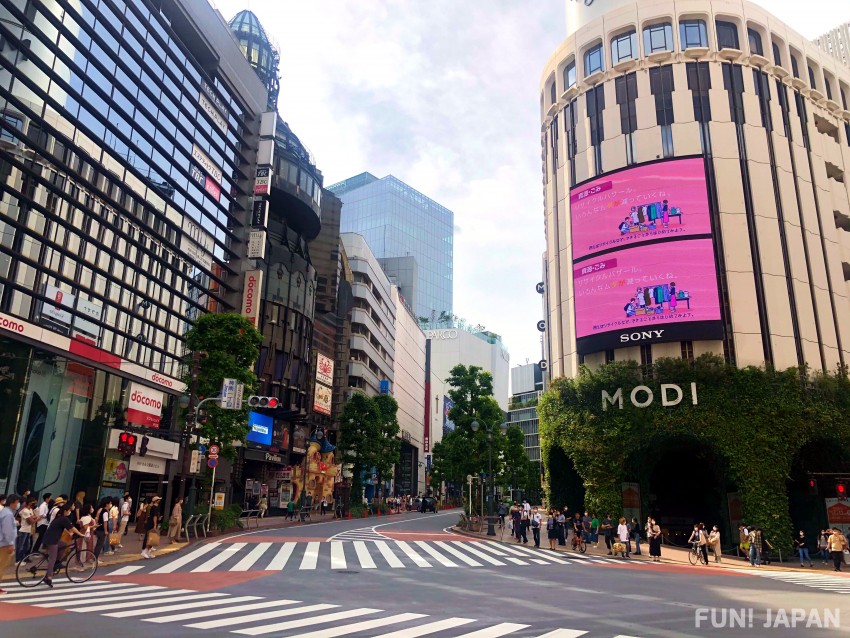 Shibuya, Japan, is large and bustling, so it comes to no surprise that there are many areas and streets to explore. On the slopes between Shibuya station and Yoyogi Park is the Koen-Dori area, or as a literal translation, the Park Street. Visit this side street for many wonders to behold, whether it be the landmarks, shops, events, or the many others!
About Shibuya Koen-dori
Koen-dori is a name for the street running from Shibuya MODI department store to Yoyogi Park, branching from Jingu-dori that runs through the Shibuya Scramble Crossing. Its length is about half a kilometre from Shibuya MODI to the intersection in which the NHK Broadcasting Centre and Yoyogi Park is situated, but it is still packed with many private and large-scale department stores. The street ends where the "Keyaki Namiki-dori" (Japanese Zelkova tree line street) begins, which goes up to the T-intersection with Inokashira street for pedestrians, with NHK and Yoyogi Park on each side.
It was previously called the Shibuya Ward Office Shopping Street (渋谷区役所通商店街), but in 1972 the name was changed with the opening of PARCO. "Parco" is an Italian word for "park" and the other end of the road runs into Yoyogi Park, thus it was named as Koen-dori (Park Street or Koen-dori Avenue)
Shibuya Koen-dori Landmarks
Despite not being directly connected to Shibuya station, Koen-dori is still filled with symbolic locations and landmarks that you can visit for some photo shoots or tourism.
Shibuya Clock Tower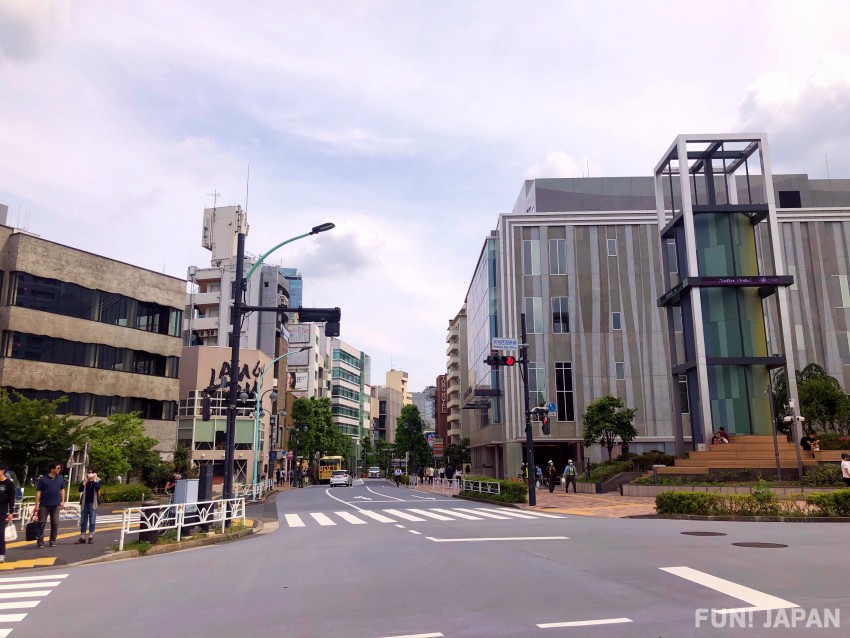 A small clock tower near the end of the street, next to LINE CUBE Shibuya (concert hall). But you probably wonder where the clock is, right? There used to be an analog clock on the tower, but now it is equipped with the LCD display in the middle of the tower, which tells the date, time, and weather.
NANAKO the cat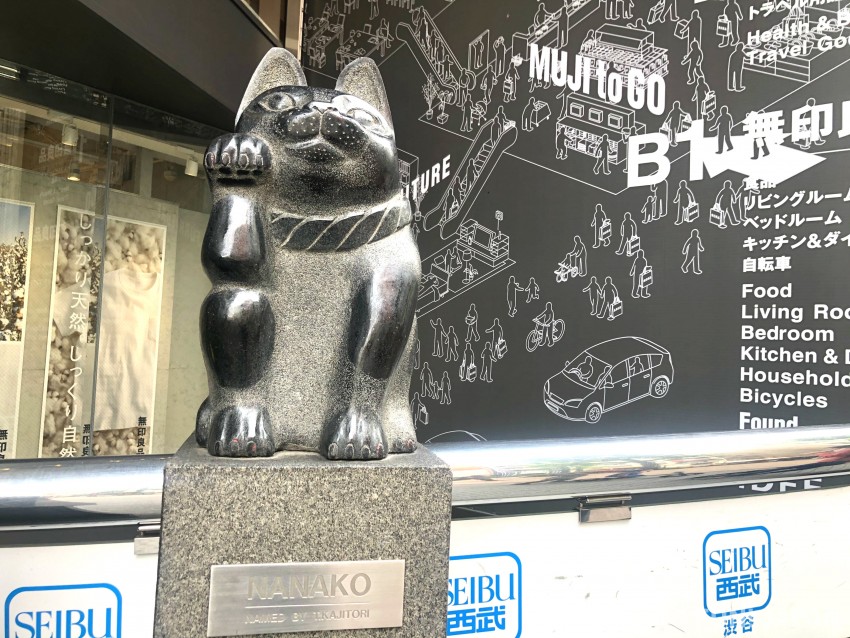 If Shibuya station's symbol is Hachiko the royal dog statue, then Koen-dori's is NANAKO the beckoning cat. Located in front of the SEIBU Movida Building, NANAKO was made in 1986 by Osaka-born artist KAWAI Ryuzo, and named similar to Hachiko; ハチ公 Hachi means eight, ナナコ Nana means seven.
Shibuya City Office
Although not located directly on the Koen-dori, the Shibuya City Office is still located on the Koen-dori area on one of the side alleys. This is the only city office in Japan that issues "partnership certificate" to promote gender equality.
NHK Broadcasting Centre
At the last part of the street on the top of the slope sits the NHK Broadcasting Centre. Some parts are open such as the NHK Studio Park for the public to make an on-site tour or buy goods at the NHK shops.
A Behind the Scenes Guide to the NHK Studio Park
Yoyogi National Gymnasium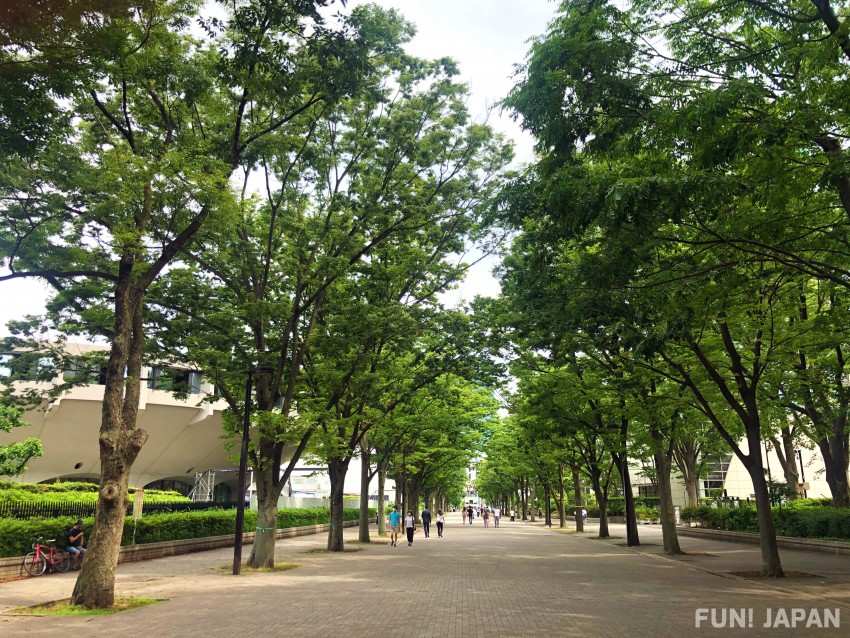 This location sits just across the "Keyaki Namiki-Dori" from the NHK broadcasting Centre, Yoyogi National Gymnasium contains two gymnasiums, the 1st and the 2nd. Both were constructed for the 1964 Tokyo Olympic, and you can expect them to be used for the 2020 Tokyo Olympic as well.
Noteworthy Locations along Koen-dori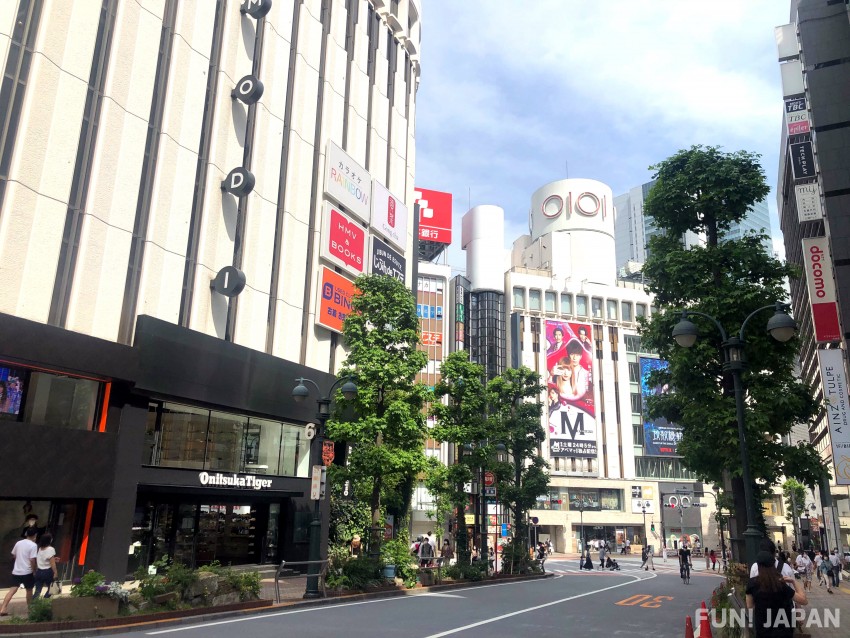 Not counting the "Keyaki Namiki-dori", the sloping Koen-dori is lined with attractive shops and restaurants that you surely do not want to miss.
Although not actually on the Koen-dori, the large-scale department store "Shibuya Marui" is located where the southern part of the street merges with Jingu-dori. Then there is the "Shibuya MODI" from the same Marui Group sandwiched by the two streets, where you can shop for many things.
Around the same area, you will find "Disney Store Shibuya" where you can find goods from Disney. Encircled around the Disney Store Shibuya are SEIBU's multiple buildings, such as Movida where NANAKO the beckoning cat statue and MUJI stores are located, B Building, and the LOFT Building. Lastly, on the intersection with Finger Avenue sits the Shibuya PARCO, the large-scale shopping center that gave Koen-dori its name.
Beside these stores, there are many private shops, selection shops, and restaurants scattered around the area, such as CA4LA (read as Kashira in Japanese), XEBIO, and so on.
Spot Information
Spot name: Shibuya MODI
Street address: 1-21-3 Jinnan, Shibuya, Tokyo 150-0041
Access: Shibuya station…3 minutes-walk
Business hours:

Shops: 11;00am – 9;00pm (11;00am – 8:30pm on Sunday and public holidays)
Restaurants: open until 11:00pm
Spot Information
Spot name: SEIBU Shibuya
Street address: 21-1 Udagawa-cho, Shibuya, Tokyo 150-8330
Access: Shibuya station…3 minutes-walk
Business hours: 11;00am – 9;00pm
Spot Information
Spot name: Shibuya PARCO
Street address: 15-1 Udagawa-cho, Shibuya, Tokyo
Access: Shibuya station…5 minutes-walk
Business hours:

Shops: 10;00am – 9;00pm (11;00am – 8:30pm on Sunday and public holidays)
Restaurants: 11:00am – 11:00pm
2020's Place to Visit in Japan 3 – Which Shops Should I Visit in Shibuya PARCO?
The Events and Festivities of Koen-dori
While rather a small area, Koen-dori consists of both Keyaki Namiki-dori and Koen-dori, and are both lively and charming with events and festivals being held regularly. Some of the noteworthy ones are introduced below.
SHIBUYA Blue Cave Illumination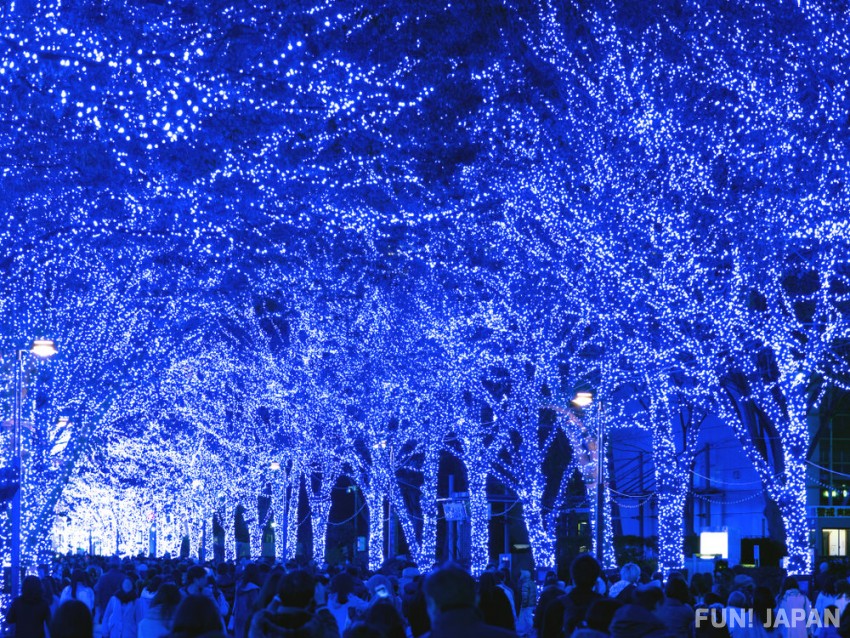 During the Christmas season, blue lights are set to illuminate the Keyaki Namiki part by wrapping around the Japanese Zelkova trees and their branches to create the visual of a blue cave. Besides this, the trees along the sloped part are also decked with blue illuminating lights as well; while not as fantastic as the blue cave, you can still feel the festivities in the area.
Furusato Shibuya Festival
A festival held locally for Shibuya citizens and those who adore Shibuya Ward in order to promote community and interaction between the dwellers and visitors. Usually held in November at the event square of Yoyogi Park. You can visit just like any other Fairs Festivals which are usually held here.
Kitaya Inari Shrine Autumn Parade Grand Festival
Known as Kitaya Inari Jinja Shukirei Taisai (北谷稲荷神社秋季例大祭) in Japanese, it is a local ceremony where a Mikoshi (portable shrine) is paraded from Yoyogi Park through Koen-dori to the Kitaya Inari Shrine. You can catch a glimpse of local tradition in the modernized Shibuya here.
Other Yoyogi Park Festivals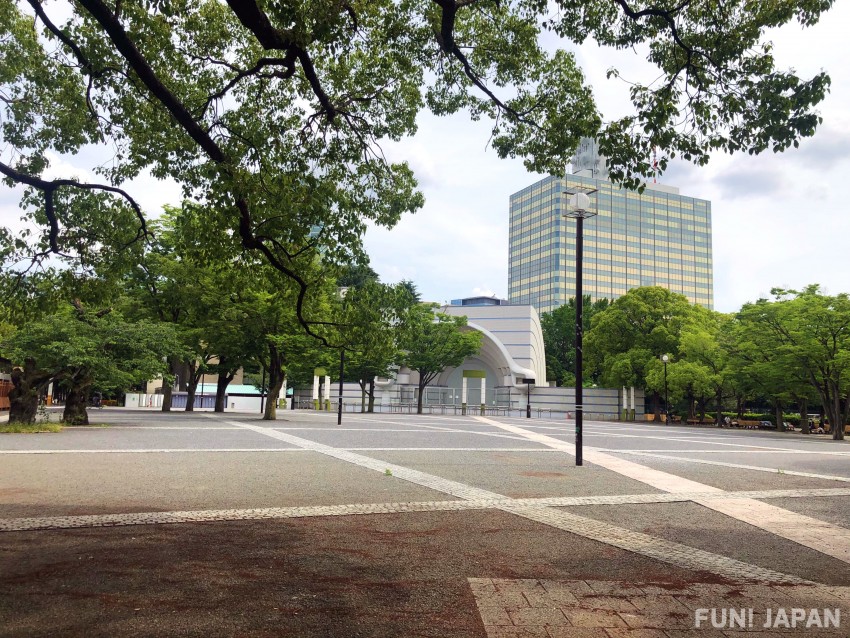 Yoyogi Park's event square is also used to hold many events throughout the year, both for other regional fairs and foreign festivals. You might even come across your own country's festival there!
Meet PETIT Koen-dori, the backstreet of Koen-dori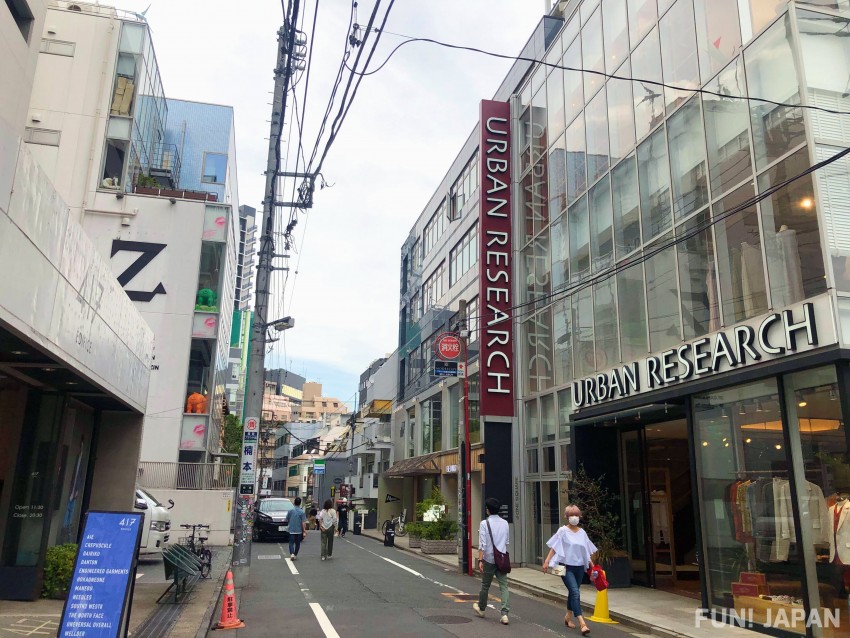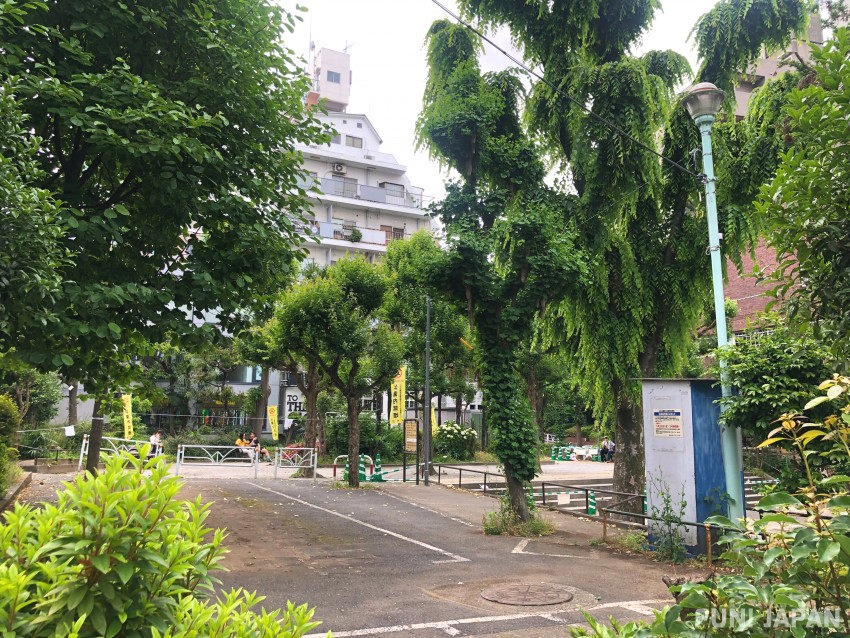 Petit Koen-dori is a collective name of the side streets and areas sandwiched between Koen-dori and Jingu-dori. There is a residential building called "Park Avenue Jinnan", which also gave the alternate name for the area. Private or stand-alone stores such as CA4LA, BEAMS, Jinnan Café are in this area. There is even a small park called Kitaya Park for the residents to enjoy.
How to get to Shibuya Koen-dori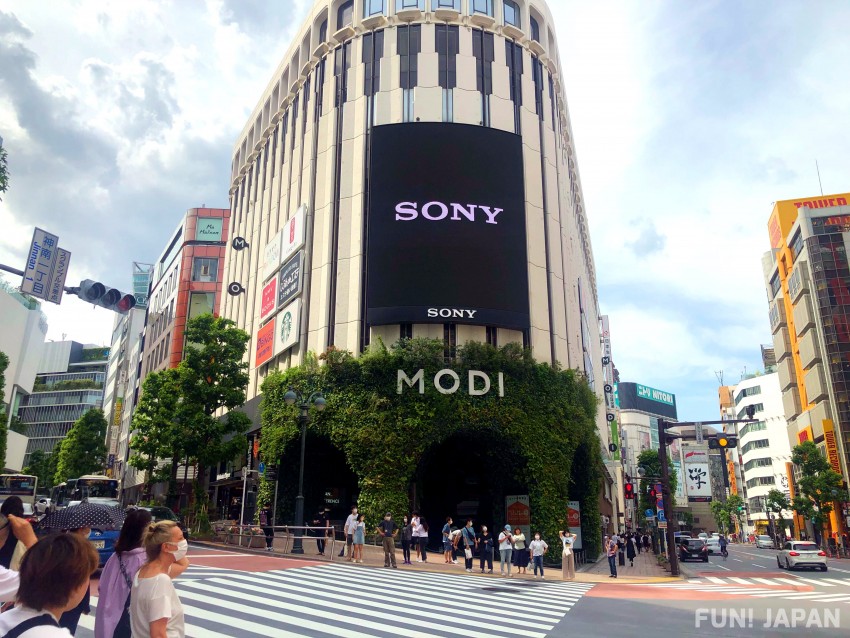 Shibuya Koen-dori area can be accessed easily from Shibuya station, which is serviced by 4 different railway companies and many lines. From the station, first get to Shibuya Scramble Crossing, and cross to the north and walk along the Jungu-dori until you see the Y-intersection with Shibuya MODI and Shibuya Marui. Continue onto the left street and you are already in Koen-dori area!
Spot Information
Spot name: Shibuya station
Access: serviced by the followings:

JR Lines:

Yamanote line (station code: JY20)
Saikyo line (station code: JA10)
Shonan-Shinjuku line (station code: JS19)

 Keio Inokashira line (station code: IN01)




 Tokyu Lines:




Toyoko line (station code: TY01)
Den-en-toshi line (station code: DT01)

Tokyo Metro subways:

Ginza line (station code: G01)
Hanzomon line (station code: Z01)
Fukutoshin line (station code; F16)
The area is also accessible from Tokyo Metro's Jingumae (Harajuku) station and JR's Harajuku station by walking through Yoyogi Koen.
※Due to coronavirus (COVID-19) and state of emergency, some of the shops and restaurants may be temporarily closed or have different hours from the hours stated here. Many events are postponed or canceled as well.

[Survey] Traveling to Japan
Recommend