Popular café! Let's go to Pokemon Cafe! 【Recommended menu & drinks】
Pokemon is now well-known worldwide. An official Pokemon cafe has been opened in Nihonbashi, Tokyo in March 2018. Nihonbashi is the place where the first Pokemon Official Shop has been opened in 1998. In Pokemon cafe, from the dishes served to the interior, all of them are nicely decorated with Pokemon motif. Today we are going to introduce the charm of this café which are fully decorated with Pokemon, and also the popular menu served here!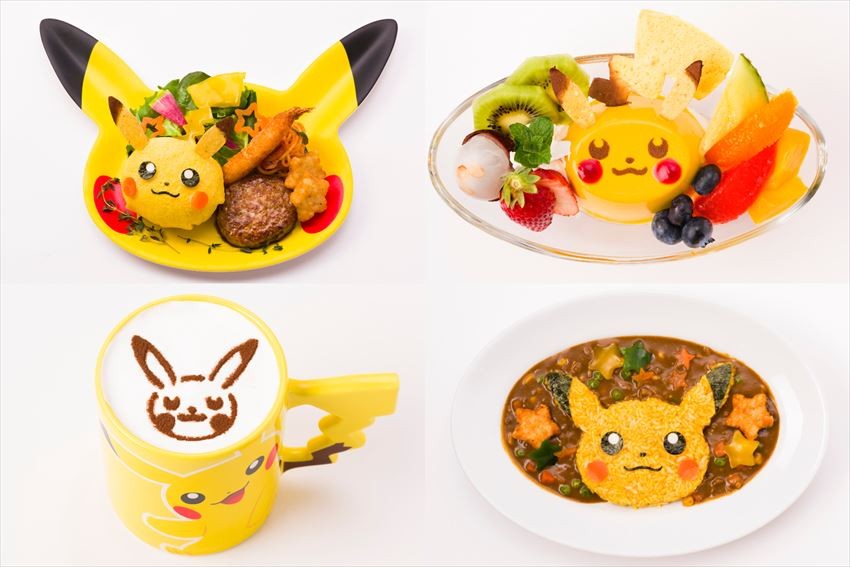 There is also a Pokemon Center at here! The scale of the center which combined with Pokemon café is the largest!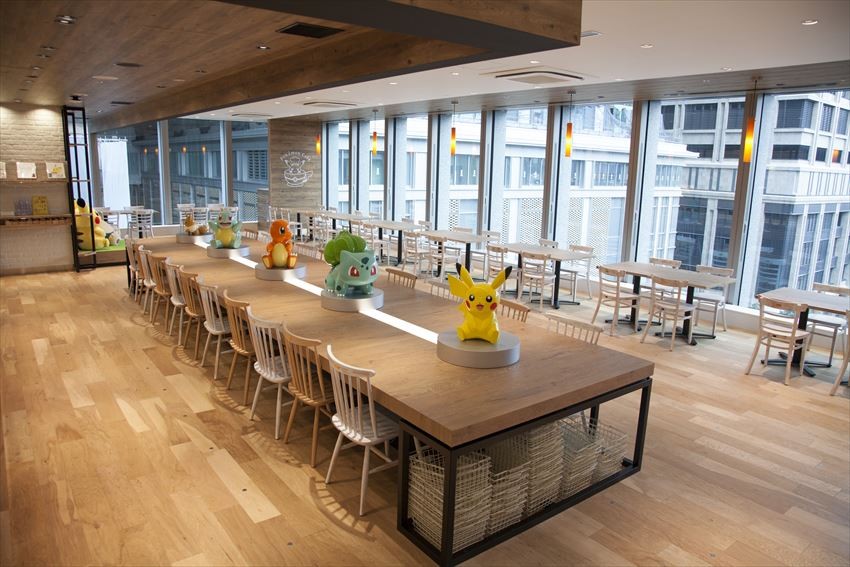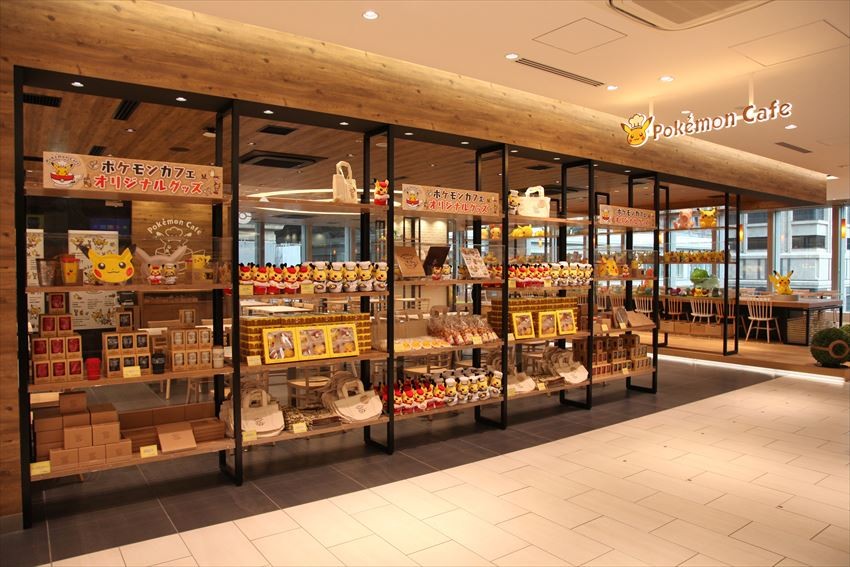 The Pokemon Café is located at 5th Floor in Nihonbashi Takashimaya S.C. East Building. The Pokemon Center is also located just beside the café as a "Pokemon Center Tokyo DX & Pokemon Cafe" with the area of 1,320 square meters. It is said to be the largest Pokemon Center in history. When you arrived at the 5th floor using the elevator, you are welcomed by Kabigon(Snorlex), Pikachu and Mew. There are many people taking a photo in this area. The right side is the Pokemon Cafe.
The interior of the shop is built in woody impression, and there are 5 Pokemon Statues of Pikachu of Fushigidane(Bulbasaur), Hitokage(Charmander), Zenigame(Squirtle) and Eevee which are sitting at the counter type table. Besides, you can see that the potted plant placed as an interior is shaped the monster ball, and the uniform of the staff which are decorated with the monster ball, etc. In addition, there is a luncheon mat placed on each seat, it depends on your luck for which luncheon mat you manage to get. There are about 151 kinds in total. You can order the menu by using a tablet. The tablet can support in English and Chinese as well.
Advance reservation system through the internet! Please reserve earliest as possible once your schedule is fixed!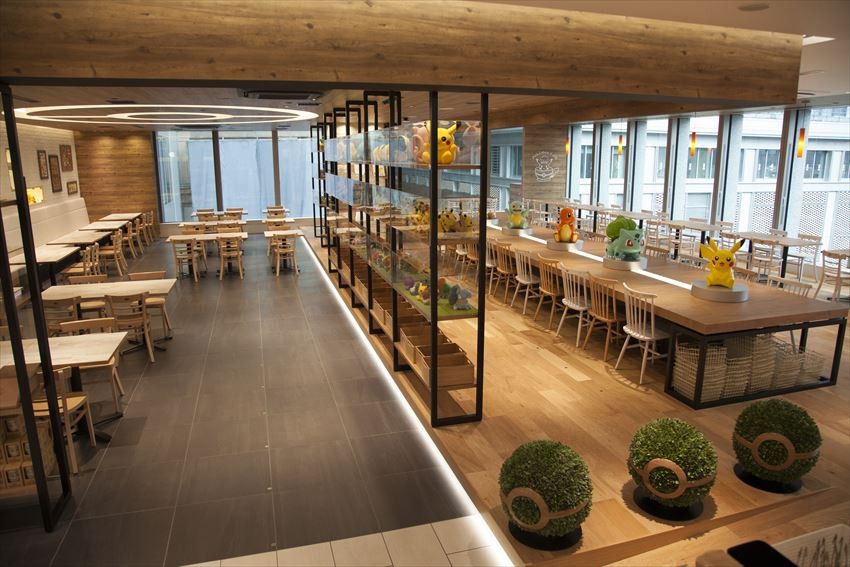 You can do reservation of Pokemon Cafe in advance. The online reservation is available one month in advance, therefore it is recommended for you to make an internet reservation earlier if you are planning to visit Japan.
There are two conditions need to be fulfilled. First, it is compulsory for every customer to order more than one menu for each person during their visit, and the second condition is there is a restriction of 90 minutes per entry. Also, when you wish to cancel the reservation please cancel through Internet latest by 22:00 on the day before the reservation date, or you may contact the store via telephone at 03-6262-3439.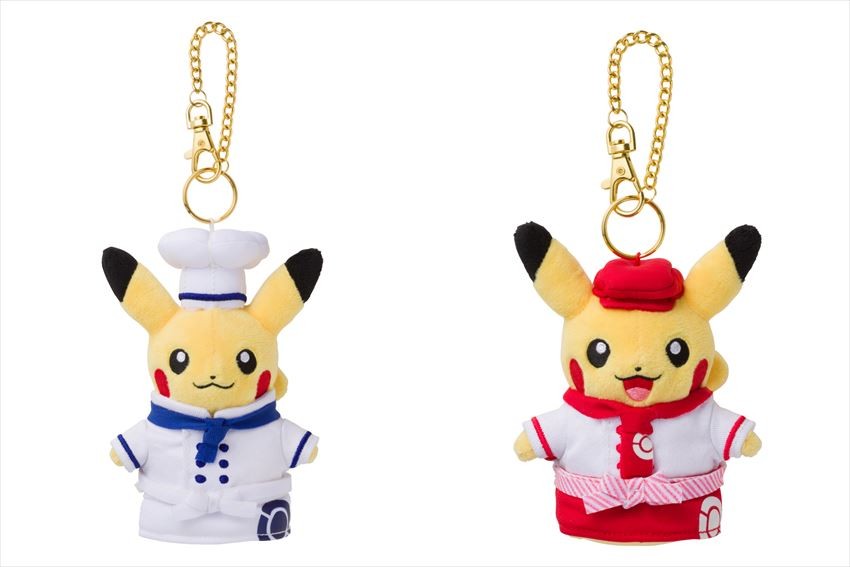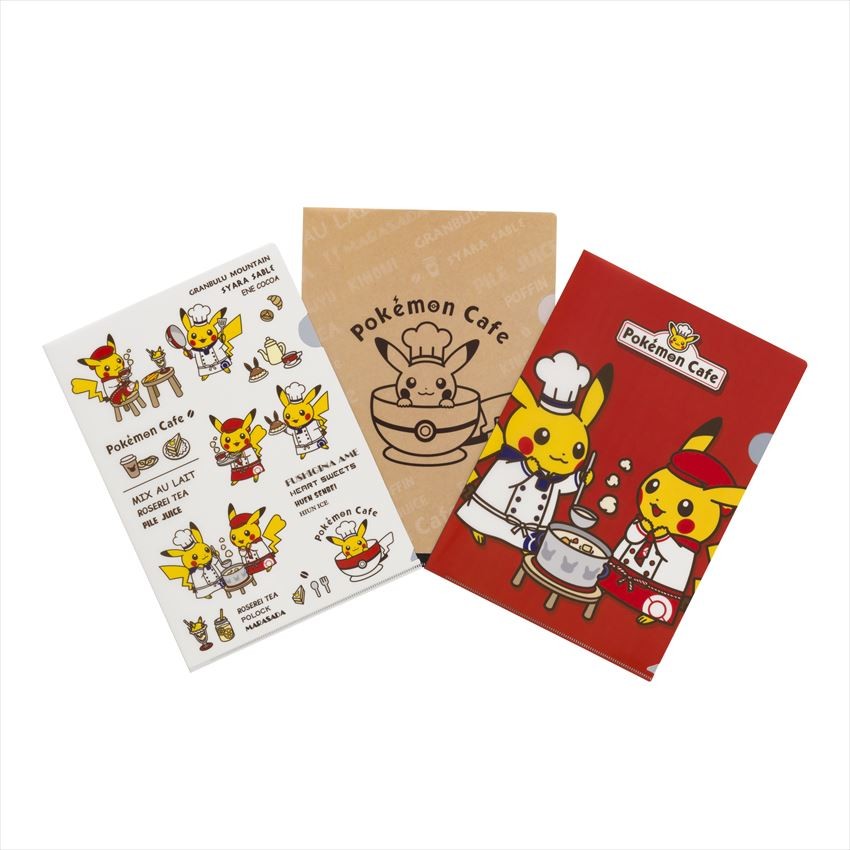 There are also "reservations with benefits" available with a special free gift such as chefs and waitress' Pikachu mascot (Picture above, 1,620 yen included tax), 3 clear files set (Picture below, 756 yen included tax). Please take note that credit card payment is required during reservation.
Popular menu Part 1
Pikachu's yokubari plate 1,706 yen (tax included)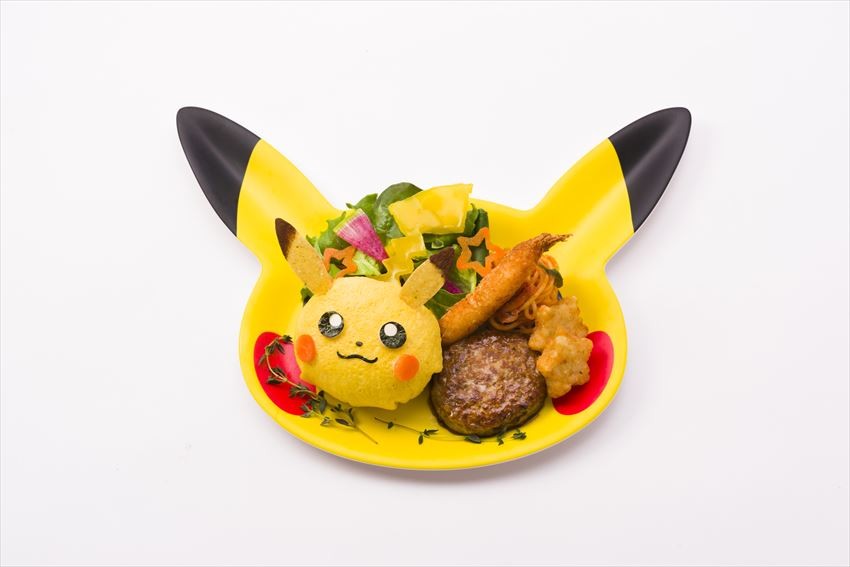 This is a menu where fried shrimp, hamburger, spaghetti, salad, star shaped fried potatoes, cute Pickachu shaped omelet rice, etc served gorgeously on a Pikachu plate. If you look closely, you will see the cheeks of Pikachu is made by carrot. What an ingenuity menu! Even the cute plate is original design of Pokemon Cafe, and you can bring it home if you order the set of "Pikachu's Yokubari Plate with Pikachu Plate 2,894 yen (tax included)".
Popular menu Part 2
Energetic Pikachu Curry 1,598 yen (tax included)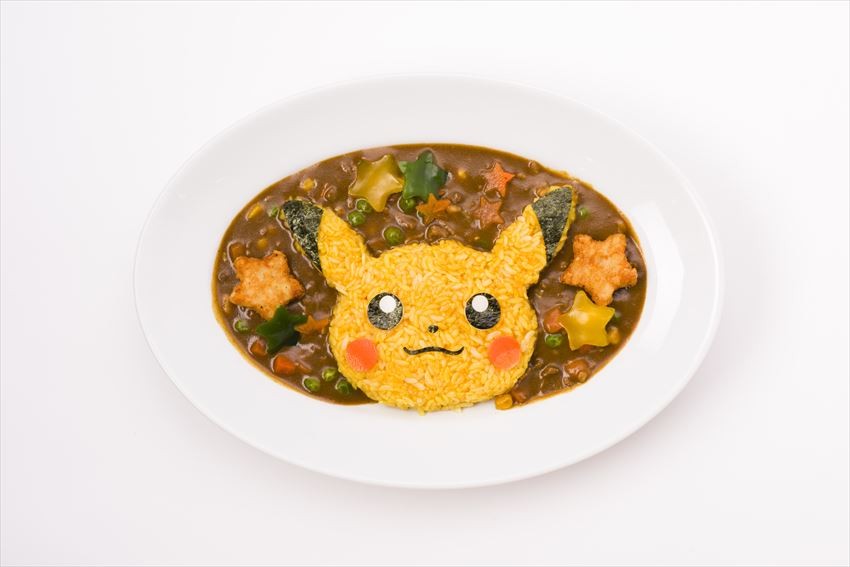 This is a curry menu with impressive Pikachu shape. Various ingredients such as green peppers, onions, carrots, and hashed potatoes are made in cute star shape. The curry gravy isn't too spicy or too sweet, and children who do not like vegetables will also enjoy this dish happily.
Popular menu Part 3
Eevee's Teriyaki Chicken Burger 1,706 yen (tax included)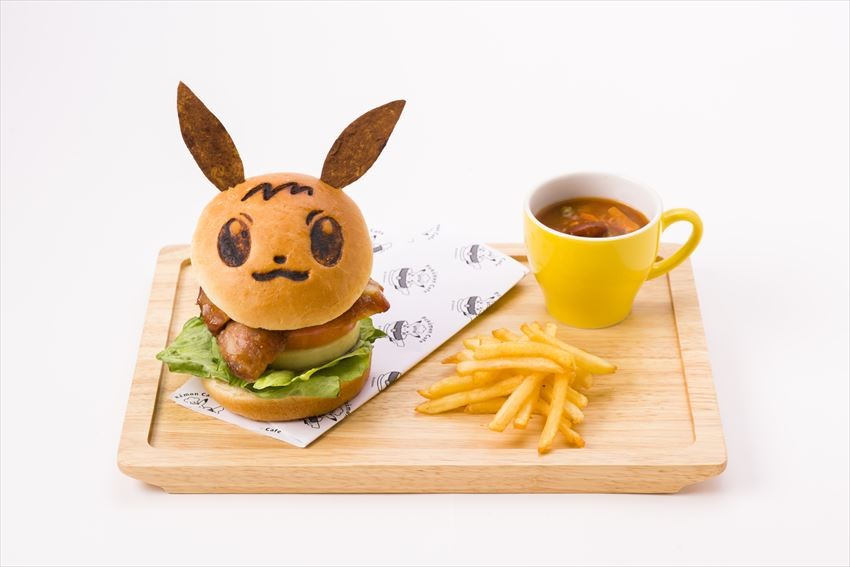 This is a set of Eevee's hamburger with the plenty volume of chicken, tomato, onion, lettuce, and served together with potatoes and minestrone soup. Even the paper that wraps a burger also has a Pokemon Cafe logo and it is really so cute!
Popular menu Part 4
Carbonara of hiding Pikachu 1,598 yen (tax included)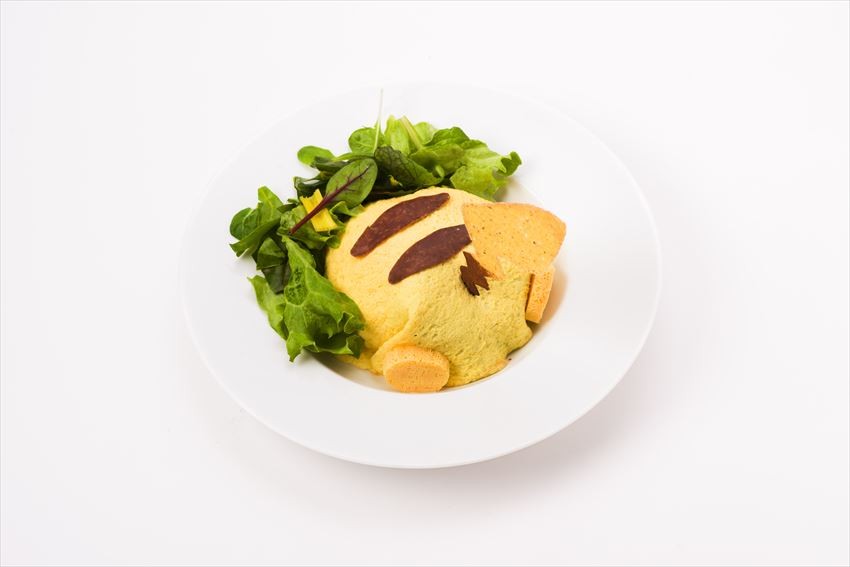 This is a spaghetti menu with the theme of "Carbonara of hiding Pikachu". From grassy (salad), you can see Pikachu's buttock and tail. The hot Carbonara spaghetti with plenty of ham and mushroom is covered under the egg. Pikachu's feet are tamagoyaki (Japanese fried egg). Even the tail also looks so real!
Popular menu Part 5
Pudding alamode of Pikachu and variety of fruits 1,382 yen (tax included)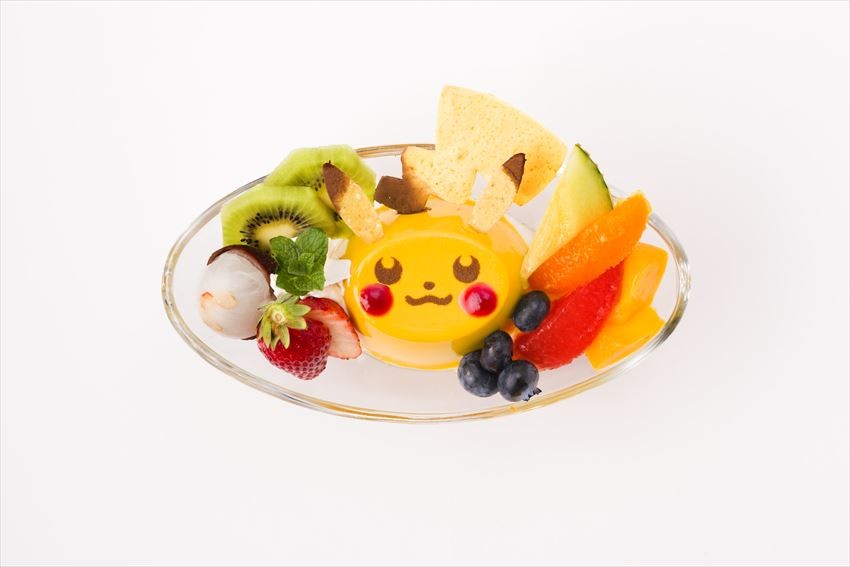 This is a pudding alamode with plenty of fruits such as strawberry, blueberry, kiwi, melon and grapefruit. The face of Pikachu at the middle is mango pudding, and the taste is so smooth!
Popular menu Part 6
Pokemon Cafe fruit pancake 1,706 yen (tax included)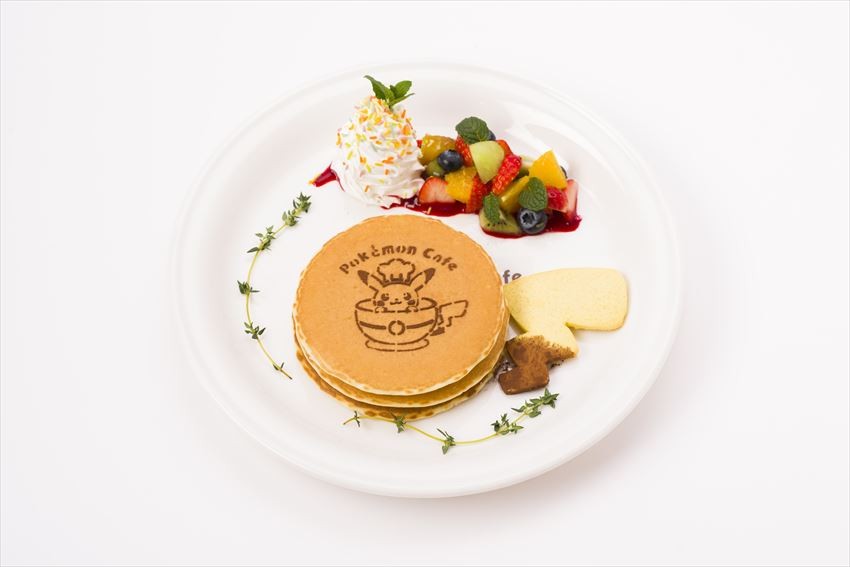 This Pokemon cafe original pancake is served with cut fruits of strawberry, kiwi, blueberry, etc., and whipped cream. The logo of Pokemon Café is drawn on the top surface of the pancake with cocoa powder. Pikachu's tail is made by cookie. The volume of 3 pieces Pancake is satisfying! Pour the syrup and enjoy!
Popular menu Part 7
Mimikyu's choco banana crepe 1,598 yen (tax included)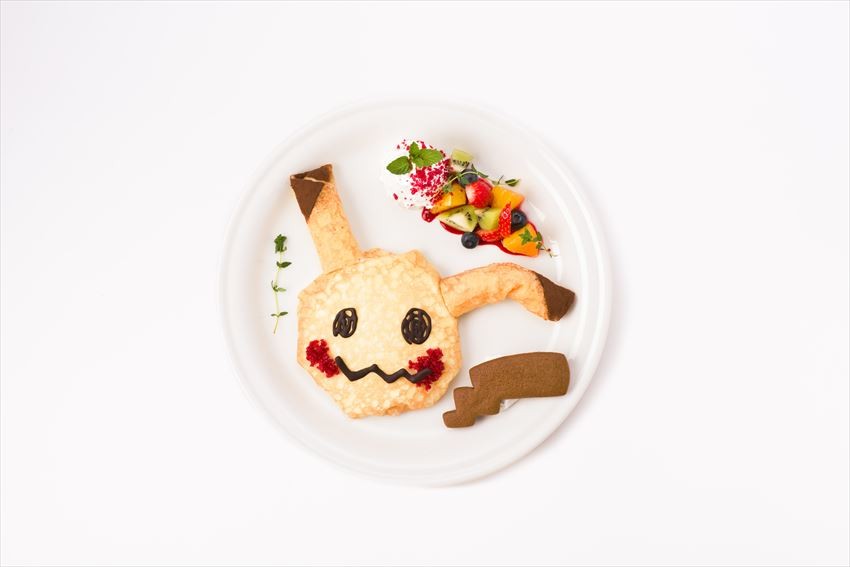 Crepe with the shape of Mimikyu. Mimikyu's ears are banana wrapped with crepe, while face, eyes, and mouth are made by chocolate, and cheek is made by berry's jam. Besides, the crepe is topped with cut fruit, whipped cream, and there is also a tail which made by cookies.
Popular drink Part 1
Furifuri Mix Au Lait Berry 1,080 yen (tax included)  (upper left picture)
Furifuri Mix Au Lait Chocolate 1,080 yen (tax included)  (upper right picture)
Pikachu Latte (HOT) 864 yen (tax included)  (lower left picture)
Pikachu Latte (ICE) 864 yen (tax included)  (lower right picture)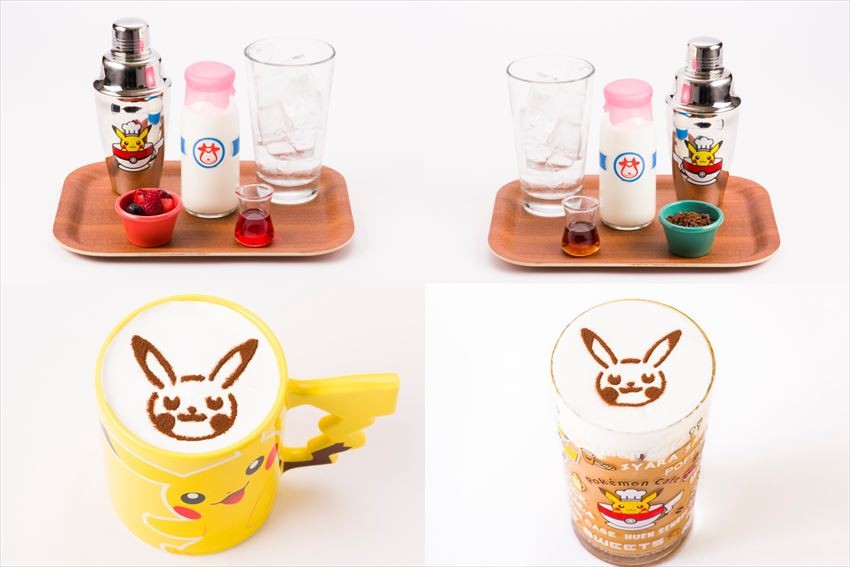 Mix Au Lait which can be made at the spot. It is so easy to make it. You just have to pour the Momo Milk and syrup in a special shake cup, close the lid and start to shake it! Then pour it to a drinking cup and put in the berries to complete it! You do not need to worry as the cafe staff will make it together with you. Besides berries, there are other flavors available such as chocolate and fruits.
Another recommended menu is "Pikachu Latte (HOT)" which is served with Pikachu's mug. In addition, Pikachu is drawn in latte art. If you want to bring back the mug, you may order the set of Pikachu Latte (HOT) with mug at 1944 yen (tax included). Besides, Pikachu Latter (ICE) is also available! Also, if you order a drink, you can get one coaster (random). Please look forward for which Pokemon you get!
Popular drinks Part 2
Metamon's Transformed Fruit Tea 918 yen (tax included)
This is a beautiful fruit tea with 3 layers and is made by red tea, syrup, etc. Stir the fruit tea well and enjoy the change of taste, just like the transformation of Metamon! It looks colorful and impressive! The Metamon which attached to the straw is also cute.
Store information
Store name: 

Pokemon Cafe



Address: 

〒103-0027 

11-2, Nihonbashi 2-chome, Chuo-ku, Tokyo 

Nihonbashi Takashimaya S.C. East Building 5F



Telephone number: 

03-6262-3439



Business hours: 

10:30〜22:00




Last order:

Food/dessert:  21:00
Drinks: 21:30

Fixed holiday: No fixed holiday
Access


-5 minutes on foot from JR "Tokyo Station" Yaesu North Exit
-Tokyo Metro Ginza Line / Tozai Line "Nihonbashi Station" Exit B2
-4 minutes on foot from Nihonbashi station of Toei Subway Asakusa Line
[Survey] Traveling to Japan
Recommend