Other Article / Event,Exhibition
The Best Places in Japan to Visit in September!


September is one of the best times of year to visit Tokyo, Japan. The Summer heat starts to cool down around this time and there are a lot of things to see and do. Let us show you some of the cool things, events, and places to visit in Tokyo in September!

The Traditional Festival "Daradara Matsuri"
September 11th to 21st, 2017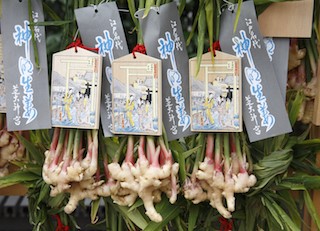 Shiba Daijingu or Shiba Shrine which has more than 1,000 years of history, holds the autumn festival every year for 11 days in continuation. You will be amazed with more than 20 portable shrines gathering to the shrine. During the festival, lucky food, gingers are sold. It is said that eating gingers makes you healthier.
Access: 1 minute from Daimon Station of Ooedo line, 5 minutes from Onarimon Station or Shibakouen Station of Mita line, 10 minutes from Hamamatsucho Station of JR line.

Nezu Shrine Festival – Nezu, Tokyo
September 16th – September 17th, 2017
Take a break from the city and enjoy a more cultural side of Tokyo at the Nezu Shrine Festival in September. Mikoshi (Portable shrines) will be out on display with Japanese street food shops. Here you can also walk through many Torii (Red gates) that are beautiful to see.

Sumo Autumn Basho – Ryogoku
September 10th – September 24th, 2017
September is the perfect to visit for those that love Sumo! The last professional Sumo tournament of the year will take place over 15 days at Ryogoku, near the center of Tokyo. It starts from early in the morning to late at night, so you have a great chance to see some amazing matches!
Tokyo Game Show - Makuhari Messe
September 23rd – September 24th, 2017
Makuhari Messe is a convention center that is only 45 minutes away from central Tokyo. They have a TON of events happening all year long, but if you go during September, you can check out the Tokyo Game Show!
Tokyo Game Show let's visitors check out the newest and best games before they come out to the public! You can also shop and pick up some cute items from your favorite video games. It can get really crowded sometimes, so we recommen you go early!
ECO EDO Nihonbashi Art Aquarium 2017 –Edo Kingyo no Ryo- & Night Aquarium
Till September 24th, 2017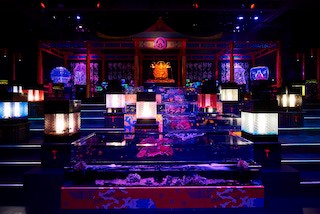 In past few year, Art Aquarium became a regular summer event in Nihonbashi. This year, "Ryugujyo (an imaginary castle of Japanese old fairy tale) is the concept and "Tamaterium" shows about 8,000 fishes including gold fishes with beautiful lighting, videos and music, which makes fantastic atmosphere.
Also, you can enjoy it with a drink from 7p.m. every day, which is called "Night Aquarium". Some special events of Japanese traditional play are also scheduled during the event term.

Place: Nihonbashi Mitsui Hall
Time:11:00~23:30(Final Entrance 23:00)
Acess: Higash Nihonbashi Station or Mitsukoshimae
Fee: 1,000yen
Fukuro Festival – Ikebukuro
Late September
Japan is all about festivals! One of the funnest festivals during September is the Fukuro Matsuri (Festival) that is held in late September in Ikebukuro. Here you can watch while hundreds of locals carry huge Mikoshi (Portable shrines) all throughout the streets. There is chanting, there is music, and everyone can have a great time.
While you are at this festival, you can enjoy the Japanese Yatai (Street Food Shops) which sell all sorts of Japanese street food like yakisoba, takoyaki, and kakigori. The last one is shaved ice which is extremely satisfying during the summer heat as you enjoy the festival games and dances!
Fireworks Aquarium by NAKED
Till October 1st, 2017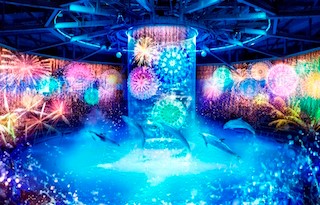 The collaboration with Creative Organization NAKED, Aqua Park Shinagawa presents you the special fireworks with projection mapping and digital arts. The dolphin performance "Hoshi Hanabi or Star Fireworks" shows you digital fireworks with music, light, videos and dolphins' dance. At the café bar in the aquarium, you can enjoy limited 3 kinds of drinks which are made after the fireworks.

Time: 10:00〜22:00 *Sunday and national holidays 16:00〜21:00
Access: Shinagawa Station of JR line
Fee: 2,200yen
*On Fridays, fee is 2,700yen
Fireworks All Over Japan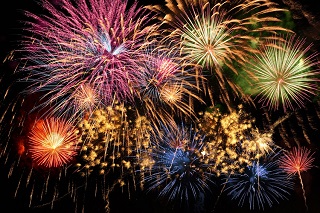 From summer to autumn, more than 1200places all over Japan hold fireworks events. Fireworks masters' techniques and unique design or tricks amaze so many people. Here is the calendar and map of fireworks held in 2017. Let's enjoy Japanese summer!
Japan's Fireworks Calendar From July to October in 2017 & Map