Day Trip from Tokyo! 5 Selections for Nagashi Somen (Flowing Noodles) Experience
One of the summer fun in Japan, "nagashi somen" or "flowing noodles" is a summer activity where somen (noodles) are flowed in water through a long bamboo tube divided in half and people use chopsticks to catch and eat the noodles. Let's have a pleasant experience with catching the somen flowing in bamboo and eat!
[1] When did "nagashi somen" started?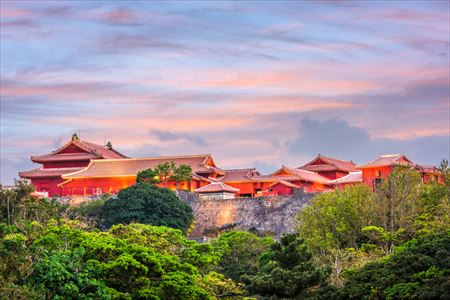 There are different tales, but it is said that nagashi somen started as a reception entertainment in Ryuku (present Okinawa prefecture) during Edo period. People flowed somen in clear water from the cliff and picked them and ate for excitement as well to taste the cooling sensation.
[2] How to eat nagashi somen?

It is simple. Just catch the somen in front of you with chopsticks, then dip them in the pre-distributed soup base (tsuyu) and eat.
However, here are a few rules:
1.As a respect to those eating at the lower part of the bamboo, one should not soak the chopsticks in the water. Catch the flowing somen and eat.
2.It is easier to pick the somen by inserting the chopstick perpendicularly to the flow of somen.
3.Scoop the somen and dip them into the soup base and then slurp.
[3] Where can we eat nagashi somen?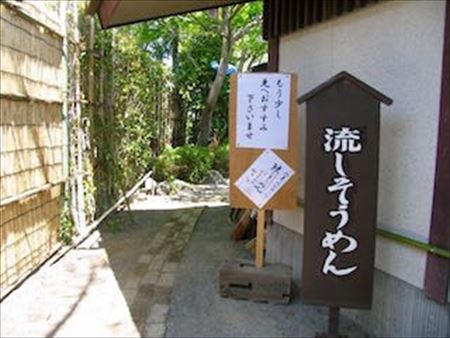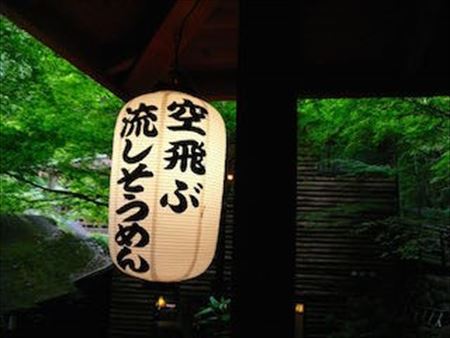 To be frank, you can't have nagashi somen anywhere. Here are a few restaurants nearby Tokyo where you can have the nagashi somen.
1. Funa Yado (鮒宿)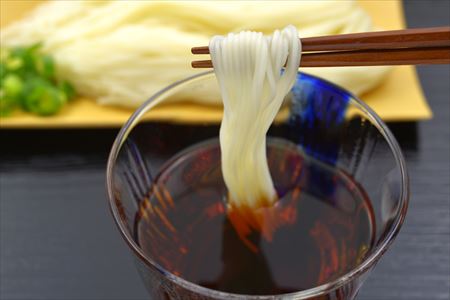 A place where you can enjoy the rare nagashi somen in Tokyo. A restaurant with a feel of rural old house style. Enjoy the nagashi somen on a tatami seat. The somen comes with tempura and chilled tomatoes. Time limit is 90 minutes but that is sufficient for you to fully enjoy.
鮒宿 Funa Yado
Address: 2-4-2 Kikunodai, Chobu, Tokyo
Access: 5-minutes' walk from Shibazaki Station, Keio-line
Tel: 042-483-3053 (Reservation required)
Opening time: 111:00~16:30 on Saturday, Sunday and public holidays
Price: 1600 yen
Period for nagashi somen: 24th Jun – End of September
2.Hana no Omotenashi Choseikan, Nagashi Soumen Sho (花のおもてなし 長生館 流しそうめん処)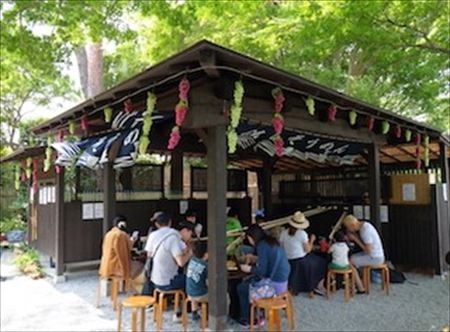 Enjoy nagashi somen at the site of the ryokan (outdoor) with more than 100 years' history. The ryokan was founded in 1915.
Nagashi somen is served as all-you-can-eat. With long onions, agetama (crunchy bits of deep fried flour batter), oba (perilla leaf), wasabi, and ginger condiments. You can also enjoy the lovely scenery of Chichibu.
花のおもてなし 長生館 流しそうめん処 Hana no Omotenashi Choseikan, Nagashi Soumen Sho
Address: 449 Nagatoro, Nagatoro-cho, Chichibu-gun, Saitama-ken
Access: Takasaki line, Tobu Tojo line, Seibu Ikeburo line. 3-minutes' walk from Nagatoro Station
Tel: 0494-66-1113 (We do not accept reservation)
Opening Time: 11:00~15:00, Until 19:00 in August (except 8/15)
Price: 1000 yen
Period for nagashi somen: 1st July ~ 18th September. Only available on Saturday, Sunday and Public holidays during 23th September ~ 9th October.
3.Chayakado (茶屋かど)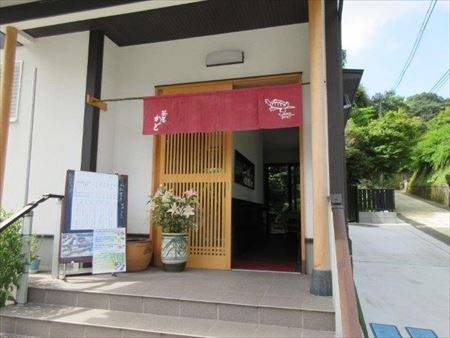 A teahouse with over 40 years since establishment. Popular with its nagashi somen. Served with Japanese omelets and chopped green onions. Together with the friendly lady master and other customers, let's enjoy the sense of oneness through nagashi somen.
茶屋かど Chayakado
Address: 1518 Yamanouchi, Kamakura-shi, Kanagawa-ken
Access: JR Yokosuka line. 10-minutes' walk from Kita-Kamakura Station
Tel: 0467-23-1673
Opening time: 10:00~17:00
Price: 1380 yen (with grated yam), 1880 yen (with tempura)
Period for nagashi somen: Until end of October
Off day: Irregular
4.Tsukimachi-no-Taki, Momiji-en (月待の滝 もみじ苑 )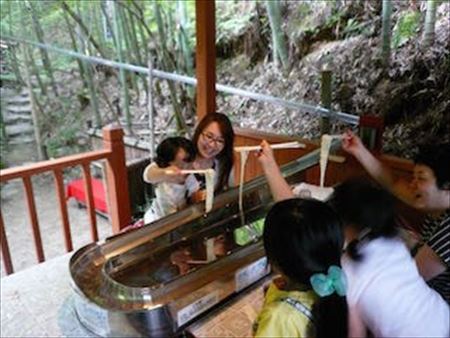 A soba restaurant with superb view that is in front of the Tsukimachi-no-Taki, a famous spot in Ibaraki. Enjoy your meal while listening to the sound of the waterfall and feeling the negative ions. You will be surprised by the uniqueness such as the 'Flying Somen' – somen flying through air, or the somen flowing through the diorama that imitate waterfall and tunnels.
月待の滝 もみじ苑 Tsukimachi-no-Taki, Momiji-en
Address: 1369-1 Kawayama, Ooko-machi, Kuji-gun, Ibaraki-ken
Access: 20-minutes' walk from Shimonomiya Station, JR Mizui line
Tel: 0295-72-3993
Opening time: 10:30~19:00
Price: 1000 yen
Period for nagashi somen: May ~ Mid of September
5.Nagashi Somen En Uemon (流しそうめん円右衛門)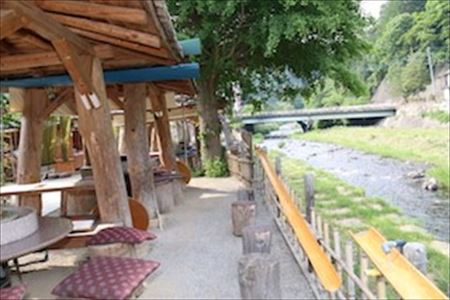 A popular spot to have nagashi somen while enjoying the view of mountain streams at the famous Shosenkyo. There are table seats where clear water circulates, you can sit and enjoy. The side dish of vegetable tempura uses local grown vegetables.
流しそうめん円右衛門 Nagashi Soumen En Uemon
Address: 423 Inakari-cho, Kofu-shi, Yamanashi-ken
Access: 50 minutes' bus ride [Shosenkyo Takinoue-Iki bus] from Kofu Station, JR Chuo line. 5 minutes' walk from Shosenkyo Takinoue (Kage-e no Mori Bijyutsukan-mae; in front of Art Museum). Opposite Takinoue municipal parking lot
Tel: 055-287-2120
Opening time: 10:30 ~ 16:30
Price: 700 yen. Vegetable tempura 500 yen
Period for nagashi somen: all year available