Lantern Festival on the beach in Odaiba, Tokyo
Marine Day or "Umi no Hi"
In Japan, the third Monday of July is a national holiday to commemorate Marine Day or "Umi no Hi" in Japanese. The purpose of the holiday is to thank the ocean for its blessings and to be aware of the importance of the ocean as Japan being an island nation.
This year, Umi no Hi falls on July 17, 2017. In Odaiba Marine Park, there is an artificial sandy beach at which a Lantern Festival will be held. It looks very beautiful especially when it's dark and the lanterns are lit up at night. How does the atmosphere feel like? Check out this review!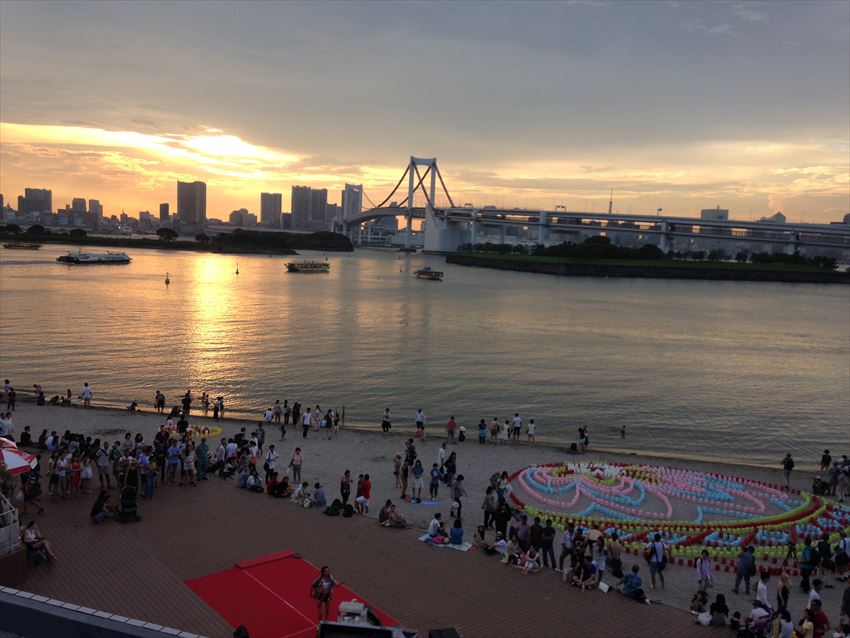 The Lantern Festival
The picture shows the Lantern Festival in the previous year. It was in the evening around 18:30 before the lanterns lit up. The lanterns were arranged neatly and beautifully, stretching on the 800-meter long beach in the park. Visitors began showing up, either to enjoy its calm atmosphere of the beach or to watch the sun set over the Rainbow Bridge, a main icon of Odaiba. There were also dancers who do their performance as an opening event of the day. The atmosphere became lively and vibrant in the heat of summer.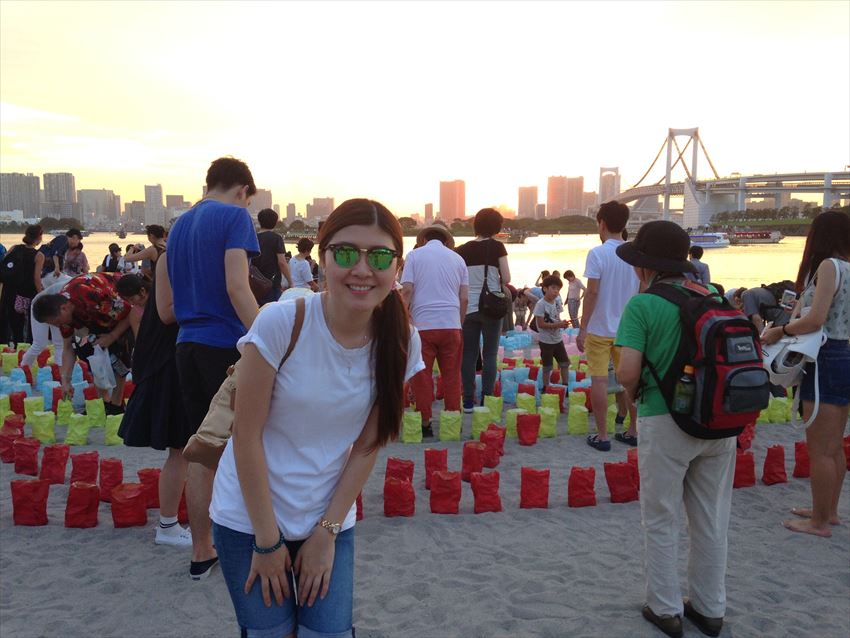 After enjoying the view from the top of a tall building, I rushed down to be among the visitors who started lighting the lanterns. The staff lent lighters to some visitors who wanted to light up candles inside the lanterns.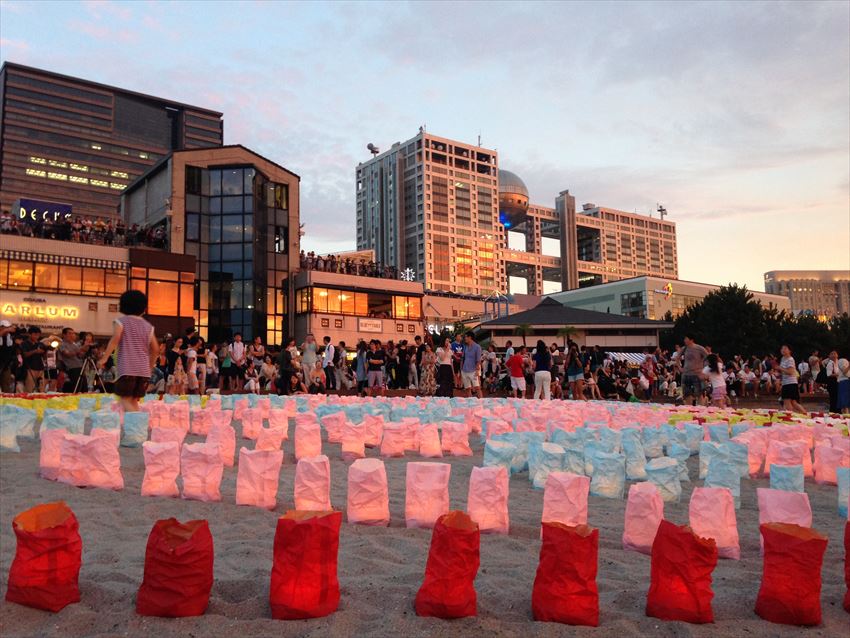 The lanterns were lit up and we waited till it gets dark so that the lanterns would shine brightly. The picture shows the shopping mall from which I took photos earlier and the building on the right side with the ball shaped observation floor is Fuji TV, a major network TV station.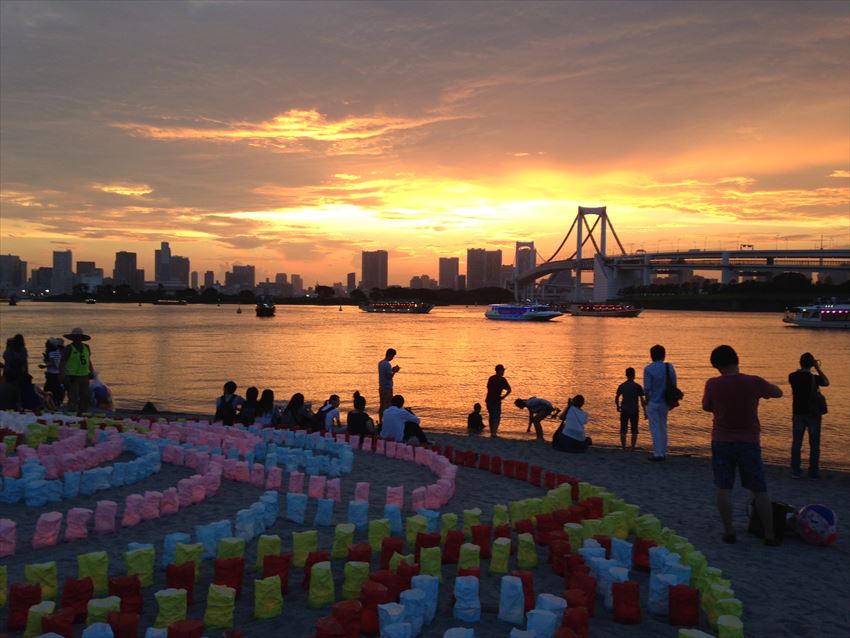 While we were waiting, we got indulged on the sunset view with glowing boats moving slowly back and forth. Such a romantic view, isn't it? Water-buses are available to go to Asakusa and other places from here.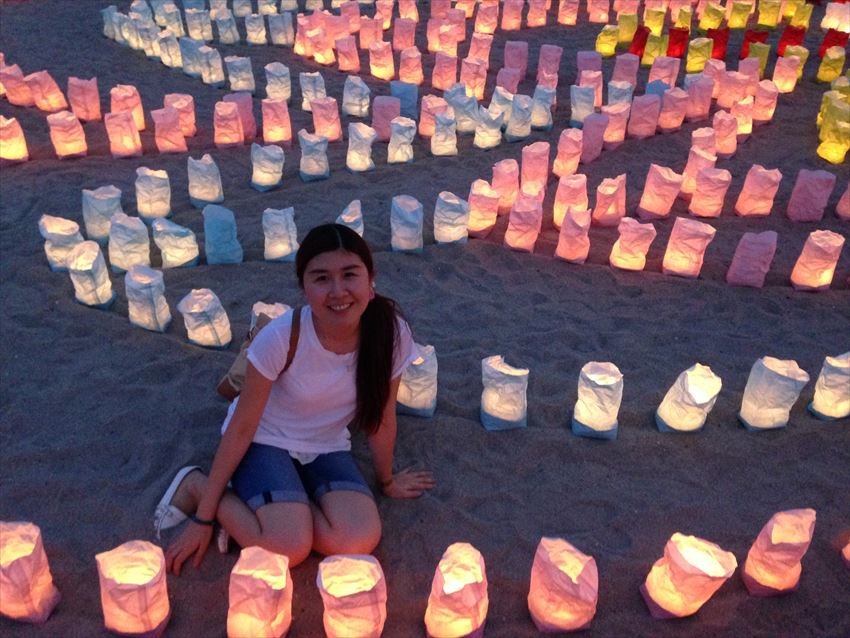 Awaited moment finally came. The sun was gone. And just like a magic trick, the lanterns radiated their lights in the darkness.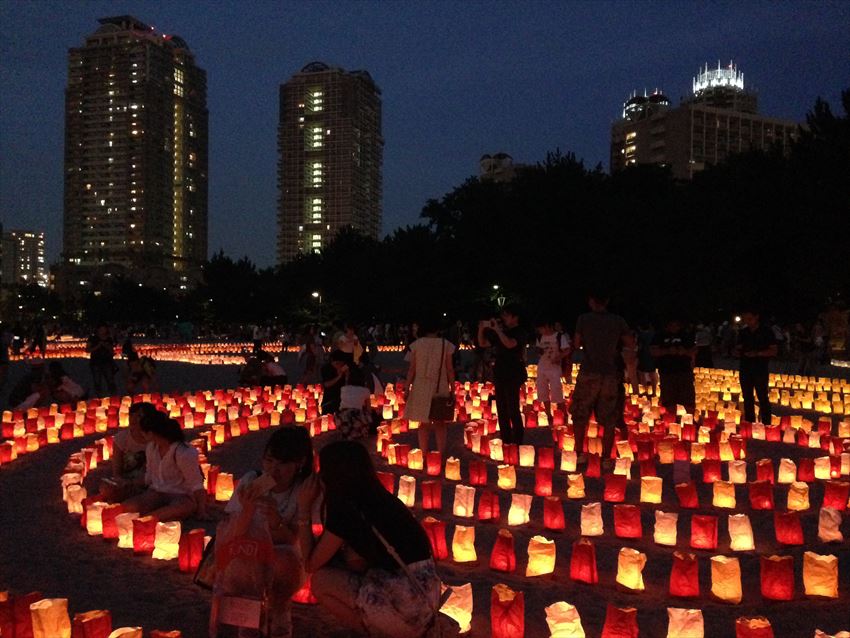 Visitors were busy preserving this moment by taking pictures with their friends, lovers, family. Solo travelers were also spotted doing their selfies, so don't hesitate to visit this festival if you are traveling by yourself!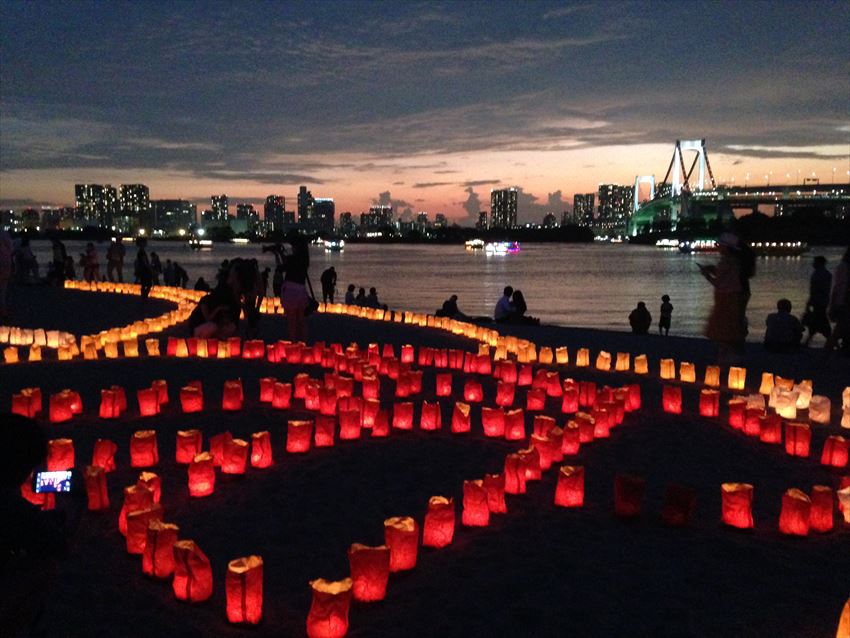 Japan Traditional Culture Festa
The nearest station to this place is from Odaiba-Kaihin-Koen station and it's about 3-minute walk. Other stations you can access from are Daiba station and Tokyo-Teleport station. This year Umi no Hi will be on July 17 and the lantern events will be held on July 16 (Sunday) and July 17 (Monday). On Saturday the July 15, the lantern will not be lit but there will be another event called "Japan Traditional Culture Festa". So make sure you do not miss this series of events during the weekend!


・Place : Odaiba Marine Park
・Address  : 1, Daiba, Minato City, Tokyo, 135-0091, Japan
・Phone   : +81-3-5531-0852
・Open : 18:30 - 22:00
・Closed : -
・Fee : Free
・URL : http://www.tptc.co.jp/en/c_park/01_02
・Map : https://goo.gl/maps/W7pTmAVX9W92