The Ultimate Guide to Sightseeing Trains in Kyushu- Part 1
Part 1: Sightseeing in Kyushu by Train
Hello! Welcome to our 6-part series on special sightseeing "D&S" trains in Kyushu. Departing from Fukuoka, the island's capital, we have sent a member of our team to circle Kyushu in 11 trains in three days ("D&S" trains in red, Shinkansen and express trains in blue):
Day
#
Name
From
Destination
Reservation
1
1
Sakura
さくら

Hakata
博多

Kumamoto
熊本

Possible
2
SL Hitoyoshi
SL人吉

Kumamoto
熊本

Hitoyoshi
人吉

Necessary
3
Isaburo(u)/Shin(m)pei
いさぶろう・しんぺい

Hitoyoshi
人吉
Yoshimatsu
吉松

Recommended
4
Hayato no Kaze
はやとの風

Yoshimatsu
吉松
Kagoshima Chuo [Central]
鹿児島中央
Recommended

2
5
Local train
Kagoshima Chuo [Central]
鹿児島中央
Ibusuki
指宿

Unavailable
6
Ibusuki no Tamatebako
指宿のたまて箱

Ibusuki
指宿
Kagoshima Chuo
鹿児島中央

Necessary
7
Kirishima
きりしま

Kagoshima Chuo
鹿児島中央
Miyazaki
宮崎

Possible
8
Nichirin
にちりん

Miyazaki
宮崎
Oita
大分

Possible
9
Local train /
Sonic ソニック

Oita
大分
Beppu
別府

Unavailable / Possible
10-11
Kyushu Odan Tokkyu
九州横断特急

Beppu
別府
Aso
阿蘇

Aso
阿蘇
Oita
大分

Possible
12
Local train /
Yufu ゆふ

Oita
大分

Yufuin
湯布院

Unavailable / Possible

13
Yufuin no Mori
ゆふいんの森

Yufuin
湯布院
Hakata
博多

Necessary
As this is the first post, we're going to spend some more time on the basics before getting to the first three of them, the three jewels from Kumamoto to Yoshimatsu, in the next article.
Around Kyushu, by Train
Train trips in Japan are extremely popular to the Japanese and foreigners alike, with special words for it like ressha no tabi (列車の旅) or tetsudo ryoko (鉄道旅行). The noiseless carriages with only the rhythmic sounds of the wheels, the mountains and oceans, trees and rivers, clear skies and sunsets passing by your window, the trainman or trainwoman giving a slight bow before entering the cabin, the fabulous eki-ben (lunch boxes sold in stations), or perhaps a cup of coffee the train's stewardess just poured you.
On board the Sakura from Fukuoka to Kumamoto
although just a normal Shinkansen, it is already as delightful as a business class flight, with its warm colours and comfortable chairs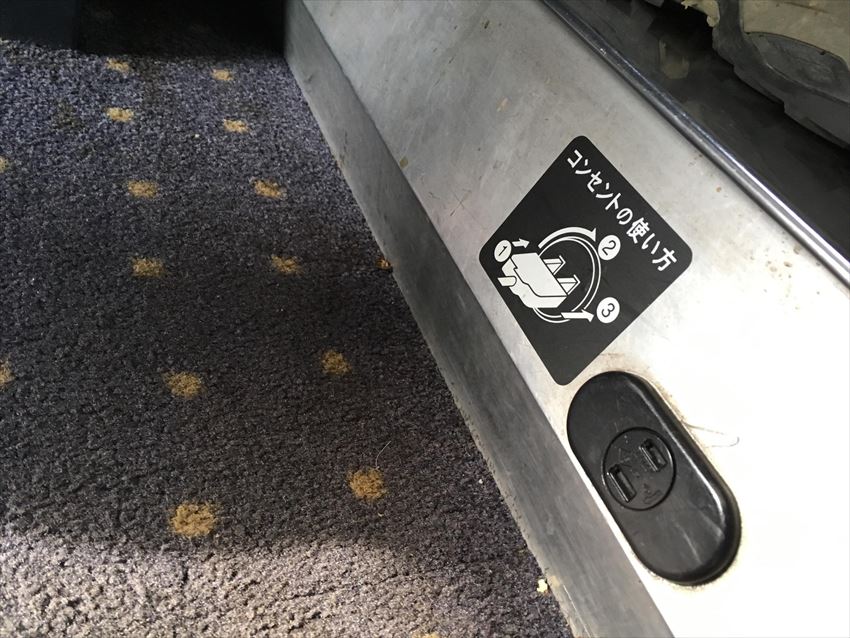 Sockets inside Express Kirishima/Nichirin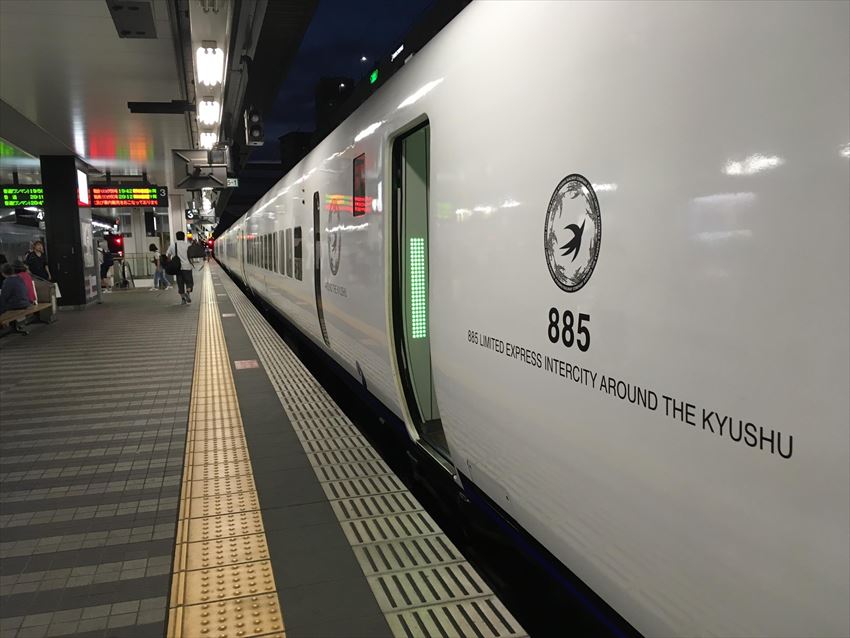 The 885 Limited Express (here, used in the Sonic)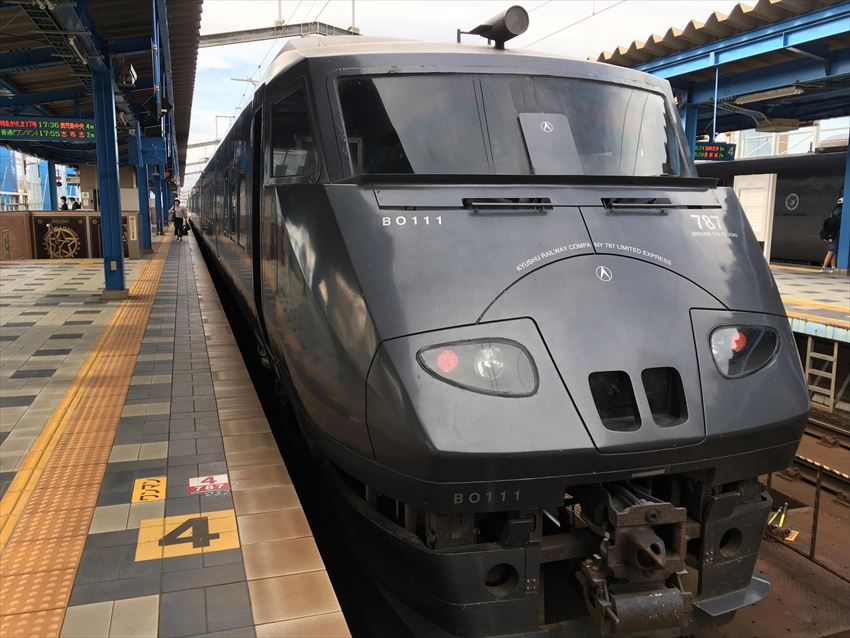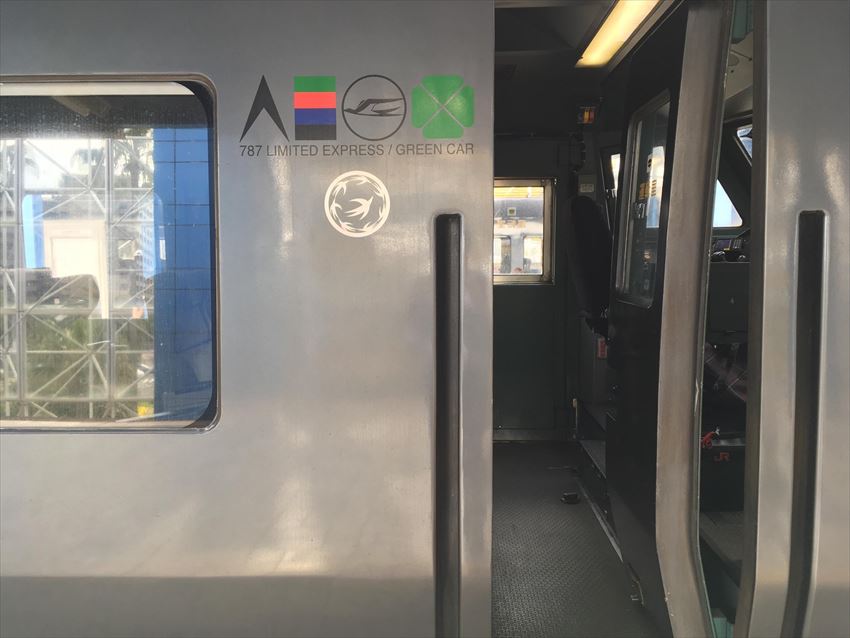 The 787 Limited Express (here, used in the Expresses Kirishima and Nichirin)
The type of JR Kyushu trains
JR Kyushu has drawn a lot of attention with their extravagant (over one million yen for a 4-day trip) Seven Stars or the shorter (hence less expensive) but still deluxe Aru (from Oita to Hida only). But, for the ordinary tourist, they also have what they call "D&S" – not for "dining and sightseeing" but "design and story" – trains, which are carefully crafted to provide tourists with a unique experience. This would be particularly appealing to the foreign tourists and exchange students having the added economic benefit of JR passes, which can also reserve those D&S trains for free (up to a quota that is quite sufficient). There are presently 11 such sightseeing lines (not including Seven Stars):
Name
From-To
Operating from
1
Fufuin no Mori
ゆふいんの森


("The Forest of Yufuin") Hakata–Yufuin/Beppu
March 1989

2
Isaburo/Shinpei
いさぶろう・しんぺ い
Kumamoto–Yoshimatsu
March 2004 (Specialised train)

3
Kyushu Odan Tokkyu
九州横断特急


("Trans-Kyushu Express") Beppu/Oita–Aso
(Currently running to Aso only due to earthquake)
March 3004

4
はやとの風
("The Wind of Hayato")

Yoshimatsu–Kagoshima Chuo
March 2004

5
SL Hitoyoshi
SL人吉

Kumamoto–Hitoyoshi
April 2009

6
Umisachi Yamasachi
海幸山幸
("Treasures from Mountain and Sea")
Miyazaki–Nango

October 2009

7
Ibusuki no Tamatebako
指宿のたまて箱
(The Treasure Box of Ibusuki)
Kagoshima Chuo–Ibusuki
March 2011

8
Aso Boy!
あそぼーい!
Hakata–Kokura/Mojiko
(Currently changed to run in Kita-Kyushu due to earthquake)

June 2011

9
A-Train
A列車で行こう

Kumamoto–Misumi

October 2011

10
Aru Ressha
JRKYUSHU SWEET TRAIN「或る列車」
("A Certain Train")
Hida–Oita
August 2015

| | | | |
| --- | --- | --- | --- |
| 11 | かわせみ やませみ | Kumamoto–Hitoyoshi | March 2017 |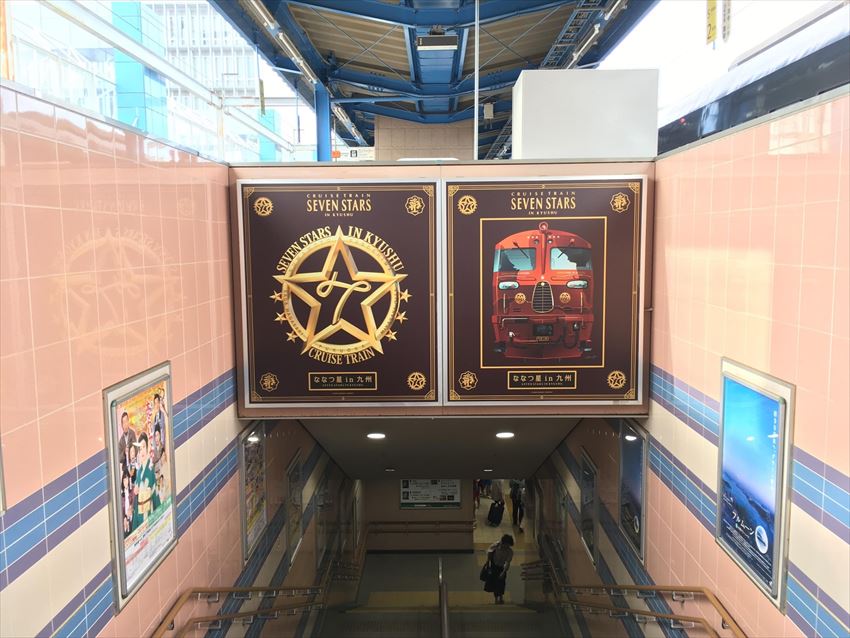 One of the many Seven Stars advertisements we saw in JR stations.
How to Use this Series
We can think of three ways to use this Series in your trip(s).
1. At one end is to use each article as a short, single trip. This will be best if the train ride itself is not the end but just part of the trip for you. An example would be a Fukuoka to Yufuin and back on the Yufuin no Mori.
2. At the other end of the spectrum, especially for the train aficionados, is to assemble a 3- or 5-day trip with the full JR Kyushu pass (or as a part of your trip with the nation-wide JR pass).
3. A middle point can be struck, like a short trip using the first three guides of this Series (our Day 1 above):
Time
Place
Train
08:38
Hakata



Sakura


09:16
↓
09:45
Kumamoto
SL Hitoyoshi
12:09
↓
13:22
Hitoyoshi


Isaburo/Shinpei
14:48
↓
15:01
Yoshimatsu
Hayato no Kaze
16:44
Kagoshima

(Going back to Hakata by Shinkansen or staying over in Kagoshima)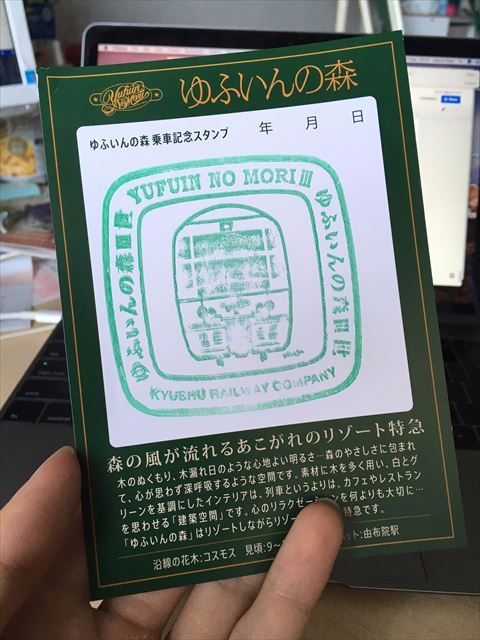 The Certificate
(with a beautiful description of the train, and the painting of the "Cosmos" flower at the back.
General Tips and Reminders
1.
Polarisers
If you are planning to take pictures of the scenery, be sure to bring a polariser –– you don't want to see reflections of the train's interiors on the beautiful scenery!
2. Planning and reservations
look at the English "
Kyushu Railway Company Timetable
" (in PDF), which contains the information and schedule of basically all express trains in Kyushu (except a few, like the Seven Stars and the Aru, the Kyushu Odan Tokkyu, which has separate information perhaps because of the Kumamoto earthquake, and the local trains).
3. Waving back
Remember to wave back to the pedestrians and people who wave at you! Especially for the SL Hitoyoshi, which only runs once per day, several times per week, there are in fact many people who wave at you along the way. Also, at many stations where the trains stop over, the staff or the hawkers will bow to you to see your train off. It would be nice etiquette to bid goodbye to them by waving back!
4. Certificates and stamps
Most of the special trains comes with its own stamp, which is often located at the buffet car (you can ask the trainmen/trainwomen). There is also usually a stack of cards provided there, but feel free to stamp it on your favourite travel journal!