Guide to Fukuoka, "A gateway to Asia" of Japan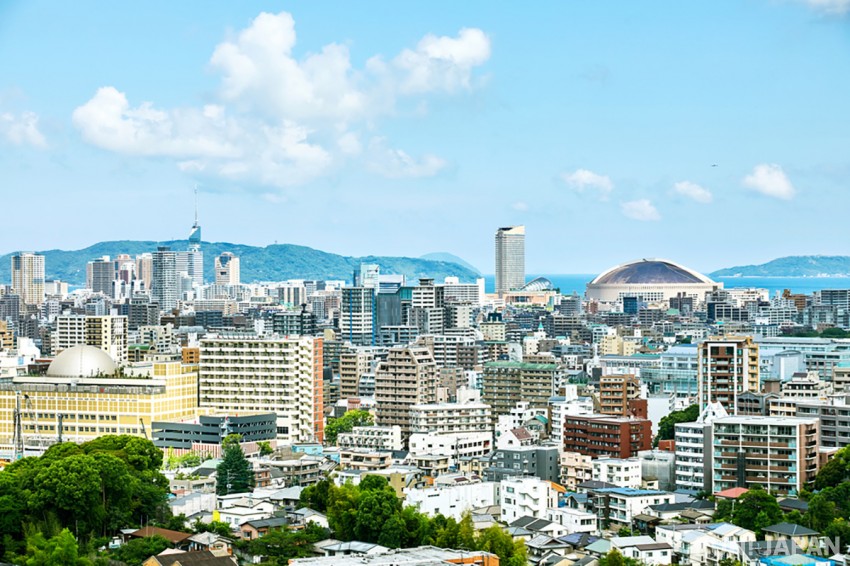 Fukuoka prefecture is a prefecture located on the north side of the Kyushu region, which occupies the western part of Japan. Since ancient times, it has played an important role as a base for trade with the continent. It is still the gateway between various parts of Asia and Japan. With abundant tourist resources and food, it is a place worth sightseeing.
About Fukuoka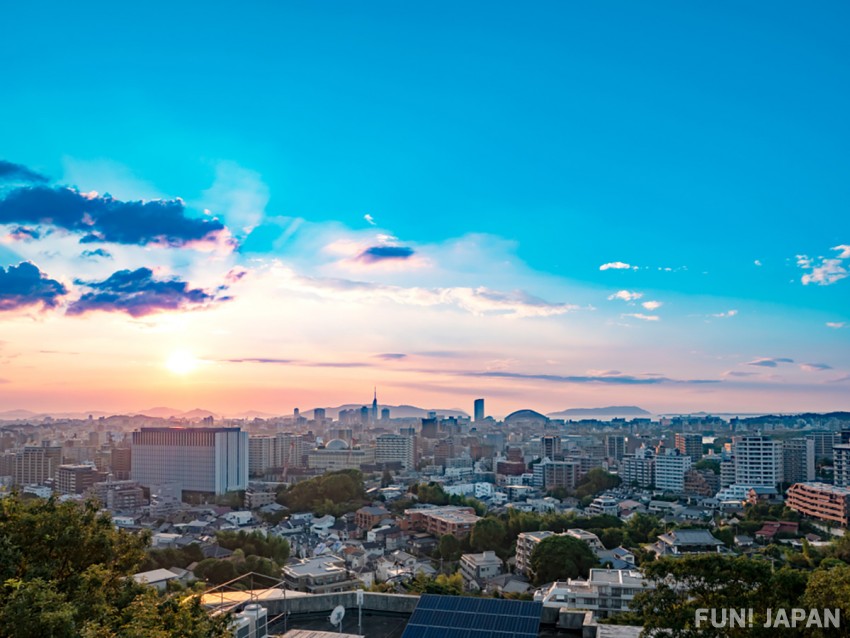 Fukuoka has a population of around 5.11 million people, the ninth largest population in Japan. Since it is downstream of several rivers, the terrain is smooth and there are few forests which are some of its characteristics. Fukuoka borders three prefectures, and the border is mountainous. (Information accurate as of January 2020)
The Main History of Fukuoka
Fukuoka Prefecture has been a contact for exchanges with mainland China and the Korean Peninsula since ancient times. In the early modern ages, highways and waterways to various areas of Kyushu developed, becoming the key to transportation in Kyushu. In the modern era, coal production created a thriving industry that supported Japan's economic development.
Today, it is one of the leading tourist destinations in Japan with over 3 million foreign tourists.
There was the Possibility of a Bomb being dropped on Fukuoka !?
The atomic bomb was not dropped in Fukuoka Prefecture. However, it was considered as a candidate site for having an atomic bomb dropped on it. Due to this, Fukuoka acts as a peaceful city to put emphasis on praying for peace.
What itinerary is Best for Fukuoka?
The best itinerary for Fukuoka depends on the area you intend to concentrate on.
For example, the Fukuoka Prefecture is divided into four main areas. All areas are large and there are plenty of sightseeing spots, so it is better to reserve one day for each area. If you plan to go around all areas in the prefecture, it is recommended to stay at least 4 nights, giving you more time to look around.
Furthermore, there are eight remote islands in Fukuoka. The islands have various scenic spots and historical sites. In addition, they are "Nekojima" (Cat Island) and many cats live there. If you also wish to visit these remote islands, it is a good idea to add one more day to your sightseeing itinerary.
Things to Know before Sightseeing in Fukuoka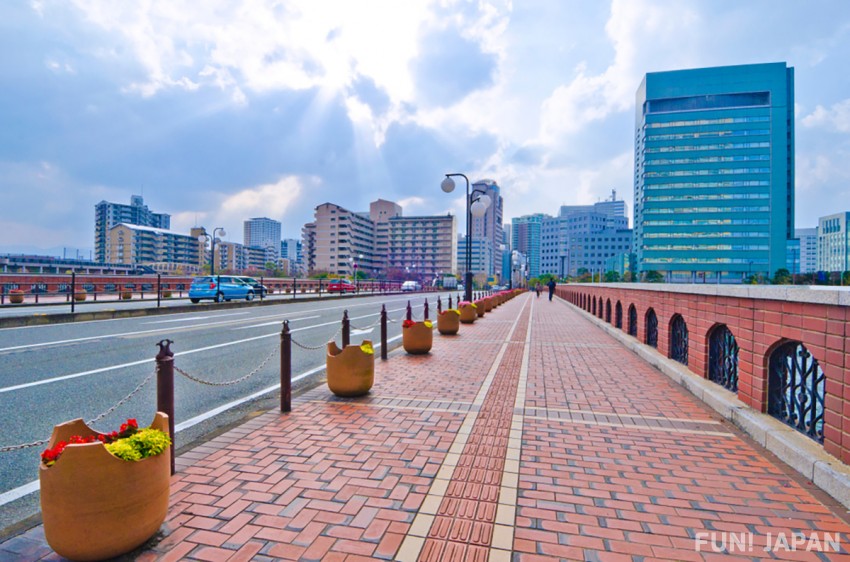 In order to fully enjoy sightseeing in Fukuoka, you should check out the sightseeing maps and currency exchange information within the Fukuoka Prefecture.
Where Can a Map of Fukuoka be Obtained?
Sightseeing maps and informational pamphlets are distributed at tourist information centres such as Fukuoka City, Nishitetsu Dazaifu Station, and Nishitetsu / JR Kurume Station. The tourist information centre also provide Wi-Fi environment, so it is recommended to get more travel information before going sightseeing.
In addition, these tourist information centres are accredited by the JNTO (Japan Tourism Bureau) in various areas in the prefecture, so they are highly reliable and have an abundant amount of information source.
Where can Luggage be Left in Fukuoka
If you want to store your baggage in Fukuoka, you should use the coin lockers and baggage storage facilities.
Coin lockers are installed at major stations or other stations within Fukuoka City. However, be aware that the number of lockers in stations other than the main terminal stations is small. The main terminals with lockers are Kokura Station, around Hakata Station, around Tenjin, and Fukuoka Airport etc. The locker usage fee is 300-400 yen for a small locker, 500 yen for medium, 600-800 yen for large, and 1,000 yen for extra-large.
Number of coin lockers
JR Kokura Station: around 460
JR / Subway Hakata Station, Hakata Bus Terminal: about 1,900
Nishitetsu Fukuoka (Tenjin) Station, Nishitetsu Bus Terminal, Subway Tenjin Station, Tenjin Minami Station: about 1,250
Fukuoka Airport: about 300
There are plenty of luggage storage facilities in Hakata, Tenjin, and Kokura and which are near the train stations.
The most convenient is the luggage storage service "ecbo cloak". You can make reservations in advance, so it is not necessary to do an on-site search on the baggage storage facilities in Fukuoka. Of course, there are branches where reservations can also be made on the day, so even people who do not have a particular itinerary can also use the service. The fee is about 700-900 yen.
The attraction point of ecbo cloak is that there are plenty of business partner locations. However, there are limited number of pieces of luggage in restaurants and beauty salons that can be stored, so it is safer to make an advanced reservation.
The following are spots where a lot of baggage can be checked.
Hakata Station Travel Agency (「旅行の窓口」, Ryoko no madoguchi)
Residence Hotel Hakata Station South Front Desk
SPACE on the Station
Sound Boogie Okura Branch
Should We Go to the Bank to Exchange Money?
If you need to exchange money as soon as you reach in the Fukuoka Prefecture, stop by a bank currency exchange machine inside Fukuoka Airport or a shop in the general information centre. Both are situated on the 1st and 3rd floors of the International Terminal.
In addition, if you need to exchange money while you are sightseeing, it is convenient to go to a bank, currency exchange office, or ticket shop. Banks that offer this service at most of their branches are The Nishi-Nippon City Bank, Fukuoka Bank and Japan Post Bank.
If you would prefer not to go to a bank for currency exchange, then head to Travelex Sakura Currency World Currency Shop. Ticket shop Daikokuya also provide money exchange service.
Weather or Temperature in Fukuoka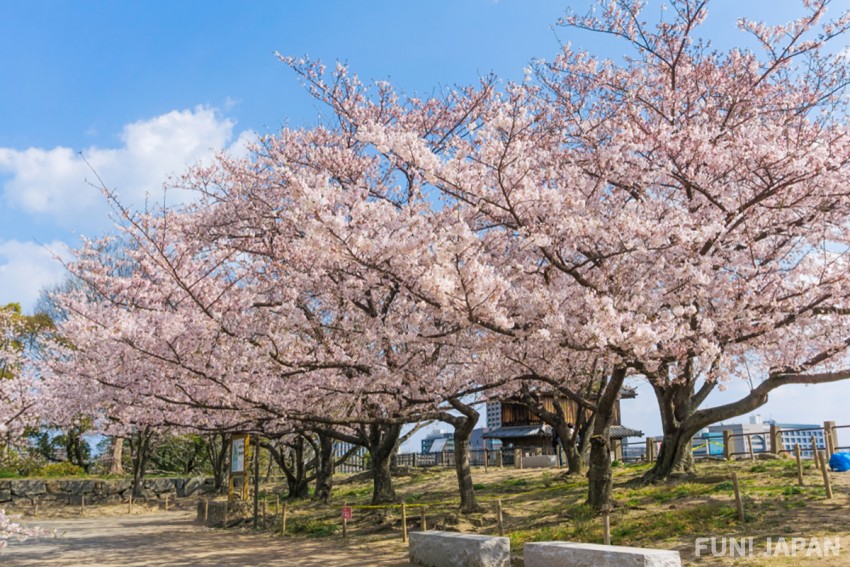 The climate in the Fukuoka Prefecture is mild on average, but the areas that face the Sea of Japan, like Fukuoka City and Kitakyushu City, receive monsoons from the northwest in winter, so there are some days when the cold weather is extreme.
The inland area is surrounded by mountains, so there is a big difference in the temperature. The weather can be checked via the weather forecast app "WeatherJapan" which is provided by the Japan Weather Association or on the TV etc.
Spring in Fukuoka (March - May)
Spring in Fukuoka is a season when the temperature fluctuates depending the weather. In addition, it is also the season when yellow sand gets blown in from the neighbouring continent due to the westerly wind.
The highlight of spring in Fukuoka is the sakura (cherry blossoms). Cherry blossoms in Fukuoka are in full bloom from late March to early April. Famous places to see them are Maizuru Park in Fukuoka City and Akizuki Suginobaba in Asakura City.
Summer in Fukuoka (June-August)
Fukuoka enters the rainy season from early June to mid-July. When the rainy season starts, the area is covered with high air pressure and it becomes hot, and there are times when days with a maximum temperature of 35 °C or higher continue. Therefore, it is best to take measures against the heat such as hats, sunglasses, and towels.
Fireworks are abundant in summer. Fireworks festivals are held in various locations, and the Chikugo River fireworks display in Kurume and the Kanmon Strait fireworks display in Kita Kyushu are particularly large events.
Autumn in Fukuoka ( September - November)
In Fukuoka, strong winds and precipitation increase around September due to the typhoons. Following typhoon season, the climate becomes stable and days with calm weather continue, making it a suitable season for sightseeing.
In late November, the autumn leaves can be seen all over the prefecture. Among them, the Japanese wax trees in Kurume city and the whole area of Mount Hiko in Soeda-machi are famous.
Winter in Fukuoka (December – January)
Fukuoka in winter has a lot of days when it is enveloped in cold. Particularly in the Fukuoka and Kitakyushu areas, the northwest monsoon winds blow around December, so it feels extremely cold.
Winter is the season for ume (plum blossoms). Ume can be seen from in late January in places where it blooms early. The Dazaifu Tenmangu shrine is a famous place for ume and the blossoms bloom in late February.
Main Sightseeing Areas in Fukuoka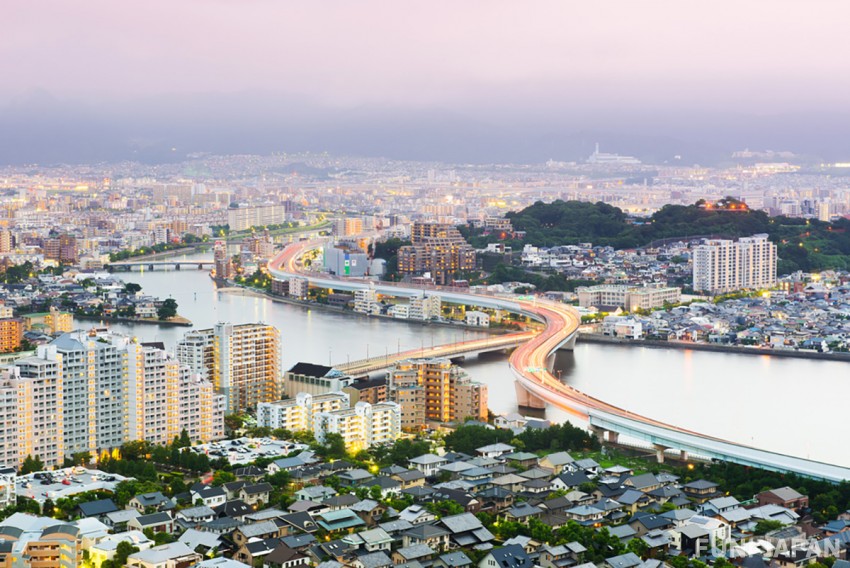 The sightseeing areas in Fukuoka are roughly divided into four areas. Each sightseeing area has its own features and each area is attractive. Here, we will introduce some highlights in each area.
| | |
| --- | --- |
| Area Name | Features |
| Fukuoka, Daizaifu, Itoshima (福岡・太宰府・糸島) | The area that has been the central city of Kyushu for a long time from ancient |
| Chikuho (筑豊) | The area where the site that flourished due to the coal mine remain |
| Kita Kyushu (北九州) | Manufacturing area that represents Kyushu |
| Chikugo (筑後) | An area with a variety of sceneries |
Fukuoka (Fukuoka City, Dazaifu City, Itoshima City etc.)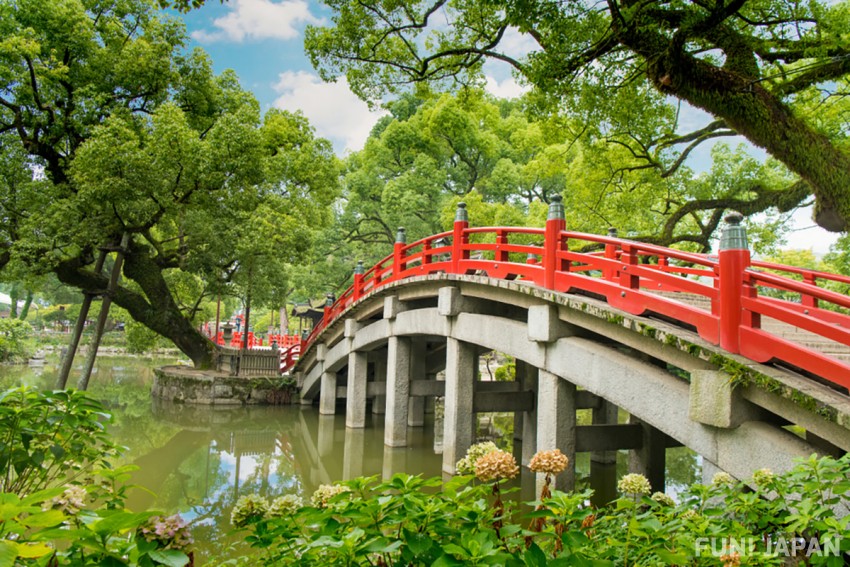 The Fukuoka area is located in the western part of the Fukuoka prefecture, and it is centred on cities such as Fukuoka city, Dazaifu, and Itoshima. It has been an important base in the Kyushu region since ancient times, even now it is still developing as the centre of Kyushu.
There are a variety of sightseeing spots, including shrines, temples, cultural facilities, and entertainment spots.
| | |
| --- | --- |
| Spot Name | Features |
| Fukuoka Tower | A beautiful symbol tower with a sharp form |
| Fukuoka Castle | The highlight is the Tamon Yagura, an important cultural property constructed in the 17th century |
| Ohori Lark | A park with a large pond situated in the centre of the city |
| Dazaifu Tenmangu Shrine | A shrine where the god of learning "Tenjin" is enshrined. Also, there is a wonderful ume garden. |
| Munakata Taisha | A god of transportation with a history of over 2,000 years |
| MARINE WORLD uminonakamichi Seaside Park | An aquarium with the theme of the colourful sea of Kyushu |
| Fukuoka Yafuoku Dome | The home of Fukuoka's professional baseball team "Fukuoka Softbank Hawks", the only all-weather stadium in open-closed style in Japan |
| Fukuoka Art Museum | A museum that offers a wide range of artwork from contemporary artwork to Buddhist art of important cultural properties |
| Fukuoka City Museum | A museum which contains historical materials of Fukuoka, the gateway to Asia |
| Fukuoka Asian Art Museum | The only museum in the world that specializes in the collection of Asian contemporary art |
| Fukuoka Zoo | A zoo where rare and endangered animals can be seen connected to a botanical garden |
Chikuho (Iizuka city etc)
The Chikuho area is located in the centre of the Fukuoka Prefecture. It was once a region that flourished through the coal industry. The main sightseeing spots are the remains of the coal mining facilities and buildings that show the culture of that time.
| | |
| --- | --- |
| Spot Name | Features |
| Mount Hiko (英彦山) | A sacred mountain and spots with coloured leaves where Shūgendo practitioners trained |
| Kaho Theatre (嘉穂劇場) | A theatre with old-fashioned playhouse facilities |
| Nogata Coal Memorial Museum (直方市石炭記念館) | A museum where you can see heavy equipment that was used in the coal mines |
Kita Kyushu (Kita Kyushu City etc)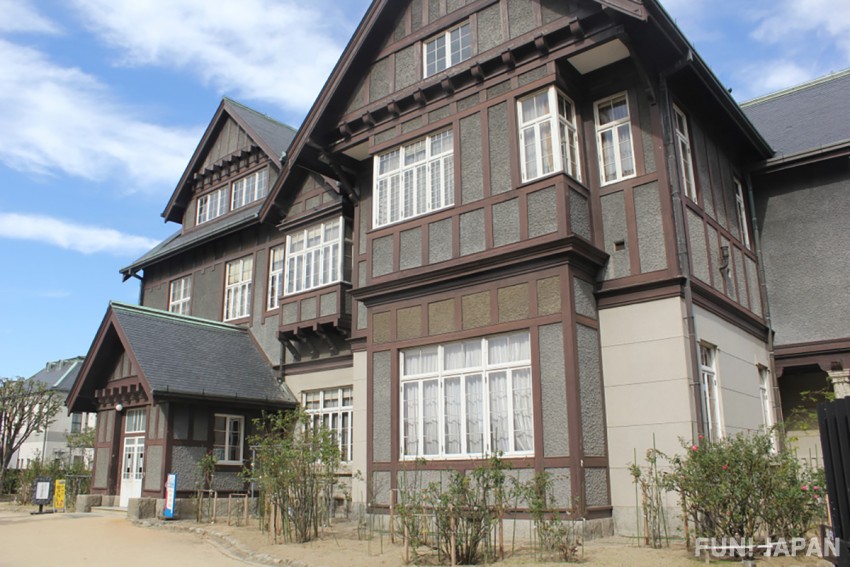 The Kitakyushu area is located on the east side of Fukuoka Prefecture. As it faces Honshu (mainland of Japan), it has been the window of Kyushu since ancient times. There are many historical spots, such as historic sites and cityscapes from the time of development.
| | |
| --- | --- |
| Spot Name | Features |
| Kokura Castle (小倉城) | A castle that was constructed at the entrance of Kyushu and used as a military base in various eras |
| Kawachi Wisteria Garden (河内藤園) | The highlight is the 110 metre wisteria tunnel (Open only during the wisteria flowering season and autumn leaves seasons) |
| Mojiko Retro (門司港レトロ) | A historical area dotted with harbour facilities from the late 19th century to the early 20th century |
Chikugo (Kurume City etc)
The Chikugo area refers to the southern area of the Fukuoka Prefecture. It is an area where nature remains and agriculture and forestry industry are thriving. In addition, the terrain changes from the mountains to the coast, so there are many tourist spots.
| | |
| --- | --- |
| Spot Name | Features |
| Yanagawa Kawakudari, Fukuoka (柳川の川下り) | An emotional experience traveling by boat over the stretched-out moat |
| The White Wall District of Chikugo-Yoshii (筑後吉井白壁のまちなみ) | The ruins of a street with a white wall that has the atmosphere of a post-town |
| Koinoki Shrine (恋木神社) | A shrine of matchmaking where a god of love is enshrined |
Food and Restaurants in Fukuoka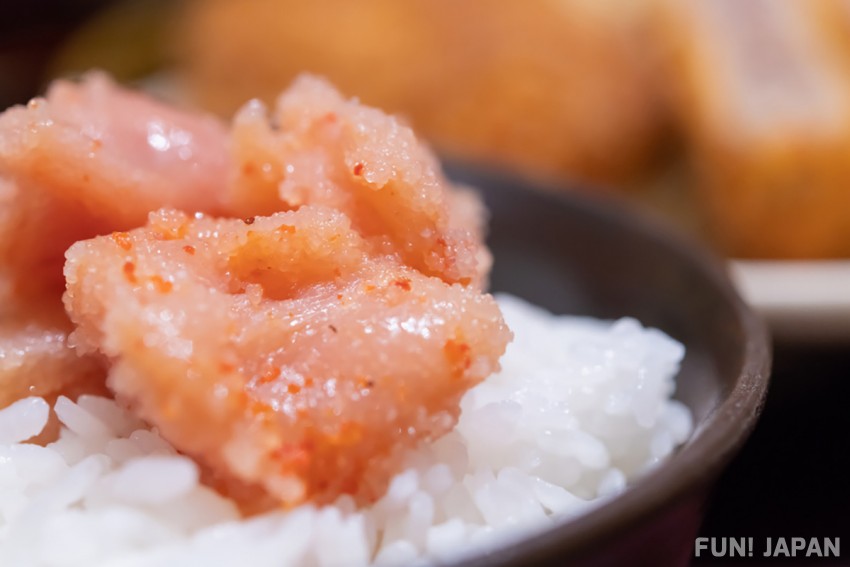 The local food of Fukuoka is popular, such as ramen and motsunabe (hot pot dish). There are around 280 Michelin-branded restaurants in Fukuoka, including the Bib Gourmand Michelin Plate. Among these restaurants, "Sushi Sakai (鮨 さかい)" and "Sushi Gyoten (鮨 行天)" are famous three-star restaurants.
Fukuoka Ramen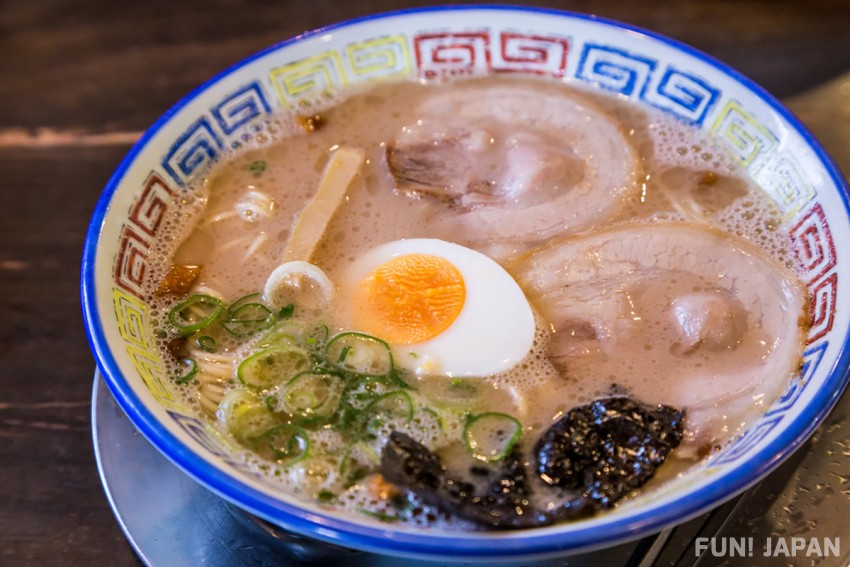 Fukuoka is well-known for ramen. Particularly, Hakata Ramen is one of Japan's leading ramen. Other local ramens like Kurume Ramen and Kitakyushu Ramen are also popular.
The basic ramen in Fukuoka is pork bone soup, this includes local ramen. The thickness of the noodles varies in different areas, but Hakata ramen is characterized by its thin noodles.
Ramen shops are scattered all around the area, but if you want to compare different kinds of ramen all at once, the "Ramen Stadium" in Canal City Hakata is recommended. There are ramen shops from various places where it is possible to eat Kyushu ramen with slightly different flavours.
Motsunabe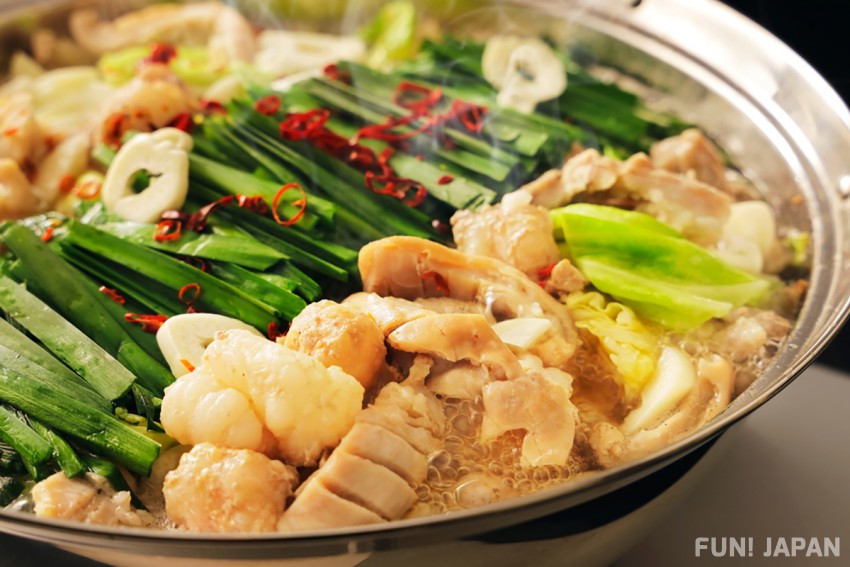 Motsunabe is a dish of beef offal boiled with potatoes and leek cabbage. It is offal but has no odour and it has a flexible texture.
"Motsunabe Showraku (もつ鍋笑樂)" is a famous Motsunabe restaurant. In addition, at "Motsushige (もつ繁)", which was selected as a bib-gourmand in Michelin, providing the dish of Motsuno Sukiyaki.
Mizutaki
Mizutaki is a dish where chicken is boiled in a pot with vegetables, etc., and it is characterized by a white chicken bone soup.
Mizutakir restaurants are dotted throughout the prefecture. Among them, "Mizutaki Nagano (水たき長野)" is famous and this is a Mizutaki specialty restaurant selected as a Michelin Plate, where you can enjoy Mizutaki using good-quality birds at an affordable price.
Karashi Mentaiko (Spicy Pollock Roe)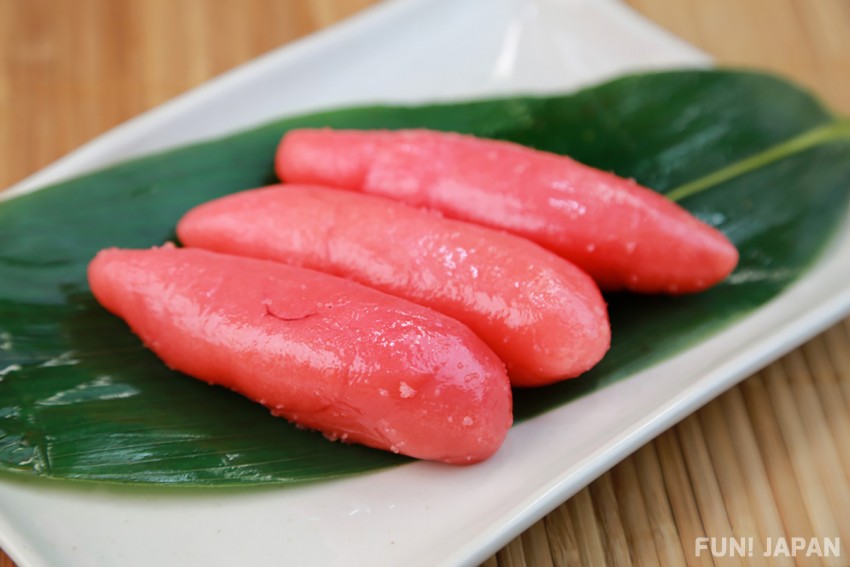 Karashi mentaiko is a classic Fukuoka souvenir. Alaska pollack roe are pickled in a spicy condiment, so it has a sharp spiciness.
If you want to buy karashi mentaiko as a souvenir, please head to "Yamaya (やまや)". In contrast, if you want to try it on-site, we recommend going to "Hakata Motsunabe Yamaya (博多もつ鍋 やまや)". Here, it is possible to eat dishes made with mentaiko as well as all-you-can-eat rice and mentaiko lunch.
Fukuoka Yatai
There are around 100 yatai (food stalls) in Fukuoka, and they appear on the streets of Tenjin and Nakasu at night. There is a wide variety of food you can order here, such as ramen, oden, yakitori, and tempura.
Among these, "Hakata Yatai Nakasu Juban (博多屋台 中洲十番)" supports credit card payments and multilingual menus, making it easy for foreigners to use.
Additionally, a discount ticket called "Yatai Ticket (屋台きっぷ)", that allows you to have one drink and one recommended food item at one of 13 stalls. The ticket is sold at tourist information centres such as at JR Hakata Station and Tenjin Lion Plaza. (Information accurate as of January 2020)
Where to Stay in Fukuoka?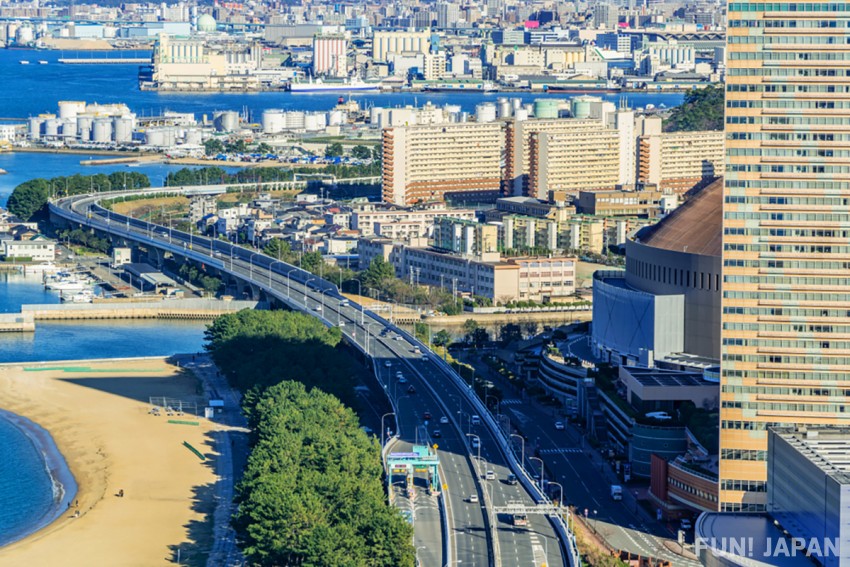 Accommodations in the Fukuoka Prefecture should be chosen according to the area that one is visiting. For instance, the Fukuoka area and the Chikugo area are easily accessible from each other, and the Chikuho area has good access to the Kitakyushu area.
In addition, it is attractive that the features of the accommodation are different depending on the area. If you stay only for a few nights, it is recommended that you spend the night in different areas instead of staying in one place
| | |
| --- | --- |
| Area Name | Features |
| Fukuoka, Dazaifum, Itoshima (福岡・太宰府・糸島) | There is a full range of hotels from economy to high class |
| Chikuho (筑豊) | Many hotels are compact and affordable |
| Kita Kyushu (北九州) | Inns and private hotels are dotted around Kokura |
| Chikugo (筑後) | There are lots of accommodations in the suburbs, such as hotels and hot spring inns |
Considering the access environment and the amount of accommodation, it is a better to consider the accommodations in the centre of Fukuoka City. In contrast, the Chikugo area is perfect if you place value on accommodation facilities and silence, such as staying at hot spring inns.

Accommodation in Fukuoka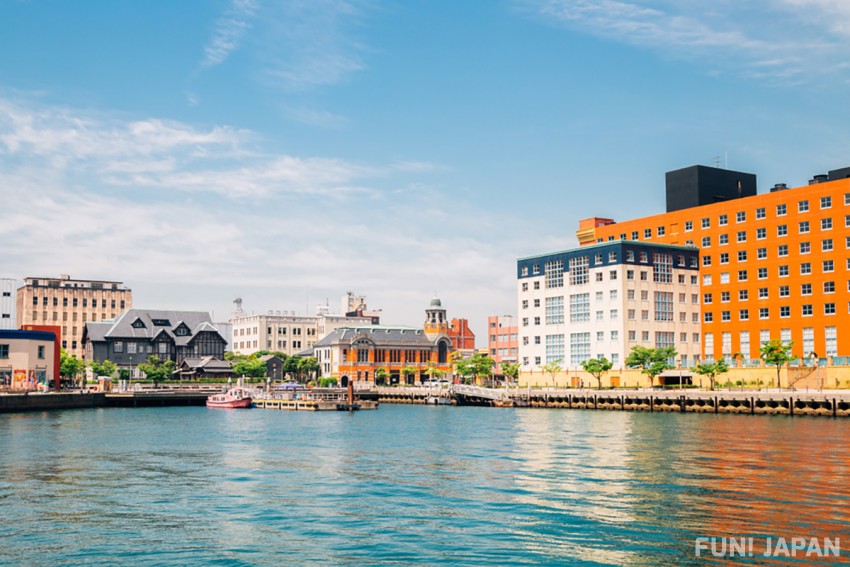 In Fukuoka, hotels are largely concentrated in urban areas. Particularly in the Fukuoka area, the number of hotels is more than half of the accommodations in the entire prefecture. Lots of hotels are economy based on their prices. Moreover, they are convenient for sightseeing as they are concentrated in the city area and are close to the nearest station. In addition, Fukuoka Airport is located in the city centre and it takes only 5 minutes to Hakata by subway, so there are no hotels nearby the airport.
4 & 5 Star Luxury Hotels in Fukuoka
Fukuoka has brand hotels like the Grand Hyatt and Hilton. Grand Hyatt Fukuoka is located in Canal City Hakata, so it is convenient to go sightseeing and shopping. Hilton Fukuoka Sea Hawk is situated on the beach in the Momochi area, so you can feel a resort-like atmosphere even while being in the city.
Capsule Hotels in Fukuoka
Capsule hotels in Fukuoka Prefecture are largely concentrated in Fukuoka City, and they are situated close to the station, so they are convenient as sightseeing bases. There are hotels with added bonuses, like wide cabins and all-you-can-eat candy service. The most expensive price range is around 3,000-4,000 yen. (Information accurate as of February 2020)
Guesthouses or Hostels in Fukuoka
Guest houses and hostels in Fukuoka are situated in Fukuoka city. They are particularly common in the area between JR Hakata Station and Nishitetsu Fukuoka (Tenjin) Station. The maximum price range is around 1,500-2,500 yen for hostels and guesthouses, and around 4,000-6,000 yen for private inns with host.
There are also lots of private lodgings in Fukuoka City, particularly in the Tenjin area. In Kitakyushu, there are about 110 places, and around 100 places near Kurume and Omuta. The maximum price range is around 3,000-4,000 yen. (Information accurate as of February 2020)
Love Hotels in Fukuoka
There are lots of love hotels in Fukuoka, concentrated mainly near Tenjin in Fukuoka, near Kokura in Kitakyushu, and in area of Kurume. All of the hotels are a little bit far from the train station, so it is possible to relax and stay in a peaceful place. The maximum price range is around 4,000-6,000 yen. (Information accurate as of February 2020)
Famous Onsen Spots and Ryokan with Onsen in Fukuoka
Hot springs in Fukuoka are spread from the seaside to the mountains. There are lots of hot springs with a long history. There are also hot springs located near the city while still having a calm atmosphere.
| | | |
| --- | --- | --- |
| Onsen Name | Features | Recommended Accommodation |
| Harazuru Onsen(原鶴温泉) | "Hot water for beautiful skin" located along the river | Hotel Parens Onoya (ホテル パーレンス小野屋) |
| Yahata Onsen (八幡温泉) | A hot spring visited by many celebrities | Fukuoka Wakita Hot Springs Nansuikaku (湯めぐりの宿 楠水閣) |
| Futsukaichi Onsen (二日市温泉) | Kyushu's oldest hot spring with a history of 1,300 years | Futsukaichi Onsen Daimaru Besso (二日市温泉 大丸別荘) |
| Hoshino Onsen (星野温泉) | A hot spring where the stars are beautiful in the country hills | Ikenoyamaso (池の山荘) |
| Akizuki Onsen (秋月温泉) | An elegant hot spring situated in a castle town | Akizuki Onsen Seiryuan(秋月温泉料亭旅館 清流庵) |
Information Regarding Access Within Fukuoka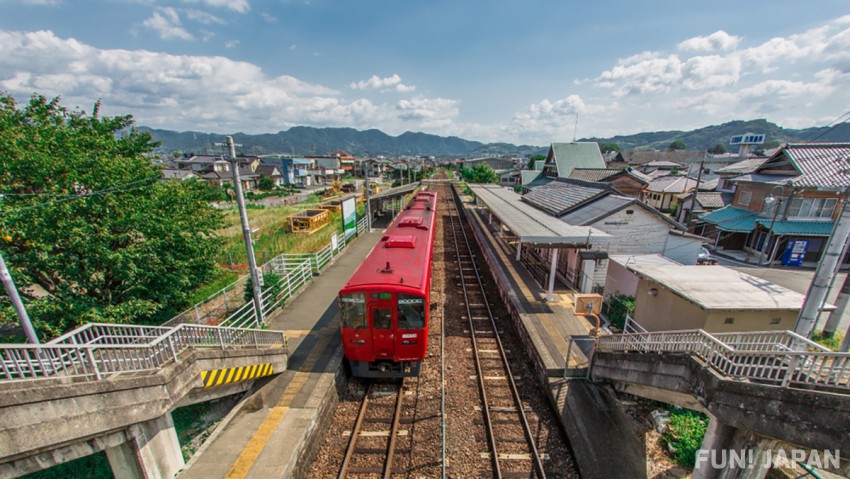 There are several transportation methods within the Fukuoka Prefecture. The level of convenience varies depending on the region, so it is better to decide the routing based on your itinerary.
Using Bus or Subway is Convenient for Getting Around the Fukuoka Prefecture
Fukuoka Prefecture has plenty of bus routes. There are highway buses that depart from Fukuoka City heading in various directions, and the public bus service in various places is also well developing.
The subway is convenient in Fukuoka city. It connects the town area between airports and within other major cities, as well as the stations that bullet trains stop by.
It should be noted that there are special one-day tickets sold by different transportation companies, such as the Fukuoka Day Pass for unlimited rides on trains and buses of West Japan Railway. The ticket fee is 600 yen. (Information accurate as of February 2020)
Required Time to Reach Major Areas in Fukuoka
Fukuoka Prefecture is based in Fukuoka City, where Fukuoka Airport is located. The travel times from Fukuoka Airport to various parts of the prefecture are as follows.
Main Station
Where to Transfer / Route 

Required Time

Hakata

Fukuoka City Subway Fukuoka Airport Station → [Fukuoka City Subway] → Fukuoka City Subway Hakata Station or [Walk] → JR Hakata Station

About 5 minutes

Tenjin

Fukuoka City Subway Fukuoka Airport Station → [Fukuoka City Subway] → Fukuoka City Subway Tenjin Station or [Walk] → Nishitetsu Fukuoka (Tenjin) Station

About 11 minutes

Futsukaichi


JR Hakata Station → [JR Kagoshima Main Line] → JR Futsukaichi Station

or

Nishitetsu Fukuoka (Tenjin) Station → [Nishitetsu Tenjin Omuta Line] → Nishitetsu Futsukaichi Station

About 30 minutes / about 45 minutes

Kurume


JR Hakata Station → [JR Kagoshima Main Line] → JR Kurume Station

or

Nishitetsu Fukuoka (Tenjin) Station → [Nishitetsu Tenjin Omuta Line] → Nishitetsu Kurume Station

About 70 minutes/about 55 minutes

Yanagawa

Nishitetsu Fukuoka (Tenjin) Station → [Nishitetsu Tenjin Omuta Line] → Nishitetsu Yanagawa Station

About 70 minutes

Omuta

Nishitetsu Fukuoka (Tenjin) Station → [Nishitetsu Tenjin Omuta Line] → Omuta Station

About 80 minutes

Kokura

JR Hakata Station → [JR Tokaido / Sanyo / Kyushu Shinkansen] → JR Kokura Station

About 30 minutes

Dazaifu

Nishitetsu Fukuoka (Tenjin) Station → [Nishitetsu Tenjin Omuta Line] → Nishitetsu Futsukaichi Station → [Nishitetsu Dazaifu Line] → Nishitetsu Dazaifu Station

About 55 minutes

Information Regarding Access to Fukuoka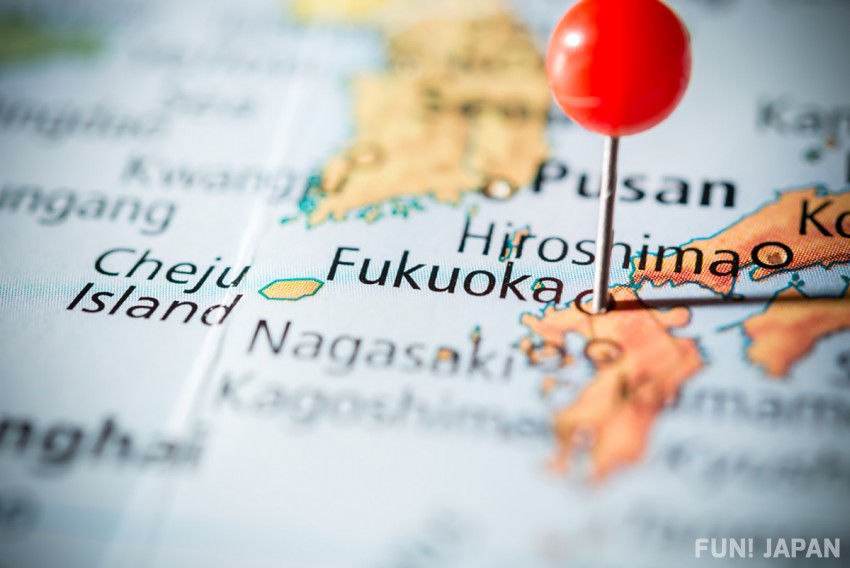 Fukuoka can be accessed by flight and Shinkansen from Japan and abroad. The information has been summarized as below.
Flights to Fukuoka
It is convenient to fly from anywhere in Japan to Fukuoka. There are 55 flights from Haneda Airport (Tokyo) each day, 12 flights from Narita Airport (Tokyo), 10 flights from Osaka International Airport (Itami) and 5 flights from Kansai International Airport. It takes around 2.5 hours from Tokyo, and around 1.5 hours from Kansai area.
In addition, there are international flights from all parts of Asia, so it is a gateway to Asia. From Taiwan, there are six flights a day from Taipei airport and there is one flight a day from Kaohsiung. Furthermore, there are two flights a day from Bangkok's Suvarnabhumi and Don Muang Airport in Thailand and one flight every other day from Kuala Lumpur, Malaysia. (Information accurate as of February 2020)
Shinkansen Access to Fukuoka
Fukuoka is also accessible by Shinkansen. The terminal of Shinkansen in Fukuoka is the JR Hakata Station. It takes around 5 hours from JR Tokyo Station or 2 hours and 40 minutes from JR Shin-Osaka Station to Fukuoka via the Tokaido / Sanyo Shinkansen.
[Survey] Traveling to Japan
Recommend