Yatai in Fukuoka, One of the Famous Street Food Style in Japan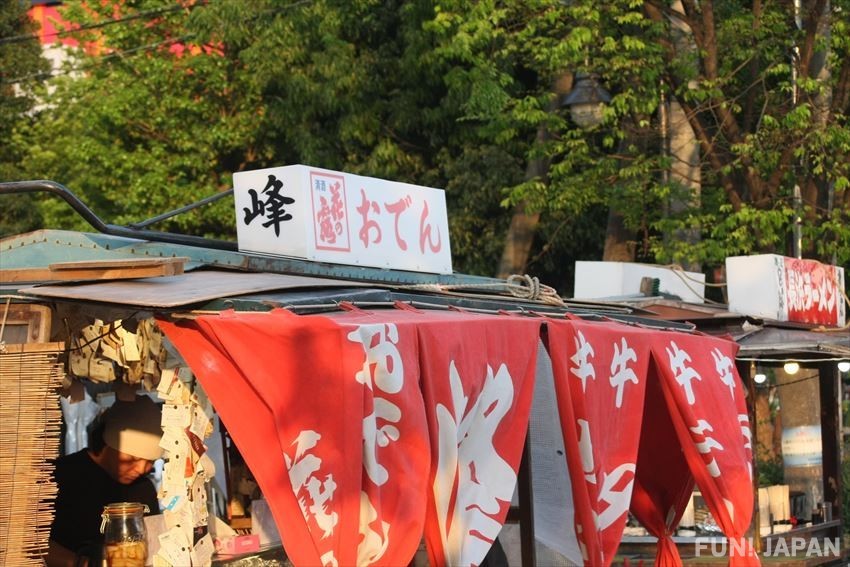 The word "yatai" means "Food stall", but we would rather use the term "Push cart". The reason why is because the stalls have little wheels on the sides so that they can be moved around to different places. In fact, each owner has a designated space where he/she can, and only after 6 p.m., takes the rolling stall on the center stage. Therefore, we advise you to visit there at around 5 p.m., so that you can see the astonishing spectacle : the assembling of the transformer-like moving kitchen.
Japanese Yatai's History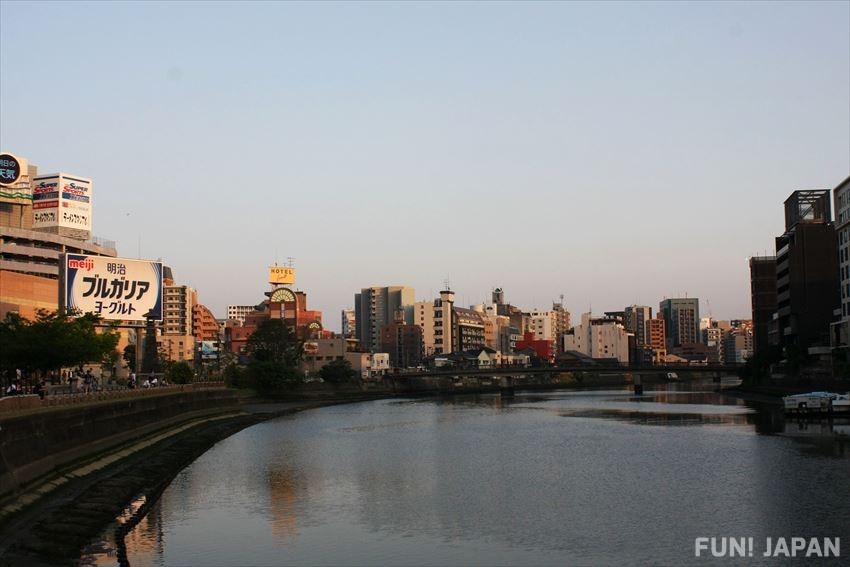 Yatai was said to begin since Edo Period. At that time, getting food supply was a problem which warriors who travel across the nation face. Businessmen who realized this start to sell foods that are filling such as soba, sushi, and tempura on the roadside. It was likely the prototype of yatai in Japan.
During post-war period, Japan faced food shortage and the amount of yatai in black market increased drastically. However, due to problems regarding hygienic issue and stalls set up without permission, which caused the road to be blocked and affecting the city's appearance, the municipalities enforced strict rules to address the problem. This is why yatai are rare to be found in modern Japan.
Fukuoka Yatai Guide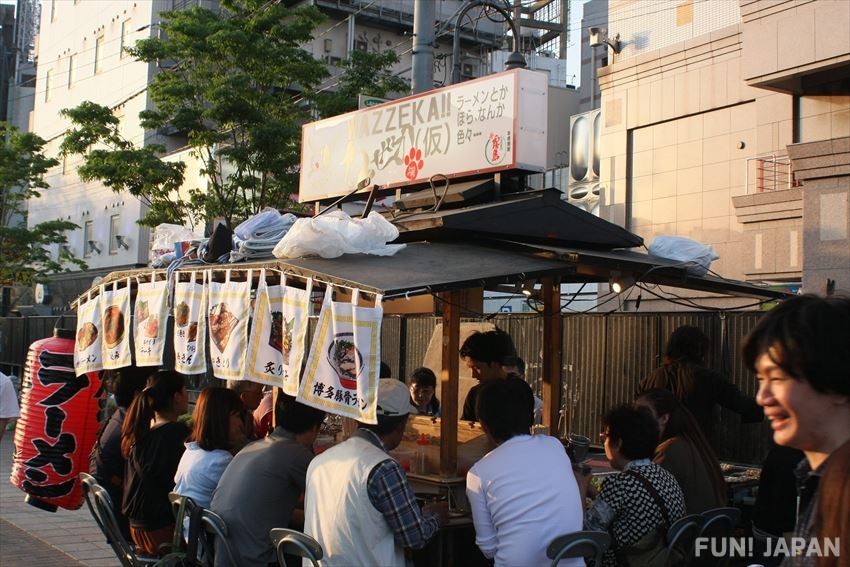 Nowadays, there are about 150 Yatai remaining in Tenjin,Nagahama and Nakasu area. There use to be nearly three times more 50 years ago, but the regulation became stricter, notably on hygiene.
Tenjin Area
Tenjin area is located about 5 minutes away from Tenjin Station of Kuko Subway Line, where Kego Park and Kego Shrine is found. Besides being busy during afternoon hours, many people gather at the area in the evening to visit the yatai stalls. Numerous yatai stalls will be set up along Watanabe-dori street which is flooded with office workers who finished work and young people.
Nagahama Area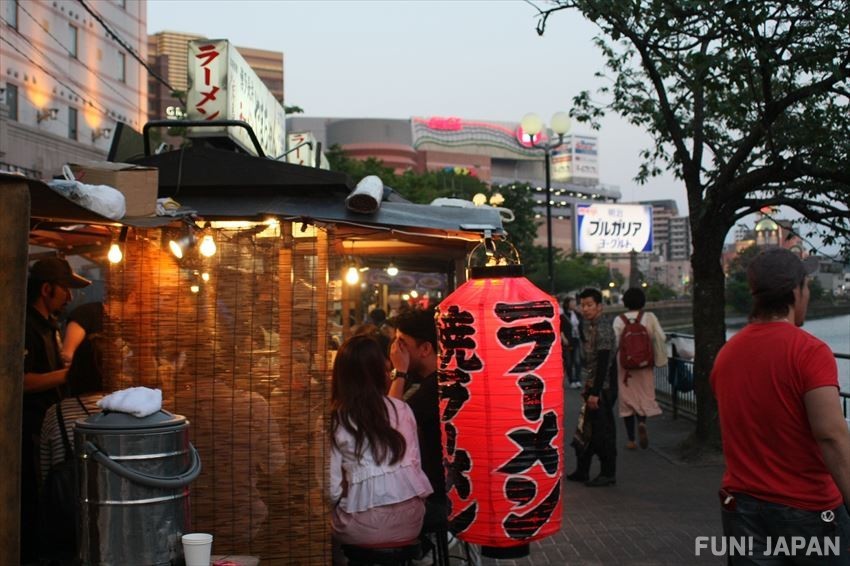 Nagahama area yatai stalls are located slightly south of the Fukuoka Central Wholesale Fish Market, which is 5 minutes away from Akasaka Station of Kuko Subway Line. It is the place of origin of Nagahama Yatai Ramen. The thin noodles with tasty tonkotsu soup of the most authentic Nagahama Yatai Ramen is a must try at its birthplace!
Nakasu Area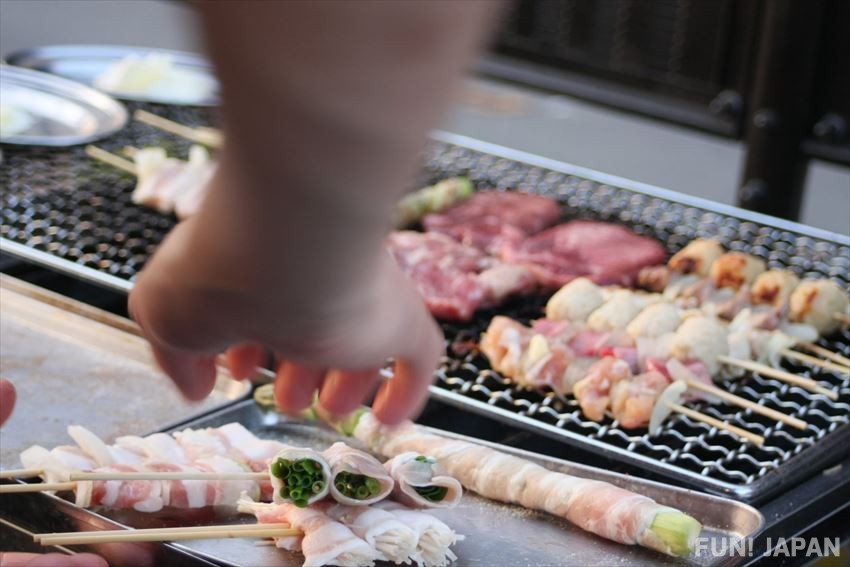 This area is located 15 minutes walk away from Nakasukawabata Station of Kuko Subway Line, which is further south away from Reisen Park. The scenery of riverside and neon lights makes the place a good photo spot. Besides iconic food of Hakata, you can find delicious western food and tempura as well.
"Wazzeka" in Nakasu Area
FUN! JAPAN Team went to a shop called *Wazzeka*, which means "very", as in "very good/delicious", in Kagoshima dialect .It's located along Naka river, in Nakagawa street, Nakasu. The great thing with this particular one is that the surroundings are really pleasant. Since the food stands row is facing the river, you'll be able to enjoy the view while eating.
Dishes :
Ramen - Noodle soup.
Yakitori - Grilled chicken.
Makimono - Literally "rolled things".

Drinks :
Beer

Shochu - Japanese liquor similar to vodka made out of either sweet potato or wheat.

Umeshu - Plum sake.

Nihonshu - Japanese sake.

Whisky

Chuhai - Cocktail of Shochu, Fizzy Water and Lemon.

Non Alcoholic Beverages - Oolong tea, Orange juice and Coke.  

Atmosphere
Above all, the big winner of this getaway is the atmosphere. Though it could be slightly uncomfortable at first, considering the small space for sitting and eating, once you're in the mood, it feels great. In other words, if traveling to Japan means "discovery" for you, this will surely act as a break from your usual routine. At some point you almost forget that you are sitting on a mere folding stool, the surrounding disappears and gives way to degustation.

Price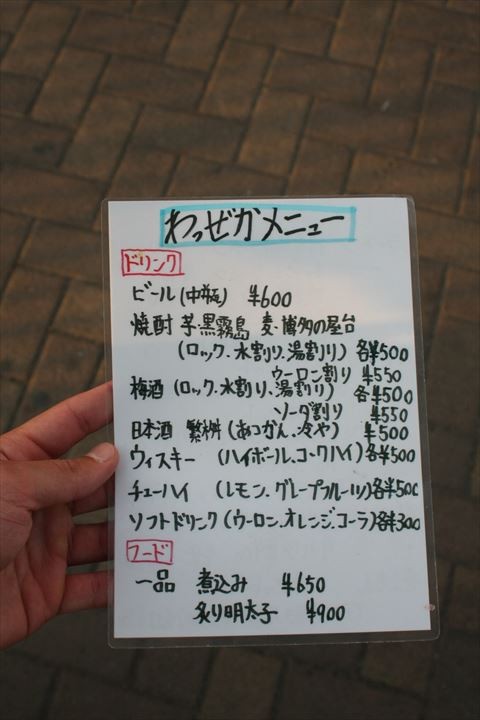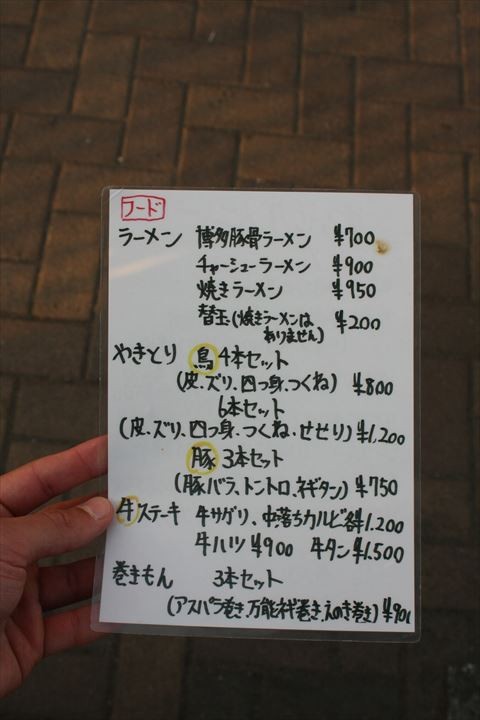 It is about 3600 yen for 1 ramen bowl, 1 plate of Yakitori, 1 plate of Makimono and 2 beers. Obviously, compared to other Izakaya - Japanese style taverns - this peculiar service comes with a relatively pricy bill.

[Survey] Traveling to Japan
Recommend