Ma-Mai, Asian dining (Indian-Bangladesh) restaurant in Tokyo
Japanese people love curry. There are variety of foods created with curry in Japan.
For example, there is curry pan or bread curry, which is a bread with curry paste inside.
Another is curry senbei or curry rice cracker. They even eat curry with noodle also, which is called curry udon. Therefore, it is not strange to see that there are many Indian curry restaurants in Japan, since curry itself is originated from India.
Fortunately, lots of curry restaurants in Japan are halal. It does not mean that all of them are halal; we still need to ask the staff if the menus are halal. There are about 4 Indian curry restaurants around Tokyo Institute of Technology, and two of them are halal (I am not sure about the other two because I did not have the chance to ask them). In this article I will review Ma-mai, one of the halal Indian Bangladesh restaurants.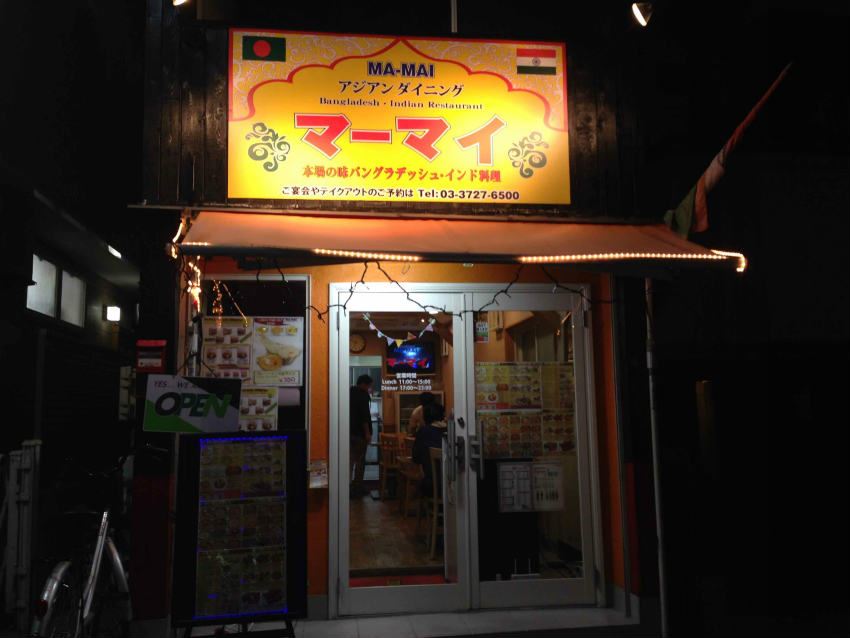 Ma-mai is located very close to Tokyo Institute of Technology Ookayama campus. It
can be reached by foot for about 5 minutes from the Ookayama station. The restaurant is in a two-stories small building, with the kitchen located in the first floor.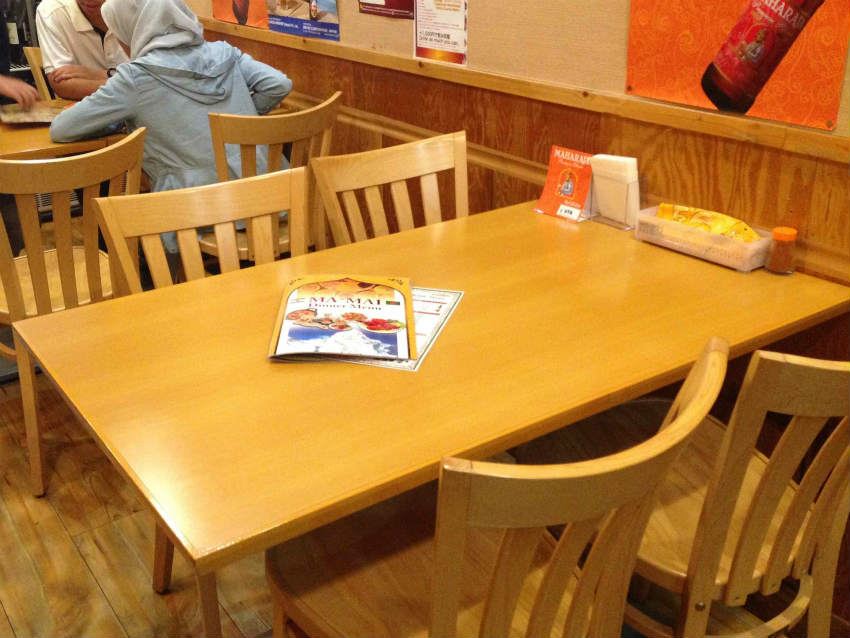 Inside of the restaurant
We came at dinner time to the restaurant. There are several sets for dinner menu, with
the price range from around 1000 – 2000 yen. We ordered Ladies Set, 1398 yen (tax excluded). The ladies set came with salad, cheese naan-bread, rice, two curries (we can choose the curry), tandoori chicken, drink (we can choose among several options of drinks), and dessert.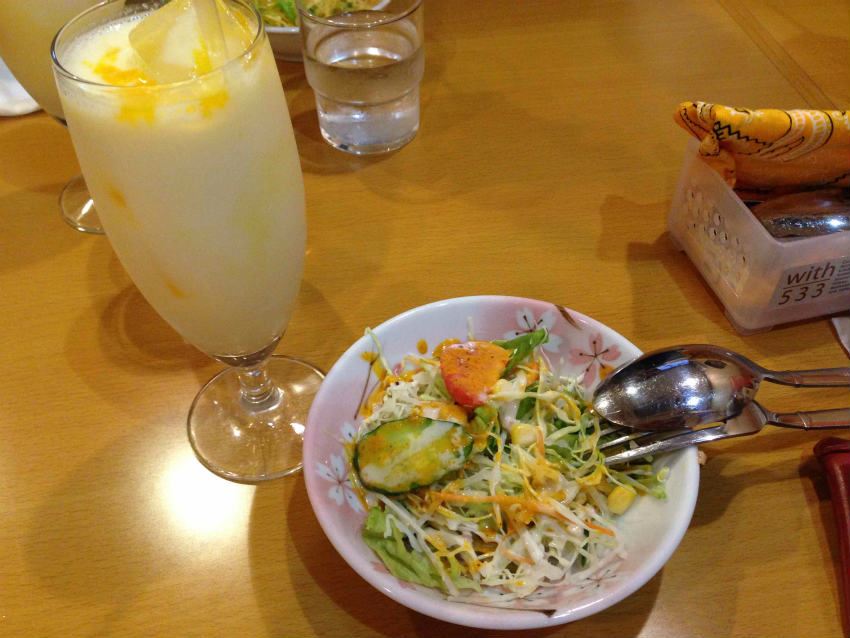 Salad and drink (mango lassi)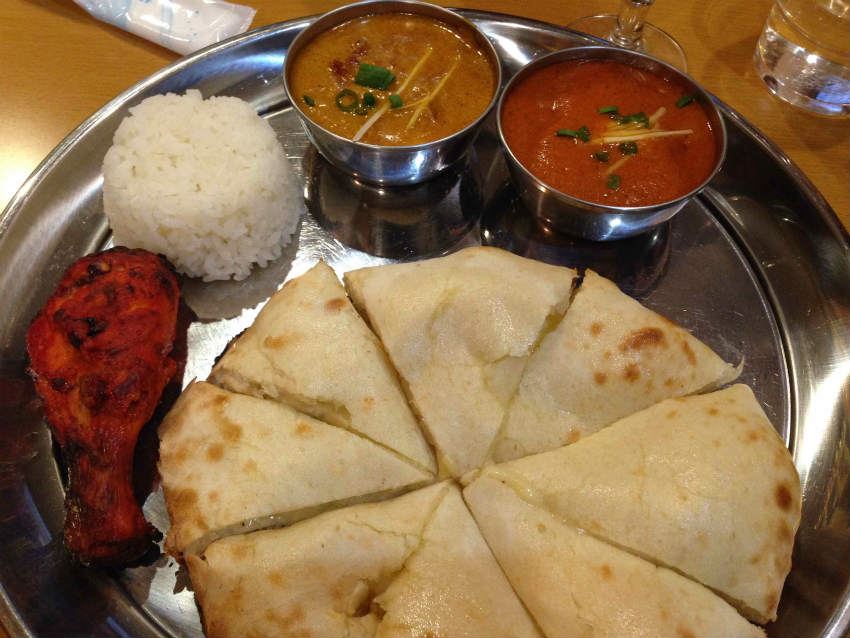 Cheese naan, rice, tandoori chicken, and curries (butter chicken and seafood curry)

The salad was really delicious and refreshing. They used special dressing on the salad, and sprinkled fried garlic on top of it. The cheese naan was quite big and very filling. And the curries were very tasty as well. In short, what were in the ladies set were all delicious in my opinion (and it is not an exaggeration!).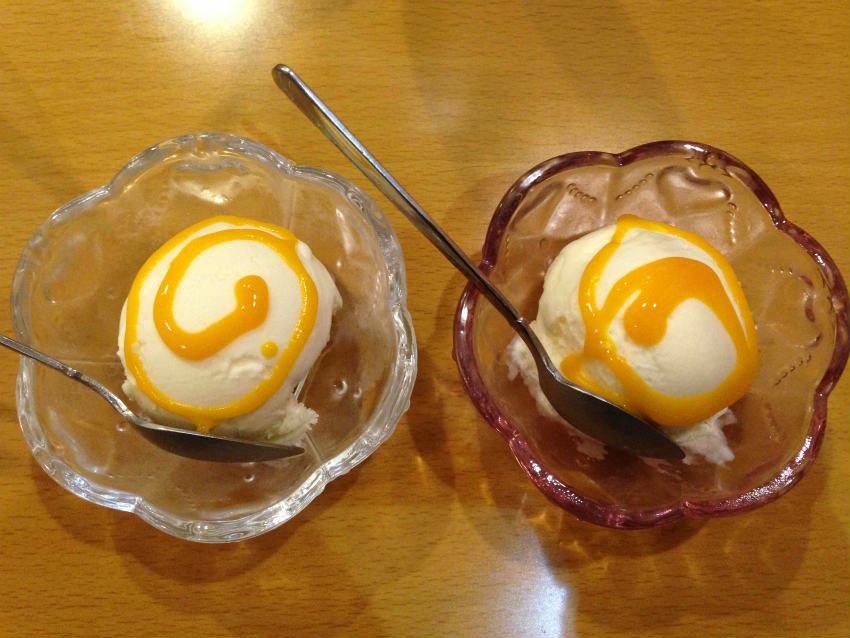 Dessert(vanilla ice cream)

Lastly, we were served with the dessert, vanilla ice cream with mango syrup (or mango paste, I am not sure). The appearance of the dessert was very cute. It was sweet and literally melted in our mouth; very refreshing after having a food with strong flavour like curry.
For less than 1500 yen dining set, I think the dinner set we ordered in Ma-mai was very cheap compared to what we got. Moreover, different to common Japanese foods, Indian foods have more flavorful taste since it usually uses various spices. For people who have an appetite for curry , I recommend to go to Ma-mai, especially on lunch time since they provide lunch set for less than 1000 yen. And since it is located
close to a university, it is not very hard to find. The atmosphere was nice as well so we spent nearly two hours eating and chatting in Ma-mai. It was a satisfying dining experience for us.


Information
Address: 3-16-2 Minamisenzoku, Ota, Tokyo 145-0063
Tel: 03-3727-6500
Opening hours: Everyday (lunch 11.00-15.00, dinner 17.00-23.00)

Map: 

Find similar articles! >> Tokyo,Ginza,etc. 


[Survey] Traveling to Japan
Recommend