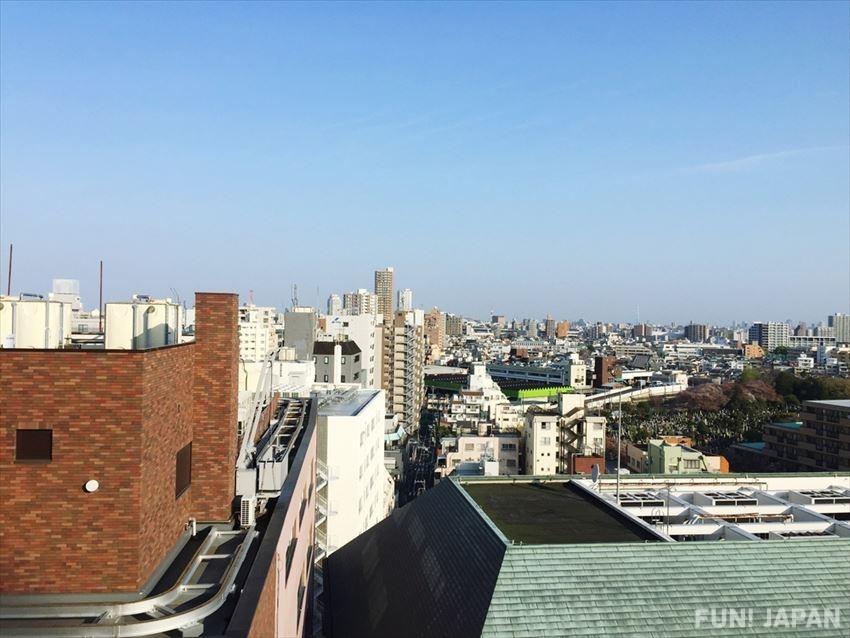 Sugamo, shopping heaven for the elderly, which is the district popular attraction over 800 meters long Jizo Dori Shopping Street. Now before you start saying "I'm too young for this," hold on as it may seem like "Old Ladies Harajuku", it is a historical and well know from all over Japan, and I bet it is worth your time to visit here.

Sugamo Jizo dori Shopping Street
Also known as the Harajuku of the elderly, the long stretch of shops selling items includes, traditional Japanese snacks, tea shops, underwear shops, traditional clothing, umbrella shops, sandal shops, fresh fish and seafood.
Shiodaifuku (salted red bean mochi) is famous in the street be sure to try them, they are a delicious balance of savory and sweet in a chewy mochi, this is a favorite teatime snack for the local elders. Basically, any shop that can survive in the street where demanding elder shops has to be good, such as Tokiwa Shokudo, which serves a variety of seasonal soul food at value price.
Sugamo Jizo dori street is equipped with all sorts of precautions to ensure that the elderly enjoy a risk free and enjoyable shopping. This includes having the street covered in textured bricks to avoid slips, the whole stretch of the street is stationed with a number of AEDs in case of heart attack, a lot of seats are there too for them to have some rest.
Spot Information
Name: Sugamo Jizo dori Shopping Street

Address: 4-22-8 Sugamo, Toshima-ku, Tokyo 170-0002

Access: 5 minutes' walk from JR Yamanote Line Sugamo Station

Opening Hour: 10:00am to 6:00pm

Shopping Mall near Sugamo Station
Seiyu Shopping Mall Sugamo
From the outside the store it looks old and small, but it is actually clean and neat inside. Here you could almost get everything you need from children toys, sports equipment to groceries. The store is well organized, and the staff are friendly and willing to help. Basement will be the groceries, 1st floor is the cosmetic items and seasonal items while 2nd floor is the electronics, stationary, sports equipment, kitchen utensils and many more.

Spot Information
Name: Seiyu Shopping Mall Sugamo

Address: 2-6-1 Sugamo, Toshima-ku, Tokyo 170-0002

Access: 5 minutes from JR Yamanote Line Sugamo Station

Opening Hour: 24 hours

Shopping in Sugamo Station
SEIJO ISHII supermarket
While travelling in Tokyo you might have the frequent desperation, little to no Western foods. Well here is to your relief, head over to the Import store where not only you could get delicious Japanese cuisine but also a preponderance of imported foods, from brie to lasagna noodles and more.
The store is conveniently which can be access directly from JR Sugamo station. It is located at the second floor of the "Atre". Just take the escalator up to the second floor and you will find the store as well as several shops serving up freshly cooked dishes, Western and Japanese. While on the first floor holds a modern bakery, where you can find anything from croissant to French begets.
Spot Information
Name: SEIJO ISHII supermarket

Address: 2nd Floor, JR Yamanote Line Sugamo Station

Access: JR Yamanote Line Sugamo Station

Opening Hour: 8:00am to 10:00pm on weekday, 8:00am to 9:00pm on weekend/holiday

[Survey] Traveling to Japan
Recommend