Enjoy Tokyo from Oshiage's Comfort and Wonder!
Located in the superb Sumida Ward and redeveloped in 2012, thanks to the building of Tokyo Skytree and its surrounding complex, Oshiage has become a cultural icon of Tokyo. Discover Oshiage and follow the Oshiage line to get to different locations in Tokyo.
What Oshiage Tokyo is offering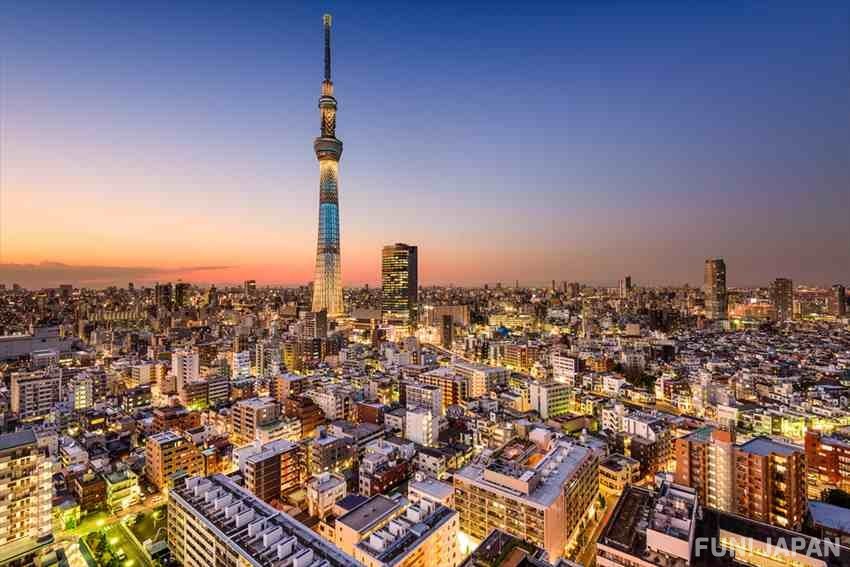 Oshiage is located right in the core of east Tokyo, linked to many landmarks in the 23 wards and beyond, and right next to the 634-meter Tokyo Skytree, a famous Tokyo landmark.

The Oshiage Skytree surrounding area
In 2012, the Oshiage Skytree was opened to the public and placed Oshiage on each Tokyo map. Under the tower is Tokyo Solamachi, a big complex that houses the entire family's multiple operations.

You can bring your children (or large children!) to visit the Skytree Town Pokemon Center and lose yourself in the greatness of Pokemon. Or visit the Sumida Aquarium and see the penguins, or drop over ice-skating on the Winter complex's roof at a specially built ice rink.

About Oshiage Station
Oshiage Station connects Tokyo Skytree with the remainder of the town via the many train and subway paths on the eastern side of Skytree Town.Used as a terminal station for three distinct lines, and a through line to Narita Airport, on your trips to Tokyo, you'll probably go back this station, even if you're not visiting Tokyo Skytree.

Store Your Luggage in Oshiage Station Lockers
Like many Tokyo-wide stations, Oshiage Station lockers provide travelers and locals with the opportunity to safely store their possessions while enjoying what Oshiage Tokyo has to offer.

The lockers offer all the sizes needed to store luggage and bags up to 117cm x 34cm x 57cm, any larger and you'll be out of luck. The price of the largest Oshiage Station lockers are 700 yen, while the medium size lockers are 500 yen, and the smallest size being 300 yen.

Taking the Oshiage Line to Access Tokyo
To access Oshiage from Tokyo, there are a few options available. The easiest is taking the Hanzomon line from Shibuya to Oshiage station itself. Another option is to take the Toei Asakusa line from major stations in Tokyo like Asakusa, Shimbashi, and Nihombashi.
Catching the Subway from Oshiage Station to Disneyland
While there is no direct line from Oshiage Station to Disneyland, there's only one transfer needed to get to "The Happiest Place on Earth". If you're headed from Oshiage Station (SKYTREE), jump on the Asakusa Line headed towards Haneda Airport. 
When you reach Takaracho Station, jump off and transfer to Hatchobori Station, it's only a few minutes walk. Grab the Keiyo Line headed towards Soga and enjoy your trip to Disneyland!

Don't forget to get off at Maihama Station though, as there's no "Disneyland Tokyo Station" so pay attention or you might miss your stop!
Transportation from Oshiage to Narita Airport
Getting from Oshiage to Narita Airport is a breeze, with a direct line to one of the busiest airports in the world! Serviced by the Keisei Main line, taking the Keisei Narita Sky Access will jet you to Narita Airport in under an hour for a mere 1,200 yen, a great deal if you're staying in the Oshiage area.
If you're flying into Tokyo and headed to Oshiage from Narita Airport to stay in one of many Oshiage hotels (keep reading for some recommendations!), make sure to buy a "Sky Access Ticket" and jump on a train marked with "A H", "A N", or "A M", these will stop at Oshiage Station. Do not jump on any trains marked "U", these will not stop at Oshiage Station.
You can use your Suica IC Card or Pasmo IC Card on these lines, which can be purchased from Narita Airport station in the designated areas.
Stay at an Oshiage Hotel
Staying in an Oshiage hotel can have many benefits for your trip to Tokyo. Being that Oshiage is located in the east of the city, you're away from the hustle and bustle of Shinjuku and Shibuya in the west, while staying close to lovely Asakusa area, which is only a short walk over the Sumida river.
Oshiage Richmond Hotel's Beautiful Views
With beautiful views looking over Tokyo Skytree and the Sumida River, the Oshiage Richmond Hotel is our recommended hotel in Oshiage. It's only a 2 minute walk from Oshiage Station through the calm streets of Sumida. 
The hotel features free WI-FI, and LCD TV in every room, wonderful views of the surrounding area and a courtesy Handy smartphone companion, making your stay in Tokyo as pleasant as possible.
Open 24 hours a day, check in is from 2:00pm and check out is at 11:00am.
Spot information
Spot name: Richmond Hotel Premier Tokyo Oshiage

Street address: 1-10-3 Oshiage, Sumida, Tokyo 131-0045

Access: 2 minutes on foot from Oshiage Station Exit B3

[Survey] Traveling to Japan
Recommend