When is the Perfect Time to Visit Koishikawa Korakuen in Tokyo?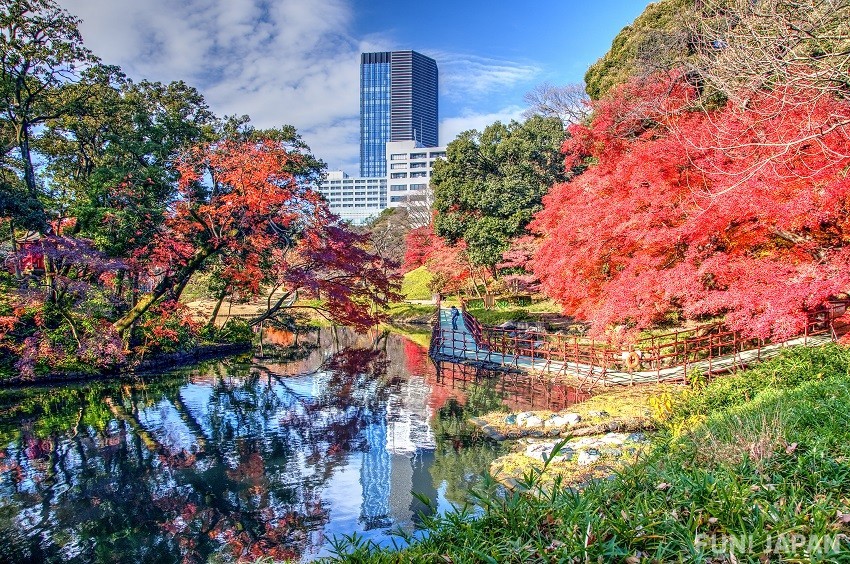 Koishikawa Korakuen (小石川後楽園) is a Japanese garden that was built in the Edo period and was designated as a special historical site as well as a special cultural site by Japan. It is a garden that is built with the lake as the center. There are different beautiful expressions hidden throughout this enormous garden. Here is the introduction of the different beautiful scenery under seasonal flowers.

Koishikawa Korakuen filled with Cherry Blossom in Spring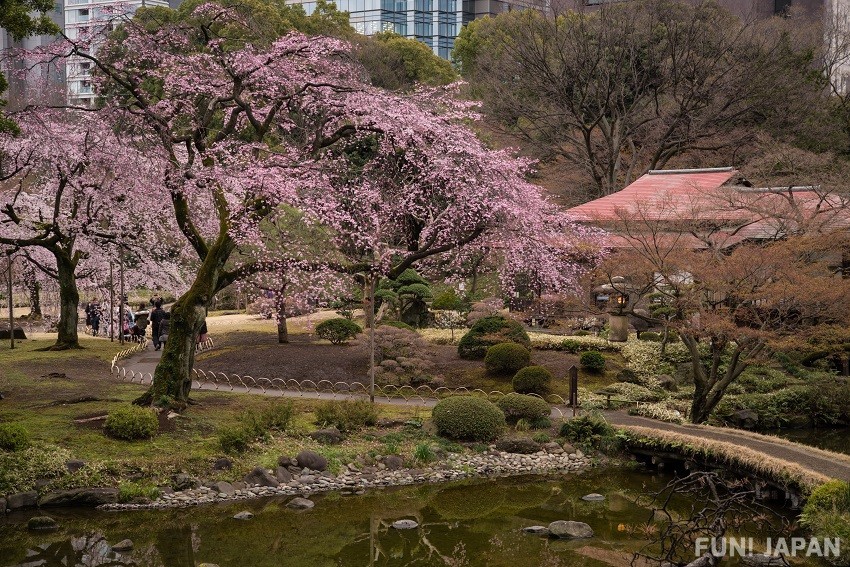 Sakura comes to mind the spring is mentioned. Beautiful sakura such as Someiyoshino (ソメイヨシノ), Shidarezakura and are blooming furiously. A masterpiece made by 60 years old blooming cherry trees in the garden. From late April to early May the hanging flowers of the "Japanese Wisteria (藤)" is also a sight to behold. There is also the purple "Japanese Iris" that is blooming proudly near the bridge in the garden for you to enjoy while slowly crossing that bridge.
In May, you can also make a simple helicopter‐like bamboo toy (竹トンボ) in a cultural classroom.
In Summer
Approaching summer, you can see a lush green paddy that is being planted, giving you a peaceful feel of the countryside. The flower that is adding colors to the garden is the Lotus flower, which will turn pink in between mid-July to the mid-August. You can also see white flowers (water lily) in the inner garden from late-May till mid-June. The lotus and the water lily close during the afternoon, so please enjoy them in the morning. You will feel a refreshing wind you normally don't get from being in the city if you are in the garden, allowing you to enjoy a cool and relaxing time.
In Autumn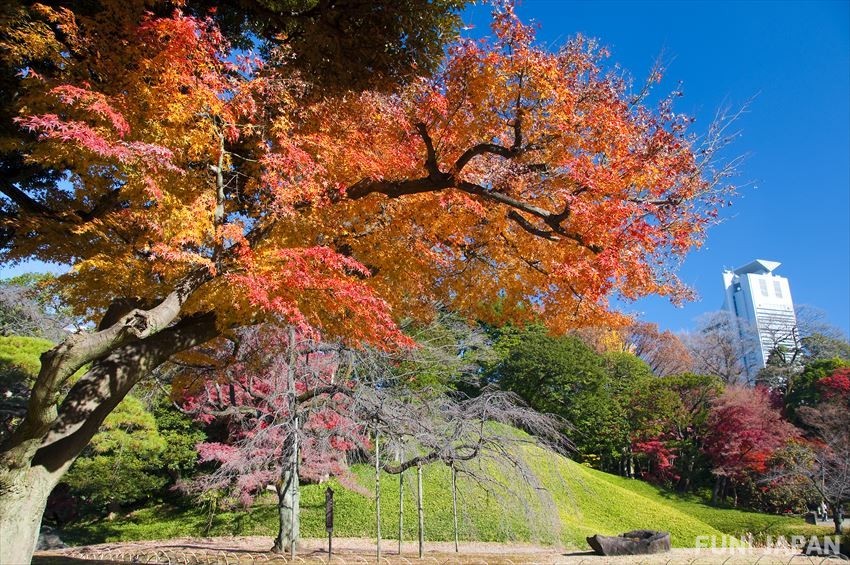 During autumn, the Lycoris Radiata, also known as red spider lily, is the thing to see in the garden. A lot of people come just to take pictures of bamboo shoots surrounded by red flowers. And the paddy rice planted in May are ready for harvesting as autumn arrives. You may witness "scarecrows" among the ripe yellow paddy field. From mid-November to early-December, Maple and Ginkgo will change colors, painting the garden in bright red which is a view not to be missed. Along with the "Koyo Matsuri", you can enjoy both the red autumn leaves and Japanese traditional arts.
In Winter
The "Yukizuri (雪吊り)" in the winter poetry is a tool to prevent the branches of the trees from breaking due to the weight of the snow. It is a traditional method using ropes to protect the branches. The branches are tied in a way so that the trees in the garden still looks beautiful during the winter. And in early-February to early March, the plum trees begin to blossom beautifully in the garden. There are about 90 plum trees in the garden producing pink and white plums for your viewing pleasure. To be able to see such a spectacular plum blossom in a city is one of the many reasons foreigners flock to Tokyo.
Tea Ceremony held in Koishikawa Korakuen

At Koishikawa Korakuen, there are various events held in conjunction with the seasons to allow foreigners to fully enjoy the garden's culture. There are tea ceremonies held on certain days in which you can take part with a cost. This event lets you enjoy the taste of matcha and Japanese sweets while being seated at the prime spot of the garden, giving you the best view of the garden. This ceremony is about 50 minutes, and there are tea ceremonies held in English as well. Why not grab this opportunity to experience the authentic full-course tea ceremony?
Various plum enjoying event is held during the plum season. There will be plants exhibition, workshops, and traditional art's exhibition. There will also a be special guided tour about plums, so grab this chance to learn more about plum!
How to Get to Koishikawa Korakuen
You can take JR, Toei Subway or Tokyo Metro to get to Koishikawa Korakuen. Free guide services are provided, and the English guide services are provided only at 10 am on Saturdays. Please enjoy this historical garden along with its blooming seasonal flowers.
Spot information
Spot name: Koishikawa Korakuen (小石川後楽園)

Street address: 1 Chome-1-6 Kouraku, Bunkyo-ku, Tokyo

Access: 

3-minute walk from Toei Subway Oedo line's Iidabashi station exit C3.
8-minute walk from JR Soubu line's Iidabashi station east exit.
8-minute walk from Tokyo Metro Tozai/ Yurakucho/ Namboku line's Iidabashi station exit A1
8-minute walk from Tokyo Metro Marunouchi line's Korakuen station central gate.

Operation hours: 9am~5pm (Last entry at 4:30 pm)

Rest day: Year-end ~ beginning of the year (29th December ~ 1st January)

Others: Free wifi (FREE Wifi & Tokyo) is provided at the Koishikawa Korakuen service center area. Coin lockers services are not provided, but you can ask the staff to take care of your luggage for free at the entrance.
[Survey] Traveling to Japan
Recommend