Zojoji Temple, Fascinating History in the Heart of Tokyo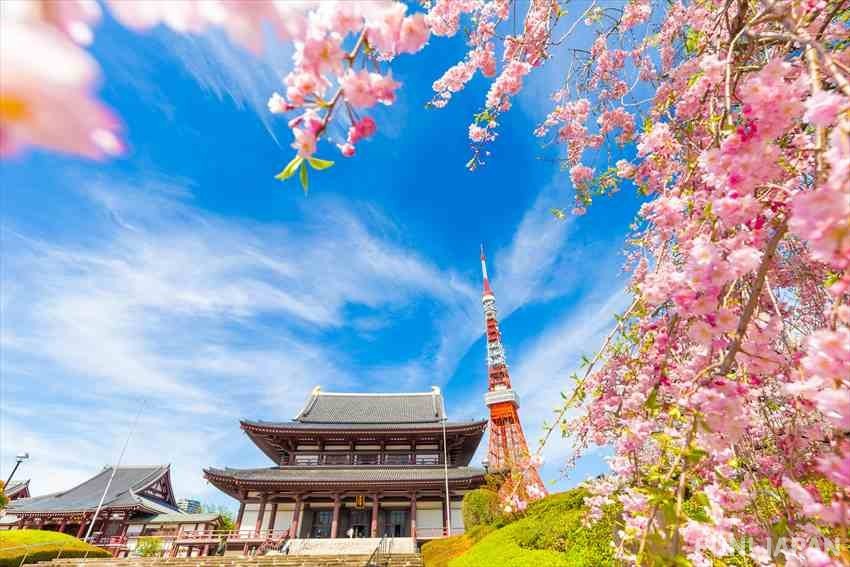 For those who love history and are fascinated with Buddhist temples, the Zojoji Temple in Minato is a great place to visit. With the famous Tokyo Tower in the background, it presents a brilliant opportunity for tourists to take beautiful photos. Year after year, visitors flock to the temple to welcome in the New Year.
Zojoji Temple in Minato-ku area, Tokyo
Zojoji Temple in the Minato-ku area is one of the largest Buddhist temples in Tokyo. Located in Shibakoen, it was initially built in 1393. Its main gate is also the oldest wooden structure in Tokyo as it was built in 1622.
Rich in history, the temple is known for its magnificent architecture and relationship with the Tokugawa Clan. What's more, there is a Treasury Gallery perfect for art lovers, as it exhibits paintings by Kano Kazunobu, a renown Japanese artist.
Zojoji Temple on New Year's Eve
Every year, the Zojoji Temple hosts the New Year's visit known as Hatsumode. The temple happens to be the most visited place in Tokyo during this time as thousands go there to pray for good health and peace.

Apart from offering prayers and purchasing protective amulets (omamori), you will be able to watch a sacred ritual whereby old paper and fabric charms and Buddhist mortuary tablets are burnt as well as partake in the bell ringing ceremony.

Do visit around this time to experience a significant part of Japanese culture, while enjoying various snacks sold at the many food stands. Hot sweet rice wine (amazake) is also handed out for free to keep you warm!
Zojoji Temple Statues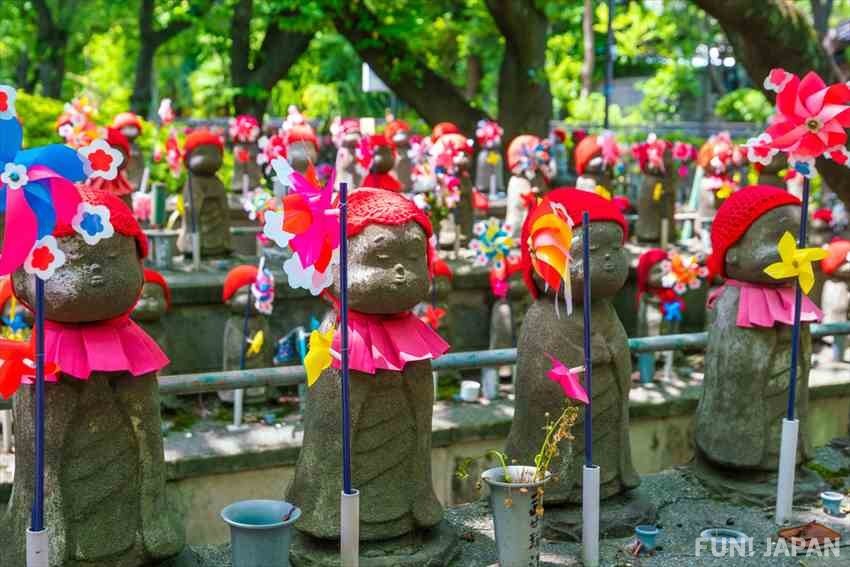 The temple is also famous for the Jizo statues. There is a garden lined with these meaningful statues representing the unborn children of Japan.
The statues are often seen wearing bibs or small children's clothing. Furthermore, offerings such as toys and more are left at the base by people, in hopes that Jizo, the guardian of children, would protect them in return.
Zojoji Temple Hours and the Access Map
Being in the heart of Tokyo, the temple is easily accessible. The nearest subway stations are Shibakoen Station which is a 6-minute walk, and Onarimon Station which is about an 8-minute walk.

The place is open from 9am till 5pm everyday, with no closing days, and admission is free. After visiting the temple, you can drop by Tokyo Tower (4-minute walk away) to make the most out of your trip.
Be sure to take a photo of the temple with Tokyo Tower in the background, as it would make a great memento of your trip! Moreover, the photo will show the amazing contrast between the modern and traditional sides of Tokyo.
Spot information
Spot name: Zojoji Temple

Street address: 4-7-35 Shibakoen, Minato-ku, Tokyo 105-0011

Access:

Around 6 minutes' walk from Shibakoen Station
Around 8 minutes' walk from Onarimon Station
Zojoji Shrine
In case you are interested in visiting a Shinto shrine, there is the Shiba Toshogu Shrine, which is just within walking distance.
The shrine is rather small but it is memorable, especially for the following: 1) containing the wooden statue of the first shogun of the Edo Period, Tokugawa Ieyasu; and 2) the huge gingko tree which was designated a Natural Monument in 1956.
It is open to visitors every day from 7am till 7pm, with no admission fee.
Spot information
Spot name: Shiba Toshogu Shrine

Street address: 4-8-10, Shibakoen, Minato-ku, Tokyo 105-0014

Access:

Around 2 minutes' walk from Shibakoen Station
Around 7 minutes' walk from Akabanebashi Station
[Survey] Traveling to Japan
Recommend