What is in Store for You in Tokyo During Spring?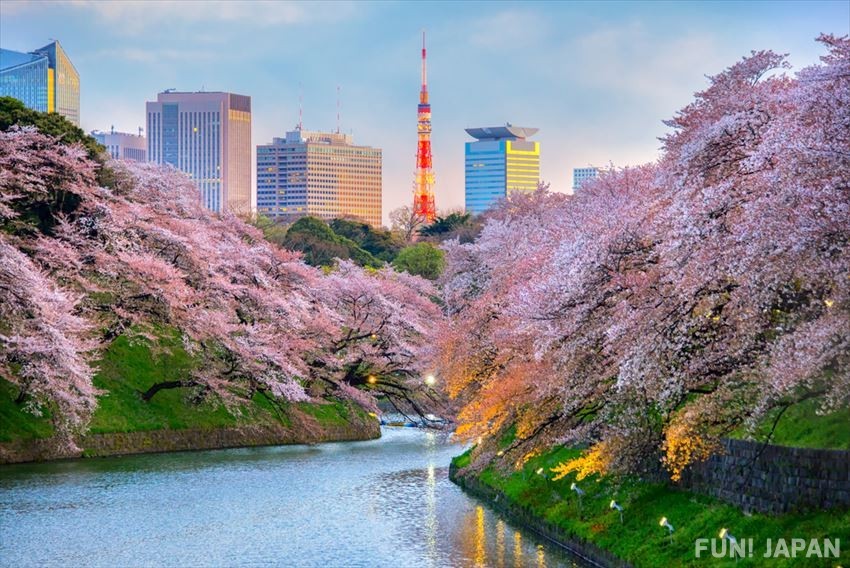 Spring in Tokyo is from March to May, but the weather is very different depending on a month. It is very cold like winter in March, it is getting warm in April, and you can wear a short-sleeve shirt in May. People changing their fashion depends on a month. In this season, there are a lot of famous events going on in Tokyo, such as Sakur or Cherry Blossom viewing, Sanja Matsuri or the biggest festival in Asakusa, Koinobori for kids' festival and so on.
Tips of spring weather in Tokyo

Japan has four seasons, but spring is a popular season for sightseeing. It starts to get warmer in spring, so it is a great season for walking around Tokyo. In Japan, schools or new fiscal year start in April, so many things start over from April, and you can feel the atmosphere of the town gets brighter.
Weather in March
The average temperature in March is 10℃, and air is very dry, but it is cold like winter in the first few weeks of March. You will feel very cold when it gets rain, and sometimes it changes to snow. In the late March, Cherry blossom starts to bloom, but the temperature is around 13℃, and you need a jacket to go out and need to turn on a heater in the house.  
Weather in April
You can feel like "Spring has come!". The average temperature is 19℃, and you do not need to wear a jacket during daytime. It does not rain a lot in April, so you can enjoy going out for sightseeing. 
Weather in May
May is a great season for Tokyo sightseeing. The average temperature becomes 23℃, and you can go out with a short-sleeve shirt. You feel the warmth from the sun, so it is also great to hang out at parks. However, you need to be careful with "Golden Week", which is Japanese holiday starts from late April and ends around the first week of May. In this holiday, Japanese people also go out for sightseeing and shopping, so public transportation and attractions get very crowded. If there's some events you want to visit during this holiday, you should check the information before you go.
Comfortable fashion for spending a spring in Tokyo
Wear some warm clothes when you go to Ohanami or Sakura viewing
Whether changes easily in spring, so you need to get cloths for each month. In the early of March is very cold, so you need to bring some jacket. You still feel cold when it gets cloudy in the late March, so you should wear some jacket when you go to cherry blossoms' Ohanami.
When it becomes April, the temperature starts to get warmer, so you do not need to wear a jacket anymore. You just need to wear a long-sleeve shirt when you go out on sunny day. However, it gets cold after sunset, so it is better to bring a jacket with you. 
In May, you just need some thin cloths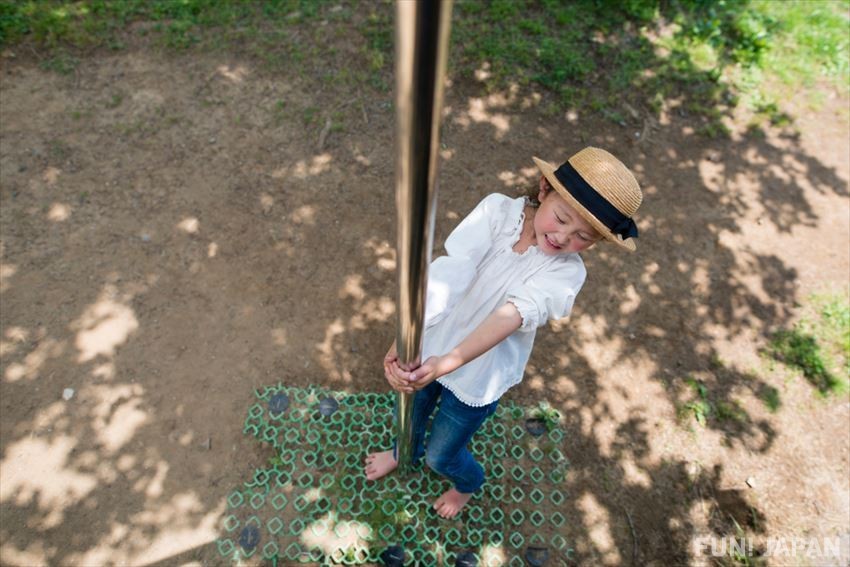 It gets warmer in May, so you will sweat easily sometimes. Thin cloths are good enough for May and sometimes you can wear short-sleeve shirt, too. The sun gets stronger, so it is better to bring a hat and sunglasses with you. A lot of roads in Tokyo are covered by asphalt, so the reflection from the road is strong, and kids can have heatstroke. So, we recommend you to have some drink with you. 
Spring traditional event information in Tokyo
Tokyo Tower: 333 "Koinobori"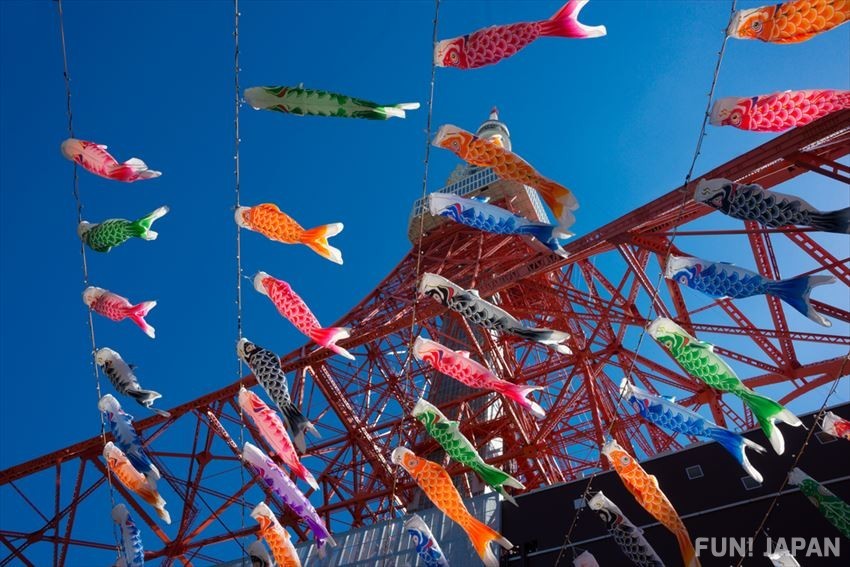 May 5th is a kids' celebration day in Japan, and people eat Japanese sweets Kashiwamochi and display an ornamental helmet at their home. Also, people fly the cloth with carp's paintings on for tradition, which is called "Koinobori". This tradition is for praying kids' health and their progress.
Tokyo Tower, which is a famous attraction of Tokyo, has an event for this celebration. This event is called "333 Koinobori" and flies 333 carps banner in the air. The reason they fly 333 carps is that Tokyo Tower's height is 333m. The view is spectacular, and it is great event for family. 
Sanja Matsuri Festival
One of the biggest traditional Matsuri or festivals in Japan is held in Asakusa, Tokyo downtown area on the third weekend of May. It is famous for several mikoshi or portable shrines carried by a lot of local people with the traditional live music by Japanese drums and flutes. They stroll around all over Asakusa area.Many neighborhoods also have smaller children's mikoshi as well as women's mikoshi.
Event information which you can enjoy with sightseeing
Ueno Cherry Blossom Festival
Japanese people love Ohanami or Sakura viewing! They bring some foods and alcohols, and have a picnic at the park with watching cherry blossoms. Ueno Park has one of the most famous cherry blossom street in Tokyo, so a lot of people come to this park and enjoy Ohanami.

There's no certain style for Ohanami, so you can enjoy ohanami whatever the way you like. You can bring foods and drinks, and enjoy with your people. It is also a good idea to talk to people around you. However, it gets cold at night, so just be careful not to catch a cold.  
Meat Festival, so-called Niku Fesu
Many events are held every week in Tokyo. You should check about Meat Festival in Odaiba, if you visit Tokyo in Golden Week.
At the Meat Festival, you can enjoy many different kinds of meat dishes at the outside, and there will be a lot of street stores at the event place. The dishes you can try are stakes, fried chicken, sushi, dumpling and so on. Also, they use many different kinds of meat like beef, pork, chicken, ram and so on. There will be the special luxury dishes you can only try at Meat Festival, too.   
[Survey] Traveling to Japan
Recommend