The Fascination of Shinjuku Gyoen National Gardens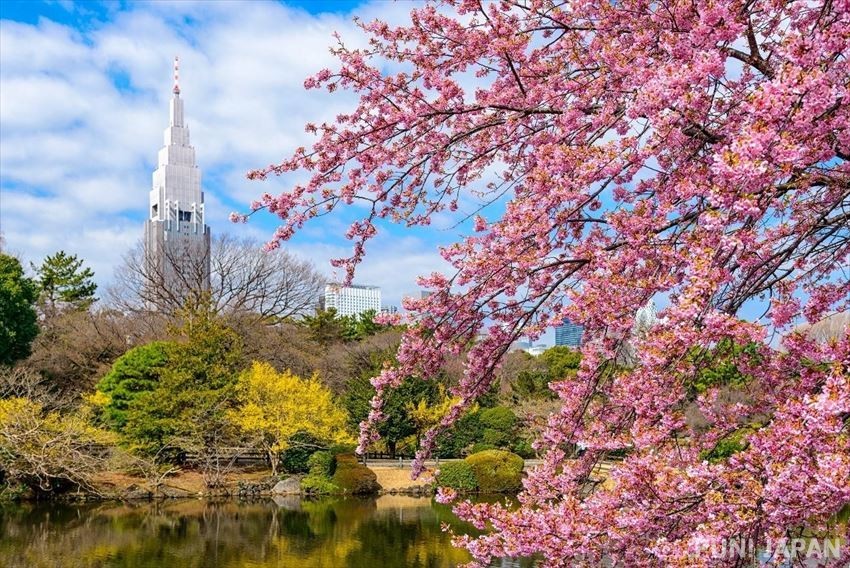 If you travel to Tokyo, you should definitely visit the Shinjuku Gyoen National Gardens. Not only do the gardens have the unique beauty of a Japanese Garden, but they also offer a peaceful place in the heart of Tokyo. The remarkable pink colours of the cherry blossom season are breathtakingly beautiful and should be enjoyed by all, as well as the scenery of autumn foliage in the Japanese garden.

Must-see spot while traveling in Tokyo: Shinjuku Gyoen National Garden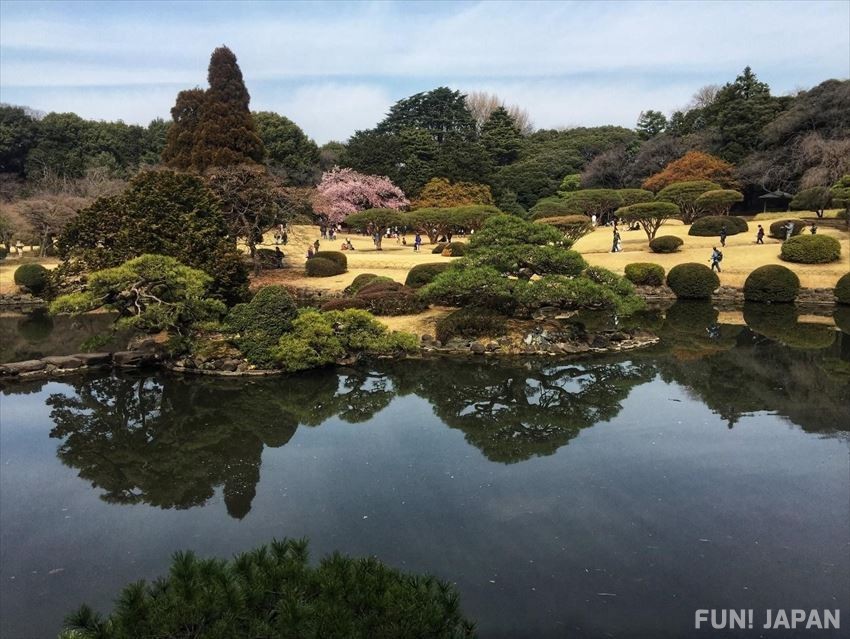 If you are looking for a splash of green in New York, that may visit New York Central Park, for Tokyo, you could find that beautiful green in Shinjuku Gyoen. 58.3 ha in size, the Shinjuku Gyoen National Gardens were open to the public in 1949.
Within the Shinjuku Gyoen, there are over 10,000 trees was grow, including tulip trees and over 1000 cherry blossoms. In Spring, you will fall in love with the delightful flowers, in summer, you'll be surrounded by the refresh greens, in Autumn, you'll dance within the fallen leaves, even the Winter, you find the scene ineffable.
The best place where you can enjoy the cherry blossoms in Tokyo

The season of Japan's cherry blossom is always the hot season for tourists, not just the oversea tourists, but also the Japanese themselves. Shinjuku Gyoen is a fantastic place for cherry blossom viewing. Every year in March, everyone eager for the cherry blossom forecast, don't want to miss the unforgettable pink and white. Even with hundreds of people in the Shinjuku Gyoen park, you won't feel crowded because of the park's wide, open spaces.
The best way for the Japanese to enjoy the beautiful cherry blossoms, is to picnic under the cherry blossom trees. With your friends, family or even with the co-workers will go picnic during this period. For the tourists, you and easily buy the lunch box in the garden, or the food court in Shinjuku Department stores, also in the convenience stores or the 100 yen stores where you can easily find yourself a picnic blanket. Just for the record, alcoholic drinks are not allowed in Shinjuku Gyoen Gardens. 
Japanese garden style for the Autumn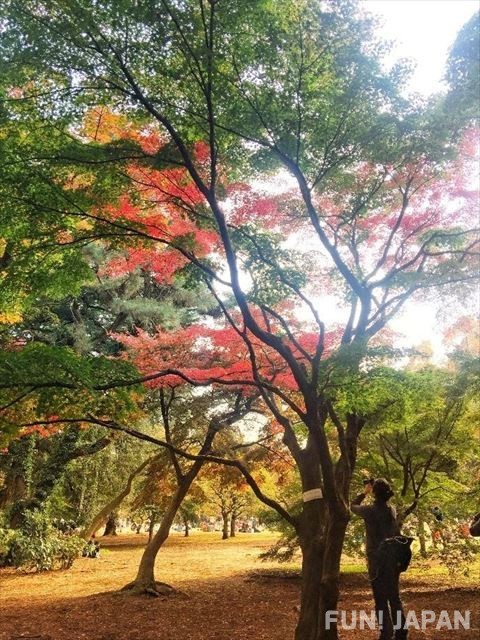 Another marvelous scene that you won't be able to resist is the maple leaf and the ginkgo. Comparing to the pink in Spring, the Autumn of Shinjuku Gyoen is the spectacular yellow and red. The Japanese style garden is just the perfect match for these colors. Sitting on the bench along the lake, even the cold can't stop the tourists to come. Next time travel to Tokyo, you must see this beautiful yourself.

The access and the visiting information of Shinjuku Gyoen
There are three entrances for Shinjuku Gyoen, which are "Shinjuku gate", "Sendagaya gate", and "Okido gate."

Shinjuku Gate
JR Keio Odakyu Line / 10-minute walk from Shinjuku Station South Gate

Tokyo Subway Fukutoshin Line / 5-minute walk from Shinjuku 3-chome Station E-5 Exit

Seibu Shinjuku Line / 15-minute walk from Seibu Shinjuku Station

Tokyo Subway Marunouchi Line / 5-minute walk from Shinjuku Gyoen-mae Station

Toei Subway Shinjuku Line / 5-minute walk from Shinjuku 3-chome Station C1/C5 Exit  

Sendagaya gate
JR Sobu Line / 5-minute walk from Sendagaya Station

Toei Subway Oedo Line / 5-minute walk from Kokuritsu-kyogijo Station A5 Exit 

Okido gate
Tokyo Subway Marunouchi Line / 5-minute walk Shinjuku Gyoen-mae Station Exit 2

Opening Hour 
9:00 AM~4:00 PM(closed at 16:30)
Closed on every Monday. Open on Monday if it is a public holiday, but closed on the next day

Closed during New Year period (29th December~3rd January)

Open on Monday during 25th March~24th April and 1st November~15th November)

Entrance Fee
Adult 200 yen

Primary & Secondary School Student 50 yen 

[Survey] Traveling to Japan
Recommend