Winter Illuminations, The Best Spots in Tokyo
Spending Winter time or Christmas season in Japan is a totally different experience from the one you could get anywhere else in the world. Whereas in Europe or America this moment of the year is usually spent with family, here in Japan it is often an occasion for couples or friends to enjoy illuminations.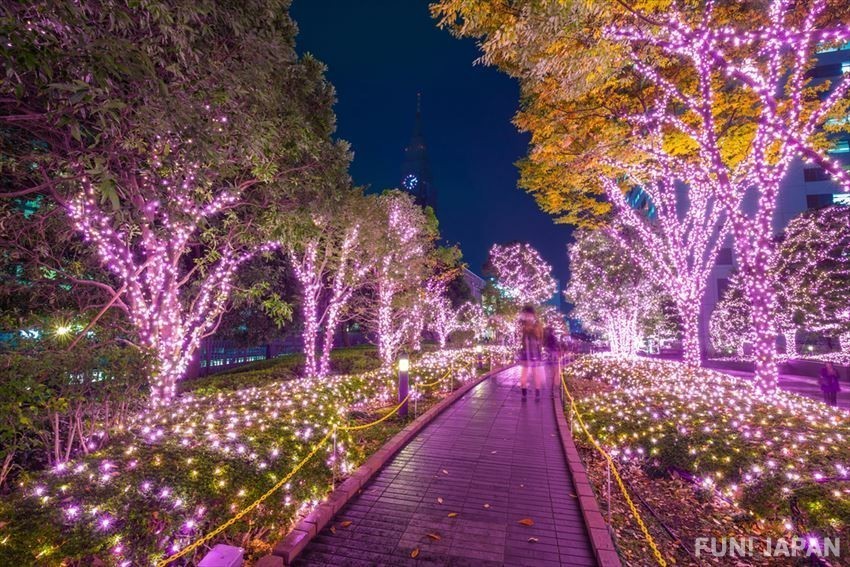 Seasonal change is too fast in Japan
As soon as Halloween is over, pumpkin decorations give way to snowflakes, Santa Clauses and Christmas trees. It is surprising to see how fast the marketing machine spins over here. Every shop has its own little touch of winter, to set the tone for the cold days coming. On top of that, it is the perfect occasion to gaze at the luxuriant illuminations installed in several areas of Tokyo. That is why, we would like to recommend some major spots that you should not miss if you visit Japan's capital.

Shinjuku Southern Terrace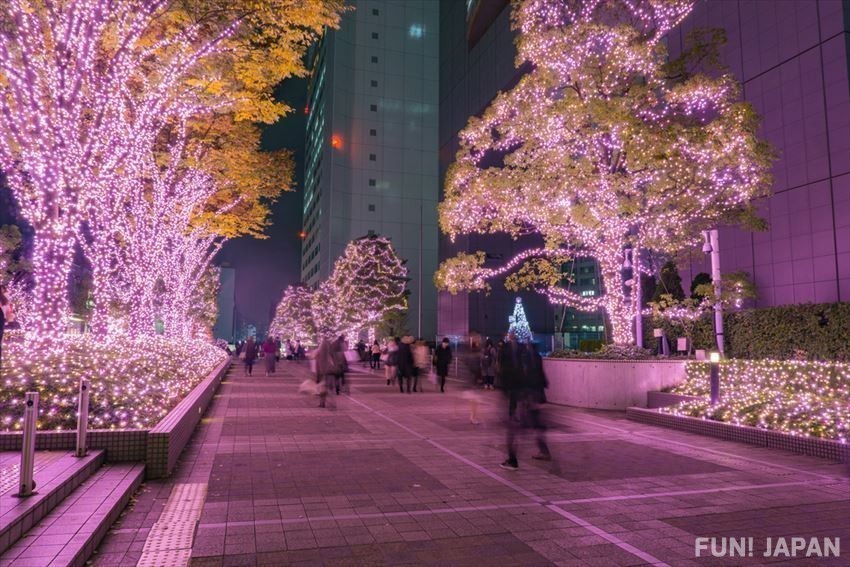 The first place we would like to introduce is very central to Tokyo. Located near the Koshu-kaido exit, it is easily accessed. All along the bridge near Tokyu Hands store, a line of ornamented arcades brightens up the path to the station. Walking through them with your beloved will certainly become a romantic memory. As well, the bushes near the Starbucks store are animated by colorful lamps, warming up the freezing atmosphere of winter. A night stroll in this little promenade between Shinjuku station's south exit and near Yoyogi station is our recommendation if you want to stay close to the center.

Info:
Event Duration: November 13 Nov 2019 - 16 Feb 2020
Illumination Hours: 17:00~24:00(Expected)(※16:30~ during December)
Access: Shinjuku station, Shinjuku South Exit.
Tokyo Midtown Hibiya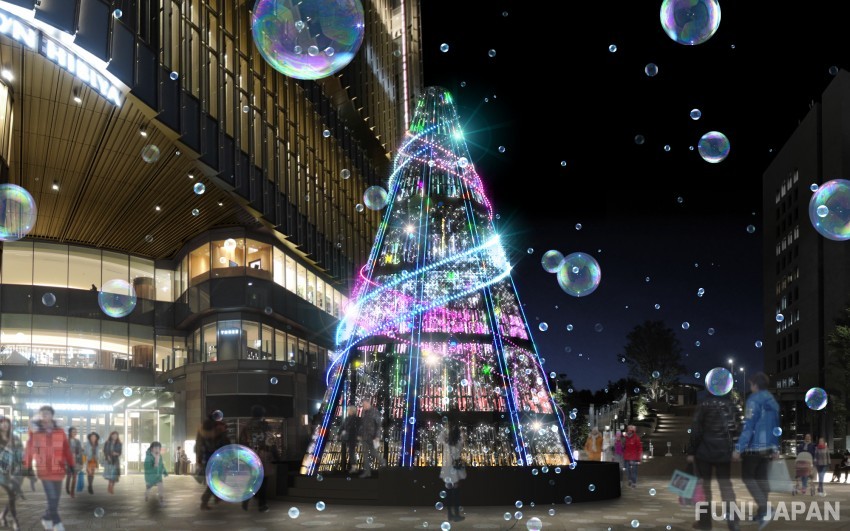 HIBIYA Magic Time Illumination will cover areas including Tokyo Midtown Hibiya shopping center, Hibiya-Nakadori Street, Hibiya Chanter mall, and Hibiya Godzilla Square, basically the whole Hibiya area. The 12 meters tall Starlight Tree will be at Hibiya Step Plaza, entertaining the street with illumination like stars in outer space, bringing an extravagant performance of sound and light. The special performance Magic Time will be performed once every 15 minutes, surrounding the place with dazzling lights.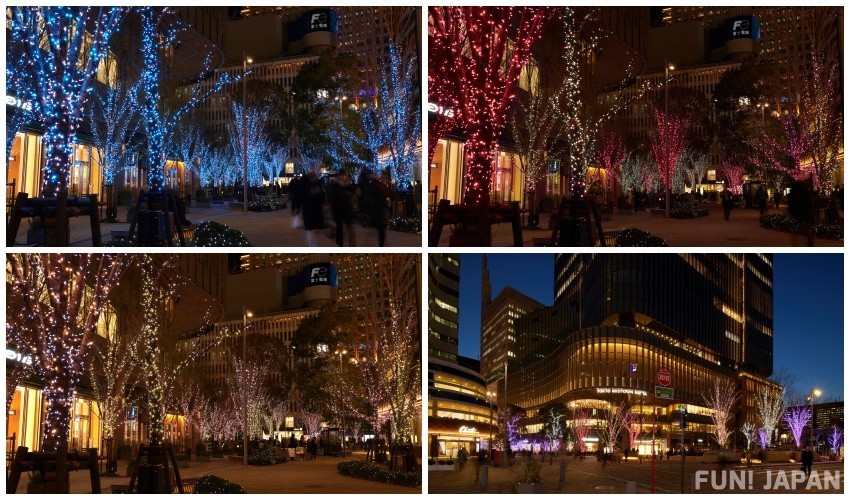 Also, the illumination around Hibiya-Nakadori Street will have 4 sessions each representing one of the four seasons, which the colour scheme and movements of lights will change according to the season. The expression of the lights changes each time you visit, painting the time of your life with various colours.
Info:
Event Duration: 14th Nov 2019 - 24th Feb 2020
Illumination Hours:17:00~24:00
Access:Right next to Hibiya Subway Station (Tokyo Midtown Hibiya)
Shiodome Caretta Mall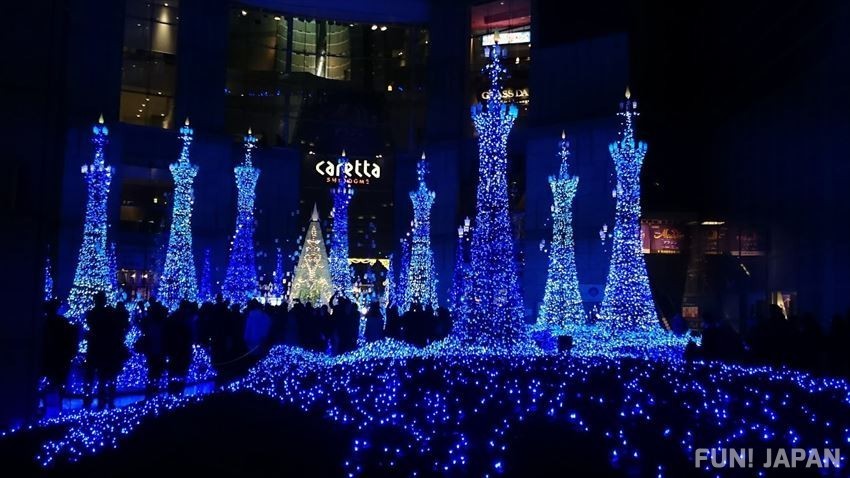 Another great spot for illuminations is Shiodome Caretta Mall. This astonishing display of 250 thousand lamps is considered as the prettiest in the capital. An illuminated display setting in motion a musical show every 20 minutes from 5pm until 11pm. Here too, you can bring your date and enjoy an enchanting moment together. For the pictures lovers, it is needless to mention that it'll be the perfect scenery to shoot!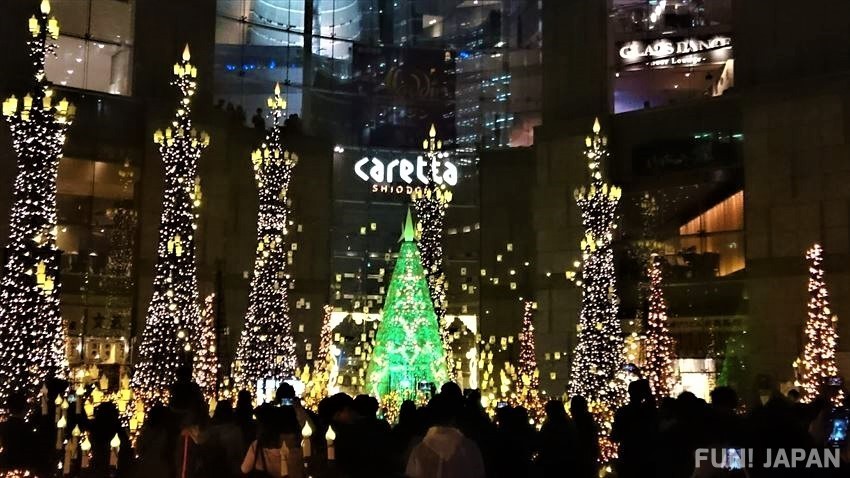 Info:
Event Duration: 14 Nov 2019 - 14 Feb 2020 ※Expected (excluding January 1st and 2nd)

Illumination Hours: 

5:00 pm to 11:00 pm in 2019 and 6:00 pm to 11:00 pm in 2020

Access: From Shinjuku, take the Oedo line to Shiodome station (18 minute by train).
Illumination at Roppongi Hills!
This has become one of the most popular pretty events in Tokyo. Keyakizaka street has 400 meters which is filled with 120 million electric balls to illuminate the Tokyo night. You will find a huge Christmas tree in 66 plaza and beautiful illuminated Mori Garden, which all are in Roppongi Hills. You can enjoy shopping or dining before or after illumination hunting in Roppongi Hills, as well.

Info:
Event Duration: Early Nov - 25 Dec 2019

Illumination Hours: 5:00 pm to 11:00 pm

Access: 3 minutes-walk from Roppongi station on the Oedo line or Hibiya line.
Yomiuri Land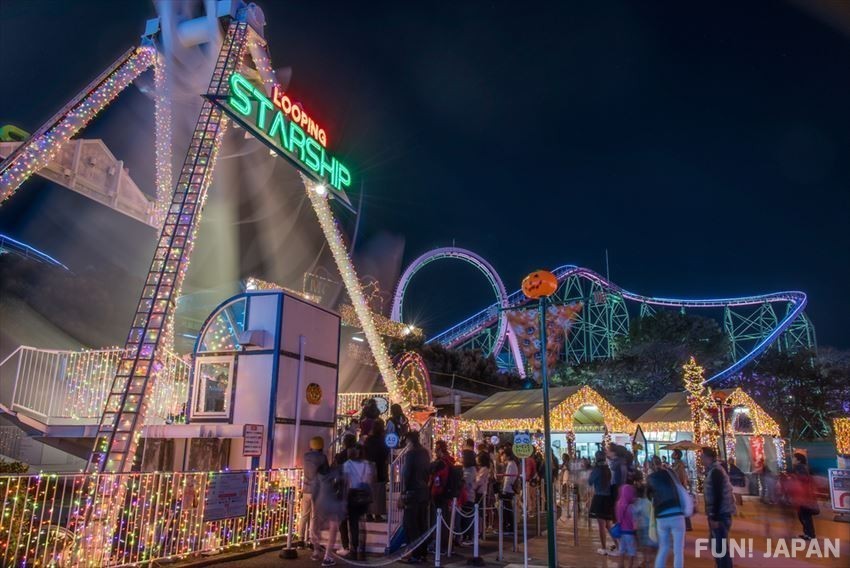 Yomiuri land is an amusement park open throughout the year, but it is particularly sought-after during winter. You probably already understand the reason why, but it is obviously: ILLUMINATIONS! Even though the location is way out of downtown, it is worth it! Nothing less than 4 million LED covering the entire park, from the trees up to the highest roller coasters. The "Jewellumination" is simply gigantic and therefore sumptuous, which is why we strongly recommend it to the purists!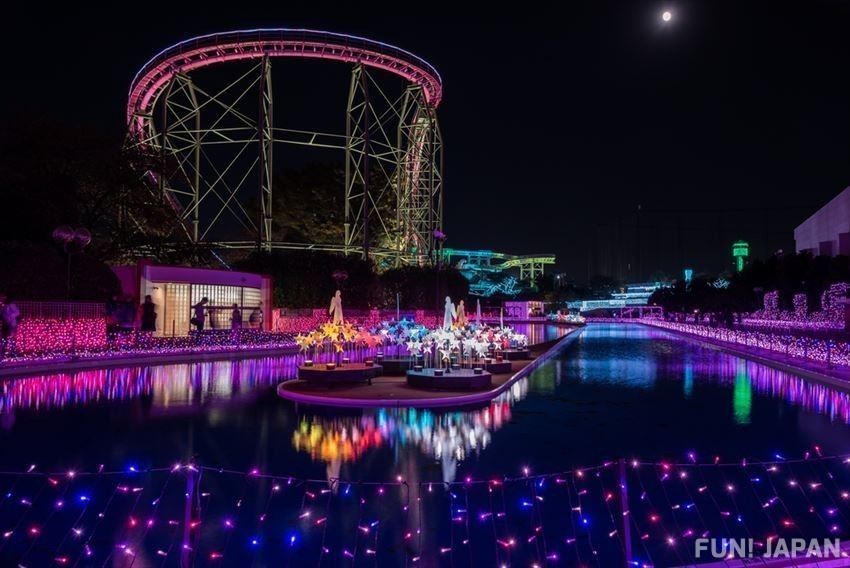 Info:
Event Duration: 24 Oct 2019 - 6 May 2020
Illumination Hours: 4:00 pm to 08:30 pm (to 9:00 pm from December 15th until December 25th)

Access : From Shinjuku station, take the Odakyu line to Yomiuri-land-mae station (25 minutes).
TOKYO SKYTREE®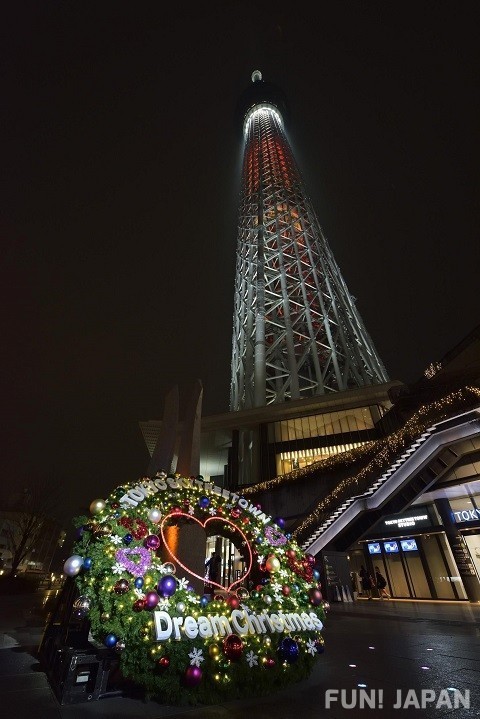 Last but not least, the most iconic landmark of Tokyo, the TOKYO SKYTREE. It is hard to talk about Christmas decorations without coming alongside this monument. Starting from November 7th, TOKYO SKYTREE will be alternating its exterior illumination in between "champagne tree" colour (green and gold) and "candle tree" colour (red and silver), as the world's tallest free-standing tower it will brighten the cold winter nights. In addition, at the root of the metallic tree, a Christmas market is being installed for the occasion.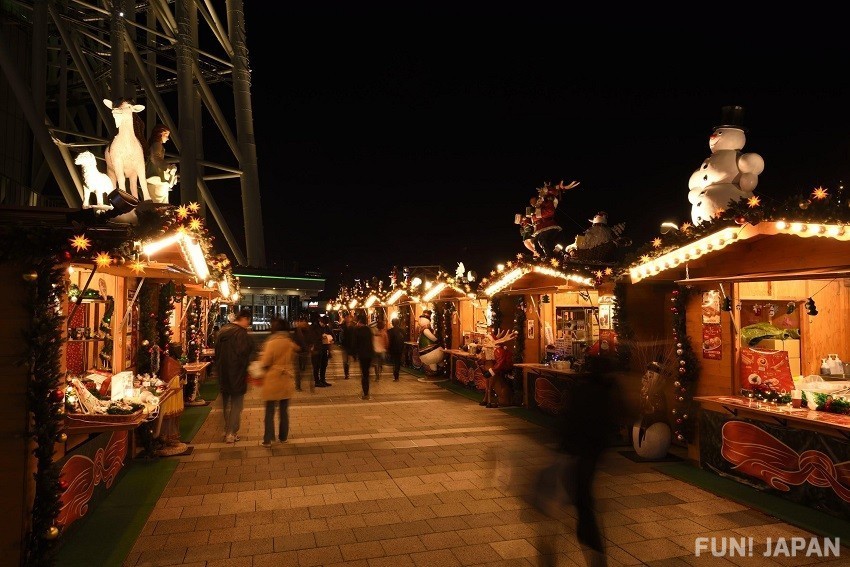 The event was inspired by Germany's famous hütte (huts) during Christmas. The market also serves food, Germany's premium ale, hot wine, sweets and other delights. Along with warm and gorgeous illumination, this Christmas market would for sure bring up your Christmas mood while traveling in Japan!
Info:
Event Duration: 7 Nov 2019 - 25 Dec 2019
Illumination Hours: 4:00 pm to 12:00 am
Access : From Asakusa station, take Asakusa line to Oshiage station (5 minutes).
We hope that this quick guide will give you a hint of what Winter season or Christmas looks like in Japan. The decorations are an integral part of it which is why we decided to make a topic out of it. Indeed, Japanese people especially are affectionate of those heart-warming decorations probably because it puts a name on a season and creates a magical winter mood! 

[Survey] Traveling to Japan
Recommend