Introducing the facilities and attractions of the new spot "Tokyo Midtown Yaesu" directly connected to Tokyo Station!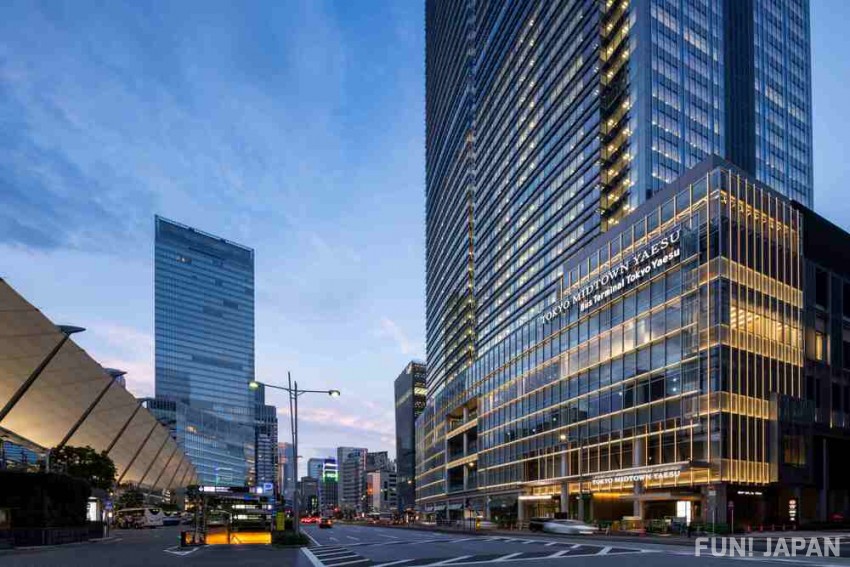 "Tokyo Midtown Yaesu", directly connected to the JR line "Tokyo Station", is a new spot that opened on March 10, 2023. It is a large complex building with a bus terminal on the 1st and 2nd basement floors, and dozens of shops, restaurants, hotels, and offices. Your waiting time at Tokyo Station will turn into a wonderful time enjoying shopping and gourmet food. It is an attractive space where convenience and fun are combined.
What is Tokyo Midtown Yaesu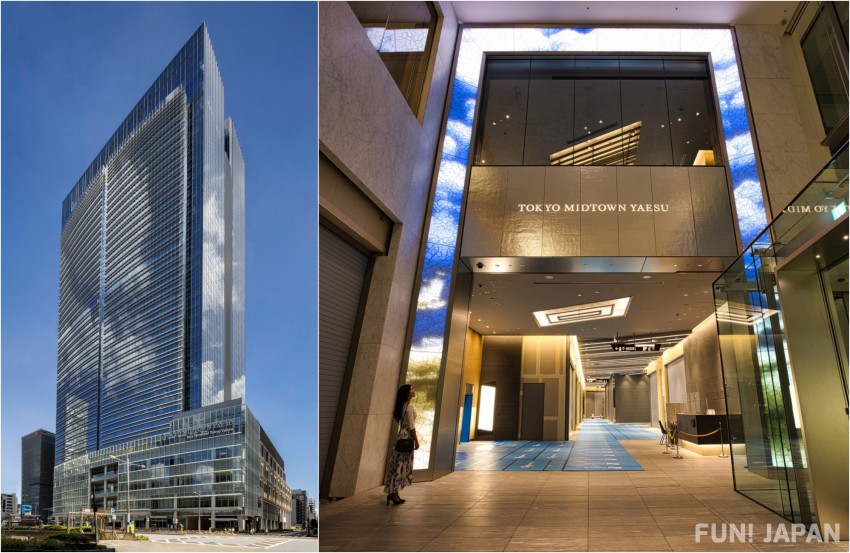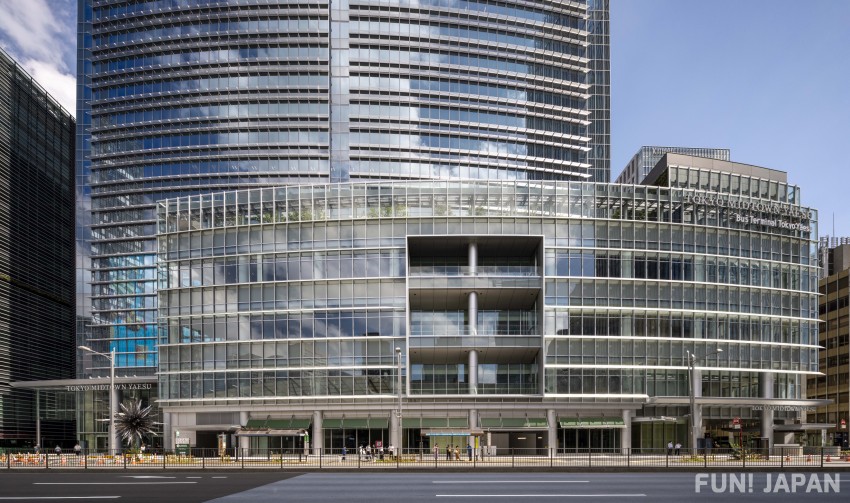 "Tokyo Midtown Yaesu" is a complex composed of two buildings, "Yaesu Central Tower" and "Yaesu Central Square". It is the third Tokyo Midtown facility following Roppongi and Hibiya, with a common vision of "continuously transmitting 'JAPAN VALUE' to the world".
The "Yaesu Central Tower", which is about 240m high with 45 floors above ground, consists of sophisticated shops and restaurants, Bulgari Hotel Tokyo, offices, commercial facilities, and Tokyo Yaesu Bus Terminal. On the other hand, the "Yaesu Central Square", which is about 41m high with 7 floors above ground, consists of offices, shops, and child-rearing support facilities.
Furthermore, the basement floor is directly connected to "Yaechika (Yaesu Underground Street)", and the bus terminal on the second basement floor is a long-distance bus departure and arrival point, making it an easily accessible facility.
We will introduce more details below!
Japan's largest bus terminal "Tokyo Yaesu Bus Terminal"
The "Bus Terminal Tokyo Yaesu" is a bus terminal located in the basement of "Tokyo Midtown Yaesu" to consolidate the scattered bus stops around the Yaesu exit of Tokyo Station, making it easier to use high-speed buses and transfer to other modes of transportation.
It is planned to open in three stages, with the first phase already in operation, and the second and third phases scheduled to open sequentially by 2028. This will create the largest high-speed bus terminal in Japan.
The first phase area has an area of about 7,000 square meters, with ticket counters, information desks, automatic ticket machines, waiting spaces, restaurants, convenience stores, and drug stores on the first basement floor. The second basement floor has six bus stops, with about 600 services a day, including those going to the Tohoku, Chiba, Tokai, Kansai, and Kyushu regions. In addition to access from the ground level, it is also accessible from the Yaechika underground mall at the Yaesu exit. Below, we introduce the underground and ground routes from Tokyo Station.
Access from Tokyo Station【Underground Route】
Go straight from the Yaesu South Exit ticket gate and head to the stairs beyond the glass door. Go down the stairs to the ground floor, proceed through the "Yaesu Underground City", and turn right at the end. The entrance is on B1F, and the bus stop is on B2F. ※After 24:30, please use the above-ground route as the Yaesu Underground City is closed.
Access from Tokyo Station【Above-ground Route】
Depart from JR Tokyo Station (Yaesu South Exit, Central Exit) and proceed to the right with the station building behind you. Pass the JR express bus stop and cross the pedestrian crossing at the first signal. If you proceed to the left, you will see the entrance to "Tokyo Midtown Yaesu".
Operating Hours of Some Facilities
Waiting Space B1F/B2F:5:00~24:35
Ticket Counter:6:20~20:00
Automatic Ticket Machine 5:00~22:00
Shops & Restaurants on 1F~3F are full of attention-grapping shops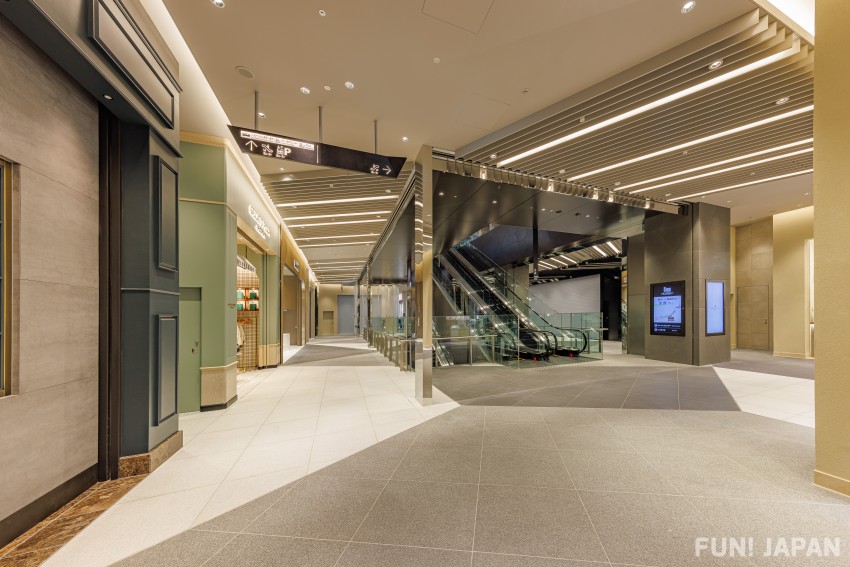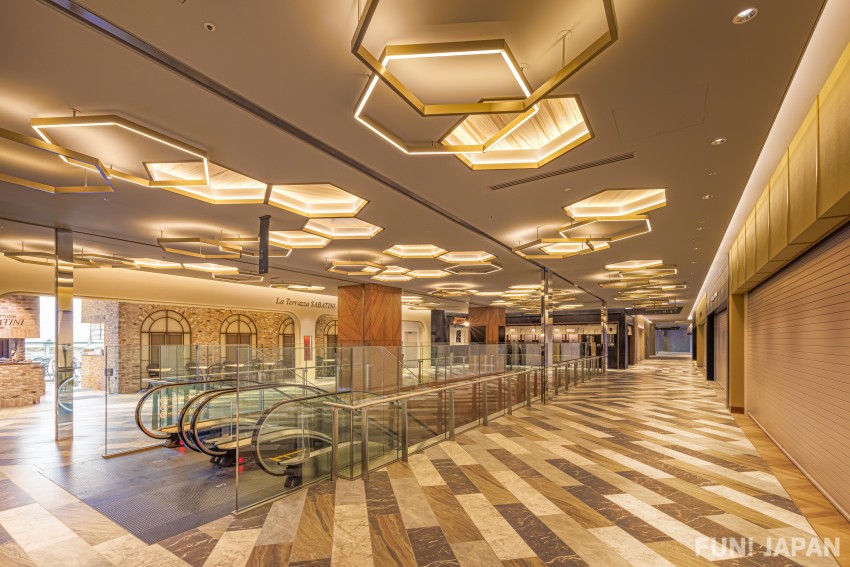 The shopping and gourmet area of Tokyo Midtown Yaesu consists of four floors, from the basement 1st floor to the 3rd floor. There are 6 first-time stores, 11 first-time stores in Tokyo, 21 first-time stores in commercial facilities, 9 new business formats, and a total of 59 unique shops and restaurants, including these topical shops. Below, we will introduce the shop & restaurant floors from the 1st to the 3rd floor.
The 1st floor is themed on "Japan Luxury", with various Japanese brands such as PORTER, LINC ORIGINAL MAKERS, and HOSOO TOKYO, which is the brand's first store in Tokyo, providing sophisticated items and special spaces for visitors. On this floor, you can experience the charm of modern and luxurious Japanese products.
The 2nd floor is a floor themed on "Made in Japan". Stores such as Tsugaru Vidro, TO&FRO, and TOKYO UNITE are expanding. For those who are particular about Japanese craftsmanship and quality, it will be a special experience. It is a place where you can enjoy the charm of Japanese products related to lifestyle and sports.
The third floor offers a variety of dishes, from Japanese cuisine such as robatayaki and sushi to Western and Chinese cuisine. For example, the floor is home to a wide range of restaurants, including "Sumiyaki Unafuji", a famous eel restaurant in Nagoya that always has a line, "Yamauchi Nojo" where you can enjoy the taste of Kyushu, and "ROBATA COEN", a new genre developed by Granada Co., Ltd., which operates numerous restaurants listed in the Michelin Guide, using charcoal, firewood, and fireplaces.
The public space "Yaesu Public" that anyone can use casually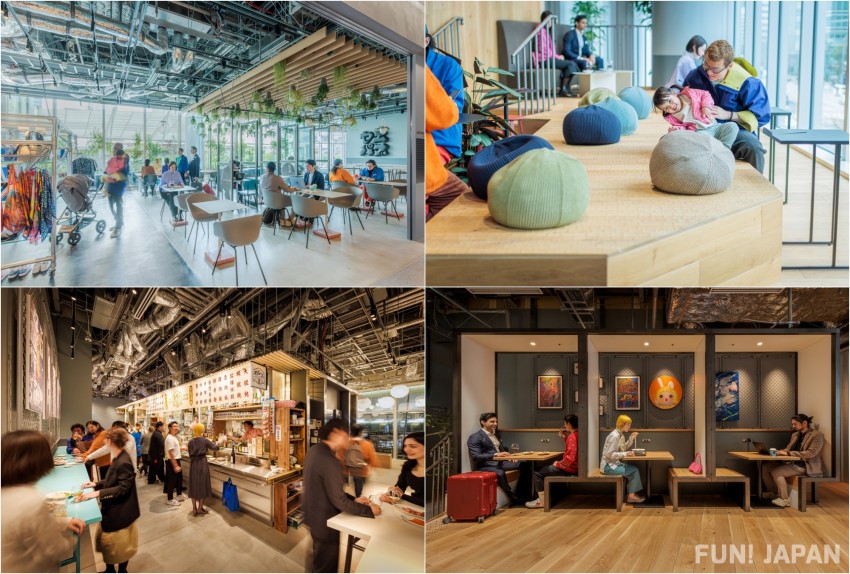 "Yaesu Public" is a casual public space inspired by containers. It includes a meeting plaza, merchandise and rest areas, and standing bars, with a total of 11 stores including POP UP shops. The area is divided into three sections: "Yaesu no Rojiura", "Ichijiteishi", and "ALL STANDS".
"Yaesu no Rojiura" is an area where a spacious space and an alley-like space are adjacent, making it fun to explore. On the other hand, "Ichijiteishi" is a merchandise, rest, and dining area where you can enjoy freely while waiting for a bus or shopping, and "ALL STANDS" is a new standing bar where different types of individuality shine. All seats are free seating, and the menu you purchase can be eaten and drunk anywhere. In addition, from 17:00 to 23:00, you can order products from the 5 stores of ALL STANDS together by mobile order.
Yaesu Public is lined with renowned shops run by unique proprietors and relay-style specialty stores. With a variety of establishments such as Japanese cuisine, shaved ice, craft beer, Taiwanese food, and natural wine, and the occasional appearance of limited-time POP UP shops, you can look forward to new discoveries and encounters every time you visit.
Also, the design of each area has a different atmosphere, with large staircase-style seating and stylish tables and chairs, offering a variety of spaces to enjoy. The standing eating area, reminiscent of food stalls in alleyways, is also recommended. This stylish and Instagrammable space is sure to be a great photo spot for visitors.
Relax at the Rooftop Garden 'YAESU TERRACE'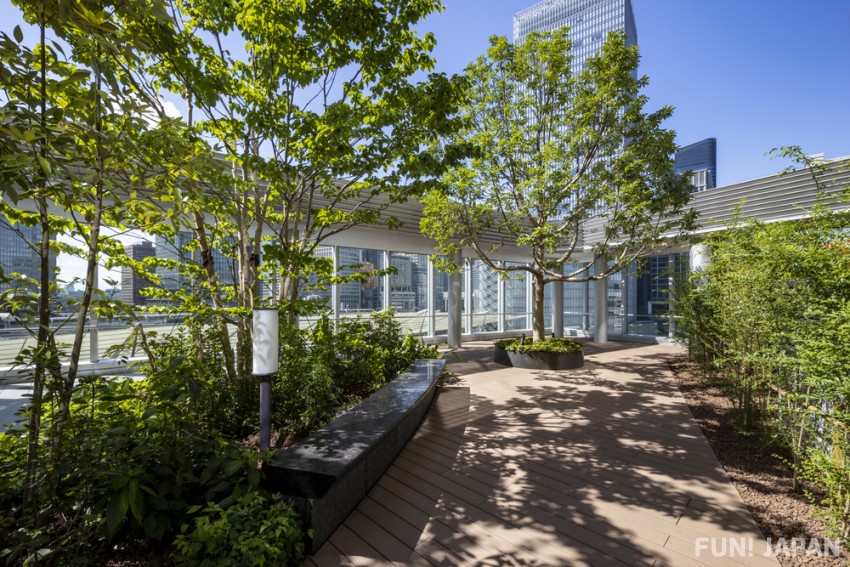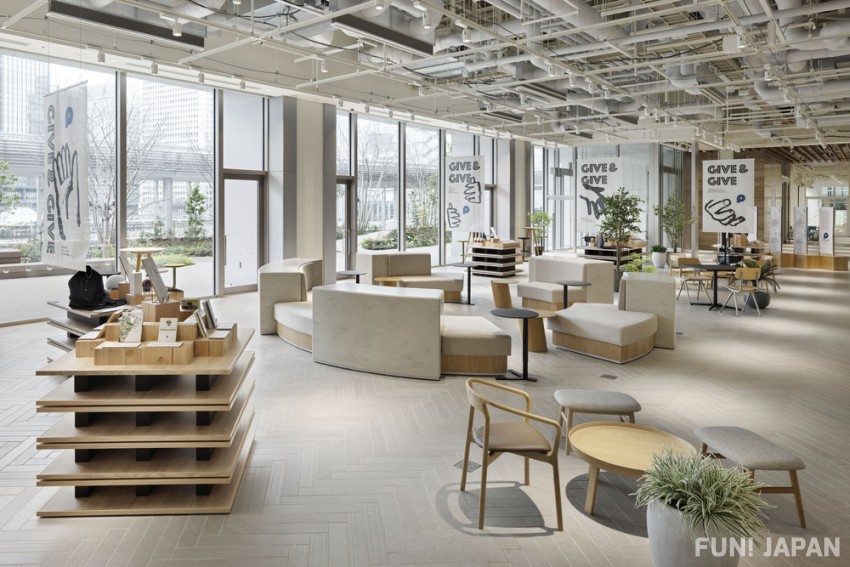 Located on the 5th floor of Tokyo Midtown Yaesu, "YAESU TERRACE" is an urban oasis that you can enter for free. Surrounded by high-rise buildings, it's a lush green space where you can sit on a bench and relax in a verdant environment, away from the hustle and bustle of the city below.
It's also a hidden spot for beautiful night views. On the same floor, there is a kitchen & cafe called "Chikabakitchen", which offers gourmet food using ingredients from all over the country. You can enjoy the view along with delicious drinks and gourmet food. There is also a spacious lounge called "Business Exchange Lounge" that anyone can use. It is also a base for the regional economic creation project "POTLUCK YAESU", and with plenty of table seats, it's perfect for business use before and after business trips.
Convenient Services for Foreign Tourists
Tokyo Midtown Yaesu offers a variety of convenient services for travelers. For instance, Midtown Free Wi-Fi is available for free, allowing you to easily use the internet within the building. In addition, at the luggage storage and delivery counter on the 2nd floor of Yaesu Central Tower, temporary luggage storage and parcel delivery are available. The business hours are from 9:00 to 20:00 (cloakroom: 9:00 to 19:00, pickup: until 20:00). There is also an ATM, so you can withdraw cash. These facilities will support your travel to be more comfortable.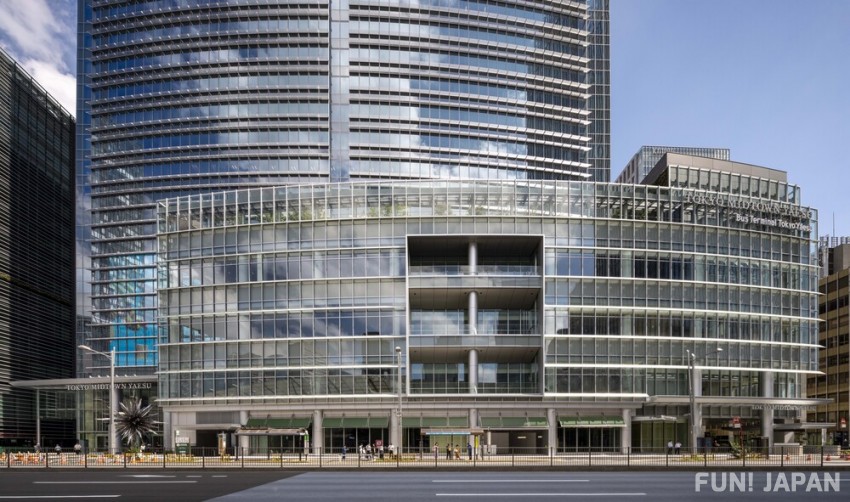 Spot information

Name: Tokyo Midtown Yaesu
Address: 2-2-1, Yaesu, Chuo-ku, Tokyo
Access: Directly connected to JR "Tokyo" station
Business hours
B1F 10:00~21:00
1F~3F Retail & Services 11:00~21:00/Restaurant 11:00~23:00
4F&5F Innovation Field Yaesu 9:00~22:00(5F Exchange Lounge 11:00~22:00/Chikabakitchen Tokyo Yaesu 11:00~20:00)
※Please note that some stores have different business hours. Please contact each store for details. 
[Survey] Traveling to Japan
Recommend