Hop-On Hop-Off at your leisure! Explore Tokyo on the open-top sightseeing bus "SKY HOP BUS"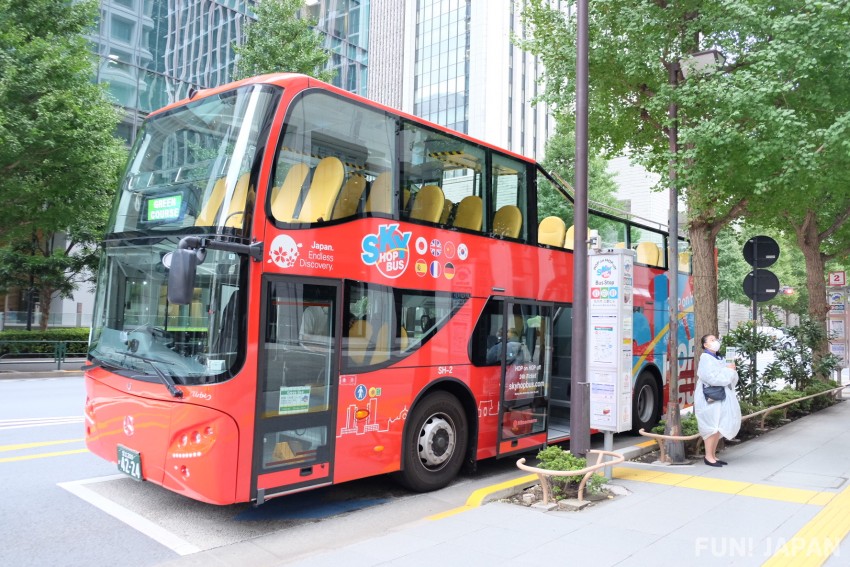 Tokyo's railway lines such as trains and subways are well developed. While you can reach most of the famous sightseeing spots in the city using railways as a means of transportation, it may be difficult to see the sights of the city from the train. If you want to travel around the city while enjoying the scenery of the great  metropolis, we recommend taking the double decker open-top bus "SKY HOP BUS" and looking out over the cityscape of Tokyo from a different angle. In addition to riding the bus, there are also various useful services on board for tourists to enjoy sightseeing in Tokyo to the fullest.

This time, we would like to introduce the the route of SKY HOP BUS newly opened in April 2021, which runs through the popular tourist areas of Shinjuku and Shibuya.
What is SKY HOP BUS?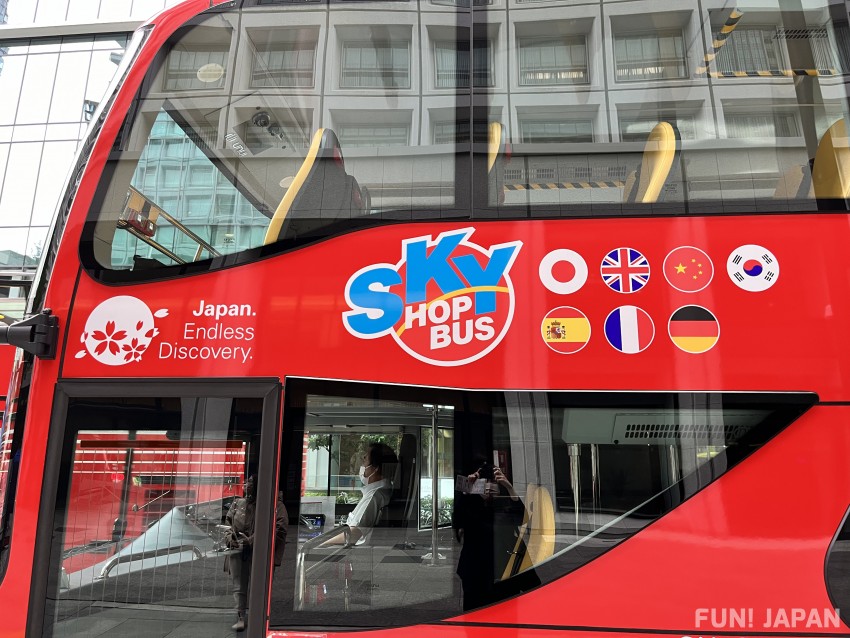 The SKY HOP BUS is a double-decker open-top sightseeing bus that travels around popular sightseeing spots in Tokyo. It offers three routes: Green Course (Shinjuku/Shibuya), Red Course (Asakusa/TOKYO SKYTREE), and Blue Course (Tokyo Tower/Tokyo Teleport Station/Tsukiji/Ginza). As long as you hold a ticket and transfer at the Marunouchi Mitsubishi Building bus stop, you can hop-on and hop-off any of the three courses as many times as you like within the period according to the type of ticket you purchased.

From here, we will introduce how to enjoy sightseeing in Tokyo using the SKY TOP BUS.
Enjoy wide views of Tokyo's spectacular cityscape! 

The vehicle used for SKY HOP BUS has no roof on the top deck, making it ideal for enjoying the surrounding scenery while riding. The SKY HOP BUS also provides half-covered vehicles and ponchos on the top deck, so you can still enjoy the service on rainy days too.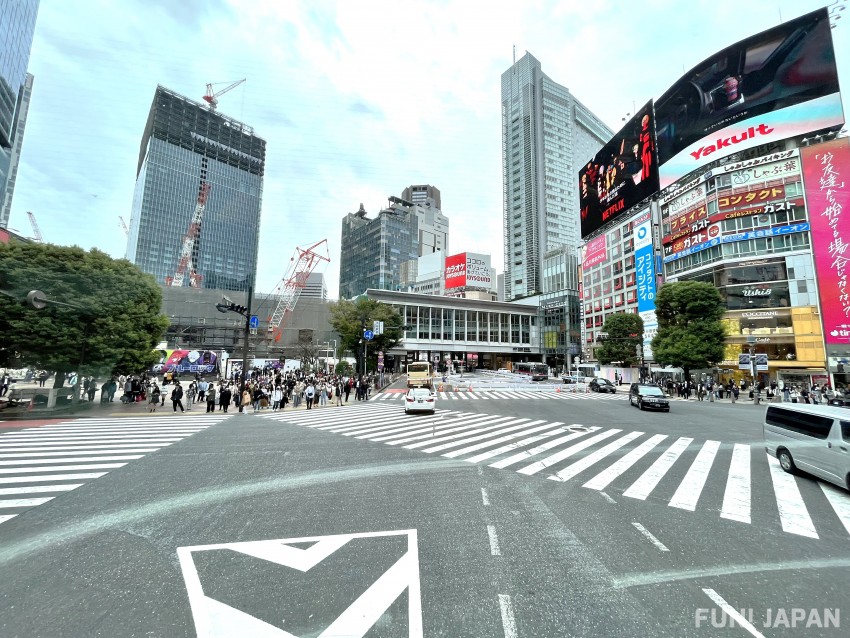 Front seats of the bus are fitted with mostly glass windows, meaning you can comfortably enjoy the beautiful scenery with an unobstructed view. Especially when passing through the Shibuya Scramble Crossing, you can enjoy an immersive experience by overlooking from the center of the road where you can't normally stand at a red light.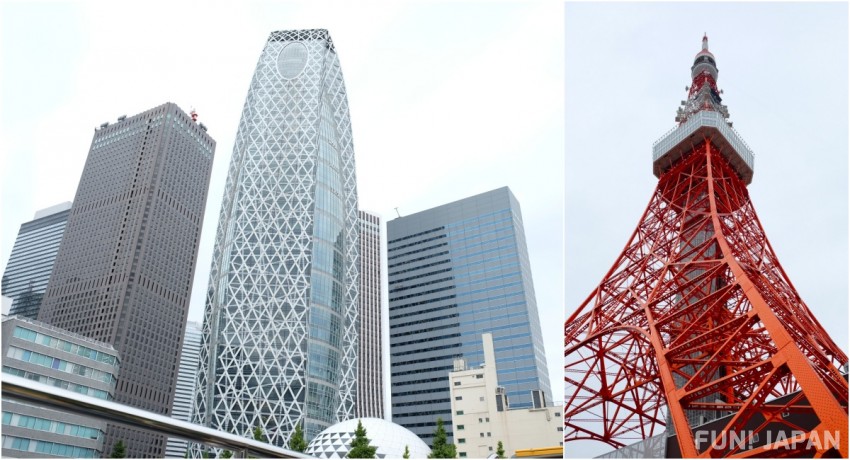 Also, because there is no roof, you can feel the headwind and feel the relaxing atmosphere depending on the season! Thanks to the ope-deck design, the views were extra stunning and wonderful, especially when we looked up at the Tokyo Tower and the skyscrapers of Shinjuku!

If you take photos from a high altitude, you can avoid the crowded background and take a special shot. Furthermore, in spring and autumn, when you pass through parks and gardens, you can look down on cherry blossoms and autumn leaves too.
Hop-on and hop-off freely with just one ticket! You can choose where you want to go!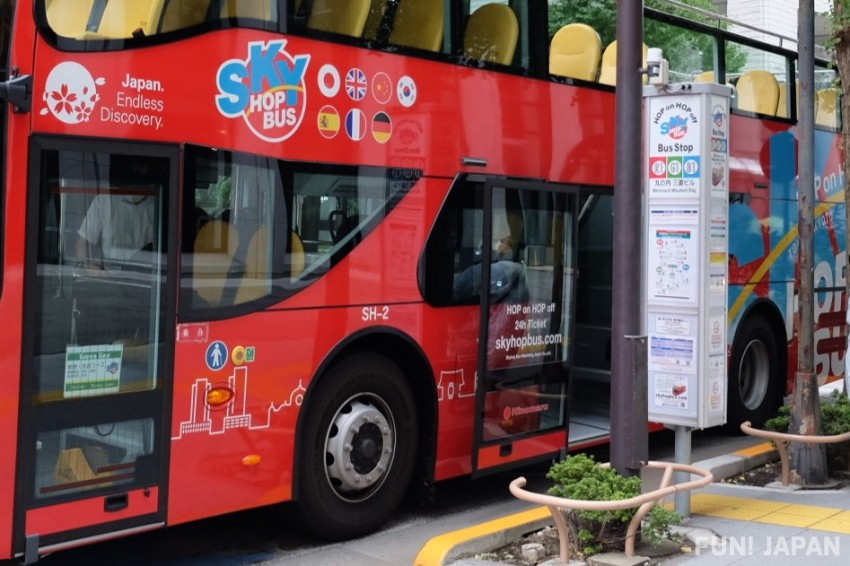 Unlike regular tickets, SKY HOP BUS prices are not calculated by section of route. There are two types of tickets: one-day tickets and two-day tickets. Within the specified period (1 day, 2 consecutive days), you can get on and off freely at any of the 3 courses offered and 18 bus stops scattered throughout Tokyo with a single ticket. It is OK to choose where you want to go for sightseeing or hanging out on the spot or even during your ride! Enjoy the scenery of Tokyo as a sightseeing bus, or move around the city as a means of transportation - it's all to you. What great deal, right?

A new digital map has arrived! The locations of the bus stops are all clear at a glance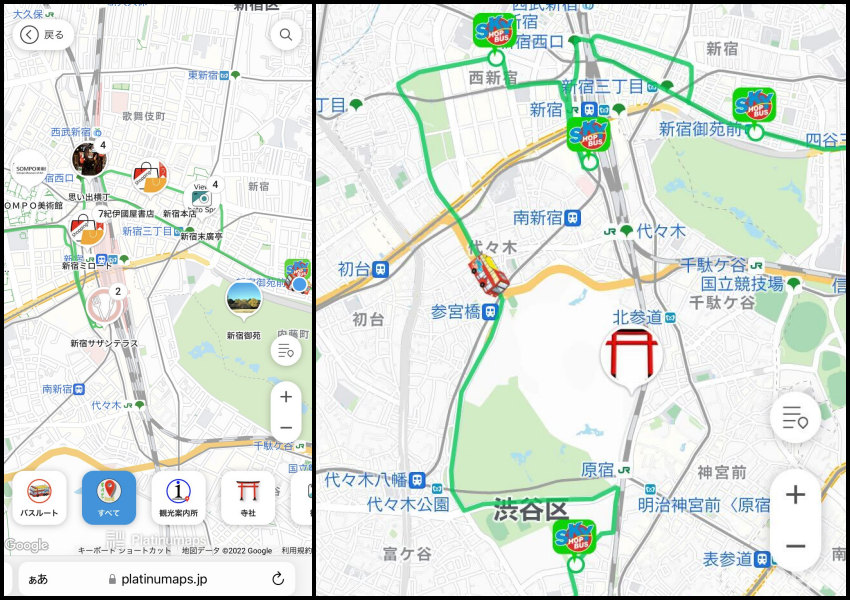 Recently, a digital map has arrived. You can jump to the dedicated website of the digital map just by scanning the QR CODE. No app download is required and it is very easy to use! On the website version of the map, the three courses are displayed in their respective representative colors. Buses in operation and your current location information are also reflected in real time!

The map provides tourist information around the bus stops as well. For example, sightseeing spots, hands-on activities, gourmet information, etc. Even if you get off the bus, you can easily go sightseeing without having to hurry!
Efficient sightseeing from Shinjuku to Shibuya by riding a sightseeing bus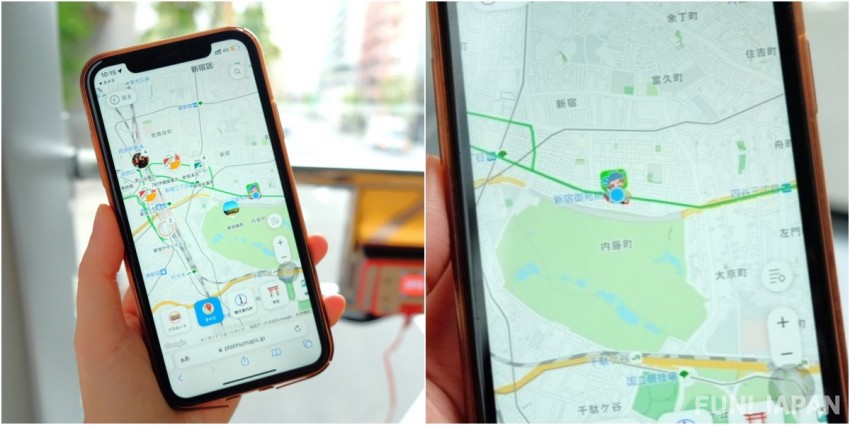 Since Tokyo has many railway lines, tourists may often get lost as the stations are massive and the exits are complicated. However, after getting off the SKY HOP BUS and sightseeing, it is much easier to find the closest bus top if you use the route guidance function on the digital map! Plus ,the location-based service allows you to know when the bus will arrive, making your trip planning even more convenient. For example, after shopping in Shinjuku, you can easily go to Shibuya by taking this sightseeing bus.
Learn more about Japanese culture and history with an audio guide!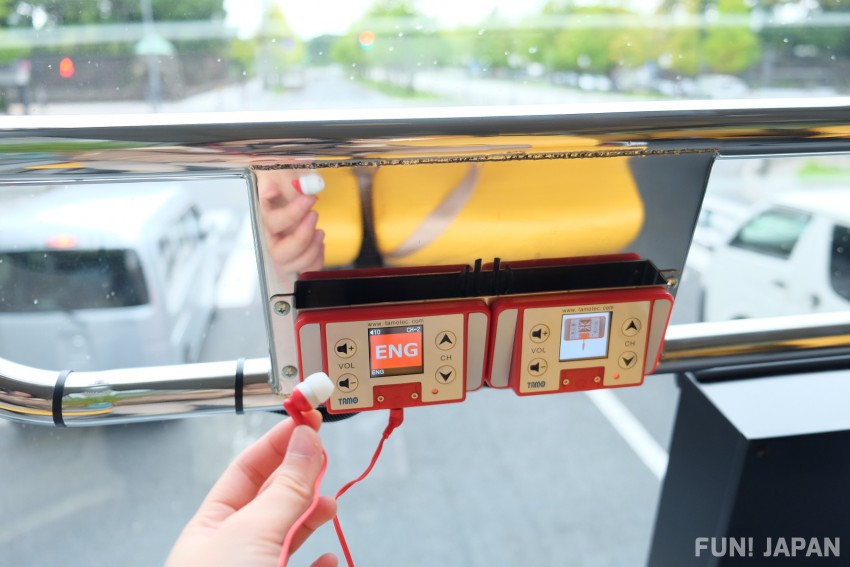 In addition to tourist information on the digital map, audio guide is also available on the bus. Supporting 7 languages*, you can listen to audio guide in Chinese, English, Japanese, Korean, etc. When you get on the bus, you will be given earphones. Plug them into the device in your seat, then you will be able to hear information about the various places you passed along the way, as well as the history and culture of Tokyo, traditional Japanese culture, and even food culture.

*Supported languages may differ depending on the route. For details, visit the official website of SKY HOP BUS.
SKY HOP BUS information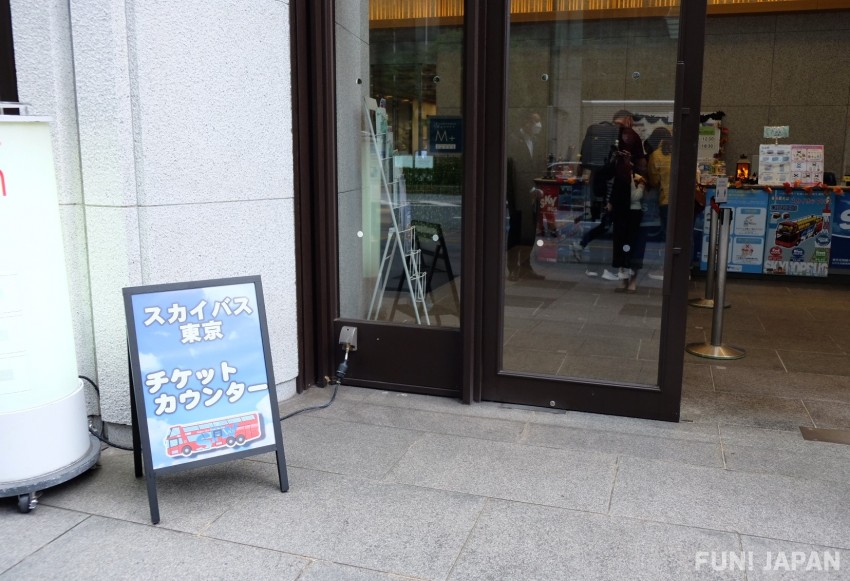 Ticket purchase: Official website, ticket counter, on the bus
Operating hours: First bus departs from Marunouchi Mitsubishi Building at 09:10 (Red Course), last bus arrives at Marunouchi Mitsubishi Building at 19:21 (Blue Course)
*For details, see the bus timetable (may change depending on the season)
Ticket type & price:

1-day ticket: 3,800 yen for adults, 1,900 yen for children (lately revised in March 2023)
2-day ticket: 5,500 yen for adults, 2,750 yen for children (lately revised in March 2023)

Ticket Center Address: Ticket Center at Mitsubishi Building 1F, 2-5-2 Marunouchi, Chiyoda City, Tokyo
Access: 3-minute walk from Tokyo Station Marunouchi South Exit
Business hours: 9:30-18:00
Official site: https://skyhopbus.com/
The streets of Tokyo are usually crowded with people that make tourists hard to leisurely look at the scenery of the city. In such a case, let's take the "SKY HOP BUS" and discover a new side of Tokyo by looking from a different angle or from a higher place while listening to the audio guide!



Related articles:
[Survey] Traveling to Japan
Recommend