Asakusa Yokocho, a new sighseeing spot in Asakusa, Tokyo is where you can enjoy Japanese food & festivals all at once!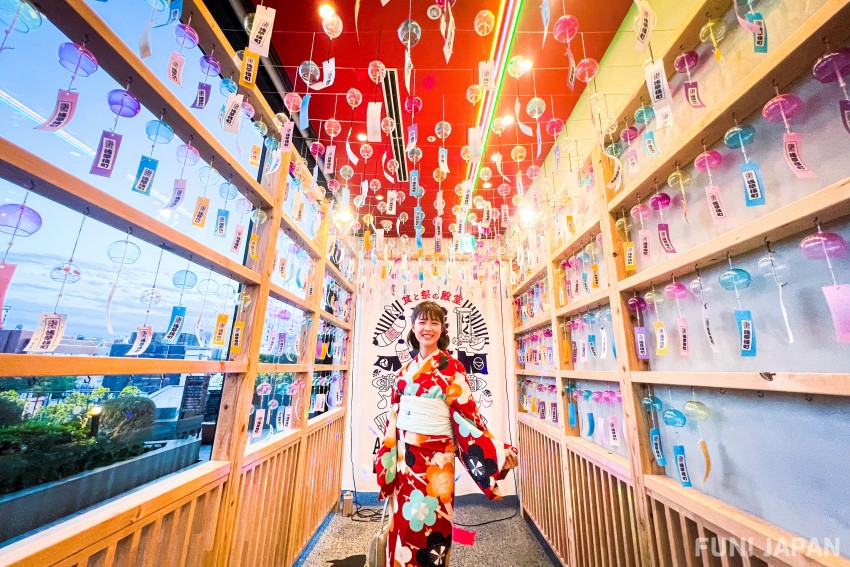 Welcome to the Hall of Fame for Japanese Food and Festivals!

Asakusa in Tokyo attracts tourists from all over the world. In addition to the essential Senso-ji Temple, Kaminarimon Gate and TOKYO SKYTREE, a new sightseeing spot named "Asakusa Yokocho" has opened on July 2022!  An Instagram-worthy place where you can enjoy Japanese food , traditions and also festivals. Read on for our complete guide to this new food hall!
*All products and prices (tax included) appearing in this article are as of December 2022. The contents are subject to change, so please check the official website of each store for details.
What is "Asakusa Yokocho", a place where you can participate in festivals while eating Japanese cuisines?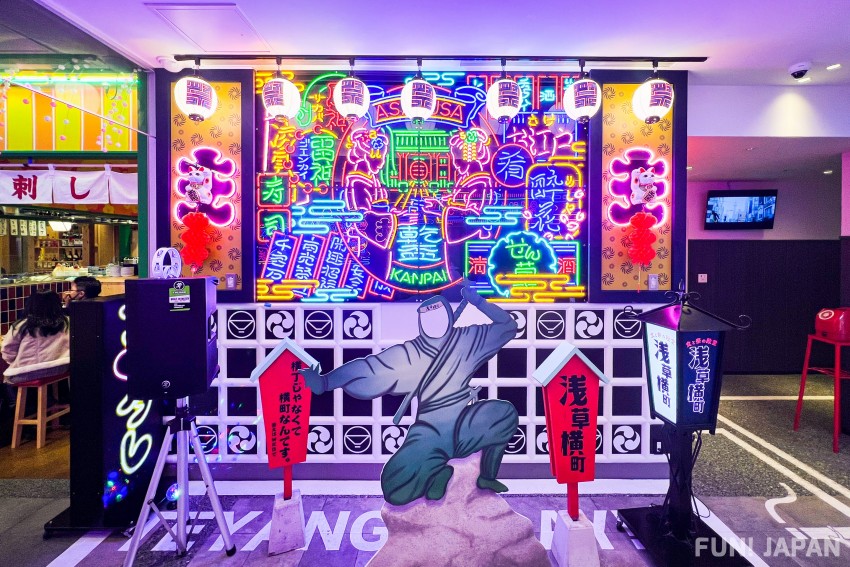 Just a mere 2-minute walk from Senso-ji Temple and Asakusa Nakamise-dori shopping sreet, "Asakusa Yokocho" newly opened in July 2022 on the 4th floor of the "Tokyo Rakutenchi Asakusa Building" (marked by the UNIQLO Asakusa store on the 1st & 2nd floors!) is a shitamachi (old downtown) that aims to introduce Japanese food and festival culture from all over Japan to the world. Inside the area includes 7 restaurants and 1 rental kimono shop, a place that visitors can wear kimonos while enjoying sushi, yakitori or izakaya. 


Such yokocho is decorated with neon lamps, lanterns, and signboards everywhere, creating a truly Japanese atmosphere. In contrast to Asakusa area, which has a downtown atmosphere, the interior is more like a "neo-retro world" that has been updated to the Reiwa era.

A day trip in Asakusa starts with a kimono rental!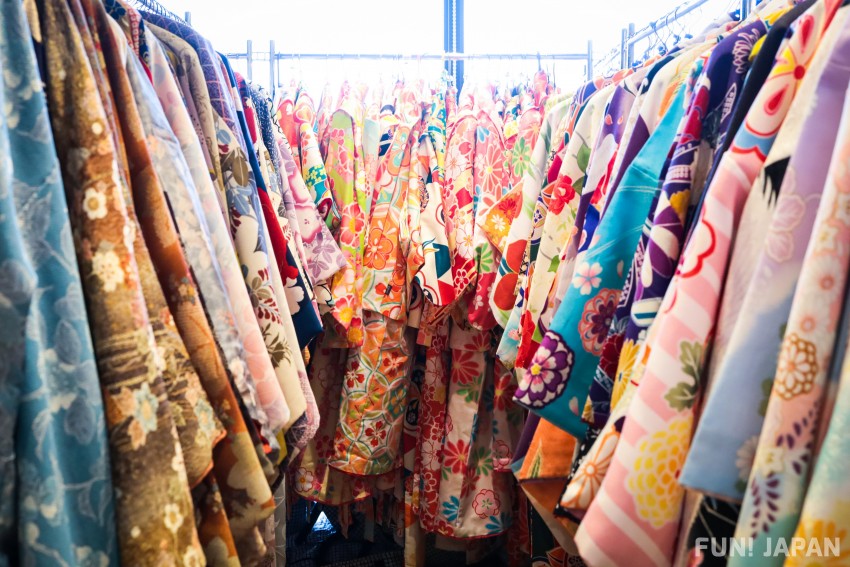 We decided what we should do first when we arrived at Asakusa Yokocho – to fully enjoy the ambience of a yokocho, there is nothing better than wearing a kimono- so we started the day by a rental kimono experience.

The first stop was Wargo Kimono Rental Asakusa. The biggest highlight of this shop is that you can enjoy wearing a kimono empty-handed. The "Sightseeing Kimono Rental Plan" includes not only the kimono, tabi (specially socks), and sandals, but also dressing by a professional kimono`s dresser. You might expect it is pricey, but actually the plans are rather resonable and start at 3,300yen (Standard Plan). In addition, they also provide other rental plans that allow you to choose from a variety of kimonos, including luxury kimonos, antique silk kimonos, and Taisho-roman kimonos.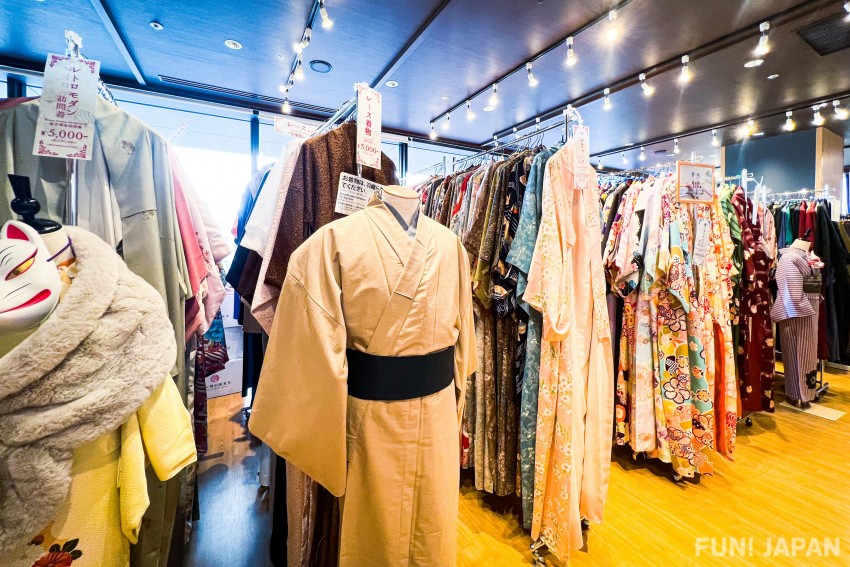 The shop is filled with a lot of kimonos, yukatas, furisode (long-sleeved kimonos) and hakama (kimonos for graduates, etc). You can choose from more than 1,500 items to coordinate your favourite outfit. 


A wide range of kimono patters are available such as floral patterns (sakura, rose, camelia, etc), stripes, lace and other popular patterns among ladies, as well as a large selection of men's kimonos. "Couples Plan" is highly recommended if you are visiting Asakusa with your loved one (5,500yen).


According to the shop staff, popular colours and patterns rent out quickly by early customers, so the best time to come to the shop is in the morning. 


After taking time choosing the kimono color, we finally chose the red one that looked the best. They also provide a simple hair-styling service with hairpins (kanzashi) for free.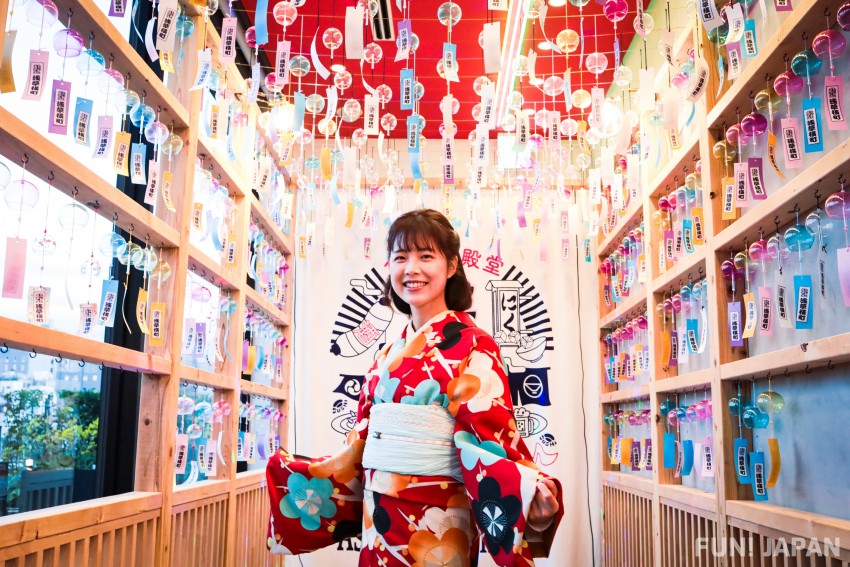 Now that we've finished dressing-up in kimono, it's time to take pictures at the photo spot where countless wind chimes are hung!

Enjoy your kimono-girl (or -boy) transformation with TOKYO SKYTREE and countless wind chimes as a background♪

Asakusa Must-Eat! 2 Recommended Dishes in Asakusa Yokocho!
After snapping your best Instagram moments, it's time to fuel up. Asakusa Yokocho, which has a perfect Japanese atmosphere,is also home to a variety of Japanese cuisines. This time, we have carefully selected two of the most talked-about dishes out of the many specialties. Whoops! Drool alert!

The 1.2kg rich bowl that's impossible to finish on your own!?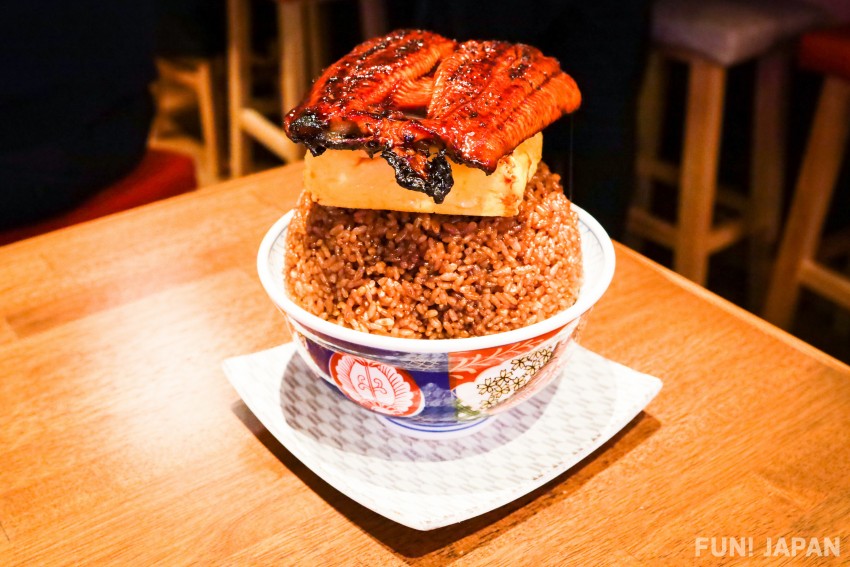 Sobieru Unatama Don (Rice-bowl with eel and tamagoyaki egg) 2,058yen
The first dish is the "Sobieru Unatama Don", which comes with a large kabayaki grilled eel, an omelet made from five eggs and 750g of rice, weighing a approximately 1.2 kg! The massive kabayaki eel and tamagoyaki placed prominently on top of the rice are absolutey impressive. If you compare it to an iPhone, the height of the bowl is comparable to 13 Pro Max, which is about 16 cm tall. Once the bowl is served up at the table, we are sure everyone will be surprised by its size.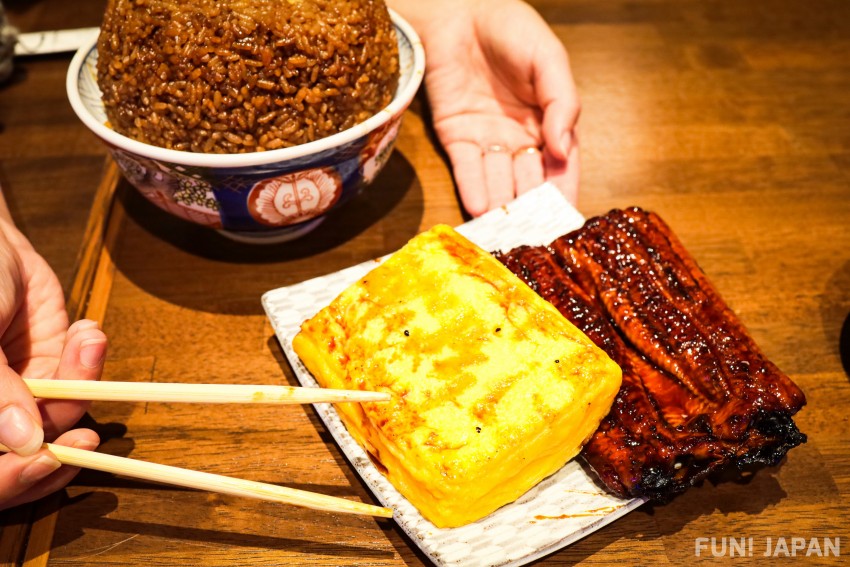 The rice bowl is so voluminous that it is even enough for 3 hungry adults - a portion that almost requires a food-fighter help finishing the food!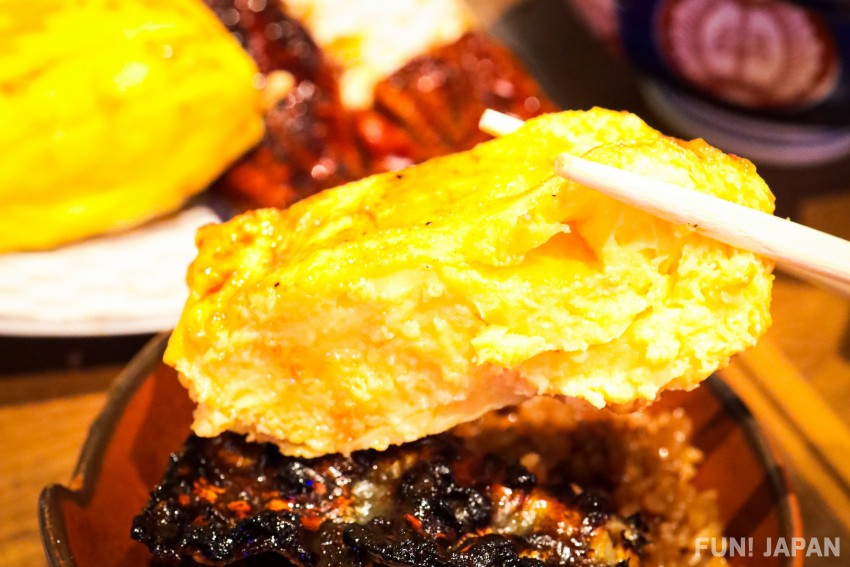 The tamagoyaki egg is too heavy that it can't even be lifted up by chopsticks!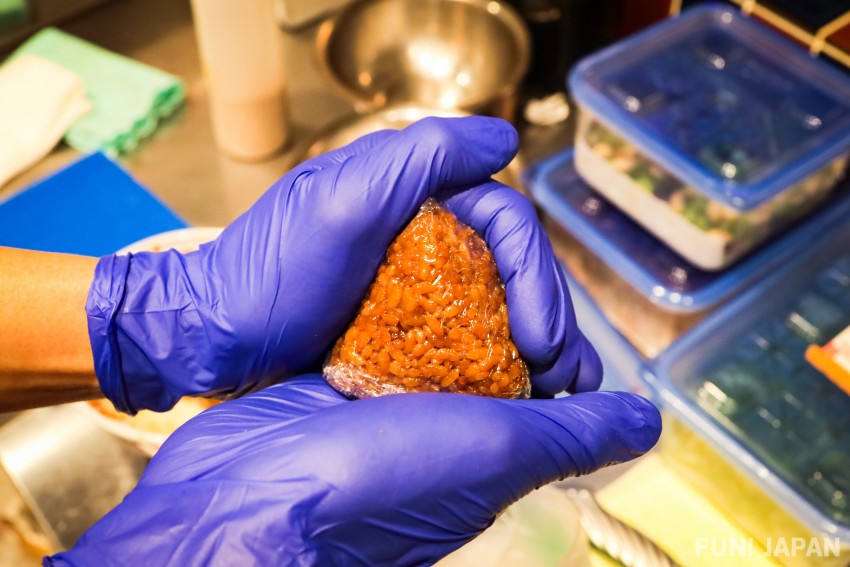 Rest assured - if you can't finish, you can ask the restaurant staff to make it into onigiri for take-away.

Camera eats first! Get your record button ready for this self-served egg tamagoyaki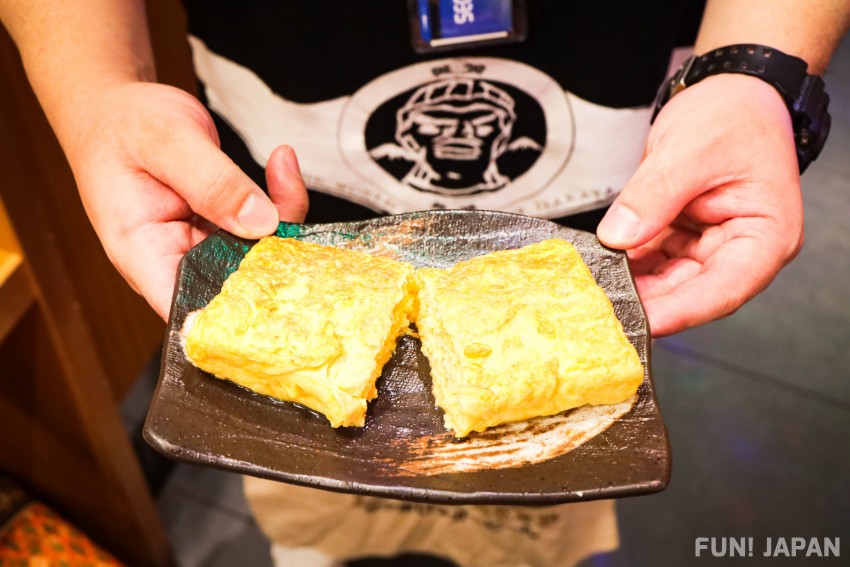 Self Dashi Rolled Tamago 329yen
Coming next after the calorie-guilty "Sobieru Unatama Donburi" is a menu that makes your camera happy - the "Self Dashi Rolled Tamago" offered by the popular izakaya called.
Although it looks like an ordinary tamagoyaki (Japanese Rolled Omelette), it's actually a self-made dish that customers can make their own tamagoyaki. It's very easy to make - just pour the egg batter into the pan and stir! We recommend having a tamagoyaki-competition with friends to see who can make the prettiest tamagoyaki.

Once the restaurant staff serves up the egg batter, stove and frying pan to your table, it's time to start cooking! Brush the pan with oil, cook it, roll it up, and brush the pan with oil again. Repeat the process about 4 times and you will have your own tamagoyaki!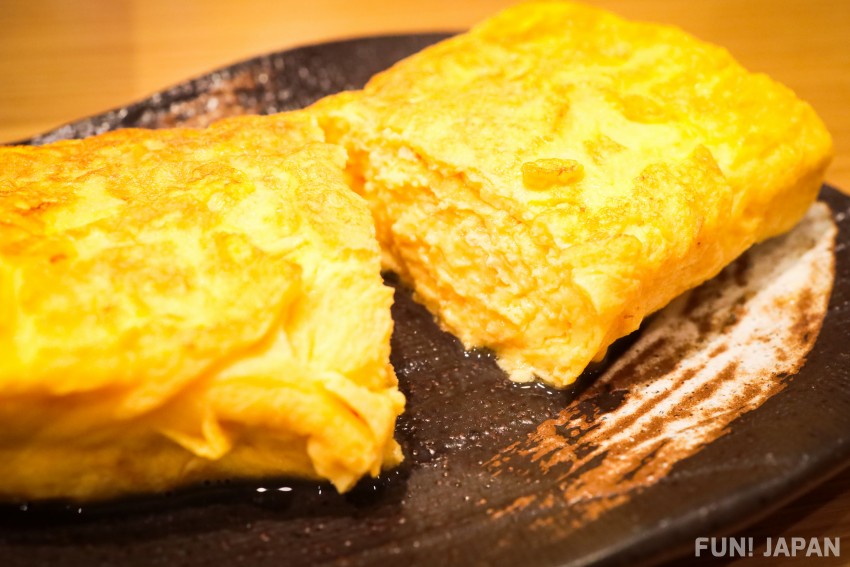 The kelp broth will spread all over the plate once you by divide it in half with chopsticks! Even without any other seasonings added, the flavor of this tamagoyaki egg is delicious.

If there is still room in your belly, you can visit a sushi bar called "Asakusa Sushi", as well as a yakitori place, called "Yura-yura", where the staff will welcome you friendly and energeticly.


The chopstick wrapping papers are actually an omikuji (fortune-telling paper slip) and the design varies with restaurant. Let's see if you can pick Daikichi (excellent luck)!
See festivals from all over Japan in Asakusa, Tokyo!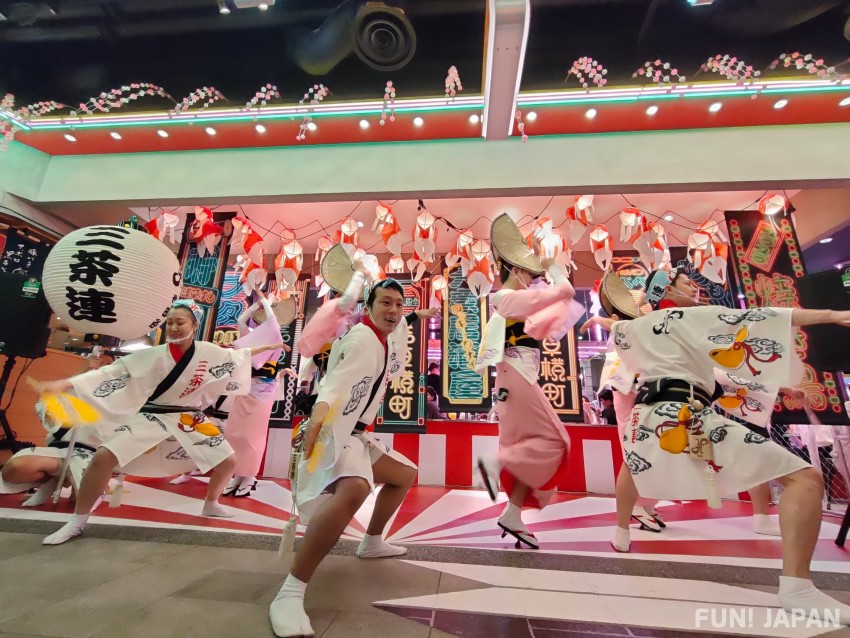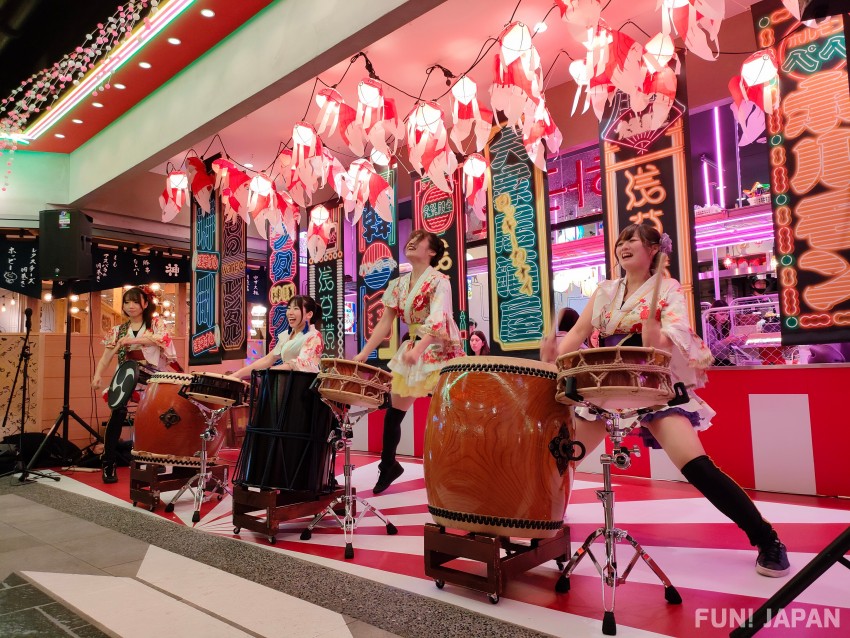 Asakusa Yokocho, a place that is more than just a place to eat, also features festivals from all regions of Japan on weekends. You can watch festivals such as Yosakoi, Awa Odori, and Bon Odori, held both outdoor and indoor, by groups across the country. As soon as the dancing starts, the whole floor instantly becomes festive! Of course, you can copy the dancers' moves and even join in on the dancing! It's whole new experience to see dances from all over Japan in one place!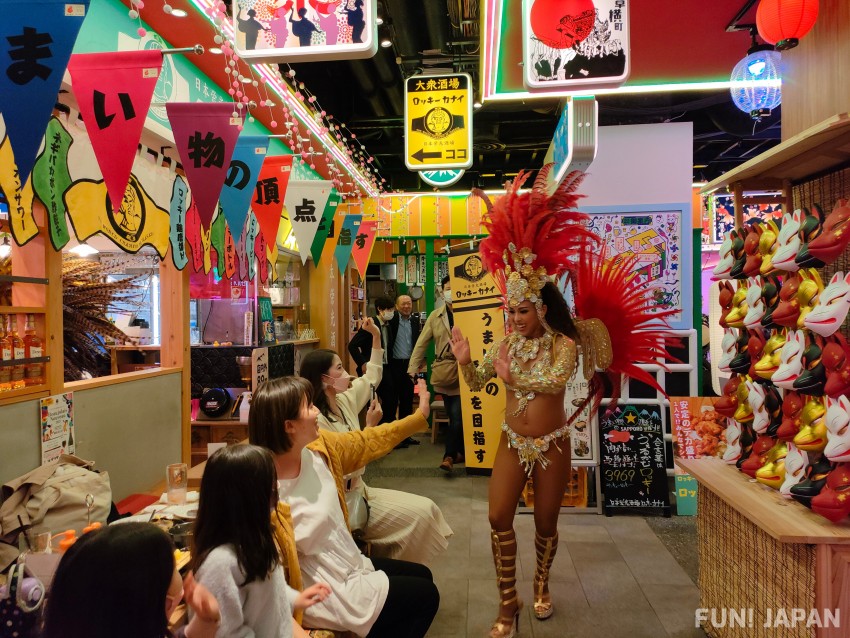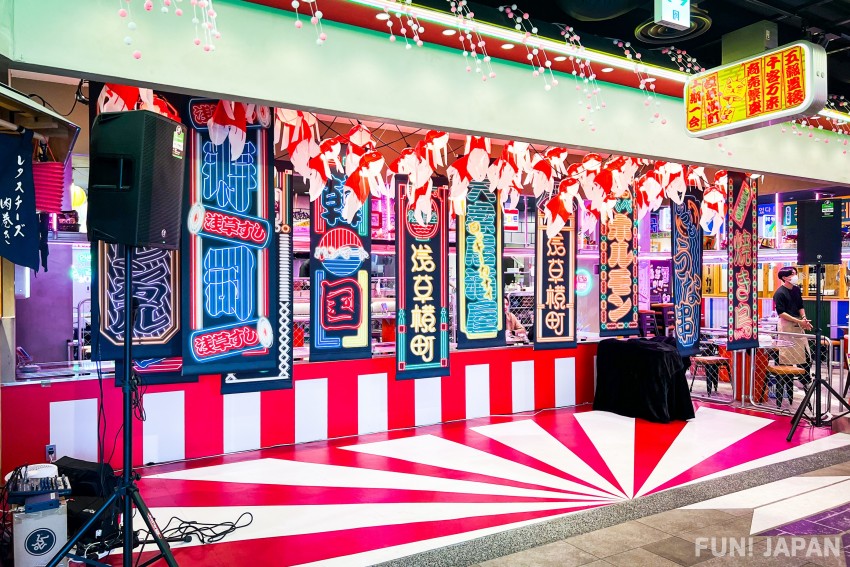 The performances vary each week, so be sure to check the official Instagram for each week's schedule before heading out!

Asakusa Yokocho
Address: Tokyo Rakutenchi Asakusa Building 4F, 2-6-7 Asakusa, Taito-ku, Tokyo
Business hours:
[Kimono rental Wargo] 10:00-19:00 (last return 18:30)
[Restaurant] 12:00〜23:00
Access: 8-minute walk from Tokyo Metro or Toei Subway Asakusa Station
Website:https://asakusayokocho.com/
Model credit:
[Survey] Traveling to Japan
Recommend