Sanrio Puroland - Meet Sanrio Characters in a Place of Dreams and Happiness!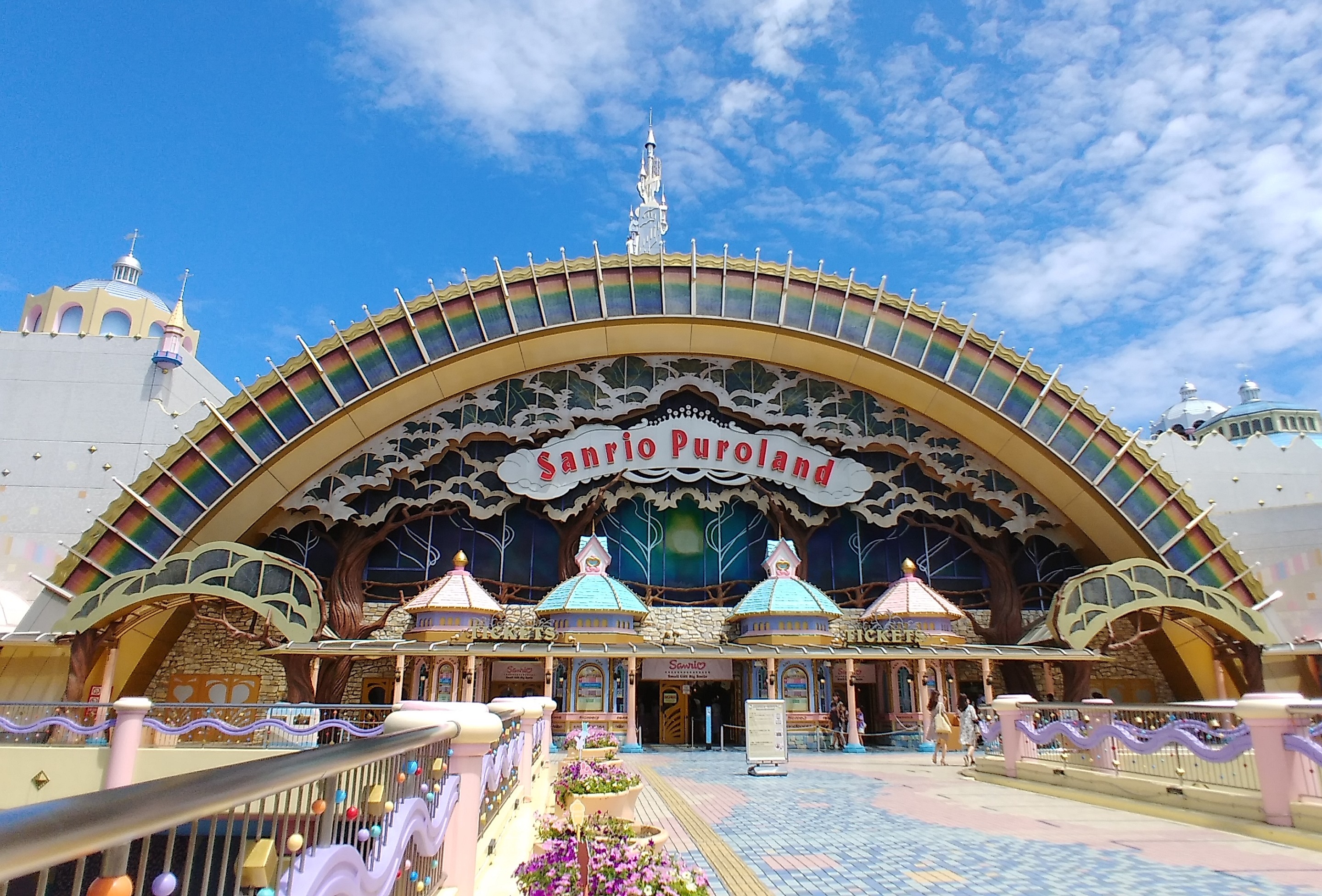 At this theme park you can meet all of the loved Sanrio characters loved around the World such as Hello Kitty and My Melody! It can be found a short 1-hour journey from Tokyo and is perfect for a family trip.

The FUN! JAPAN staff decided to take a trip to this popular theme park and see what all the buzz was about. Let's take a look and introduce everything they found below.

About Sanrio Puroland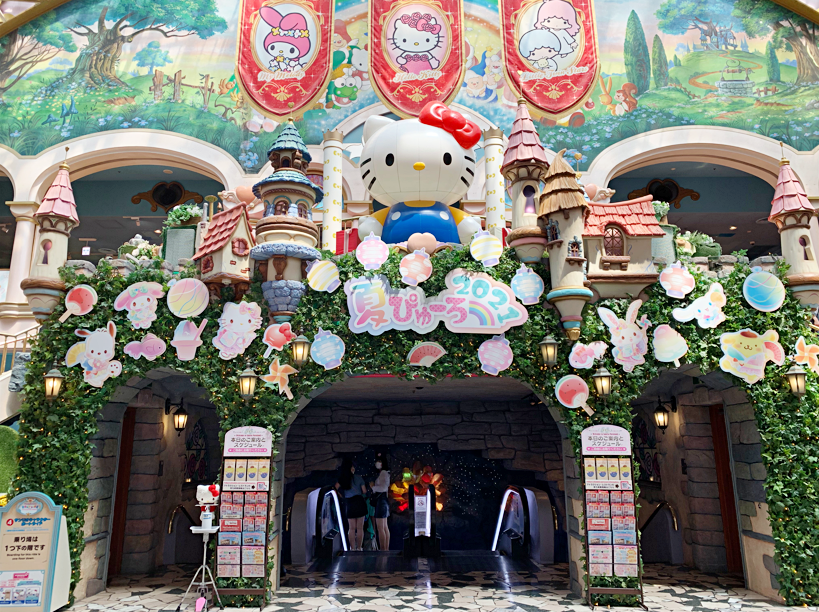 Sanrio Puroland can be enjoyed by children and adults alike. With world-famous characters such as Hello Kitty, MyMelody, Pompompurin, and Cinamoroll, there are so many cute characters to meet. There are not only attractions and shows but also unique game corners as well! There are even some popular SNS picture spots scattered around the park. It's a dream world filled with fun!

※Park facilities and decorations may differ depending on the season.

An Exciting Adventure with Sanrio Characters ♪
Once you enter the park and go down the escalator, the first thing you'll find is Puro Village, with the "Tree of Knowledge" in the center surrounded by beautiful illuminations. Truly a wondrous start to an amazing adventure.

Let's dive right into the attractions! The first on our list is the Sanrio Character Boat Ride and the ~My Melody & Kuromi~ Mymeroad Drive which we highly recommend!

Sanrio Character Boat Ride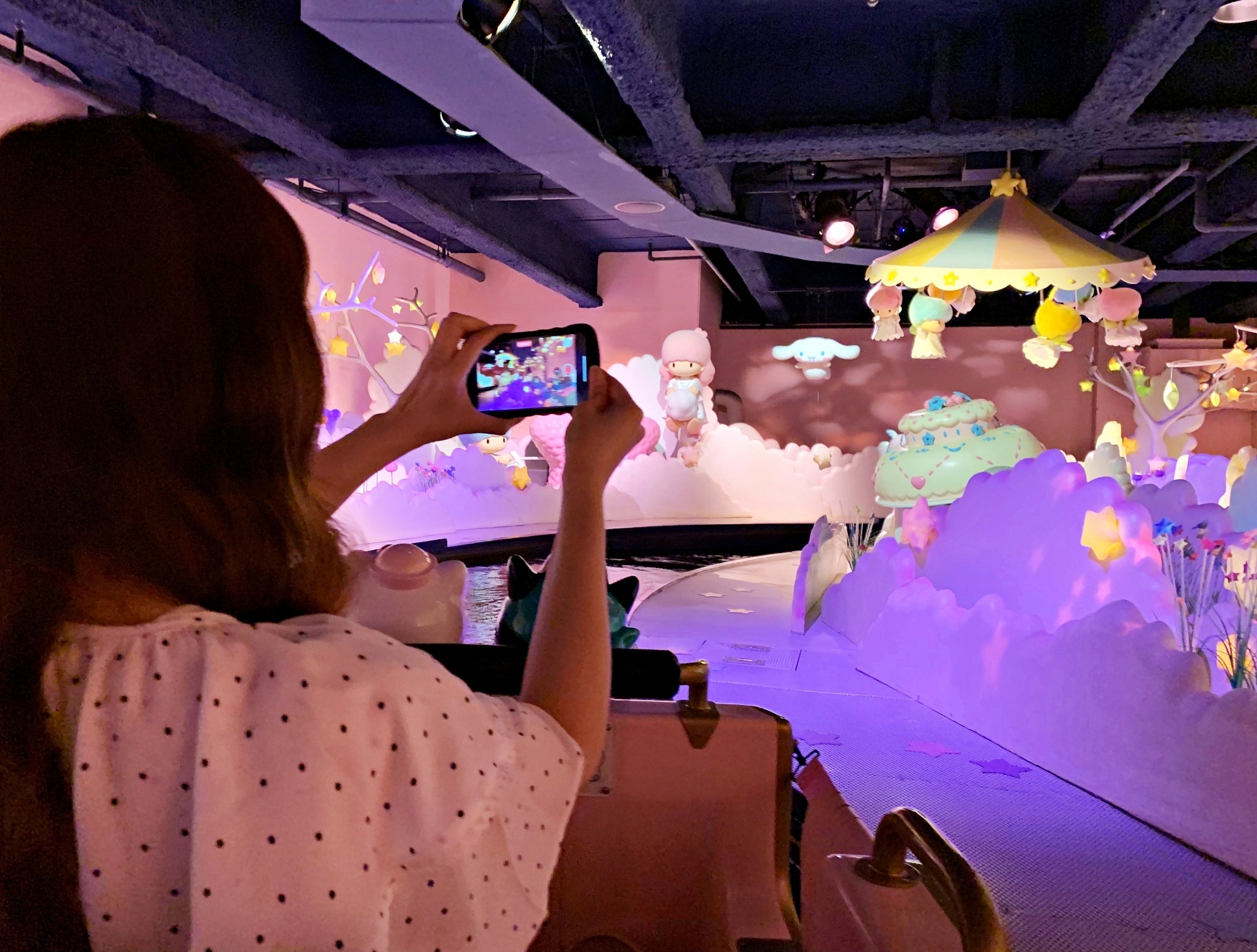 The Sanrio Character Boat Ride can be enjoyed by both people who know or don't know much about the Sanrio world. There are many characters you can meet and get to know during this boat ride.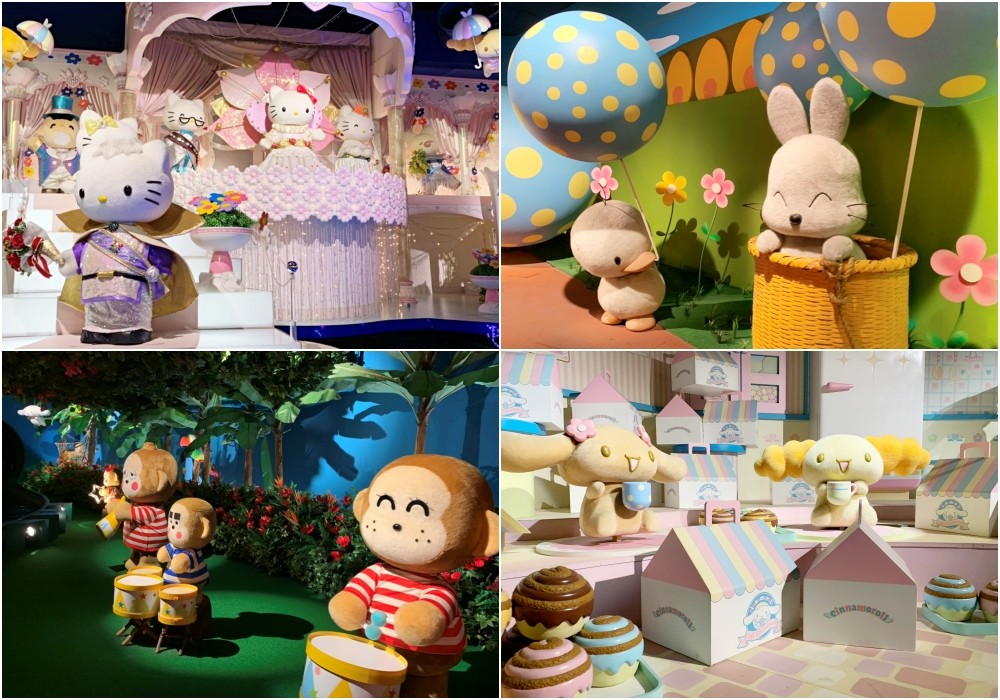 This attraction is filled with upbeat music and cute characters. If you ride with family or friends, you can all get excited together! All of the characters are wearing bright and colorful costumes, bringing up everyone's mood! The ride itself is very adventurous so make sure to keep an eye out for all the little hidden secrets you might be able to see along the way.

Don't forget to take a commemorative photograph during your ride! You're able to purchase your pictures from the Boat Ride Photo Corner. There's even a service to see the photographs online called the "Web Photo Service".

~My Melody & Kuromi~ Mymeroad Drive
This attraction is something fans of My Melody cannot afford to miss checking out. The characters live in Maryland which you'll be able to explore and take pictures and 6 unique locations around the attraction.

After getting off, don't forget to decorate your pictures with unique stickers, drawings, and a unique frame! (Picture requires purchase after editing). The entire attraction is a world of My Melody through and through!

KAWAII KABUKI - A Mix of Hello Kitty and Traditional Japanese Culture?!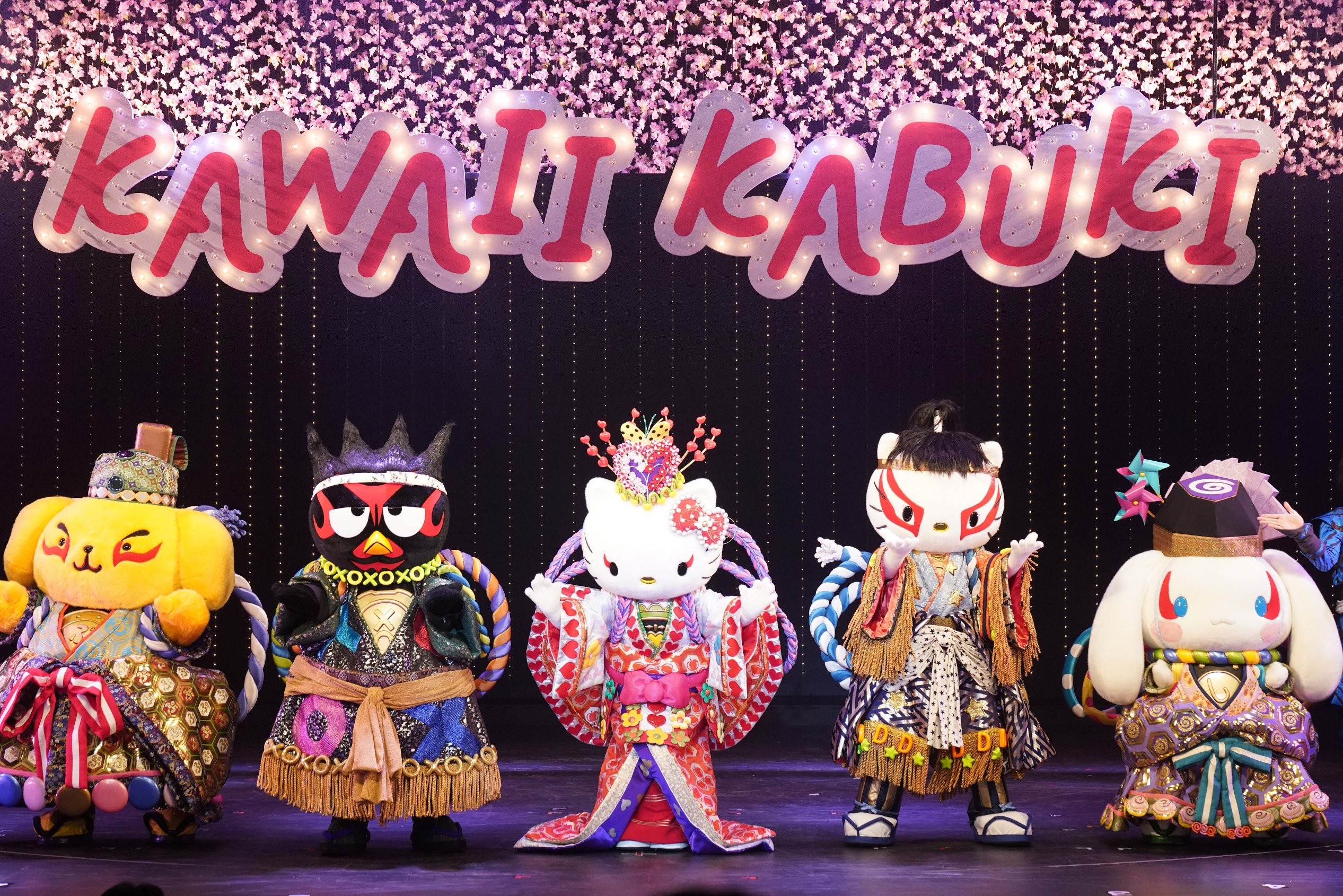 If you're a fan of Japanese culture or have been reading our articles for a long time, you may know about "Momotarō". Within Sanrio Puroland, the Sanrio characters have come together to put on a musical show of Japanese Kabuki known as KAWAII KABUKI!

Hello Kitty is playing the role of Momotarō in this musical, and seeing all of the characters in their traditional Japanese dress really is heartwarming. The performance is powerful and moving with an amazing theme song that will give you goosebumps! This is a performance not just for children, but for adults as well giving you a small taste of the beauty of Japanese culture.

Before the show begins, there will be guides available in English, Chinese, and Korean allowing for everyone to understand the performance. There are also subtitle services in many languages available through the Omotenashiguide application which you can download allowing for an even greater appreciation and enjoyment of the performance.

→ https://omotenashiguide.jp/(English / Chinese / Korean / Thai)
An Abundance of Cute and Cuddly Photo Spots that Scream "KAWAII"!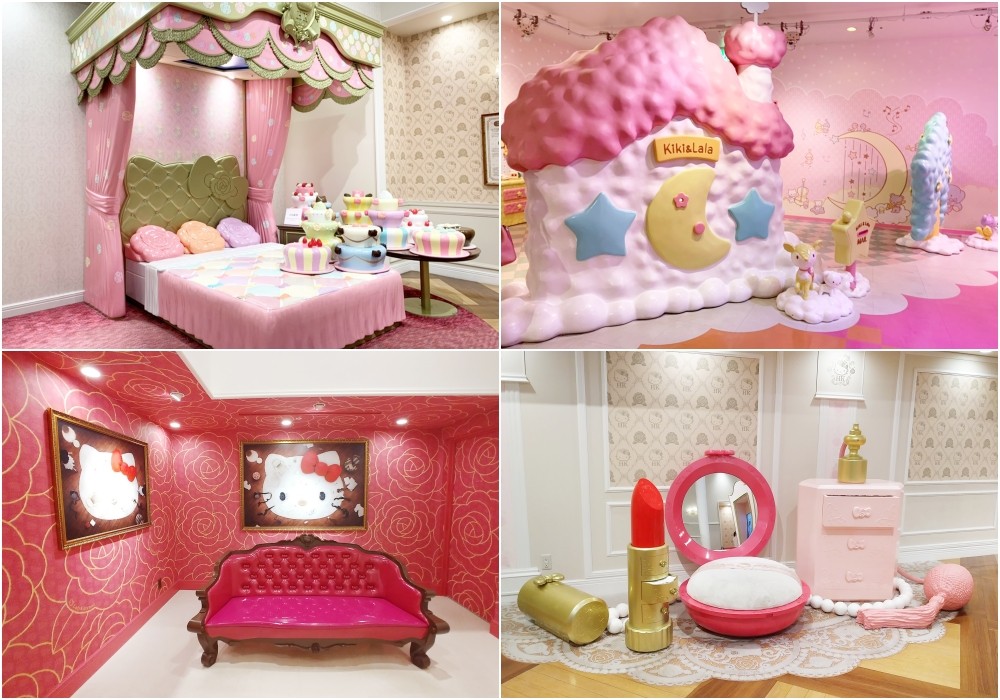 While Sanrio Puroland is cute in and of itself, there are some spots that are especially popular when taking pictures for SNS channels such as Lady Kitty House.

There's a spot for taking a picture with Hello Kitty, a rose garden, the red dress tower, a sweet bedroom, a teahouse, and much more. All of these spots are sure to be a huge hit on Instagram or any other SNS channel!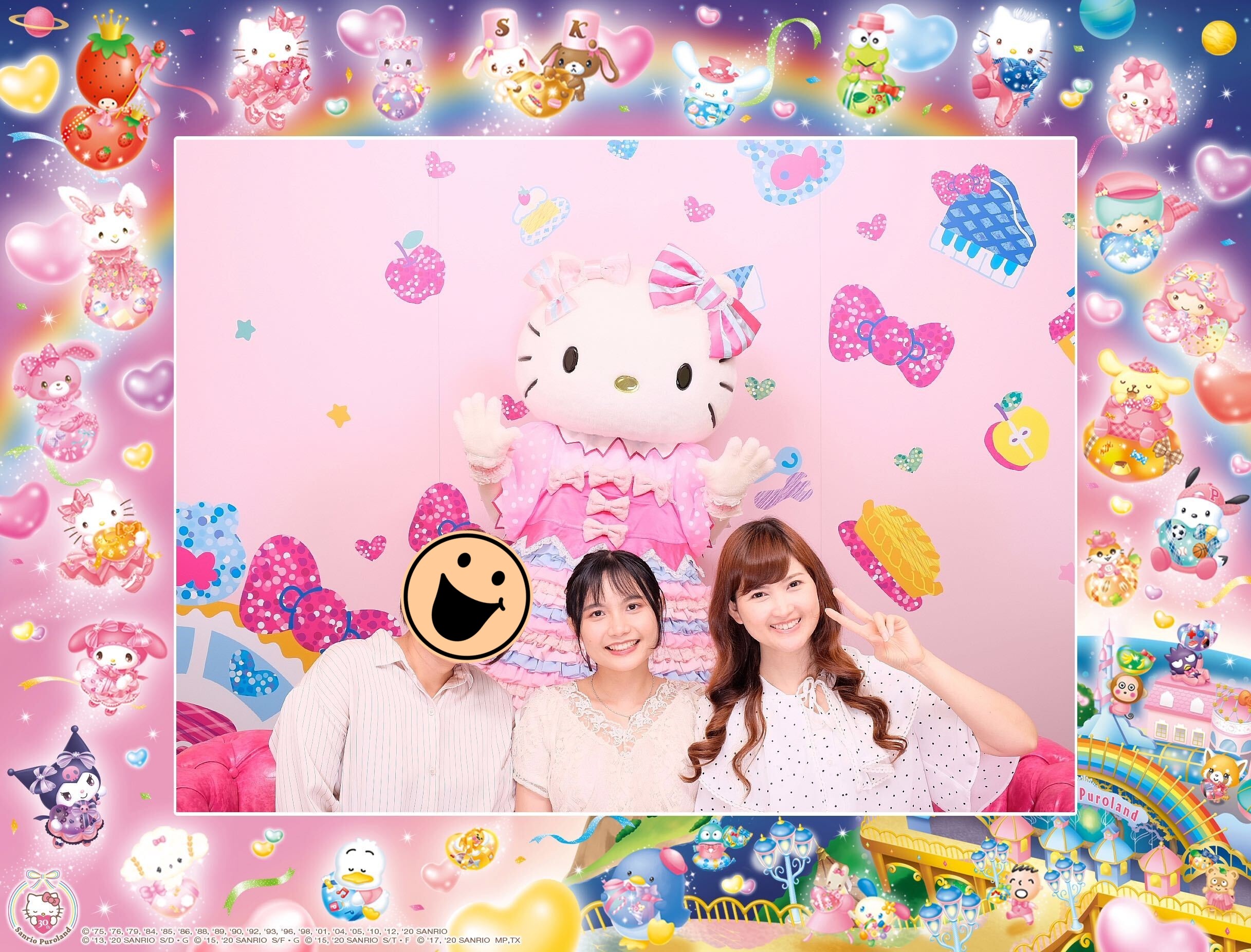 If you're a fan of Hello Kitty, the one thing you cannot afford to miss out on is taking a photo with Hello Kitty herself! The gorgeous one-piece outfit is so cute it feels like your heart might skip a beat. This was an opportunity the Hello Kitty loving FUN! JAPAN staff couldn't afford to miss out on, though they do seem a little nervous... lol

The staff at the park are extremely friendly and bright and will guide you to wherever you need to go without the need for words. You're able to purchase your commemorative photograph, with a unique design for each season and many unique frames to choose from meaning you can come back multiple times and try to collect them all!

A Cute Sanrio-Style "Character Food Court"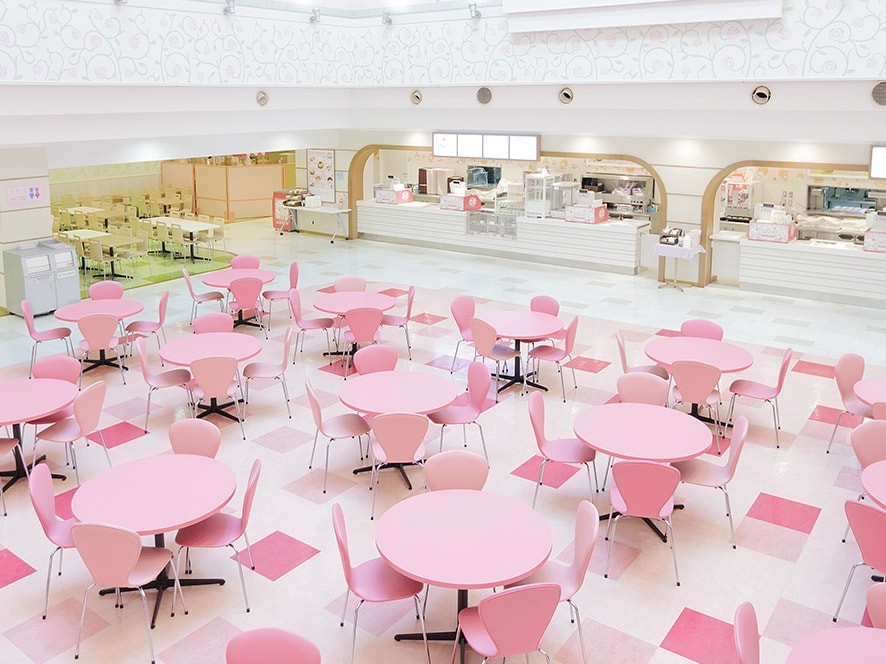 At the Character Food Court, you'll find many Sanrio-design food items, an original Sanrio Puroland menu, and lots of delicious items to choose from!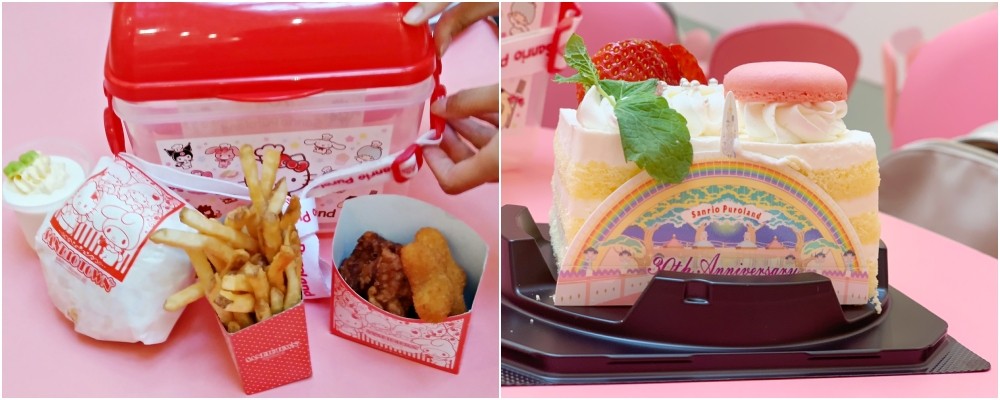 There's also some great limited time and seasonal items to try including the "Teriyaki Mayonnaise Burger Basket" which has different colored buns depending on which character's anniversary it is. By the way, when the FUN! JAPAN team visited it was actually Pompompurin's 25th anniversary to the buns had Pompompurin on them!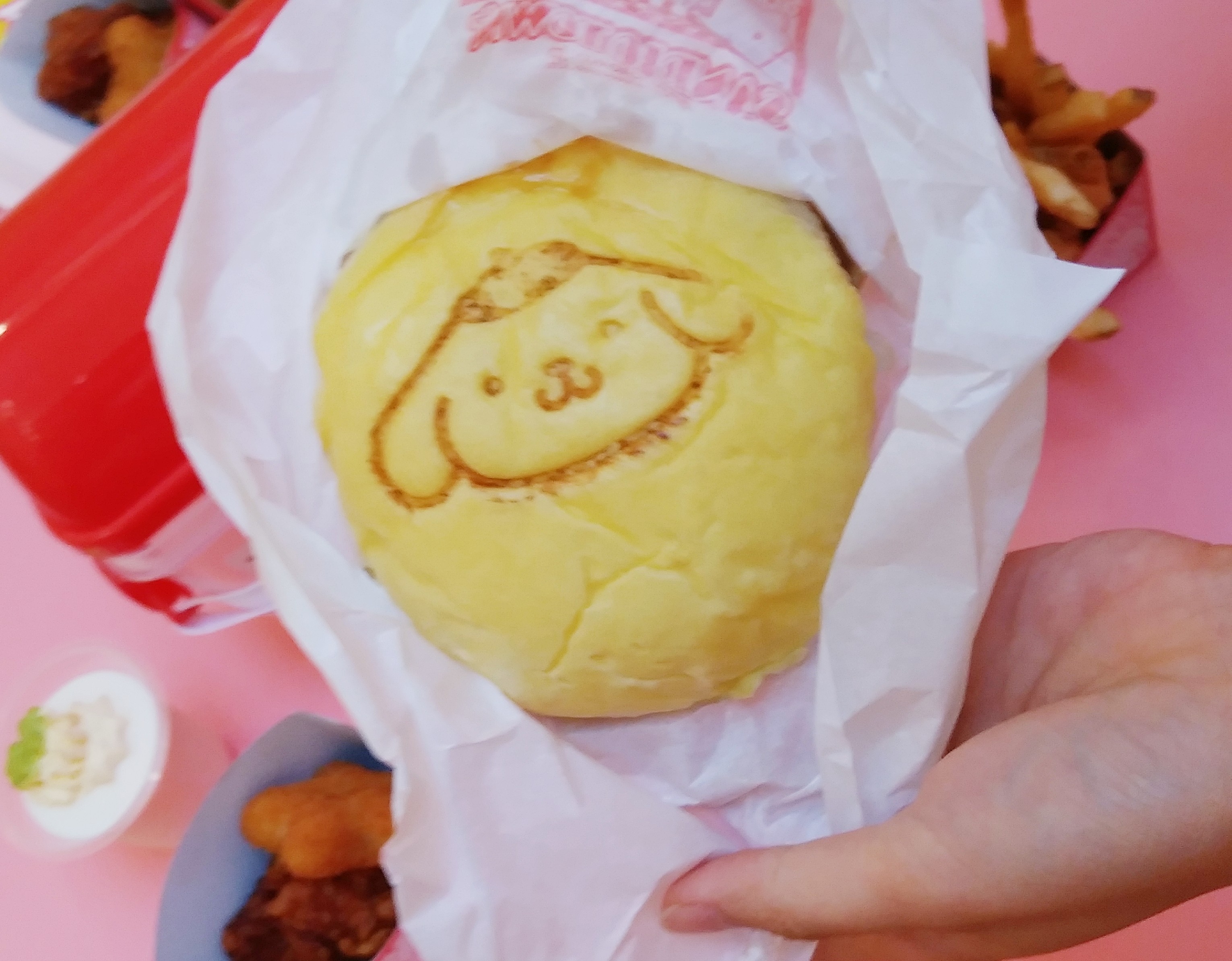 Being able to celebrate all of the character's anniversaries like this... what a joyful place!

Furthermore, in December 2020, Sanrio Puroland approached its 30-year anniversary and had some 30-year Anniversary AR Decoration Video Heart-shaped Full Cakes for 980 (tax inc.) yen.

※Menu is subject to change without prior notice.
Find a Souvenir to Take Home at the Entrance Shop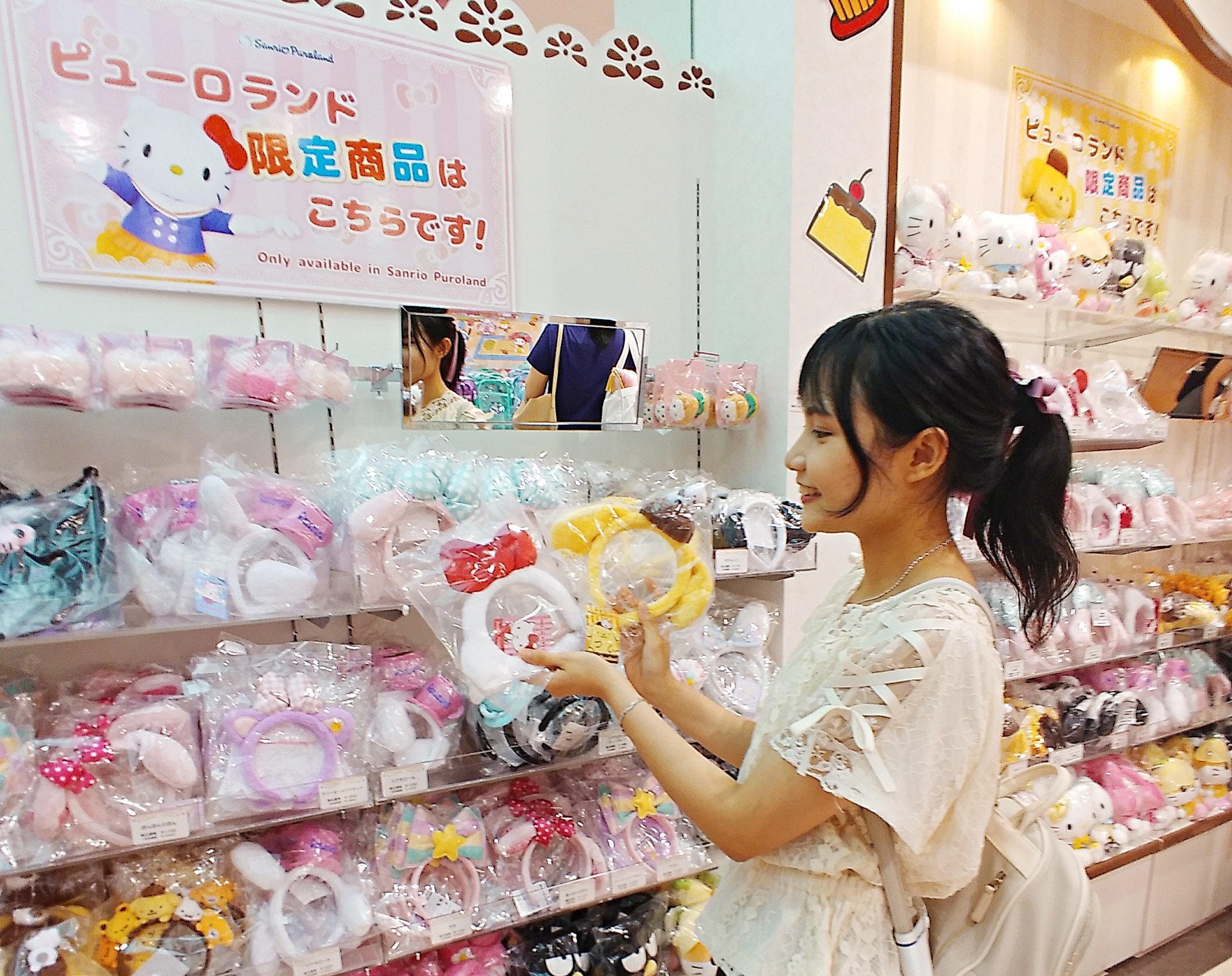 This is the largest shopping area within Sanrio Puroland. There are sweets, stationery, clothes, character-related goods, and much much more. You can even find seasonal items, all of which are extremely popular, so it might be best to buy what you're interested in quickly?!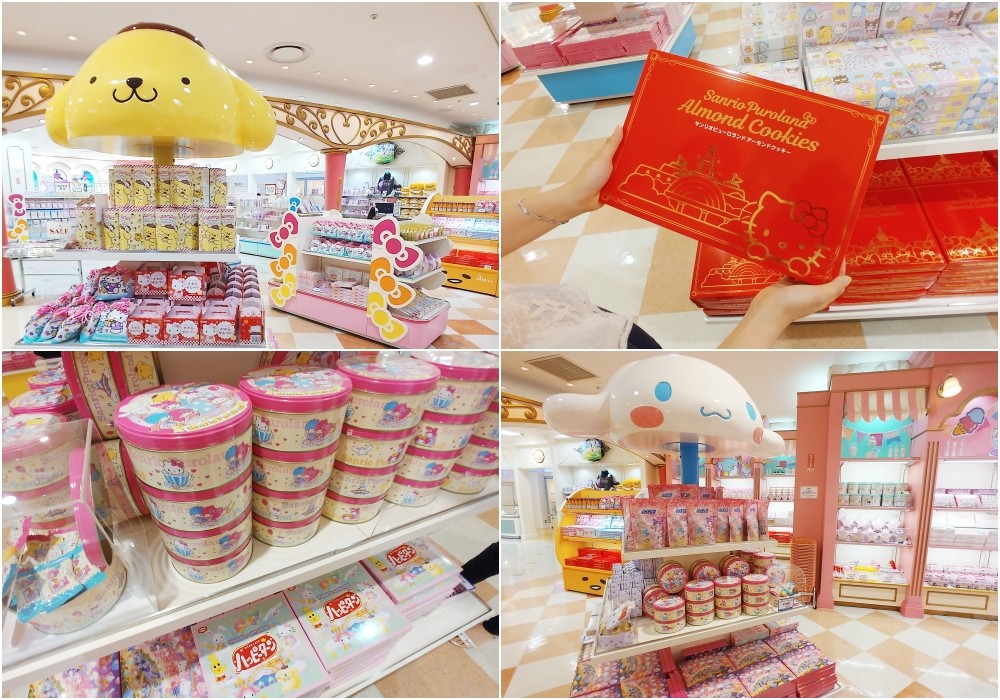 There are so many more places to explore in Sanrio Puroland including smaller-scale attractions for small children as well as an arcade corner with UFO catcher games to try your luck at getting a Sanrio character, a Gudetama magical fortune teller, the Niko Niko Purin Room, and much more. Enjoy an entire day surrounded by Sanrio characters and rest both your heart and mind.

Information
Location Name:Sanrio Puroland
Address:1-chōme-31 Ochiai, Tama, Tokyo
Access:30 minutes from Shinjuku Station to Keio-Tama-Center Station via the Keiō Line. A 5-minute walk from Keiō, Odakyu, Tama Monorail Tama-Center Station.
Business Hours: Weekday 10:00~17:00, Weekend+Holiday 9:00~17:00
Closed: Irregular ※Business hours are subject to change. Please check the official homepage prior to the visit.
Entrance Fee:

Weekday:Adult JPY 3,600, Child/Senior JPY 2,500

Holiday/Weekend:Adult JPY 3,900, Child/Senior JPY 2,800

Afternoon:Adult JPY 2,400, Child/Senior JPY 2,200
※ To help prevent the spread of COVID-19, you are currently required to reserve access to the park via the official website or application prior to visiting.
[Survey] Traveling to Japan
Recommend