Love Live! – Akibahara, Kanda, Suehirocho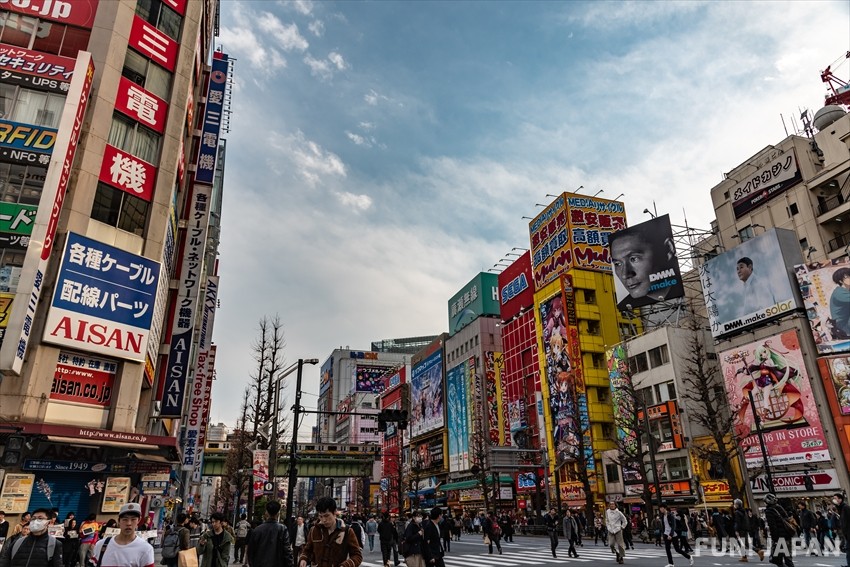 Starting with its 2013 anime "Love Live! School Idol Project" the multimedia series has spawned multiple anime sequels, making the project grow into its 4th group with "Love Live! Superstar!!" slated to air in July of 2021. Today let's look at the original anime that follows the girls of Otonokizaka Academy's school idol group μ's and the different spots you can visit in the Akihabara area of Tokyo, which is where many scenes of the anime were set.

Akihabara UDX
Akihabara UDX is a multipurpose restaurant and shop complex located very close to Akihabara Station. This iconic building is the setting of UTX High School, the popular rival school of the girls of Otonokizaka Academy. Featured prominently in the first episode, Honoka Kosaka is lectured by Nico Yazawa on both UTX High School and their School Idol group "Arise," along with an explanation on what "School Idols" are. This building has plenty of restaurants to dine at and is also home to the "Tokyo Anime Center" where you can find anime featured regularly and can shop for anime goods.
Akihabara UDX
Address: 4 -14-1 Sotokanda, Chiyoda-ku, Tokyo 101-0021
Access: 3 minute walk from JR Akihabara Station
Kanda Shrine
Kanda Shine is the shrine where μ's member Nozomi Tojo is spotted working part-time. Since Love Live has aired, Kanda Shrine has become a hot spot for anime tourism, featuring Love Live branded ema (wooden plaques boards) for writing your wishes on. Kanda Shrine is where the Kanda Festival, one of the three great Shinto festivals of Tokyo takes place. Near the shrine is also Myojin Otokozaka, a large stairway where the μ's girls trained by running up the stairs.
Kanda Shrine
Address: 2-16-2, Sotokanda, Chiyoda-ku, Tokyo, 101-0021
Access:

5 minute walk from Ochanomizu Station/Shin-Ochanomizu Station/Suehirocho Station
7 minute walk from JR Akihabara Station
Takemura Cafe
Honoka's home is a Wagashi (traditional Japanese sweets) shop called "Homura." This shop is based off Takemura Cafe in Kanda. This traditional Japanese café serves sweets such as Shiruko (red bean soup with mochi), and age-manju (fried mochi). Swing by the model of Honoka's home and relax with some tasty traditional Japanese desserts!
Takemura Cafe
Address: 1-19 Kanda Sudacho, Chiyoda-ku 101-0041
Access: 7 minute walk from JR Akihabara Station
Cure Maid Café
Finally, we visit Cure Maid Café, a popular maid cafe referenced in several anime. In Love Live! School Idol Project, this is the maid cafe where Kotori Minami secretly worked, being known with the title "Legendary Maid Minalinsky." This cafe features anime collaborations regularly, so be sure to check out what's going on beforehand to get the most out of your visit!
Cure Maid Café
Address: 3−15−5, Sotokanda, Chiyoda-ku, Tokyo, 101-0021
Access:

5 minute walk from Suehirocho Station
7 minute walk from JR Akihabara Station
[Survey] Traveling to Japan
Recommend