The Fascinating Festival-themed Asakusa Nishisando Shopping Street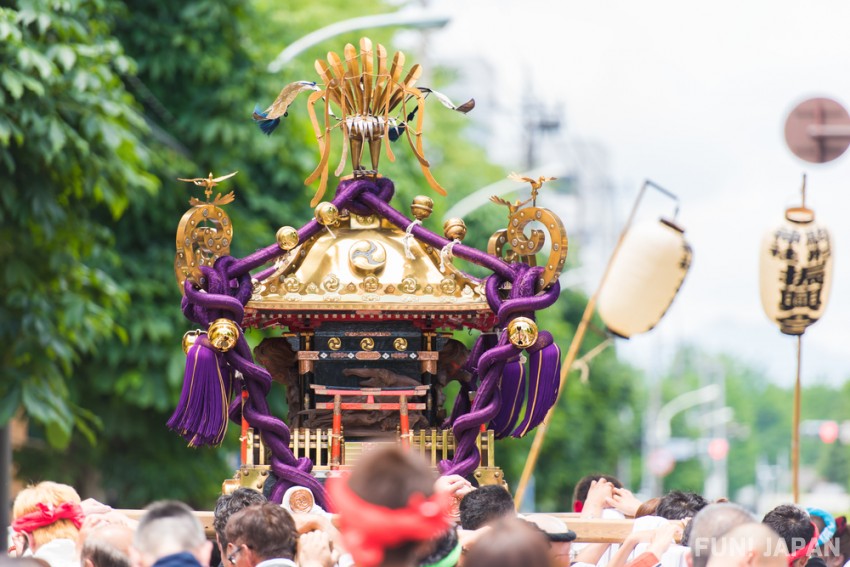 A traditional shotengai (covered shopping street) with a unique festival theme, Nishisando Omatsuri is a fantastic experience whatever the weather. In a stunning building inspired by a kabuki-theater, the arcade takes you into the heart of Japanese festival traditions with games, outfits and information on festivals from across the country.
What is the Nishisando Shopping Street?
The Nishisando Shopping Street is only 100m long, but it's packed with great shops and restaurants. It's known as a shotengai in Japanese, which means it's a covered stretch of shops, usually made up of small independents and family-run businesses. The street is a great place to pick up souvenirs, learn about festival culture and enjoy some unusual Edo-inspired design. The street has a family of mascots to look out for: Kurobe, a black gourd, his wife Okaki, an orange gourd and their bright green baby gourd Moetan.
The History of Nishisando Shopping Street
Built to connect Sensoji Kannon's Main Hall and the entertainment district of Asakusa Park, the shopping street was opened in 1954. The majority of stores sold high-end kimono, souvenirs, toys and household goods and in 1965 was accepted into the Shopping Street Promotion Association.
In 2013, the shopping street was rebranded as the Festival Shopping Street, inspired by the countless festivals held at the neighbouring Sensoji Temple each year. Some of the most well-known festivals include the Sanja Matsuri, the Sumidagawa Fireworks Festival and the Asakusa Samba Carnival.
Nishisando Shopping Street's Unusual Design
The East entrance of the hall is decorated in the style of a double-fronted kabuki-theater. With bright white walls, an elegant gate and traditional lanterns, it is inspired strong by the Edo Era. There are a selection of Japanese playing cards known as hanafuda displayed on large boards adding bursts of colour and changed to match the seasons. Inside, the Edo-era theme is striking, with red painted shutters, pillars and traditional store signs. The most unusual element, however, is beneath visitor's feet. The floor is made of natural cypress wood and provides a warm, indoor feel to the street, which is part of the arcade's charm.
Where is Nishisando Shopping Street?
It's simple to find the entrance to Nishisando Shopping Street as it's very close to Sensoji Temple. When you reach the temple's main hall, you turn left and the building is visible at the end of the street. It's an easy two-minute walk and a great spot if you're making your way West towards Hoppy Street or Kappabashi Kitchen Town.
The Best Things to do on Nishisando Shopping Street
The street has plenty of great shops but also awesome great examples of festival culture you can try your hand at.
Go Sword, Souvenir and Festival Fashion Shopping
If Asakusa has kindled a love of Samurai, then head straight to Ichiryoya, a licensed dealer in replica and decorative swords and paraphernalia. With a wide range of items to suit all budgets, it's the perfect place to find a unique souvenir of your trip. They also repair and polish swords and have plenty of smaller items available.
Minatoya sells small gifts perfect for travelers including sake, cherry-blossom liqueur and hair accessories, among other items. It is the sister store of a long-running sake specialty store in Setagaya, so the alcohol is guaranteed to be a great selection, with staff able to give advice on any questions or concerns.
Bambido is a store dedicated to festival clothing, with jinbei (summer clothes) and tabi (socks) which are worn by those participating in traditional festivals or ceremonies. Fujiya is another similar store with kimono, jinbei and yukata (summer kimono) to choose from.
Experience Goldfish Scooping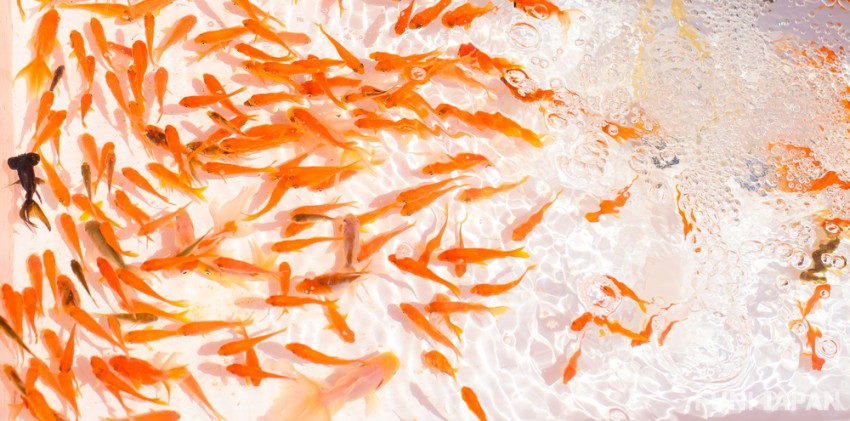 A classic Japanese festival game, goldfish catching is a fun challenge that children and adults can enjoy. For 300 yen players are given two 'poi' (paper scoops) with which to catch the small goldfish. The aim is to scoop as many fish as you can before the paper poi break. Guests are asked to be as gentle as possible in order to protect the fish and will soon learn that it requires more skill than you may expect. Asakusa Kingyo (meaning goldfish) have been running since 1945 and also sell a variety of goldfish items, including decorations, toys and seasonal pieces like summer windchimes (known as furin).
Try Out the Shooting Range
A Showa-era (mid 20th century) favourite, the shooting range is a more familiar game for many visitors to Nishisando. Often seen at festivals, you can win a range of items depending on your score. As it uses pellet guns, only those over the age of 18 are allowed to play. For 350 yen you will receive five shots at the Asakusa Syatekijo (shooting range) and you can take your pick of a fun selection of traditional toys, souvenirs or snacks as prizes.
Visit the Festival Plaza
As well as creating an Edo-machi atmosphere, the street has a Festival Plaza to showcase the culture of Japanese festivals to visitors. There are video displays, a vast array of leaflets and plenty of information about festivals taking place both locally such as the famous Sanja Festival as well as festivals from across Japan. Alongside the information ad displays, the street also holds special events in conjunction with regional festival organisations from across Japan. Bringing their floats for a rare display in Tokyo, the areas will promote their local festivals in the covered mall.
Try a Jumbo Melon Pan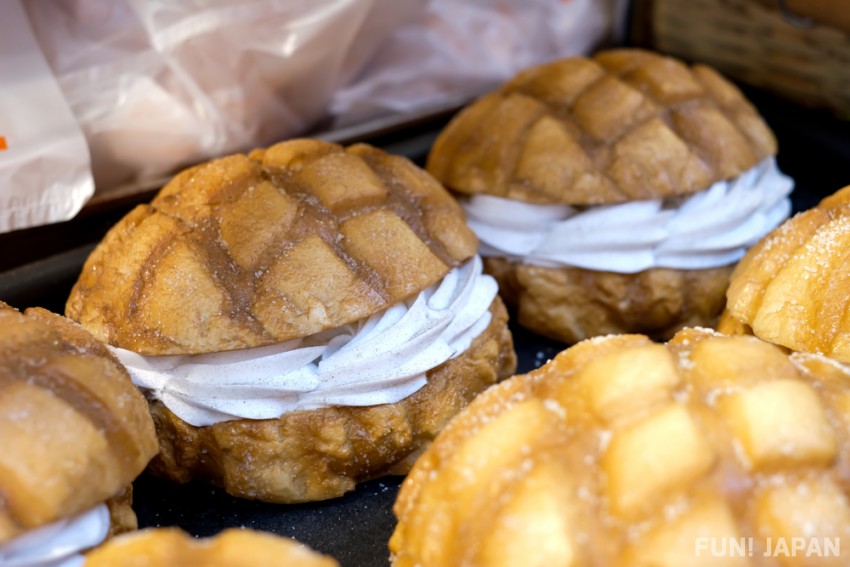 Kagetsudo are a legendary name when it comes to the sweet treat that is Melon Pan. Featuring no actual melon, these sugared rolls are named after their melon-like cracked appearance and are truly delicious when fresh from the oven. Baked for three hours and available plain or with ice cream, the jumbo melon pan are simple but addictive. Over 3,000 are sold on an average day so you're sure to see a queue, but it's worth the wait!
How to Get to Nishisando Shopping Street
Nishisando Shopping Street is located very close to Asakusa Tsukuba Express Station. Simply take Exit A1 and head East towards Sensoji's Pagoda. The larger Asakusa Station which is served by the Ginza and Asakusa Metro Lines, the Tobu Skytree Line and the Nikko-Kinugawa Line is a 5-10 minute walk away. It is very convenient to visit after seeing the grounds of Sensoji as it is only a minute away from the main hall. Tawaramachi Station on the Ginza Metro Line is a 10-minute walk from Nishisando Shopping Street.
Spot Information
Name: Asakusa Nishi-Sando Shopping Street (浅草西参道商店街)
Address: 2 Chome 7-13 Asakusa, Taito, Tokyo
Location: To reach the street you simply turn left directly in front of Sensoji's main hall and head towards the white building at the end of the street.
Hours: 09:00 - 17:00 (some store hours may vary)
[Survey] Traveling to Japan
Recommend