Asakusa Kimono Experience! Where to Rent? How Much is it?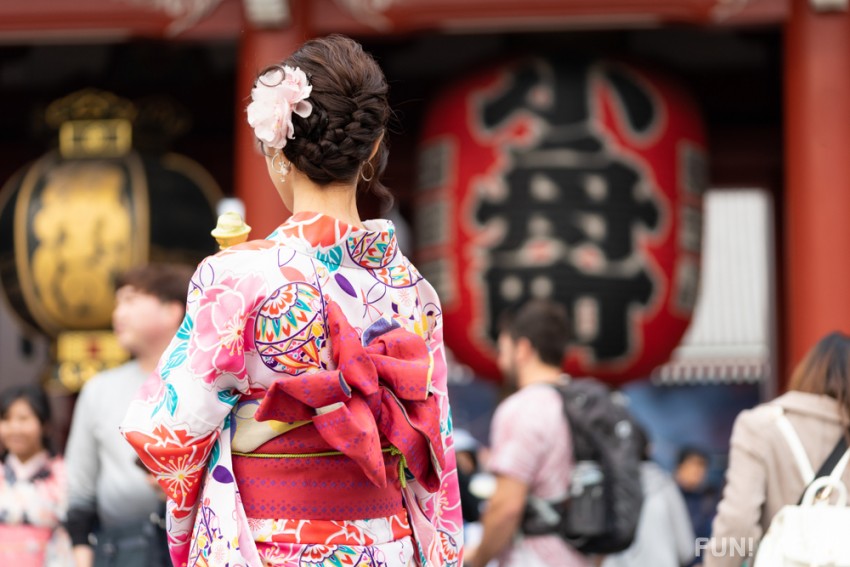 While purchasing a kimono can be expensive, it is a popular option for visitors to rent kimonos for a day while they explore a local neighbourhood. In Tokyo, this is often Asakusa which is known for its large temples and old-fashioned feel.
Click here to read all articles about Kimono

Can you Rent a Kimono in Asakusa?
Yes - there are plenty of places to choose from in Asakusa. As one of the most popular and historic districts of Tokyo, it is a great place to try the traditional dress of Japan. The grounds of Sensoji Temple are the perfect backdrop for a kimono photoshoot and the many shopping streets and riverside paths are also great places to explore.
How Much does it Cost to Rent a Kimono in Asakusa?
Kimono rental can range from around 2,980 yen to 5,980 yen for a standard package including the necessary accessories (sandals, socks, undergarments etc) and sometimes accessories such as hairpins. Prices are a little lower for men and there are usually discounts available for couples and groups. For more unusual kimono such as contemporary designs or antique garments it may cost more, while there are special occasion kimono which can cost between 9,980 yen - 25,000 yen or more.
The Different Parts of a Kimono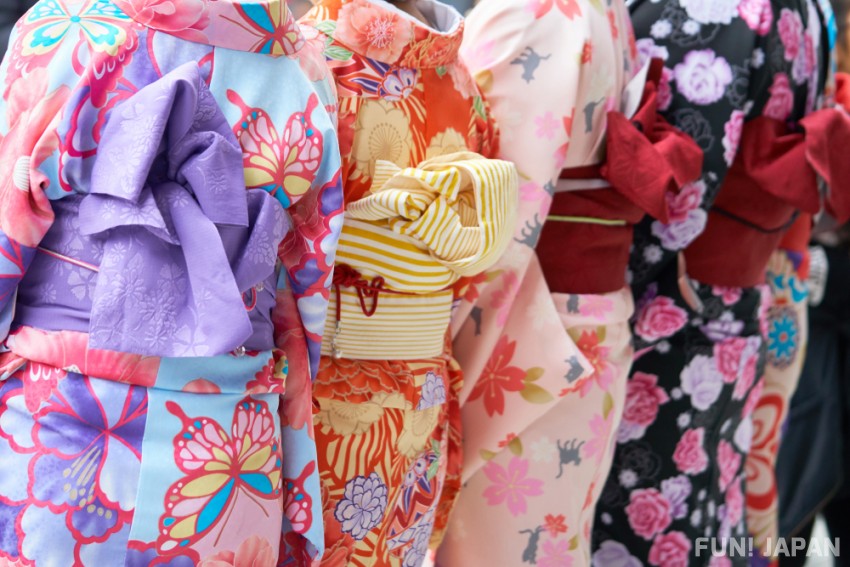 The national dress of Japan, Kimono are traditional outfits which are now usually only worn for special occasions. The colours, designs and styles can vary, with more modern versions now popular, although men's kimono tend to be more subdued. The seasons and nature are common motifs as well as simple patterns, with many techniques like fabric dyeing or painting popular for high-end examples. In summer, a lighter version called a yukata is worn, often at festivals and for guests staying in ryokan (traditional Japanese guesthouses).
Kimono have a number of accessories and parts that complete the outfit:
Kimono: silk fabric robe which wraps around you.
Obi: a belt that secures the kimono around the waist.
Tabi: socks with a division between the big toe and the remaining four toes.
Zori: formal sandals worn with a kimono
Geta: raised wooden clogs worn with a yukata
Nagajuban: a kimono-shaped undergarment worn beneath the robe
Kanzashi: a decorative hairpin
Bangasa: a traditional Japanese umbrella
Hakama: These are trousers worn over a kimono for sports or art
Click here to read more about the types and parts of Kimono
There are also a variety of Kimono styles used for summer or special occasions. The special occasion options are more expensive and you are less likely to need them, but it helps to know the terms:
Yukata: a lighter summer kimono, requires fewer accessories
Homongi: A formal kimono often work to weddings, ceremonies or celebration
Furisode: A long-sleeved kimono work by women at special ceremonies
What to Bring to a Kimono Fitting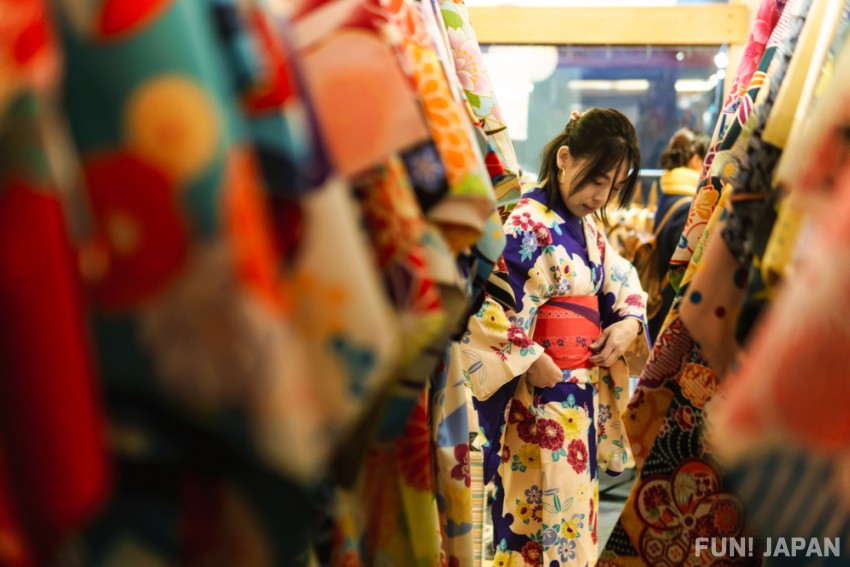 A kimono is worn over your underwear with a nagajuban to protect the fabric (a kimono-shaped undergarment). For the majority of rental packages you don't need to bring anything with you, but if you think you may be cold, you can wear leggings or a long-sleeved top underneath. Keep in mind that the ideal shape of a kimono is flat, so there may be some padding added to you which will also keep you warm. Be sure to check the guidance of your chosen rental shop before you arrive in case there is anything you need to bring.
Where to Rent Kimono in Asakusa
There are many shops to choose from in Asakusa, with a range of styles, prices and packages to suit different customers. While some offer walk-in appointments, it is usually advised that you make a reservation to guarantee your slot.
Yae Kimono Rental
Yae Japan offer reasonable packages for kimono rental with many services included in the price. The regular package includes hairstyling and the use of accessories and ornaments, including geta (wooden sandals) hairpins, socks and a bag. There are slight reductions for men and for those arriving in groups. Items must be returned by 17:30 but there are options for next-day return (additional 1,500 yen) if you would like to keep it for the evening. They offer outdoor photography shoots as well as rickshaw rental to go with your package for an additional cost.
Spot Information
Name: Yae Kimono Rental
Address: Quatre Chic 6th Floor, 1-16-2 Asakusa, Taito-ku,Tokyo
Location: The rental shop is a 2-3 minute walk from Sensoji and located between the two Asakusa Train Stations.
Hours: 09:30 - 17:30
Standard Package Price: 5,980 yen (women) 5,680 yen (men) 4,880 yen (children)
Kyoto Kimono Rental Wargo
One of the biggest names in Kimono rental across Japan, Wargo has one shop in Asakusa although it is temporarily closed. However, they have another in nearby Oshiage, which is a 3-minute train ride away and gives you the chance to visit Tokyo Skytree as well as Sensoji. They have one of the most affordable plans available, with a basic package starting at 2,980 yen per person (if reserved online). For a more varied selection of kimono you can choose the high-end option, the Mamechiyo option for contemporary designs or the antique kimono option, with all plans including hairstyling, accessories and items such as shoes, a bag and socks. The outfit and items must be returned by 19:00. There also are options for photography sessions either in the studio or outside.
Please be aware that due to the impact of Covid-19 the stores have limited hours and may be closed.
Spot Information
Name: Kyoto Kimono Rental Wargo Solamachi
Address: 1-2 West Yard Solamachi, Oshiage, Sumida, Tokyo
Location: They are located on the first floor of the Tokyo Sky Tree Solamachi Building, just 4 minutes away from Oshiage Station.
Hours: 10:00 - 21:00
Standard Package Price: 2,980 yen (standard) 3,980 yen (high-end) 5,980 yen (antique)
Koto Kimono Rental
Offering options for all-inclusive sets as well as simpler plans, Koto have affordable plans with a great collection of kimono, yukata and furisode. Their all-inclusive plans include the necessary items as well as hairpins and hairdressing, with prices around 3,900 per person (with some discounts available for couples or groups). Kimono must be returned by 17:00 although there are options to extend for the night starting at 1,000 yen. They also offer a simple package of kimono-rental which comes with only a few items but starts from 1,800 yen - perfect if you have your own accessories or don't need hairstyling.
Spot Information
Name: Koto kimono Rental Asakusa (浅草着物レンタル古都)
Address: Kanimarimon Collection Building, 6F, 2-18-15, Kanimarimon, Taito, Tokyo
Location: The rental shop is located
Hours: 10:00 - 18:00
Standard Package Price: 3,900 yen (all inclusive, women) 3,500 yen (all-inclusive, men)
Where to Go Sightseeing in a Kimono in Asakusa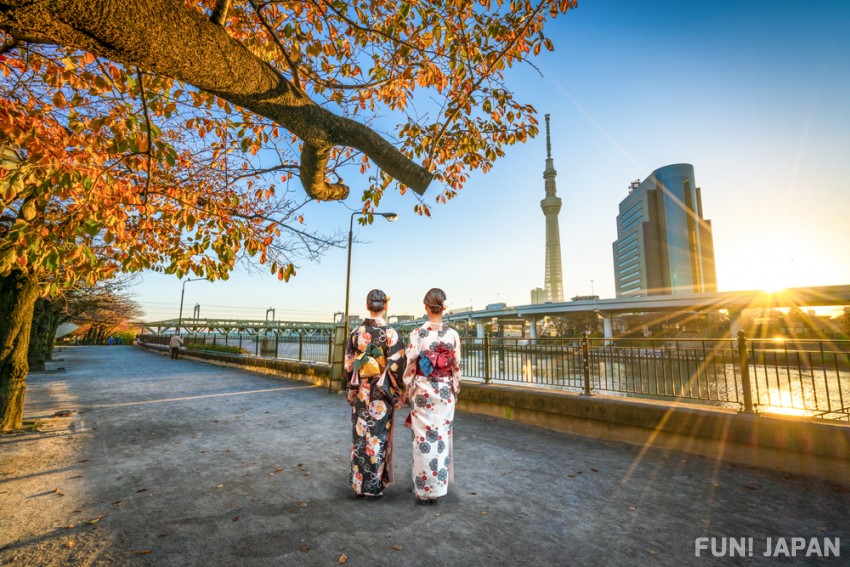 Asakusa is home to the famous Sensoji, an ancient Buddhist temple and the oldest of its kind in Tokyo. Known for the large red kanimarimon gate, towering pagoda and grand hall, the grounds are great to explore and often host festivals. The 200m nakamise shopping street leads up to the temple and is a great place for souvenir shopping or to try local snacks like senbei (rice crackers).
The surrounding streets have a Showa-era feel to them and there are many places with views of Tokyo Skytree. The Sumida river is a great place to escape the temple crowds, with views across the water which are especially beautiful at night. Tokyo Skytree is found across the river and is a 15-20 minute walk from Sensoji temple. 
[Survey] Traveling to Japan
Recommend