Ginza's Glittering Pedestrian Precinct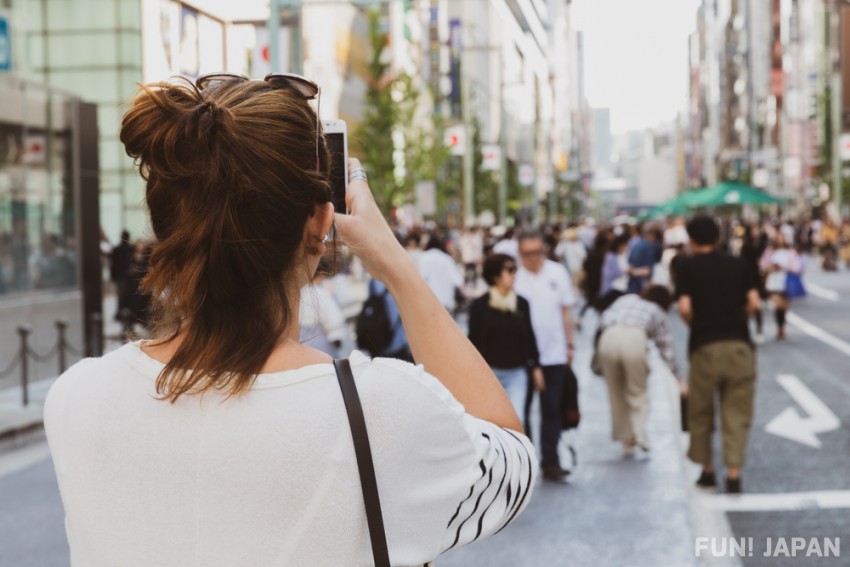 Strolling along Ginza's Chuo-dori is a shopaholic's haven, and on weekends, it's a pedestrian's haven too. Offring high brand names along with high-street stores, the popular shopping district transforms on weekend afternoons and allows window-shoppers to take to the streets without worrying about cars.

What is Ginza's, Pedestrian Zone?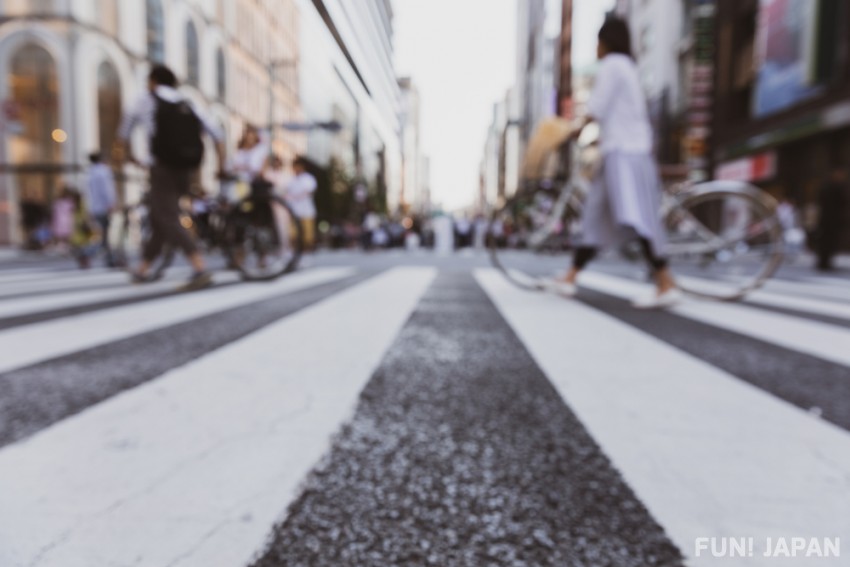 Throughout Japan, certain shopping streets have been given a special status that elevates them above the rest. Transformed into pedestrian zones for limited times, cars are banned and people take control. In Ginza, this takes place on weekend afternoons and means shoppers can enjoy strolling from one side to another without risking cars or being trapped on busy sidewalks. This is great for those who love to window shop, hate getting stuck behind slow walkers or want to avoid the crowds following the Covid-19 pandemic.
Where is the Pedestrian Zone in Ginza?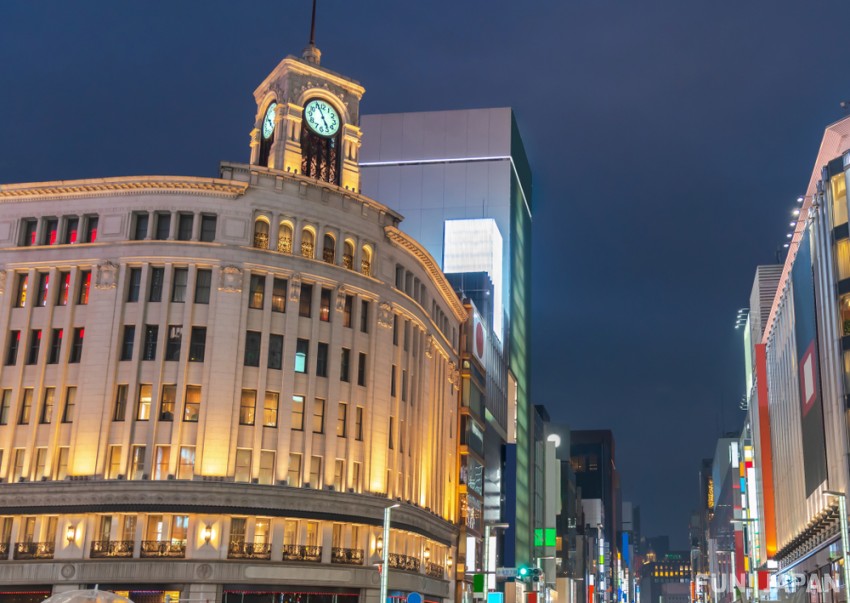 The pedestrian zone in Ginza stretches along the main shopping street called Chuo-dori which runs from East to West. The section included lies between the Ginza-dori guchi crossing and the Ginza-8-chome crossing and is approximately 1,100m long. It intersects with Harumi-dori, the other main shopping street, although this is not pedestrianized.
The History of Ginza's Pedestrian Zone
Ginza's pedestrian zone is considered to be the oldest in Japan, although it was only started in the 1970s. While the area has a long connection to wealth, being home to a silver coin mint between 1612 to 1800, it only truly became associated with luxury brands following the Great Kanto Earthquake in 1923. After the war, the 'Ginza reconstruction Festival' was held, rejuvenating the areas and it has since flourished. In order to encourage more shoppers and prevent accidents, it was turned into a pedestrian paradise - known in Japanese as a 'hokousha tengoku' (or hokoten for short) for the first time on August 2nd 1970.
What Shops you can Visit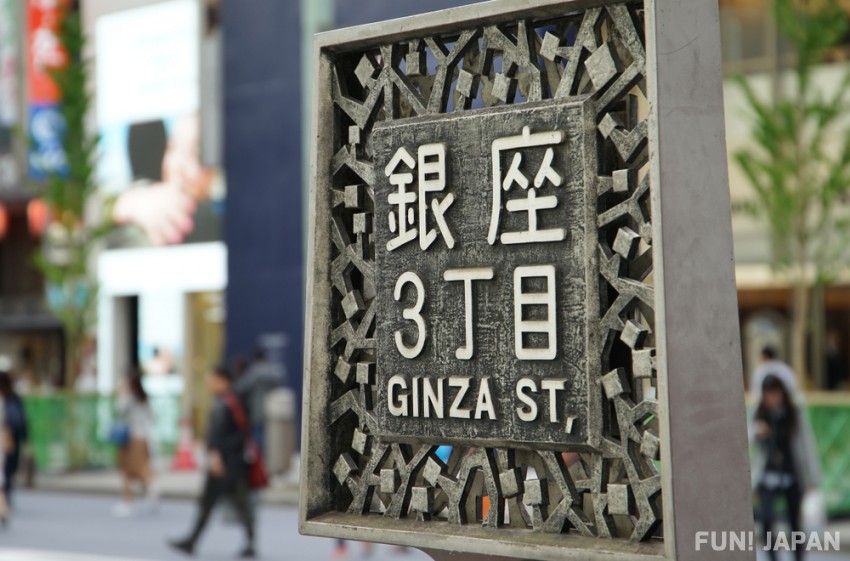 Luxury Brands
No stranger to luxury, Ginza was home to a silver coin mint for almost 200 years, and the name Ginza means 'silver mint'. Therefore it isn't surprising to know that this upmarket area is home to some of the highest price tags in Tokyo. Chuo-dori is home to countless glittering jewelry stores including Pandora, Tiffany & co and Mikomoto. Names such as Bvlgari, Luis Vitton and Chanel all belong here, making window-shopping a dangerously tempting prospect.
Aoyama Tailors is the place to go for a high-end suit while Salvatore Ferragamo is dedicated to accessories.
Flagship Stores
Uniqlo has a stunning 12-floor store with every item you could ever need, from heat-tech to their air-ism masks, all with stunning views of the streets below. International fashion brands such as Zara, Abercrombie & Fitch and Gap all have stores here, with plenty of smaller brands to be found in the department stores.
Itoya is a 100-year old stationary store perfect for getting lost in - even if you don't think you need anything, you're sure to change your mind as you wander through the aisles.
Department Stores
The main department stores of Chuo-dori are the iconic Wako building and the Mitsukoshi Store. Wako is known for its SEIKO clock tower and curved front and was opened in 1947. The building previously belonged to Hattori Tokeiten, which opened in 1881, giving the establishment a historic feel. Mitsukoshi is the oldest department store chain in Japan, dating back to 1673, but the Ginza store is a modern offering, with many people choosing to meet at the bronze lion statue outside the entrance.
Whichever department store you visit, be sure to head to the depachika - the food halls found on the basement floors of Japanese department stores. They are home to high-end stores selling sweets, sake, expensive fruits and delicatessens with mountains of tempting foods. You can also enjoy their impressive window displays, especially at Christmas! 
Activities you can try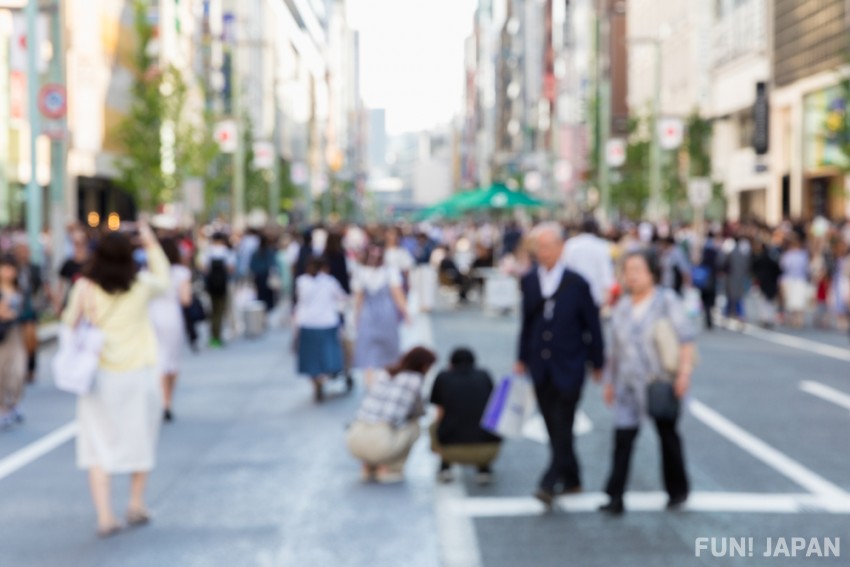 Many cafes will put out chairs in warmer months, and grabbing a take-away coffee to drink outside is a simple and affordable way to make the most of the pedestrianized streets.
There are also art galleries along Chuo-dori, including the Pola Museum Annes which has a constant rotation of shows. Art Space Ginza One, Niche Gallery and Gallery 58 are all on connected side streets, with the Panasonic Shiodome Museum of Art just beyond the end of Chuo-dori, towards Shimbashi Station. The Kanze Noh Theater is a great place to enjoy a slice of Japanese culture, with regular performances of the 700-year-old performing art. It is found in the Ginza-Six building and has plenty of tourist information.
If you have been considering trying Japanese hot springs, a popular option is Konparu-yu. The traditional bathhouse first opened in 1863 and has been serving residents ever since. While it may not have all the fancy extras of modern sento, it has beautifully painted tiles depicting Fuji that are common in traditional bathhouses. Men and women bathe separately, but no swimsuits or other clothing items are allowed - but be assured, no one will look twice - naked bathing is entirely mundane in Japan and you'll be glad you tried it.
Do's and Don'ts in the Pedestrian Paradise
Along with driving cars or motorbikes, you are also prohibited from riding bikes during pedestrian hours. There are additional rules to prevent street performances and flyer-distribution in order to make the area more relaxing.
Pedestrian Hours and Details
A 1km stretch of Chuo-dori is turned into a pedestrian zone on weekend afternoons, as this is when it is busiest. Between noon and 6pm from April to September and noon until 5pm from October to March, no vehicles are allowed on the street. This is enforced with barriers and signs and is generally well known in the area. 

[Survey] Traveling to Japan
Recommend