Elegant Afternoon Tea in Ginza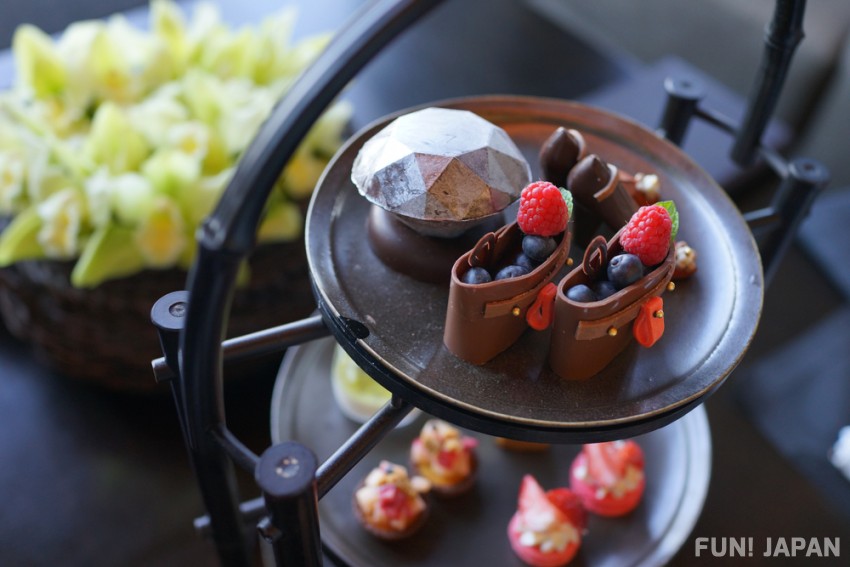 While afternoon tea may not be a Japanese tradition, there are plenty of ways to enjoy this relaxing pastime with a distinctly Japanese flavor. Whether you opt for the traditional scones and sandwiches or prefer to experience Japanese wagashi (sweets) with green tea, you can take a break from travel and enjoy the elegant experience of an afternoon tea in Tokyo.

Ginza Bills
Bills is known as a brunch spot in Tokyo, but a few select branches also offer a High Tea that changes with each season. There are a selection of sweets including brownies, cakes and fruit jellies as well as savory snacks like croquettes, tarts and pastries. The accompanying teas are selected from Amba Estate to pair with the flavors as well as house blends from Bills including chamomile, jasmine and Mt. Alee Milky Gold Tea. It is not a conventional afternoon tea so although you won't find scones or sandwiches, you'll certainly be presented with a stunning contemporary selection with an Australian twist. You can try the High Tea for 8000 yen for two people and there is an option to add free-flow champagne for 4000 yen per person (for two hours).
Spot Information
Name: Ginza Bills
Address: 2-6-12 Ginza, Chuo-ku, Tokyo
Location: Bills is located on the 12th floor of Okura House, close to exit 8 of Ginza-Itchome Station.
Hours: 8:30 - 23:00
Regular Closing Days: None
Higashiya Ginza
Served in the modern Sabo, the afternoon tea on offer at Higashiya Ginza is a tour of Japanese traditional sweets with a fresh twist. The company produce Japanese sweets, known as wagashi, using natural flavorings and a simple, ingredient-focused approach. The Samajiki option includes two teas of your choice (from the cafe's selection of 30), inari sushi, light savory snacks and a selection of their seasonal wagashi for 4,950 yen per person. The Saka course includes five varieties of hitokuchigashi (sweets based on fruit and nuts) with tea pairings while the Shuka course adds alcohol pairings in place of tea - both are 4,100 yen per person.
Spot Information
Name: Higashiya Ginza
Address: 1-7-7, Ginza, Chuo-ku, Tokyo
Location: Higashiya Ginza is located on the 2F of the Pola Ginza building beside exit 7 of Ginza-Itchome Station or five minutes from exit A9 of Ginza Station.
Hours: 11:00 - 19:00 (afternoon tea available from 14:00, last order at 18:00)
Regular Closing Days: None
The Peninsula Tokyo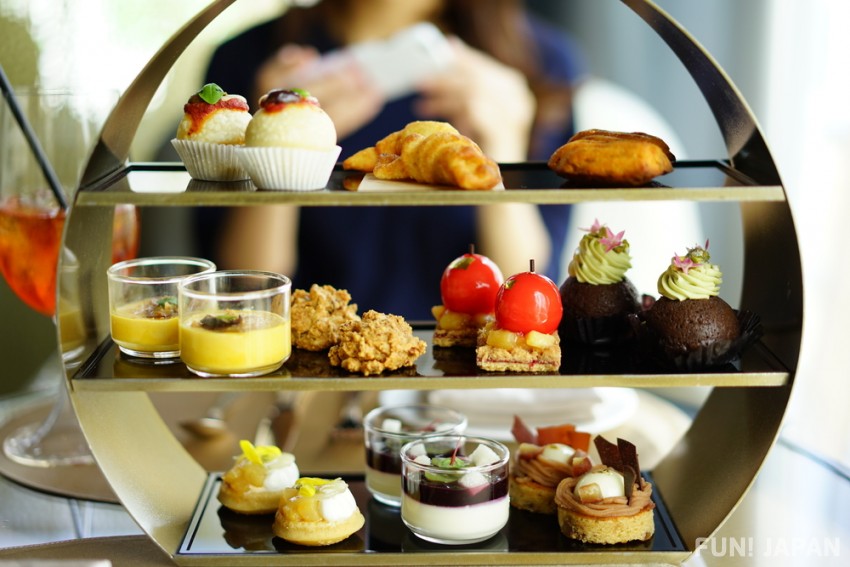 One of Tokyo's finest hotels, the Peninsula offers an exquisite afternoon tea in a variety of locations. Served in birdcage-style displays, the traditional afternoon tea has some contemporary additions and changes with the seasons. Familiar elements such as sandwiches and scones will be served, but with special twists to match the theme, be it festive gingerbread or summer berries. If you choose to enjoy the tea at Peter on the 24F, the treats can be enjoyed with views of the Imperial Gardens and Tokyo's iconic skyline, adding a sense of grandeur to the occasion. The Afternoon Tea costs 6,500 yen per person, with 500 yen donated to a chosen charity. The Peninsula Boutique and Cafe offers a light Afternoon Tea for 3,300 yen per person and there is a lunch-box style afternoon tea available for take-out with three savory and three sweet items, costing 2,400 yen.
Spot Information
Name: The Peninsula Tokyo (ザ・ペニンシュラ東京)
Address: 1-8-1 Yurakucho, Chiyoda-ku, Tokyo
Location: The Peninsula Hotel is connected to exit A6 of Yurakucho Station and is approximately a ten-minute walk from Ginza Itchome Station.
Hours: 11:30 - 21:00 (The Lobby), 14:00 - 17:00 (Peter, The Peninsula Boutique and Cafe), 11:00 - 18:00 (takeaway).
Regular Closing Days: None
Ginza Fugetsudo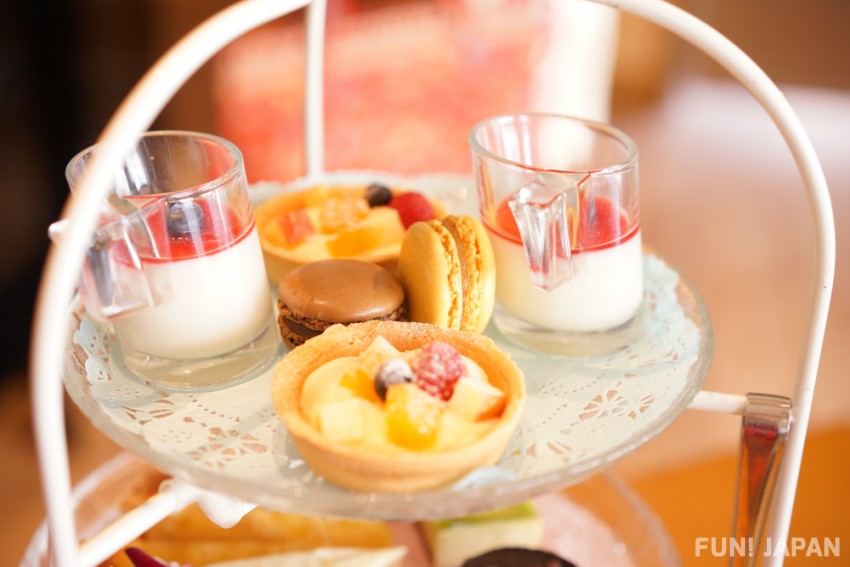 Ginza Fugetsudo was founded in 1872 and has been serving some of Tokyo's favorite sweets ever since. They are well known for their delicate 'Gaufres' a French wafer with buttercream, but also have a host of other options. As the Ginza store is their flagship store (known as honten in Japanese), they also have a cafe focusing on their Western connections. The afternoon tea set is a selection of delicate sandwiches and sweets along with fresh fruit and tea, including (of course) one of their famous Gaufres. The tea set costs 2,500 yen per person and has a variety of drinks to choose from.

Spot Information
Name: Ginza Fugetsudo (銀座凮月堂)
Address: 2F Ginza Fugetsudo Building 6-6-1 Ginza, Chuo-ku, Tokyo
Location: Ginza Fugetsudo is a few steps from exit 8 of Ginza-Itchome Station.
Hours: 11:30~20:30 (Mon-Fri), 11:30~18:30 (Sat), 11:30~17:30 (Sun & Holidays)
Regular Closing Days: None
The Grand Ginza
Keen to deliver a new luxury, The Grand Ginza offers a classy take on afternoon tea with a delicate selection of savory bites and desserts. The themes change frequently to mark seasonal changes or festive events, with new flavors and colors used to great effect. This is one of the lighter options, with small finger-food style creations decorating the plate, so if you are particularly hungry it may be best to have after lunch. The tea accompanying the food is all from luxury Singaporean tea company TWG, founded in 1837. You can opt for the regular afternoon set (around 4,200 yen per person) or enjoy it with a glass of champagne for an extra 1,000 yen.
Spot Information
Name: THE GRAND GINZA (ザ・グラン銀座)
Address: 6-10-1 Ginza, Chuo-ku, Tokyo
Location: The Grand Ginza is located on the 13F of the Ginza Six Building, a few minute's walk from exit A4 of Higashi-Ginza Station.
Hours: 11:00 - 14:30, 17:00 - 21:00
Regular Closing Days: None
[Survey] Traveling to Japan
Recommend