Kabukiza Theatre - A Special Theater Only for Kabuki Drama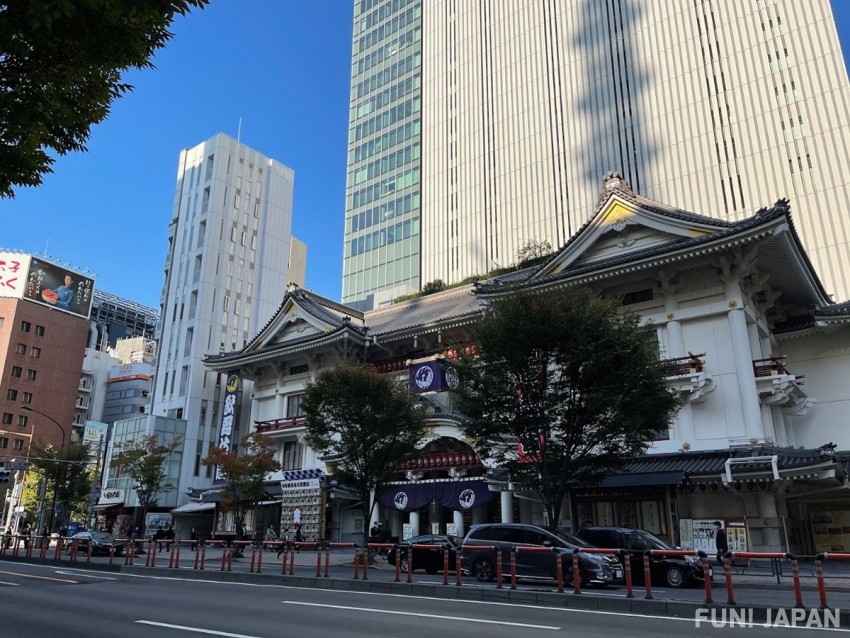 "Kabukiza Theatre" is a Kabuki-only theater that can be found in Ginza, Tokyo. After being erected in 1889, it has gained the attention of kabuki-lovers across the globe. Furthermore, Kabuki-za Theatre has recently been renewed and now has a guide that comes with English subtitles, the ability to see a single act, and has even opened an underground shopping area, it's certainly a location that allows lots of fun for its visitors.
What to See & Do at Kabukiza Theatre
Kabukiza Theatre was originally only used for kabuki performances, however, in 2013 it had a large renewal project put into place. It turned into a facility that allowed for not only performances, but shopping, gallery viewing, and even now owning a rooftop garden.
Experience Kabuki in a Single Play
If you've visited this place to see some of the best kabuki plays Japan has to offer, we would highly recommend checking out some of the performances that have over 400 years of history. You should be able to enjoy the performance of movement and music, even without knowing what is being said.
Not only this but to cater to the needs of people who "Just want to watch a little", you are able to choose a single play sitting. This is a short-story performance that ends in around 20 minutes and is comparatively cheaper ranging from a reasonable price of 500~2000 yen making it very popular.
If you're planning to watch a play and wish to understand it fully we highly recommend using the available English subtitle guide.
If you're someone who is looking to understand what's being said during the play as well as the story, we would recommend using the available English subtitle guide rental service. This service does not only display the lines of the play in English but also gives commentary about Kabuki and how it was created, surely something great for people who want to know all there is about kabuki!

Rental Fee:500 Yen + Deposit 1000 Yen ※Limited stock
Kobikicho Square
Within basement level 2 you will find "Kobikicho Square" which is directly connected to the Tokyo Metro Hibiya and Toei Asakusa Lines. This square contains ticket machines for the kabuki performances, convenience stores, souvenir stores, restaurants, and more. You can buy hand towels that have been designed in the kumadori (style of kabuki makeup used for violent roles) colors, and find many more amazing kabuki-related souvenirs to bring home to friends or family. There are even goods that are collaborations with famous and long-established stores across Ginza.
Kabukiza Theatre Gallery
On the 5th floor of Kabukiza Theatre, you will find "Kabukiza Theatre Gallery" which has exhibitions of clothing and tools used during performances, as well as the blueprints for stages which you wouldn't normally be able to see!
Business Hours:10:00~18:00(Final entry is at 17:30)
Fee:General 500 Yen(Anyone under elementary school student age enters free)
Fourth-floor Corridor
On the 4th floor, you can find some historic photographs of famous kabuki actors, as well as dioramas of famous kabuki buildings that were used throughout history. This area, alongside the roof garden, is completely free to enter, so please look through it carefully.
Roof Garden
On the roof garden of Kabukiza Theatre, there are many Japanese-style plants that surround you. You can find kabuki commemorative plaques surrounded by greenery, with beautiful rays of sunlight piercing through the cracks of the leaves, a perfect spot surely to look down onto the townscape of Ginza. There are also teahouses and benches here, so we highly recommend visiting when you want a small break from the busy city of Ginza.
How to Get to Kabukiza Theatre, Entrance Fee, and Business Hours
Address: 4-chōme-12-15 GinzaChuo City, Tokyo 104-0061
Access: Very close to the Tokyo Metro Hibiya and Toei Asakusa Line "Higashi-ginza Sta." Exit 3
Business Hours: Differs depending on individual performance
Entrance Fee: Differs depending on individual performance
Ticket Purchase: Differs depending on individual performance
※Due to COVID-19, watching a single play, the English subtitled guide, and gallery are currently closed. This information is accurate as of November 2020.
[Survey] Traveling to Japan
Recommend