How to Use Japan's Purikura Photobooths
Snapping cute photos with friends on a shopping trip can be the perfect Japanese souvenir, and purikura booths are not as confusing as they might seem.
What is Puri-Kura
Known as puri-kura (プリクラ), shortened from 'purinto-kurabu (プリント倶楽部)' which means print club, this photo trend is a permanently popular club in Japan! Somewhat similar to the passport-photo booths you may have seen at home, these photo booths add a fun Japanese touch to the process (which is certainly not passport-suitable!). The software not only adds stickers and text to the pictures, but it can change the shape of your face, skin-tone and your hair color! The photos print out in your desired balance (depending on how many people want copies) and are actually small stickers you can use to decorate items.
How did Pura-Kura start?
The first 'purinto-kurabu' booths were opened in 1995 and would add simple fun frames to photos. Designed by Sasaki Miho, the idea was to recreate her childhood habit of taking photos with friends as decorations, and it soon snowballed. While they were initially quietly popular, a special star-appearance of idols SMAP using one on television created a permanent buzz around the booths. Following their lead, other popular bands would take photos and give them to fans, soon creating an avid following with fans trying to collect the pictures. Thousands of machines were created and it soon became a booming business that continues today. Modern machines have an incredible array of modifications and there are always new styles and themed backgrounds to try!
Why is it so popular with Japanese Teenagers?
The joy of puri-kura isn't vanity (well, not always), it's about making memories with friends. While most booths comfortably fit two people, groups larger than this often squeeze in to take photos together. The final product is also customizable as to how many copies you want to be printed, so it is perfect for groups as everyone gets a copy. The affordable cost of each shoot (usually around 400 yen) is perfect for teenagers and the fun of modeling new clothes and make-up as well as having cute stickers for folders, diaries or phone cases is the icing on the cake.
How to use the Purikura Machines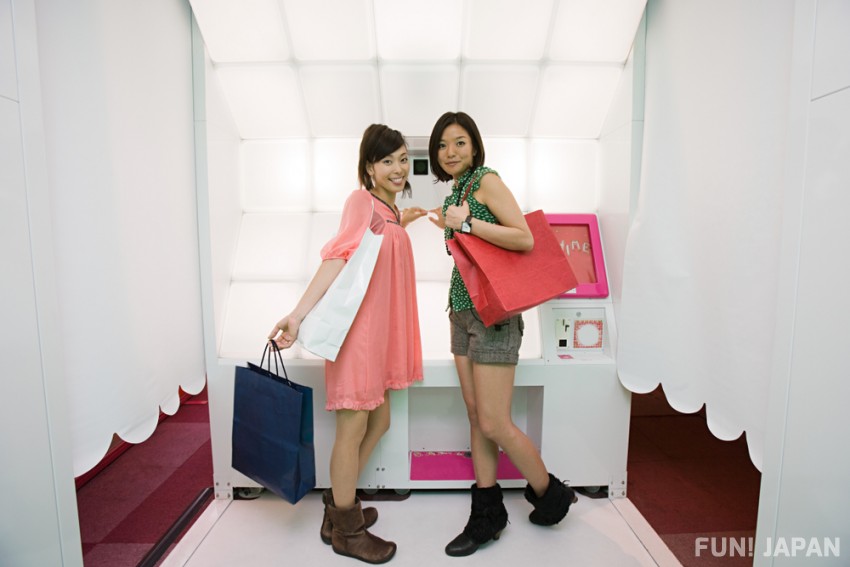 While they can seem overwhelming at first, the machines are really quite simple - you just have to be quick. Getting good shots is a matter of practice as the flashes come fast and you often can't retry them.
Choosing a Photo Booth
New booths are launched all the time, featuring new styles, skin-perfecting tricks and themed or celebrity-endorsed backgrounds and stickers. If you're not too bothered about these things, you can have fun at pretty much any booth - try looking at the example pictures or go for the pot-luck approach! Machines usually cost 400 yen per go, but for this you get multiple sheets so it works out pretty cheap. You'll need the exact change although some newer machines take Pasmo or Suica cards!
Taking Your Photos
This process begins with a choice of styles once you've entered your coins - it will potentially ask you how many people are taking part and offer a mix of different poses (full body, face or usually a mix). This is often all done on a timer, and usually is only available in Japanese, so you'll have to go pretty fast, but there are rarely wrong answers!
A timer will soon start and you'll likely be given pose ideas to copy - think cute hand gestures and some typical cute facial expressions. The gap between shots is short and you'll have a few seconds to copy each pose, so think fast and keep looking at the camera!
Tips
Don't wear green as you'll often be in front of a green screen and don't want to blend in.
Most booths have a space near the camera for bags and coats, put items here so you're free to pose (but remember to take them with you when you leave!)
You often enter through a different door to the one you indeed through.
Thinking of poses ahead of time is a great way to get fun shots if you usually panic, as is choosing a key-word (think emotion, animal or celebrity) to get everyone's impromptu poses matching!
Some larger puri-kura spots will have small makeup areas with mirrors and sockets for hair curlers, while others have props or wigs to use in your pictures.
Often, lone men or groups of men are not allowed in puri-kura areas (unless accompanied by a woman) in order to prevent sexual harassment or voyeur activity. Keep this in mind if you're a guy and keen to get a photo.
Decorating Time
Once your photos have been snapped, you move to an editing section, with a large touchscreen and one or two pens. Here you choose your layout, backgrounds and decorations. You can also choose the level of face-modification (add makeup, widen your eyes or add hair color) and add slogans or dates to the text. A puri-kura booth is no place for 'less is more', here, the more over-the-top you think you're being, the better. Two people may be able to decorate different photos at once, which helps speed things up. This is great if you're on a timer (often the case), so do your best to decorate them all before it runs out!
Printing and Cutting
Once finished, you can enter an email to send a copy to - often a single photo. You can choose which you like best and you'll get a download link to have a digital copy of the picture. You'll also be asked to choose the layout, so pick enough to share between your group! Sometimes if you watch adverts, sign up to a mailing list or download an app you can receive extra photos.
You can now step outside and wait for your unique photos to appear in the small box on the outside of the booth. In case you were wondering how to divide them, most puri-kura spots will have a table (or five) with scissors so you can share them out straight away.
The best places to go
In general, amusement arcades are always the best place to find puri-kura machines. Some places will have an entire floor dedicated to them, while many will at least have a corner with a handful of booths. Date-spots are also a good place to keep an eye out, for example, the cinema floors in shopping complexes often have them. There are, however, a couple of dedicated puri-kura spots in Tokyo:
Takeshita-dori in Harajuku
Takeshita-dori has a selection of different puri-kura locations dotted along the street. While walking into a basement can feel a little unnerving, you'll soon be greeted by excited teenagers and brightly lit rooms filled with booths. Ideal for showcasing your new purchases or your chosen outfit for the day, there is a booth for everyone here!
Spot Information
Name: Takeshita-dori (竹下通り)
Address: 1-17 Jingumae, Shibuya-ku, Tokyo
Location: Takeshitad-dori is a short walk from Harajuku Station, across from the old station building.
Purikura no Mecca - Shibuya
This is Shibuya's go-to spot for variety and has the latest machines and collaborations - be it models, make-up brands or cartoon-characters. There are multiple machines to choose from and plenty of different styles and looks to decide between. Be prepared for queues and time-limits on weekends, as well as when school ends.
Spot Information
Name: Purikura no Mecca (プリクラのメッカ)
Address: 3F, 29-1 Udagawacho, Shibuya-ku, Tokyo
Location: Purikura no Mecca is located in Udagawacho in Shibuya - it is close to the red Bershka store, take a small set of stairs beside the Swatch Store and head to the third floor.
Opening Hours: Open 24 hours a day
Regular Closing Days: None (unless for maintenance)
[Survey] Traveling to Japan
Recommend