Harajuku Girls and Teenage Fashion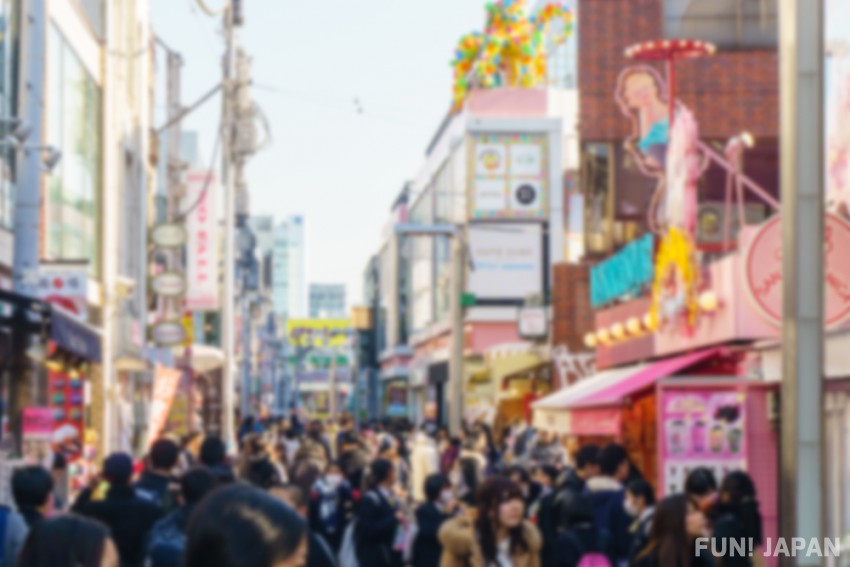 Harajuku is the indisputable capital of Tokyo's youth fashion scene, and the unique combination of Japanese creative styles and Western influence is hard to miss. Connected to the music and food scenes, it's an ever-changing reflection of the teenage trends sweeping Japan and abroad.
Who are the "Harajuku Girls"?
Iconified by the backing dancers of Gwen Stefani in her hit song of the same name, Harajuku Girls rose to the fashion spotlight of the world in 2004. The original Harajuku Girls had long existed, however, dressed in bright colors with a nostalgic penchant for accessories and cute styles. A small fashion-focused district of Tokyo, Harajuku was a popular destination for teenagers from the 70s and became a testing ground for alternative styles. Taking on the 'Kawaii' fashion of Harajuku, the Harajuku Girls are instantly recognizable due to their bright outfits, frills, childhood-inspired accessories and unusual hairstyles. Unlike other Tokyo trends like Shibuya-based 'Gyaru' (favoring bleach blond hair, American Baywatch styles and fake tans) it goes for a more innocent look.
Who were Stefani's "Harajuku Girls"?
The four dancers are all Japanese or Japanese-American, and due to their popularity, soon became a permanent fixture of Stefani's performances as well as getting their own anime series called Kuu Kuu Harajuku. Maya Chino, Jennifer Kita, Rino Nakasone and Mayuko Kitayama took stage names of Love, Angel, Music and Baby from Stefani's album. As trained dancers, they added a street-style element to the style and introduced the world to Harajuku Girls fashion.
How did the Harajuku Girls Trend Start?
The Harajuku area was a hub of imported fashion and became popular with teenagers, leading to the popularity of 'kawaii' fashion in the 1970s. This fashion grew and transformed over the years, associated closely with the Harajuku streets but not limited to them.
The 'Harajuku Girls' style placed an edgier twist on the style, adding more attitude to the alternative style. In the mid-nineties, FRUiTS Magazine showcased the latest styles and Fruits Fashion grew in popularity. Photographer Shoichi Aoki would capture the most unique and individual styles on the streets, highlighting growing subcultures and emerging trends. Reflected in the outfits of Gwen Stefani's dancers, the style was epitomized by bright colors, excessive accessories and unusual combinations.
Two of the most popular style icons are singer and model Kyary Pamyu Pamyu and comedian and singer Naomi Watanabe. Both have a distinct take on the kawaii style, with the former going for a bright, pop version while the latter has a more toned-down, fashionable-edge. Both have kept the style in the public eye, offering alternative twists and updating their looks to keep up with the current trends.
Harajuku Girl Shopping Spots
If you're keen to recreate some of the styles of Harajuku Girls, there are plenty of places to shop in Harajuku.
SoLaDo
One of the most popular department stores in Harajuku, SoLaDo is dedicated to the latest unique fashions in Harajuku. Often filled with teenagers and young shoppers, it combines vintage stores and new designers as well as an all-you-can-eat sweets store on the 3F. Stores include PINK-Latte, repipi armario and JENNI among others.
Spot Information
Name: SoLaDo
Address: 1-8-2 Jingumae, Shibuya-ku, Tokyo
Location: SoLaDo is located on Takeshita-dori,
Opening Hours: 10:30 - 20:30 (weekdays) 10:30 - 21:00 (weekends) (stores may vary)
Regular Closing Days: None
Cute Cube
Combining food and cute fashion, Cute Cube is one of the main destinations for Harajuku teenagers. The ground floor is home to stores selling fun snacks and streetfood like the crunchy Croquant Chou of ZakuZaku or CANDY A GOGO, as well as Korean Beauty store Etude House. Upstairs is the SPINNS Store selling the latest fashions, and above that is the cafe floor where you can choose from cute Pom Pom Purin café or the intense Harajuku Kawaiiya Cafe which is anime-themed. There are always special events taking place so be sure to check the calendar!
Spot Information
Name: CuteCube Harajuku (キュートキューブ原宿)
Address: 1-7-1 Jingumae, Shibuya-ku, Tokyo
Location: Cute Cube is on Takeshita-dori, about half-way down the street.
Opening Hours: 10:00 - 20:00 (B1-2F) 11:00 - 21:00 (3F) (stores may vary)
Regular Closing Days: None
Laforet Harajuku
Just around the corner from Takeshita-street, Laforet is one of the biggest and most well-known department stores for Harajuku youth fashion. With a wider ranger of stores compared to SoLaDo and Cute Cube, it offers more styles and a combination of well-known brands and pop-up stores. Basement floors combine Lolita and Gothic styles before progressing to make-up and accessories on the first floor levels. Higher floors combine Western and Japanese Fashions with vintage American and streetwear progressing to more formal on the 5th floor. Jane Marple and Angelic Pretty are great places to start while BeautiK is ideal for hair and makeup.
Spot Information
Name: LaForet Harajuku (ラフォーレ 原宿)
Address: 1-11-16 Jingumae, Shibuya-ku, Tokyo
Location: Laforet is beside the main crossing in Omotesando and Harajuku, less than a minute from exit 5 of Meiji-jingumae Station on the Tokyo Metro lines.
Opening Hours: 11:00 - 21:00 (stores may vary)
※Opening hours have been changed to 11am-8pm for the time being
Regular Closing Days: None
Harajuku Girl Restarants: Harajuku Kawaii Monster Cafe
If you've ever wanted to step right inside Harajuku fashion, the Harajuku Kawaii Monster Cafe is the place for you. Designed as the stomach of Harajuku, combining all of the trends, styles and ideas, the cafe is an incredible assault on the senses. A giant merry-go-round with melting Pikachus takes center stage while four dining locations each offer a unique experience. Featuring oversized mushrooms, teacups and a jellyfish bar, the high-quality design is perfect for a Harajuku-inspired meal. There are live performances throughout the day and special evenings with themes like Kawaii, Pop Culture, Burlesque and Tokyo Underland to choose from. Staff dress in intricate outfits and the entire experience is a wild introduction to the colorful creativity of Harajuku.
Spot Information
Name: Kawaii Monster Cafe (カワイイ モンスター カフェ)
Address: 4-31-10 Jingumae, Shibuya, Tokyo
Location: The Kawaii Monster Cafe is across from Laforet Harajuku on the 4th Floor of YM Square.
Opening Hours: 11:30 - 19:00 (last entry 17:30) - Reduced Hours due to Covid-19
Regular Closing Days: None
[Survey] Traveling to Japan
Recommend